waipouli-beach-resort-h404
waipouli-beach-resort-h404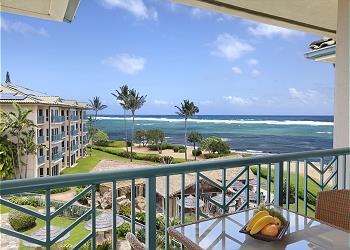 Waipouli Beach Resort H404
https://www.kauaiexclusive.com/rentals/properties/waipouli-beach-resort-h404/
Waipouli Beach Resort H404 | Vacation Rental in Kauai
H404 - Top Floor OCEANFRONT PENTHOUSE **AC** Resort Pool & Restaurant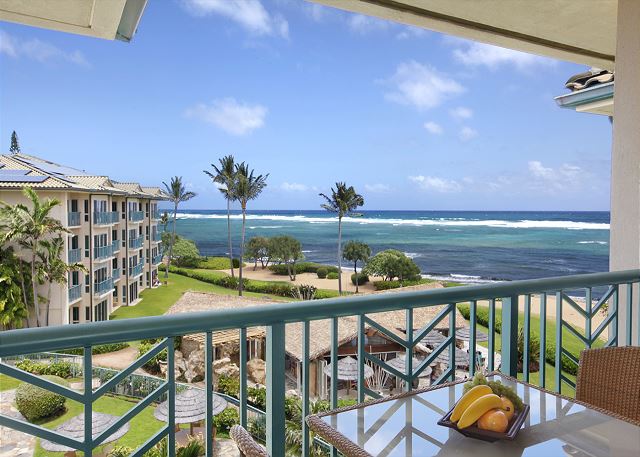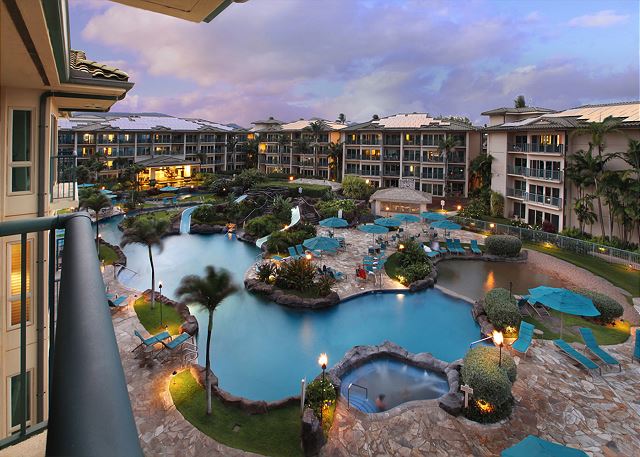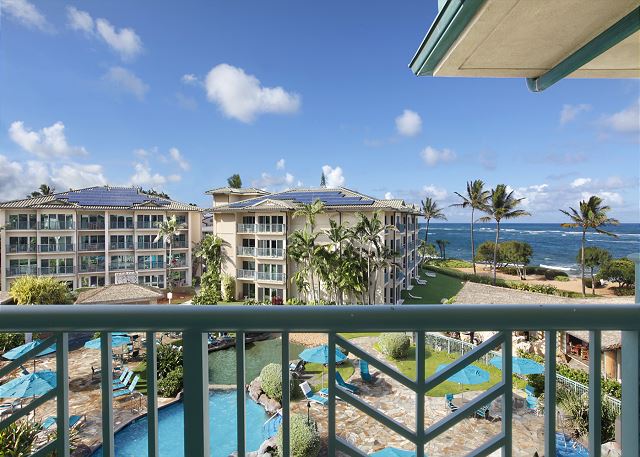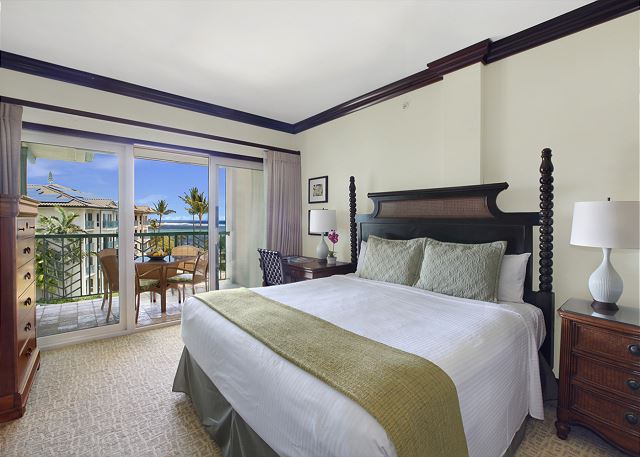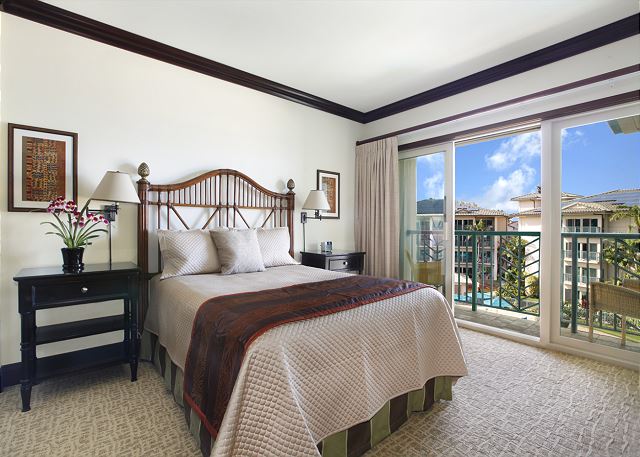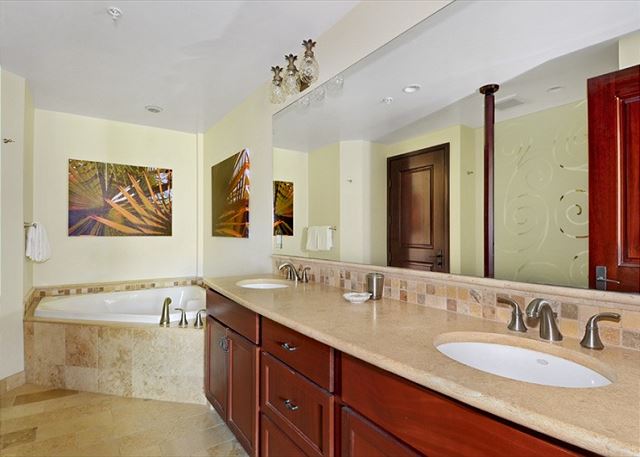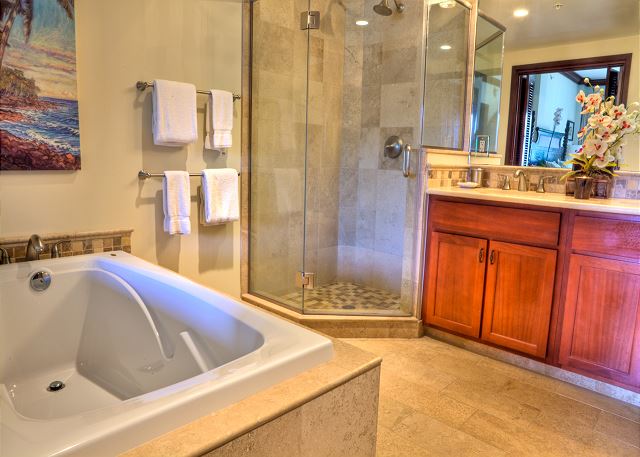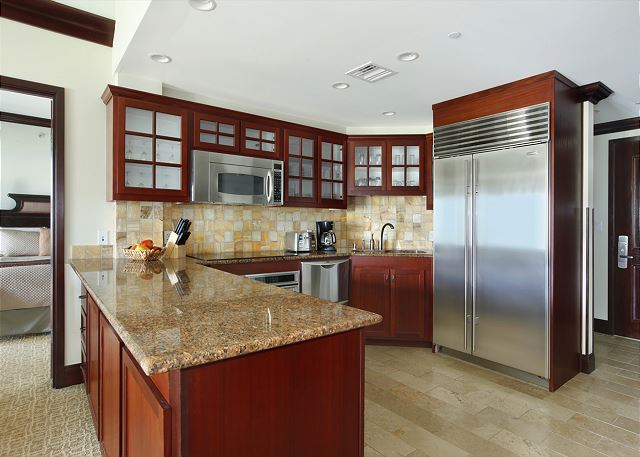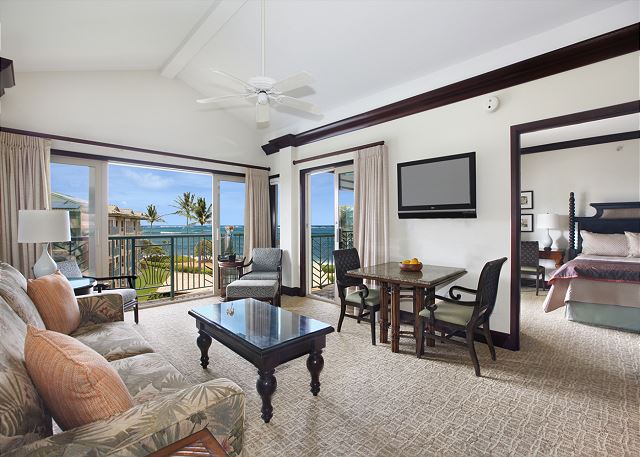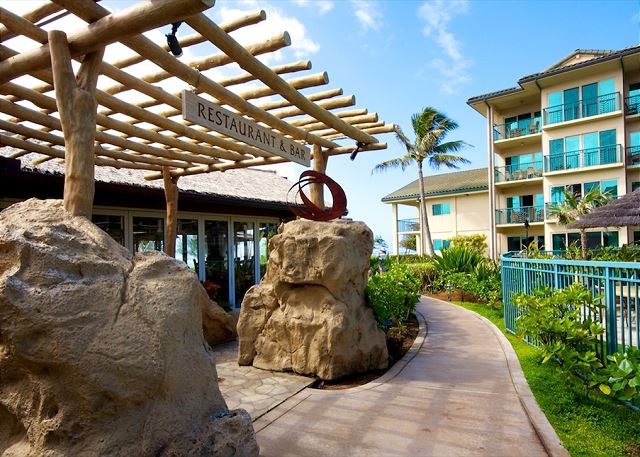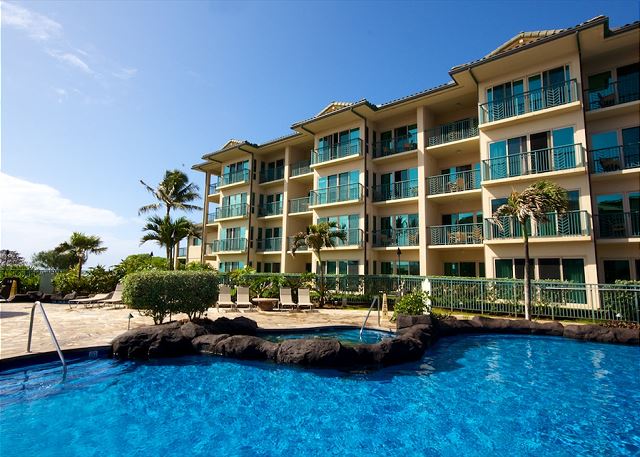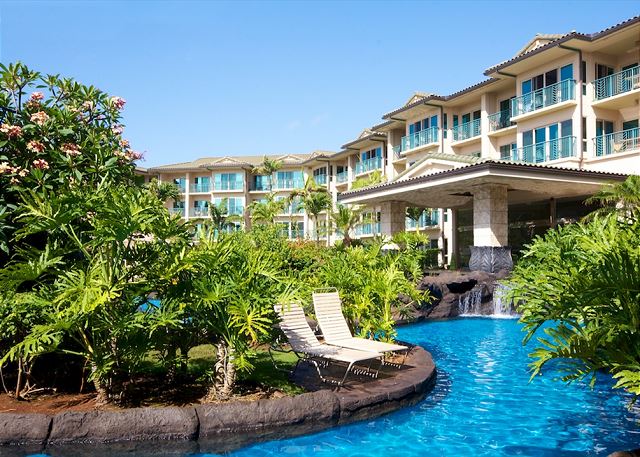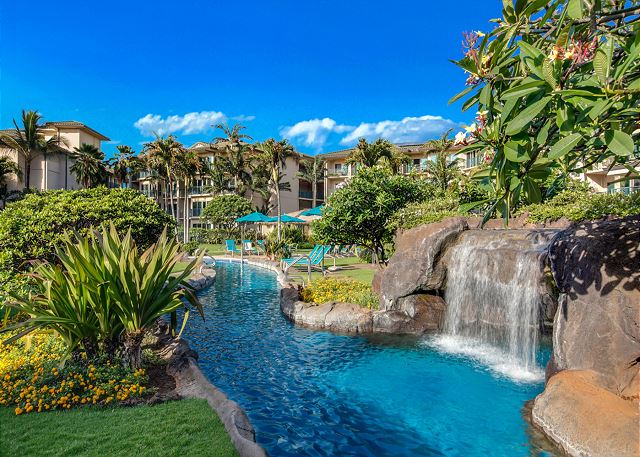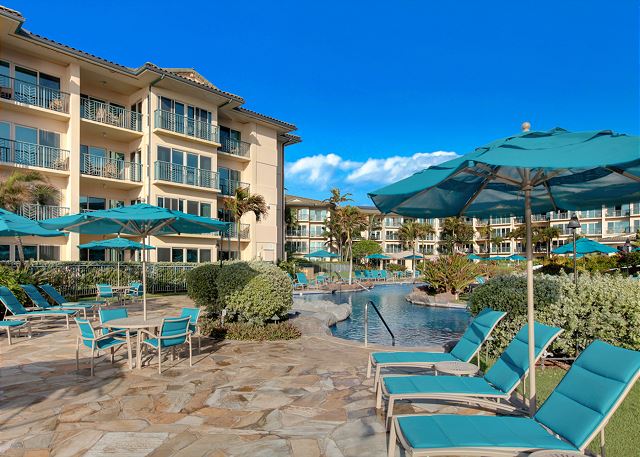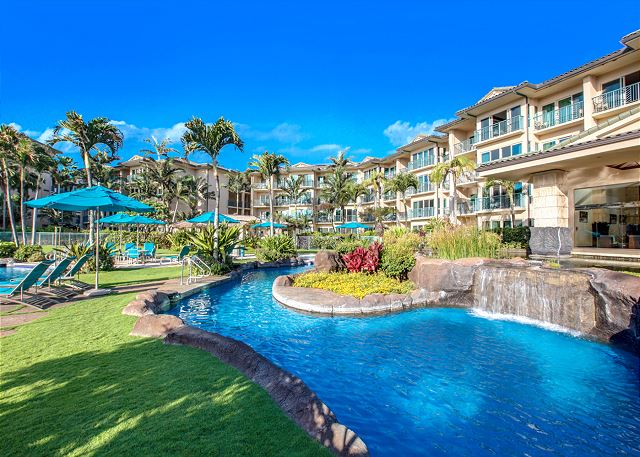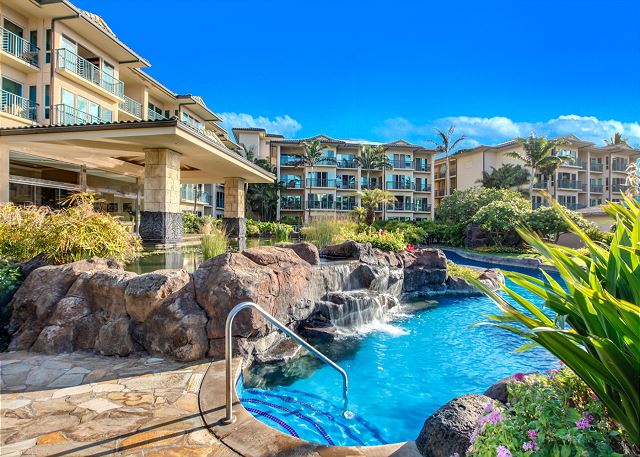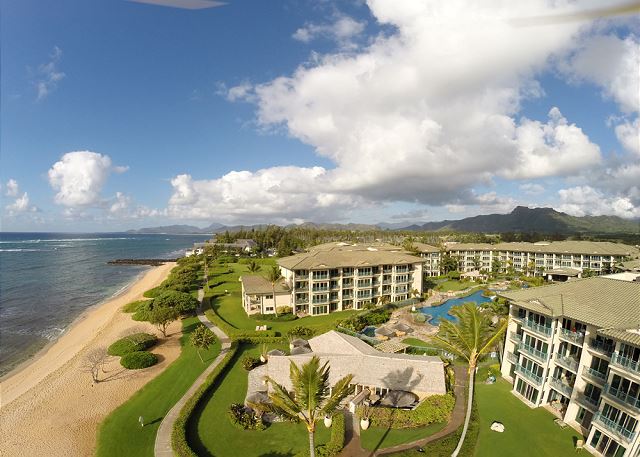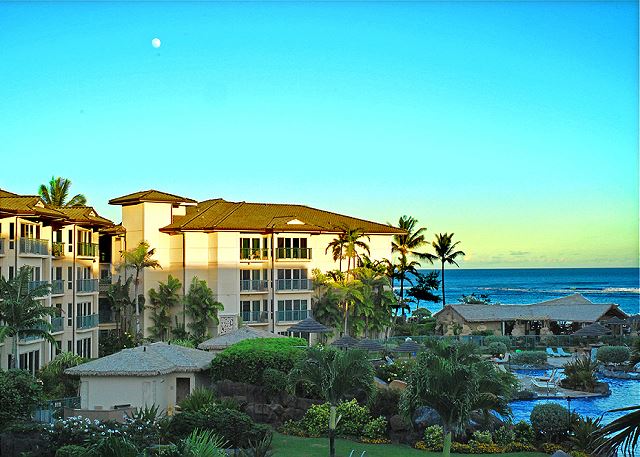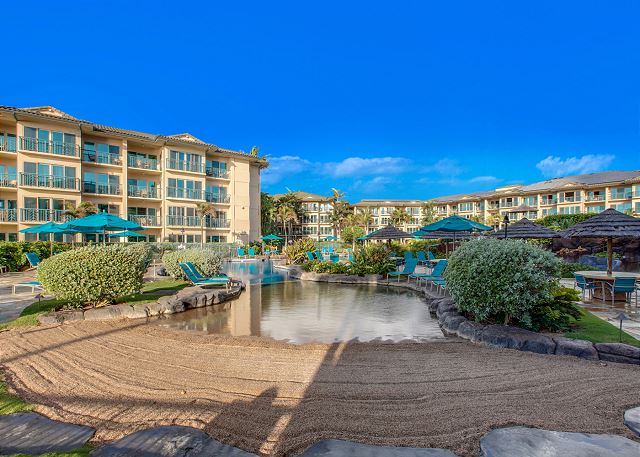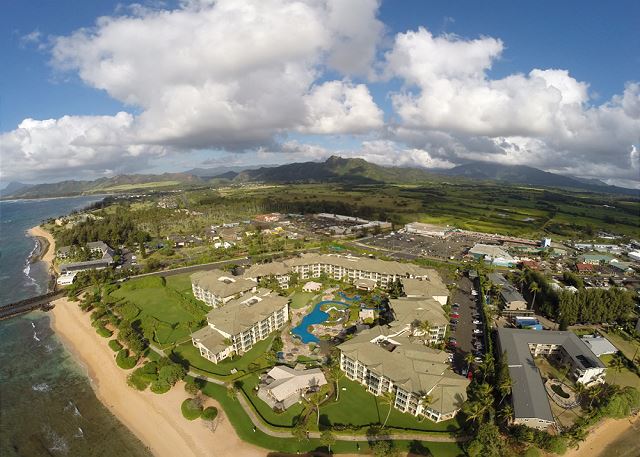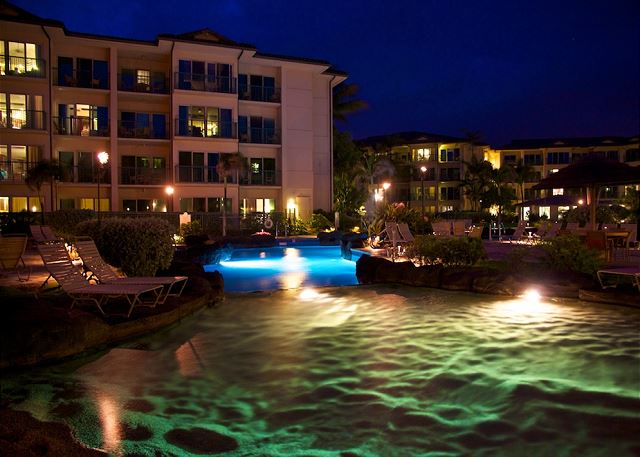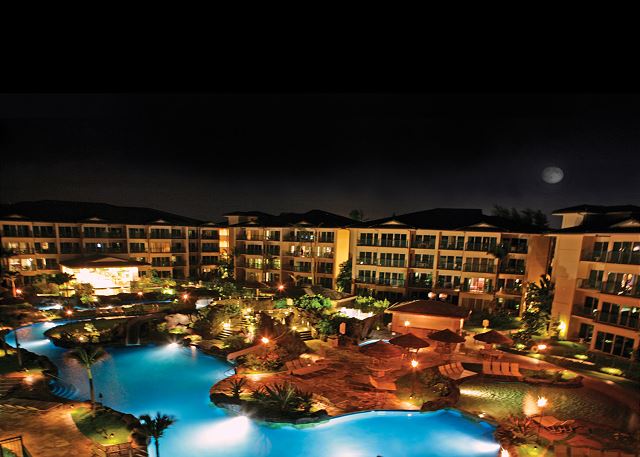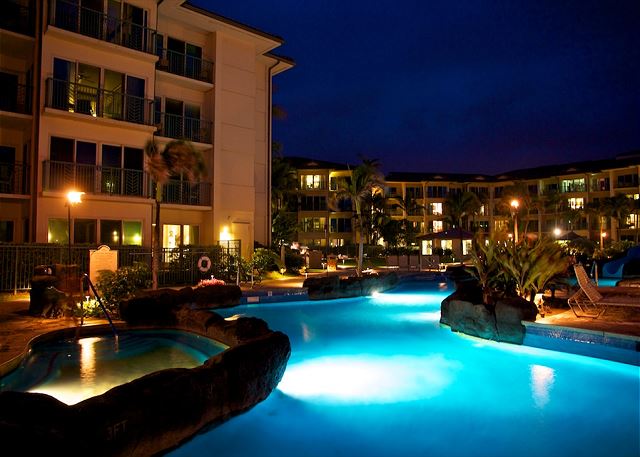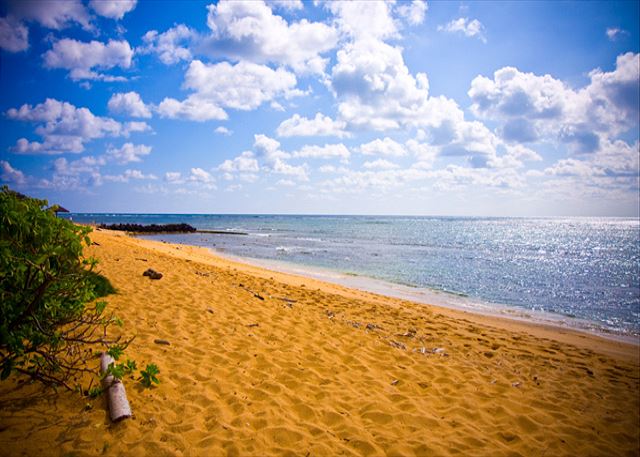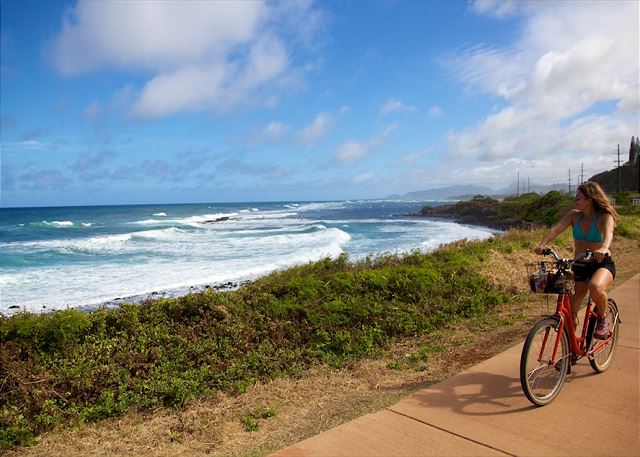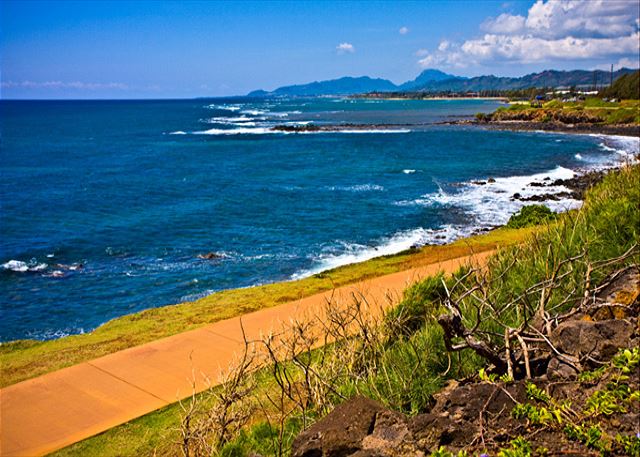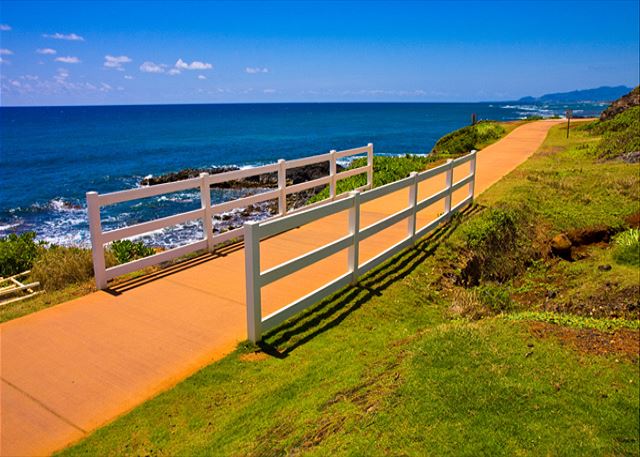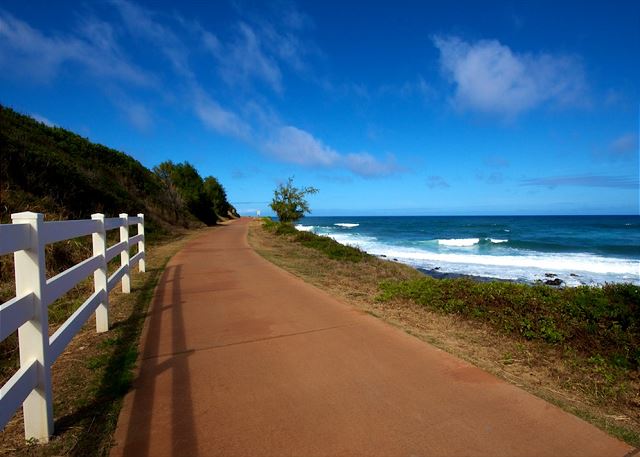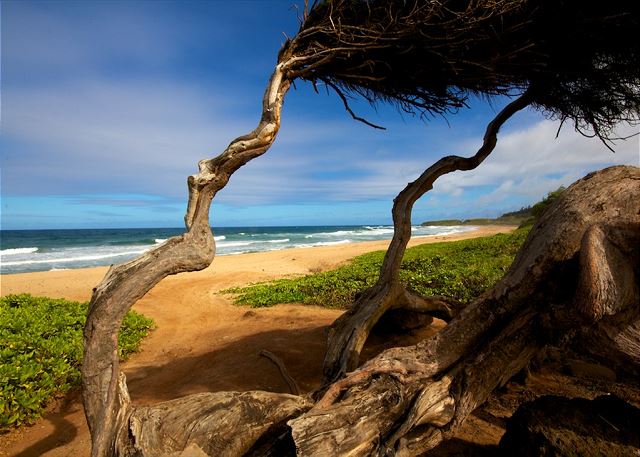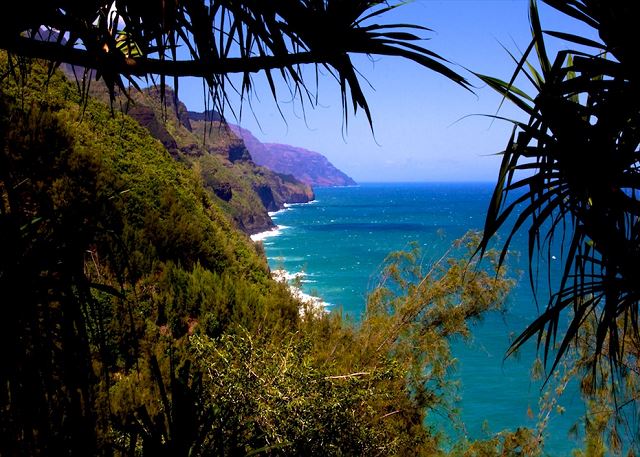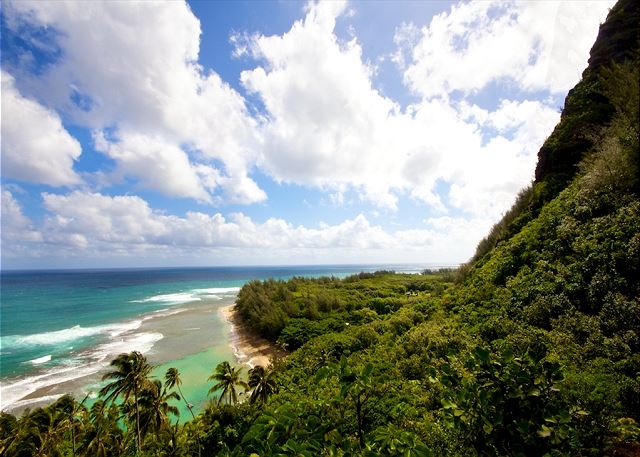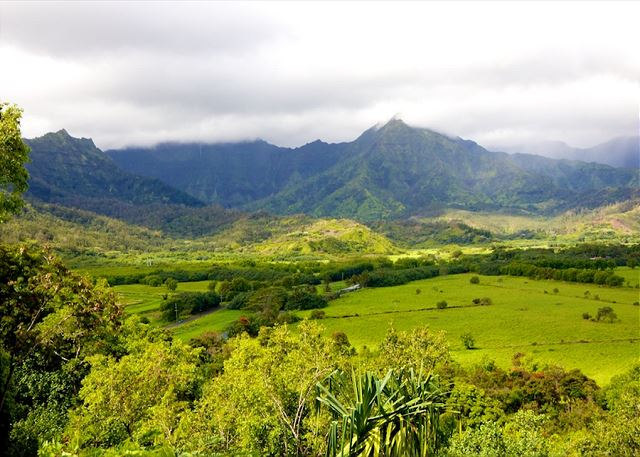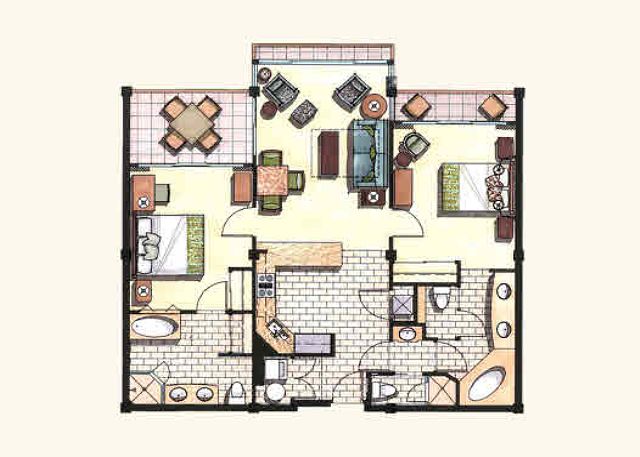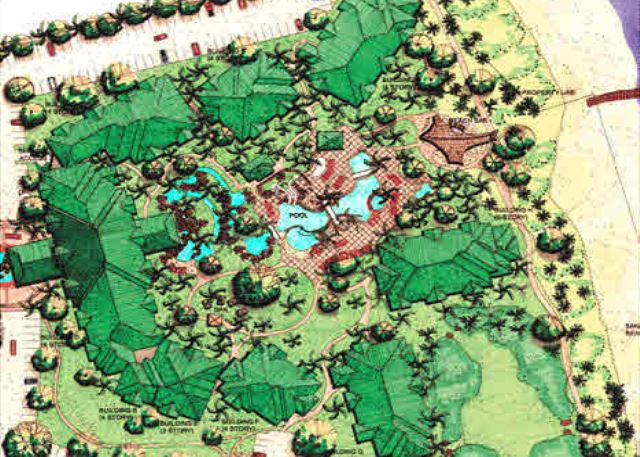 At the forefront of East Shore accommodation is the Waipouli Beach Resort. This World Class Resort provides luxury at your fingertips and offers opulent amenities for a variety of occasions.

A prime penthouse with unparalleled appeal, this top-floor oceanfront location is spacious, luxurious and absolutely stunning! With sprawling sea vistas by day and torch-lit tropical pool views by night, your surroundings are purely paradise.

Featuring two king beds and a queen sleeper sofa, this penthouse suite can comfortably accommodate 4-6 people. The stylish interior includes a stately kitchen with a Wolf glass cooktop & oven, Sub-Zero refrigerator, GE profile microwave, stackable dishwasher, granite counter tops, African Mahogany cabinets, three full bathrooms with Peruvian Travertine stone surrounds and soaking tubs. TV in both bedrooms for your enjoyment. Enjoy the clean design and convenient location, with the beach and boundless Kauai adventures just beyond your private lanai.

- Located in Kapaa Town (East Shore).

- This impressive oceanfront resort features a variety of privately owned suites, condos, apartments and penthouses with state-of-the-art amenities at affordable prices.

- Amenities include central A/C, concierge service, fitness center, business center, tropical lagoon pool, jacuzzi and access to Oasis on the Beach (exceptional oceanfront restaurant).

- Centrally located on the royal coconut coast, just steps away from restaurants, shops and the Kauai Bike Path. Great location to watch the sun and full moon rise!

Perfectly positioned to accommodate the desires of everyone, the East Shore of Kauai is rich with possibilities. Flanked by epic coastline and threaded together by the public bike path, this centralized location is the social hub of Kauai. Having recently experienced a trendy transformation, the Old Town of Kapaa maintains its historic charm, yet boasts novel offerings. The towns of Anahola, Wailua and Lihue also comprise the East Shore, and carry their own unique appeal. With diverse establishments and activities, you can explore cafes, restaurants, boutiques, adventure tours, aquatic explorations and more on Kauai's East Shore.

One of the most revered places on earth, Kauai inspires a state of awe within all of us. Brimming with beauty, the oldest inhabitable Hawaiian island has both withstood the test of time and matured into a land of fertile abundance. Lush jungles, white sand beaches and the alluring ambiance of aloha enchant each moment. Offering exceptional accommodations, adventures, cuisine and culture, vacationing on Kauai is a dream come true.

W04371337-01 tax id #
| | Nightly |
| --- | --- |
| August 16 - December 14, 2021 | $420 |
| December 15 - January 05, 2022 | $489 |
| January 06 - December 14, 2022 | $420 |
| April 15 - June 14, 2022 | $420 |
| August 16 - December 14, 2022 | $420 |
Thank you for entering your review. The review will become available to the system shortly.
32
32
Overall Rating:
4.9063
4.9063
Wow! Absolutely georgeous condo
Rating:
1
5
5
Review Date: 09/25/2021
We stayed for a few nights at this spectacular condo, amazing views, ample space for our family of 4. Loved sitting out on the veranda and enjoying my morning coffee. The restaurant right down stairs was fantastic, bit over priced but still amazing food. I am really bummed I did not book this stay for longer but we were island hoping. Absolutely book this condo you wont regret it.
Great ocean view condo
Rating:
1
5
5
Review Date: 07/06/2021
Great location and incredible view. Comfortable and spacious apartment. Was great.
Magnificent Place
Rating:
1
5
5
Review Date: 03/02/2020
This was an awesome property to stay at. The photo's don't do it justice.

The views are mesmerizing. I could sit on the balcony all day and watch the ocean. Sunrises were spectacular - and we even saw a few whales swim by.

The property is very well maintained and clean. The pool was remarkable - whether you are a family of adults only, there was a place for you to relax.

I would highly recommend this property - and this condo.

Manager Response: 03/03/2020
Response from Kauai Exclusive Management LLC
Thank you for choosing Kaua'i Exclusive as your host during your time here on the island! We hope to host you again in the future! Mahalo Nui, The Kaua'i Exclusive Management Team
Waipouli Beach Resort H304
Rating:
1
4
5
Review Date: 01/27/2020
Pros: The manager was friendly, helpful, available. Parking was pretty good. The location is wonderful with a beautiful view, the ocean to the right, the pool area to the left. There are people working on the grounds and pool areas all the time and it shows. It's very well-maintained. Three hot tubs, pools, and a slide, plus a barbecue area! Inside, the kitchen is nicely stocked and everything is easy to get to. It's nice to have a washer and dryer! Laundry soap is supplied, but bring some dryer sheets. The lighting in the kitchen and bathrooms is great (with one exception, see below)! The beds were comfortable. There were plenty of towels.
Cons: The unit needs a little TLC. Our dresser drawer was hanging open a couple inches and wouldn't close, there was a stain in the bathtub, lightbulbs burned out, lamps and TV not plugged in when we arrived, things like that, enough small things that combined to start to give this unit a slightly tired feel. The biggest issue we had was the lighting in the bedrooms and living was dark and almost depressing. The bulb wattages must be really low. Please get some brighter LED bulbs or something! Reading was difficult. The light in the little room with our toilet and shower was so dim that it was like taking a shower in a dungeon, but the rest of the bathroom was fine. The table in the living room under the TV has no light close to it, so it's not even usable for anything at night.
All in all, we would probably stay here again.
Manager Response: 02/11/2020
Response from Kauai Exclusive Management LLC
Thank you for choosing Kaua'i Exclusive as your host during your time here on the island! We have requested that our team switch out the lights so they are brighter for guests. I will also inform my team of the other issues and have them fixed for our future guests. Thank you for letting us kow about these issues so we can fix them. We hope to host you again in the future! Mahalo Nui, The Kaua'i Exclusive Management Team
Waipouli Beach Resort Penthouse Rental
Rating:
1
4
5
Review Date: 11/12/2019
This was our first vacation rental experience, so we were somewhat unsure of who to contact about problems with the unit vs. activities available, etc. We were assigned a personal concierge but could only communicate with him via message on the RentalHost website. On arrival, none of the living room or master bath outlets were operational; nor did the TV in the queen bed room work. We reported these to our personal concierge immediately. The outlets were fixed the next morning; but despite 3 additional messages, the TV was never fixed. The repairman showed up the morning we were checking out. Otherwise, the resort was in a central location to all our activities. The penthouse amenities and space were above average, though the carpet appeared worn and the couch not real comfortable. It was just frustrating not being able to get immediate contact with an on-site person to resolve problems or answer questions when they arose.
Wonderful stay
Rating:
1
5
5
Review Date: 06/28/2019
Exactly as advertised Our unit H404 had everything we needed
H404
Rating:
1
5
5
Review Date: 04/30/2019
Our experience was great. The condo was exactly like the pics on line. Great view & the pool is incredible. If we needed anything like extra pillow or help with anything Kauai Exclusive was on top of it. The property was very clean. They had multiple workers every day cleaning & maintaining the grounds. Our group of 5 all agreed we would rent this unit again without a doubt.
Kauai condo
Rating:
1
5
5
Review Date: 10/31/2018
We had a great time. The condo was very nice.
Excellent in every way
Rating:
1
5
5
Review Date: 10/31/2018
Almost everything was as expected, or better. We stay at WBR once or twice a year, and this is one of the best units we have stayed in.
The views are stunning from all 3 patios. If the blinds are open, one bedroom provides a beautiful sunrise wakeup.
One problem with the dryer was resolved within 24 hours - we made only one call.
One other problem with the parking pass having incorrect dates (1 day instead of 10) was ignored when we emailed Kauai Exclusive about that.
Though expensive, we would definitely stay here again.
great place!
Rating:
1
5
5
Review Date: 08/31/2018
great location Awesome pool
Absolutely perfect
Rating:
1
5
5
Review Date: 07/03/2018
I hadn't been on an actual vacation for years and was terrified of making the wrong choice when it came to a vacation condo in Hawaii. This condo was referred to us by a friend and we could not have been more satisfied. The location and the complex is fantastic and cared for immaculately, With the Safeway across the street and Costco in town, both with prices remarkably similar to what we pay at home, the cost of provisions wasn't excessive either. Then there is the infinite different shades of green wherever you drive. Wow. My wife and I cannot wait to go back again.
Rainy visit
Rating:
1
5
5
Review Date: 03/20/2018
This was our second visit to the Waipouli Beach Resort. Four years ago we stayed in a different unit so we knew the location was good for us. It is close enough to the airport, midway to most activities on the island and there is the wonderful bike path/walking path that begins just around the corner from the resort. Add to this the generously sized pool with slide and waterfalls (it really has something for all ages and never loud), the private beach, the Safeway (and Starbucks) across the street and it is a pretty ideal location. The catch is when the weather is not good. This almost never happens! Unfortunately this trip we had only 1 and a half days of sun and instead mostly rain, wind and flash floods. It was a good thing we had such a nice unit to hang out in. We could still look out at the ocean- great views as you can see from the photos- while we worked on a puzzle!
A Great Visit
Rating:
1
5
5
Review Date: 12/01/2017
The only complain we had was that the sofa bed was very uncomfortable to the point that it wasn't functional at all. Besides that, everything was first class.
H404 Unit Review
Rating:
1
5
5
Review Date: 10/12/2017
Our first ever trip to one of the Hawaiian islands and it is a trip we'll never forget! We stayed in unit H404 and it was AMAZING! From the moment we opened the front door we knew this was going to be a great, relaxing place to stay with an INCREDIBLE view of both the pool area and the ocean. The suite had everything the online ad said it would. It was comfortable, clean, had all the kitchen supplies we needed for our family of 5 and was close to all amenities. The pool/hottub area was spectacular and our kids never wanted to leave to go sight-seeing (but we made them, lol). Only downfall - they say it's heated but it was always cold. Many people were complaining of that. They have 3 different hot tubs and some were "over 16 yrs only" so that made it nice if you wanted to relax without the splashing from younger kids. The beach is right there so it's a short walk from the unit to the oceanside and there are lounge chairs there too - we enjoyed many mornings relaxing and watching the sunrise with coffee in hand on that beach. If you don't care to be on the actual beach with ocean waves crashing on your feet, you can still catch the sunrise from the lanai and it's just a beautiful to watch there.
There are large walkways all around the unit and down the road a short walk that my hubby & I used for morning runs every 2nd morning - what a feeling to run along the ocean with the morning ocean breeze in our face. Amazing.
Only thing I would suggest is to have "other towels" that can be taken to the local beaches instead of having to take the pool ones or the nice white ones from the bathrooms.
Overall our stay was perfect and this unit definitely was a huge part of that! They also linked us up with a great rental app that made it even easier to work with the mgmt company before/during/after our stay.
We will recommend this location to everyone who wants a great place to stay in Kauai.
Beautiful!
Rating:
1
5
5
Review Date: 08/14/2017
Love this property! The condo was beautiful inside with huge soaking tubs. The view of the beach and pool was lovely. The kitchen has everything you need for meals in. The restaurant on site was very good as well. The pool was very large and we never had a problem finding a lounger. I would definitely recommend this property to a friend.
Unique Experience
Rating:
1
5
5
Review Date: 08/09/2017
We had a very good time and the resort was excellent but the unit was located in the best spot both by ocean view and pool view. It was also on the forth floor which made it even better. Resort was very close to the sopping center, falls and trails. overall it was fantastic. Thanks to the Kauai Exclusive team for providing us a good service.
Relax and enjoy
Rating:
1
5
5
Review Date: 06/14/2017
The location was great. We enjoyed the view from the lanai all times of the day. We walked to the restaurant for several meals. The condo was clean and tastefully decorated. It provided us with the space we needed to spend time together but have our own personal spaces.
Perfection Place to Stay
Rating:
1
5
5
Review Date: 06/02/2017
Everything was perfect and as described. The pictures you see are exactly what you get. Definitely recommend or stay here again. The floor plan is wonderful. We couldn't have enjoyed our stay more.
Stay here!!
Rating:
1
5
5
Review Date: 04/14/2017
Perfect for two couples. Great view. Excellent property. Amazing pool. Good restaurant on property. Would stay here again.
Beautiful condo with a great pool
Rating:
1
5
5
Review Date: 04/04/2017
The unit itself was perfect in terms of location. It is shaded most of the day and provides a gorgeous view of sunrise over the ocean as well as the swimming pools. The bedrooms and bathrooms are large, and the amenities are excellent including a gym and barbecue equipment.
Great location and facility
Rating:
1
5
5
Review Date: 11/30/2016
No problems whatsoever. Weather was a downer, but the property itself made up for it. Didn't use staff much, but when we did (concierge service), very happy with the responses.
Oct 2016
Rating:
1
5
5
Review Date: 11/09/2016
Beautiful condo with wonderful amenities. Great amount of space. the kids loved the pools and hot tub. the only downside was that the ocean near the condo was too rough and had too much current for the children to swim safely. Property management was very helpful!
Amazing Anniversary Getaway
Rating:
1
5
5
Review Date: 10/06/2016
property management is VERY helpful . Condo was spotless and spacious ! Beds are really comfortable . Kitchen has everything you need to prepare a meal beautiful ocean views on the lanai with amazing sunsets. Grocery store right across the street and in the middle of wanting to go north and explore or south for the day . We had a wonderful stay here and can't wait to come back !
Great Stay!
Rating:
1
5
5
Review Date: 08/09/2016
This was the perfect place to stay for an amazing vacation. The place was immaculate and spotless. We ate every meal out on the lanai and slept with windows open at night. We almost lived in the pool and the beach was fun as well.
Great Vacation Penthouse
Rating:
1
5
5
Review Date: 06/17/2016
Our vacation was fabulous! The penthouse was very clean and had extra amenities. Great view of the ocean and a great pool and hot tub area. I would recommend staying at Waipouli Beach Resort H404. The owner even called us the last day to see how our vacation went. The Secret Falls kayak adventure was a great activity. I would highly recommend it!
A Very Nice Place
Rating:
1
5
5
Review Date: 02/29/2016
We have a nice time and enjoyed the condo at Waipouli Beach Resort. The condo was spacious, clean and very comfortable. The only suggestion that we would have is for both bedrooms to have king size beds. We had a wonderful time. Thank you
Kauai getaway
Rating:
1
5
5
Review Date: 02/13/2016
Great property for 2 couples. Awesome view of pool and beach/water especially for sunrise. Convenient to Safeway and Starbucks across (busy) highway.

Unit has spacious bedrooms annd baths but Inside dinng table a bit small small considering the TV equipment is on it. This should really be mounted on the wall. Fast internet but needed to call to get password as info wasn't in email package.

Overall, very nice and recommended.
Kauai Paradise
Rating:
1
5
5
Review Date: 11/09/2015
This condo was really outstanding! Great furnishings, great view and great property. The check-in process was really easy. The property is conveniently located for excursions all over the island, while providing a front row seat for beautiful sunrises. We'll be back!
Sept/Oct 2015
Rating:
1
4
5
Review Date: 10/09/2015
Too many codes for old folks to remember and door lock difficult to read in the low lighting.Television/cable system too complicated;should be simplified!!!!!
Excellent unit and location
Rating:
1
5
5
Review Date: 09/14/2015
Great condo with excellent view of pool area and ocean. Upscale furnishings, good wi-fi, tv, kitchen appliances all in great shape and working.
Super Pool and nice to have Oasis restaurant on-site. Only complaint, three hot tubs (2 adult, 1 family) were waaaaayyy to hot in temperature.
Beautiful place with a fantastic view.
Rating:
1
5
5
Review Date: 08/23/2015
Very nice beach front location in the town of Kapa'a on the top fourth floor. The condo is modern, nicely furnished and decorated with lots of amenities, among them a large fridge, two small dishwashers, a large stove, an oven, and plenty of supplies. The view from the balconies is spectacular with sea breeze. On rainy nights we enjoy both the sounds of the rain and the waves. The pool is beautiful with lots of things for children to enjoy. There was live music one evening in the Oasis restaurant. The staff is courteous and friendly. They responded to my request promptly. The place is within a walking distance to nearby stores, shops, and restaurants. However, we found out that the beach has a rocky bottom, thus not suitable for children to swim or snorkel, and for the condo, some food containers and sharper knives (or a sharpener) could help.
visit
Rating:
1
5
5
Review Date: 07/01/2015
Great Place - Met all expectations
Your request has been sent. We look forward to meeting all your vacation needs!
Use of this website constitutes acceptance of the KauaiExclusive.com Terms and Conditions and Privacy Policy.
©2020- Present KauaiExclusive.com, Inc, All rights reserved. | Website Design by Beyond Pricing