waipouli-beach-resort-h304
waipouli-beach-resort-h304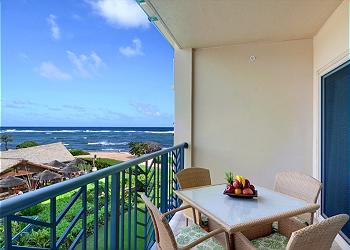 Waipouli Beach Resort H304
https://www.kauaiexclusive.com/rentals/properties/waipouli-beach-resort-h304/
Waipouli Beach Resort H304 | Vacation Rental in Kauai
H304 - BEAUTIFUL CORNER OCEAN VIEW **AC** Resort Pool & Restaurant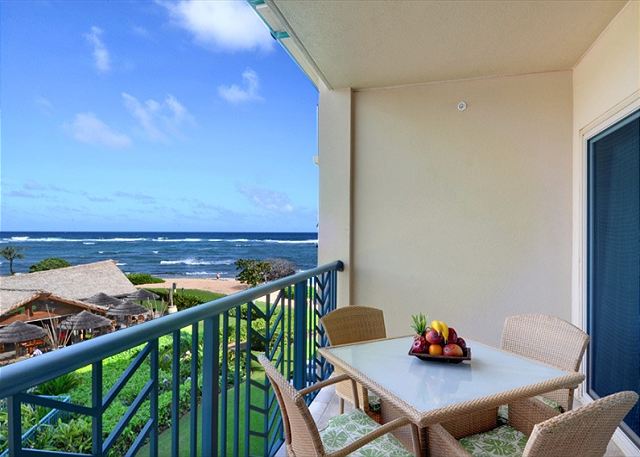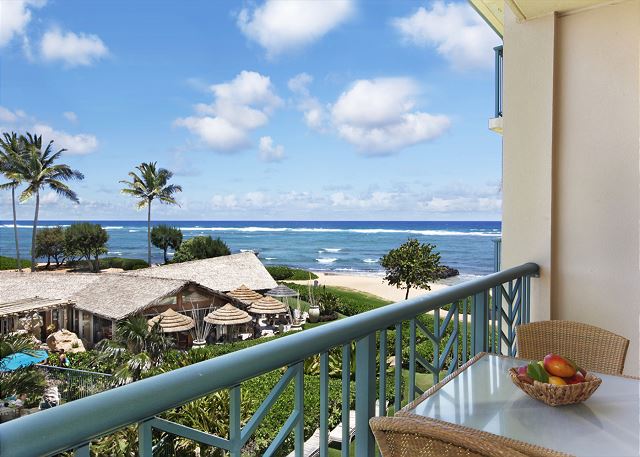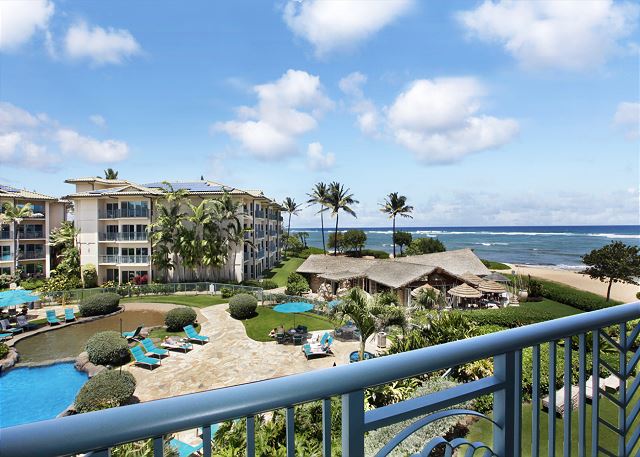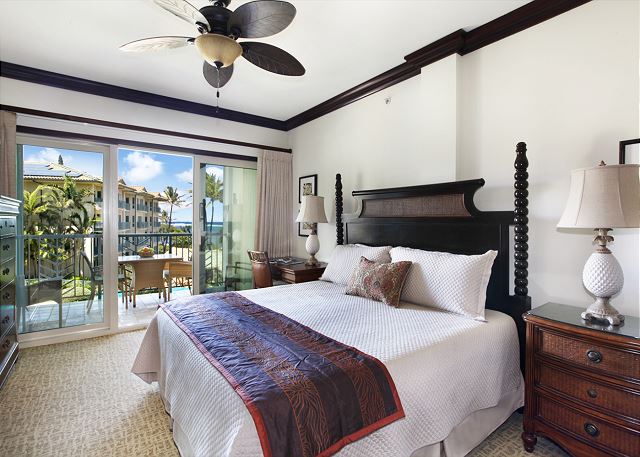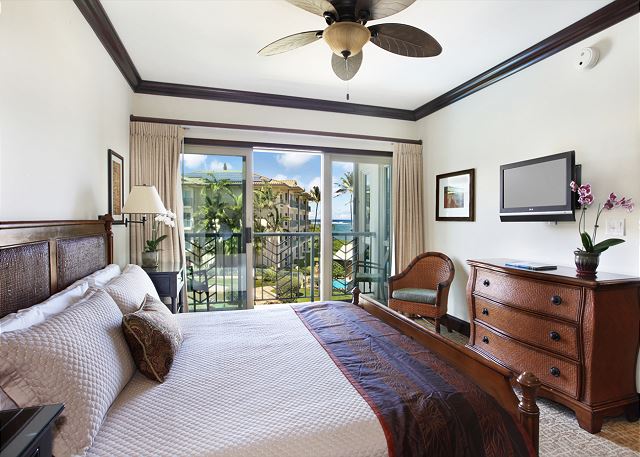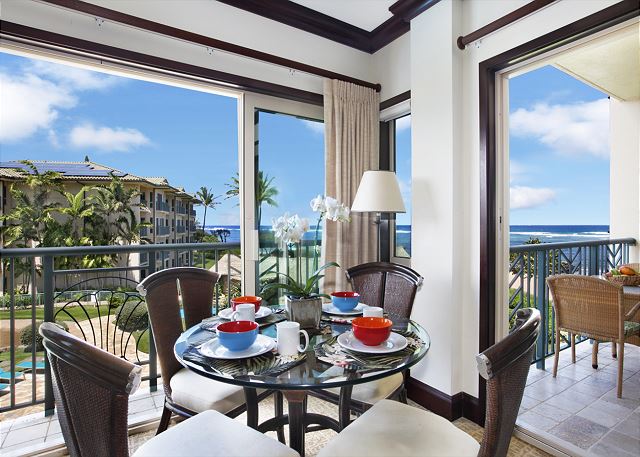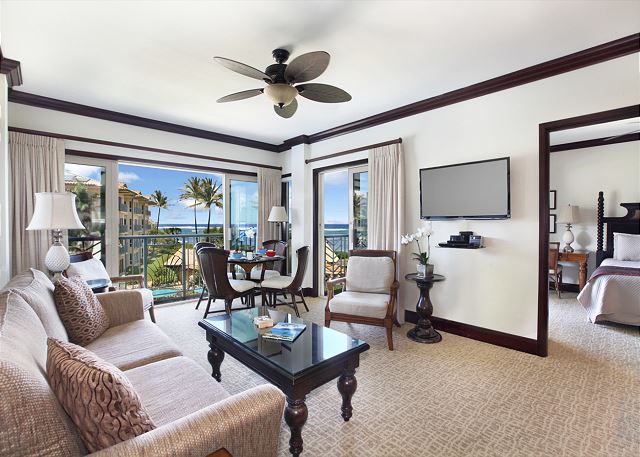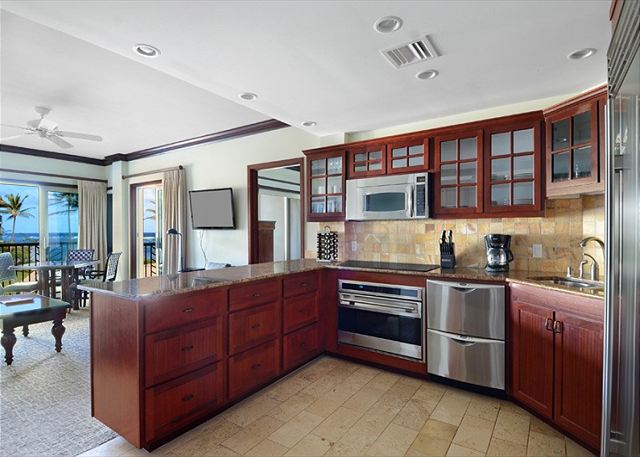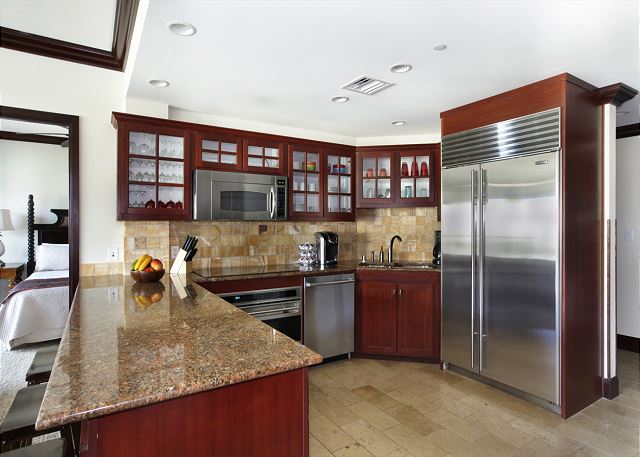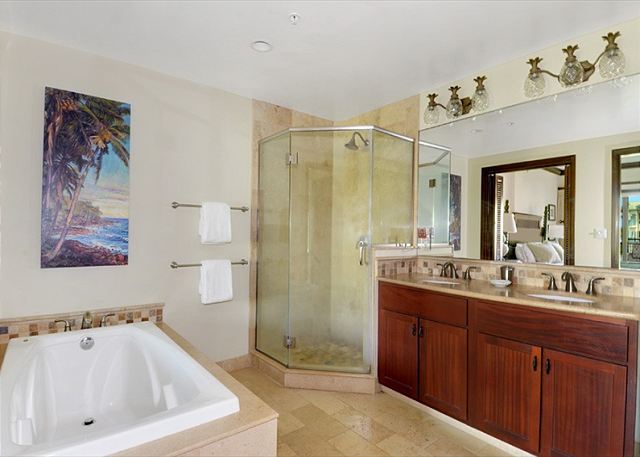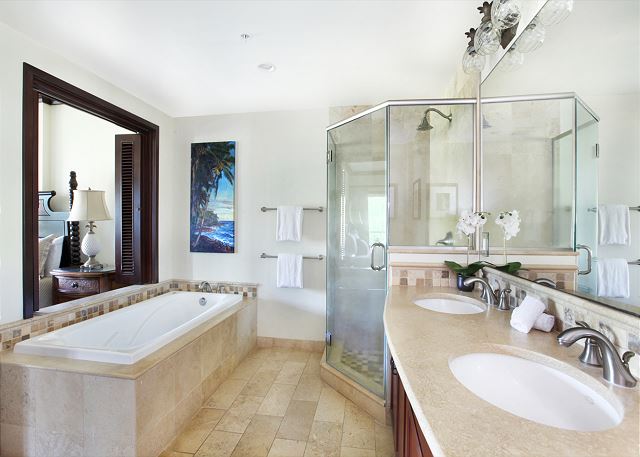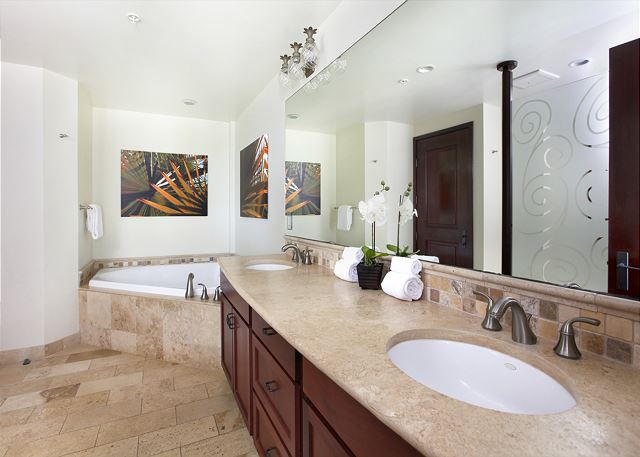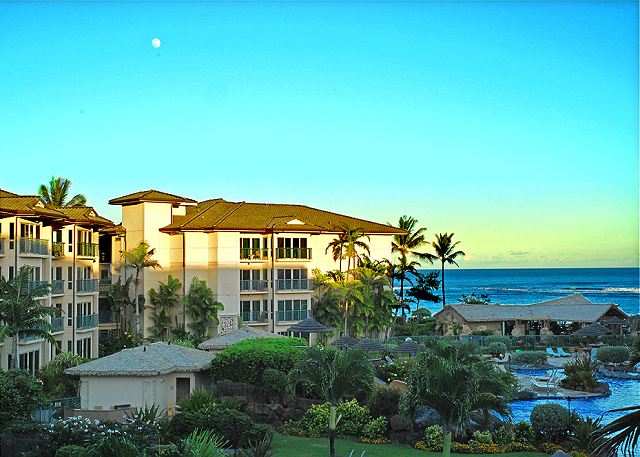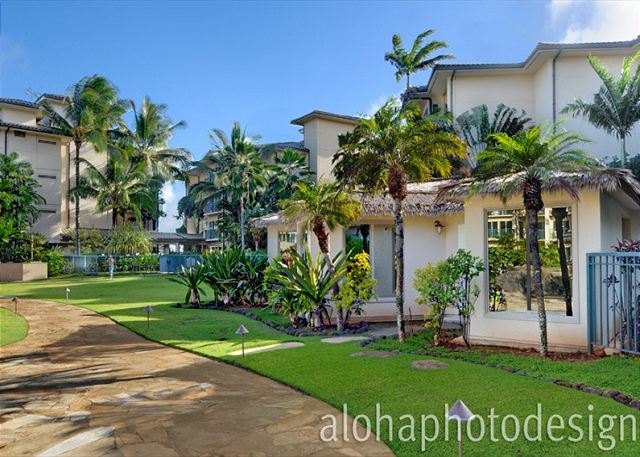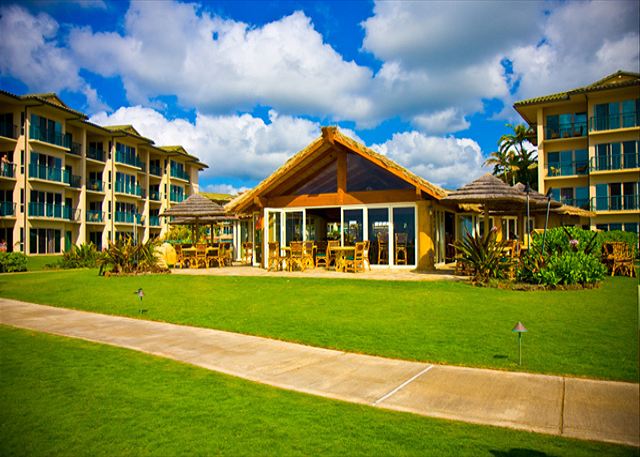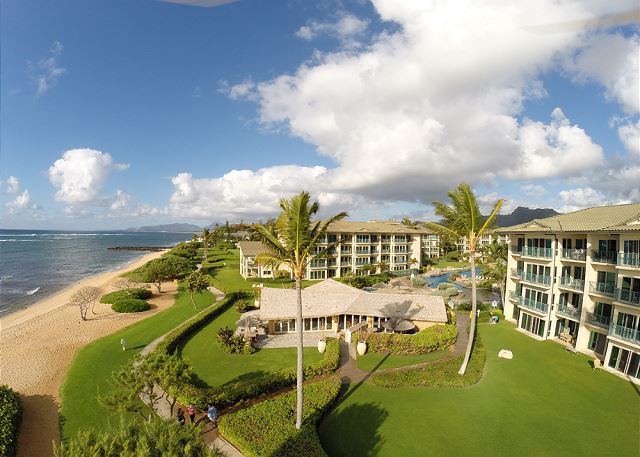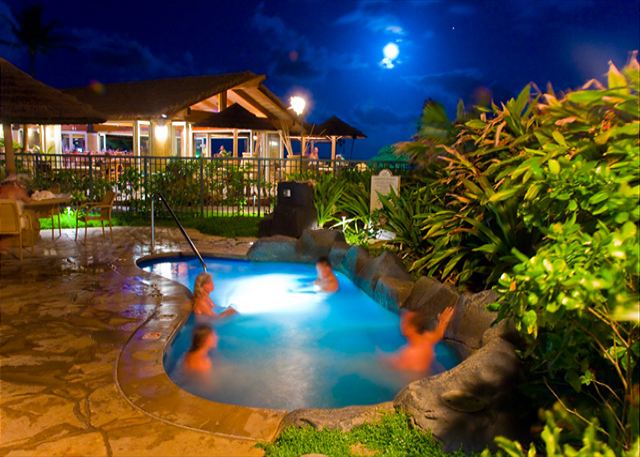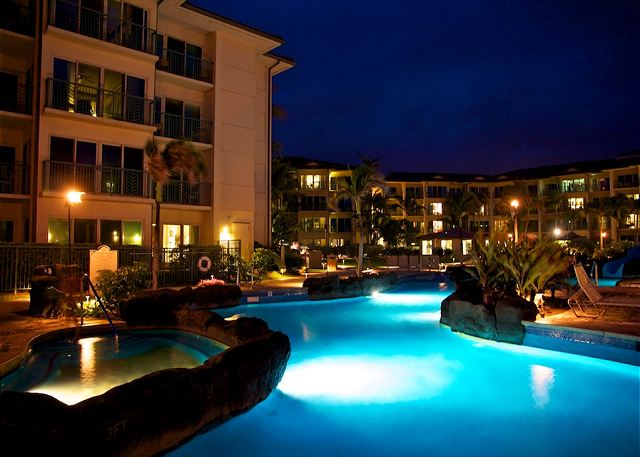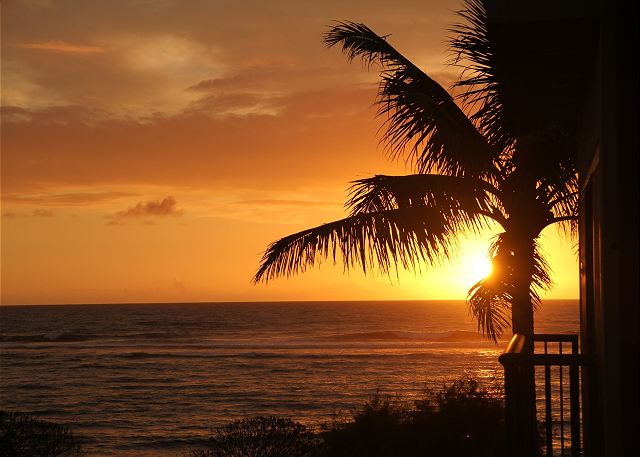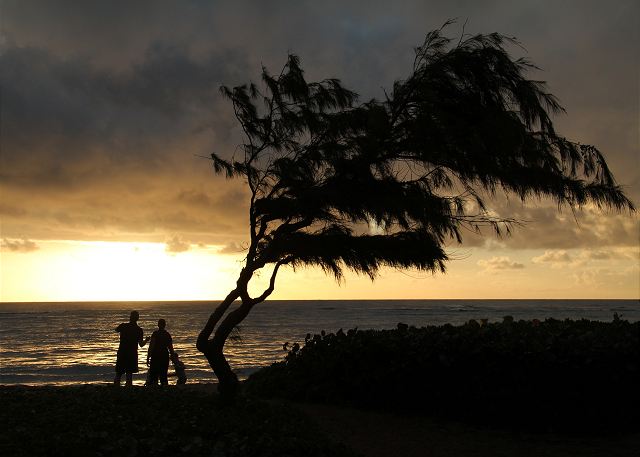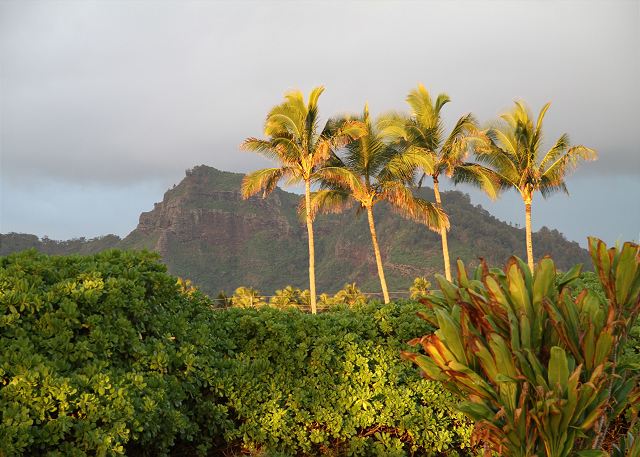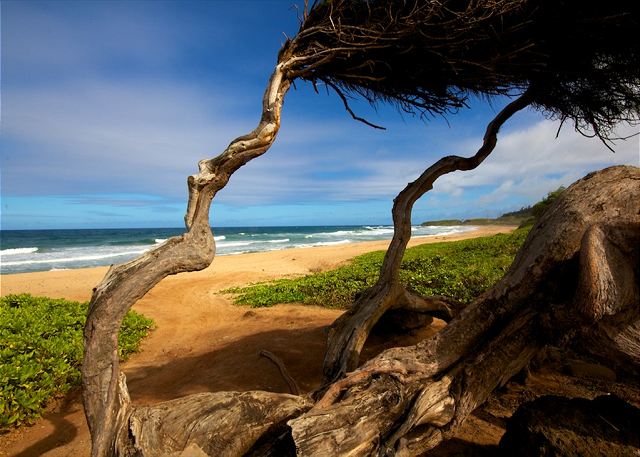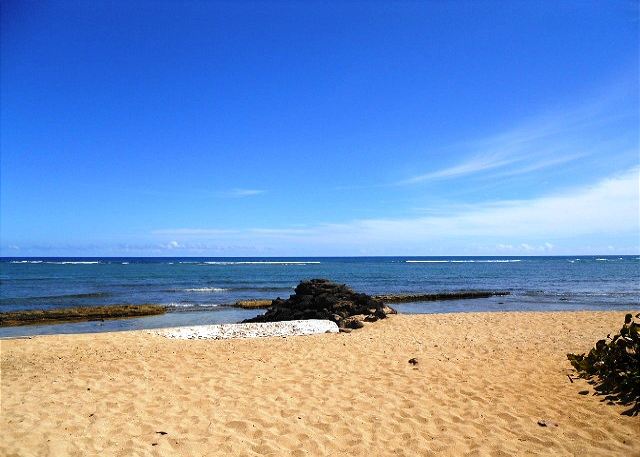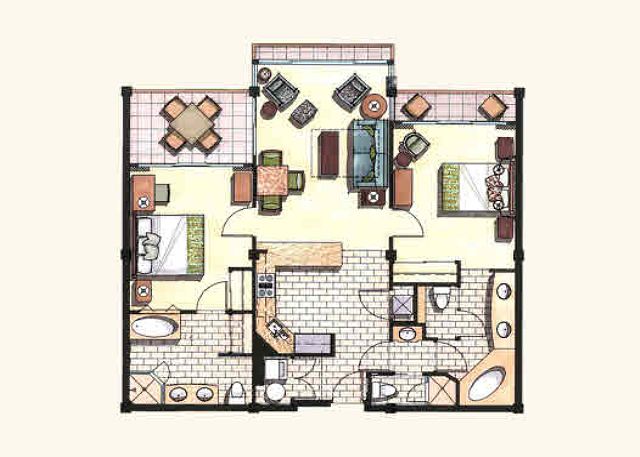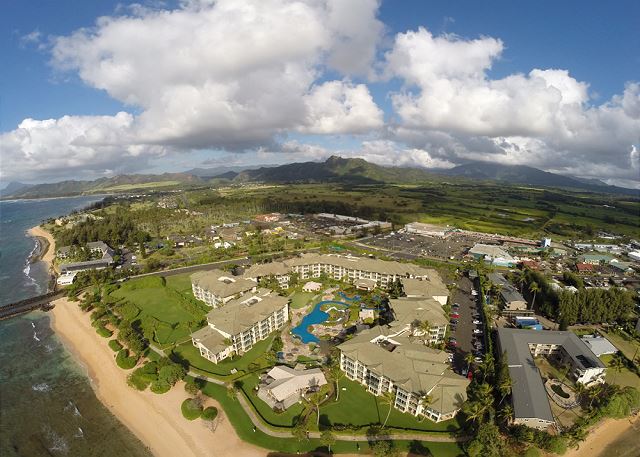 At the forefront of East Shore accommodation is the Waipouli Beach Resort. This World Class Resort provides luxury at your fingertips and offers opulent amenities for a variety of occasions.

One of Waipouli Beach Resort's most incredible corner suites, this third-story oceanfront location is spacious, luxurious and absolutely stunning! With sprawling sea vistas by day and torch-lit tropical pool views by night, your surroundings are purely paradise.

Featuring two king beds and a queen sleeper sofa, this suite can comfortably accommodate 5-6 people. The stylish interior includes a stately kitchen with a Wolf glass cooktop & oven, Sub-Zero refrigerator, GE profile microwave, Bosch dishwasher, granite counter tops, African Mahogany cabinets, three full bathrooms with Peruvian Travertine stone surrounds and soaking tubs. Enjoy the clean design and convenient location, with the beach and boundless Kauai adventures just beyond your private lanai.

- Located in Kapaa Town (East Shore).

- This impressive oceanfront resort features a variety of privately owned suites, condos, apartments and penthouses with state-of-the-art amenities at affordable prices.

- Amenities include central A/C, concierge service, fitness center, business center, tropical lagoon pool, jacuzzi and access to Oasis on the Beach (exceptional oceanfront restaurant).

- Centrally located on the royal coconut coast, just steps away from restaurants, shops and the Kauai Bike Path. Great location to watch the sun and full moon rise!

Perfectly positioned to accommodate the desires of everyone, the East Shore of Kauai is rich with possibilities. Flanked by epic coastline and threaded together by the public bike path, this centralized location is the social hub of Kauai. Having recently experienced a trendy transformation, the Old Town of Kapaa maintains its historic charm, yet boasts novel offerings. The towns of Anahola, Wailua and Lihue also comprise the East Shore, and carry their own unique appeal. With diverse establishments and activities, you can explore cafes, restaurants, boutiques, adventure tours, aquatic explorations and more on Kauai's East Shore.

One of the most revered places on earth, Kauai inspires a state of awe within all of us. Brimming with beauty, the oldest inhabitable Hawaiian island has both withstood the test of time and matured into a land of fertile abundance. Lush jungles, white sand beaches and the alluring ambiance of aloha enchant each moment. Offering exceptional accommodations, adventures, cuisine and culture, vacationing on Kauai is a dream come true.

TA-123-436-2368-01
| | Nightly |
| --- | --- |
| August 16 - December 14, 2021 | $390 |
| December 15 - January 05, 2022 | $469 |
| January 06 - December 14, 2022 | $390 |
| April 15 - June 14, 2022 | $390 |
| August 16 - December 14, 2022 | $390 |
Children's Ocean Swimming Area

Oceanfront Bar and Grille
Thank you for entering your review. The review will become available to the system shortly.
76
76
Overall Rating:
4.8816
4.8816
AMAZING!!
Rating:
1
5
5
Review Date: 08/27/2021
Love Kauai. Have been to this beautiful, laid back island many times. From the Kalalua Trail, Princeville, Poipu, Waimea Canyon, and a friend's place in Kilauea. I absolutely LOVE all the aspects of Kauai. When my friend suggested we take our annual summer vacay in Kapaa, I was skeptical because of the rough (looking) surf. But I am BEYOND happy that we decided to take her advice. And it was exclusively due to Waipouli Resort (the town of Kappa is cool, but the resort? Ahhhh). What a luxurious experience. Location, views, Oasis restaurant AND THE POOL! I think I enjoyed the pool more than the 12 yr old girls we brought with us!! If you love Kauai as much as I do, this locale is a MUST SEE! Thank you to the concierge for prompt, courteous service, the staff at the Oasis (and the food is to die for), and just the overall experience Waipouli Resort provided me and my family. Mahalo
First Time in Hawaii
Rating:
1
5
5
Review Date: 07/01/2021
This was the first time in Hawaii and definitely wont be our last. The room was absolutely stunning. Immaculate and beautiful. The views were postcards..everyday. But working with us through 3 postponements during Covid really made it all come together..Thank You so much!!!
Excellent Company to work with for travel booking
Rating:
1
5
5
Review Date: 06/15/2021
It was flawless. Condo was clean, well maintained and had everything we needed. Location was the best - central to where we had activities scheduled. Concierge Darshan was helpful with booking a few excursions as well as providing local restaurant recommendations.
Wonderful stay and beautiful condo!
Rating:
1
5
5
Review Date: 05/01/2021
We had an amazing time in Kauai and this condo has been our favorite place to stay this far. The view is incredible!
A great family stay in Kauai
Rating:
1
5
5
Review Date: 04/14/2021
We have family that lives in Kauai, and this trip was extended twice as we decided to stay longer to spend more time with them. Everyone was very helpful with the extensions and the condo was great; the pool is amazing! A+ would book again.
Great condo for the Fam
Rating:
1
5
5
Review Date: 12/01/2020
Stayed for 8 nights in a 2 bedroom condo. great location, nice pool (could have been heated more), kids loved it (8 & 10 yr olds), would stay here again for sure, easy drive to all sides of the island and lots wlakable to eat/drink and get provisions.
Two Weeks in Paradise
Rating:
1
5
5
Review Date: 02/26/2020
This was a delightful visit in a beautiful place. The condo was great, wonderful views of pool and ocean, close to Kapa'a restaurants and shops, easy access to both north and south sides of Kaua'i. We'd come back in a heartbeat.

We recommend a few items in the kitchen would help. We didn't find a cutting board, rubber spatula, and a few other items. Some decent barbecue tools would be welcome too.
Manager Response: 02/27/2020
Response from Kauai Exclusive Management LLC
Thank you for choosing Kaua'i Exclusive as your host during your time here on the island! I will lwt my team know of these items and have them stock the unit. We hope to host you again in the future! Mahalo Nui, The Kaua'i Exclusive Management Team
Simply Fabulous!
Rating:
1
5
5
Review Date: 12/05/2019
Everything was perfect. The unit was spotless, nicely decorated and exactly as advertised but better in person!
Waipouli stay
Rating:
1
4
5
Review Date: 10/28/2019
The room was a good location. There were 4 people staying in the condo. For the most part the room was clean. However, the curtains were not clean and had holes in them. Also, the cushions on the chairs in the dining area and the patio were very stained. The sofa was also not very clean. The kitchen appliances were very nice. The toaster only had 2 of the 4 slots working. The slider between the living area and the patio was very difficult to slid. The dining table only had three chairs instead of 4 as did the chairs at the kitchen counter.
Roomy with awesome views
Rating:
1
5
5
Review Date: 07/03/2019
We came here for our daughter's senior trip (myself, my husband, my daughter and her friend). Our favorite things... 2 bedrooms come complete with their own spacious bathrooms, the views from the 3 balconies are exactly as shown in the photo (the beautiful pool area and the amazing ocean). We also loved that the pool area had plenty of lounging spaces and was cool and refreshing AND a few short steps to the beach. The beach area, while small, was absolutely beautiful. A seal came to visit 2 of the days and I was able to collect a small collection of sea glass. It was beautiful and perfect for our stay. We were able to make breakfast and lunch every day from our room and we even did a few dinners together there too. All dishes, pans and even many of the cleaners were all there. LOVED this trip!!
Fantastic Resort!
Rating:
1
4
5
Review Date: 06/01/2019
The rental unit was very nice with two master suites which suited our group nicely. The living room door out to the patio was very difficult to open, forcing us to use the master bedroom door out to the balcony. The cushions throughout the room could stand to be replaced, as they appeared dirty and stained and not inviting to lounge on. Before we arrived, we asked for fans to be put in the bedrooms, simply because we are used to having them on while we sleep, but had to ask two more times once we arrived before they were finally brought to the room.

We found the pool access a bit frustrating as the code was so long and we had to keep getting wrist bands each day. The pool area was absolutely fantastic; I highly recommend this place if you love pool and hot tub action. There were three hot tubs, and our extended group of 8 never had difficulty finding one we could all enjoy together. The slides were fun for all. There seemed to be confusion as to what the actual pool hours were. At the pool it was posted 0700am-1000pm, but elsewhere 1000am-1000pm? The gate on our side was locked at 0700 most mornings until much later when they opened it.

The beach was very nice to view the sunrise each morning, but was pretty short as far as walking goes. Not really a good place to swim either, but nice to sit to enjoy the waves.

All in, I would book again.
Aloha & Mahalo.

Great Time in Kauai
Rating:
1
5
5
Review Date: 04/06/2019
Really enjoyed our stay at Waipouli. Paid extra to have a unit with a great view and it was well worth it, but the property is good no matter what unit you are in. Just some have no view at all. The salt water beach is unsimable because of the coral, but relaxing to sit at the beach since there are no screaming kids in the water right in frontof you. There is a swimable beach park about a mile away, but parking is very limited there. Restraunts within immediate walking distance are ok, but nothing special. The menu at the restaurant at the resort could use some dumbing down. Wpud have liked some sliders and onion rings, but no joy. Only had one problem with the unit (the floor safe) and management responded very quickly to address the issue, so thanks for that.
Awesome Vacation
Rating:
1
5
5
Review Date: 04/01/2019
Great Family unit, second time staying in this unit and can not say enough good things. Just perfect
Waipouli Beach Resort H304
Rating:
1
5
5
Review Date: 02/01/2019
What a wonderful place to stay. In the heart of everything on Kauai. Wonderful pool and grounds. Five stars! My wife say one bug in a bathroom drawer, but only once. Kind of to be expected in a tropical place. The rooms were great, and the kitchen was fabulous. Can't say enough good about it.
Best Week on Kauai!
Rating:
1
5
5
Review Date: 11/19/2018
Our stay at the Waipouli Beach Resort in unit H304 was fabulous! We were there for a week and this unit was so nice to come back to every day after our adventures on the island. The unit was exactly as pictured, with excellent quality furniture throughout. The kitchen is very well equipped; we even had spices, foil, and leftover storage containers during our visit. The unit came stocked with plenty of toilet paper, soap, towels, and even laundry soap. We enjoyed sunrise from our balcony most days, but did walk down to the beach one morning with our Kauai coffee, which was provided upon our arrival. The on site restaurant has some delicious food and drinks! The pool area at the resort is perfect for a day of lounging around. The location was convenient for all of our touring of the island. The walking distance shopping center across the street has a great Safeway grocery store, a Starbucks, a nail salon (where we enjoyed deluxe pedicures), and many more shops. We did have one maintenance issue that was resolved by the end of the day simply by calling Kauai Exclusive. We would not hesitate to book this unit again!
Wonderful view
Rating:
1
5
5
Review Date: 08/08/2018
Lovely resort, and unit, only negative is that the beach is dirty.
Waipouli Wonderland
Rating:
1
5
5
Review Date: 07/06/2018
Our group's experience at the Waipouli Beach Resort was simply fantastic. The beautiful room was clean and as advertised while the staff, resort & Kauai Exclusive Management company, were very prompt and helpful. The pool and room views were a great way to start and end each magnificent day on the island of Kauai. The only issue during our stay was the lack of proper directions on tv operations. Some in our party wanted to watch some of the World Cup Soccer games and they had a difficult time using the right remotes in the right sequence to get everything to work properly. Maybe a better instruction sheet could be provided. We had a wonderful time at the resort and would return.
Absolutely the Best
Rating:
1
5
5
Review Date: 06/29/2018
Loved this place.. Well stocked with everything you need and the view is amazing. Both king size beds are exceptional and so comfortable.. Best sleep ever. The property is great, nice fitness center, gas grills, and great pool.. Plus the beach is nice if you want to get away from it all,, very private. A+++ all the way. Can\'t wait to go back again.
Gorgeous place to stay
Rating:
1
5
5
Review Date: 06/17/2018
Easy access, easy check in, very nice care, and of off course the resort was wonderful! We stay with my sisters & my nieces who were from overseas total 6 people. My nieces are early 20s, they spend in the bathroom for make up or/and dress up most of the time. My sisters and I were enjoying in the kitchen to prepare smoothies every morning and fix dinner couple times( the groceries are just cross street 5 minuets to walk). We were very thankful to have the wash & dryers which didn't have to bring too much clothes.
And the best part was the beautiful ocean view from our condos!!
Family Vacation
Rating:
1
4
5
Review Date: 05/02/2018
We loved this property and will have a very hard time staying at any other place on the island. The property is great for both kids and adults. The Kauai Exclusive Management team was excelent and we will definatley book future stays through them.
Amazing view and great location.
Rating:
1
5
5
Review Date: 03/14/2018
My wife and I visited this resort the first week of March. We shared a two bedroom unit with our friends. Everything was as advertised. The views of the ocean from the room were amazing. The resort was very nice. The location is perfect. It is surrounded by several shopping and dining options. It is also convenient to sightseeing activities on the island.

This unit is perfect for two couples. Each bedroom has a king size bed and it's own bathroom. The kitchen had all utensils needed. We had a small problem with a dead battery in one of the smoke detectors, causing it to chirp. I sent a message to the RentalHost, and someone arrived within an hour and fixed the problem.

I highly recommend this property!
Family friendly low key vacation spot with awesome pool
Rating:
1
5
5
Review Date: 02/28/2018
Property management is quick to reply and helpful. The resort is fancy, clean, great landscaping, and friendly staff. We choose it for the pool and were not disappointed. No hesitation recommending this place for your family. Good for travelers without kids as well.
Nice home away from home
Rating:
1
5
5
Review Date: 01/03/2018
The property was nice and well kept. The kitchen was also nice with high-end appliances. View was beautiful and the pool was pretty, as well. The location was central to many beaches and activities.
Great location and unit
Rating:
1
5
5
Review Date: 10/03/2017
This was our first time staying in this type of property (vs resort hotels) and our experience here was great. Having the space to stretch out, the privacy two bedrooms, and your own kitchen makes it easy to relax and enjoy your time on the island.
The unit itself is well furnished with everything you need and Safeway and Foodland are right across the street.
The pool is great, but the onsite restaurant is over priced. Better to just head north 1 mile into Kapaa for some great dining choices.
The location itself is also ideal as it puts you halfway between Princeville and Poipu.
I would definitely stay here again!

Great Experience
Rating:
1
4
5
Review Date: 09/12/2017
After encountering a terrible "luxury townhome" in Hanalei, I was seeking last minute accommodations anywhere else on the island. Kauai Exclusive Management came to the rescue with the Waipouli Beach Resort.
A beautiful resort!
Rating:
1
5
5
Review Date: 09/07/2017
The condo was just as described. It was spacious and comfortable (especially the beds) and perfect for our group of 4 adults.
We had a great time and are already plotting our return!
Beautiful condo
Rating:
1
5
5
Review Date: 08/10/2017
Beautiful condo with updated amenities. Pool is great. Great location for being in the middle of Princeville and Poipui.
Great location and view
Rating:
1
5
5
Review Date: 07/30/2017
H304 was perfect, fully stocked kitchen, great location and view, the layout of the unit was perfect for two couples. Has a great lanai to sit out and have your coffee or cocktails. Inside the corner table with great view of the ocean is a great spot for breakfast. The entire property was clean and family friendly. The location is perfect to get to any part of the island. The onsite restaurant was very good with great cocktails and appetizers. The only negative comment is on the onsite restaurant waiter. I highly recommend this unit and will certainly return to this unit.
Beautiful condo with breathtaking view of ocean
Rating:
1
5
5
Review Date: 07/24/2017
Condo was perfect for our stay in Kapa'a. It's a nice unit with gorgeous views of the pool and beach. Kitchen includes high end appliances and is well stocked with items to make cooking your meals convenient. Located across the street from Safeway and near Old Kapa'a town. We highly recommend the First Saturday in Old Kapa'a Street Festival that includes local artists, food & music. The condo is within walking distance to the beach, restaurants and short driving distance to other parts of the island. Some of the furniture is looking a bit worn out but overall, it's a clean, spacious unit that easily accommodates a family or two couples.
For the Love of Kaui
Rating:
1
5
5
Review Date: 06/30/2017
FANTASTIC!!! Cannot wait to bring our family back! We did adults only this time but would be perfect fir the entire family! All amenities at your fingertips including a fully furnished condo, large pool, restaurant on site, across the street from the grocery store, walking distance to town...and so much more!!! Couldn't have asked for more!!
Only recommendation is having music at the pool
Great Stay
Rating:
1
5
5
Review Date: 06/12/2017
Everything about my experience was perfect from the reservation process, the check in process,the resort, the Condo,the location, and especially the view!! My family had a great stay, the condo has got everything you need in it the rooms are spacious and when you open up the doors there is a fantastic breeze that blows through the condo. We would definitely stay there again!!
Awesome Vacation Experience
Rating:
1
5
5
Review Date: 04/05/2017
Awesome! Everything was exactly as expected. Love this resort and would come again, and use the same management company to book.
Perfect Vacation
Rating:
1
5
5
Review Date: 03/28/2017
Our 2 week vacation was fantastic. The unit was perfect for our family of 5.
The unit was fully stocked with everything we needed.
We enjoyed Wednesday Happy hour with the local ukulele players get there early. We loved the pool and never had an issues finding a spot to lay for the day.
Would recommend this resort to my friends and hope to return again.
Mahalo
Awesome
Rating:
1
5
5
Review Date: 03/02/2017
Fantastic place to rent, close to all the amenities. The suite had all your basic requirements. The beds where very comfortable! Loved it!
Beautiful View!!
Rating:
1
5
5
Review Date: 08/16/2016
We had a wonderful time. The view was spectacular and the condo was nicely decorated and the beds were very comfortable. We will definitely be return visitors.
Great family vaca
Rating:
1
5
5
Review Date: 08/06/2016
H304 is situated perfectly! Great views looking to ocean and pool complex. Really enjoyed the lanai seating.
Unit overall was very nicely furnished and equipped. Only gripe would be one bed was too soft and low to the floor. Our Grandson loved the pool complex and slides.
Great Condo! Great View!
Rating:
1
5
5
Review Date: 07/07/2016
H304 is a great condo with a great view. First, the location has a view of both the pool and ocean. It is also convent to get down to the pool. It's not far from the stairs and elevator. The interior has been updated and the beds are both roomy and comfortable. Having two showers is really convenient for a family. The washer and dryer seem to be brand new which allowed us to keep up with our laundry very easily. Lastly, the kitchen has everything you need and is even well stocked with most of your basic needs.
First Visit to Kauai
Rating:
1
5
5
Review Date: 06/28/2016
It exceeded our expectations !!! Very clean, great location, beautiful view of the resort and beach. Will definitely come back. Thank you for making it our home away from home !!
Beautiful
Rating:
1
5
5
Review Date: 05/08/2016
We will be back we love this property thanks
Thank you
Rating:
1
5
5
Review Date: 05/05/2016
Very satisified customer
Rating:
1
5
5
Review Date: 03/28/2016
The condo was exceptional. Wish we could have stayed longer.
Cozy will appointed villas
Rating:
1
5
5
Review Date: 03/14/2016
Visited kauai for a week and lived this resort . Smaller but well appointed villa and surrounding areas . Kapaa close by offered Al sorts of great dinner options as well as oasis right there on the property . Very thing was top notch , villa very roomy and great views of the ocean and property . We lived it !
Perfect Getaway
Rating:
1
5
5
Review Date: 09/14/2015
Condo is extremely nice and the Location is great! Open your windows and you can hear the waves crashing! Unit is clean updated! Both rooms have large beds that are super comfortable!!!! Unit is stocked with everything we needed. (Market is literally right across the street which is very convienant for groceries) Resort is clean and the pool area is very nice. Kaui management was very helpful before and during the stay!

Minor hiccups: Internet in condo was extremely slow. Elevator in the resort didn't work well the first few days and then was down while they worked on for a couple days as well.
The Perfect Stay
Rating:
1
5
5
Review Date: 09/12/2015
The suite was in great shape, fully equipped, wonderfully appointed and had ocean views and sounds. The pool and beach were top notch as well. Management was very responsive and helpful not just about the suite, but also island activities and information. A+
Aug Vaca
Rating:
1
5
5
Review Date: 08/31/2015
Wonderful!
Rating:
1
5
5
Review Date: 08/15/2015
We spent a wonderful week at Waipouli Beach Resort. The condo was beautiful, the pool very fun, the staff relaxed and helpful.
Great Place
Rating:
1
5
5
Review Date: 07/27/2015
Our unit was perfect for our family of five. We loved having a full kitchen to prepare and eat fresh food. The view was awesome and we were within 30-45 minutes of pretty everything in any direction.
Great Unit
Rating:
1
5
5
Review Date: 06/25/2015
Awesome Ocean & Pool views from this unit. Unit had everything we needed for our stay.
Kauai getaway
Rating:
1
5
5
Review Date: 05/16/2015
We stayed at the Waipouli Resort for five days and had a wonderful time. All of the personnel were very professional and friendly. The pool area was one of the nicest we have experienced. The condo was modern and luxurious. This was a totally top notch vacation.
First time to Kauai
Rating:
1
5
5
Review Date: 05/11/2015
We enjoyed our stay at the Waipouli Beach Resort very much. It is the perfect location to explore the island of Kauai - halfway between the North and the South shores. The pools and the grounds at the resort are extremely well maintained and are beautiful. There is plenty of parking. It is extremely convenient to have Safeway and Foodland across the street and there are many restaurants within a short walking distance. Kauai Exclusive Mgmt were always helpful, responsive and positive.
Beautiful Kauai
Rating:
1
5
5
Review Date: 05/05/2015
This is my second time staying at this resort in the same condo. The location is perfect for day trips to either end of the island. The resort it self is kept very clean, the pool is great and so are the mai tai's at Oasis :)... It is also very close to take a long walk or bike ride along the beautiful coconut coast trail. Also the convenience of the grocery store across the street is a ++. The condo itself is in a perfect spot for the beautiful sunrises. It could use a little TLC (freshen up the paint, and fix the screens on the patio doors), but overall a super place to stay. I will be back.
The BEST place to stay on Kauai !!!
Rating:
1
5
5
Review Date: 04/25/2015
This apartment was just brilliant!!
Fantastic location on the island and the best location within the resort...views of the beach and the pool.
The apartment had everything we wanted, great kitchen and coffee machine, laundry, spa, 3 TV's and wi fi for the teenagers.
Our boys used the gym quite a bit and were super impressed with the gear available.
There was heaps of snorkel gear in the apartment for us to use.
Safeways across the road for some cheap food and lunches.
The owner had prepared a summary of the island and their best places to go....we used this over travel guides was so much better.
I cannot speak more highly of this as a great apartment to stay in.
Beautiful condo in a lovely area
Rating:
1
5
5
Review Date: 03/20/2015
We enjoyed our stay and hates to leave. It was very cool our whole stay and one thing missing was a blanket. I was so cold at night I piled swim towels on top the bed just to stay warm. It isn't always hot in Kauai. Cooking pans could be upgraded. Maybe a wok added for stir fries. Was nice to have supplies there for our use and coffee. Too cool to even sit out on lanai to eat. Pool was way too cool to enjoy which was disappointing. Wanted to swim everyday but too cold. Too bad it's not solar heated to be more enjoyable. I wanted to go down the slide to have fun but too cold. So windy and cloudy our whole stay. Shortage of lounge chairs at pool. When sun came out . Would stay again in this same unit. Nice location and lovely.
Ocean View in the heart of Kauai
Rating:
1
4
5
Review Date: 03/08/2015
Close to the ocean and any amenities needed - most within walking distance. Hot tubs and pool onsite. Clean, maintained, high ends condos. This was our 3rd trip to Waipouli Beach Resort. And we'll be back again.
Wonderful place to Vacation
Rating:
1
5
5
Review Date: 02/25/2015
Have been to Hawaii many times on Kauai, Maui, Oahu. Loved this place and in particular H304. Very comfortable, great location (on the beach in Kapaa), great pool and great amenities. Wife and I stayed here 10 days with our 7 year old son and 4 year old daughter- one of the nicest places we've ever stayed in Hawaii and can't wait to return.
Review of H304 Waipouli Wonderful Whale Watching Spot
Rating:
1
4
5
Review Date: 01/21/2015
Love the location. Love our view from the lanai. Our unit was clean enough however there must be a cleaner out there somewhere that removes the film from the shower glass. Everything we needed was provided. Love the grocery shopping is right across the street. A suggestion: a blender to create delicious fresh fruit smoothies. Overall. Perfect. My second stay there and would easily rent it again. Have vacationed in Oahu Maui and Kauai. Kauai wins hands down. Hope to return annually. Mahalo
Manager Response: 01/21/2015
Response from Kauai Exclusive Management LLC
Aloha Miriam! Thank you for being our guest and I wish we had known you were without a blender while you were staying with us. Every property that we manage has a blender so the fact that you were without one was a breakdown. We have since updated the suite with a brand new blender and had our cleaning team buff the shower doors. We really appreciate your feedback and we hope to host you again in the future!
Ideal vacation
Rating:
1
5
5
Review Date: 01/13/2015
Unit H304 was the perfect condo for our family. It overlooks the pool and has a wonderful view of the ocean as well. The condo was spotless and well equipped with all essentials. The location of the resort is ideal, very close to Kapaa and best was the grocery store directly across the street.
Great location
Rating:
1
5
5
Review Date: 12/02/2014
Excellent resort and very well positioned condo unit. Condo is clean, well equipped and the management team is responsive.
Very Pleased
Rating:
1
5
5
Review Date: 11/11/2014
The condo has a perfect location, with plenty of ocean view, but also a view of the pool and lush surroundings. Furnishings were high quality, and quantities of basic necessities were well appreciated. Only had a coffee maker that was not functioning, and management replaced it quickly.
Waipouli Beach Resort & Spa, Kauai. October 2014
Rating:
1
4
5
Review Date: 11/07/2014
This is a great resort. As advertised on the website and photos! We were in H304 which gave us a great view of the morning sunrises! The view of the pool was wonderful as well. By closing all the doors (the only way to use the AC) you couldn't hear the activity below!
The beach left something to be desired, there was a steep drop to enter the water and then it was very rocky. If you want to swim use the pool. If you want to snorkle or surf/boogie board you'll need to drive a bit. Kauai is a small island so everything is close by if you stay in the southeast area. The room was great. We had a room with two Kings! The first week there was 4 adults and it was very roomy, the second week two more adults, it was a little tight but we worked it out. The cooktop was slow to heat up. The ice maker and Kerig weren't working. Make sure when you book to include a late checkout if you have an evening flight and add a day for your rental car. (That was an expensive lesson) Spa prices were very high in my opinion but we were too busy touring to use it anyway. Oasis by the beach wasn't to bad, a little pricey. Not much handicap parking for those that need it. Don't forget your wristband when using the pool, it was good that they checked, made us feel safer.
Loved Kauai, we'll be back and may even think about buying something. (Must have 3 beds & baths)
I would definately recommend this resort!
A few issues with KEM but were quickly resolved.
Manager Response: 11/08/2014
Response from Kauai Exclusive Management LLC
Aloha, Thank you for your feedback... Regarding the cook top I have reached out to our service team to look into this. Regarding the keurig, once we were made aware the Kuerig was not working properly we purchased the newest high end one Kuerig makes and had it delivered. When we delivered that there was never any mention of the ice maker not working. Had we known this we would have had our on site service team take care of this in the moment. We have addressed this matter so that it doesn't affect future guests. We appreciate the feedback and thank you for being our guest!
Excellent Property - lived up to the description and more
Rating:
1
5
5
Review Date: 07/28/2014
Our experience with Kauai Exclusive from our first contact to our last was most helpful, professional, and thoughtful. They asked questions of us before we knew what to ask regarding our wants and needs.Thank you Patrick McMillan and team for your extended courtesies and knowledge. Booking the unit via email was seamless. The follow-up by the team made check-in quick and easy. The contact on the morning of our departure and assistance with last minute changes could not have been more appreciated. Kauai Exclusive even offered a concierge, Sonja Keala, that helped us book several excursions and provided great restaurant recommendations based on our taste. Our unit was everything the description and pictures said it would be. We were impressed with the cleanliness, the well stocked kitchen and the provision of basics needed to use the unit for a week. The location and parking on property made it easy to come and go for hiking, biking, visiting other beaches. The grocery stores, coffee shops, and drug store literally across the street made for easy pick up for food and necessities. We rate the location very high for walk-ability to stores, restaurants, the bike/walking trail, and other beaches. We would highly recommend H303 and H304. We would highly recommend Waipoli Beach Resort and Spa for families, couples and friends.
Waipouli Beach Resort H304
Rating:
1
4
5
Review Date: 03/12/2014
The location is great, the grounds very clean, the condo had some easy fix maintenance issues and a couple of clean issues that need to be addressed. I have made the management company aware of these and hopefully they will follow through and correct them.
Manager Response: 03/13/2014
Response from Kauai Exclusive Management LLC
As always we appreciate feedback and as always our owners allowed us to take action. We will look forward to hosting this wonderful Ohana in the future!
Love this place!!!
Rating:
1
5
5
Review Date: 03/02/2014
We have come to this resort 4 times now and this was one of the best locations. We had a great time and everything went very smoothly. Managment was very helpful!
Great place to stay
Rating:
1
5
5
Review Date: 02/17/2014
The facility was one of the best we've ever stayed.
The only improvements I recommend are:
There are stains on the living room carpet.
The king sized bed's mattress is sagging; it needs replacement.
Great stay
Rating:
1
5
5
Review Date: 02/08/2014
Almost perfect. One of the best places we've ever stayed.
I do, however, suggest that the king size bed mattress be replaced.
Roy Clausen
Luxury conda with an amazing view.
Rating:
1
5
5
Review Date: 01/09/2014
This unit was all that we hoped it would be. It certainly lived up to our expectations. It was a very important aspect to a wonderful 18 days in Kauai.
Fantastic paradise!
Rating:
1
5
5
Review Date: 12/03/2013
Wonderful time - fabulous service. Loved it!
Perfect Family Vacation
Rating:
1
5
5
Review Date: 10/17/2013
My husband and I have stayed at Waipouli Beach Resort before and always thought that it would be an ideal location for a 'family' vacation. We chose "H" building as it was the PERFECT location within the complex.The 2-bedroom suited us fine. Location is ideal, pool is awesome, and we loved the Wednesday night entertainment from our balcony. Josh handled any concerns promptly and efficiently. He is an expert at this! Highly recommend this property.
wonderful family vacation
Rating:
1
5
5
Review Date: 09/04/2013
The property was clean plenty of room for my two kids,the only thing was that the WiFi did not work so well. Outside that we loved the location close to safeway store and walgreens store and some other stores and restaurants just across the street from the resort, the property is ocean and pool view and is a restaurant also by the pool love that, you can hear the ocean weaves crashing to the rocks from the property.
And close to other beaches minutes away,I recomend this to everybody
Family
Rating:
1
5
5
Review Date: 07/28/2013
Nice Property
Rating:
1
5
5
Review Date: 07/11/2013
Waipouli Beach Resort is The Best
Rating:
1
5
5
Review Date: 07/04/2013
This is the best place to stay. We have been coming her for the last 4 years and always here. You will not be disappointed.
waipouli beach resort
Rating:
1
5
5
Review Date: 04/12/2013
This was my second time staying at waipouli beach resort, and I am really pleased, excellent condo and good location, my kids love the pool. Recommended to everyone.
we had a lovely time
Rating:
1
5
5
Review Date: 04/05/2013
overall it was a great experience.Some of the
furniture needs replacing in this condo.
7 weeks in Kauai
Rating:
1
5
5
Review Date: 02/09/2013
We found the property management people very helpful in accommodating our stay and in maintaining the standard of the accommodation.
They were very responsive to our needs and our requests for service.
Christmas 2012 in Kauai at Wonderful Waipouli Beach Resort
Rating:
1
4
5
Review Date: 12/29/2012
Our rental experience at Waipouli Beach Resort unit H304 was very good!! We thoroughly enjoyed ourChristmas vacation on the island of Kauai. Our unit was exceptionally clean, the ocean view was amazing and the location on the island was perfect. The property management, Josh, was great to deal with. Any questions were dealt with promptly & professionally. The pool facilities were great for our family, the beach out front was good to sit on but not ideal for swimming or other water sports. We travelled the island and found many other great swimming/snorkeling beaches. Great time was had by all. Thanks Blake & Jill
Your request has been sent. We look forward to meeting all your vacation needs!
Use of this website constitutes acceptance of the KauaiExclusive.com Terms and Conditions and Privacy Policy.
©2020- Present KauaiExclusive.com, Inc, All rights reserved. | Website Design by Beyond Pricing