waipouli-beach-resort-h107
waipouli-beach-resort-h107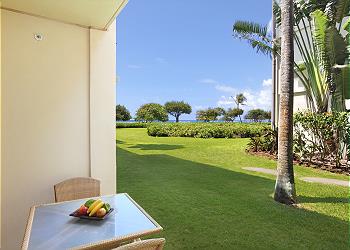 Waipouli Beach Resort H107
https://www.kauaiexclusive.com/rentals/properties/waipouli-beach-resort-h107/
Waipouli Beach Resort H107 | Vacation Rental in Kauai
H107 - STEPS TO THE BEACH & Open Lawn / **AC** Resort Pool & Restaurant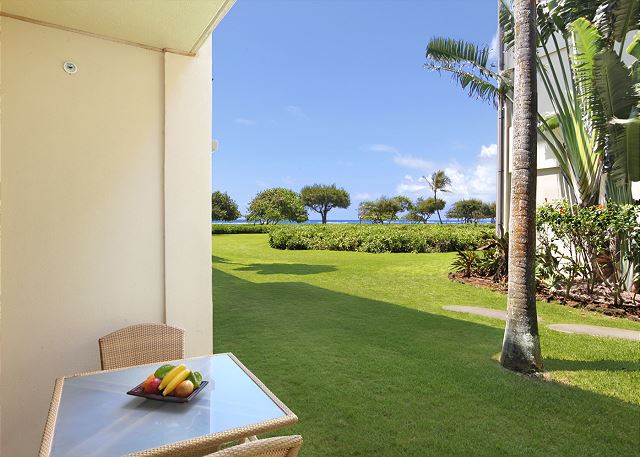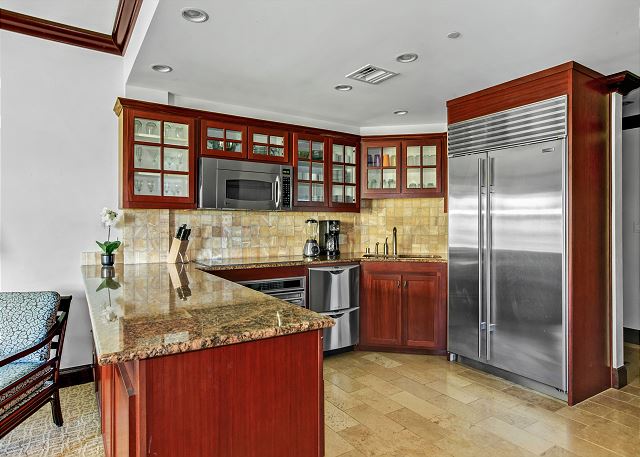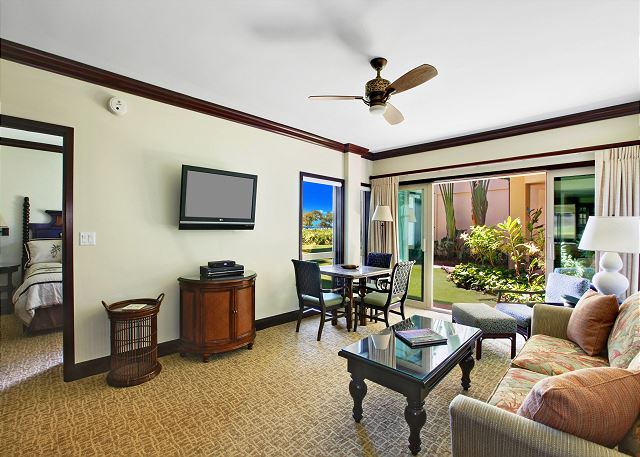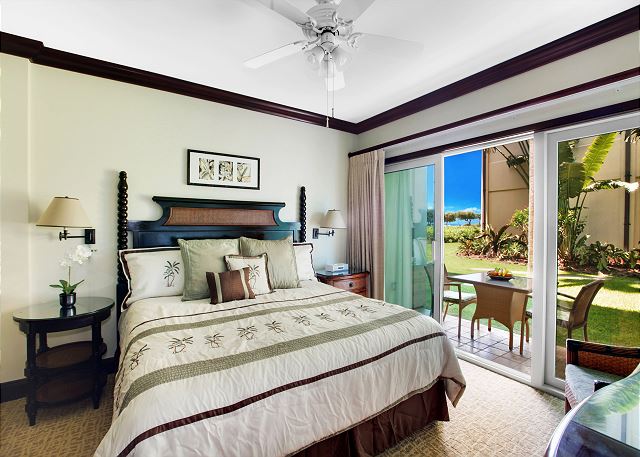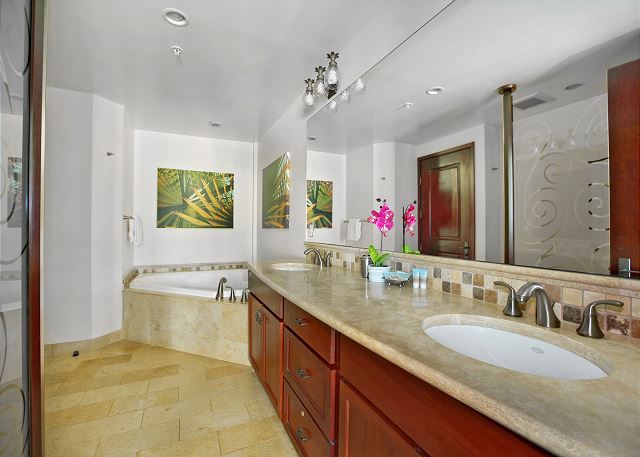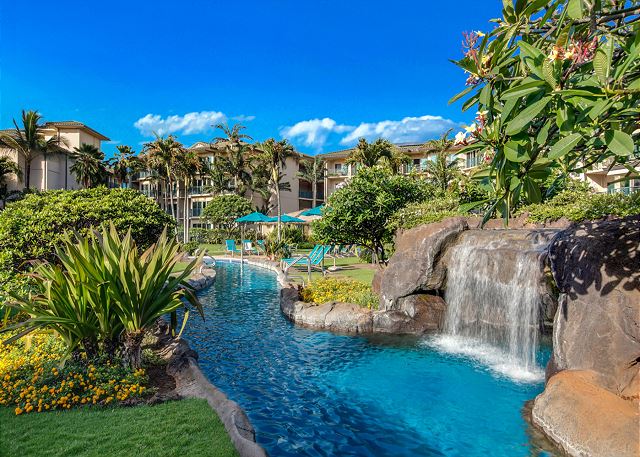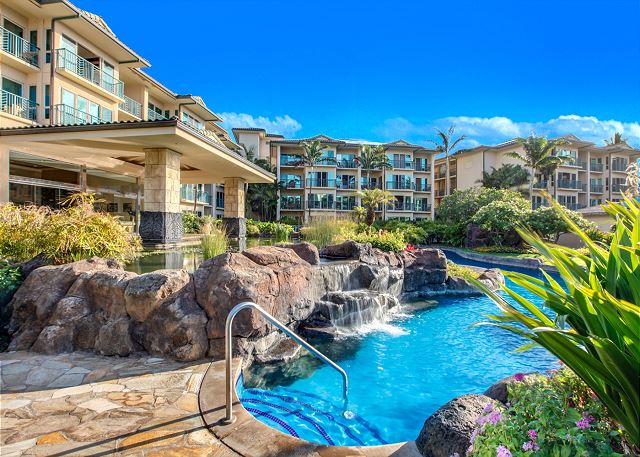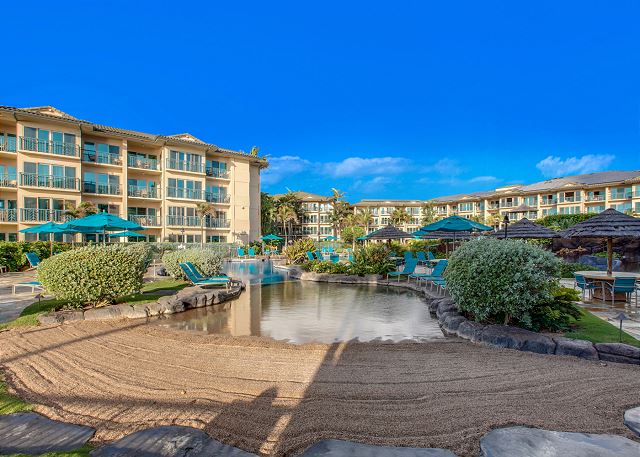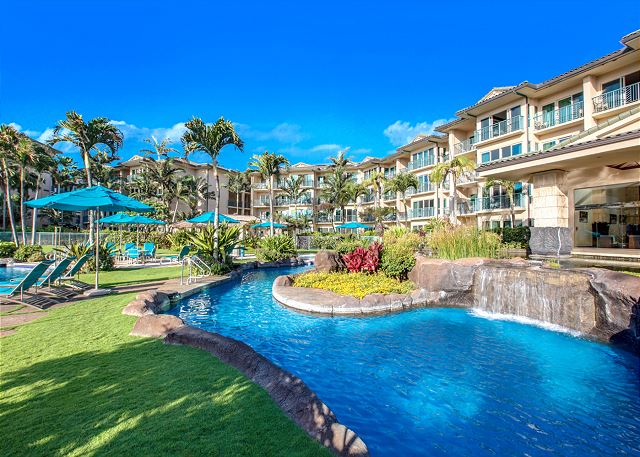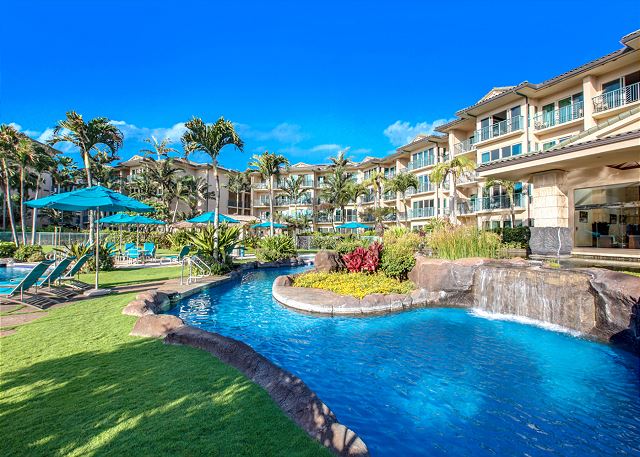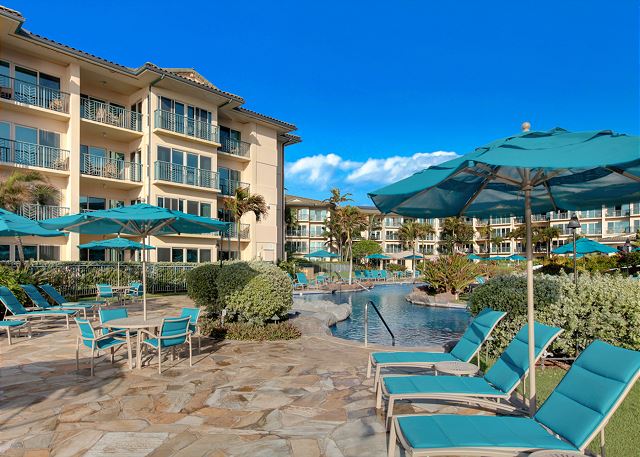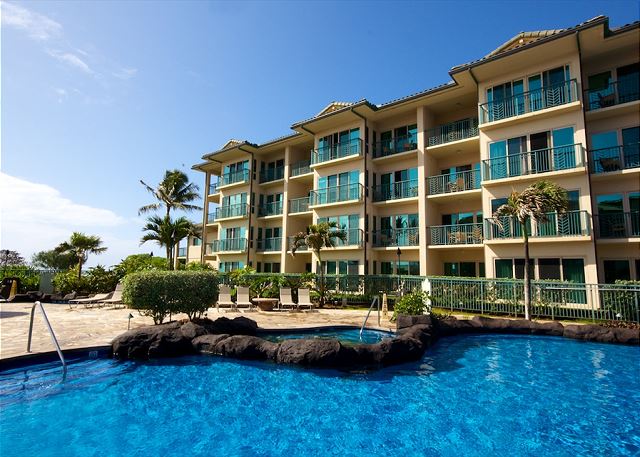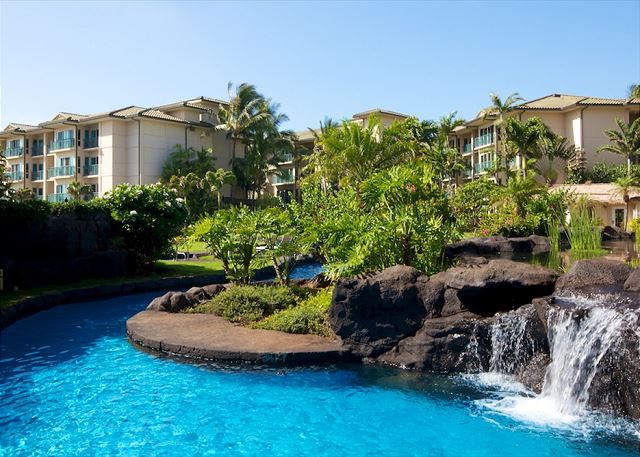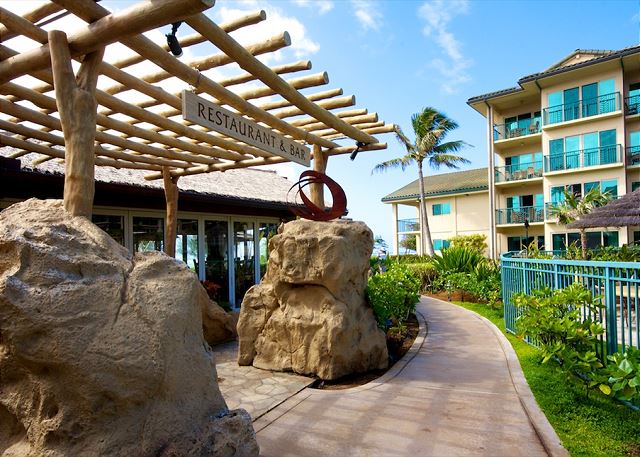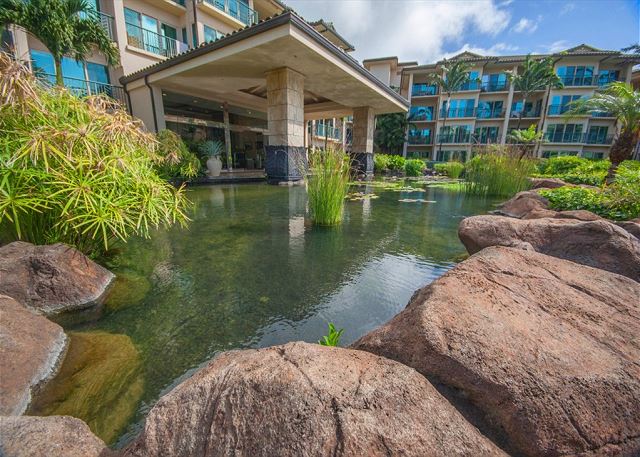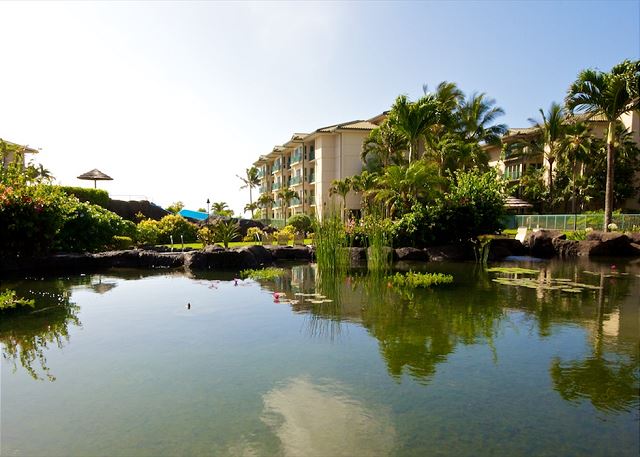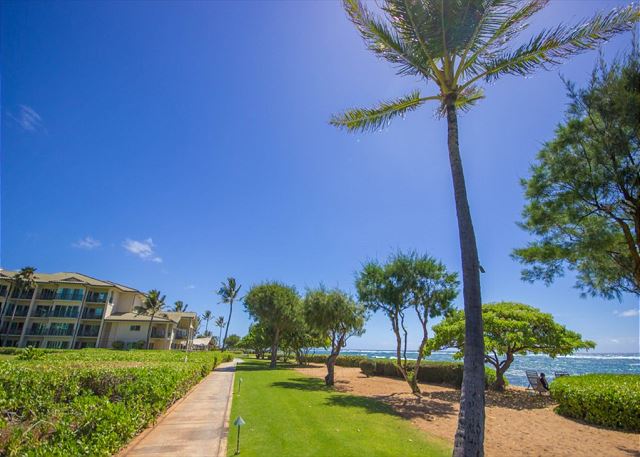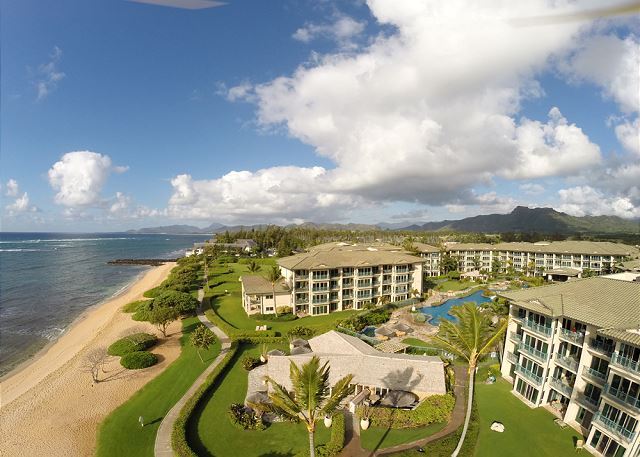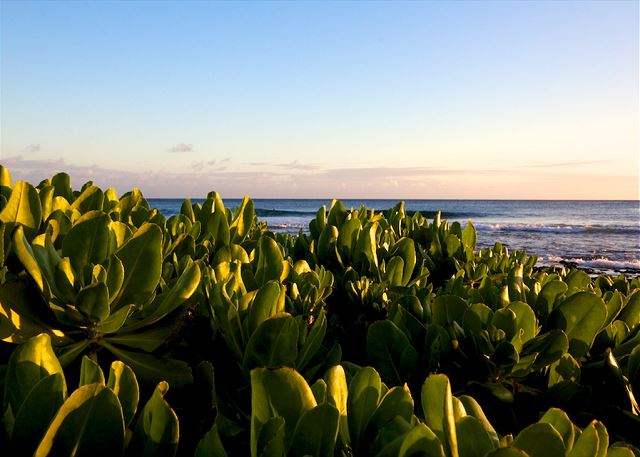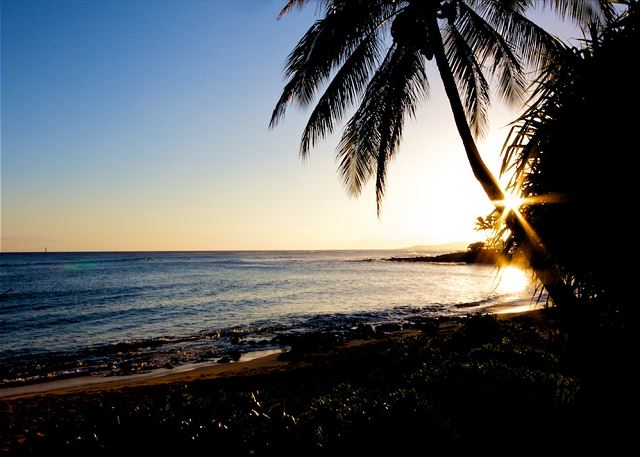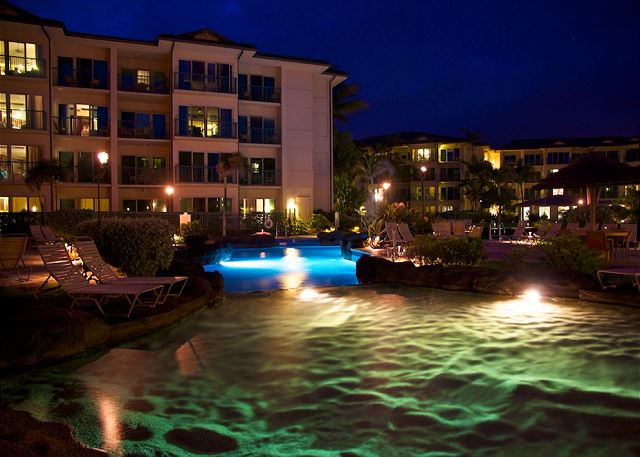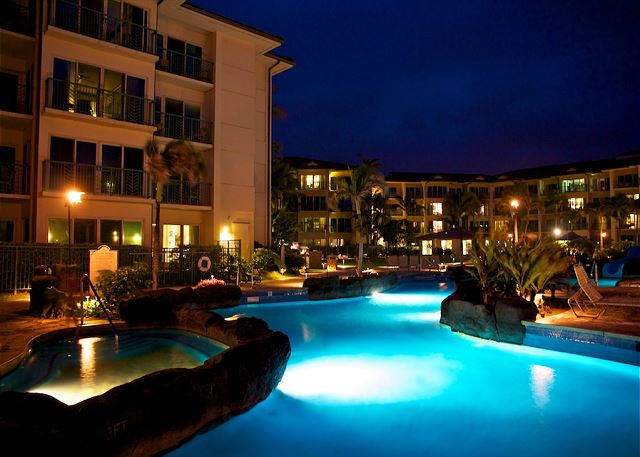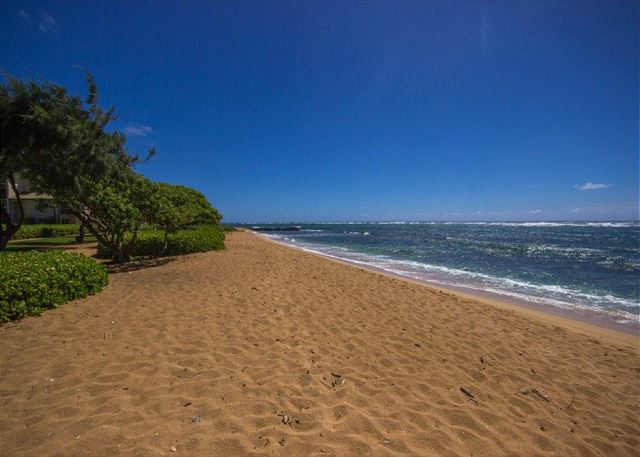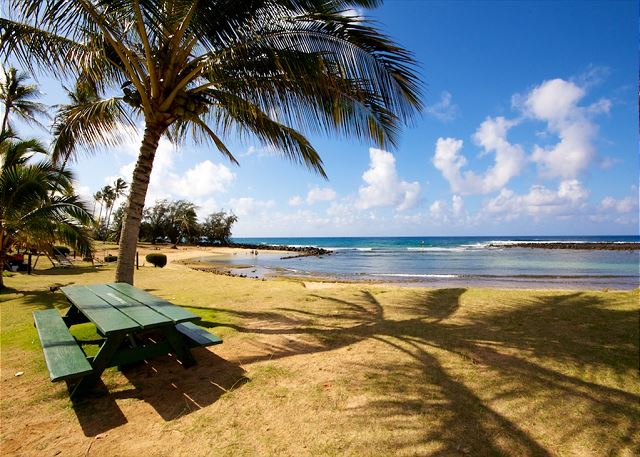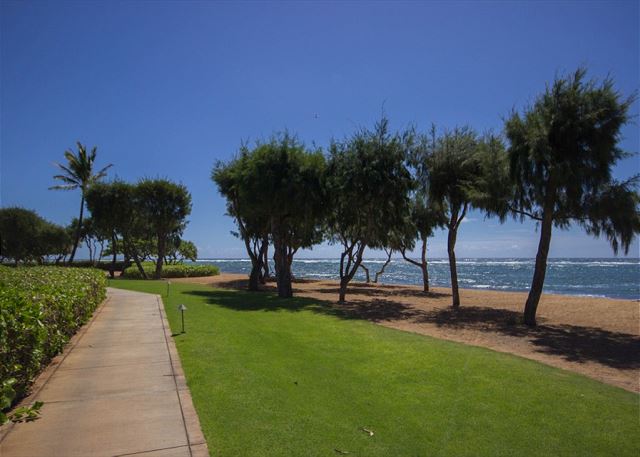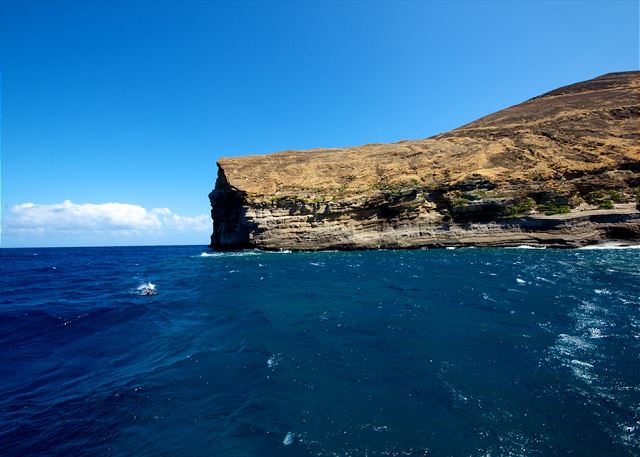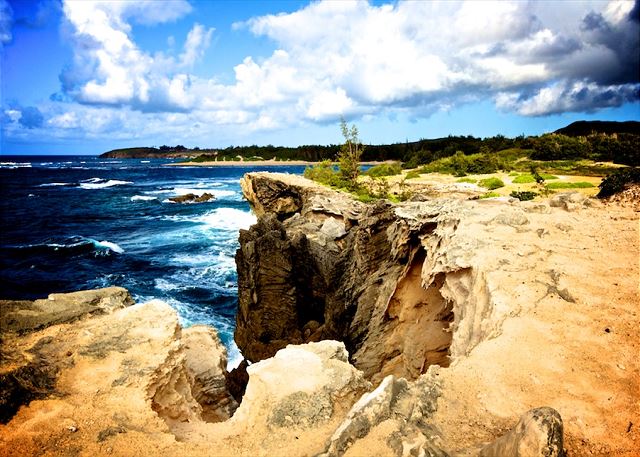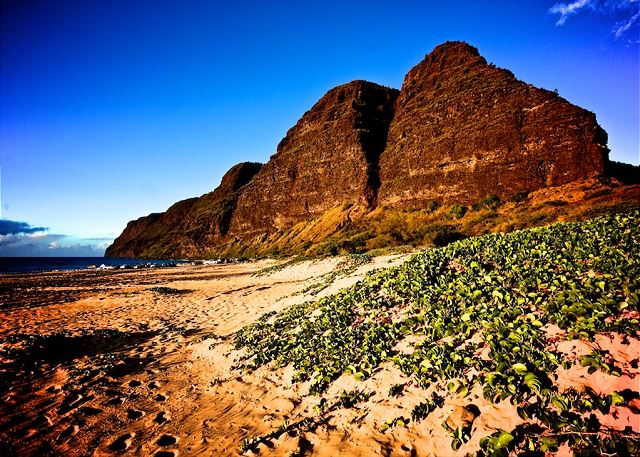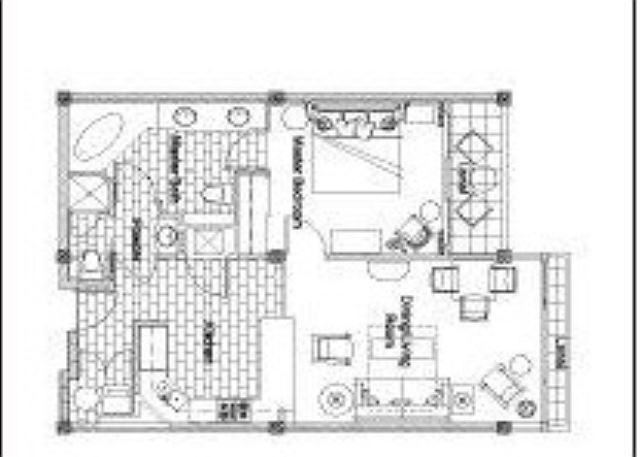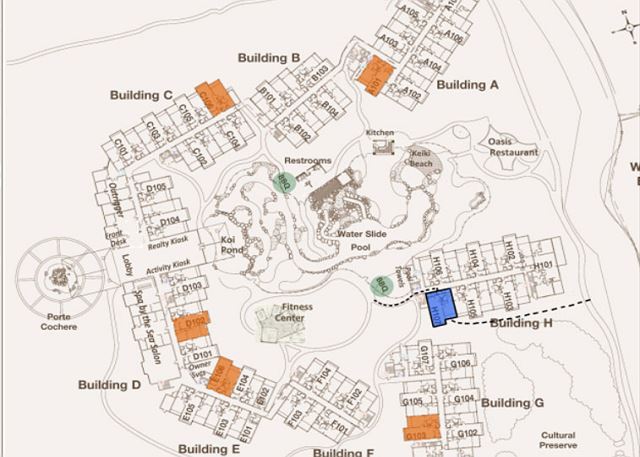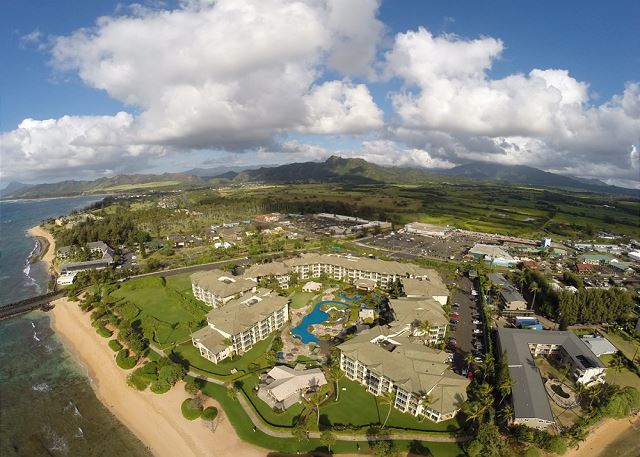 At the forefront of East Shore accommodation is the Waipouli Beach Resort. This World Class Resort provides luxury at your fingertips and offers opulent amenities for a variety of occasions.

One of the most unique locations at Waipouli Beach Resort, this ground-floor one-bedroom suite opens up to beautiful landscaping, lush green lawns and a cultural preserve area. Stroll to the beach right from your room or take just a few steps to the infamous resort paradise pool.

Featuring one king bed and a queen sleeper sofa, this suite can comfortably accommodate 4 people. The stylish interior includes a stately kitchen with a Wolf glass cooktop & oven, Sub-Zero refrigerator, GE profile microwave, Fisher Paykel dual dishwasher drawers, granite counter tops, African Mahogany cabinets, two full bathrooms with Peruvian Travertine stone surrounds and a soaking tub. Enjoy the clean design and convenient location, with the beach and boundless Kauai adventures just beyond your private lanai.

- Located in Kapaa Town (East Shore).

- This impressive oceanfront resort features a variety of privately owned suites, condos, apartments and penthouses with state-of-the-art amenities at affordable prices.

- Amenities include central A/C, concierge service, fitness center, business center, tropical lagoon pool, jacuzzi and access to Oasis on the Beach (exceptional oceanfront restaurant).

- Centrally located on the royal coconut coast, just steps away from restaurants, shops and the Kauai Bike Path. Great location to watch the sun and full moon rise!

Perfectly positioned to accommodate the desires of everyone, the East Shore of Kauai is rich with possibilities. Flanked by epic coastline and threaded together by the public bike path, this centralized location is the social hub of Kauai. Having recently experienced a trendy transformation, the Old Town of Kapaa maintains its historic charm, yet boasts novel offerings. The towns of Anahola, Wailua and Lihue also comprise the East Shore, and carry their own unique appeal. With diverse establishments and activities, you can explore cafes, restaurants, boutiques, adventure tours, aquatic explorations and more on Kauai's East Shore.

One of the most revered places on earth, Kauai inspires a state of awe within all of us. Brimming with beauty, the oldest inhabitable Hawaiian island has both withstood the test of time and matured into a land of fertile abundance. Lush jungles, white sand beaches and the alluring ambiance of aloha enchant each moment. Offering exceptional accommodations, adventures, cuisine and culture, vacationing on Kauai is a dream come true.

TA-061-487-5136-01
| | Nightly |
| --- | --- |
| August 16 - December 14, 2021 | $320 |
| December 15 - January 05, 2022 | $349 |
| January 06 - December 14, 2022 | $320 |
| April 15 - June 14, 2022 | $320 |
| August 16 - December 14, 2022 | $320 |
Thank you for entering your review. The review will become available to the system shortly.
48
48
Overall Rating:
4.8542
4.8542
One of the best units!
Rating:
1
5
5
Review Date: 10/10/2021
We have been staying at this condo resort for years and this is by far one of the best units! The rental was spotless and in a great location. We will be back!
Beautiful room with nice location
Rating:
1
5
5
Review Date: 07/18/2021
Our room was beautiful and had everything we needed. Even though we were close to the pool it was very quiet. The amenities were great. Loved having a washer and dryer in the unit. The bathroom and kitchen were very spacious. Just steps from the ocean with a nice view from our room. I do wish there was swimming and snorkeling nearby however the water was just too rough.
self- contained and perfect size
Rating:
1
5
5
Review Date: 06/01/2021
RELAXING and perfectly located- close to beach, shopping, restaurants and paradise!
Great location in clean updated unit
Rating:
1
5
5
Review Date: 04/18/2021
Wonderful stay at H107 which was close to the pool, but facing away to not hear the screaming children. Quiet patio facing the lawn and steps to the beach. Unit was clean and had new appliances. Washer and dryer were especially helpful.
86 Steps to the Ocean!
Rating:
1
4
5
Review Date: 03/19/2020
This is an excellent rental. Clean, well-appointed, spacious, two patios that overlook a quiet garden preserve next to the beach. It was even better than the pictures!
Great pool, excellent location, midway on the east side of the island so not a lot of driving. Pricey restaurant on the property, but so many better options within walking distance or a short drive/bike ride. One issue was the a/c broke on our last day so we had to have the sliders open all day/night and with the rain, it got a bit damp inside. We've stayed in Poipu before, but we would stay here again for sure!
Absolutely the perfect location! Spacious & Beautiful!
Rating:
1
5
5
Review Date: 01/21/2020
We lucked out finding this treasure! The rooms were great, bed super comfortable, living room furniture comfortable, every need was already there for cooking, even a washer and dryer! Central in the road situation so very easy to get to the North shore or the West shore. Close to all kinds of wonderful restaurants and Safeway right across the street! We had a good time in the amazing resort pool with the walking area, waterfall, slides and three hot tubs. Food and drink available poolside. Beach front property that Hawaiian monk seals came up on to rest. Also beach front is the Oasis Restaurant. Breakfast and dinner were very good! I found the customer communication and helpful advice on their rental app great! We got locked out and they had us back in within 5 minutes if that! Definitely lucked out getting this place! Made our Kaua'i visit all the more unbelievably fantastic and a trip of a lifetime! PS be sure to snorkel near the rocks at Lyndgste Beach where you are safe and fish viewing is plentiful! Also get the Kauai Revealed driving apps for a guided tour in your car and cool history. We also did deep sea fishing, ATV tour, the Tube float through the irrigation tunnels, a luau, and ate at the neat beachside places. Miss you already Kauai and this wonderful home base we did refer to as home! I would recommend this to friends and family as well as love to return myself!
Manager Response: 02/04/2020
Response from Kauai Exclusive Management LLC
Thank you for choosing Kaua'i Exclusive as your host during your time here on the island! We hope to host you again in the future! Mahalo Nui, The Kaua'i Exclusive Management Team
NICE PLACE BUT THE TRAFFIC!
Rating:
1
4
5
Review Date: 12/28/2019
Great place to stay
Rating:
1
5
5
Review Date: 05/12/2019
The condo was very clean and well maintained. It is in a great location within the complex. The complex itself is very quiet and relaxing. The property is located directly across the street from a Safeway; an ABC Store; and a Starbucks. Less than a block away there is a Foodland where you can buy fresh fish to BBQ. I would recommend the property management have the BBQ's checked and/or replaced. They did not get very hot which made it very difficult to evenly cook food; however we made it work. Other than the BBQ's there were no other issues with the property. There are many places to eat in the immediate area. The owner/manager of the condo used Rental Host App which made it easy to communicate with them. I had a couple of questions during our stay and I was able to text them directly and get a quick response. I would highly recommend this condo/complex to anyone.
Condo H107
Rating:
1
4
5
Review Date: 05/06/2019
Would have really loved if the condo provided a couple small beach chairs, and portable umbrella.
Room with a great view
Rating:
1
5
5
Review Date: 04/27/2019
Overall the condo was perfect with a great view of the ocean
Stylish and roomy condo in stunning location
Rating:
1
5
5
Review Date: 03/05/2019
Condo was very clean upon arrival and the furnishings and artwork were a beautiful example of colonial/tropics style. The ocean view was a morning delight in particular, with the beach just a hundred or so feet across the grass.


The resort is very lush, with brings birds of all types to watch and hear, and the pool area is very large with many individual seating areas, waterfalls, and a "river", suitable for adults and children of all ages. There is pool side food and drink service from the excellent on-site beach front restaurant. Across the street from the back of the resort are 2 shopping centers with Safeway and Foodland, with a great selection of poke and other ready to eat meals to enjoy on your lanai, as well as small restaurants, bakeries and shops.

There are many restaurants within a miles walk, we particularly enjoyed Sam's Ocean View and the Lava Lava Beach Club. The 4 mile beach walk begins a block away, and its just a short drive to Wailua RIver for kayaking etc. The Kilauea lighthouse and the north shore are about a half hour drive, but you will want to allow time for lots of photo stops.

Kauai 2018
Rating:
1
5
5
Review Date: 11/03/2018
We loved everything about our stay in Kauai! The place was very nice and had everything we needed and the view was beautiful.
We had a couple of maintenance issues which were taken care of very quickly. We were really impressed with how quickly. It is a beautiful place for a relaxing stay in a wonderful setting.
The perfect experience!
Rating:
1
5
5
Review Date: 10/15/2018
This was by far the perfect place to stay. Tons of nearby local shops, restaurants, markets, and trails. The traffic can be really bad, so watch your timing on excursions. The room was stocked with every possible kitchen utensil, soap, towels, and in room washer/dryer...even laundry detergent! Beautiful sunrises, so do yourself a favor and get up early and have coffee on your patio. You'll be glad you did!
Fantastic!
Rating:
1
5
5
Review Date: 09/18/2018
The condo was excellent! Beautiful and everything we needed and more! The resort was lovely, the beach great and pool awesome! We will recommend to everyone!! Thanks!
Definitely a 5
Perfect for kids
Rating:
1
5
5
Review Date: 07/15/2018
Steps from the grill, pool and beach this room was perfect for our family with young children. Location of Resort was ideal for treks all over the island. The pool area just needs a shave ice stand. :)
Great experience overall, but the condo was lacking some things
Rating:
1
4
5
Review Date: 07/01/2018
Obviously the resort is beautiful, and the condo was in a great location--near the grills and pool, plus an awesome ocean view from the lanai. However, the condo had exactly 5 forks, 7 spoons, and 4 butter knives, which was annoying since we are a family of 4 and had to wash utensils after each meal. Plus there were no steak knives at all, which was annoying since we grilled steaks one night. There were no cookie or baking sheets, or a pizza cutter. These issues made it challenging for some of our meal prep. Honestly, a quick trip to Costco to stock up on kitchen basics would be much appreciated by guests. Additionally, the hair dryer was broken, and the pillows on the bed were extremely uncomfortable. Again, a quick Costco trip and a couple hundred bucks could easily solve all these issues. Our experience with the actual maintenance staff was top notch. They were very helpful and professional. Overall it's a great property, and we enjoyed our trip.
Lovely Stay
Rating:
1
5
5
Review Date: 05/03/2018
The unit was clean, great location and fantastic lazy river pool!
Escape to Paradise
Rating:
1
5
5
Review Date: 04/11/2018
Such a lovely property! Well maintained and well managed. We had a couple very minor problems, which were handled quickly and efficiently. Would not hesitate to stay here again!
Beautiful condo
Rating:
1
5
5
Review Date: 03/27/2018
I had a wonderful time. Condo was well maintenances and conveniences. Love the ground floor . Close to parking, pool and a short walk to the beach . Spacious and spotless clean! Thank you !
Excellent choice in Kapaa for couple
Rating:
1
5
5
Review Date: 12/09/2017
Located on the quiet side of this complex, close to the water, this is a very comfortable condo. Comfortable king sized bed, 2 nice bathrooms, modern kitchen, full laundry — this place has everything. The wifi is strong enough to watch Netflix. Nice pool area.
nice stay
Rating:
1
5
5
Review Date: 11/28/2017
Very nice resort with a good location. There was a some noise from the unit next door a few of the mornings but not terrible. It was nice to sit on the patio and view the ocean. The unit was in a good location, close to the grills, beach and pool.
Honeymoon Bliss
Rating:
1
5
5
Review Date: 11/10/2017
Our rental unit H107 at Waipouli Beach Resort in Kapa'a was absolutely beautiful and luxurious. We saw the photos online before booking so we knew what was in store but the photos did not do it justice. The layout of the bathrooms and doors is what made it very comfortable. We didn't feel stuffed in a room. The tub! Oh my goodness the tub was so wonderful and the double sinks. We got to lay on the beach at 10 p.m. and look up at the stars. We stayed for 9 days and not once did we hear anyone above us. SO nice.
Best vacation ever! Love Kauai Exclusive!!!
Rating:
1
5
5
Review Date: 10/19/2017
This was our first time staying at Waipouli Beach Resort. All I can say is wow! We will never stay anywhere else. The location was amazing and the room was so beautiful and comfortable and had everything that we could want. Sean with Kauai Exclusive was so friendly and helpful. This is our 3rd or 4th time booking with them; it always exceeds our expectations.
Amazing
Rating:
1
5
5
Review Date: 10/10/2017
This resort is so beautiful and well maintained. Our unit was very nice and comfortable. The resort was very close to shopping and restaurants and only a short drive to other parts of this island!
Dream vacation in a dream location
Rating:
1
5
5
Review Date: 09/22/2017
My husband and I had a wonderful time for our 10 year anniversary trip. Waipouli Beach Resort made it that much more luxurious and special to celebrate our marriage! The clean and stylish unit made us feel like we were at a home away from home. With spacious time to enjoy breakfast on the lanai or reading books by the pool, we couldn't have asked fore a better experience. I would absolutely stay here again and recommend it with enthusiasm!
Great location on the beach
Rating:
1
5
5
Review Date: 07/31/2017
We thoroughly enjoyed our recent stay at this property, our one big regret is that we didn't stay longer! This property is easy to get to/from the airport (15 minutes / $25.00 one way by taxi), centrally located one the East side of the island, which made for great access to attractions anywhere on the island. Close to grocery stores for incidental needs, and any groceries should you wish to cook in. We found the kitchen to be very well equipped. The unit was clean and well maintained. The pool and beach were both very enjoyable. Although the beach area is somewhat small, and does not extend much beyond the length of the resort grounds to provide a long stroll/run along the beach, we didn't find it over-crowded. We ate at the restaurant on location, and found it to be enjoyable as well (we especially liked the sweet potato chips appetizer, so much so that we returned just to have them again!) We didn't have a chance to book the on-location spa, but would have liked to, and felt it a plus that it is there and so accessible. (Like I said - we should have stayed longer!) We would highly recommend this property, and would stay there again.
Great Family place to stay in Kauai
Rating:
1
5
5
Review Date: 07/25/2017
Beautiful condo, large and stocked with everything needed to have a blast
Great Stay
Rating:
1
5
5
Review Date: 05/17/2017
We stayed here in May and it was great! The hotel was really nice and literally right on the beach. We walked out to the beach every night and it was so peaceful. We would recommend this place to anyone.
Awesome!
Rating:
1
5
5
Review Date: 05/11/2017
Awesome location, perfect family vacation
Convenient Location
Rating:
1
5
5
Review Date: 04/22/2017
Great Resort! Loved the grounds, the room and the spa. Very convenient location.
Close & Convenient
Rating:
1
5
5
Review Date: 03/18/2017
Our room was located just seconds to both the pool/spa and the beach. Patio access had a wonderful view of the beach to relax with a drink and unwind after a long day of exploring the island. Looking forward to my next stay!
Wonderful getaway
Rating:
1
5
5
Review Date: 03/16/2017
We visit Kauai at least once a year for decades and love the island. We have stayed at Waipouli Beach Resort since it opened. It is beautifully maintained, this condo was well located and the bed was so comfortable. Linens are high quality and new and the condo was well equipped. My only concern was that this building has poor cell service.
Waipouli Beach Resort - Wonderful
Rating:
1
5
5
Review Date: 12/13/2016
The experience was great, the condo was a nice as we expected
Charming one bedroom condo
Rating:
1
5
5
Review Date: 10/19/2016
Waipouli Beach resort is in a wonderful location. It's near Kapaa and the walking path, and there is a Safeway across the street. It is about a half hour walk to Kapaa, which is something we did several times. There is a food truck area in Kapaa which has an excellent crepe truck and Tege Tege shave ice, something that anyone who likes shave ice should try at least once. This particular unit is a rare one bedroom. The bonus is the partial ocean view. Everything was clean. There were plenty of dishes and utensils in the kitchen. We did more laundry than expected thanks to some muddy hikes, and the happily furnished us with more detergent. We enjoyed our stay and would definitely stay here again.
Beautiful Resort
Rating:
1
3
5
Review Date: 08/09/2016
We arrived 3 days late due to airlines! We had no air conditoing for 2 days. It was fixed the 3rd day! very hot and humid no breeze where the condo was located.We loved the resort and condo was nice!Loved the beach
Manager Response: 08/09/2016
Response from Kauai Exclusive Management LLC
Aloha Jeff, Thank you for being our guest. Our apologies the air conditioning was down for 2 days. We put the request in right away with the AOAO and the fix took longer than expected. We appreciate you being our guest and again our apologies. Mahalo, Kauai Exclusive Management
Excellence!
Rating:
1
5
5
Review Date: 07/30/2016
Beautiful location. 5 star rooms. Excellent service. Fun for the entire family.
Paradise Restoration and Rejuvination
Rating:
1
5
5
Review Date: 07/05/2016
This was the best of choices for us. A clean and lovely condo with every convenience of a home. The kitchen was wonderful, the bed was very comfortable, and it's not often you have 2 bathrooms in a one bedroom!
The only thing that would have been helpful would have been a guide on opposing the TV's and maybe having Netflix as an option for your guests.
Otherwise - I would not only recommend this place to others, I will plan on returning myself!
Absolutely lovely!
Rating:
1
5
5
Review Date: 06/21/2016
Waipoli Beach Resort is a beautiful place to stay while in paradise! The grounds are impressively manicured, the pool refreshing and relaxing, the condo's beautifully appointed and spacious! We absolutely loved our week there and we do not hesitate to recommend it to anyone visiting Kauai. We absolutely loved the fact that we could see, hear, and smell the ocean from our condo, and it is truly just steps to the beach. The convenience of having a well appointed grocery store as well as a Starbucks accross the street was amazingly convenient. Don't pass this property up! It is amazing!
We came back for our 1 anniversary and we will be back every year
Rating:
1
4
5
Review Date: 05/28/2016
We had the Best time !!
We Love staying at the Waipouli Beach Resort and Staying in H107 is the nicest room it's close to the pool,parking the restaurant and when the Bbqs are working its close to those too.
You are about in the middle of the Island and are close to everything ,
We can't wait to come back next year.
Anthony C and Mrs C
first visit
Rating:
1
5
5
Review Date: 03/28/2016
We only had the opportunity to stay for 3 nights but everything was great
Amazing place to stay
Rating:
1
5
5
Review Date: 03/25/2016
We were so pleased with our stay at Waipouli Beach Resort and will recommend this unit to anybody that is staying on the island. The unit was as described and perfect for our family of two. The location was very convenient to both the north and the south side of the island if you want to explore. We didn't spend much time at the pool but it looked great. The beach outside the resort was nice and there were lawn chairs available. The property management was excellent in responding to anything I asked or needed help with. I will definitely be staying here again when I return.
trip of lifetime
Rating:
1
5
5
Review Date: 03/21/2016
We had a great time, got to our resort after midnight,no one in the lobby but we found our room without to much difficulty, loved the hot tubs and lazy river, just a suggestion, would tubes work to float around on the river? would definitely recommend this resort.
Dave & Val's Kauai Vacation
Rating:
1
5
5
Review Date: 02/08/2016
Too short, but a wonderful experience
2 weeks in Heaven
Rating:
1
5
5
Review Date: 02/01/2016
This was our 3rd visit to Kauai and Waipouli Beach Resort. Our stay once again confirmed this is the nicest and most convenient place to stay on the island.

Centrally located on the east coast, everything you need is right there. The condos are high end and the grounds cant be beat. We've looked at other resorts, but havent found anything close to Waipouli Beach Resort. I would highly recommend a stay here.
Very relaxing!
Rating:
1
5
5
Review Date: 11/22/2015
My fiancé and I stayed here after spending a few days hiking and camping on the Na Pali coast, this place was the perfect ending to our stay on Kauai. The condo itself was very clean, very large, and well equipped. It had everything we needed to cook, bbq, and clean up to do it all again the next day. We saved plenty of money being able to cook at least breakfast and dinner, it was awesome having a kitchen stocked with pots and pans. 10/10 I would stay here again.
Beautiful spot for our wedding crew
Rating:
1
5
5
Review Date: 11/03/2015
Very nicely appointed unit, ground floor and easy access to pool, bbq, and beach
Beautiful condo, perfect location, amazing management
Rating:
1
5
5
Review Date: 11/02/2015
Condo seemed brand new, with beautiful furnishings and appliances, a lovely view of the water from living room and bedroom. Everything worked perfectly. Keyless entry made coming and going so easy! Management (on-site) very responsive to every little request. I would stay here again in a sec, and will always rely on this management team. You just cannot do better!
Waipouli Condo, Unit H107
Rating:
1
5
5
Review Date: 06/27/2015
Very nice unit on first floor, you can walk out to garden, or sit on porch and see the ocean. Nice ocean breezes come in regularly. Conveniently located right next to the swimming pool area. Very nice.
Your request has been sent. We look forward to meeting all your vacation needs!
Use of this website constitutes acceptance of the KauaiExclusive.com Terms and Conditions and Privacy Policy.
©2020- Present KauaiExclusive.com, Inc, All rights reserved. | Website Design by Beyond Pricing