waipouli-beach-resort-g201
waipouli-beach-resort-g201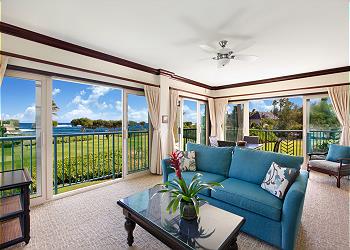 Waipouli Beach Resort G201
https://www.kauaiexclusive.com/rentals/properties/waipouli-beach-resort-g201/
Waipouli Beach Resort G201 | Vacation Rental in Kauai
G201 - EXTRA LARGE SUITE! OCEAN VIEWS/ **AC** Resort Pool & Restaurant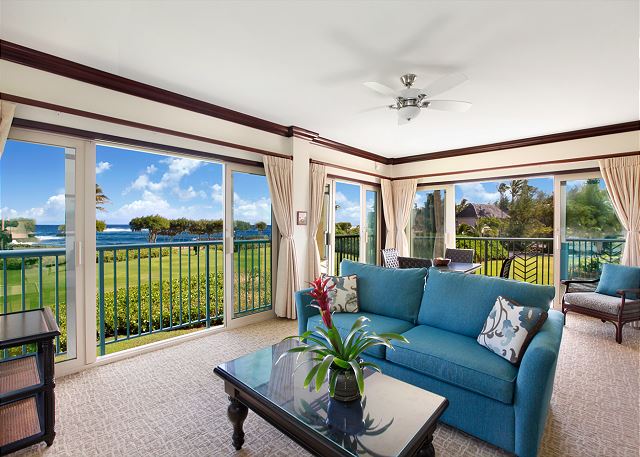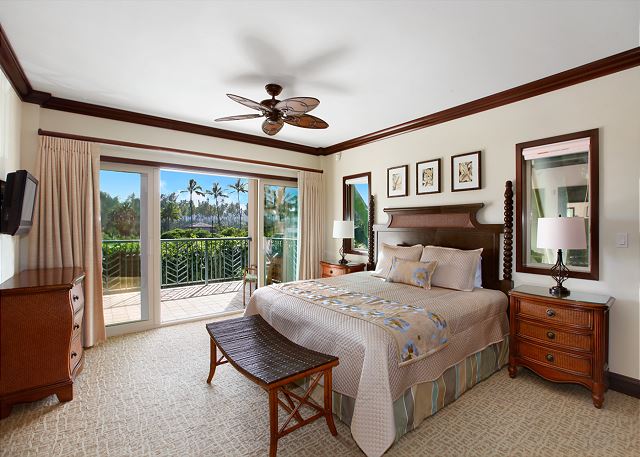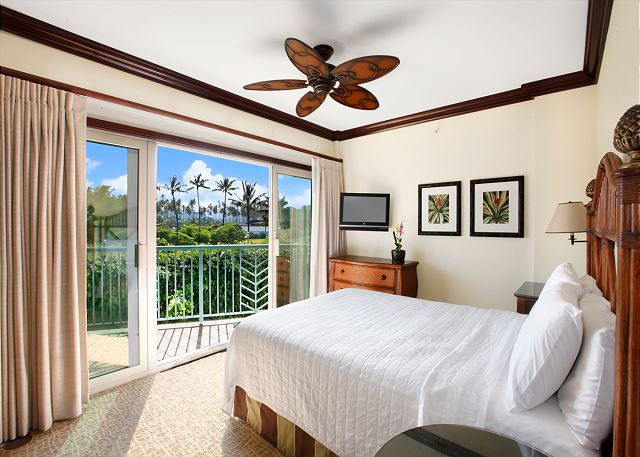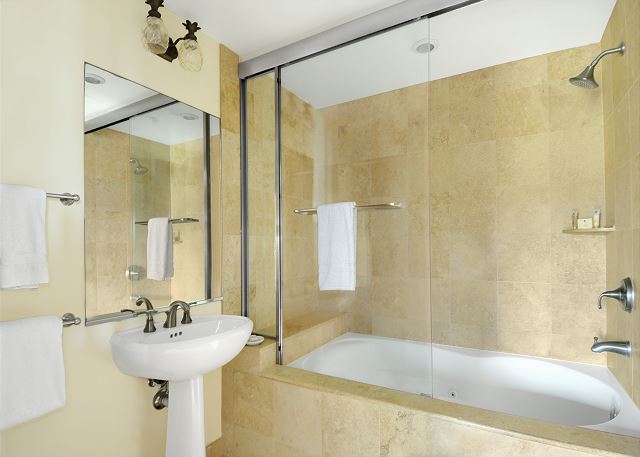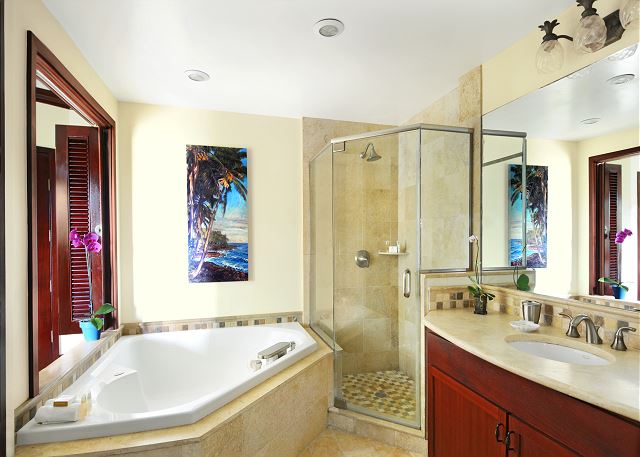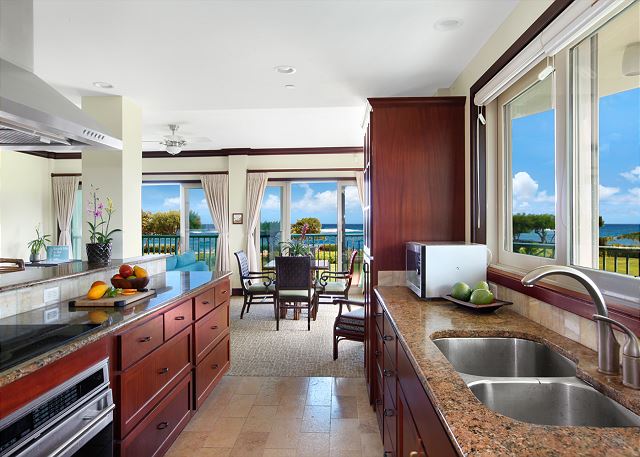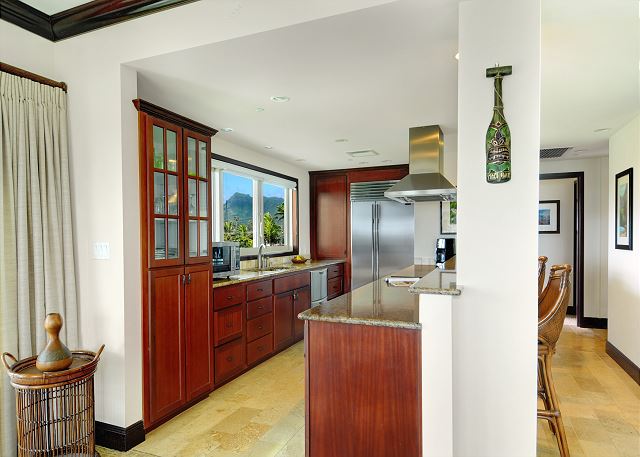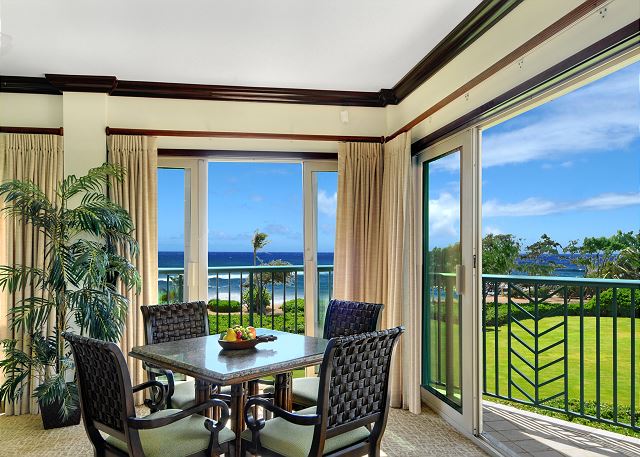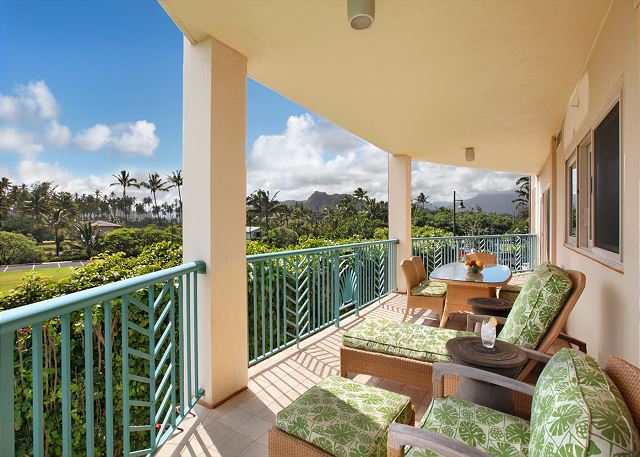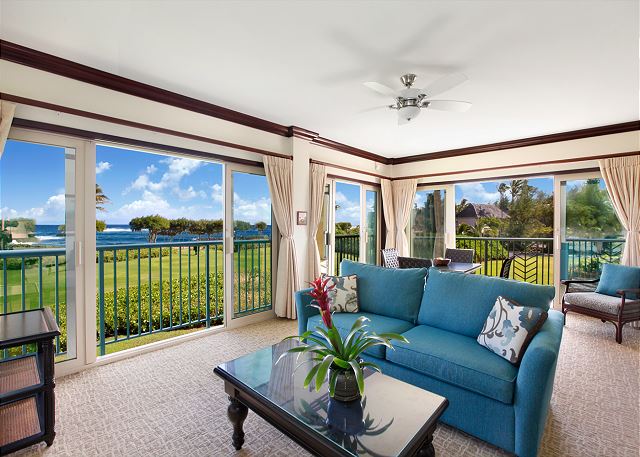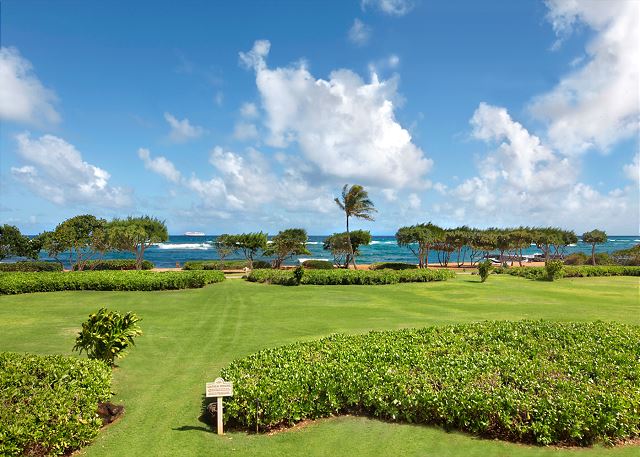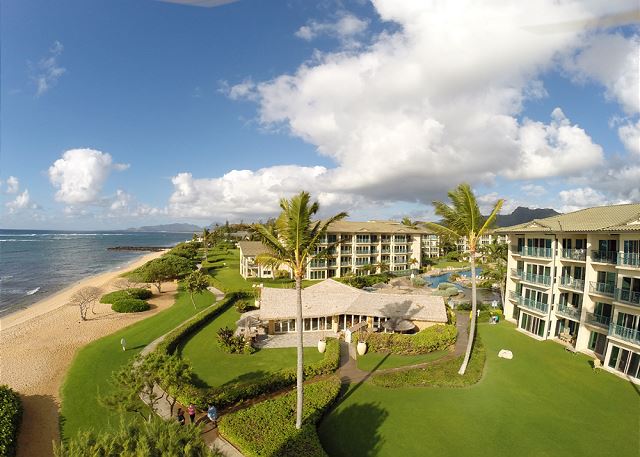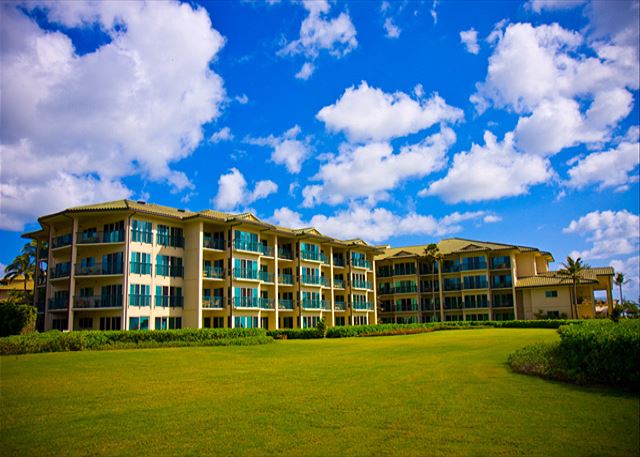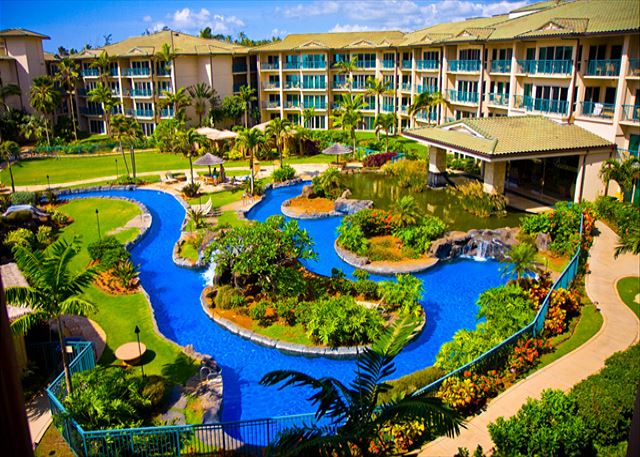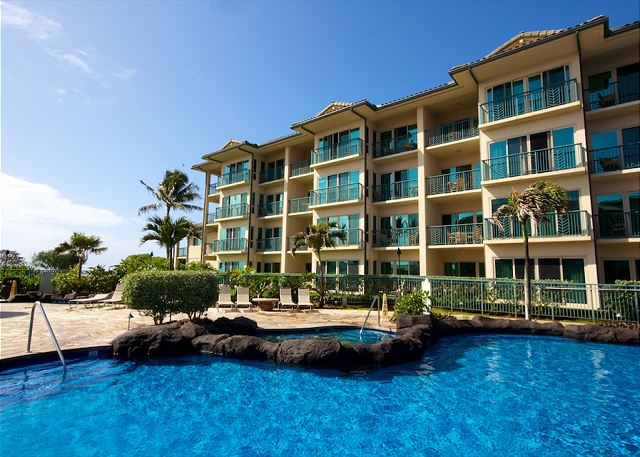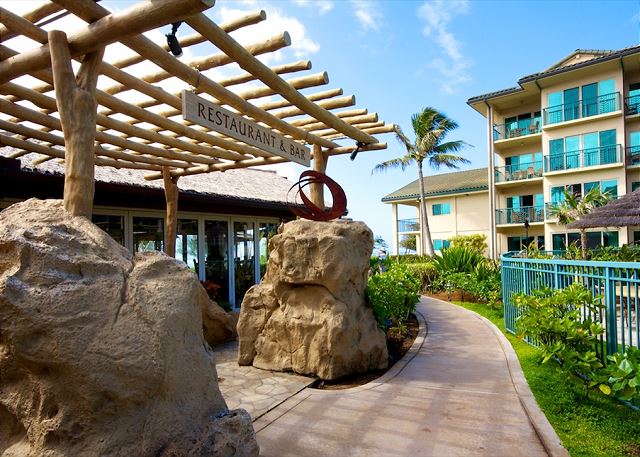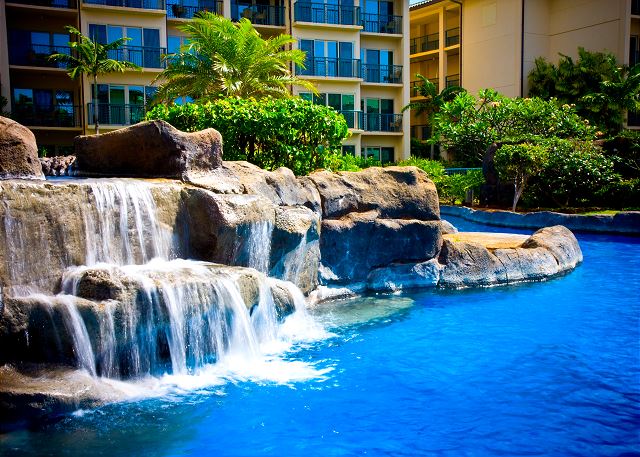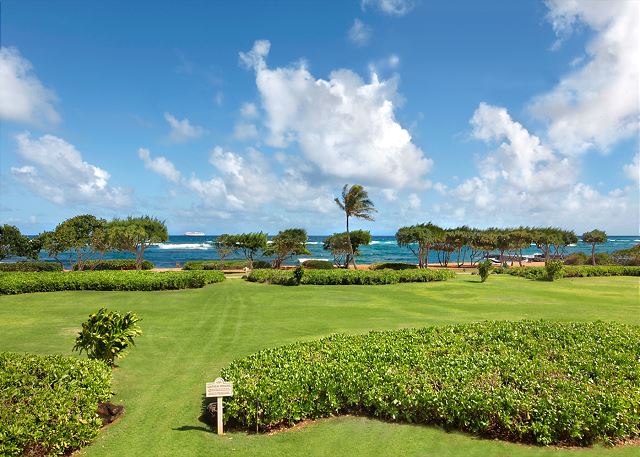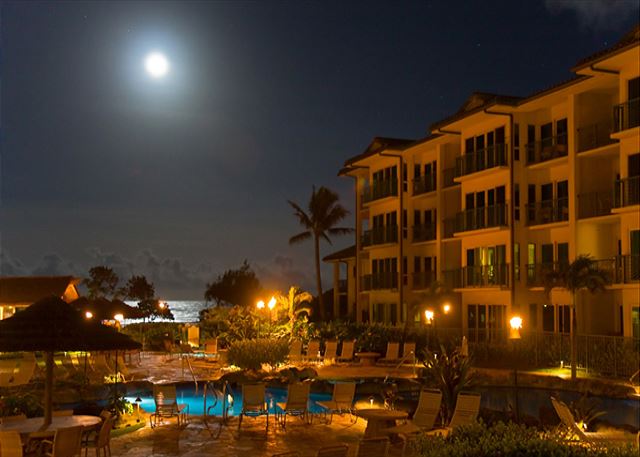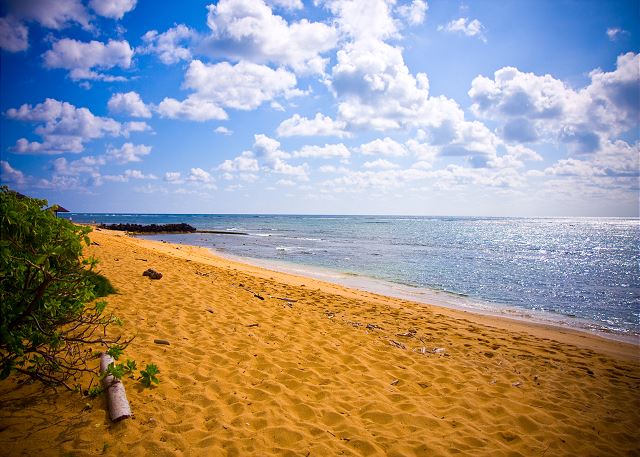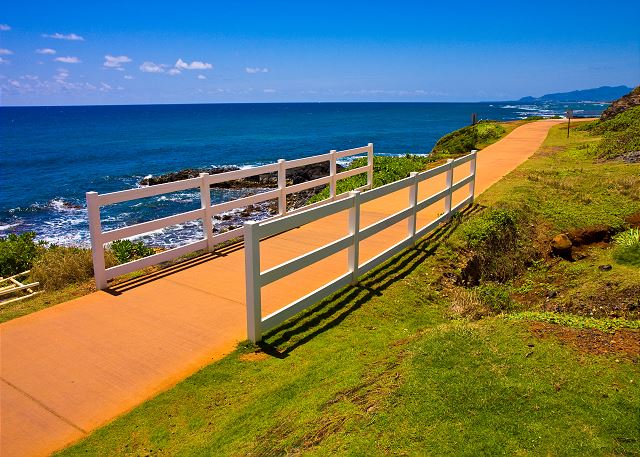 At the forefront of East Shore accommodation is the Waipouli Beach Resort. This World Class Resort provides luxury at your fingertips and offers opulent amenities for a variety of occasions.

One of 6 corner executive suites, this second-story oceanfront location is spacious, luxurious and absolutely stunning! With northern views of 100 year old coconut groves and eastern views of the oceanic horizon, your surroundings are purely paradise.

Featuring a king bed, a queen bed and a queen sleeper sofa, this suite can comfortably accommodate 6 people. The stylish interior includes a stately kitchen with a Wolf glass cooktop & oven, Sub-Zero refrigerator, GE profile microwave, Fisher Paykel dual dishwasher drawers, granite counter tops, African Mahogany cabinets, three full bathrooms with Peruvian Travertine stone surrounds and soaking tubs. Enjoy the clean design and convenient location, with the beach and boundless Kauai adventures just beyond your private lanai.

- Located in Kapaa Town (East Shore).

- This impressive oceanfront resort features a variety of privately owned suites, condos, apartments and penthouses with state-of-the-art amenities at affordable prices.

- Amenities include central A/C, concierge service, fitness center, business center, tropical lagoon pool, jacuzzi and access to Oasis on the Beach (exceptional oceanfront restaurant).

- Centrally located on the royal coconut coast, just steps away from restaurants, shops and the Kauai Bike Path. Great location to watch the sun and full moon rise!

Perfectly positioned to accommodate the desires of everyone, the East Shore of Kauai is rich with possibilities. Flanked by epic coastline and threaded together by the public bike path, this centralized location is the social hub of Kauai. Having recently experienced a trendy transformation, the Old Town of Kapaa maintains its historic charm, yet boasts novel offerings. The towns of Anahola, Wailua and Lihue also comprise the East Shore, and carry their own unique appeal. With diverse establishments and activities, you can explore cafes, restaurants, boutiques, adventure tours, aquatic explorations and more on Kauai's East Shore.

One of the most revered places on earth, Kauai inspires a state of awe within all of us. Brimming with beauty, the oldest inhabitable Hawaiian island has both withstood the test of time and matured into a land of fertile abundance. Lush jungles, white sand beaches and the alluring ambiance of aloha enchant each moment. Offering exceptional accommodations, adventures, cuisine and culture, vacationing on Kauai is a dream come true.

TA-079-821-8210-01
| | Nightly |
| --- | --- |
| August 16 - December 14, 2021 | $420 |
| December 15 - January 05, 2022 | $479 |
| January 06 - December 14, 2022 | $420 |
| April 15 - June 14, 2022 | $420 |
| August 16 - December 14, 2022 | $420 |
Thank you for entering your review. The review will become available to the system shortly.
30
30
Overall Rating:
4.8667
4.8667
Awesome Corner Unit in Kauai!
Rating:
1
5
5
Review Date: 08/10/2021
We were nothing short of thrilled with this unit. It is very spacious, with amazing balconies with an ocean view AND an coconut grove view. And the master has a separate balcony on top of this. The unit was clean, the washer and dryer worked well, the kitchen was amazing. And it had three FULL bathrooms, which was so convenient for our family when needing to get showers. The grounds and beach walk were also excellent. Thank you, we will recommend this property to anyone!
G201 July stay
Rating:
1
5
5
Review Date: 07/22/2021
Wonderful Condo, spacious and clean the view was breathtaking,
Awesome views, great location
Rating:
1
5
5
Review Date: 07/01/2021
Our family enjoyed out stay at this property. The wrap around balcony was wonderful. Close to pool area.
Spectacular Stay
Rating:
1
5
5
Review Date: 06/26/2021
Just completed a 10 day stay at this very well equipped ocean view unit. Property management company provided superb communication ahead of our stay, the unit was well-maintained and very clean and we enjoyed the resort a great deal. Kapa'a is a great springboard location to travel to all parts of the island and we greatly enjoyed the local restaurants and shopping. Our only suggestion has nothing to do with the unit as it was perfect - might suggest better poolside services as the towel process is a bit of a hassle and numerous chairs "reserved" with towels despite no one in those chairs for hours. Again, more of a resort-based suggestion. We would absolutely stay here again and definitely hope to again in the future!!
Perfect Vacation in Kauai
Rating:
1
5
5
Review Date: 12/04/2020
We had the perfect vacation in Kauai staying in this condo! First of all, the condo was very spacious and spotless. There was only 2 of us but there was room for more. The condo included 3 spacious bathrooms. The views of the ocean and the beautiful grounds were incredible. We loved seeing each breathtaking sunrise from the living room. The location was centrally located that allowed us to tour the island easily. We would definitely stay here again!
Great Place
Rating:
1
5
5
Review Date: 03/29/2020
Would do this again with friends any future vacation!
Great Experience
Rating:
1
5
5
Review Date: 02/06/2020
We've stayed at Waipouli Beach Resort 4 times. Each one has been wonderful. We took guests this time and they were very impressed. The location is the best on the Island. We loved the units, the views,the pool,the location, the cleanliness of the grounds, the staff, the proximity to the 6 mile walking path, the monk seal that comes up on the beach,etc., etc.
Manager Response: 02/06/2020
Response from Kauai Exclusive Management LLC
Thank you for choosing Kaua'i Exclusive as your host during your time here on the island! We hope to host you again in the future! Mahalo Nui, The Kaua'i Exclusive Management Team
Best views!!
Rating:
1
5
5
Review Date: 11/12/2019
We loved everything about this property! My husband and I wanted to get away for our 12th anniversary, and this was the perfect place to unwind, not have the stress of eating out every night, and enjoying the views without the high price of a resort PLUS eating out. Even though we only needed 1 room, this property was worth the cost of an extra room for the location. We woke up every morning to the most beautiful views! We'll definitely be back!
A vacation we loved !!
Rating:
1
5
5
Review Date: 10/10/2019
G201 was fantastic
Great location
Everything worked well
Clean and comfy
Great beach too !!
Hawaiian retreat.
Rating:
1
5
5
Review Date: 08/11/2019
Great spot with many local shops and restaurants. Very friendly staff. The unit was clean, very spacious and modern. Pool was superb. Cannot go wrong with this place.
Fernandez Vacation
Rating:
1
5
5
Review Date: 08/05/2019
The Waipouli resort was absolutely beautiful, the room was in excellent condition and the views were amazing. The pool and grounds were great and our kids had a great time in the pool as well as the beach.
Waipouli Beach Resort G201
Rating:
1
5
5
Review Date: 06/25/2019
We stayed here for three nights during our vacation... wish it had been more. We also stayed three nights on the north and south shores to experience it all. This 2nd floor corner unit was amazing! It was very spacious with two bedrooms and three bathrooms. It had a large kitchen and living area and was nicely decorated. We have two teen daughters and the space was great to have unlike the hotel rooms at other resorts that we stayed in the rest of our trip. The view was nice from the living area and we enjoyed the porch off the bedrooms even though it wasn't ocean front. The resort has a nice pool with a lazy river and two slides. The beach was not too crowded either which was nice. You cannot beat the incredible sunrise views from the beach here! The staff with the rental company were amazing... helpful with activity and food suggestions, quick to respond to questions, and quickly responsive when we needed them. We would highly recommend this resort and unit! If we return to Kaua'i in the future, we will definitely spend the majority of our vacation here.
Kauai Trip
Rating:
1
5
5
Review Date: 06/25/2019
This was a great trip. The booking process was easy and very clear. The management company responded quickly to my requests and questions, which was a happy surprise since it was through digital messaging. The unit itself was perfect and exactly as described. We could not have been happier.
Amazing Stay
Rating:
1
5
5
Review Date: 06/21/2019
This suite was even more beautiful than the pictures. It was the perfect retreat after long days in the sun. All of the information that was sent to us was clear and correct. We had one small issue and they answered the phone right away and actually solved it over the phone. I would highly recommend this suite and the booking company.
Quiet and Peaceful Location
Rating:
1
5
5
Review Date: 03/19/2019
This suite was great for our party of 4 and very large. It has 2 beautiful bedrooms - the master suite is very large with shower, jetted tub and own lanai.There was no furniture on this small lanai - only complaint. The second bedroom is smaller with its own bathroom and shower.

The kitchen has high end appliances, very modern and new and lots of amenities and storage. The main lanai had 2 loungers and a 6 seated large table. Great for big groups. The living room is spacious with amazing views of the ocean.

The property is clean and well maintained and pool area is beautiful. The pool is chest height for most adults and heated. There are a few hot tubs with sand bottoms which is different but great. A few waterfalls in the lazy river to cool off.

We used the BBQ's a few times. Everything was cleaned and worked great. They can get busy as there are only 4 of them for the entire complex.

This area is very central to both the South side(25 min)and North side (40 min) and lots of great restaurants in the area as well.


The app that we were provided from Rental Host was very easy to use and had all the info we needed. Communication before, during and after the trip was excellent.


The only recommendation I would make is to shorten the code to get into the pool area. Having to remember and type in a 11 digit code is a bit much. I heard others commenting about it when we entered and exited as well.... Very minor issue though.


Highly recommend this location and Resort !

Six weeks at the Waipouli Beach Resort
Rating:
1
4
5
Review Date: 03/12/2019
Unit G201 is a beautiful condo. Spacious and well appointed. Great views from the large deck. Convenient to all resort activities. We did have a few issues with things in the condo, but the rental and resort maintenance teams responded effeciently and in a timely manner.
Still in awe
Rating:
1
5
5
Review Date: 11/02/2018
We had a wonderful stay. The management group was friendly and always quick to respond. We will be back! This rental was perfect for two couples it has three full size bathrooms, an amazing view and a great kitchen. Just steps from the ocean and you can hear the waves from the sitting area and dining areas. A huge lanai!We made a great choice.
Awesome
Rating:
1
5
5
Review Date: 10/14/2018
Comfortable, had everything we needed. Picked this site for the view initially, but we now love this room and will likely have difficulty staying anywhere else in the future. Owners were available for all questions, and are super friendly.
A Lovely Property
Rating:
1
5
5
Review Date: 09/04/2018
This is a beautiful property. We always stay in houses, villas, condos, flats (London) when we travel for more than a week. Most of them are as nice as they look, but most of them don't supply what this rental does. I've taken to bringing even my own salt and pepper because most places give you nothing. This rental had spices, olive oil and a couple of other cooking items. They had dishwashing detergent and dishwasher pods. There was a scrubber sponge and paper towels, saran wrap and tin foil. Each bathroom (there were three) had starters of shampoo, conditioner, lotion and soap. All the rooms had ceiling fans. And central air. There were three Samsung flat screen TVs. We only turned on the one in the living room, but it had Spectrum Cable and Netflix. There is no DVD player, however there is so much on cable and Netflix we never missed it. The appliances are top rate - enormous LG washer and dryer, Wolf oven, Magic Chef microwave. The coffee pot was a 12 cup Mr. Coffee. We're used to a Keurig so there was an adjustment there. I don't remember the dishwasher brand but it worked. The rain shower in the hall bathroom was fantastic. There were a couple of small things we needed to get fixed during our stay and management quickly responded. We were happy with the location - just outside Kapaa and across the street (literally) from the Safeway shopping center (with crazy high prices). We stayed right after hurricane Lane and there were no resort issues at all. Actually we never had any issues from the hurricane anywhere on Kauai. The bottom line is, the owners didn't buy a property and put as little into it as possible and try to rent it for a large amount. This is a really top grade property.
Kauai Vacation Summer of 2018
Rating:
1
5
5
Review Date: 08/05/2018
We arrived in the evening so the coded entrance was very welcome. The unit was all that we had hoped and expected. We experienced two small problems while there. The shower drained slowly and cable tv was horrible. I believe that shower problem had not been reported previously because it was repaired the same day that I reported it. The cable problem appeared to be resort wide but was not that big of a deal to us because we did not go there to watch tv. Internet service was great so we could get news and mail etc. I highly recommend Kauai Exclusive Management and would not hesitate to use them again!
Kauai 2018
Rating:
1
5
5
Review Date: 06/03/2018
Had a great stay and really, REALLY enjoyed room G201. Room layout was spacious, location was great being on the end of the unit and close to a stairwell that goes pretty directly to the parking lot. Building has its own elevator, and G is very close to the pool gate entry and wristband/towel shack. We loved it, will try to rent the same unit again in the future!
G201
Rating:
1
5
5
Review Date: 05/15/2018
Wonderful condo, beautiful view. Would stay here again for sure.
Spacious Ocean View Condo
Rating:
1
5
5
Review Date: 04/26/2018
The space was comfortable with a nice kitchen with all the necessary elements provided. Beds were extremely comfortable. Beach chairs and some other assorted accessories were in the unit and we made use of them during our stay. Had no problems accessing the unit, property or amenities, unfortunately due to weather we ended up spending most our time off-site in order to take advantage of the limited sunshine.
Nice stay at G201 - Great property management!
Rating:
1
5
5
Review Date: 03/15/2018
Talk about a large condo! The master bedroom was located in the back of the condo, which was so quiet. The kitchen had ALL brand new utensils for cooking. We had to call about the safe in the bedroom, and management company was quick to respond. Very professional, and nice to work with. We were nervous about a comment we read on earlier post about the view of a parking lot, and there is a lot on the side of the bldg., however, there were no cars there, and NO issues. My husband and I sat out on the lanai every morning and had our coffee, looking at the ocean. The views from the living room and dining area are breathless. You open the sliders and can hear the ocean waves. We would stay here again and appreciated all the amenities, esp the washer and dryer IN the unit! They even provided soap to do laundry!
This is a large, roomy condo. There was 5 of us, and I felt there was plenty of room.
Note, we went to Kuhio Shores the following week, and even though we were right on the beach, perfect view, the condo was way too cramped for us after staying at G201.
Thanks again for keeping the condo clean and very well stocked.
Great views
Rating:
1
4
5
Review Date: 11/27/2017
Awesome property and the unit was exactly as described. The only negatives were the pool security is ridiculously overdone and the beach out front is not great.
NIce but had some minor issues
Rating:
1
4
5
Review Date: 08/25/2017
We stayed here after staying in G101 for 7 days - the views were great but the amenities were lacking. The kitchen was not very well stocked with dishes, pans, blender etc. and the television was hard to get connected and change channels. There were no beach chairs or items to use on the beach Additionally, the spa tub did not work which would have been nice after several of the hikes we went on. Had we not stayed in G101 initially perhaps we would not have been as disappointed - but it was much more well equipped than this unit
Manager Response: 08/25/2017
Response from Kauai Exclusive Management LLC
Aloha, Thank you for your feedback regarding your stay in Waipouli Beach Resort G201. Please allow us to speak to a few things mentioned in your review. There are plenty of dishes, pans, a working blender and silverware in the kitchen. I wish we had known you were having trouble locating these items while you were in house. This suite does have 4 beach chairs and a cooler which we just confirmed with our cleaning team. We will look into the the feedback you shared regarding the tub not working properly. Thank you for taking the time to share your experience and we hope to learn from this and do better moving forward. Mahalo, Kauai Exclusive Management
family vacation
Rating:
1
5
5
Review Date: 06/25/2017
Condo G201 is a beautiful condo and the location is excellent with an ocean view. Very quiet location and well kept property.
WOW!
Rating:
1
5
5
Review Date: 05/31/2017
What a great condo! We started off with a just a couple of gliches with the property, but the management company was awesome and fixed most of them. We loved the place, the view, the amenities, and we would rent here again and again!! It was very clean too, which was very important to me.
Kauai Stay
Rating:
1
4
5
Review Date: 04/14/2017
Great Condo, location was easy, beautiful beach, management was excellent
Friendly staff, would have been nice if coffee or tea was provided
The pool fence (gate) is a bit much, almost offensive
The towel operation was excessive at the pool
Would have enjoyed the ability to purchase movies on TV
Perfection!
Rating:
1
5
5
Review Date: 11/11/2016
Just as described and maybe better! All the furniture is clean and comfortable. The bedding is new/newer and very comfortable as well. Kitchen is well stocked. Kauai Management was a dream to work with. Broken dishwasher was replaced the same day! Close to everything, pool was to die for and had something for everyone. A child sand beach/pool and kiddo only hot tub was perfect so those of us with no little ones had two sand bottom hot tubs of our own. Two water slides, and a lazy river style pool with waterfalls. BBQ area, bar and grill next to pool! Across the street and next to McDonald's was a restaurant called Home Cooking, it is a MUST if you want to enjoy "local food" at an affordable price. We live on Oahu part of the year and had not visited Kauai in a long while. We will be back very soon and will be disappointed if this unit is already booked!
Your request has been sent. We look forward to meeting all your vacation needs!
Use of this website constitutes acceptance of the KauaiExclusive.com Terms and Conditions and Privacy Policy.
©2020- Present KauaiExclusive.com, Inc, All rights reserved. | Website Design by Beyond Pricing