waipouli-beach-resort-g105
waipouli-beach-resort-g105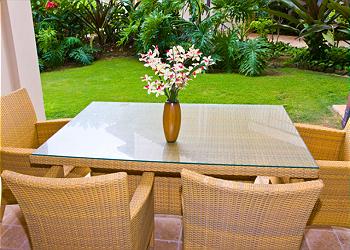 Waipouli Beach Resort G105
https://www.kauaiexclusive.com/rentals/properties/waipouli-beach-resort-g105/
Waipouli Beach Resort G105 | Kapaa Vacation Rental
G105 - STEPS TO POOL/ 3 BEDS/ **AC** / Resort Pool & Restaurant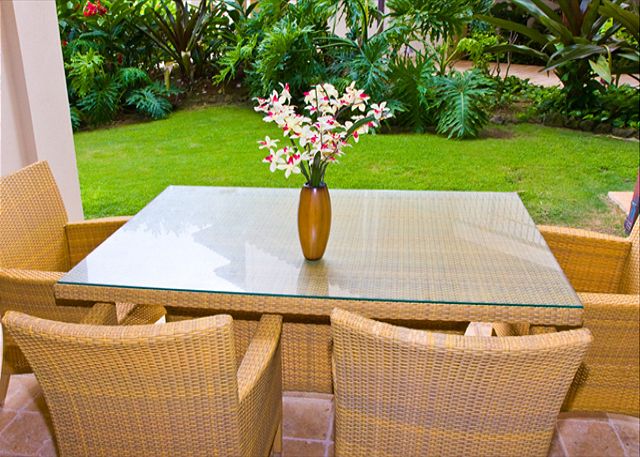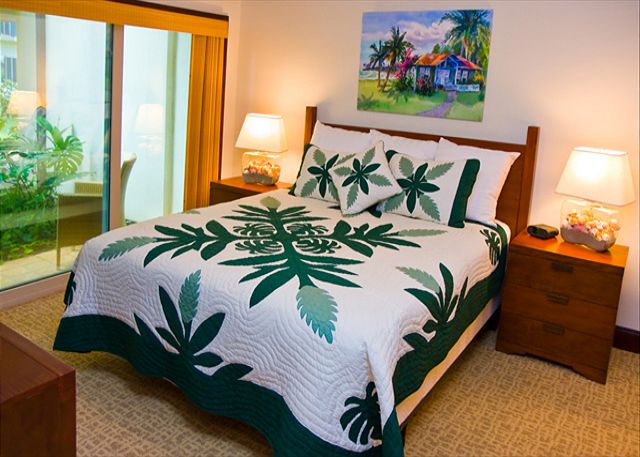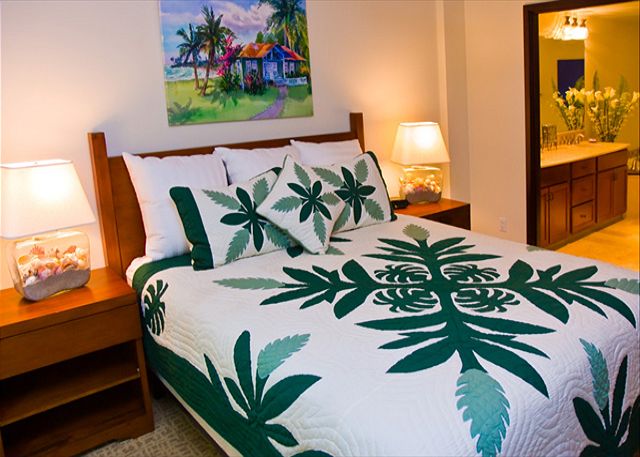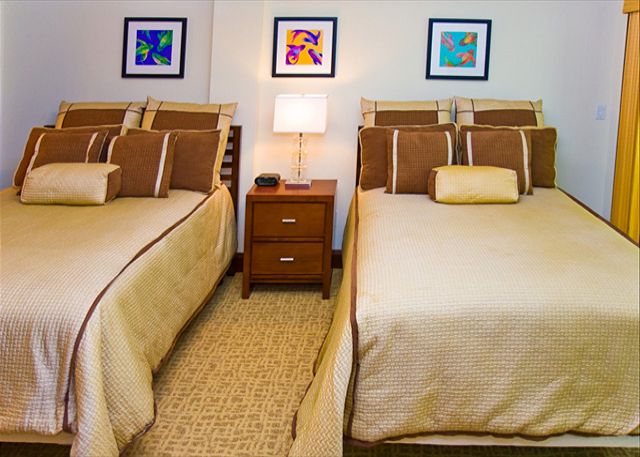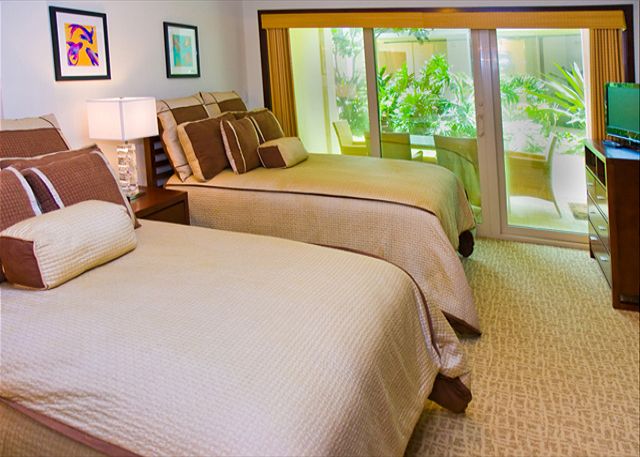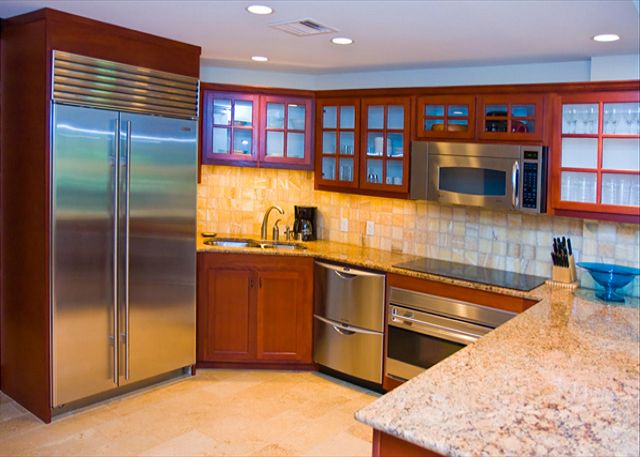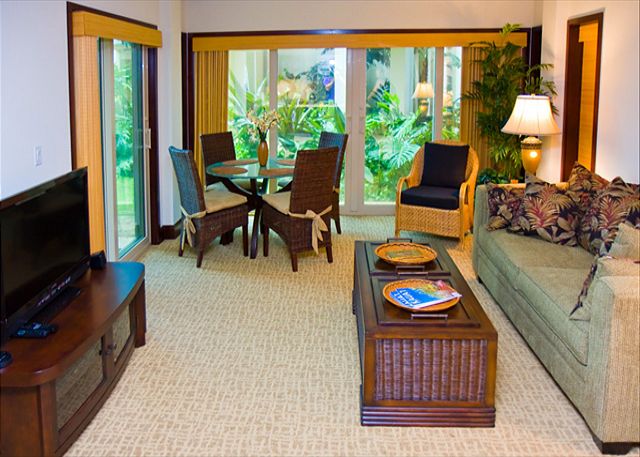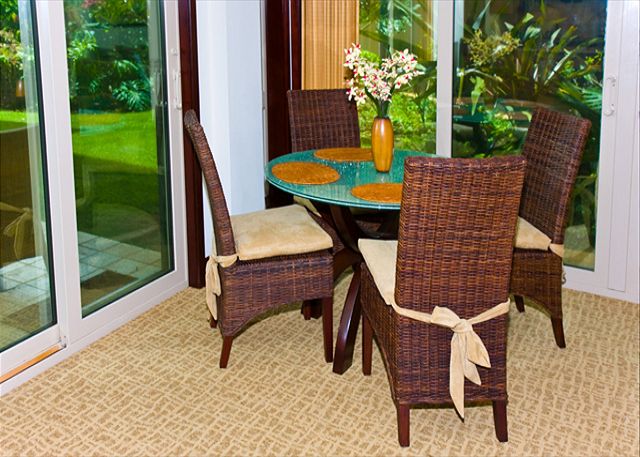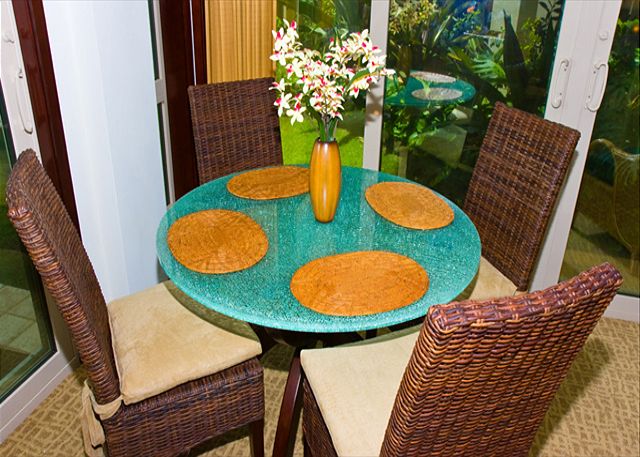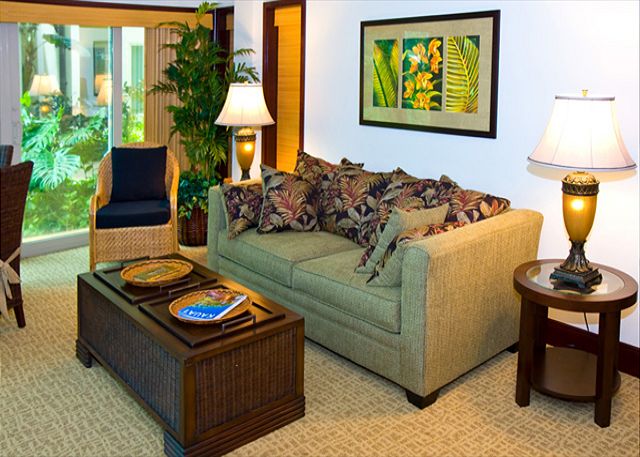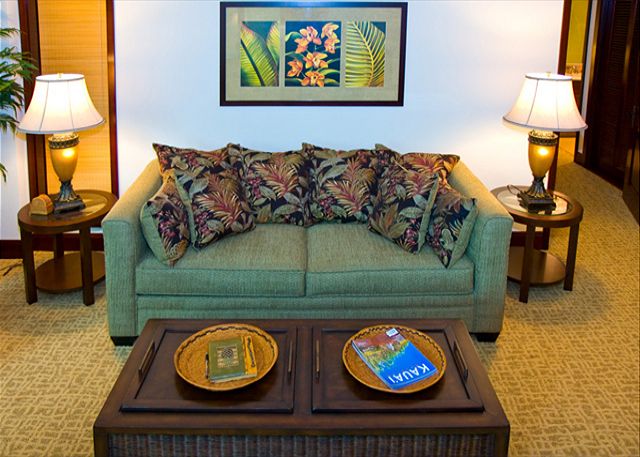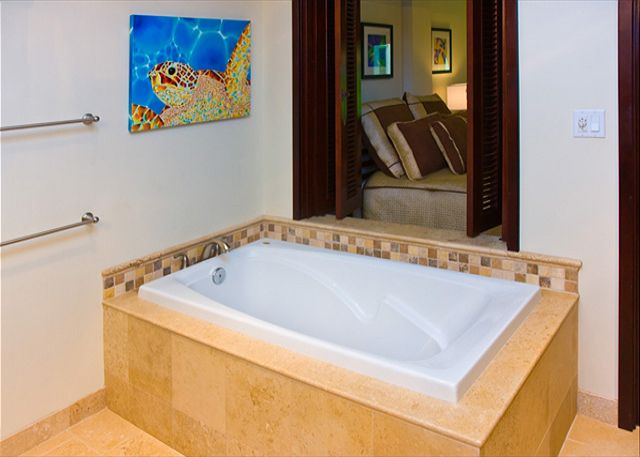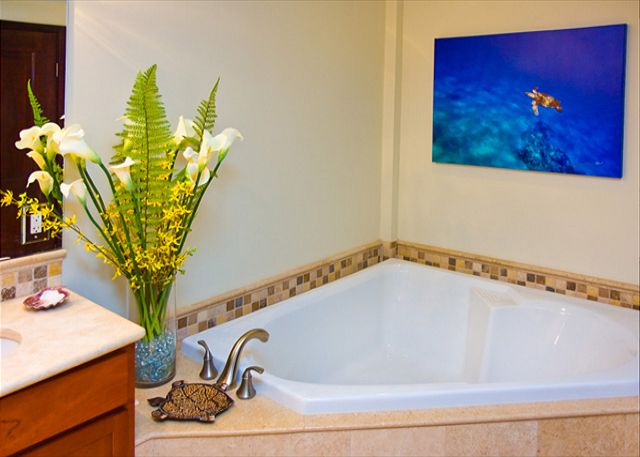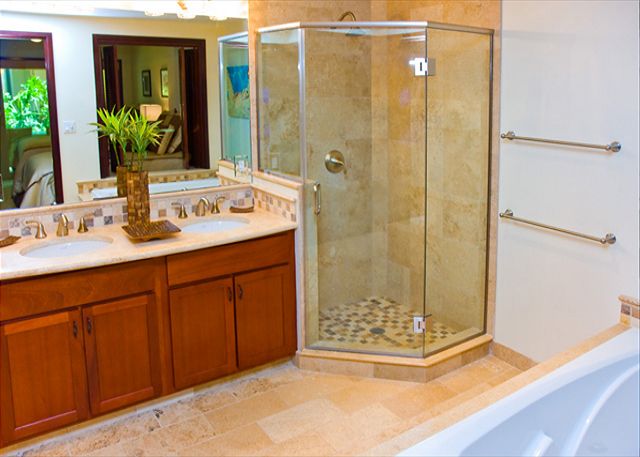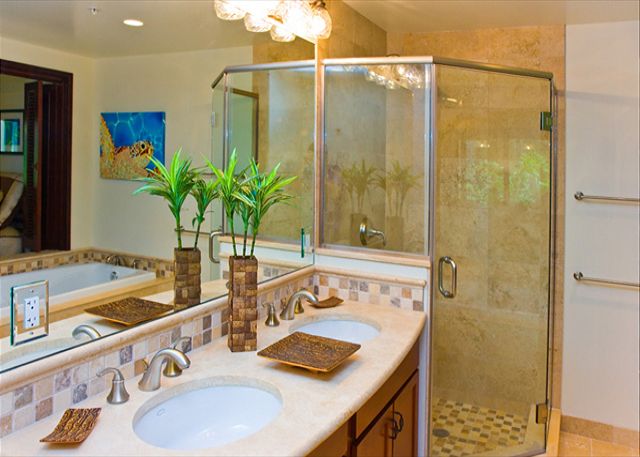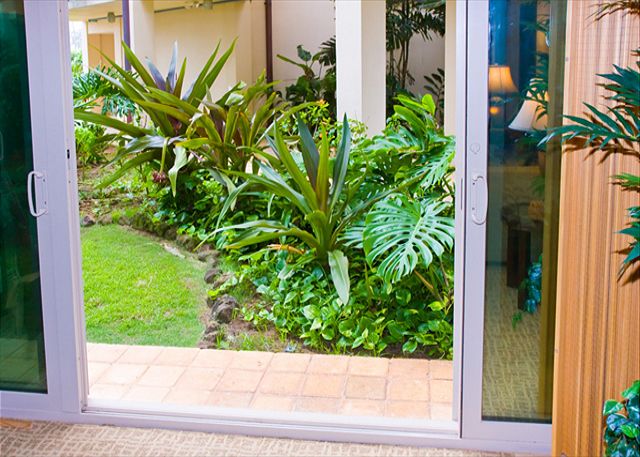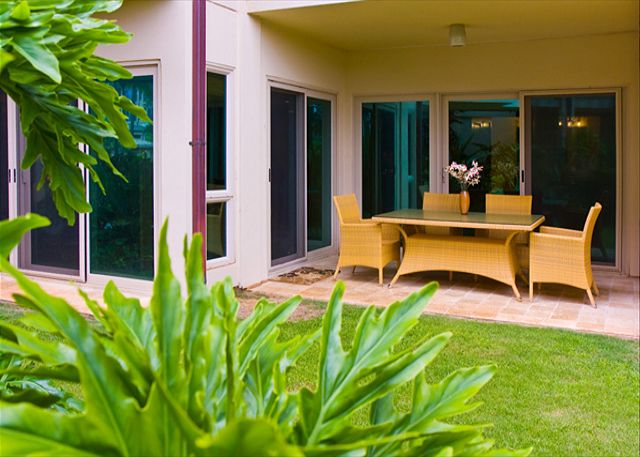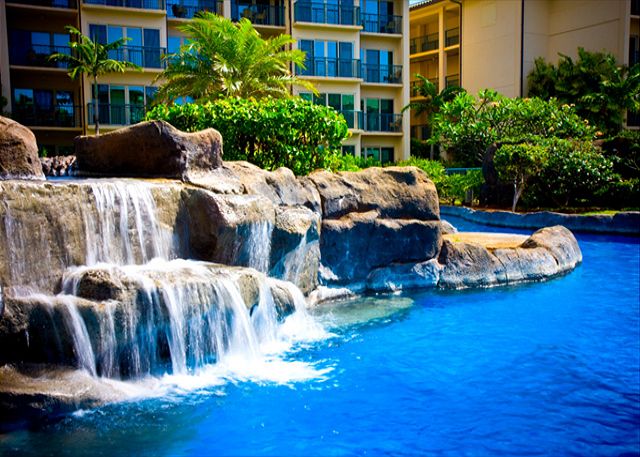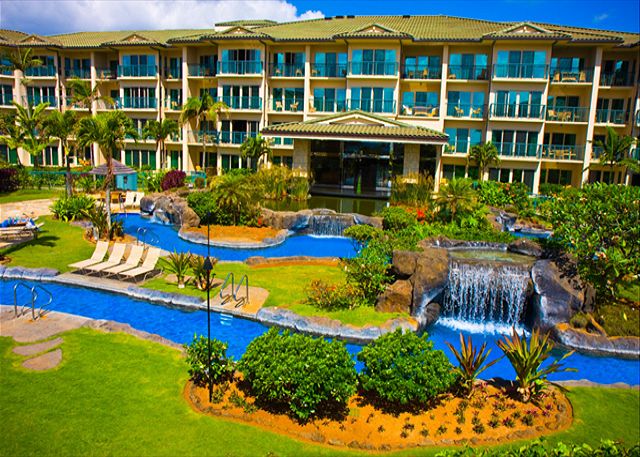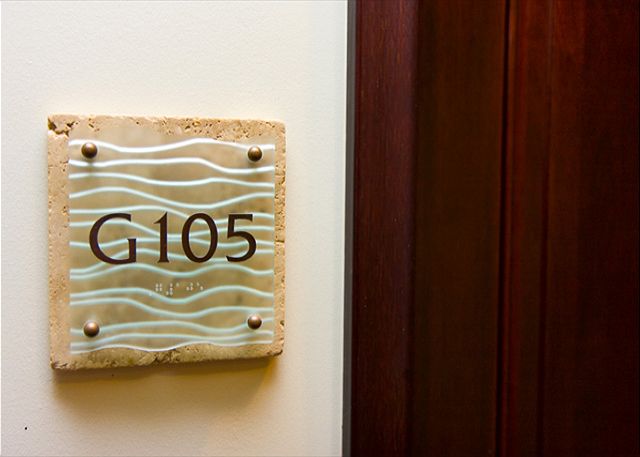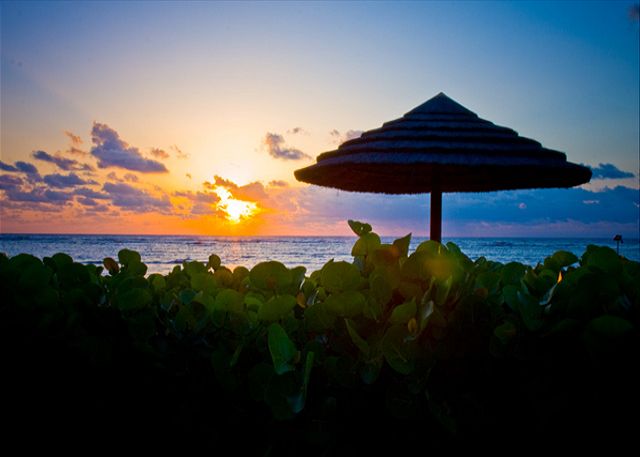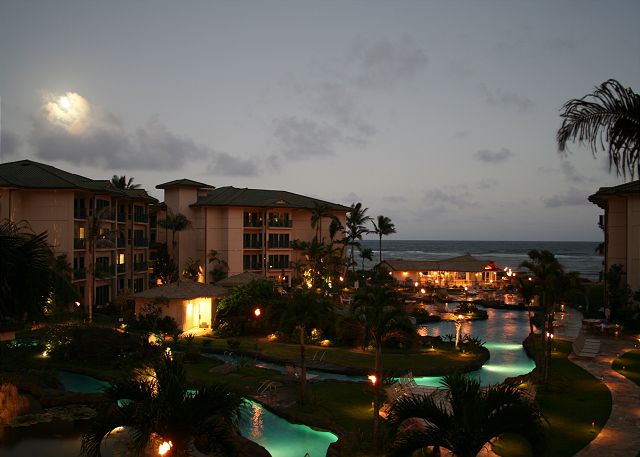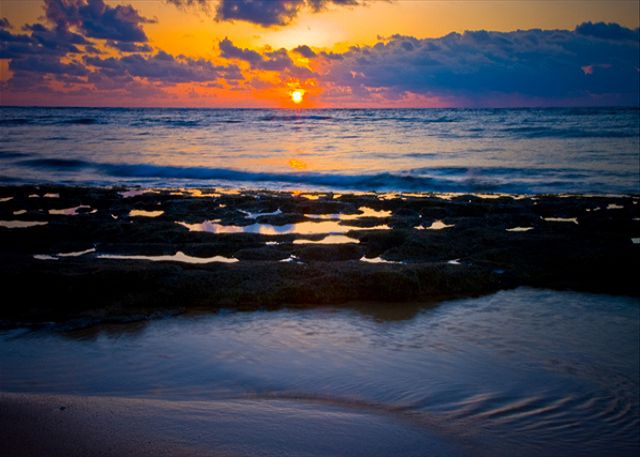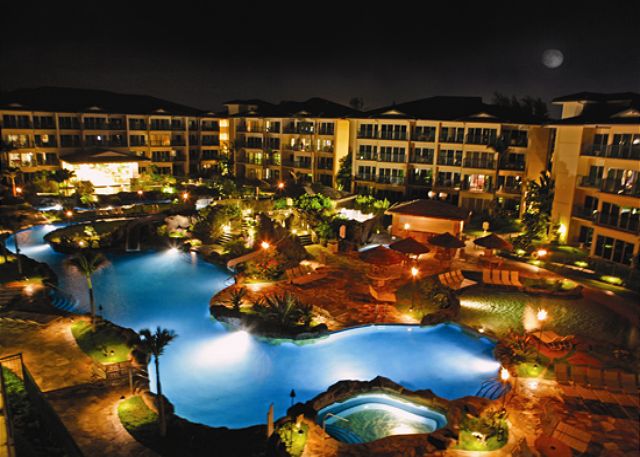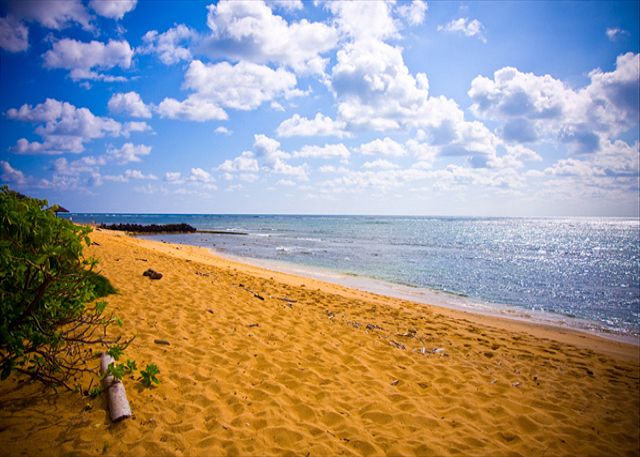 At the forefront of East Shore accommodation is the Waipouli Beach Resort. This World Class Resort provides luxury at your fingertips and offers opulent amenities for a variety of occasions.

A tropical garden delight, this ground-floor 2 bedroom suite opens up to beautiful landscaping and lush green lawns. Stroll to the beach right from your room or take just a few steps to the infamous resort paradise pool. This garden suite is one of Waipouli Beach Resort's best value rooms!

Featuring a king bed, two full beds and a queen sleeper sofa, this suite can comfortably accommodate 6 people. The stylish interior includes a stately kitchen with a Wolf glass cooktop & oven, Sub-Zero refrigerator, GE profile microwave, Fisher Paykel dual dishwasher drawers, granite counter tops, African Mahogany cabinets, three full bathrooms with Peruvian Travertine stone surrounds and soaking tubs. Enjoy the clean design and convenient location, with the beach and boundless Kauai adventures just beyond your private lanai.

- Located in Kapaa Town (East Shore).

- This impressive oceanfront resort features a variety of privately owned suites, condos, apartments and penthouses with state-of-the-art amenities at affordable prices.

- Amenities include central A/C, concierge service, fitness center, business center, tropical lagoon pool, jacuzzi and access to Oasis on the Beach (exceptional oceanfront restaurant).

- Centrally located on the royal coconut coast, just steps away from restaurants, shops and the Kauai Bike Path. Great location to watch the sun and full moon rise!

Perfectly positioned to accommodate the desires of everyone, the East Shore of Kauai is rich with possibilities. Flanked by epic coastline and threaded together by the public bike path, this centralized location is the social hub of Kauai. Having recently experienced a trendy transformation, the Old Town of Kapaa maintains its historic charm, yet boasts novel offerings. The towns of Anahola, Wailua and Lihue also comprise the East Shore, and carry their own unique appeal. With diverse establishments and activities, you can explore cafes, restaurants, boutiques, adventure tours, aquatic explorations and more on Kauai's East Shore.

One of the most revered places on earth, Kauai inspires a state of awe within all of us. Brimming with beauty, the oldest inhabitable Hawaiian island has both withstood the test of time and matured into a land of fertile abundance. Lush jungles, white sand beaches and the alluring ambiance of aloha enchant each moment. Offering exceptional accommodations, adventures, cuisine and culture, vacationing on Kauai is a dream come true.

TA-135-359-0784-01
| | Nightly |
| --- | --- |
| February 01 - April 14, 2020 | $339 |
| April 15 - June 14, 2020 | $279 |
| June 15 - August 15, 2020 | $339 |
| August 16 - December 14, 2020 | $279 |
| December 15 - January 05, 2021 | $399 |
Children's Ocean Swimming Area

Oceanfront Bar and Grille
Thank you for entering your review. The review will become available to the system shortly.
100
100
Overall Rating:
4.79
4.79
Great stay overall!
Rating:
1
4
5
Review Date: 01/16/2020
We recently stayed for 4 nights (January 2020). Walking in, there was a very strong perfume scent which made my throat burn, it was that strong. It was no doubt intended to cover the musty smell of the place, which we could still smell. The perfume smell subsided over the time we were there, thankfully, as we honestly preferred the unmasked musty smell! While we wish that odor hadn't been present as well, we didn't see any evidence of mold or mildew anywhere; it was just the smell. The space itself was great - spacious and just like the pictures. Our two young adult children had their own room, and the third bathroom was a great bonus. It was amazingly quiet; we never heard a single peep from neighboring or overhead units, so we slept well. The unit doesn't have a view, and is a bit dark since we mostly kept the shades closed for privacy, but it was a lower priced unit and we weren't spending time there during the day anyways. The clothes dryer took two cycles to full dry anything (they should check the ventilation and suction it out maybe?) And the king mattress was soft, but comfortable. Some salt and pepper would have been nice to have. We liked the snacks and coffee, thank you! We also liked the location, as it was very central to getting to either side of the island and all of the better restaurants. We didn't use the pool or other facilities, so can't speak to that. Parking was very easy and convenient to the unit. We were satisfied overall with the place.
60th Birthday Celebration
Rating:
1
5
5
Review Date: 10/20/2019
We were a party of 3 sisters and a reunion with our Swedish cousin and we were very pleased with our roomie condo! Was very comfortable and so nicely decorated! With 3 bathrooms!!
Great Congo!
Rating:
1
5
5
Review Date: 10/12/2019
We stayed at this location in 2007 and decided to stay again. Great location, and had no concerns with renting through VRBO. The only "annoying" thing about Waipouli is you have to wear paper bracelets while at the pool, and the code to get in is like 10 digits long...making it Ft Knox especially the first day when you are doing good just remembering the 6 digits to get into your condo. I'm guessing they've had issues in the past, but geez. Condo has everything you need - just head to Safeway or Walmart to load up on food and condiments. Would stay here again!
Beautiful condo with great pool!
Rating:
1
5
5
Review Date: 06/14/2019
The condo was immaculate and had high end appliances and everything we needed. The patio, however, is located near the parking lot. There are shrubs to block the parking lot view.
Great resort
Rating:
1
5
5
Review Date: 05/01/2019
Great resort and great condo.
Spring Break 2019
Rating:
1
5
5
Review Date: 04/22/2019
Beautiful property and well maintained. Pool is great for all ages. The unit is well designed and first class with appliances, furniture, etc.. My favorite part of the property location is Safeway and Starbucks located across the street.
KAUAI- Fall Break 2018
Rating:
1
5
5
Review Date: 10/14/2018
Searching for a place that would be accommodating for adults and children, Waipouli Resort was an easy choice. The whole point of the trip was to hunker down and relax. We made no plans to do activities or plan anything. We hung out at the pool everyday, and met a lot of great people from all over. Shopping was an easy walk, And the unit we had G105 was awesome. It was clean, everything worked well, and very spacious. The room being a ground floor unit, worked out well too. Close to the pool, parking and other facilities the resort offered. I will surely recommend this place to anyone, and definitely stay here again.
Mother & Daughter celebrate our Birthdays
Rating:
1
5
5
Review Date: 10/03/2018
Great time with no problems. Enjoyed our patio with large table and private yard.

Excellent Place
Rating:
1
5
5
Review Date: 08/27/2018
We were five people of a wide range of ages from 15 to 77 and this place was amazing. We all had our own bed to sleep in and enough bathrooms to ensure ease of getting ready each day. The internet wasn't what I would call "FAST wifi" as noted here; in fact, it was downright sluggish. We weren't here to enjoy hanging out on our computers, so it wasn't a huge issue. The room was super clean and modern. It does face the outdoor corridor, so it would be nice to have some extra plantings to provide privacy. (It's still pretty with not much foot traffic!) There is a lovely terrace which does have thicker plants and it's nice to look out onto. The room is quiet and conveniently located and has very easy access to the pool and restaurant. Overall, we really enjoyed this beautiful place and would definitely use it again.
Manager Response: 06/02/2019
Response from Kauai Exclusive Management LLC
Mahalo for your review! The resort internet has had a complete overhaul and is now fast..
Great stay at G105
Rating:
1
4
5
Review Date: 08/16/2018
Beautiful unit, great location very close to pool and beach. Perfect for a family of 4 - kids shared a bedroom but each had their own bed. Kitchen was well stocked and appliances were great! Very close to great restaurants and grocery store. Would definitely stay here again! Small issue with the motor on the freezer - very loud and needed servicing.
Manager Response: 06/02/2019
Response from Kauai Exclusive Management LLC
Mahalo for the review and feedback! The freezer has been repaired and now works perfect with no noise..
Waipouli Delight
Rating:
1
5
5
Review Date: 08/11/2018
The condo is spacious & clean with everything you need to enjoy a great family holiday. It is located close to the pool & within walking distance to Safeway & restaurants. Great communication with management too.
Fantastic vacation
Rating:
1
4
5
Review Date: 08/06/2018
Beautiful condo. It was very clean. The pool was great. The barbecue by the pool worked out very well.
Great Rental Unit, very minor issues
Rating:
1
5
5
Review Date: 07/05/2018
Our rental unit was exactly like the pictures and very clean. It was beautiful and exactly what we expected. The only issues were with the electric flat top stove. The burners heated up VERY slowly and it took FOREVER to cook anything. Scrambled eggs took over half hour to make, no joke! Also the oven took a long time to preheat and to bake as well.
Manager Response: 06/02/2019
Response from Kauai Exclusive Management LLC
Electric does cook a little slower but we realized the problem was the cook wear. We have placed the proper pans as this was the problem..
Wonderful!
Rating:
1
5
5
Review Date: 05/17/2018
This place is great! Clean, comfortable, well-appointed condo. Second bedroom was great, and provided plenty of room in the living room and kitchen since you don't have to worry about sofa bed. Pool is awesome. View is spectacular, area is clean and lots of shopping and restaurants nearby.
Fantastic week
Rating:
1
5
5
Review Date: 05/01/2018
We had a great week in Kaua'i staying in this unit. The space was perfect for two adults and two small children. The two double beds in the second bedroom was key. The kitchen was well appointed and having a washer and dryer was a life saver. This unit is had close access to the pool and BBQs which we loved. The view from the lanai was of the walkway coming in. We didn't mind since the weather was crummy all week. Great value. We will definitely be back!
Great location on the ground floor!
Rating:
1
4
5
Review Date: 01/17/2018
We enjoyed our stay in G105 over the Christmas & New Years Holidays. The condo is spacious and comfortable. The configuration of the beds worked well for us since our teenage son and teenage daughter prefer to not sleep in the same bed. Therefore, the two beds in the second bedroom was perfect! The proximity to the pool and to the parking lot were handy and our extended family members were staying in building H so we were very close to their ground floor units, as well.
The condo is well stocked with beach chairs, a large thermal cooler bag (very handy!) and the kitchen had everything we needed. The only complaints I had about the condo were that it could use more cutlery/silverware and we had problems with the freezer not working properly. The freezer was extremely loud when we arrived and then it quieted down but only the lowest shelves /drawers would keep things frozen. Maintenance promptly came around and had a look. He suspected a larger problem with the freezer. Hope it got resolved after we left. The safe was missing a battery but the maintenance fellow resolved that issue and we were able to use the safe.
We wouldn't hesitate to recommend the Waipouli Beach resort to friends/family.
We found the codes for the condos and for the pool access and we observed many people struggling with the code to get into the pool area. A bit much in the way of numbers!
However, overall, we enjoyed our stay.

Manager Response: 06/02/2019
Response from Kauai Exclusive Management LLC
Mahalo for the feedback! The freezer is fixed and we have a new knife set.. Pool gate code is still a bit long and we are working with the association to see if that can be improved..
Perfect Fit for Our Family
Rating:
1
5
5
Review Date: 11/27/2017
Rental Host is a great app for preparation of our arrival. The condo was a great size for our family of four. Had all the amenities we needed for meal preparation.
The location was central to everything and so close to grocery store, restaurants.
We loved the pool especially for our kids and the use of fresh beach towels daily.
Excellent Stay
Rating:
1
5
5
Review Date: 11/13/2017
We went as a family trip and had a great time. The room is very nice, well furnished and very clean. We had a great time. The room was everything as described. There is no ocean view but you are saving a lot of money. To see the ocean, you just need to go outside which is where you should be anyway. The grounds are very well kept and the pool is wonderful. I expected the pool water to be warmer since it does say it is heated. It was still nice enough to swim. Maybe I'm just a little spoiled.
Fantastic vacation
Rating:
1
5
5
Review Date: 11/04/2017
First time staying with Waipouli Beach resort. We had the best time. Everything was so convenient to restaurants and shops. Close to the airport. The staff was friendly and the resort was so clean and beautiful. The pool was awesome, so clean and fun. We will definitely be renting the resort again. This was our 4th trip and this resort was the best place to stay.
Great!!!
Rating:
1
5
5
Review Date: 10/28/2017
Unit was a beautiful place and convenient. With some minor fixer uppers and a few upgrades it would be fabulous! We still enjoyed our stay and would consider coming back.
A Nice Stay
Rating:
1
5
5
Review Date: 07/17/2017
Wonderful!
Rating:
1
5
5
Review Date: 07/05/2017
Waipouli G105
Rating:
1
4
5
Review Date: 07/02/2017
We had a nice time. The resort is lovely. This unit, conveniently close to the pool and parking lot is great for a family on the go. It is showing it's age and needs a little TLC, which I'm sure will be taken care of.
Hawaii G105
Rating:
1
5
5
Review Date: 04/21/2017
The condo is really well maintained. Top of the line appliances and super comfy beds. It's a great layout for a large family, or two couples. Beautiful resort with fabulous pool (great for families). My 2 year old daughter loved the waterfalls, lazy river, slide, and kiddie pool area. It was a quick walk to the beach - which was really nice. The only thing I would say, is from the photos, we (mistakenly) thought this condo looked out to the ocean, but it does not. The maintenance staff was super kind and helpful as was the concierge. We really enjoyed our stay and look forward to staying again!
Great!
Rating:
1
5
5
Review Date: 04/12/2017
Waupoli Resort G105
Rating:
1
5
5
Review Date: 03/23/2017
Wonderful! Unit very clean and great floor plan for 4 adults to get ready at the same time.
The Perfect Location/Resort
Rating:
1
5
5
Review Date: 01/23/2017
Central location on the Island to go anywhere and everywhere which we did with 2/80+ year old grandmas! Units were well equipped/clean and spacious. No crowds in pools and jacuzzies. Bar/restaurant a little pricey but location was great for eating off site. Management was great, met us on arrival after 11pm and escorted us to our unit! We booked our excursions thru the complex and enjoyed them all immensely. Overall an A+
Vacation with kids
Rating:
1
4
5
Review Date: 12/17/2016
Took our young grandchildren on vacation, ground floor was great for the young ones. Pool heater was broken for all but the last two days, but you can't keep the kids out of the water. Slides were great and the three hot tubs were fun. Very kid friendly resort. Management company was awesome, very helpful.
Awesome place
Rating:
1
5
5
Review Date: 11/04/2016
I stayed in two different rooms and they both were amazing. The grounds of the resort are also beautiful. From the luxurious pool to the beach that is maybe 200 feet away. This place was awesome.
Best Staycation!
Rating:
1
5
5
Review Date: 07/12/2016
Everything about this property/unit was outstanding! Simply beautiful!
Family Get Away
Rating:
1
4
5
Review Date: 07/04/2016
Great location. Nice place. My fam of 4 enjoyed our time in this condo. Nicely decorated. Grounds were clean and well maintained. Room needed a little TLC however. Neither dresser had drawers that worked, they constantly jammed - very frustrating. The master bath door to the shower area was jammed and I could never get it to move. Had to shower the entire week with the door open. I sent a derailed text to the owner and never heard back. These items definitely DID NOT spoil our vacation and I would definitely stay here again!
Manager Response: 09/20/2016
Response from Kauai Exclusive Management LLC
Aloha and thank you for your valuable feedback! Please allow me to address a few things mentioned in your review. The dresser drawers have been fixed as well as the master bathroom door. We are sorry you had to shower all week with the door open! We are always available at. Also we checked with all team members and nobody received a text with these maintenance issues. We appreciate you taking the time to let us know so we can resolve the issues mentioned. We hope to host you and your family again and thank you for being our guest! Mahalo, Kauai Exclusive Mangement
OMG, the best place to stay!! All the amenities you need!
Rating:
1
5
5
Review Date: 06/03/2016
It made our vacation stay special!! My daughter had her own shower and privacy !
Amazing Stay!
Rating:
1
5
5
Review Date: 03/01/2016
We had a great experience. I hope to stay here again multiple times in the future.

The only complaint I had was that the A/C didn't always work that great. We also did not know that it would shut off if the patio door was open. Once we figured that out it was much better. Also, there wasn't a maintenance guy available on call, so we had to wait overnight for the A/C repair.

Other than that, this stay was top notch!
Wonderful Time
Rating:
1
5
5
Review Date: 02/09/2016
The condominium was very nice and clean. Was in a good location close to the pool and barbecue. The resort is in a great location on the island. Beach is nice not a swimming beach but a nice beach to hang out. Pool area is very nice. Went there with another couple only downside to this resort is if you are looking for a quiet time can be a little noisy. Lots of little kids. If your traveling with your family great spot!
Beautiful Condo, Great Location
Rating:
1
5
5
Review Date: 01/25/2016
I absolutely loved staying here, the condos are so nice and completely upgraded. The pools were so wonderful with water slides for the kids, waterfalls and a cool little cave. The beach is right there with a little private area for the condo guests. Towel service is wonderful! I could not recommend a better place to stay, I will definitely be back!
Excellent stay
Rating:
1
5
5
Review Date: 12/14/2015
Great location! Great place!
Rating:
1
5
5
Review Date: 12/01/2015
Love this place, coming back for sure!
Good Value, central location
Rating:
1
4
5
Review Date: 11/17/2015
The unit was spacious and clean. The pool was really nice and fun for the kids. They especially liked the family hot tub in the pool area because it was a little windy while we were there and the pool water not warm enough for the little ones. The kitchen was nice and large, everything was easy to operate. It was great to have a washer/dryer in the unit. The dresser drawers were a little cheap and wonky but not too big of a deal. We all slept really well in the very comfortable beds, not to mention all the fun things and beaches to see and do that were not too far. It would be great if there was another couch or chairs to relax in in the living room. There's only room enough for 3 people to lounge as it is now.
Had a great time!!
Rating:
1
5
5
Review Date: 08/27/2015
Everything was very nice! Check in/out was easy. The room had plenty of room and was clean. Kitchen, washer and dryer, wifi...everything was great! Would love to stay here on our next visit.
Great family rental in a central location on the island.
Rating:
1
4
5
Review Date: 08/11/2015
We enjoyed this rental. The quality of the interior is fantastic. Chairs are a bit tired but the beds are really comfortable. The room is located on the end of the facility near the parking lot but the lanai area is landscaped beautifully so you can still enjoy sitting on the patio for a bit to eat or have a cup of coffee in the morning. Having a/c is a huge plus and the kids absolutely loved the pool area.
Manager Response: 10/27/2015
Response from Kauai Exclusive Management LLC
Aloha and thank you for the feedback! Please note that all of the chairs have been updated as well as the cushions. The owners were on island recently and replaced any chairs and cushions that needed it. We thank you for being our guest and for taking the time to provide us with such helpful feedback. Mahalo, Kauai Exclusive Management
G105
Rating:
1
5
5
Review Date: 08/04/2015
Great location & clean spacious condo. Three bathrooms fabulous. Loved having a washer/dryer. The grilling area was fun. Condo could be better stocked for people that prepare meals. My family has many food restrictions requiring us to prepare most meals. On site Restaurant was disappointing. Recommend Hathaway's for breakfast and Hukilau at Kauai Beach Resort for dinner.
Pool Towels & key codes were cumbersome. Keep sliders locked. Interesting individual came in condo from slider when son was in condo sitting on sofa.
Wonderful!
Rating:
1
5
5
Review Date: 06/24/2015
Beautiful Condo for a great vacation
Rating:
1
5
5
Review Date: 04/08/2015
We stayed 3 weeks at this condo. It was great! All the amenities we needed were there. Washer and dryer with laundry soap. The grounds were beautiful The pool and the pool area were great, with two slides and a little "river" to walk or swim in. It was easy to get and exchange towels.
We really liked that we didn't need to keep track of keys to get into our unit. Just had to memorize some numbers. The same for the pool area.
The Oasis Bar and restaurant at the beach end of the property was great. Live music was provided at certain times, I believe every evening. The Sunday brunch menu was very good.
The condo was clean, modern and tastefully decorated Hawaiian. Enjoy that décor when in Hawaii, makes you feel like you are truly in Hawaii, plus shows a bit of history.
The cleaning staff were excellent. Would like to have had weekly cleaning instead of just a mid-stay cleaning. The amenities,toiletries were appreciated.
The property management team was great, providing great service. Whenever I called, which was too often for them, I'm sure, I got a quick response.
The coffee pot quit working, and with one text message, the new one was left early the next morning!
We had a few lightbulbs burn out, and I put in the wrong code on the safe and needed someone to come open it for us. Our every need was looked after, with speed and cheerfulness.
I would love to stay there again.
Fantastic
Rating:
1
5
5
Review Date: 03/31/2015
My family and I flew into Kauai to visit family and celebrate my daughters 4th Birthday. She wanted to visit her papa that is currently at the care home in Kapaa. The location of the condo was perfect and the condo itself felt to relaxing & luxurious. We had such great stay & enjoyed the pool as a family. We look forward to staying here again.
Short stay at G105
Rating:
1
4
5
Review Date: 02/26/2015
The swimming pool and hot tub were great. The unit was comfortable. It could have been a little cleaner and the dishwasher was not in working order.
Fantastic Vacation
Rating:
1
5
5
Review Date: 02/03/2015
We vacation 1 month in Hawaii every winter... most often in Kauai, which is our favourite island. Also we prefer Kapaa because it is central and close to shopping and services. It is 10 minutes from the airport in Lihue (and also Costco, WalMart and KMart) and across the street from Safeway and Foodland.

We travel with 2 older ladies and were looking for a condo rental where we could stay together but have some privacy. The 2 bedroom suite G105 at Waipouli Beach Resort was perfect for our situation. We were more interested in proximity to the handicap parking and to the pool area, rather than an ocean view. This ground floor unit was very convenient for us and a lot cheaper than the ones with a view. Even though we were close to the parking area and a walk-way, the landscaping at this complex is very effective at offering privacy from every direction. This unit is also far enough from the highway that we couldn't hear the traffic even with the doors open.

Our booking for the suite through Kauai Exclusive Management was professional and efficient. Everything was as described and responses to our inquiries were always very quick.

The suite was exactly as described in the listing. It was very clean and well equipped with almost anything one needs for a vacation stay. There were a couple of minor problems with the kitchen sink tap and a shower head, but these were repaired almost immediately after we reported them. (The issues were almost certainly ones that previous guests hadn't reported)

The pool and water amenities rank at the best of any we have experienced. We could not have been more pleased with our suite. In fact we are in our second last day here and are negotiating for a stay here again next year.

Great place to stay!
Rating:
1
5
5
Review Date: 10/07/2014
We were there for a wedding, and it was perfect! Great room, amazing views, can't complain!
Clean, Upscale Unit in a Good Location.
Rating:
1
4
5
Review Date: 06/22/2014
Very satisfied with the unit. Nice, clean and comfortable inside. The facility is good though the pool is not that large and the towel policy a little restrictive (perhaps out of necessity). The Oasis restaurant is pricey but delicious. The location is right on the water. The beach is sandy but once you enter the water it is somewhat rocky and hard to walk in without water shoes. Three miles from golf, six miles from the airport. They are about an hour from the northernmost side of the island (Ke'e Beach/Hanelie Bay) and about an hour from the southernmost side (Waimea canyon). For us, that was perfect as we only had two days.
Great location beautiful rental resort
Rating:
1
5
5
Review Date: 05/19/2014
We had a wonderful trip to Kauai. This resort is well maintained with friendly service. Walk to beach and restaurant on site. Highly recommend this property and would go back again (and again)!
We enjoyed every day actually had great weather also.
Rating:
1
5
5
Review Date: 04/29/2014
We have stayed at Waipoli before, but always with a ocean view, this time a garden view was available and it was cheaper too. we did not miss the view that much. We had the pool within feet, and we could sit in the grass beside the Ocean and get all the view we wanted. It was great for the money. We will certainly do this again..
Great Vacation in Kauai
Rating:
1
5
5
Review Date: 04/14/2014
Vacation Rental was great, highly recommend staying at this resort. Easy to access all areas of the island.
Christmas in Hawaii
Rating:
1
5
5
Review Date: 12/29/2013
The condo was spacious, clean, and very comfortable. We are definitely coming back!!
Great Spot
Rating:
1
5
5
Review Date: 11/18/2013
Great spot. Our family had a great experience. Everything was well set up for our arrival, excellent directions nice people.
Awesome vacation rental!!
Rating:
1
5
5
Review Date: 10/10/2013
Everything was perfect for our stay in Kauai! This was the best condo and resort that I have stayed at. The pools and spas were great! We spent alot of time there since there aren't a lot of swimming beaches in Kauai. My only suggestion would be to send the email with the check in instructions a day or two before the arrival date. I didn't receive the entry code email till the day of travel and I didn't have wifi to check my email.
Very satisfied
Rating:
1
5
5
Review Date: 09/03/2013
We had a terrific visit, and hope to return again soon. The condo at Waipouli Beach Resort was spacious, comfortable, and the pool/ hot-tubs were perfect. The only suggestion we have to offer is to include housekeeping services at least once during the stay. For the amount charged for out- cleaning, we feel this would've been reasonable and convenient for the user (we did not have a vacuum in our unit etc.).
Nice quiet location
Rating:
1
5
5
Review Date: 08/25/2013
Great secluded area that is close to the pool. Very nice experience and would stay in this location again.
Vacation in Paradise
Rating:
1
5
5
Review Date: 08/20/2013
We decided that this was the best Hawaii trip we have had. The condo was the perfect size for our family of 4. It had everything we needed and more! The pool was beautiful and relaxing.
We would highly recommend G105 to anyone. Thank you Mike and Linda!

This place is awesome!!!!!!
Rating:
1
5
5
Review Date: 08/03/2013
The Waipouli Beach Resort is AWESOME!!! We stayed here for a week with our three teens. They loved the pool so much that they didn't really want to explore the island. The condo was very modern and the grounds were very clean, especially the BBQ area. We would definitely stay here again. Thank you Waipouli Beach Resort and Kauai Exclusive Management!

Amazing stay!
Rating:
1
5
5
Review Date: 06/09/2013
The minute we walking into the condo we were amazed at how gorgeous it was. Luxury living at an affordable price, it was truly special.
There were 6 of us in the room and we needed the use of the fold out sofa, however it could not be used. The mattress needs replacing as the springs could be felt through the fabric and it had no support. The wifi in the room was not good quality as we all struggled to stay connected.
Apart for these two issues we loved our stay and will definitely return.
Manager Response: 08/29/2013
Response from Kauai Exclusive Management LLC
We now have a NEW COUCH!! We also Now have a NEW dedicated VERY fast internet line!
Great experience
Rating:
1
5
5
Review Date: 05/03/2013
1
Rating:
1
5
5
Review Date: 04/13/2013
Great condo but NEEDS a new couch
Rating:
1
4
5
Review Date: 03/21/2013
The property is great for a family we spent 16 days at the condo. It is very spacious with a beautiful full kitchen. It is great having a full sized washer and dryer especially with kids. The location is close to the pool and the ocean and being on the ground floor was nice and very convenient. Our only complaint is regarding the living/dining room. The couch was horrible and needs to be replaced. When you sat down on it the cushion sank into the couch and the frame dug into the back of your legs, it was like sitting on the floor. The dining room table is small and is in a dark corner with no light which was very annoying at dinnertime in the evening or if you wanted to sit at the table and play a game after dark.
Manager Response: 08/29/2013
Response from Kauai Exclusive Management LLC
We Now have a NEW COUCH!! We also added some litting & a VERY fast dedicated internet line!!
Lovely place...ok location
Rating:
1
4
5
Review Date: 03/06/2013
We enjoyed our stay at Waipuoli Beach Resort - beautiful rooms and pool area, which is great if the weather was better there, but both days we were there we went elsewhere - Princeville/Hanalei and it was sunny there but cloudy and windy at the resort. The other day we went to Poipu Beach - which was also beautiful and sunny, while it was still cloudy at the only complaint about the unit was that the kitchen dishes hadn't been cleaned properly, the utensils were dirty and the pans needed a better cleaning. Also the master bedroom sheets could be nicer to match the quality of the rest of the unit. They had lots of little fuzzy balls on them... just like been washed too many times or something. But I am getting quite picky here :) the bed was super comfy. Location wise this is not my favourite, having spent a week at a house in Poipu for the first part of our trip, feels like you're in the middle of a town once you step off the resort, and the traffic getting out can be a pain.
Manager Response: 08/29/2013
Response from Kauai Exclusive Management LLC
New Sheets! NEW Couch & a NEW, VERY fast, dedicated internet line!
great location
Rating:
1
5
5
Review Date: 03/03/2013
We felt the location was great, not a long drive to any part of the island. We enjoyed the hot sand in the hot tub. All the people on the grounds were helpful and pleasant. would have liked brighter lights in the condo. The combination for the pool area was a little tricky. The air conditioner system seemed to blow unnecessary cold air often.
We enjoyed our stay all in all and will be back sometime
Rating:
1
4
5
Review Date: 02/10/2013
We loved this resort. This suite itself was quite dark and busy outside with all sorts of paths and walkways. So not near as private as the first suite we were in. It was very clean and had all the dishes and towels we needed. The appliances were beautiful! The only things we thought were uncomfortable was the living room furniture and the lack of lighting in the livingroom and over the table. The grounds outside were beautiful and everyone was very helpful. We liked the fact that we could walk over to the mall for groceries and shopping. We hope to be back soon.
Manager Response: 08/29/2013
Response from Kauai Exclusive Management LLC
More lighting, NEW couch & VEry FAST internet line have been added to this popular garden suite!
Perfect getaway
Rating:
1
5
5
Review Date: 02/03/2013
The unit had all the comforts of home, it was in the perfect location for shopping, walking to restaurants and getting to other areas of the island. The beach was perfect for our toddler to play on, the pool was awesome, and the staff at Kauai Exclusive was very helpful. Ground floor is very convenient as well. We would definitely stay there again!
G105
Rating:
1
5
5
Review Date: 11/23/2012
everything was great; very comfortable/convenient; in the future we would definitely upgrade to oceanfront
Best condo stay
Rating:
1
5
5
Review Date: 11/04/2012
We had a fabulous stay at the Waipouli Beach Resort G105 in Kapaa. The accommodations were very clean and had all updated appliances. The pool/hot tub areas were very nice and plenty of lounge chairs for everyone.
We found the location to be centrally located for everything we wanted to do. We especially enjoyed the snorkeling at Poipu Beach.
The condo was awesome!
Rating:
1
5
5
Review Date: 10/03/2012
The Waipouli beach resort is at a great location, across the street from the only 24 hour Safeway on the island....=)And only a 30 minute drive to the south and north shores. I would stay here again!
Best vacation spot for family with young kids
Rating:
1
5
5
Review Date: 09/03/2012
We spent 10 days in this location and from the moment we walked in the door it felt like we were in the lap of luxury and able to really relax and enjoy our time together. The timing of our direct flight on Alaska from Seattle was perfect to pick up our rental car, get groceries across the street and walk right into the condo. It was a breeze to access the condo and so nice to have one less line to wait in before we could start settling in. The pool was perfect for our 2 1/2 and 5 year old and for us too. It was never too busy at the pool, sometimes we had the pool to ourselves and sometimes the most it was 4 or 5 other families in the pool. All of the staff we interacted with around the pool and in the lobby were gracious and professional. The grills around the pool were prefect for preparing meals. The beach has coarser sand than others and the waves are strong, but there are other great nearby options for the kiddos to frolic in the waves. This unit also came equipped with a stepping stool for our little ones to wash their own hands in the sink and plenty of tools in the kitchen. We hope to be back again soon!
Waupouli Beach Resort G105 Kapaa, HI
Rating:
1
5
5
Review Date: 08/25/2012
The most beautiful property that made our stay even more special. It truly felt like home.
Pool towels worn out
Rating:
1
3
5
Review Date: 05/03/2012
Your pool/towel guy was not friendly or accommodating . Pool towels are thin and worn out. I would expect your towel control if they were in better shape. Get new towels!
Family Spring Break
Rating:
1
4
5
Review Date: 04/09/2012
I stayed at the Waipoli Beach Resort with my four children ages 11-18. The condo was very clean, with a well appointed kitchen. There was plenty to do close by for all ages. The convenience of Safeway for grocery shopping saved us a lot of time (sign up for the Safeway card if you don't have one, we saved over $100 by doing this!). The pool area was very nice and we spent much time there. The poolside grills were a great plus! I also really liked the combo locks on the door - no worrying about losing a key, and the ability to change the code upon self check in was great! I would recommend this property to anyone.
g105 review
Rating:
1
4
5
Review Date: 02/18/2012
The resort was amazing. Wonderful grounds and pool. The condo large. Beds supper comfy. Wonderful kitchen. Living area furniture terribly uncomfortable in our unit. Inadequate kitchen utensils and no safe to lock up valuables. Unit was cleaned twice while we were there but it would have been nice to have been told in advance when that was going to happen. Overall a great place with a few details that needed attention.
A pure delight
Rating:
1
5
5
Review Date: 01/21/2012
I can't say enough about how great this condo was. It was large and clean, with comfortable furnishings. My only complaint about the room itself was that the stove was a bit dodgy, but then again, I just don't like electric stoves. Also, the internet was miserable, but you're in Hawaii. Get off facebook. Anyhow, the room was great, it's about fifty feet from the beach, and though you don't have great views inside, for the price you can't do much better. Be sure to enjoy the happy hour at the resort restaurant as well. $5 specialty cocktails is about as good a deal as you'll get in Hawaii.
Very nice condo-very convenient location
Rating:
1
5
5
Review Date: 01/03/2012
The condo was a great layout, very nicely furnished, quite comfortable beds, located centrally on Kauai, across the road from the supermarket, and we would DEFINITELY stay there again when traveling to Kauai.
High End Quality Resort - Perfect for families with kids
Rating:
1
5
5
Review Date: 11/29/2011
The location is excellent if you are looking for convenience with grocery stores, shopping and restaurants. Kapaa is great because you are central to travel around the entire island every day. The Complex is right on the beach and if you can swing the extra cost get a room with a view of the beach or overlooking the swimming pools. My kids loved the swimming pools and slides. My wife and I enjoyed the choice of three hot tubs. There are 4 high end community barbecues to cook on, we used them several times to bbq dinner and they worked great. Our unit was quality through and through with quality wood, tile carpet craftsmenship. Even the appliances were high end. It was just nice that everything was clean and worked perfect. The staff was friendly and helpful. We felt safe and relaxed. We would definitely come back and I would recommend it to my closest friends and family. This was our second time to Kauai and we can't wait to come back, especially to the same place and we would use the KEM, LLC team again. Basically, our expecations were exceded and I'm happy to write this review. Mahalo, the Anderson family.
Perfect Family Vacation Condo
Rating:
1
5
5
Review Date: 10/17/2011
We couldn't not have been more pleased with Waipouli. The location on the island was perfect, the beach was gorgeous, the pool was fantastic, and the condo itself was large and well appointed. The proximity of G105 to the pool was, for us and our 3 young daughters, a huge bonus. Would stay there again if we ever have the chance!
Perfect in Hawaii
Rating:
1
5
5
Review Date: 09/26/2011
Everything was perfect except the stay was too short!!
Rating:
1
4
5
Review Date: 08/10/2011
Great Accomodations!
Rating:
1
5
5
Review Date: 07/12/2011
Rating:
1
5
5
Review Date: 06/17/2011
Absolute paradise
Rating:
1
5
5
Review Date: 05/27/2011
This was the best holiday I have ever had. The room was so great, private and easily accessible. Thank you so much for allowing us to share in a little piece of your paradise. Hope to come back again someday. Thank you so much.
Rating:
1
5
5
Review Date: 04/06/2011
It was a wonderful property with a great location and wonderful pool area and beach front restaurant. The unit was very beautiful and extemely clean and comfortable.
excellent place to stay
Rating:
1
5
5
Review Date: 04/05/2011
internet could be improved was dropping signal in room. the barbecues needed attention on maintence. otherwise it was a wonderfull experience and will be back.
thanks kim and pat roy. My wife suffered a heart attack the last day we were there and i would like also to tell you that the Wilcox hospital was absolutely wonderfull so keep that in mind for upcoming guests. thanks again
kim and pat roy
Waipouli Beach Resort
Rating:
1
5
5
Review Date: 03/20/2011
We really enjoyed Waipouli Beach Resort and Kauai Exclusive had the best prices and choices. It is very central to everything and we found the resort furnishings, appliances and finishing better than The Westin Princeville we stayed after. I would recommend Kauai Exclusive for any vacation bookings.
Great stay in a fabulous condo
Rating:
1
5
5
Review Date: 03/08/2011
The condo was even better than I was expecting. Lots of room and lots of amenities too. Both bathrooms were huge! I didn't cook much but the kitchen was very well stocked with utensils, dishes and pots and pans. The location near Kapaa was great. There were tons of restaurants nearby. The pool area was great and the hot tubs were as well. The Oasis restaurant was absolutely fabulous. I cannot recommend this property enough, especially given the great price compared to hotels in Kauai.
Treated like Family and the property was superb.
Rating:
1
5
5
Review Date: 01/06/2011
We loved our stay in the luxury Kauai condo. We have stayed in other condos within this property, and this location is divine - ground floor for easy access, tucked nicely into this private garden location: close to the pool, but not bombarded with noise and very close to the beach. It is perfect and so restful. The condo is well equipped and clean and airy. Josh was so helpful and readily available - we felt treated like an extension of family and we will definitely be coming back again multiple times. Thanks so much.
Needed more cooking utensils,better pans, potato masher,spatula(not pancake turner) and dish cloths and internet was lousy-hard to conduct business!!! The bedrooms need heavier blinds for the bedrooms, and better lighting over the table
Rating:
1
5
5
Review Date: 10/28/2010
wonderful place and great time
Rating:
1
5
5
Review Date: 08/03/2010
Great vacation
Rating:
1
5
5
Review Date: 06/15/2010
A little pricey,but nice
Rating:
1
4
5
Review Date: 05/09/2010
Would love to hear when you have some good specials
Fabulous vacaction at Waipouli Beach Resort
Rating:
1
5
5
Review Date: 05/07/2010
A wonderful place to stay. Location perfect with all amenities within walking distance, condo fabulous and resort pool simply wonderful. Can't wait to go back!
Rating:
1
5
5
Review Date: 04/21/2010
Bolton's Stay in Hawaii
Rating:
1
4
5
Review Date: 04/06/2010
Front desk assistance was not helpfull at all. She seemed upset that we were interupting her book reading. All we were looking for was the code to get into the pool and a parking pass. Once we got to the office we were directed to, the lady there was very nice. Room was very clean, everything worked, and was close to the waves and pool. A welcome packet would have been nice - something to make our island transition easier. Thank you Josh.
Awesome accomodations! You won't be dissapointed
Rating:
1
5
5
Review Date: 04/02/2010
Our family had a wonderful vacation here at the Waipouli ocean front resort. We awoke at sunrise each morning and with only a few short steps from our "G" building we were on the sandy beach enjoying the warm breeze while watching the colors of sunrise in the sky and listening to the sounds of the Ocean waves! It was so incredible. The room was spacious and we especially enjoyed the gorgeous kitchen while we prepared fresh fruit salad every morning after our short walk across the street to the local grocery store. The photos do not do this room justice, you won't be dissapointed. Thank you so much for sharing your lovely condo. The location on the island was central to everything. We traveled north for the Zip Lines & tour of the North End beaches. We traveled southwest for the Capt. Andy's catamaran tour of the Napali coast. We traveled west to the Grand Canyon of Hawaii. The drive was never longer than 30-40 minutes. We enjoyed all the wonderful adventures and the beauty of Kauai. We enjoyed the short walk to the shopping center. It is especially nice for young teens to be so close to shopping and the ABC store was fun too. The pools and outdoor kitchen area BBQ were a real treat. The sandy bottom spa was delightful. The Tiki torches and lit pool & garden in the evening was so relaxing. We didn't want to retire for the evening. The best compliment we can give you is that we are investigating purchasing a condo in this lovely resort! Josh was excellent with the rental process & communications. He returns calls instantly. Mahalo!
Rating:
1
5
5
Review Date: 03/26/2010
The resort is beautiful.
The location is ideal.
We would/will definitely return.
Thanks to Josh for all of his help.
Relaxing
Rating:
1
5
5
Review Date: 02/26/2010
Amazing Condo, Great Location
Rating:
1
5
5
Review Date: 12/02/2009
We recently stayed at Waipouli G-105. What a fantastic unit! The place was spotless, beautifully furnished and the beds were very comfortable. There was no bothersome noise from adjoining units. We enjoyed the convenient location to reach both the north and south shores. The pool was great for our kids (ages 12 and 13). Couldn't ask for a better experience!
Beautiful Waipouli Resort!
Rating:
1
5
5
Review Date: 10/23/2009
This past summer I was lucky enough to stay at the beautiful Waipouli Beach Resort. As an airline employee, I have had the luxury of being able to see many places in the world and this resort is definetely worth the title of Best Resort in Hawaii.

The Waipouli Beach Resort is as beautiful as it looks like in the pictures.

Features: All the furnitures, appliances, etc are all brand new and state-of-the art! (I didn't know how to use the stove because it was a new high-tech model!) The entertainment system was awasome: DVD player, MP3 player, surround sound, etc.
Aloha!

Conveniences:
There are several stores accross the street. A Safeway Supermarket, McDonalds, Pizza Hut, Taco Bell, Starbucks...anything you need!

Pool/Jacuzzi:
- I had never been in a Jacuzzi with a sand bottom and now there is no turning back!
- The pool was beautiful (a little windy though)

Beach:
- The only thig I didn't like about this resort was the beach side but what you will quickly notice in Kawaii is that it is worth having a car and driving to all the key beaches, so not having the best beach in Waipouli will not bother you.

Overall, thsi was a great resort and I can't wait to go back!


Your request has been sent. We look forward to meeting all your vacation needs!
Use of this website constitutes acceptance of the KauaiExclusive.com Terms and Conditions and Privacy Policy.
©2017- Present KauaiExclusive.com, Inc, All rights reserved.