waipouli-beach-resort-f303
waipouli-beach-resort-f303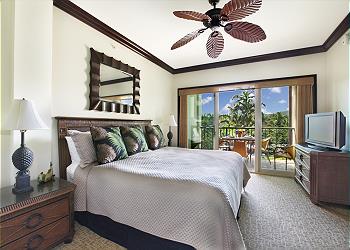 Waipouli Beach Resort F303
https://www.kauaiexclusive.com/rentals/properties/waipouli-beach-resort-f303/
Waipouli Beach Resort F303 | Vacation Rental in Kauai
F303 - COCONUT GROVE & MT VIEW **AC** Resort Pool & Restaurant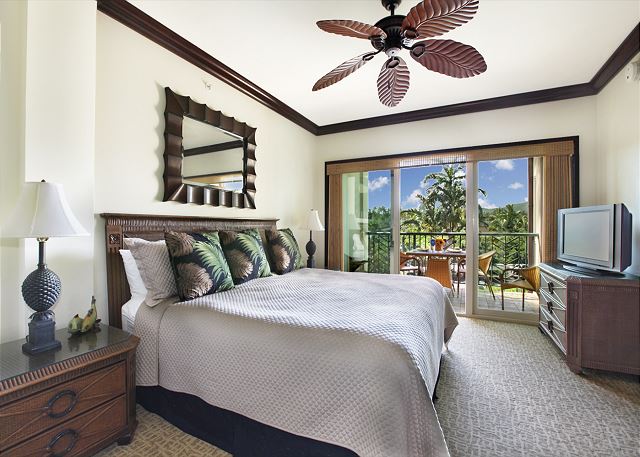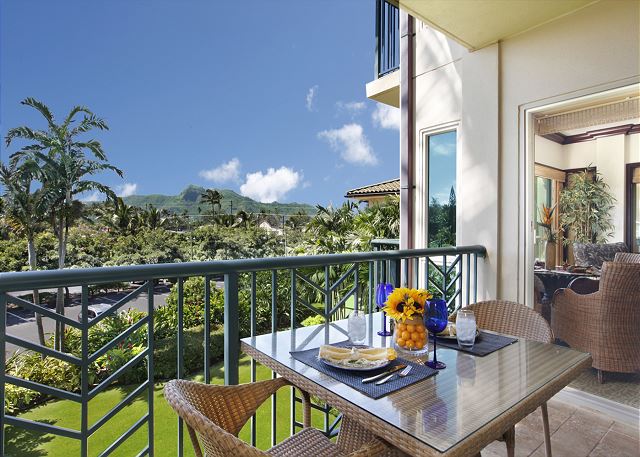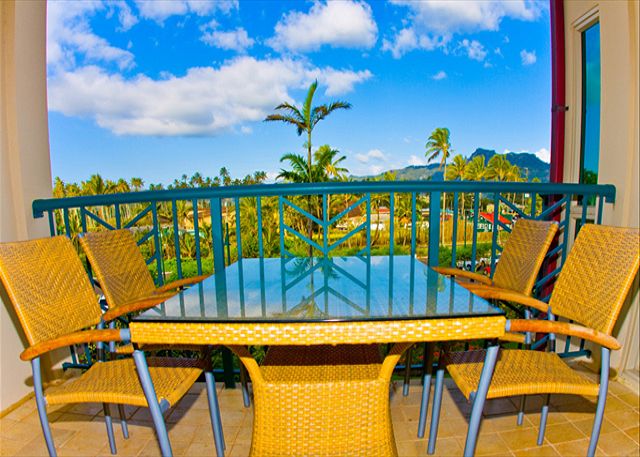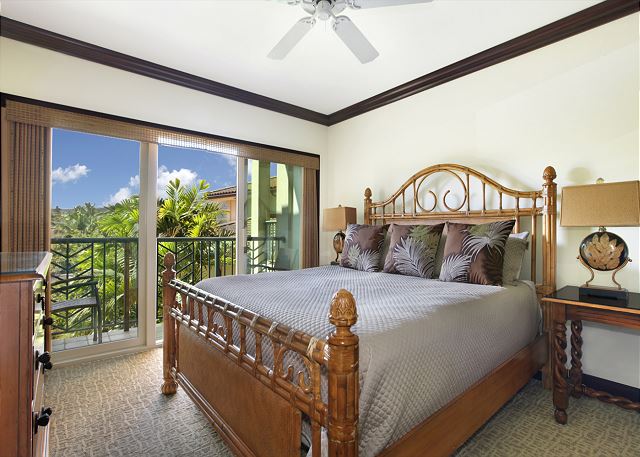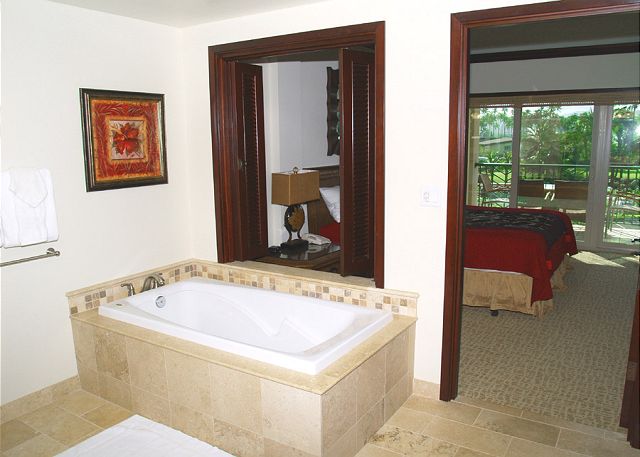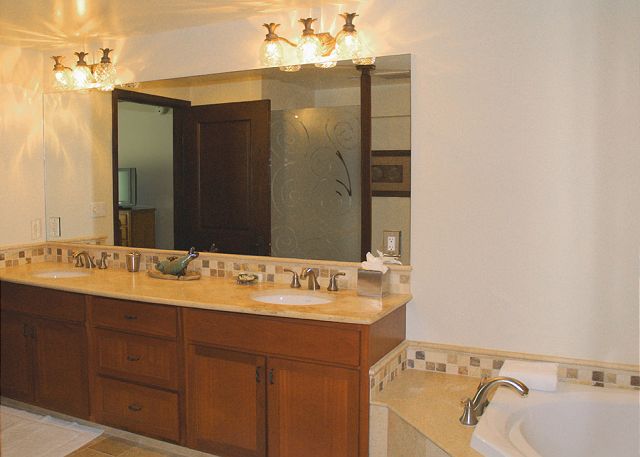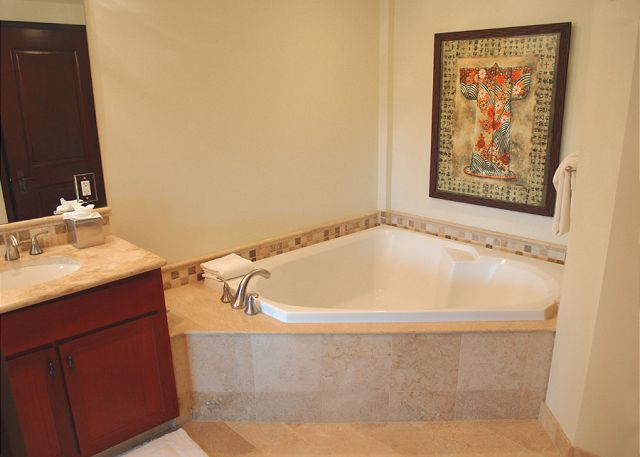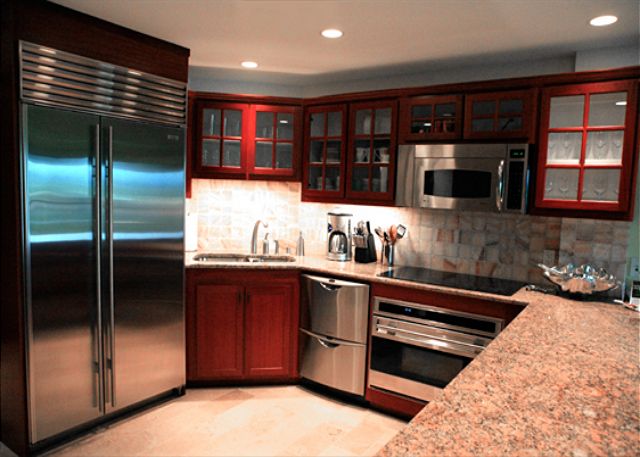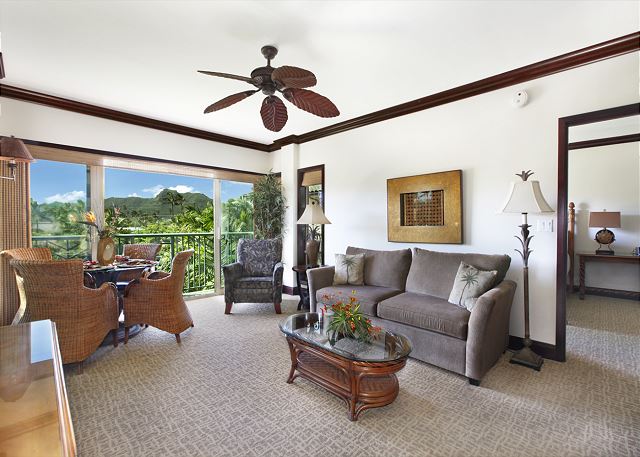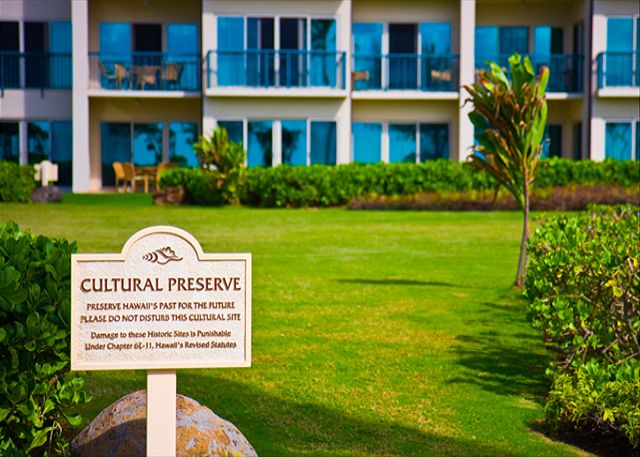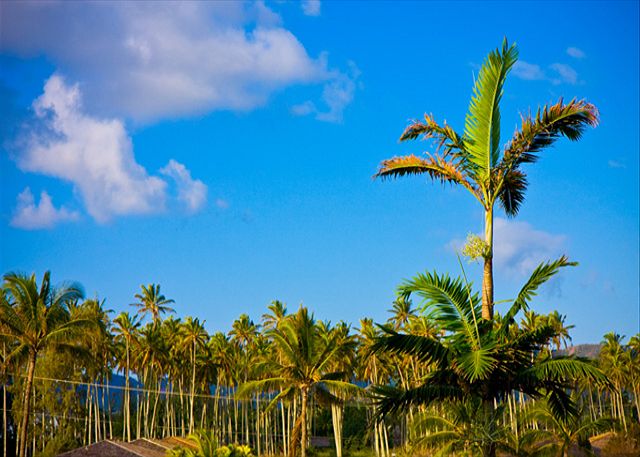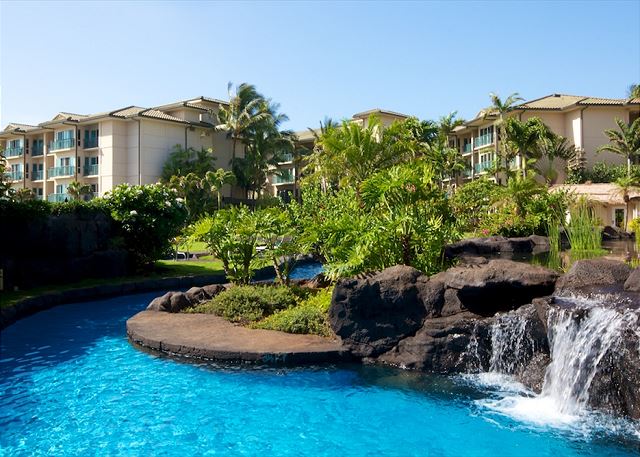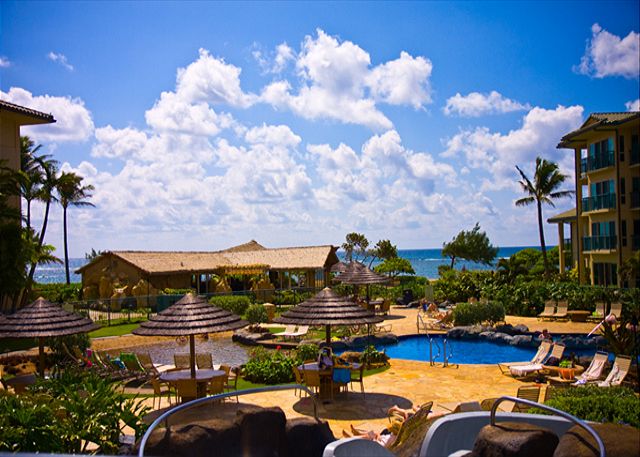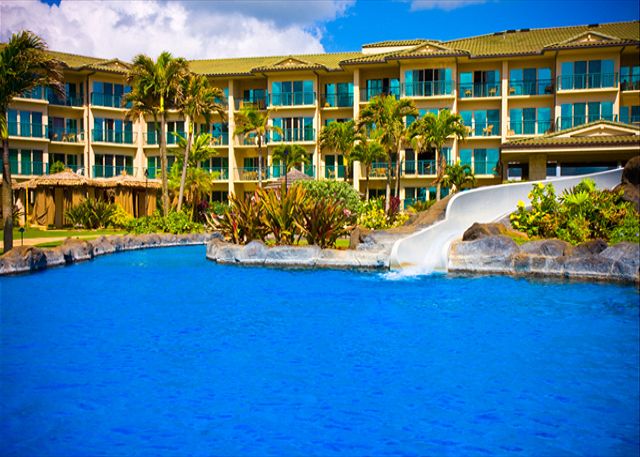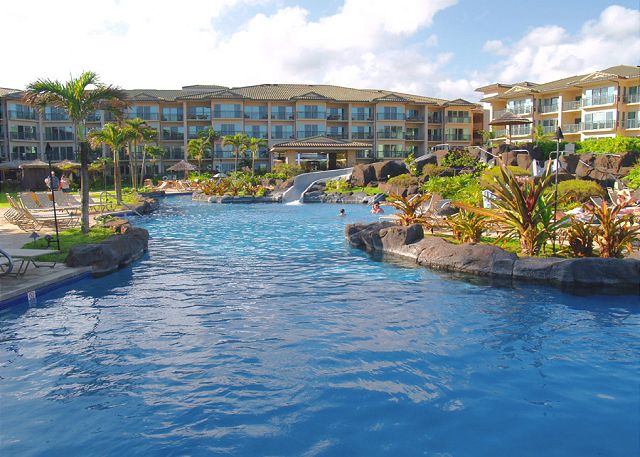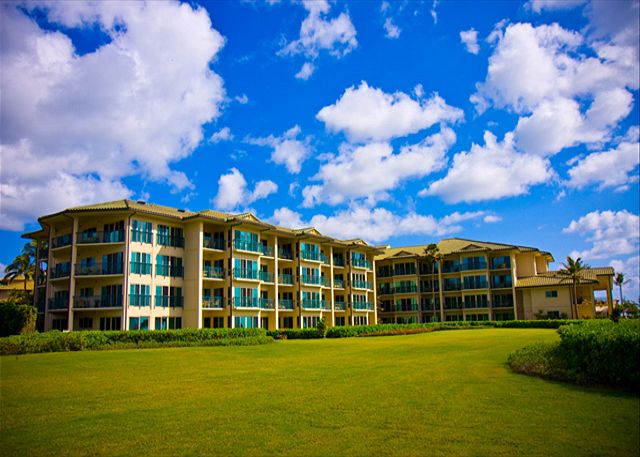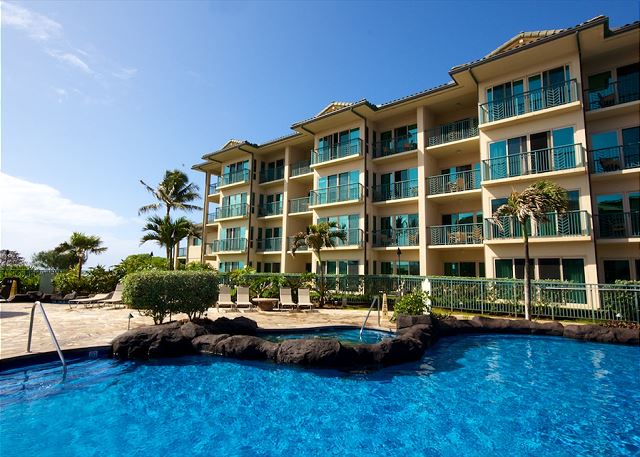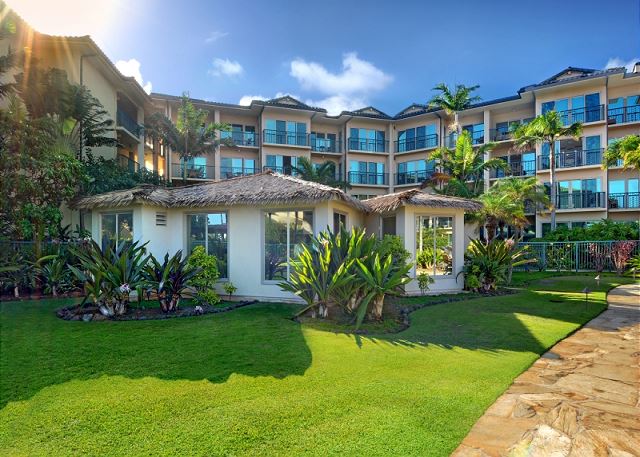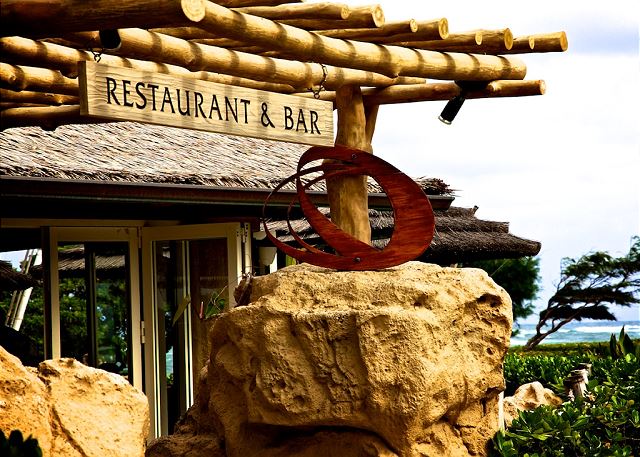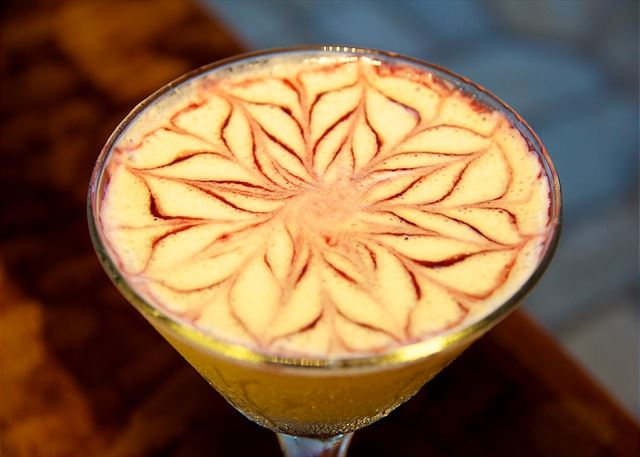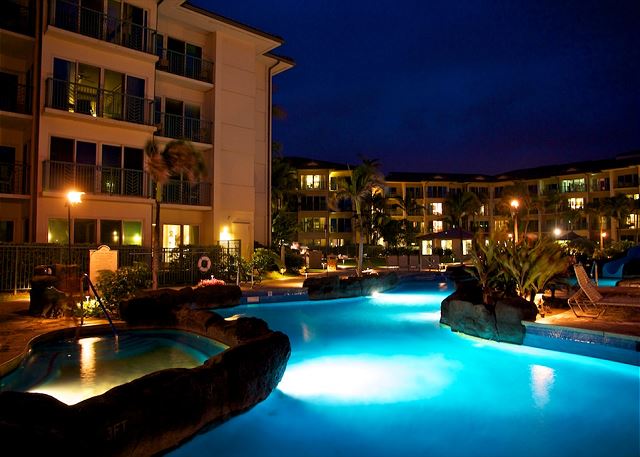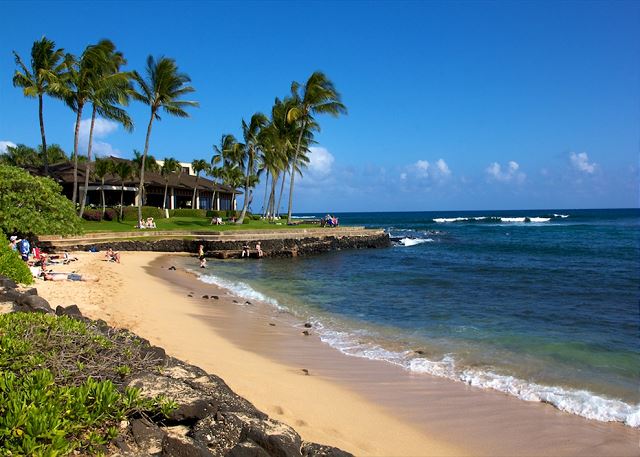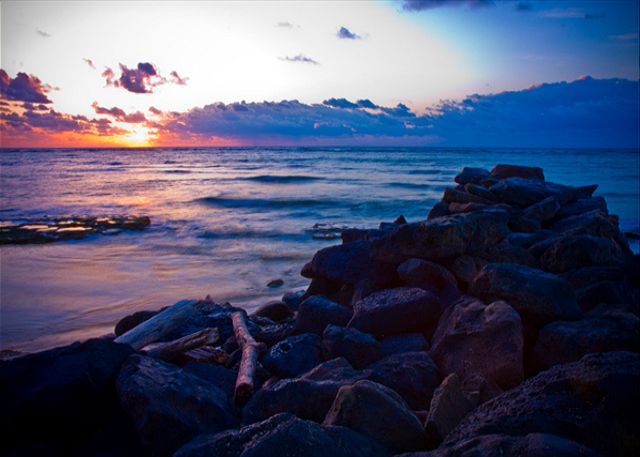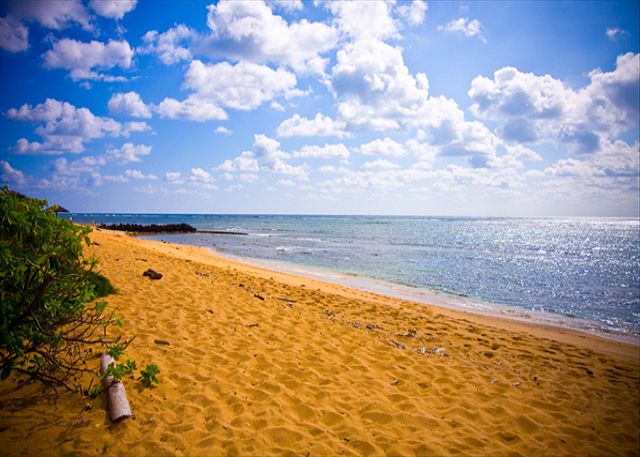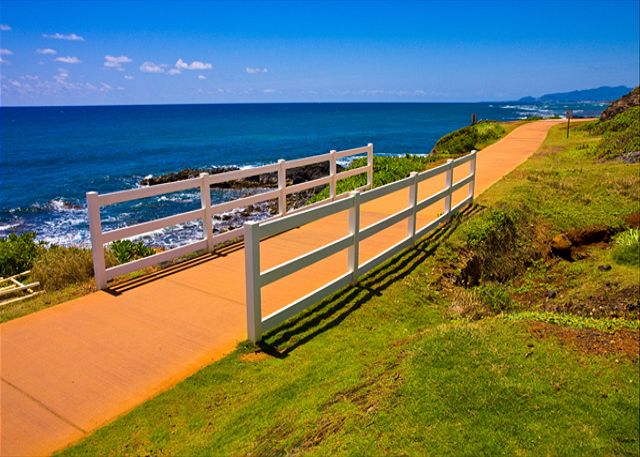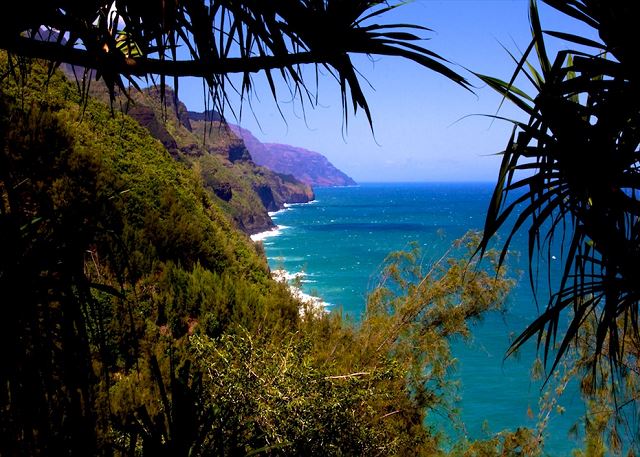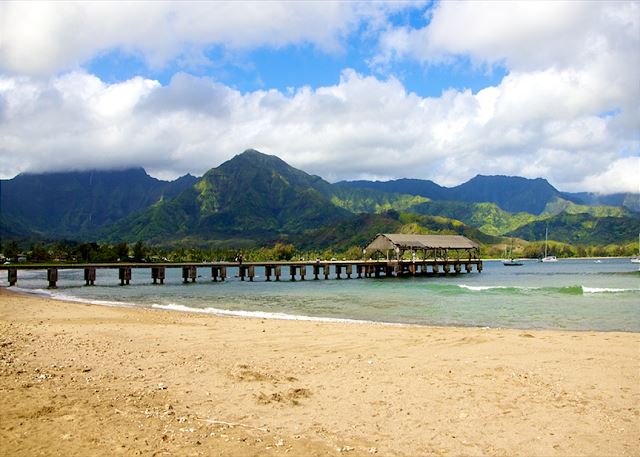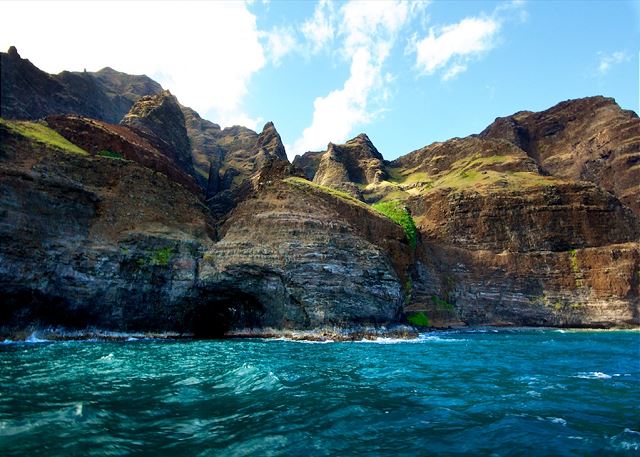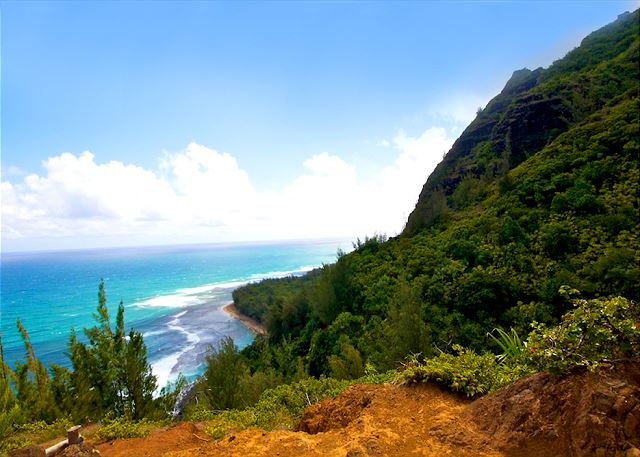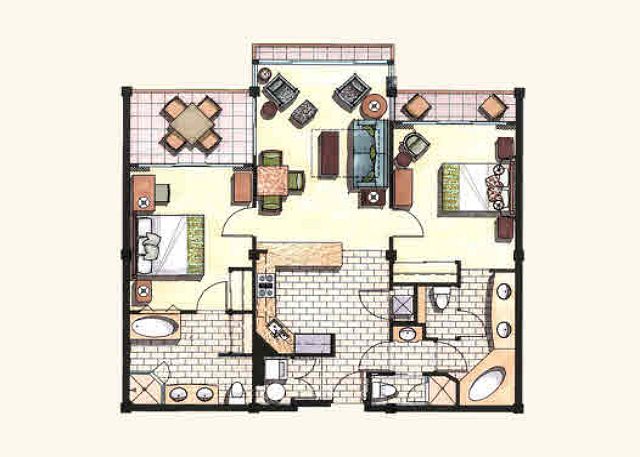 At the forefront of East Shore accommodation is the Waipouli Beach Resort. This World Class Resort provides luxury at your fingertips and offers opulent amenities for a variety of occasions.

With incredible mountain views, this third floor suite boasts vistas of the infamous Sleeping Giant, illuminated by the sunrise each morning and backlit by the sunset each evening.

Featuring two king master suites and one queen sleeper sofa, this suite comfortably accommodates 6 people. The stylish interior includes a stately kitchen, upscale furnishings and three full bathrooms with Peruvian Travertine stone surrounds and soaking tubs. Enjoy the clean design and convenient location, with the beach and boundless Kauai adventures just beyond your private lanai.

- Located in Kapaa Town (East Shore).

- This impressive oceanfront resort features a variety of privately owned suites, condos, apartments and penthouses with state-of-the-art amenities at affordable prices.

- Amenities include central A/C, concierge service, fitness center, business center, tropical lagoon pool, jacuzzi and access to Oasis on the Beach (exceptional oceanfront restaurant).

- Centrally located on the royal coconut coast, just steps away from restaurants, shops and the Kauai Bike Path. Great location to watch the sun and full moon rise!

Perfectly positioned to accommodate the desires of everyone, the East Shore of Kauai is rich with possibilities. Flanked by epic coastline and threaded together by the public bike path, this centralized location is the social hub of Kauai. Having recently experienced a trendy transformation, the Old Town of Kapaa maintains its historic charm, yet boasts novel offerings. The towns of Anahola, Wailua and Lihue also comprise the East Shore, and carry their own unique appeal. With diverse establishments and activities, you can explore cafes, restaurants, boutiques, adventure tours, aquatic explorations and more on Kauai's East Shore.

One of the most revered places on earth, Kauai inspires a state of awe within all of us. Brimming with beauty, the oldest inhabitable Hawaiian island has both withstood the test of time and matured into a land of fertile abundance. Lush jungles, white sand beaches and the alluring ambiance of aloha enchant each moment. Offering exceptional accommodations, adventures, cuisine and culture, vacationing on Kauai is a dream come true.

TA-040-122-5728-01
| | Nightly |
| --- | --- |
| August 16 - December 14, 2021 | $320 |
| December 15 - January 05, 2022 | $399 |
| January 06 - December 14, 2022 | $320 |
| April 15 - June 14, 2022 | $320 |
| August 16 - December 14, 2022 | $320 |
Children's Ocean Swimming Area

Oceanfront Bar and Grille
Thank you for entering your review. The review will become available to the system shortly.
74
74
Overall Rating:
4.8649
4.8649
Nice condo on the East side
Rating:
1
5
5
Review Date: 07/07/2021
Great location on the east side of the island, convenient for exploring both north and south areas of Kauai. The resort pool is amazing, especially for younger kids. There's also a small beach, but as usual with east shore, it's mostly useful for hanging out and putting your toes in the water. The condo is very roomy with plenty of space for the family. It's nicely equipped with all the kitchenware you may need, but there were no basic supplies like salt, sugar, or coffee filters. However, Safeway is just across the street so it was easy to fix this. Overall very nice experience on our stay.
Kauai Vacation 2021
Rating:
1
5
5
Review Date: 05/24/2021
Excellent!

It would have been nice to enjoy the Oasis Restaurant. However, we understand why it was not open.
Great Condo and Location!
Rating:
1
5
5
Review Date: 02/23/2020
We highly recommend this condo. The condo was great and was well stocked with all the necessities we needed. The pool was awesome! The location of the condo was ver convenient for travel to the north or south end of the island was quick. Grocery stores (Safeway, ABC and Foodland) just across the street. Costco in Lihue. The condo was close to the airport. We arrived late at nite but the condo and parking lot were easy to find and navigate. You will not be disappointed if you stay here!
Manager Response: 02/25/2020
Response from Kauai Exclusive Management LLC
Thank you for choosing Kaua'i Exclusive as your host during your time here on the island! We hope to host you again in the future! Mahalo Nui, The Kaua'i Exclusive Management Team
Family vacation w/ 9
Rating:
1
5
5
Review Date: 08/27/2019
We rented 2 units here. Great place to spend the day or as a home base. Lived the pool area and the restaurant is wonderful. Pretty beach! Our 2nd stay at this property.
A trip to remember
Rating:
1
5
5
Review Date: 07/25/2019
We loved our room, it was perfect for the four of us. Kids had one room and we had the other. It was well stocked with all the necessities. The grounds were kept clean and the pool was amazing, we all enjoyed the water slides and the lazy river. The location is central to all parts of the island. We will definitely be back, I just hope it's sooner than later.
Great Resort, Fantastic Pool, Lousy Beach
Rating:
1
5
5
Review Date: 07/01/2019
The condo was fantastic. The pictures in the vrbo listing are dated - the TVs and furnishings have been updated. AC works great. 2x master suites are perfect for couples. The pool is also fantastic - it's huuuuge, has 2x waterslides, a grato, waterfalls, 3x 10-person gravel-bottom hottubs, a kids gravel-bottom 1ft-deep section, plenty of seating and lounge chairs, service from the restaurant and bar to your table, etc. etc. and is open till 10pm surrounded by tiki torches. We didn't use the spa, gym, or eat at the restaurant, so I cannot comment on those. The beach is a real letdown - it's course sand, and the ocean is filled with broken coral and rocks. It's almost unusable w/o water shoes (go to Kapa'a Beach just a mile north behind Kela's Glass, or the beach at LavaLava behind the Coconut shopping Market just south). The resort is across the street from a Safeway, so cooking at home is super convenient (the Poke there is actually quite good comparatively). Kapaa is a great place to stay - right in the middle between the south shore and north shore.

all in all, i would highly recommend this resort and condo.
Phenomenal
Rating:
1
5
5
Review Date: 06/02/2019
Deluxe in every way
Rating:
1
5
5
Review Date: 03/09/2019
We stayed in this condo for four nights with another couple. The two master suites were both beautiful and spacious. The pool area is gorgeous but the weather was so cool we didn't get to use it.
Waipouli Beach Resort Condo
Rating:
1
5
5
Review Date: 02/19/2019
The property was as described as to location,layout, cleanliness, and necessary equipment. All attractions were within a 45 min. drive anywhere on the island.
Perfect Condo for Two Couples
Rating:
1
5
5
Review Date: 02/19/2019
We were very impressed with the condo! All new furnishings and appliances. The condo is very well maintained and stylish. We were traveling with another couple and having two master bedrooms was ideal. The bedrooms are opposite the living room for added privacy. The pool area felt luxurious, we loved the sand-bottom hot tubs. The workout room was well equipped. Great location near Kapaa town and grocery stores. Great kitchen for cooking your own meals, or walking distance or short drive to several restaurants. Plenty of parking. The only negative I can think of is that our room was on the third floor and I never saw an elevator (I know they're there, just hard to find) so I opted to lug our luggage and groceries up the stairs. I would stay at Waipouli again.
Great place for families in Kauai
Rating:
1
5
5
Review Date: 05/22/2018
We had an excellent experience staying in Waipouli Beach Resort F303. which was well quipped, clean and in a quiet location. A bonus was finding beach chairs, cooler, a "pack and play", and boogie board in the closet. We loved the pool area which is kid friendly with slides, a shallow sand based kiddie pool, family spa, and a lazy river. A super market and shops are right across the street so this is a convenient location. The management company provided good service.
MB Review
Rating:
1
5
5
Review Date: 05/17/2018
Loved it cept tvs did not work
Wonderful vacation!
Rating:
1
5
5
Review Date: 04/01/2018
The unit was perfect for our needs. Clean and comfortable. The resort is the perfect spot for families. We also found the location a perfect jumping off point for exploring the whole island, but also close to great restaurants and shopping in Kapaa. We will definitely be back!
Great Stay
Rating:
1
5
5
Review Date: 12/10/2017
Kauai Exclusive was a fantastic management company to deal with. They answered all of our questions/concerns in a timely manner and we enjoyed the app they provided us. Take screenshots for when you don't have data/wifi. Our hosts were attentive to our needs and very accommodating. The personal concierge was helpful with a lot of great information. The weather was a bit unpredictable so there were a few things we didn't end up doing.
F303 was a lot larger then we had expected! We brought along our two children and my parents and it never felt crowded. The condo was clean and comfortable. The washrooms were large and the two king size beds were comfortable. The pull out was ok too.
The kitchen was large and had adequate supplies. Missing some essentials like dish cloths and we were only provided with a starter set of toiletries. They said they would bring us more but we just ended up buying some. The cooler bags and beach chairs in the suite were useful. The safe was hard to use and we never got it to work. It would have been nice to have a few more cleaning supplies and a vacuum.
The location was convenient with Safeway, Foodland, ABC, McDonalds and coffee shops all within walking distance. We had a view of the parking lot, Sleeping Giant and palm trees. Being the corner unit, it was quiet.
The grounds were clean and the pool was great. Although we couldn't bring our own toys to the pool, they had water noodles to play with. Kids loved the slide and there was ample swimming space.
Although the gym is small, it was much better compared to other condos we've stayed at in Hawaii. Dumbells go up to 70lbs!
The beach is easily accessible and there were chairs available to lie on. We saw a monk seal playing and swimming in front of the resort. We didn't realize until the last day that there was a break to one side, making it safe for kids too. The boardwalk was nice but too bad it only encompasses the resort.
Overall, great location, service a
great location
Rating:
1
4
5
Review Date: 08/25/2017
We always love staying at waipouli. This was our third time and we love the location a lot but love the property so much as well
Waipouli F303
Rating:
1
5
5
Review Date: 07/11/2017
We had a great vacation rental experience. Josh was very accommodating with our last minute rental. The unit was clean, had all the needed amenities for a family of 5. Kitchen was well stocked. There was a view of the apts. next door, but you can ignore that and look at the beautiful mountains instead. We have stayed at this resort many times, love the grounds, well kept and the pool is refreshing. It's nice to have a restaurant on the property in case you don't want o cook. Very convenient location to do daytrips around the island.
Love the amenities!
Rating:
1
4
5
Review Date: 06/17/2017
Swimming , beach , mai tai's
lovely space, needs a few tweaks
Rating:
1
5
5
Review Date: 04/07/2017
This was our second very enjoyable stay at Waipouli. The pool and grounds are amazing; the suite itself lovely and so enjoyable. We had small children with us and they had a blast in the pool. We could have used a few extra things to make staying there as tourists from afar practical: ziploc bags, foil, saran wrap, cooking oil, sugar packets, extra paper towels and trash bags. Other than that, and the fact that one of the beds (right hand bedroom) was really uncomfortable, it was a perfect stay.
Awesome stay!!
Rating:
1
5
5
Review Date: 03/20/2017
The resort was very well kept up and clean. Our room had all the amenities you could ask for. Staff was very helpful with no push to use any of extra services unless you asked. The extra day stay worked out great for us as our flight was not till 10 pm and check out was 10 am.
Waipouli Beach Resort
Rating:
1
5
5
Review Date: 03/11/2017
This condo was clean, roomy, and quiet. We were two couples and here was ptlenty of room. Each bedroom (each with King bed, tub and shower) was separated by the living room. Kitchen was large as well. Washing machine & dryer, coffee maker, etc. The pool area is quite large and easy to find your own space. This particular condo does not have view of ocean, but has a view of the mountains which are spectacular. Resort is on the beach. The restaurant on site is friendly and pretty good. The Kapaa bike path is right at the resort as well. Other restaurants, shopping are within walking distance. Great stay! Sad to leave, ready to come back!
Family Vacation
Rating:
1
5
5
Review Date: 02/23/2017
2nd time that we have stayed there, it was great both times. Looking forward to #3!!!
Kapaa Paradise
Rating:
1
5
5
Review Date: 02/16/2017
We were very happy with the condo and resort. The condo was gorgeous and very comfortable. The only thing missing that would have made it a perfect experience was an ocean view. We will definitely keep this place on our list to visit again.
Amazing Resort and Condo!
Rating:
1
5
5
Review Date: 02/07/2017
The condo and resort were beautiful. The condo was new. We shared with another couple. There were two master suites with on suite bathrooms so each couple had a nice room to themselves. The kitchen had top notch appliances. Condo was very roomy. Resort had an amazing pool and workout room. The location could not have been better could walk to restaurants and stores or get in the car to easily get to locations. View of sleeping giant was nice, especially since one of our things was to hike the sleeping giant trail we did not have far to go. Highly recommend this condo!
Family Vacation
Rating:
1
5
5
Review Date: 01/30/2017
Very clean, quite, and beautiful condo! The pool and garden area was amazing!
We had a great stay!
Rating:
1
5
5
Review Date: 10/17/2016
Excellent stay!
Rating:
1
5
5
Review Date: 09/29/2016
Really enjoyed our stay at Waipouli Beach Resort. The units are spacious and comfortable. Two large king size beds and full washrooms make it perfect if you are traveling with another couple, particularly with the fully appointed kitchen. It felt like home.
The management company was very responsive to our needs and questions. The location is great, half way to the north and east coasts.
We would highly recommend this resort
family get-a-way in Kauai
Rating:
1
5
5
Review Date: 07/26/2016
We had a fabulous time at Waipouli Beach resort. The grounds are kept very clean and the pool is wonderful. The two bedroom suite was spectacular. It was clean, and very well equipped with everything you would need for cooking your meals. The beds were super comfortable and there was plenty of room for our family. We liked the garden view and it was very quiet. A great location and I would highly recommend this suite to anyone who wants a fabulous vacation!!

Great Home Base for Touring Kauai
Rating:
1
5
5
Review Date: 07/10/2016
This condo is beautifully decorated, very comfortable beds, well stocked, and the grounds and pool area are gorgeous. The sand bottom adult hot tubs were amazing, and it was nice to have a lower temperature family hot tub for the kids. Its very convenient that you can walk to Safeway for groceries, however, the location is in the middle of a busy area with lots of traffic, especially going south from this area. The location is an hour drive from the northern Napoli coast area where we did the first 2 miles of the Kalalua Trail and the Hanakapi-ai Falls trail, 45 minutes from Princeville where we did the horseback riding waterfall tour at Princeville Adventure Ranch, close to the airport for helicopter rides, not far from the Kalamaku or the Smith Luau, and 5 minutes from the Waiula river where you can kayak up the river and take a nice hike to a waterfall. So it seems like a really congested area, but we found it convenient to a lot of things and really enjoyed having the pool and hot tubs when we got back. This beach area is not for swimming though so only stay here if you're using this for home base to all of your travels.
EXCEEDED MY EXPECTATIONS!!!
Rating:
1
5
5
Review Date: 06/20/2016
We ended up here after having to leave a vaca home we had rented due to a insect infestation problem.. it was the best thing that could have happened! Will return here every time! What a incredible place and great prices. I can not wait to return. I have told everyone I know about this place and sent them the pictures. So beautiful.
vacation
Rating:
1
5
5
Review Date: 05/23/2016
Great apartment - exactly like the picture
Rating:
1
5
5
Review Date: 04/03/2016
After staying in the Westin for 2 nights, we were extremely happy to come to the property. The apartment was just as the picture !!
What a relaxing vacation and great place to stay
Rating:
1
5
5
Review Date: 03/02/2016
On arriving the rental was spotlessly clean (as compared to other rental properties and other companies we have dealt with in the past) and includes dishes/towels etc.
Location was ideal for nearby activities with several good local restaurants (if you stay try JO2 nearby).
We would absolutely recommend and would stay there again if we return.
Wonderful
Rating:
1
5
5
Review Date: 01/12/2016
Kauai for New Year's week 2016
Rating:
1
5
5
Review Date: 01/05/2016
We enjoyed our stay immensely. Our family ranged in age from 10 to 84 and this property met everyone's needs. We loved the swimming pool in the property.
Kauai Thanksgiving
Rating:
1
5
5
Review Date: 12/01/2015
It really did feel like a mini home away from home. The condo location is absolutely ideal!! The kitchen being stocked was really helpful!
Exceptional
Rating:
1
5
5
Review Date: 11/27/2015
We absolutely loved our stay. The condo was beautiful and met our needs.
Home Away from Home
Rating:
1
5
5
Review Date: 04/23/2015
This condo was absolutely lovely. The kitchen was amazingly well stocked, including cookware that was large enough for our family of 6. The location was perfect too. We like staying in Kapaa because you can easily explore the rest of the island from there. The pool is always a great diversion when the parents want to rest, but the kids want to play.
Everything you need
Rating:
1
5
5
Review Date: 04/21/2015
This was a beautiful resort. The condo had everything you need and very modern. Location was excellent to shopping and the beach. Our only complaint is there is not a shower or place to rinse off near the beach before you walk into the pool area. There is only one and its clear back inside the pool area. Had a wonderful stay!
Very comfortable condo
Rating:
1
5
5
Review Date: 02/20/2015
Yes, this condo faces away from the resort, but we found that to be an asset. It was quiet away from the pool (no noise from neighbors on any side, either), and we got the evening's last sun on the lanai.

The condo was spacious and well-equipped. It's so useful to have a washer and dryer, especially with soap provided too. The kitchen was well-stocked with equipment and even had basic cooking spices and oils. The sofa was comfortable, as was the bed we used. We found beach chairs, umbrellas, and bamboo mats in the closets, and a Birds of Kauai book in a drawer.

The resort has a great fitness room, fun water slides, several hot tubs, plenty of parking, and a tasty restaurant with great drink prices at happy hour. Location was ideal: across the street from Safeway, Foodland, and Starbucks; right at the start of the coastal paved trail (which made for easy exercise or a pleasant stroll into Kapaa for dining or shopping); and at a signal-controlled intersection to simplify left turns (not always easy on that road).

So what could be better? Little things, like stronger lighting in the bedrooms, where the two bedside-table CFL bulbs hardly illuminate the room at night. And a stronger light over the dining table too. Bench or counter space in the bedrooms to put your suitcase on, because it's too dark to see inside a suitcase in the closet, and on short stays it hardly makes sense to unpack into the drawers. Making sure the remote controls have fresh batteries. Really, very minor stuff.

Overall, this is easily a place we'd stay again.
Great Condo
Rating:
1
4
5
Review Date: 02/16/2015
Place was very clean and had all the essentials! Convenient to Starbucks and Safeway.
Wonderful Place
Rating:
1
5
5
Review Date: 02/07/2015
The condo was in perfect condition. I loved the high end kitchen appliances.

The pool area is great for families. I would definitely recommend this location to families with little kids.

Kauai Exclusive Management helped me find this place on very short notice. I am grateful for the help and their professional demeanor.
Beautiful accommodations
Rating:
1
5
5
Review Date: 10/09/2014
The accommodations were lovely and had everything we needed.
2nd Stay at Waipouli Beach Resort
Rating:
1
5
5
Review Date: 08/31/2014
We had a fabulous stay with 2 families in the F-303 and F-104 condo's. Ages 9-69. Pool is great for the kids if they aren't so keen on the ocean. Amenities and location are perfect for families and couples. Kapaa is the perfect starting point to explore the North Shore and South Shore on many day trips. Beautiful beaches can be found everywhere and the local guide book in the F-303 was great to keep in the car as we explored. Safeway and restaurants directly across the street make it easy to pick up meals to prepare or pick up a quick bite. Ask the locals where the best snorkeling is and you won't be disappointed. Hiking Sleeping Giant was an easy 1.75 mile hike with beautiful views. Dukes at the Marriott is always wonderful for a romantic dinner. We love the local Chicken in a Barrel and Bubba's Burgers. Overall, Kauai is our favorite Island and Waipouli will always be our go to resort.
Burgermyer-Wistinghausen Review of F303, Waipouli Resort
Rating:
1
5
5
Review Date: 07/16/2014
Wonderful! The condo had everything that we needed for our family of 4. We were disappointed in the pool, though -small, not a lot of lounge chairs.
Nice!
Rating:
1
4
5
Review Date: 07/02/2014
The only negative we had of this unit was the view...the parking lot. In spite of that it was great!
Vacation Stay in Kaui/2014
Rating:
1
5
5
Review Date: 05/21/2014
It was great. The only recommendation that I could make is to get more BBQ's for the guests to use. There were only 4 and only 3 worked. Guests had to wait.
Fantastic
Rating:
1
5
5
Review Date: 05/10/2014
Loved this place would absolutely stay here again. Wow is all I can say love the gorgeous room and the property with the pool and the lazy river was the best. This place is walking distance to a store, food and just a good centralized location. Love Love Love this place.
.
Rating:
1
5
5
Review Date: 03/10/2014
Fantastic
Rating:
1
5
5
Review Date: 01/09/2014
Had a great trip, the condo was fantastic.
F303 was great!
Rating:
1
5
5
Review Date: 08/13/2013
We loved our stay at the Waipouli Beach Resort. The location was great - a 1/2 drive to the North Shore and 1/2 hour drive to the South Shore. Shopping was across the street and more up the road in Old Kappaa. The beach was lovely to view, but not to swim. The closest lifeguard beach was aprpox 3 miles away. We loved the pool and having the Oasis Restaurant on property. We stayed in F303 and it was great. The 2 master suites were perfect for our 4 adults and 2 children. The unit was well stocked and had boogie boards, snorkel equipment, chairs, umbrella and pads. Everything you need for a beach outing. The A/C/ went out once (for all the units) and the management company was right on it. We loved our view of the sleeping giant. We didn't hear our neighbors, but I don't think the property was full. I would recommend this property and our unit. Aloha!
A Fantastic Vacation Spot
Rating:
1
5
5
Review Date: 03/06/2013
We love the relaxed Hawaiian way. This ocean front resort is luxuruous and conveniently located with a lazy river pool suitable for adults or children.
Jarrett's Christmas Vacation Stay
Rating:
1
5
5
Review Date: 01/04/2013
Too spoilt for words
Rating:
1
5
5
Review Date: 07/22/2012
The condo was more than we expected. It was so well equipped and decorated beautifully we were blown away. We preferred facing the outside as it was so private...looking forward to renting again.
Beautiful resort
Rating:
1
3
5
Review Date: 05/26/2012
We loved the Waipouli resort. The accommodations were great, the rooms really spacious and well appointed. We especially enjoyed the pool area which was wonderful for families. There was shopping right across the street so a rental car wasn't necessary. We were disappointed with the surprise pool closure the last two days without any compensation.
Godi 2012
Rating:
1
5
5
Review Date: 04/13/2012
It was a great experience. There were only a few minor hiccups. Also, only a couple minor maintenance issues. F303 - ice maker not working and trouble connecting to internet. D407 - bathroom tp bar broken, also trouble connecting to Internet. Might be god idea to have checklist or something for guests to note issues.
Very positive experience
Rating:
1
5
5
Review Date: 01/09/2012
Kauai Golf Trip
Rating:
1
5
5
Review Date: 10/09/2011
Overall, property location and set up was very good. Would recommend to anyone.
Rating:
1
5
5
Review Date: 04/09/2011
Rating:
1
5
5
Review Date: 02/26/2011
We loved every minute of our stay in this beautiful place!
Wow! What a perfect vacation spot!
Rating:
1
5
5
Review Date: 01/07/2011
We absolutely loved our condo on Waipouli Beach! It was very clean, great location and had all the amenities we needed for our stay. Especially in the kitchen, so we could prepare our meals there. Only complaint would be the sofa sleeper. The condo is supposed to sleep six, so the sofa sleeper is meant to be used for two of the six people; however, the one in our unit was extremely uncomfortable! Two adults would have a hard time getting sleep there. It's really only large enough for one person and not comfortable at all.
Waipouli Beach Resort, a great place to stay while in paradise
Rating:
1
5
5
Review Date: 11/10/2010
Our beds were comfortable and the bathrooms spacious. The kitchen provides all you'll need to prepare any of your meals. All appliances are top notch. The property managers on and off the island were very helpful and friendly. I was hesitant about the location but it turned out very centrally located for seeing the entire island. The restaurant on site was awesome. Our lanai looked out at the sleeping giant and was great for enjoying breakfast. Safeway, Longs drug store, Starbucks, ice cream and many others are located just across the street. This property was an awesome experience for 2 adult friends on vacation.
A great condo rental.
Rating:
1
5
5
Review Date: 11/04/2010
I stayed for 5 nights with my wife and another couple at the 2 bed/3 bath condo F303 in October 2010. The condo's rooms were spacious, comfortable, and clean. The kitchen was modern and had the normal appliances (toaster, coffee maker, pots/pans, etc.). Air conditioning was strong. View was alright; you could see the ocean if you craned your neck from the balcony; but having the large windows was still really nice. Beds were sufficiently comfortable; a little light sneaks through the window, so bring an eye mask if you're a sensitive sleeper.

The pool was quite nice, although it doesn't have a lazy river, but rather a winding area of the pool (i.e. no artificial current). The water slides were fun and the sand-bottomed jacuzzis were fantastic.

You're not supposed to use the Outrigger desk, so the travel agency gives you the condo door code a week or two in advance; make sure to look for the parking pass in the condo upon arrival.

The location was good - 20 minutes to the airport, 30 minutes to North Shore.

Overall, a great stay - we loved having the extra room of a condo (as opposed to two separate hotel rooms) and the relatively luxurious accommodations at the Outrigger. Would stay again in a heartbeat.
Rating:
1
4
5
Review Date: 07/12/2010
Only complaint was that the washing machine leaked water so we had to put down several towels to catch the water. The towels got quite wet so we had to also dry them constantly. Other than that we had a wonderful stay. The bedrooms were a tad dark and didn't have enough lighting once the sun went down. We would not hesitate to stay again.
Perfect vacation
Rating:
1
5
5
Review Date: 06/08/2010
great place
Rating:
1
4
5
Review Date: 05/14/2010
the dryer hose was disconnected, so it was blowing lint around the had obviously been disconnect for a while based on the lint in the closet and on the water big deal, but a little annoying........otherwise the place was great !!
Lovely grounds, beautiful pool, easy location.
Rating:
1
5
5
Review Date: 02/25/2010
The view of the coconut grove included the parking lot, but since we didn't stay in the room much, it was fine. Very clean and nice. Fantastic access to new path in Kapaa. We will stay here again. The beach is not for swimming but there are plenty nearby.Try to see photos of your particular room before you book.
Wonderful! The development is very nice. The condo was beautiful, spacious and very comfortable. It is nicely decorated as well. We had a fabulous time...thank you, thank you!
Rating:
1
5
5
Review Date: 08/24/2009
Great Condos!
Rating:
1
5
5
Review Date: 08/10/2009
Everywhere we went on the island, we would here comments about what a great place we had picked - we agreed!
return visitors from Oahu
Rating:
1
5
5
Review Date: 06/09/2009
can't wait to come back again
Beautiful resort, lovely condo and the pool was a family favorite!
Rating:
1
5
5
Review Date: 05/31/2009
Rating:
1
4
5
Review Date: 05/06/2009
great to do once
Rating:
1
4
5
Review Date: 04/16/2009
I liked kauai, but felt most activities were overpriced. Fern grotto tour and downhill biking were a joke. The NaPali coast tour was good. The condo was lovely and convenient.
What a great place to stay
Rating:
1
5
5
Review Date: 03/11/2009
Every thing was perfect we will do it again
Rating:
1
5
5
Review Date: 02/16/2009
please read my review in d407 1-31/2-05 there is a detailed review thank you
Your request has been sent. We look forward to meeting all your vacation needs!
Use of this website constitutes acceptance of the KauaiExclusive.com Terms and Conditions and Privacy Policy.
©2020- Present KauaiExclusive.com, Inc, All rights reserved. | Website Design by Beyond Pricing