waipouli-beach-resort-f202
waipouli-beach-resort-f202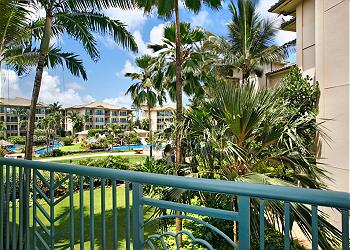 Waipouli Beach Resort F202
https://www.kauaiexclusive.com/rentals/properties/waipouli-beach-resort-f202/
Waipouli Beach Resort F202 | Vacation Rental in Kauai
F202 - Beautiful Pool View **AC** Resort Pool & Restaurant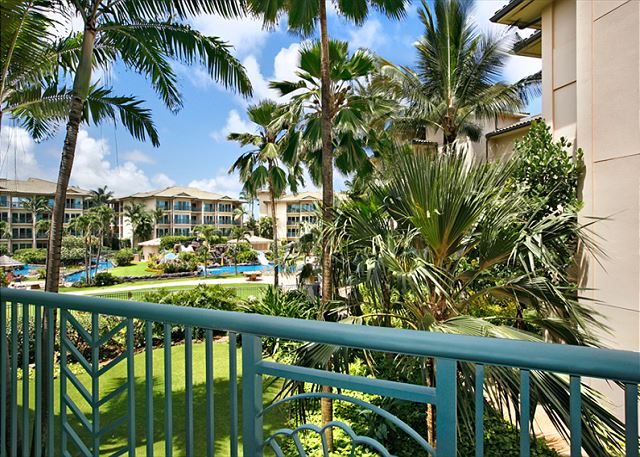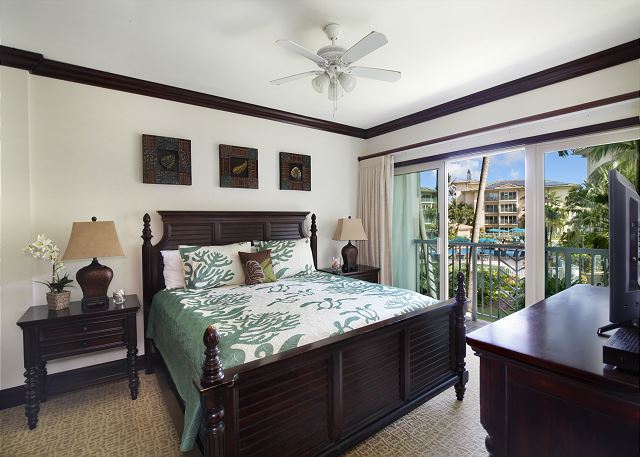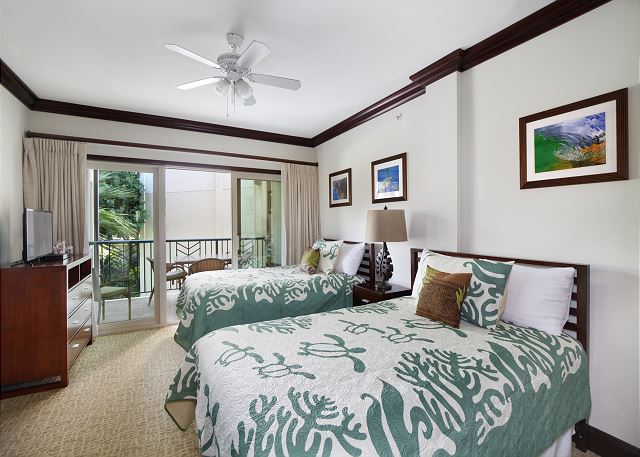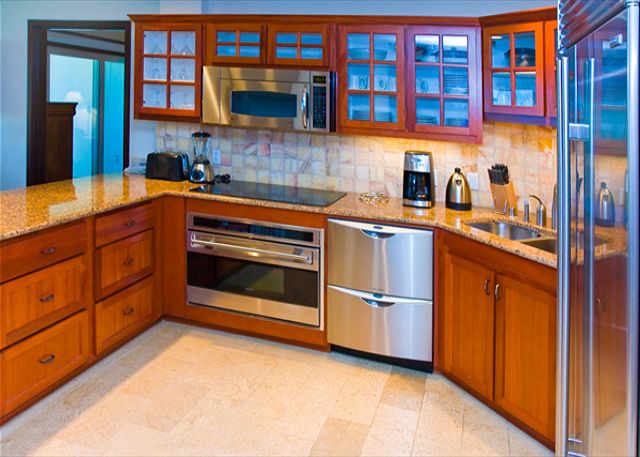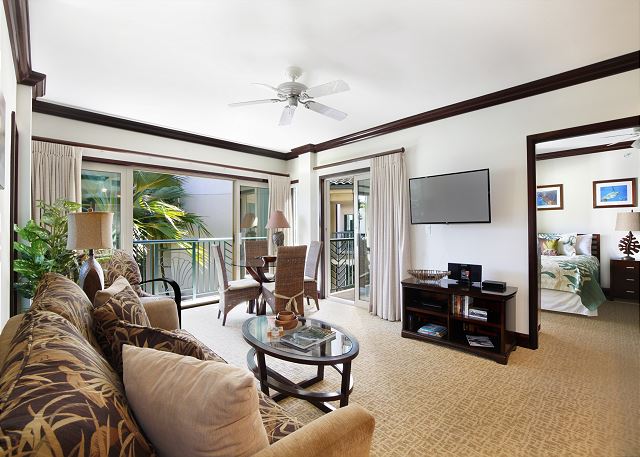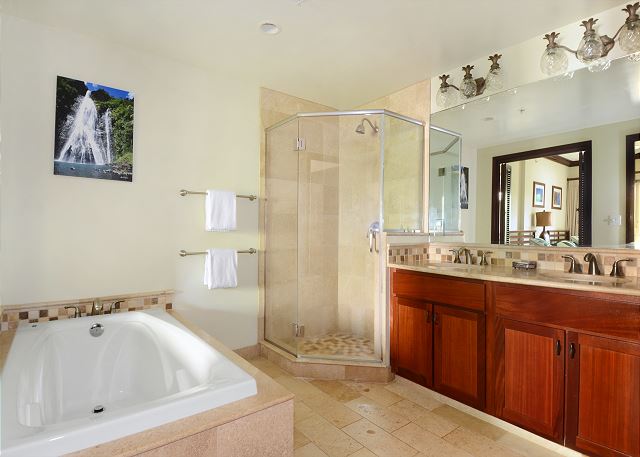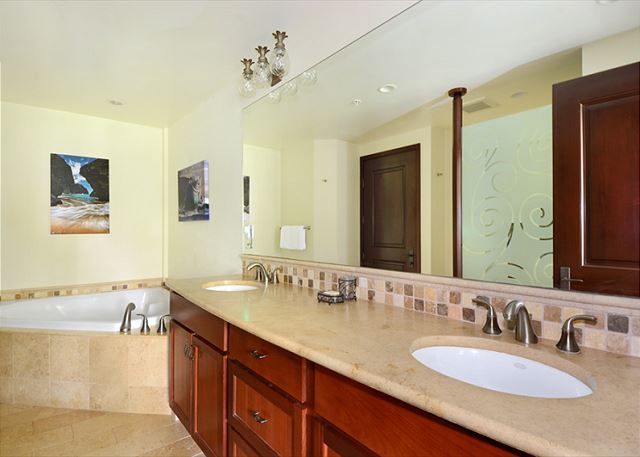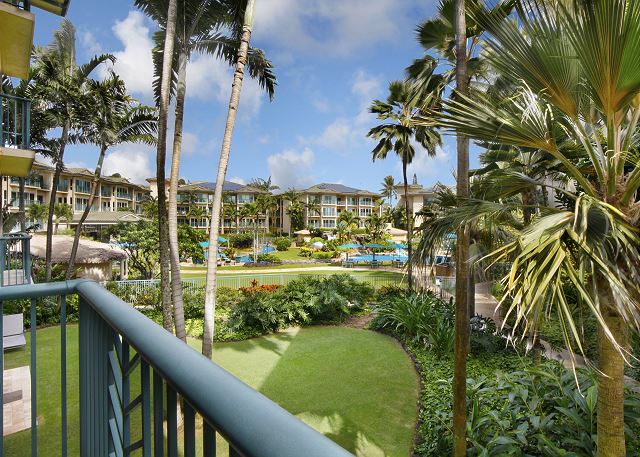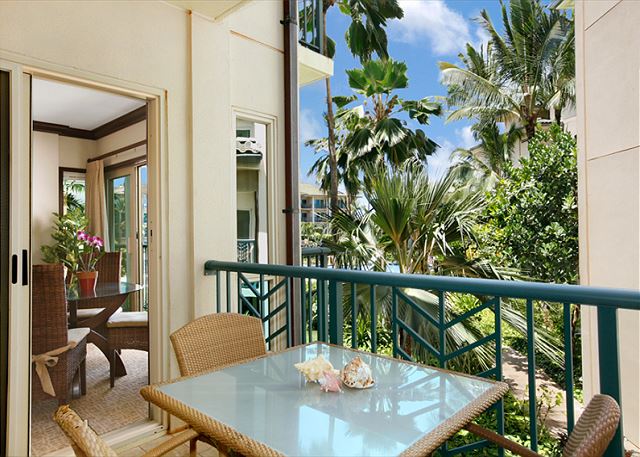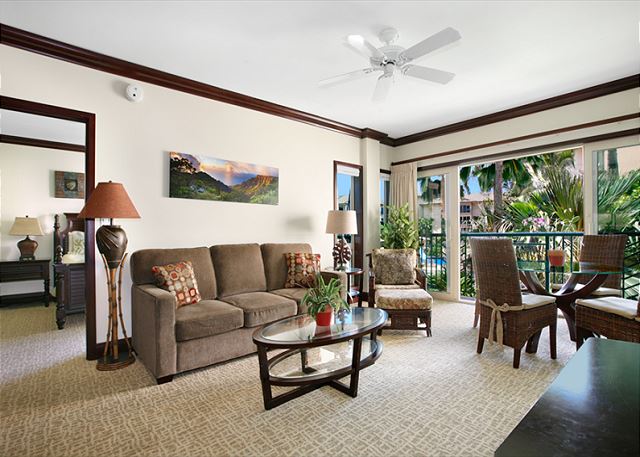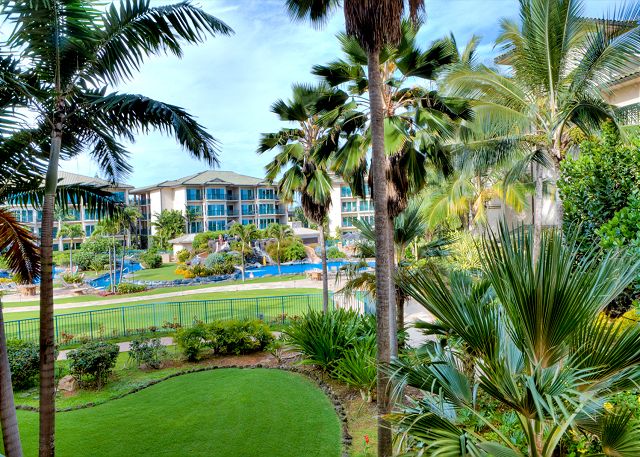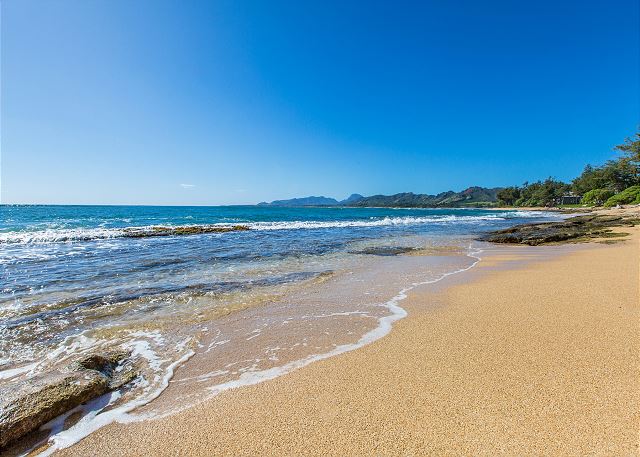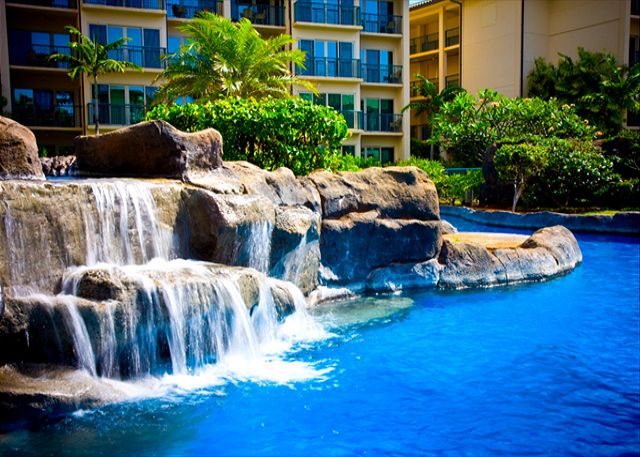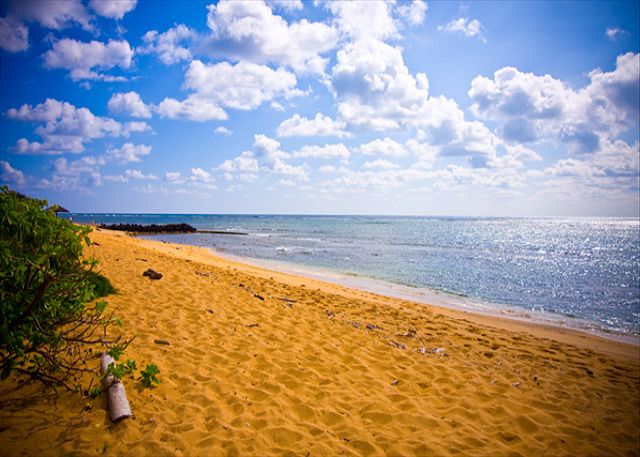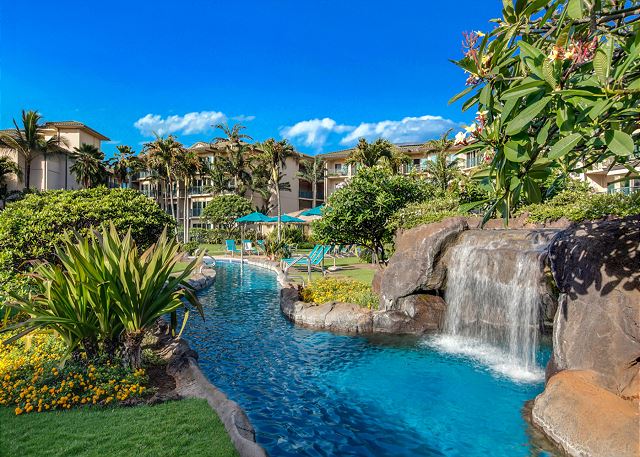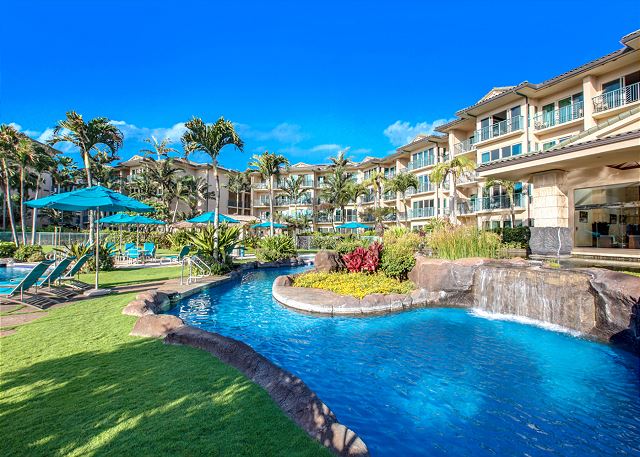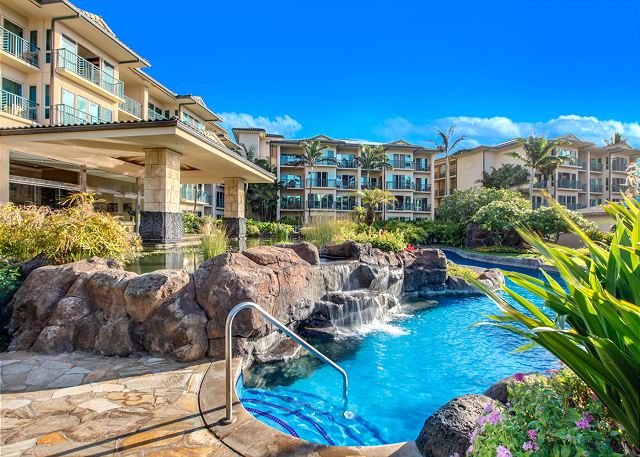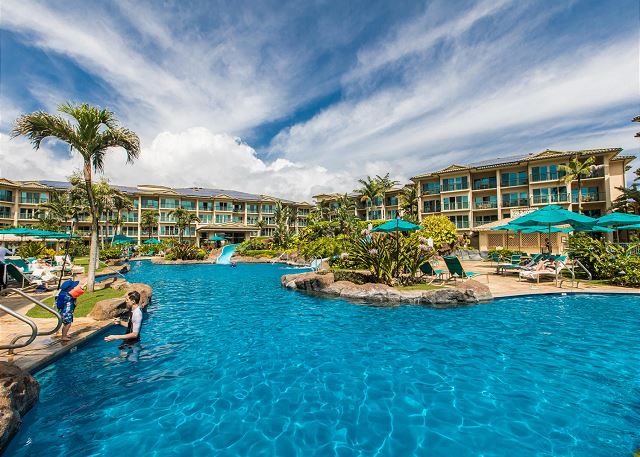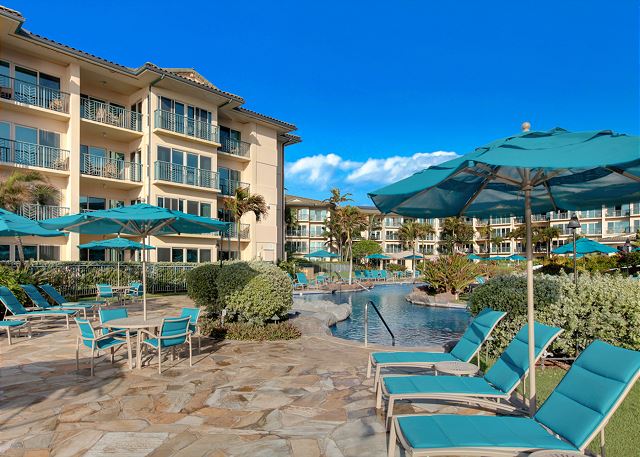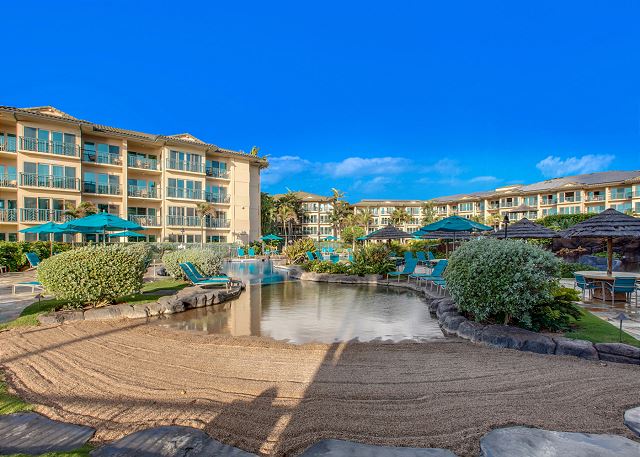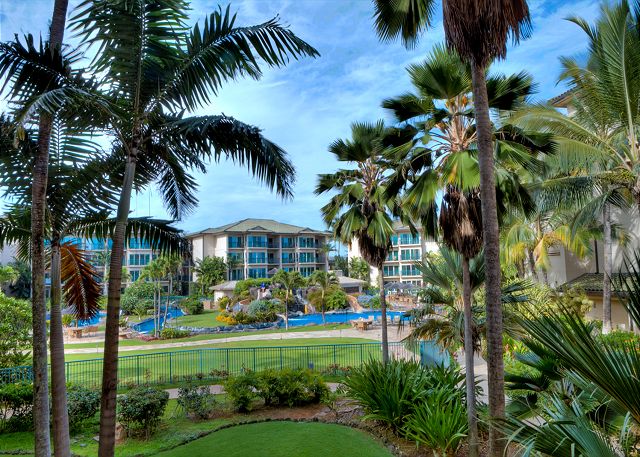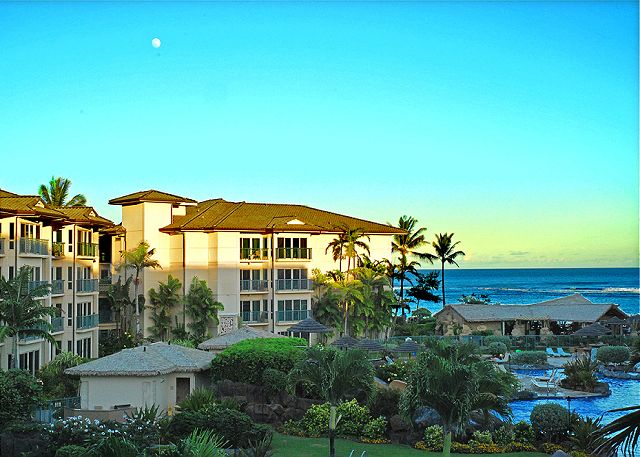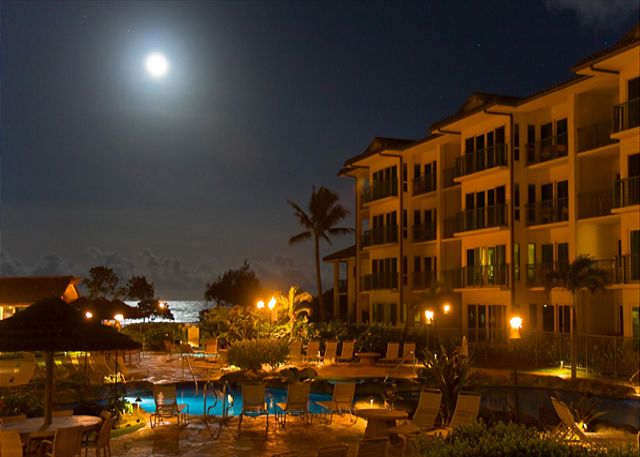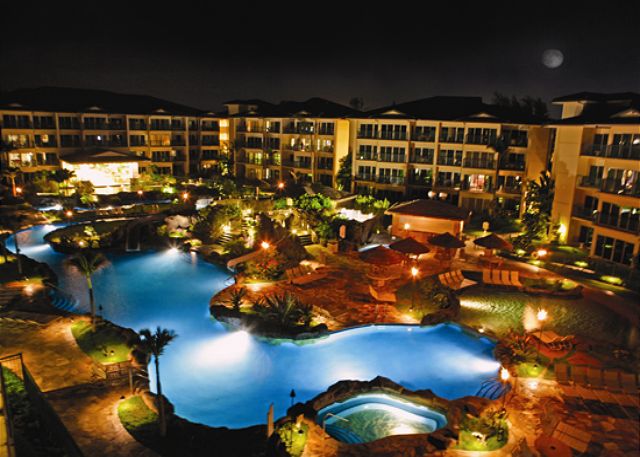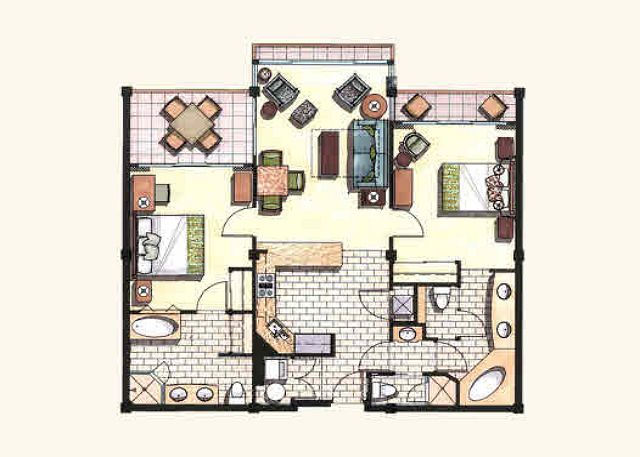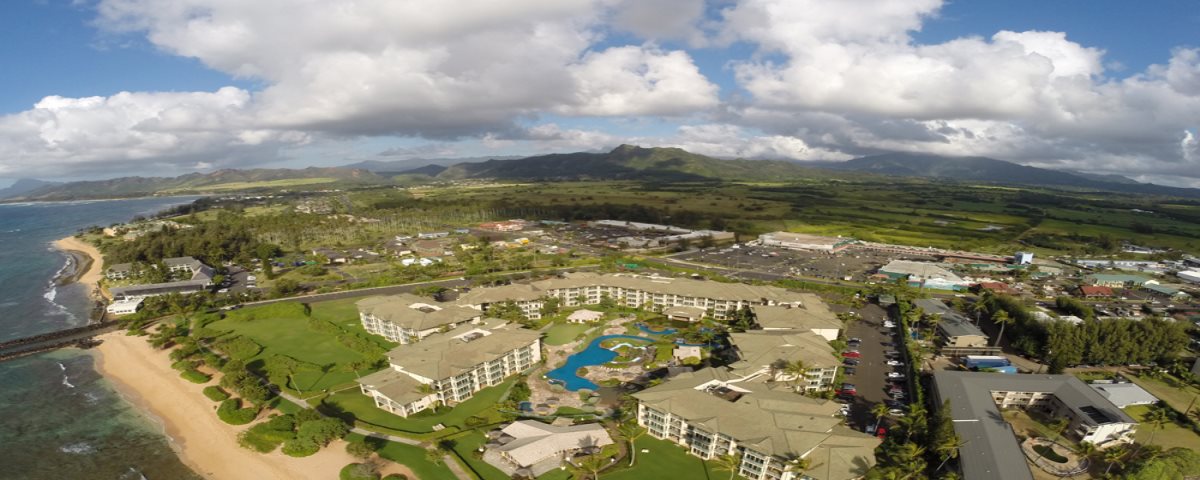 At the forefront of East Shore accommodation is the Waipouli Beach Resort. This World Class Resort provides luxury at your fingertips and offers opulent amenities for a variety of occasions.

A suite with crisp and classy Hawaiian feel, this second floor suite provides views of lush tropical landscaping and the torch-lit paradise pool. Two bedrooms feature a king bed, two extra-long full beds and one queen sleeper sofa, comfortably accommodating 6 people.

The stylish interior includes a stately kitchen with a Wolf glass cooktop & oven, Sub-Zero refrigerator, GE profile microwave, Fisher Paykel dual dishwasher drawers, granite counter tops, African Mahogany cabinets, three full bathrooms with Peruvian Travertine stone surrounds and soaking tubs. Enjoy the clean design and convenient location, with the beach and boundless Kauai adventures just beyond your private lanai.

- Located in Kapaa Town (East Shore).

- This impressive oceanfront resort features a variety of privately owned suites, condos, apartments and penthouses with state-of-the-art amenities at affordable prices.

- Amenities include central A/C, concierge service, fitness center, business center, tropical lagoon pool, jacuzzi and access to Oasis on the Beach (exceptional oceanfront restaurant).

- Centrally located on the royal coconut coast, just steps away from restaurants, shops and the Kauai Bike Path. Great location to watch the sun and full moon rise!

Perfectly positioned to accommodate the desires of everyone, the East Shore of Kauai is rich with possibilities. Flanked by epic coastline and threaded together by the public bike path, this centralized location is the social hub of Kauai. Having recently experienced a trendy transformation, the Old Town of Kapaa maintains its historic charm, yet boasts novel offerings. The towns of Anahola, Wailua and Lihue also comprise the East Shore, and carry their own unique appeal. With diverse establishments and activities, you can explore cafes, restaurants, boutiques, adventure tours, aquatic explorations and more on Kauai's East Shore.

One of the most revered places on earth, Kauai inspires a state of awe within all of us. Brimming with beauty, the oldest inhabitable Hawaiian island has both withstood the test of time and matured into a land of fertile abundance. Lush jungles, white sand beaches and the alluring ambiance of aloha enchant each moment. Offering exceptional accommodations, adventures, cuisine and culture, vacationing on Kauai is a dream come true.

TA-204-167-9872-01
| | Nightly |
| --- | --- |
| August 16 - December 14, 2021 | $370 |
| December 15 - January 05, 2022 | $429 |
| January 06 - December 14, 2022 | $370 |
| April 15 - June 14, 2022 | $370 |
| August 16 - December 14, 2022 | $370 |
Oceanfront Bar and Grille
Thank you for entering your review. The review will become available to the system shortly.
101
101
Overall Rating:
4.802
4.802
Great place to stay with kids
Rating:
1
5
5
Review Date: 10/18/2021
Spacious, clean, beautiful place to stay with kids. My 12 year olds we're at the pool and water slides every night. The grounds for immaculate and the staff was very friendly..The location was great with the grocery store being across the street along with other convenient shops.
Perfect Vacation Location
Rating:
1
5
5
Review Date: 09/30/2021
The condo was beautiful equipped with everything we needed. The resort was amazing. Had a perfect vacation.
Easy to Work with
Rating:
1
5
5
Review Date: 06/23/2021
Easy booking. Easy checkin. I wouldn't try to get them on the phone while you are here for much. They handle most things online and through email. We only had a couple questions, and thankfully nothing emergent. Would say this was an easy stay and had everything we needed. Room was really nice, super clean and beds comfy. Would consider staying again.
Wonderful condo
Rating:
1
5
5
Review Date: 03/10/2020
Wonderful condo. This was our 3rd year at Waipouli Beach Resort. Kauai Exclusive was very helpful, both in getting us a good rate and being very responsive while we were there. We hope to return again.
Fabulous Condo Rental in Waipouli area
Rating:
1
5
5
Review Date: 03/03/2020
Would definitely stay here again! Stayed Feb 2020. This unit is huge with swimming pool view. Unit was clean, fully equipped kitchen, 2 BR/2 baths (plus powder room), dining/living room, lanai and in unit Washer/Dryer. Pool area was well maintained with water slides and hot tubs (one adults only). On site restaurant is excellent. Staff was very friendly and helpful. Building has elevators.
Manager Response: 03/03/2020
Response from Kauai Exclusive Management LLC
Thank you for choosing Kaua'i Exclusive as your host during your time here on the island! We hope to host you again in the future! Mahalo Nui, The Kaua'i Exclusive Management Team
Wonderful place with nice view
Rating:
1
4
5
Review Date: 02/27/2020
Great condo in Waipouli Beach Resort. Loved the almost private beach (although it needed more chairs). The pool was fantastic. The restaurant/bar was good but happy hour was lacking. No real deals on food and the drinks were still expensive. The service at the resort was great and the condo itself was lovely. Plenty of space and comfy beds.
Manager Response: 02/27/2020
Response from Kauai Exclusive Management LLC
Thank you for choosing Kaua'i Exclusive as your host during your time here on the island! We hope to host you again in the future! Mahalo Nui, The Kaua'i Exclusive Management Team
Great Resort!
Rating:
1
5
5
Review Date: 02/18/2020
We loved the resort. The restaurant and bar were amazing. Don't miss the music on Wednesday nights! We used the pool, hot tubs and gym. All were very nice.

Manager Response: 02/22/2020
Response from Kauai Exclusive Management LLC
Thank you for choosing Kaua'i Exclusive as your host during your time here on the island! We hope to host you again in the future! Mahalo Nui, The Kaua'i Exclusive Management Team
Excellent
Rating:
1
5
5
Review Date: 12/14/2019
We had an excellent stay in this unit. This was our 6th trip to Waipouli and this unit did not disappoint. It was clean, well appointed, and in a nice location.
Great Vacation
Rating:
1
5
5
Review Date: 07/16/2019
Excellent facility - definitely met expectations. Easy to find/access, check in and out was a breeze.
GREAT VISIT
Rating:
1
5
5
Review Date: 03/08/2019
We had a wonderful time at Waipouli Beach Resort. The condo was spacious, clean and perfectly located. It was nice to get up in the morning, walk out to the beach and watch the sunrise each morning. Kauai Exclusive property management team were very responsive to anything we needed.
Beautiful Kauai
Rating:
1
4
5
Review Date: 01/28/2019
Fantastic location, beautiful property. Unit lacked extra basic supplies...toilet paper, kleenex, and paper towels. Requested to have sofa bed made-up, when we arrived, it was not. Had to wait 30 minutes for sheets to be delivered. Ceiling fan blades were very dirty when we turned off the fans. Despite these issues, we would definitely stay here again!
Chritmas in Kauai
Rating:
1
5
5
Review Date: 01/17/2019
Kauai Vacation
Rating:
1
5
5
Review Date: 05/21/2018
We were very pleased with our stay at this condo. We especially appreciated the second bedroom having two full beds for our children. The beach chairs, umbrella, cooler and boogie boards came in very handy. The location of the property made accessing different areas of the island very convenient. We loved the pool area and the whole property was very quiet and peaceful. We would rent again on our next trip back.
Lovely Condo
Rating:
1
5
5
Review Date: 04/27/2018
My grown daughters and I stayed in this condo in April 2018. The rooms were clean and beds comfortable. We all decided we would like to come back to Kauai and stay here again.
Great unit
Rating:
1
5
5
Review Date: 04/03/2018
View: Pool
Unit cleanliness: Spotless
Kitchen amenities: Stellar. Well equipped with pots & pans, plates, cups, etc. Also well stocked with essentials like seasonings, etc.
Beach amenities: Stellar. 3-4 lounge chairs, 4 boogie boards, sand toys for small kids.

Overall a great unit.

Final comment - avoid units via Outrigger. We spent the first part of our stay in an Outrigger managed unit and it had almost nothing - very limited kitchen equipment and zero staples like seasonings, etc.
Family Vacation
Rating:
1
5
5
Review Date: 03/30/2018
We stayed for a week over spring beak, and we enjoyed every minute. The condo layout was great, and the condition and cleanliness was good. The pool area, gym, and the beach were great. Having the mall across the street was helpful. Really enjoyed this place, and would highly recommend, especially for families with young kids. Only downside was the the traffic in the area.
Lovely, comfortable condo.
Rating:
1
5
5
Review Date: 02/13/2018
We stayed in Waipouli F202 condo for a week in January 2018. It is a lovely, well appointed, and clean condo with a view of the resorts interior pool and gardens (no sea view). There is some noise from the pool during the day, but it didn't bother us. The condo is very quiet at night. It is near two supermarkets and a number of restaurants - the onsite restaurant - Oasis on the Beach - is very good an delivers to the pool and rooms. There is a stoplight at the entrance to the resort that makes it easy to get out onto the very busy Kuhio highway. Great place, would stay there again.
Perfect place to stay in Kauai
Rating:
1
5
5
Review Date: 01/23/2018
This was our first time visiting Kauai. Waipoul Beach Resort was recommended to us by a friend familiar with the area and we thoroughly enjoyed our stay!! The location is great, Safeway, Starbucks and McDonalds right across the street, and centrally located to visit anything in the North or South sides of the island. The pool at this resort is awesome! 3 hot tubs, 2 water slides, lots of chairs and loungers. F202 is in a great location, near parking, nice view of the pool. And the room is spectacular! Huge bedrooms each with huge ensuites! The kitchen is great with all modern appliances. Full washer and dryer was very nice to have too. Even has a closet with 4 beach chairs, 2 boogey boards and a sun umbrella. You get resort pool towels that can be used for beach outings, etc. We would definitely stay in F202 again! Highly recommended! We tried the Oasis on site restaurant and would not go there again but there are lots of other good restaurants on the island.
Family Vacation
Rating:
1
4
5
Review Date: 10/22/2017
The condo had everything we needed and was very comfortable. The facilities at Waipouli were great and the resort is in a great location - easy to get everywhere.
Perfect for the family
Rating:
1
5
5
Review Date: 08/07/2017
Unit was just as advertised. Large unit with new appliances. Pool was great with direct access to the beach. Plenty of room for the family. Second bedroom was great with the two beds. Unit had beach chairs, beach umbrella for our use which was nice to have.Check in was easy, we never had to go to the rental office during our stay. Codes for room and pool were given before arrival. Oasis restaurant on property had perfect ocean view and great menu. Property was in perfect location close to shopping, and bike trail.
Great stay for families
Rating:
1
5
5
Review Date: 04/03/2017
Just finished a week long stay inF202. The condo and ground were lovely. My kids liked not having to share a bed. The maintenance staff were very helpful (we had a screen door walk through incident that was resolved quickly). The location was convenient to many activities. The only (and minor) negative was that the air conditioning turned on and off frequently and, when on, was a bit loud. Nothing that would keep us from coming back, though. Great stay!
Great Kauai Property
Rating:
1
4
5
Review Date: 02/08/2017
Second time we have stayed here. Love the location, the unit and the property. Only drawback is the for both years the Wifi has not worked properly (or at all - we logged in to the room above). Also needed to ask for additional cups as there were only three in the unit. The management company was very responsive to specific requests.
Amazing and Beautiful
Rating:
1
5
5
Review Date: 12/14/2016
The best I ever had...even better than the St Regis
Wedding Vacation
Rating:
1
5
5
Review Date: 11/06/2016
The condo had all of the essentials that we needed including a fully stocked kitchen with all the cookware we needed for the week. It was also nice to have a washer and dryer available to wash when we needed it. The room was very nice and clean. The grocery store is right across the street to get all you need for the week. We saved a lot just by cooking a lot of our meals in our room. They also have a costco if you have a larger group. We had an incredible stay. The room was all we had hoped for and more. The pool was awesome for our whole family. We all enjoyed the water slides and swimming together. We got married at the resort on the beach and had an amazing experience. The beach in front of the resort is very nice but not ideal for swimming. There are plenty of beaches nearby to go swim though. If you plan to do activities like tubing or zip lining I would suggest contacting the vendor in advance because some activities were booked up even before we arrived. We utilized the free concierge service for our wedding as well as our activities or even just for a restaurant recommendation and they were wonderful. It eased the stress of the entire stay knowing someone was available for help and advice. We would highly recommend the resort as a great family or couple's spot. We are looking forward to our next visit.
My favorite place in Kauai!
Rating:
1
5
5
Review Date: 11/01/2016
This is a nice central location to stay in Kauai! Very clean and beautiful setting!
waipolui
Rating:
1
4
5
Review Date: 09/05/2016
Good. Buiding "F" does not have elevator or trash. would have been nice to know.
Kauai Trip 2016
Rating:
1
5
5
Review Date: 08/07/2016
Great condo & great location! Kids loved the pool & the ocean being about 60 seconds away
Great place to stay
Rating:
1
5
5
Review Date: 08/01/2016
Great location and the condo is exactly how it looks in the pics. Plenty of extra's too - beach chairs, umbrellas, etc. We would definitely recommend staying here and we will for sure be back. Loved it!
Wonderful place!
Rating:
1
5
5
Review Date: 06/16/2016
This was our second stay at the Waipouli. It is a great place. Everything is of good quality and we love the location. It's quiet and clean. Beach chairs and beach umbrella in F202 was a nice surprise as we didn't have that in the first one. We bought groceries right across the street, but lots of places to eat also (we love Brick Oven Pizza) Would stay here again!!
Very Enjoyable Stay
Rating:
1
5
5
Review Date: 04/06/2016
Stayed in this unit for 12 days in March, 2016 and had a pleasant experience. Furniture was upgraded and comfortable. Kitchen well stocked with equipment. Plenty of closet and drawer space to unpack our clothes. We liked the beach chairs and used them often to sit under the trees on the beach. Having stayed in another unit last year, we chose this one partly because the lanai only gets sun in the early morning which means it doesn't get too hot to sit outside in the afternoon. Last year the lanai in the unit we rented was in the sun all afternoon and we weren't able to use it until evening. We will definitely consider renting this condo in the future.
Good stay at waipouli
Rating:
1
5
5
Review Date: 04/01/2016
Very good! But: a reminder email the days before would go a long way in terms of reminding that you go straight to the room etc and to put that info at the renter's fingertips. I had to dig up an email from January (in march) to find door code etc
Waipouli Beach Resort is Fantastic!
Rating:
1
5
5
Review Date: 02/26/2016
We love the location, the amenities, and the layout of the condos at the Waipouli. This was our 2nd stay and we intend to go back for years to come. The property in general is very clean and secure and we have had great experiences with all of the staff that maintain the property and grounds.
First Time in Kauai
Rating:
1
4
5
Review Date: 02/14/2016
Liked the location, amenities, and the size of the rental unit. One of shower heads was constantly leaking and one of the dishwashers would not drain properly. Having such a long code to access the pool area is not convenient. The restaurant should have more days with a food happy hour and more entertainment days than once a week.
Manager Response: 02/15/2016
Response from Kauai Exclusive Management LLC
Aloha, Thank you for the valuable feedback and for being our guest in F202. We have fixed the shower head as well as the dishwasher. I also shared your feedback with the restaurant in hopes they might offer more like you suggested. Again thank you for being our guest and thank you for taking the time to give us your feedback. Mahalo, Kauai Exclusive Mangement
Great condo in Kauai!
Rating:
1
5
5
Review Date: 01/21/2016
We really loved F202 and the Waipouli Beach Resort! The condo is modern and clean and the resort is great with a lovely pool and easy access to the beach. The beach is rocky so not great for swimming, but there are other beaches within a short drive. I'd like to stay there again but need a few things! There are no towel racks in the master bathroom. There should be one by each sink. Also, there is no where to hang your towel by the master shower. There should be a hook. Also, the lighting in the main room should be improved. There was a nice game table but not much light to see at night! I actually bought a better light bulb for the lamp, but another lamp or overhead light would be a big improvement. I know these are picky little things, but that is how much I want to stay there again that I care about these little things!
lovely location
Rating:
1
4
5
Review Date: 01/19/2016
Beautiful space, lovely pool and great location (central to everything on the island). Really enjoyed being able to walk to groceries, restaurants, and the NOT to Be Missed Beach Path.
Overall a lovely place to stay, though a bit too expensive.

Great space for family celebration
Rating:
1
5
5
Review Date: 12/31/2015
The rooms accomadated 6 people easily . The beds were firm and comfortable. The unit felt secure and we allowed our grandchildren to go between units (3) with a buddy. They loved the pool and nearby beaches (Lydgate) gave us variety. Located across from Safeway was a plus as there were 16 of us and we didn't eat out much.
Clean, regal, spacious, and professional
Rating:
1
5
5
Review Date: 12/04/2015
We loved, loved, LOVED this place! The amenities were top notch as our suite came with full laundry, loaded kitchen appliances, THREE toilets, 2 showers, and 3 beds, and two balconies! We would come back here in a heartbeat.
Great place to stay
Rating:
1
5
5
Review Date: 12/01/2015
This is a great centrally located condo. Well equipped, clean and a great pool for kids.
Beautiful Condo
Rating:
1
4
5
Review Date: 09/29/2015
The condo was exactly as described and perfectly central to all activities. Pools and grounds were lovely.
F202
Rating:
1
5
5
Review Date: 08/17/2015
WBR F202
Rating:
1
5
5
Review Date: 06/22/2015
Unit F202 exceeded our expectations! The unit was spotless and appeared as represented online. The WBR was very clean and in very good condition and the staff couldn't have been friendlier. Great location for visiting all parts of the island. We look forward to staying here again! Great customer service from the management company. We love Kauai and will be back!
Wonderful Trip with my Grandkids to Waipouli Beach Resort F202
Rating:
1
5
5
Review Date: 05/19/2015
Awesome! F202 experience was wonderful. We felt very special. The accommodations were great! I have never had to enter a code before, but it was very easy. My grandkids had the code memorized within seconds. It was a very safe environment.
Coming back to Kauai After 39 Years
Rating:
1
5
5
Review Date: 05/05/2015
Really amazingly easy. Staff had prepared everything, and the reality completely reflected the photos & descriptions. (We realized we'd stayed in the old nextdoor property in 1976! still going!)
The TWIN beds availablity, along with larger bed, - very comfortable -was really necessary; (most suites only offer a king & a queen, which would not have worked for us.) We really liked & used the gym!
We appreciated the solid concrete format & spacious layout; Loved the pool! And loved walking & cycling the beachfront around Kapa'a.
Hard to leave...even for a cruise from Honolulu around Hawaii back to Vancouver (which was so different yet fabulous)
LOVED the National Botanical garden near Poipu; our son took surfing lesson; snorkeling on north island, and east & south beaches was great with good gear rented in Kapa'a.
So happy that traditional Hawaiian culture, agriculture, language & knowledge is being reinvigorated!
Fantastic condo at a great location!
Rating:
1
5
5
Review Date: 04/12/2015
We loved the Waipouli Beach Resort! The condo was much nicer than the pictures made it seem. It was VERY clean and very well stocked, thanks for the chairs and the cooler bag. Our kids loved the pool. Being across the street from grocery stores was very convenient. Food at Oasis was delicious, too bad the service was so bad. The management company was very professional and answered all of our questions. We would definitely stay there again and suggest it to our finds. Thanks!
May Party
Rating:
1
5
5
Review Date: 03/10/2015
This is the one to choose for future accommodations. Booking was easy. The accommodations were perfect; good location, comfortable, quiet, easy access to facilities, well-prepared by management. If returning to Kauai, I would ask for this same unit and I recommend it to anyone interested.
First Trip to Kauai
Rating:
1
5
5
Review Date: 03/07/2015
The unit, pool, concierge and restaurant were all fabulous. The location is great too - with easy travel to points north, south and west. We would definitely like to stay here again on our next visit.
Fantastic Vacation
Rating:
1
5
5
Review Date: 02/11/2015
We had a wonderful stay at the Waipouli Beach Resort. Unit F202 is everything we hoped it would be. We have 3 children ages 10,8,6 that loved the resort as a home base. F202 ,in particular, is beautiful and well located on the property. We all really enjoyed the pool, sunrises on the beach and digging little crabs out of the sand. The Oasis was a wonderful place to eat and the bar staff was fantastic during the day while we were at the pool. We would definitely stay here again and recommend this unit to anyone that would like a roomy, beautiful, centrally located (on the island) place to stay. We loved it! Safeway and Starbucks directly across the street were a big plus!!
Great condo
Rating:
1
5
5
Review Date: 12/29/2014
Had a wonderful time this week. This is a beautiful unit and a great location.
Waipouli Beach Resort November 2014
Rating:
1
5
5
Review Date: 11/19/2014
I made several calls/emails to other properties on Kauai. Kauai Exclusive Management outperformed everyone else. They not only answered in a timely fashion,they were very knowledgeable and very polite. I asked a lot of questions yet I never felt hurried or pressured.
The property was beautiful,well maintained,clean,and the room we stayed in was very comfortable and "roomey" with all the latest amenities.
We really appreciated the concierge service. Not only was she knowledgeable she made all the arrangements for us.
Also, the property was centrally located on the island.
We couldn't believe that there were three hot tubs...awesome.
We cannot wait to return next year!!
2014 Waipouli Beach Stay
Rating:
1
5
5
Review Date: 10/13/2014
It was very nice except for the in-house Oasis restaurant. We ate there for dinner on the 1st night in town and the hamburger made one person very sick from food poisoning. The steaks were excellent but we decided never again. However, we did gave it another try for lunch 4 days later and the pastrami sandwich made a different person very, very sick. Also, for that lunch we arrived 10 mins before opening time and they would not let us in nor serve us drinks while we waited. The Oasis is no oasis and definitely needs new management. The rest of the complex was magnificent and the location was perfect. This was a next-day short notice reservation and the management team that set us up was 1st class all the way. When I go back I will use the same office for future reservations.
Loved the resort
Rating:
1
5
5
Review Date: 07/07/2014
We really enjoyed Waipuoli Beach Resort. Great location!
Loved every minute!
Rating:
1
5
5
Review Date: 06/09/2014
We had a wonderful stay in F202. The accommodations were excellent. Patrick and the entire staff were very attentive. The stop light on the highway held for ever though! Would come back in a heart beat and highly recommend this place to all. All four people in our party were very comfortable.
Wonderful!
Rating:
1
5
5
Review Date: 05/20/2014
Absolutely thrilled with our time there!
Waipouli Paradise
Rating:
1
5
5
Review Date: 04/21/2014
Third year in a row at F-202 and plan to return whenever we can. The unit was absolutely spotless and in perfect condition, the general facilities are outstanding with new furniture in the lobby and a terrific workout room, the pool is beautiful and loads of fun for the grandchild! The only thing that could improve the experience is if the BBQ's worked better as some don't heat up much and don't stay lit if there is wind. We love Kauai and we love Waipouli Resort and we love unit F-202!
Family of 4 (6 & 17 y/o) LOVED this place!!!
Rating:
1
5
5
Review Date: 04/12/2014
We are a family of 4, with a child that is 6 and one that is 17. Obviously, this can create challenges on family vacations and making sure all of us have access to age appropriate activities. The location, facilities, environment, and attitude of Waipouli Beach Resort Unit F202 exceeded every expectation and need. It was AWESOME!!!
Waipouli Beach Resort Rocks!!
Rating:
1
5
5
Review Date: 03/17/2014
We had an amazing Kauai vacation and the location and condition of our resort was a big part of the success of our holiday. We enjoyed being very central with easy access to the North and South areas of the island. The management and other staff were also friendly and helpful. Excellent vacation and resort!
Loved Our Stay
Rating:
1
5
5
Review Date: 02/11/2014
The location was perfect for venturing out north or south island; we were within a reasonable distance to whatever we decided to do each day. After spending some time on the island I would not even consider limiting myself to North or South. For Kauai, Kapaa is a great location to home base from. Access to stores was right across the street. The pool area was awesome and my 4 yr. old daughter loved it. The long hours made it possible for us to enjoy the pool early in the morning and again in the evening after our day trips off property. The pool is cold, so most of our time was spent in the hot tubs during those parts of the day. The Grounds were meticulously kept and clean around the resort with plenty of chairs and places to lounge. There are not enough BBQ Grills, so plan your cooking accordingly. The room was very nice. It was very comfortable and worked great for my family of 5. The Tween boys loved having their own beds and bathroom! We noted that while the rooms look and feel clean, a closer look revealed the dishes were not quite clean when put away from the previous guests and had to be rewashed before use. Our bed spreads and the decorative pillow covers had not been washed in a while. My wife washed the ones she could and the others that said dry clean only were piled in a corner during our stay. A few minutes wearing white socks on the carpet showed that the carpets were in need of some deeper cleaning. My wife mentioned that she was on vacation and resented having to wash bedding. I guess for the price of the room, we expected a little more. All that said, we did love the room and will stay there again. Since they turn the room so fast between check out and check in, it leaves little time for anything other than a surface cleaning. I read all the reviews before booking this room and they all reported it clean. Overall we cannot say enough good about our stay here. We loved Kauai and the Waipouli Beach Resort F202! We will return....Thank you.
Very Accomodating
Rating:
1
5
5
Review Date: 01/08/2014
Kauai Exclusive was great to work with during an usual set of emergency circumstances which led us to look for last minute accomodations for ourselves during the birth of our grandson and an unanticpated hospital stay for the new parents.
:)
Rating:
1
5
5
Review Date: 12/17/2013
The only thing that was inconvenient was the check out time...
Great Place to Stay
Rating:
1
5
5
Review Date: 11/07/2013
We have had many great experiences with Kauai Exclusive Management LLC and highly recommend to others to contact them if wanting to stay at Waipouli Beach Resort. The room was very clean, spacious, pool fun for the family and kids. The property is located conveniently across from stores and eateries. The staff at Kauai Exclusive Management also very friendly and accommodating to our needs. Highly recommend staying here.
No stress condo
Rating:
1
5
5
Review Date: 09/30/2013
I am rating this condo very high because we had absolutely no problems. NONE. We stayed at the condo for 10 days, the management company sent me all the information I needed and I did not need to contact them until the last day to see if I could extend our stay until our flight left. They extended my stay for a minimal charge. We had plenty of towels, laundry detergent, dishes, and all the appliances we needed for our meals. Having a nice clean place to stay without any problems removed a lot of stress from our vacation.
F202
Rating:
1
5
5
Review Date: 08/24/2013
Extremely nicely furnished condo. I wouldn't change anything.
Love the Waipouli
Rating:
1
5
5
Review Date: 08/19/2013
Was clean & everything worked. The location at the resort was OK, but we made last minute reservations. Had 3 beds which was great!! This is an awesome resort and love the pool!!! Great management company too.
Family trip
Rating:
1
4
5
Review Date: 07/28/2013
Great place
Rating:
1
5
5
Review Date: 06/24/2013
Had a wonderful time, great place to stay...
great time
Rating:
1
5
5
Review Date: 06/03/2013
We have stayed here 7 or 8 times. Each visit was for 30 days ..we return each year as accommodations are excellent and well maintained
It was a perefect family vacation
Rating:
1
5
5
Review Date: 04/11/2013
Our family of 4 had a great time! This unit and the resort was perfect for our vacation and exceeded our expectation. As for the resort, it was central and convenient. We used awesome pool in the morning, and drove to nearby beaches in the afternoon. The BBQ grills on the property (nothing to do with F202) was inadequate, and was the worst meal of the vacation- don't bother. I used the resort gym daily. Now for F202- everything was top of the line! The beds were superior in both rooms. I love all the updated kitchen appliances that for the first time I did not mind cooking on vacation! We cooked every night, and the 1 night we did a take-out and came back to our condo. The 3 bathrooms was helpful, and 3 flatscreens was another great features for our family. Our 2 teen boys did not want to leave. The F202 view of the poolside/waterslide was beautiful. We will come back and do this again. Mahalo.
February Vacation
Rating:
1
4
5
Review Date: 02/18/2013
Lovely Condo. Very well appointed with everything you need! Enjoyed our stay there very much!! Condo was very clean!
The pool was a bit cold for us and little grandson, we did enjoy the hot tubs however. Bques needed some attention. Will definitely stay again and highly recommend it to others!
Great Stay
Rating:
1
5
5
Review Date: 02/15/2013
Great Place to stay! Enjoyed every minute of it.
Great Family Resort
Rating:
1
5
5
Review Date: 01/09/2013
My husband and I and two teenage kids enjoyed 8 nights at this resort. The complex was a little bit large and imposing, but since it wasn't particularly full, it wasn't over crowded. The restaurant on site, called The Oasis was a magnificent, wonderful surprise. We weren't expecting much, but were super, pleased with the menu and the service.
The pool was a little bit cold and so we spent most of our time in the hot tub. My only complaint is that even though it is a beachfront resort, the beach isn't okay for swimming too many rocks. That info wasn't provided initially picked this resort.
our stay at Waipouli Beach Resort
Rating:
1
5
5
Review Date: 11/05/2012
Although we have been guests of the resort may times our experience in unit F202 exceeded all our other visits. ---the condition of the unit,the location,and all the facilities all were 5 stars. Special thanks to Josh for making all this happen
Aloha Hawaii
Rating:
1
5
5
Review Date: 09/15/2012
Wonderful Condo! The little extras like beach chairs, snorkels and an Umbrella were very handy. The tradewinds were so nice that we did not even turn on the AC but opened the 3 sliders and enjoyed the breeze. The water slide was a huge hit with the kids and the hot tubs were a huge hit with their parents! Mahaolo Josh!
Fabulous Vacation Resort
Rating:
1
5
5
Review Date: 09/09/2012
Beautiful condo, good restaurant, gorgeous pool area -- perfect end to a perfect Kauai vacation.
Everything you need is here.
Rating:
1
5
5
Review Date: 08/30/2012
Great Condo Visit
Rating:
1
4
5
Review Date: 07/08/2012
Overall a great place. 2 complaints - towel distribution for pool (desk was not always manned) and outdoor grill issues.
Still Great the second time around.
Rating:
1
5
5
Review Date: 05/12/2012
This was the second time we stayed in F202 in a little under a year and a half. And once again we did not want to leave. We have four girls ages 5 to 13 and there is not a better condo anywhere for a family like ours. We had none stop fun both weeks and look forward to hopefully staying there again. The condo is beautiful through and through and the pool is a great reason to get up early and get the day going. Kauai Exclusive has been very easy to work with and I would recommend them to anybody.
great place to stay
Rating:
1
4
5
Review Date: 05/10/2012
Really like the people that work for Kauai Exclusive Management wont be the last time we book with them
A fabulous place to stay!
Rating:
1
5
5
Review Date: 04/17/2012
Waipouli Beach Resort is a wonderful place for families. The condo is gorgeous, with a fabulous, fully-stocked kitchen, washer/dryer, 2 bedrooms so our kids could have their own beds and their own room, a gorgeous view of the pool, amazing location right on the beach, conveniently located across the street from Safeway, Long's, ABC Store, Starbuck's and more. Oasis Restaurant on site was very good. Kids loved the wonderful pool and waterslides and sand-bottom kiddie area and getting to feed the koi fish on Thurs and Sun mornings. Though Lydgate beach was closed when we were there (our favorite place for snorkeling with little kids), we love the Kapaa location for everything that is nearby - stores, Fun Factory, Boss Frog's for snorkel rental, shops and restaurants and shaved ice in downtown Kapaa and Coconut Marketplace, and easy drive to either Poipu beaches or north shore. F202 was in excellent condition, even prettier than the pictures, comfortable and convenient with all the comforts of home. The rental company was courteous and responsive and took care of all of our needs. The only thing that was a bummer that the Internet connection in the condo (both wifi and Ethernet) was sooo slow that to do his work, my husband had to go across the street to Starbuck's to use their wifi connection. Other than that, everything was incredible! An amazing place to stay in a beautiful location! Mahalo!
A Wonderful Vacation!
Rating:
1
5
5
Review Date: 03/26/2012
Our room was immaculate when we arrived. We were very pleased that we had rented a room with a pool view. This worked out perfectly as we have teenagers and were able to watch them out at the pool. The kitchen appliances and furnishings were first rate. The oven looked a little complicated, but I'm sure we would have figured it out if we found we needed to use it. We utilized the BBQ downstairs. This was the only item that was problematic. The BBQ does not get very hot and not all of the burners work on all of the units. Hopefully management will tend to this quickly. The location of the complex was fantastic. It was very easy to go to either the south end of the island or up to the north. We found we did not mind not having a swim-able beach at the resort. We ended up seeing much more of this beautiful island as a result. We had friends who booked through Outrigger directly. They were pleased but found it awkward having their stay interrupted by cleaning staff coming at different hours each day. We did not miss having daily housekeeping at all. Actually, we preferred it this way.
The weather was poor, thank god the condo was so nice.
Rating:
1
5
5
Review Date: 03/16/2012
The islands were experiencing a winter storm which brought high winds and rain for most of our stay. There was a brown water advisory so we could not go in the ocean. That said, the Waipouli Beach Resort was A+ and saved our vacation. The pool area was great, having 3 hot tubs was a bonus and the bbq area was well equipped. The rooms were 5 star +, with flat screen tv in each room, top of the line kitchens ( subzero fridge and granite counter tops) bed were comfortable and bathrooms were also A+. The rooms and complex were very clean.
Great Place
Rating:
1
5
5
Review Date: 03/07/2012
Great Place, top notch appliances and furnishings, not run-down like many condo resorts tend to be. The central swimming river (it's not really a lazy river because there is no current" is great with 2 slides. The "sand" bottom pool are really pebble bottom, but still great for the kids. One hot tubs, 2 are adult only and one where kids are permitted with parents.

Great location also, just across the [busy] street is a Starbucks, ColdStone, Safeway, a local ice cream shop and Papaya's a great health food store with a buffet offering of salads, side dishes soup and a daily main course.

The Oasis restaurant has a great sunday brunch. The food is excellent and mostly locally sourced, but don't expect huge portions. Service tends to be a little slow so don't come if you're in a hurry.

There is a Koi pond with 2 weekly feedings for the kids to participate.

Overall a top-notch resort and I will stay again.
A nice place to stay
Rating:
1
5
5
Review Date: 03/03/2012
The unit was lovely and had all the amenities one needed to enjoy their stay.
The only thing I can perhaps mention to help others it would be nice if the facility could accommodate late flight departures. Most flights from Kauai do leave late and to have the unit a bit later would have been nice. In hindsight perhaps book that extra day.
kauai 2012
Rating:
1
5
5
Review Date: 02/16/2012
Very efficient and quick to help us unlock
the stove top.
It was great!
Rating:
1
5
5
Review Date: 11/14/2011
Details of the Condo
Rating:
1
3
5
Review Date: 09/23/2011
The couch in the living room is very uncomfortable. If you desire to watch the small LCD TV, you will find it an uncomfortable experience. The linens on the beds were from Walmart - or so it seemed. We will not stay in this unit in the future.
Manager Response: 09/24/2011
Response from Kauai Exclusive Management LLC
Please notice that this guest does recommend us to others. Though the rooms are allowed 6 guests WE DO NOT RECOMMEND THIS! Don't fly thousands of miles and sleep on a sleeper sofa meant for emergencies or small children NOT adults. If you have 6 in your party get another one bedroom! It seems that this guest is an adult that was confined to the couch with the cheep sheets. We do have high thread counts on the beds and we do not shop a Wal-Mart for the linens. You simply can't have a 5 star experience on a beer budget. I invite these guests to try again with a bed for every head. F202 has new furnishings, a great interior pool view and is a perfect fit for one couple and 2 grown children with the 2 full beds in the 2nd bedroom.
Great place!
Rating:
1
5
5
Review Date: 08/31/2011
Rating:
1
5
5
Review Date: 08/07/2011
Property was great, only thing keeping it from getting 5 stars is that the common BBQs were not working properly during the entire 9 day stay.
SUPER STAY!
Rating:
1
5
5
Review Date: 07/31/2011
F202 was the perfect place for our vacation! The condo was beautiful and clean - the pool was nice - location great. We were slightly disappointed about not being able to swim on the beachfront. But, the location is great and lots of beaches to explore.
Rating:
1
3
5
Review Date: 06/26/2011
Waipouli F202
Rating:
1
5
5
Review Date: 06/23/2011
This is a beautiful resort centrally located on Kauai. Two grocery stores and several restaurants are within walking distance. Wonderful beaches are just a short drive away. The room was nicely furnished, clean, and well equipped. The pool area is very nice and inviting.
Rating:
1
5
5
Review Date: 06/04/2011
We loved it!
Rating:
1
5
5
Review Date: 05/26/2011
We can't say enough about the resort and Kauai Management. What a place. Clean, modern and friendly. The best part...lots of restaurants across the street. We went nuts over the Indian place. Just stay away from the Wahoo Seafood Grill. It is way overpriced for what you get and the food was not good. All in all, it was a great vacation and we can't wait to return.
Rating:
1
5
5
Review Date: 04/11/2011
Rating:
1
3
5
Review Date: 04/06/2011
Great private 2-br 3-ba condo
Rating:
1
5
5
Review Date: 03/28/2011
The furnishings in this condo were first class quality. The kitchen was well stocked with any utensils or cookware you could possibly need. The beds were comfortable - the place was spotless. The location was good for easy access to the parking lot to bring in groceries. One of the bedrooms partially faced a wall which turned out to be a good thing because of the privacy it offered. The livingroom and other bedroom had a very nice view of the pool. I would rent this unit again - only this time for a longer period of time!
Rating:
1
5
5
Review Date: 03/25/2011
BBQ's on site did not work fully. Stove top on one side in my unit did not heat fully but was not reported. Had a problem with the air conditioning and when reported was immediately remedied. Very beautiful property with units well equipped. We wouldn't hesitate to return and rent thru KEM.
Excellent place to stay
Rating:
1
5
5
Review Date: 03/11/2011
Pros: The location was perfect for us, the grounds are gorgeous, quality appliances and plenty of detergent for laundry and dishes, good privacy and secure, friendly staff. Cons: pool towels are not to be taken off the property, our unit curiously had lots of bath towels but only two hand towels and only three washcloths for four people staying six nights, internet was VERY slow. We did not hear much noise from other guests, but some kind of dull machinery noise all night made it necessary to close the windows to be able to sleep.
Rating:
1
3
5
Review Date: 02/17/2011
Excellent place for kids
Rating:
1
5
5
Review Date: 01/23/2011
Our family of four loved this place. We will be going back for sure. Mahalo

Grear vacation!
Rating:
1
5
5
Review Date: 01/17/2011
We would definately come back to the Waipouli Beach Resort. Great location, plenty of restaurants and services nearby, very nice room(s), and the property manager was very helpful... even allowing us to check out late. Highly recommended for families. Our kids simply loved the pool area.
Rating:
1
5
5
Review Date: 12/29/2010
Your request has been sent. We look forward to meeting all your vacation needs!
Use of this website constitutes acceptance of the KauaiExclusive.com Terms and Conditions and Privacy Policy.
©2020- Present KauaiExclusive.com, Inc, All rights reserved. | Website Design by Beyond Pricing