waipouli-beach-resort-e106
waipouli-beach-resort-e106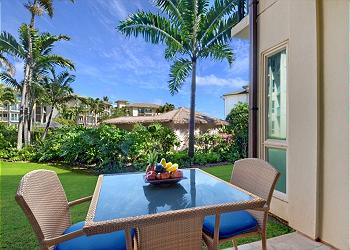 Waipouli Beach Resort E106
https://www.kauaiexclusive.com/rentals/properties/waipouli-beach-resort-e106/
Waipouli Beach Resort E106 | Kapaa Vacation Rental
E106 Ground Floor Suite w/ Yard - BEST VALUE steps to the beach and pool!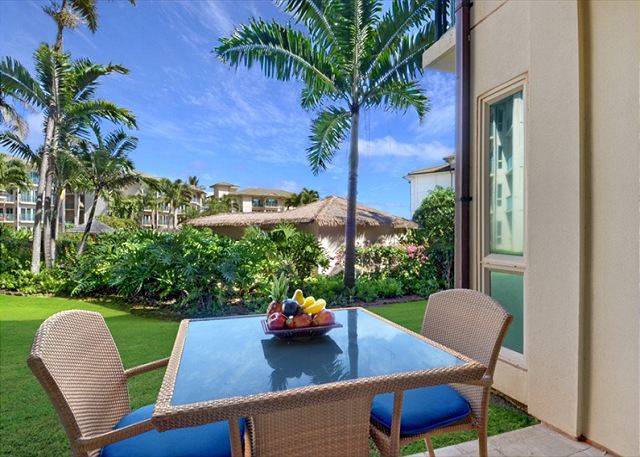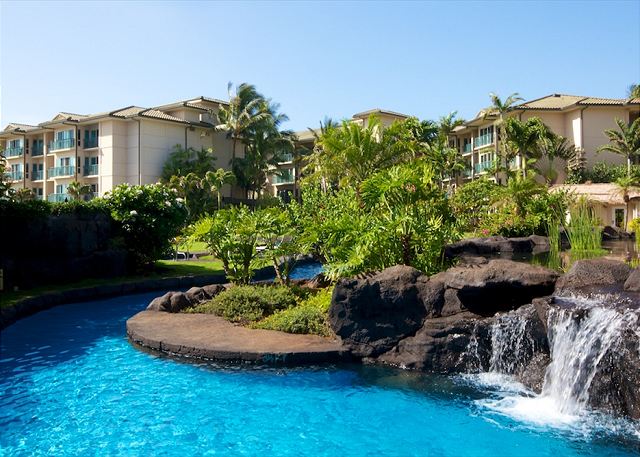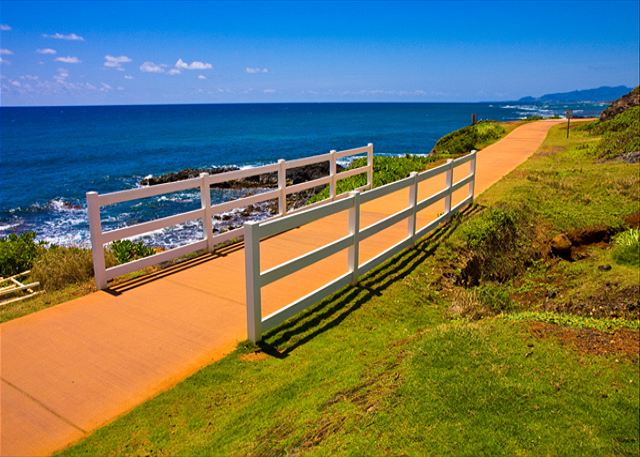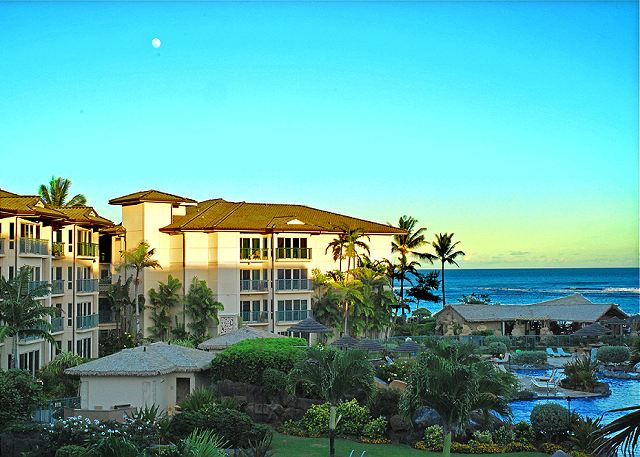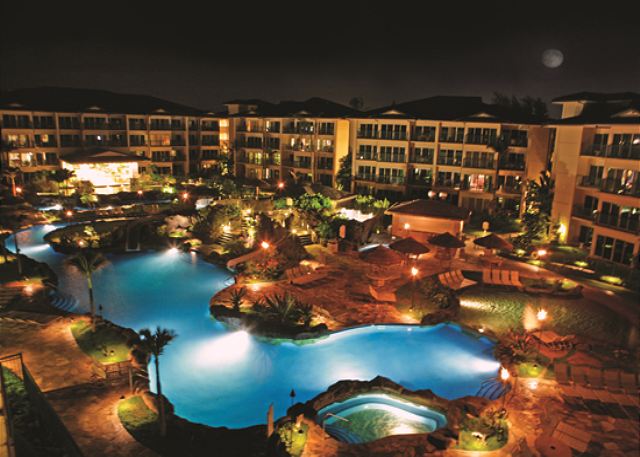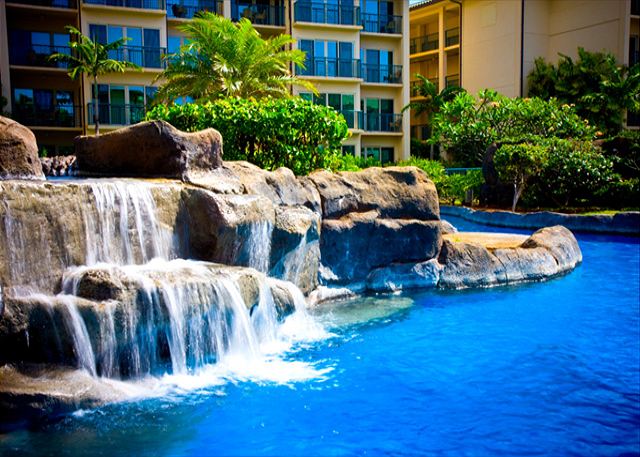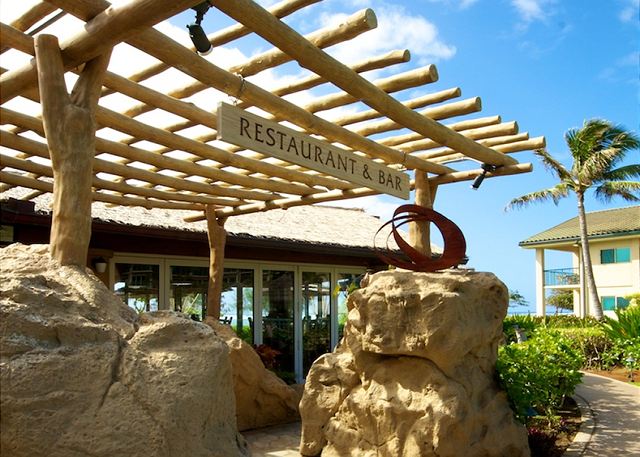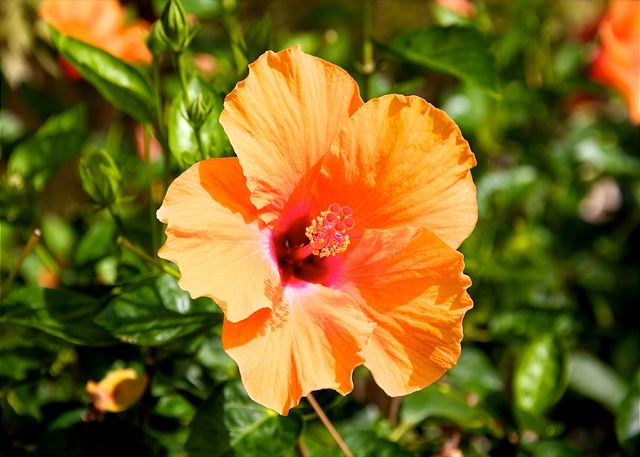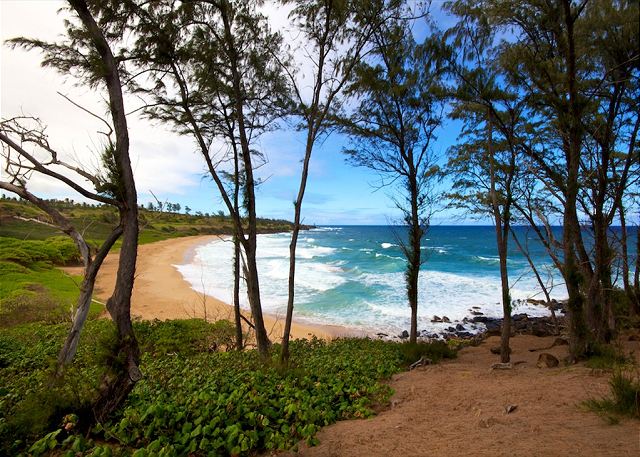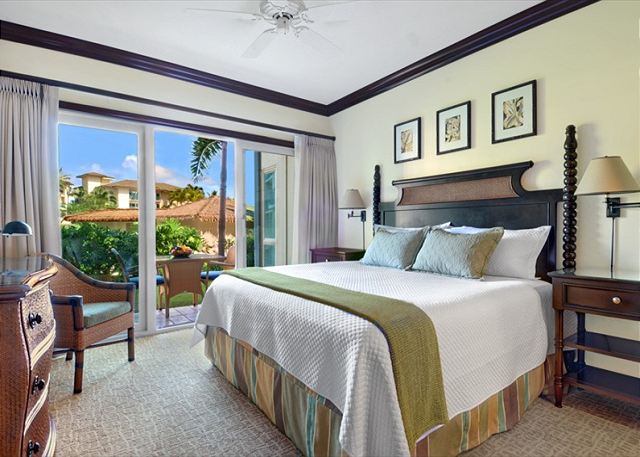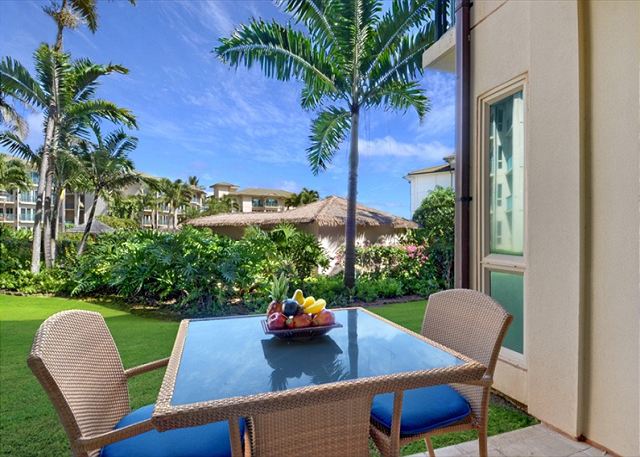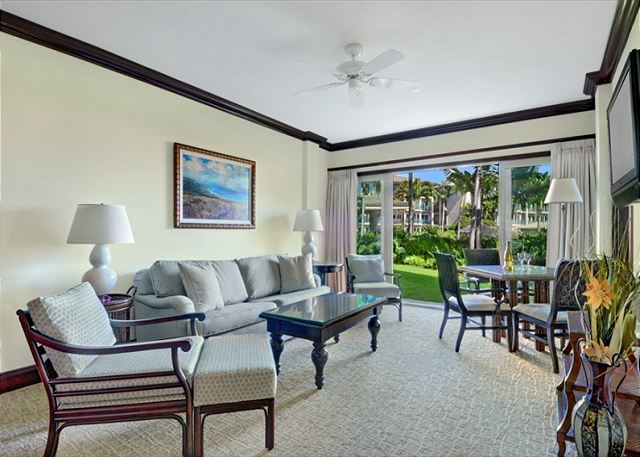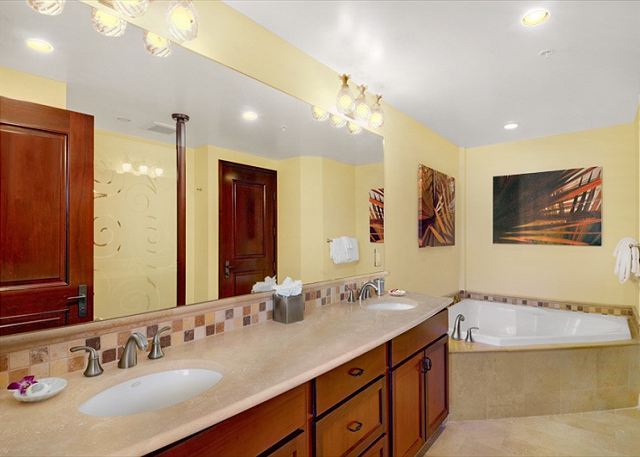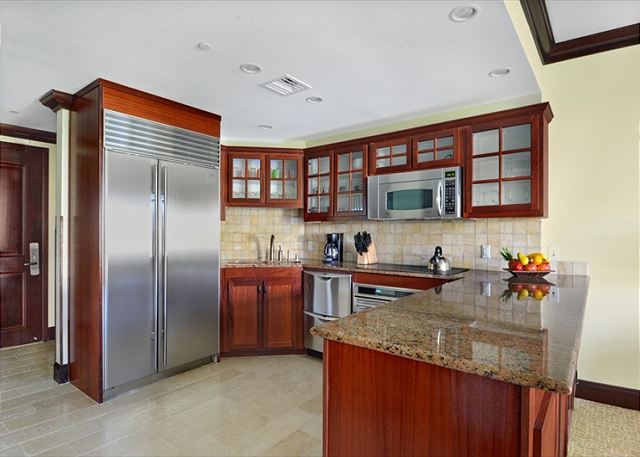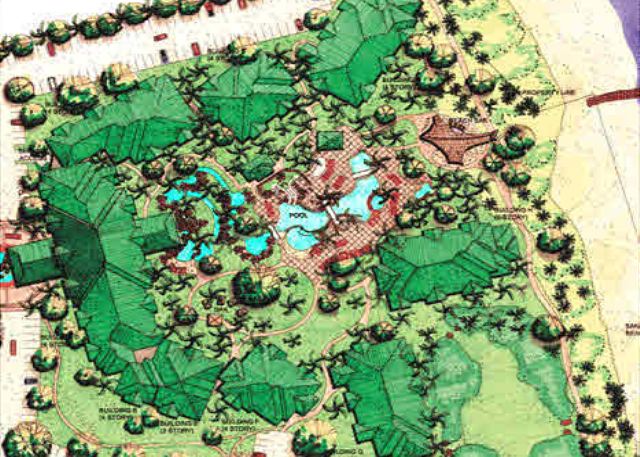 At the forefront of East Shore accommodation is the Waipouli Beach Resort. This World Class Resort provides luxury at your fingertips and offers opulent amenities for a variety of occasions.

A tropical garden delight, this ground-floor one-bedroom suite opens up to beautiful landscaping and lush green lawns. Stroll to the beach right from your room or take just a few steps to the infamous resort paradise pool.

Featuring one king bed and a queen sleeper sofa, this suite can comfortably accommodate 4 people. The stylish interior includes a stately kitchen with a Wolf glass cooktop & oven, Sub-Zero refrigerator, GE profile microwave, Fisher Paykel dual dishwasher drawers, granite counter tops, African Mahogany cabinets, two full bathrooms with Peruvian Travertine stone surrounds and a soaking tub. Enjoy the clean design and convenient location, with the beach and boundless Kauai adventures just beyond your private lanai.

- Located in Kapaa Town (East Shore).

- This impressive oceanfront resort features a variety of privately owned suites, condos, apartments and penthouses with state-of-the-art amenities at affordable prices.

- Amenities include central A/C, concierge service, fitness center, business center, tropical lagoon pool, jacuzzi and access to Oasis on the Beach (exceptional oceanfront restaurant).

- Centrally located on the royal coconut coast, just steps away from restaurants, shops and the Kauai Bike Path. Great location to watch the sun and full moon rise!

Perfectly positioned to accommodate the desires of everyone, the East Shore of Kauai is rich with possibilities. Flanked by epic coastline and threaded together by the public bike path, this centralized location is the social hub of Kauai. Having recently experienced a trendy transformation, the Old Town of Kapaa maintains its historic charm, yet boasts novel offerings. The towns of Anahola, Wailua and Lihue also comprise the East Shore, and carry their own unique appeal. With diverse establishments and activities, you can explore cafes, restaurants, boutiques, adventure tours, aquatic explorations and more on Kauai's East Shore.

One of the most revered places on earth, Kauai inspires a state of awe within all of us. Brimming with beauty, the oldest inhabitable Hawaiian island has both withstood the test of time and matured into a land of fertile abundance. Lush jungles, white sand beaches and the alluring ambiance of aloha enchant each moment. Offering exceptional accommodations, adventures, cuisine and culture, vacationing on Kauai is a dream come true.

W40240342-01 tax id #
| | Nightly |
| --- | --- |
| January 31 - April 14, 2019 | $292 |
| April 15 - June 14, 2019 | $262 |
| June 15 - August 15, 2019 | $292 |
| August 16 - December 14, 2019 | $262 |
Children's Ocean Swimming Area

Oceanfront Bar and Grille
Thank you for entering your review. The review will become available to the system shortly.
58
58
Overall Rating:
4.8276
4.8276
Great vacation rental
Rating:
1
5
5
Review Date: 02/04/2019
We loved our 10 days in E106. So many little details were taken care of including coffee for the first morning (although Safeway is right across the street). Lots of kitchen essentials were supplied. The almost private grassy area outside the doors was a nice bonus. We would definitely stay again.
Stunning and Spotless
Rating:
1
4
5
Review Date: 01/17/2019
The resort at Waipouli is beautiful. Our condo was spotless clean. The grounds were very well maintained and beautiful. We loved the conveniences of a grocery store and many delicious restaurants within walking distance. The location was perfect. We could cruise to either side of the island in a short 30-45 minutes. The only negative would be the entry into the pool area. The pass code is very lengthy and hard to get right. Other guests would often open the gate when they noticed you standing there a while trying to get the code correct.
Paradise
Rating:
1
5
5
Review Date: 09/03/2018
We've stayed here multiple times and we have enjoyed it
Beautiful Condo.
Rating:
1
5
5
Review Date: 08/12/2018
My children and I enjoyed our stay in Kauai and were very comfortable at the Waipouli Beach Resort.
E106 Waipouli Beach Resort
Rating:
1
5
5
Review Date: 07/06/2018
The vacation rental was more than you could ever ask for except the king bed matters. the matters was so hard, we had to go to Costco and purchase a 4" matters topper. Yes this was an $160 additional cost but the bed was hard that my wife was sleeping on the couch. the pad made the bed wonderful and hope all other clients can enjoy this new setup as we left it for other people to enjoy at no cost to the owner. Somebody also called several times before we left for the Islands from the leasing company saying they were the concierge and the property didn't have a concierge or Spa, wrong not true. Be careful of people trying to direct you for activities. the property has a great concierge and spa.
A true oasis!
Rating:
1
5
5
Review Date: 06/04/2018
We has the best time staying here! The condo is absolutely gorgeous with beautiful granite countertops and mahogany accents. It's spacious, clean, and has everything you need for a vacation! The resort grounds are stunning and the pool/hot tubs are definitely a bonus! Walking distance to the restaurant/bar and the beach is just steps away!
Great condo. Very centric to everything.
Rating:
1
4
5
Review Date: 05/28/2018
This place was exactly as pictured. Beautiful, elegant condo that was very comfortable. The location was perfect for traveling to either side of the island with ease. We never enjoyed the beautiful pool, but did enjoy walking through it to The Oasis restaurant located at the same location that was very good. Josh and his team were on top of everything.
Wonderful place
Rating:
1
5
5
Review Date: 05/26/2018
Being on the bottom floor was fantastic. It gave us more opportunity to utilize the pool and bbq grills without having to climb up and down the stairs. The unit itself was well appointed and clean. I would definitely stay in this unit again!
Good times in Kauai
Rating:
1
5
5
Review Date: 05/10/2018
Our stay at E106 was about as expected. Beautiful condo, awesome location to get to the pool. We were even able to see the ocean from one of the windows. Although it can be overlooked because you are in paradise, a few things do need fixed. Mainly the screen door to the property. It does not work on the right side. I promise it will make a difference.
Paradise!
Rating:
1
5
5
Review Date: 04/25/2018
It was our first visit to Kauai after many trips to Maui and we were totally impressed with the beauty of the island. It was a tropical paradise with lush scenery and awesome beaches. The Waipouli Beach Resort was an amazing place. The condo unit we rented was beyond what we needed. The kitchen was so well appointed, it was spacious with the two separate bathrooms, beach gear was provided, and the bed was totally comfortable. We had a ground floor unit and could walk right outside to the pool entrance. The other awesome place on site was the restaurant. While pricey, it is worth at least one dinner as it may be one of the best meals I've ever eaten. This is a great resort for families as, at least when we stayed, there didn't seem to be a wild nightlife crowd. We would definitely recommend this resort.
One of the best properties to stay on the island as very central
Rating:
1
5
5
Review Date: 03/12/2018
Awesome resort and accomadations, would like to be able to have hot tubs open until 11pm as felt did not have much time in them when returning from supper or tours. Staff very friendly and grounds. We're nice and clean, I would recommend to stay here.
Very good
Rating:
1
4
5
Review Date: 01/17/2018
Great location. We had a great experience and all of our questions and requests were looked after quickly and effectively.
2017 escape to paradise
Rating:
1
5
5
Review Date: 09/01/2017
Best trip ever - and we come almost every year :)
incredible time
Rating:
1
5
5
Review Date: 06/08/2017
We had a wonderful time. It was extremely relaxing and we felt comfortable away from home. Every detail was taken care of and check in was straightforward. Very convenient location. My only suggestion to the owner is to add some sort of flat (square, rectangular, whatever) baking tray, and to provide a bit more hand soap.
I would do it again
Rating:
1
5
5
Review Date: 05/11/2017
The resort was in a great location, well maintained and a good value.
kawaii
Rating:
1
4
5
Review Date: 02/28/2017
very nice unit needs some attention to small kitchen items and lighting for card playing
First visit to Kauai
Rating:
1
4
5
Review Date: 01/21/2017
Nice condo unit. Conveniently located. Beautiful resort.
Kauai 2016
Rating:
1
5
5
Review Date: 10/03/2016
Love this island -beautiful & peaceful. Kauai exclusive is a wonderful agency - definitely 5 stars :)
Kauai Paradise
Rating:
1
5
5
Review Date: 09/06/2016
What a lovely place. We used the pool area many times. The kitchen area was well stocked with condiments.
Wonderful Waipouli
Rating:
1
5
5
Review Date: 07/04/2016
Had a great week with our extended family of 10 including 4 grandchildren. All enjoyed many hours in the pool and hot tub. Overall, Waipouli Beach resort is in a great location for easy access to Kauai's many beaches and sites. Our particular unit faced the back of the fitness center which wasn't the greatest view, but that was a very minor drawback. .
Spectacular Service and Accomodations
Rating:
1
5
5
Review Date: 06/22/2016
Both the hotel and the vacation rental company (Kauai Exclusive) were excellent. The room was perfectly outfitted and located. Luxury accommodations that were perfect for a family or couples. Sean from Kauai Exclusive provided exceptional service and was always available. Would strongly recommend this company and hotel to anyone.
Waipouli Resort E106
Rating:
1
4
5
Review Date: 03/30/2016
We have a family of 4 that stayed in room E106 at Waipouli Resort. Two adults and two kids ages 6 and 9. My experience with Kauai Exclusive was overall pretty good. There was one major mistake that occurred along the way and they were quick to find a resolution to the problem. One weakness I would share is that some communication was poor particularly from the concierge office but otherwise reservations did a fine job. During our stay we called KE and asked if they had day suites available until our evening flight and they were able to give a different room for a reasonable fee, it was so worth the cost. Room E106 at the resort was really nice. Our kids loved the pool, the grills could use a face lift, the grounds were being manicured constantly, the saltwater pool and slides were in great shape,and the very nearby 10 second walk to the restaurant was a great place to hang out for lunch or dinner and stare at the surf, with some of the best service we found anywhere on the island, ask for Henry he's really awesome. We originally had a 2 bedroom booked but the one bedroom worked out fine. Additionally, I had asked for a ground floor unit so the boys could play outside the room and this fit my needs perfectly. The appointments of the room in some ways could have been a bit more luxe but I understand the renters can be pretty destructive at times which I suspect is why the owner keeps it simple. We found the master bed to be pretty uncomfortable not what you would find at a good hotel such as Westin or Hyatt but on the other hand, the pull out sofa for the boys actually had a fairly nice mattress as far as pullout sofa beds go. We ended up enjoying the location more than expected. Kapaa is a cute area filled with little hole in the wall diners, I recommend checking them out if you have time. The resort is located in a convenient area of the island halfway between Poipu and Hanalei Bay.
Wonderful Property
Rating:
1
5
5
Review Date: 03/20/2016
Our Condo at Waipoli Beach Resort was magnificent. When we required assistance by phone it was always prompt and helpful. The location of the resort is ideal for touring the island. The traffic was very heavy so plan ahead.
Great Vacation at WBR!
Rating:
1
5
5
Review Date: 01/31/2016
Very much enjoyed our stay. The Unit was great. No problems and staff was great as well, even allowed us to stay over a few hours. We'll be back for sure.
KAUIA SHORT STAY
Rating:
1
4
5
Review Date: 11/27/2015
WAIPOULI RESORT WAS PLEASANT, HAD ALL THE DESIRED AMENITIES. ACCOMMODATIONS WERE CLEAN AND THE CONSIERGE WAS FANTASTIC
Nice Unit in a Great Location
Rating:
1
5
5
Review Date: 09/08/2015
The unit was very clean and in a great location on the property. The property itself was in a good geographic location as well. The management staff did a good job taking care of us and the pool was great for the kids. We liked being in the middle of the island so we could travel both north and south conveniently and it was great having a Safeway and a Starbuck's right across the street. We will definitely considering staying at this property and in this unit again.
Very beautiful resort!
Rating:
1
5
5
Review Date: 08/17/2015
Love this place! The one bedroom was very spacious for our family of 4. The kids enjoyed the pool. We had a few family that stayed in the same hotel, so we were able to use the BBQ and had a little dinner by the pool area. I wish the pool had more lighting. Overall, this place was relaxing. I would definitely book through Kauai management and not through the hotel. Everything I need was sent to me by email. It was awesome!
A break from the rat race!
Rating:
1
5
5
Review Date: 04/02/2015
We had a fantastic stay in this unit. It was perfect for a family with kids because we could just open the door and be right at the pool, gym, BBQ, fish pond, etc. We didn't want to be dealing with stairs/elevator with all of our stuff. The unit has been updated nicely and has everything you need. All in all, a great unit in a fantastic development.
Best vacation yet!
Rating:
1
5
5
Review Date: 03/20/2015
We had an amazing stay in our condo. It had everything we could have asked for. Super clean and was so nice to just walk in without going through all of the check-in process at the front desk. Loved the ground floor as we could just walk out on the patio and had plenty of privacy as well. The kitchen had everything we needed to make breakfast, including seasonings and spices! Also loved that we didn't have to worry about having a key to look after, just a code to remember. Enjoyed the restaurant for dinner a couple of the nights and were in awe of the view each time. Great food and service too. We didn't use the pool area but it was a great space. Will use when we return with our kids for sure. We absolutely loved the beach and that it was never busy or crowded. The location was perfect proximity to everything we wanted to do. Had a hard time leaving as we fell in love with Kauai and this resort. Highly recommend staying here. We are already planning a return next year with our extended family!
Yay!
Rating:
1
5
5
Review Date: 03/05/2015
Our stay was wonderful! Only two things (and not really that big of a deal)- needed a pizza cutter. We used a knife which was fine. Also, couldn't figure out how the ice maker worked. Overall a great stay!
Short stay in E106
Rating:
1
4
5
Review Date: 02/24/2015
Unfortunately we were only in this unit for about 12 hours but it was clean and well appointed.
Our Kauai Waipouli Resort Holiday
Rating:
1
5
5
Review Date: 02/11/2015
My husband and I had a wonderful stay at the Waipoili Resort. Our room E106 was very well appointed and comfortable. The room was in a perfect location offering a lot of privacy and was right by the fitness centre and pool entrance. It was very handy hanving a Safeway store very close by. The restaurant at the resort is wonderful and is located right on the beach! I would highly recommend this resort and will definitely be back soon ????
Waipouli
Rating:
1
5
5
Review Date: 12/12/2014
We have stayed here before through a private rental, and another time through Outrigger. We love the property and the location.

A great family vacation!
Rating:
1
5
5
Review Date: 10/24/2014
If you want to spend some time in paradise with your family look no further than the Waipouli Beach Resort. We stayed in two units, D104, with the family and then moved to E106 after everyone left. The accommodations were superb and the location was great.
My Waipouli vacation
Rating:
1
5
5
Review Date: 10/01/2014
4th time to the Waipouli, 7th time to Kauai. My husband and I love getting away to this resort, everyone is helpful & friendly. I would highly recommend this part if the island & this property. Mahalo & aloha.
Wonderful honeymoon
Rating:
1
5
5
Review Date: 08/23/2014
We always love the Waipouli resort, so this was just another wonderful stay here. The only problem was the stove top was cracked.
Perfect Family Unit - Unit E-106
Rating:
1
5
5
Review Date: 07/08/2014
We stayed two weeks in our unit and a great time. Perfect set up for our family of four. Kitchen has high end appliances, washer and dryer was a must have and ground floor access to the lanai and pool was ideal for our two kids. Quiet in the evenings, comfy bed, and luxurious bath with a fun pool and great restaurant made for a great stay. The locations offered easy access to both north shore and south shore beaches and Kapaa is a great town. Highly recommend a stay at Waipouli.
Great Resort
Rating:
1
5
5
Review Date: 07/04/2014
We loved our stay at Waipouli Beach Resort.
We are looking forward to coming back!
Rating:
1
5
5
Review Date: 05/12/2014
This property exceeded our expectations and we would recommend it to others. It's a beautiful property and very close to many hiking trails and paths.
amazing place to stay in Kawaii
Rating:
1
5
5
Review Date: 05/06/2014
Nice place
Rating:
1
4
5
Review Date: 04/21/2014
Great place to have a home while in Kauai.
Perfect honeymoon destination
Rating:
1
5
5
Review Date: 02/25/2014
This condo was fabulous! Well maintained, very clean, and well stocked. I was surprised to find dishwasher soap, laundry soap, coffee filters, spices, etc. as this had not been my experience with other rentals. The location within the resort and on the island generally is great. We enjoyed being on the ground floor, particularly when using the pool and BBQs. Having keyless entry was so convenient; I loved not having to worry about losing the room key while at the pool or beach. The pool/lazy river is fantastic!! We just can't say enough about this condo/resort. We had a great time and definitely plan on coming back some day! Mahalo!
Lovely condo
Rating:
1
5
5
Review Date: 02/09/2014
We enjoyed our stay at the Waipouli Resort very much. Great pool area, beautiful grounds, comfortable and well-equipped condos beautifully furnished. We would love to come back!
Delivers on its promises
Rating:
1
5
5
Review Date: 02/03/2014
We have rented many condos, and a few have fallen far short of their descriptions. This condo exceeded our expectations. Clean, well-equipped kitchen with high-end appliances, comfortable bed, huge bathroom,lovely decor.
Best Christmas away from home one could ever hope for!!
Rating:
1
5
5
Review Date: 12/30/2013
This was the first time I have ever been away on Christmas. I wanted to take my daughters somewhere special and different this year. From the second we stepped foot into the condo we were in awe. Exquisite!! By far the nicest place I have ever stayed, and we take two to three trips a year. The updated attire of the condo was refreshing and just down right nice. The pool was my girls favorite by far and we spend a good 90% of our time there. The pool was clean and gorgeous. The slides were a perfect asset to entertain the girls while I spend some much needed time in the sun. The days we did get out and about around the island we were in awe at the beauty surrounding us. I will definitely recommend this resort to friends and family and will be coming back for sure myself. Maybe next year for Christmas again?!
Great family get away
Rating:
1
4
5
Review Date: 10/23/2013
The condo was excellent and close to the pool. The layout of the pool was very nice. You never felt crowded. Lots of room for everyone. Close to shopping. Only negative comment I have, is for the on site restaurant. It was pricey and service was below my expectations. We were charged an automatic tip for 6 people. However, there were only 5 people in our group. This was just one of the several mix ups they made. I cannot recommend.
Great Location
Rating:
1
5
5
Review Date: 10/21/2013
Kauai Exclusive Management was very professional in every way. This was my first experience using an RBO. This management company is reliable, friendly and they were available for any questions I had before my trip. The company is on site at the resort offering many amenities, stocking kitchen with food, liquor etc. Great location for groceries, shopping & dining.
A new found Paradise
Rating:
1
5
5
Review Date: 10/09/2013
Coming to the island/property from Maui, I was hoping for a nice way to end our stay in the islands, and staying at Waipouli Beach did not disappoint! It was a deluxe unit, with two tv's, and the only thing I wished for was a view of the pool area, although my husband did like its privacy per the bushes beyond the grass. The pool area was so lovely and very spacious, and for that, why we would go back to the same resort. Also, good location to food stores, shopping, and quaint city of Kaapa, walking distance if one wanted good exercise. Yes, other than seeing a beautiful sunset in Lawai(near Poipu)(our only one while there), we will return to Waipouli our next visit to Kauai!
Our 2013 Kausi Vacation
Rating:
1
5
5
Review Date: 10/01/2013
Loved the room, location of the room, & the Waipouli in general. This is our 3rd time staying, & 4th room I've rented there, and every one has been great. Josh, Patrick & Sherry have been great to deal with, and I highly recommend them. Mahalo :)
Impeccable condo/resort for your Kaua'i stay
Rating:
1
5
5
Review Date: 09/06/2013
We had a wonderful stay on Kaua'i. The condo was in perfect condition. It was so convenient to have the stores directly across the road. The pool area was beautiful and really fun for our kids. We had 4 people (2 adults & 2 kids) and the property was perfect for us. The kitchen was beautiful and so nice to have. The only drawback for us was that we really loved it in the north part of Kaua'i - and have friends there. So, 3 days out of 5 we drove up that way. However, for a first time visit, this was perfect so that we were able to find it quickly and were able to explore the island easily. Also, the beach at the property wasn't conducive to body surfing - which is what we love to do. It was fun to snorkel though! Two endangered seals even came up on the beach to rest which was really amazing. The management company responded immediately and professionally to the one concern that came up during our visit. Thank you for a wonderful experience - we will be back to Kaua'i for sure.
Beautiful Accomodations
Rating:
1
5
5
Review Date: 09/01/2013
My wife and I were really impressed with the quality of the room we rented. Well appointed kitchen, fantastic master bedroom/bath, and comfortable living room. Probably the nicest place we've stayed at (even nicer than the Ritz Carlton on Maui). The next time we go to Kauai we'll try to stay here again!
The perfect honeymoon!
Rating:
1
5
5
Review Date: 08/15/2013
Big apartment, extremely clean, beautiful resort... simply perfect!
Paradise on Kauai
Rating:
1
5
5
Review Date: 08/10/2013
My daughter and I loved the Waipouli Beach Resort. Although we did not have a view, being on the ground floor was a definite advantage, going to and from the pool, jacuzzi, beach, & parking lot with our groceries and daily excursion gear. The adults only jacuzzi was great, as was the "river" style swimming pool with waterfalls, so I could get away from all the kids if I wanted. The location was superb, as it was central to activities on the island, and you could walk to grocery and other stores, including Starbucks, as well as restaurants and shops. Snorkel and board rentals were just minutes away. The condo unit itself was set up perfectly with 2 bathrooms, well stocked kitchen, plenty of towels and supplies, and beautiful high end decor and appliances. The washer and dryer were an advantage to maintain clean beach towels throughout the trip. Although we spent most of the day time out and about, when we returned in the evening, the people were all quite friendly and the place had a festive vibe, even had live music a couple nights. We loved the keyless entry, so no worries about forgetting or losing your key. Great place, location, and amenities. Can't wait to come back! Aloha
Excellent Stay
Rating:
1
5
5
Review Date: 07/31/2013
E106 is a fabulous place to stay.
Kevin and Karie Klarich Waiapoli E106
Rating:
1
5
5
Review Date: 07/26/2013
The condo was great, this location is excellent with easy access to both Poipu and Hanalei. It is great to be centered between each side of the island. We will be sure to use Kauai Exclusive Management in the future.
Best resort ever!
Rating:
1
5
5
Review Date: 07/25/2013
It was absolutely perfect- the location, the condo, everything! We stayed one week, moving over to Poipu for the second week. I wish we had stayed at your resort for the entire time. Thank you for a wonderful experience.
Great family vacation!
Rating:
1
5
5
Review Date: 05/07/2013
Loved the unit! Very well equipped!
Great place
Rating:
1
5
5
Review Date: 04/09/2013
We thoroughly enjoyed our stay. Management company (Josh) was top-notch, restaurant had good food, pool area was fun. Recommended!
Your request has been sent. We look forward to meeting all your vacation needs!
Use of this website constitutes acceptance of the KauaiExclusive.com Terms and Conditions and Privacy Policy.
©2017- Present KauaiExclusive.com, Inc, All rights reserved.