waipouli-beach-resort-d312
waipouli-beach-resort-d312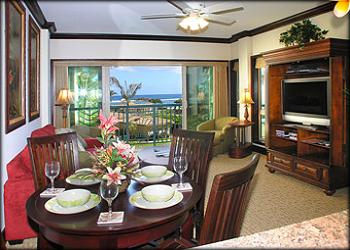 Waipouli Beach Resort D312
https://www.kauaiexclusive.com/rentals/properties/waipouli-beach-resort-d312/
Waipouli Beach Resort D312 | Vacation Rental in Kauai
Beautiful OCEAN & POOL view D312 Resort Pool & Restaurant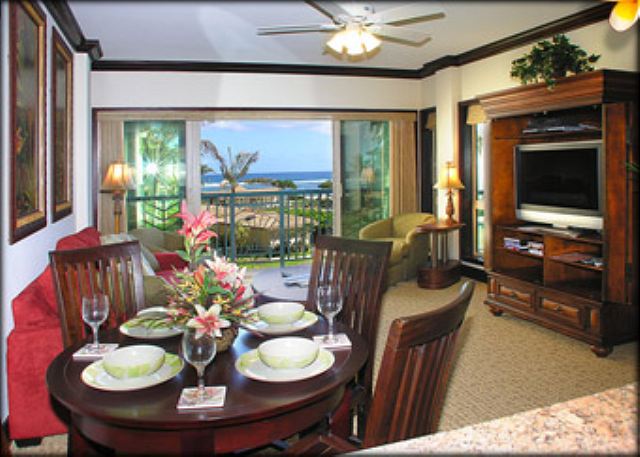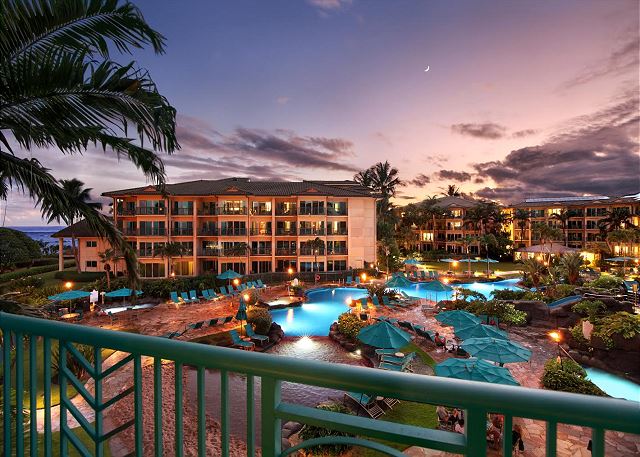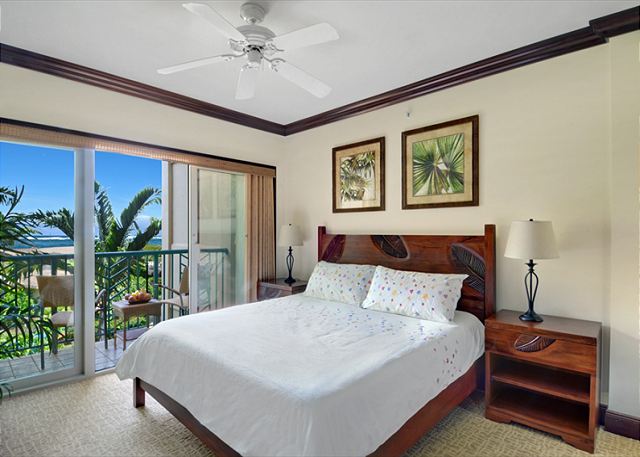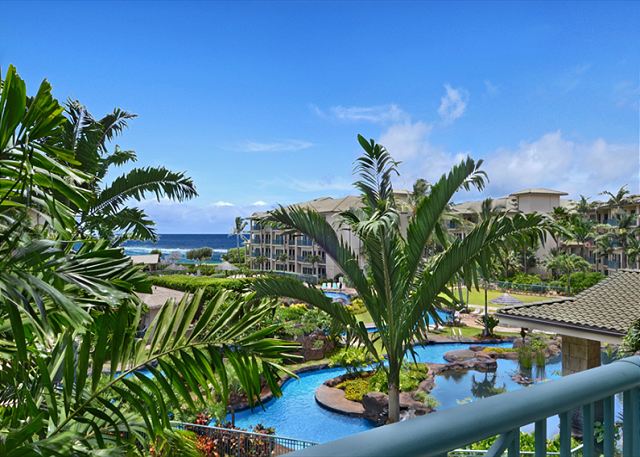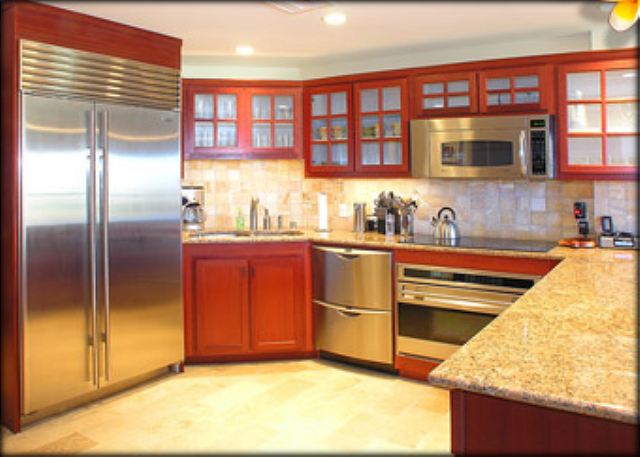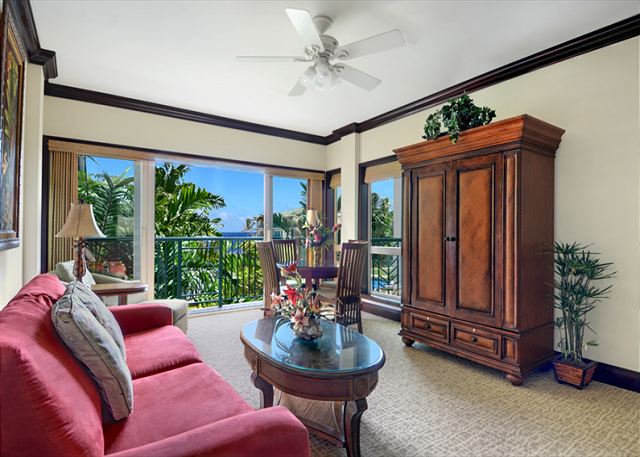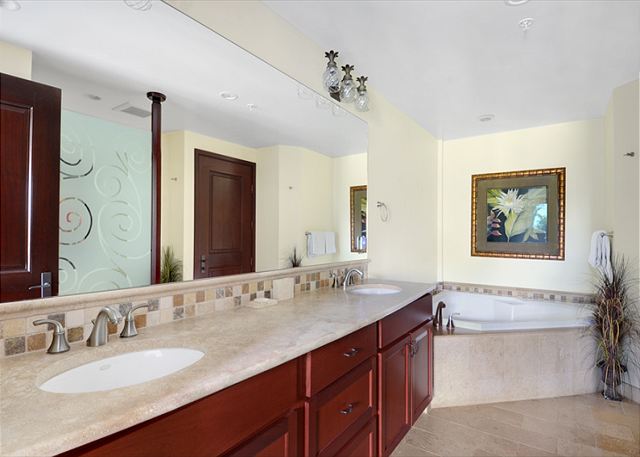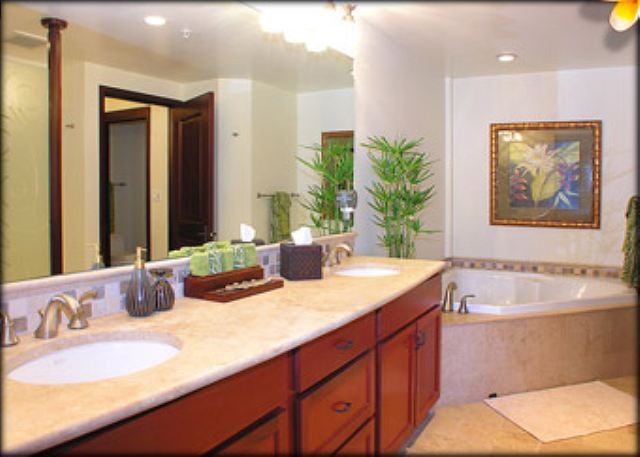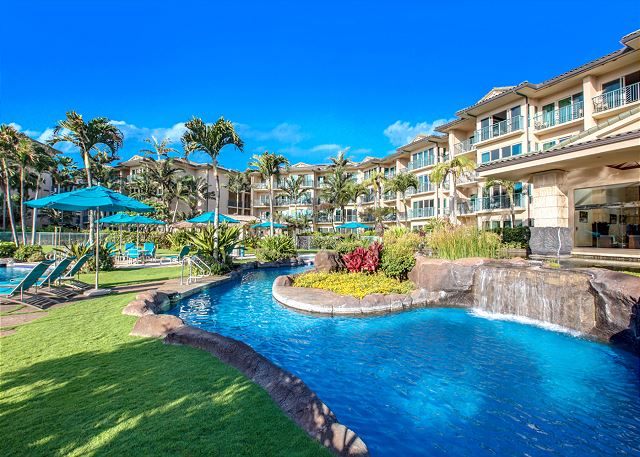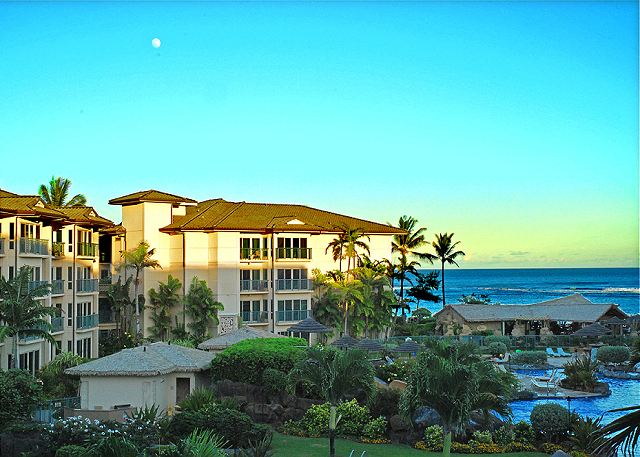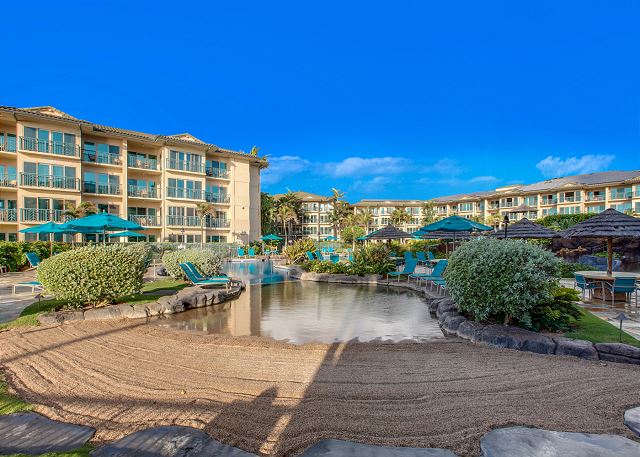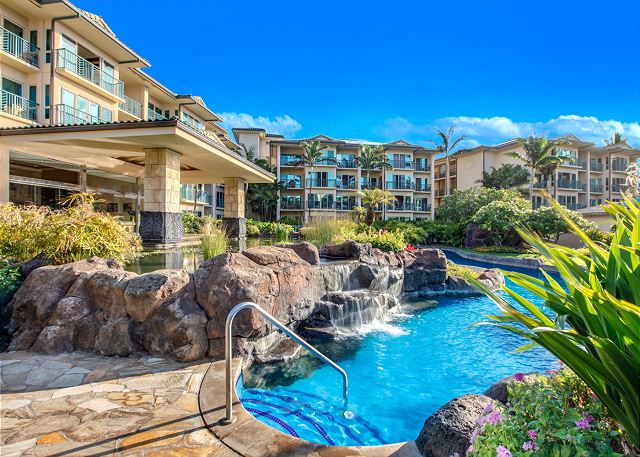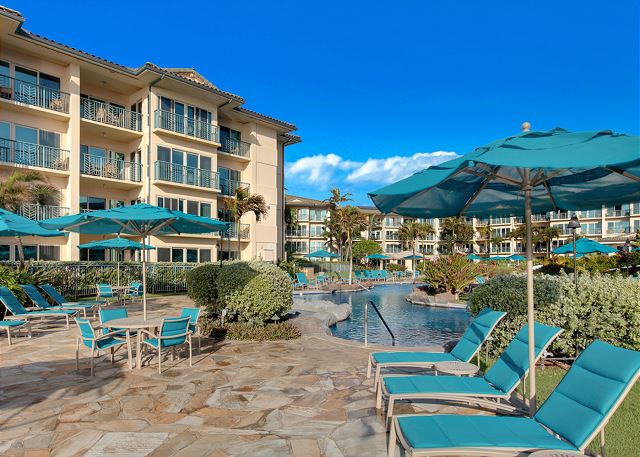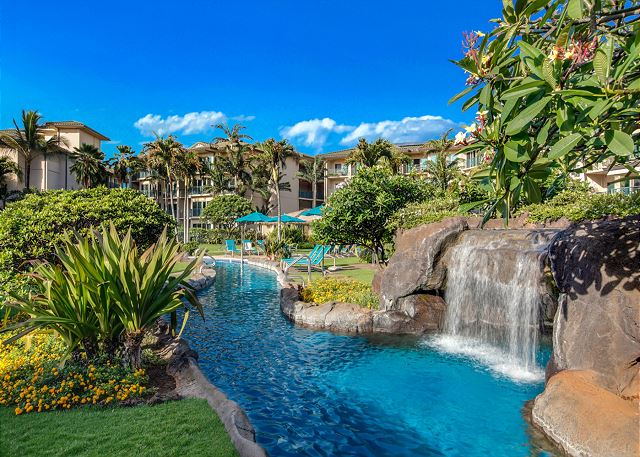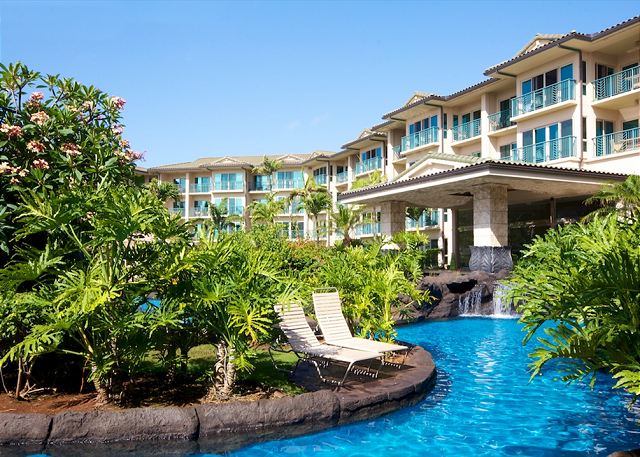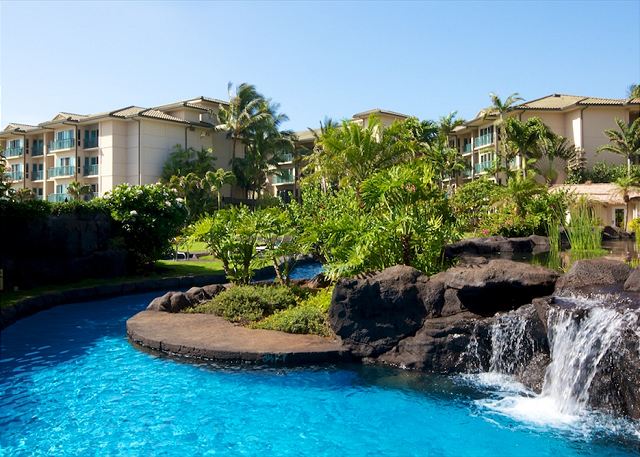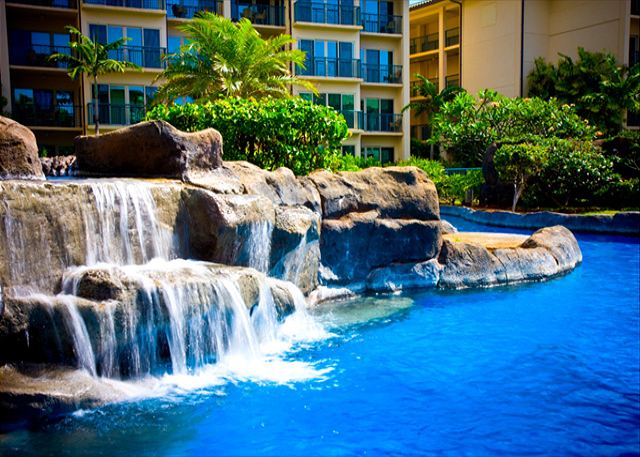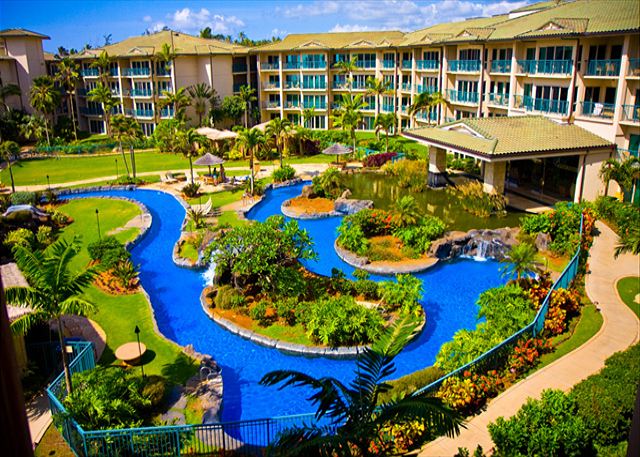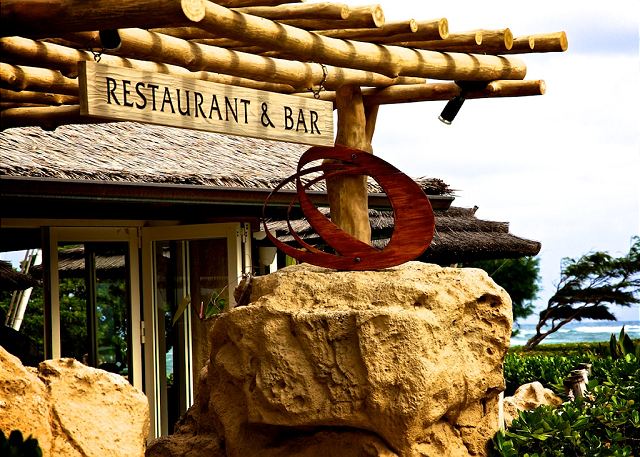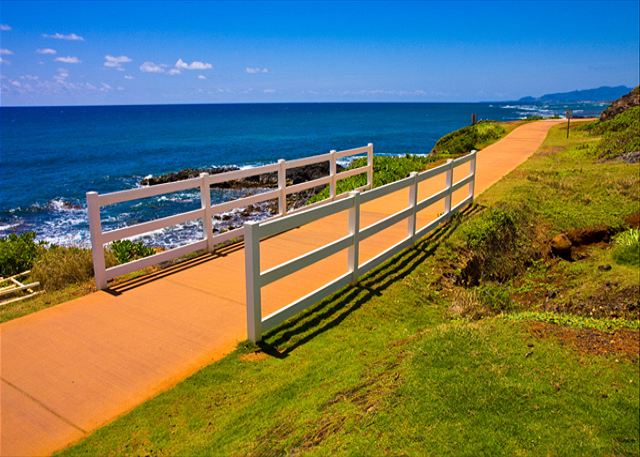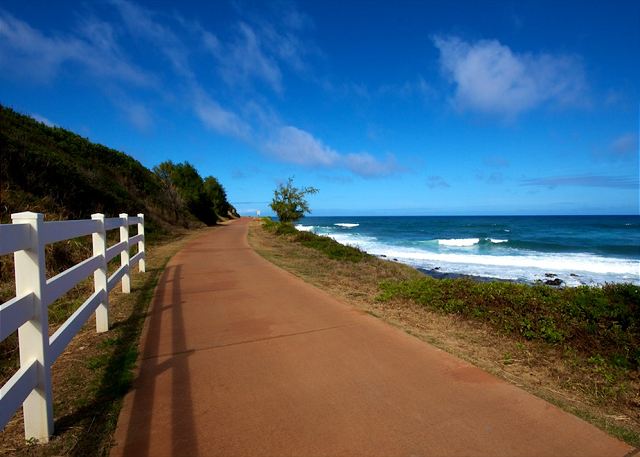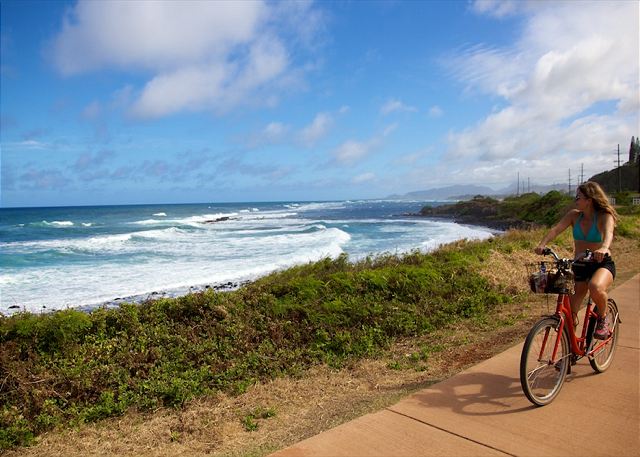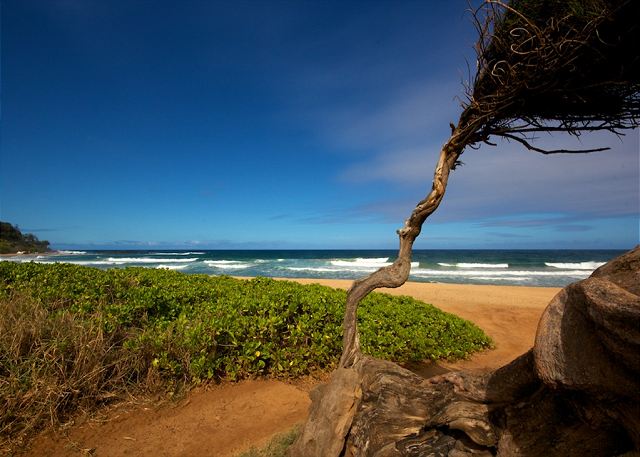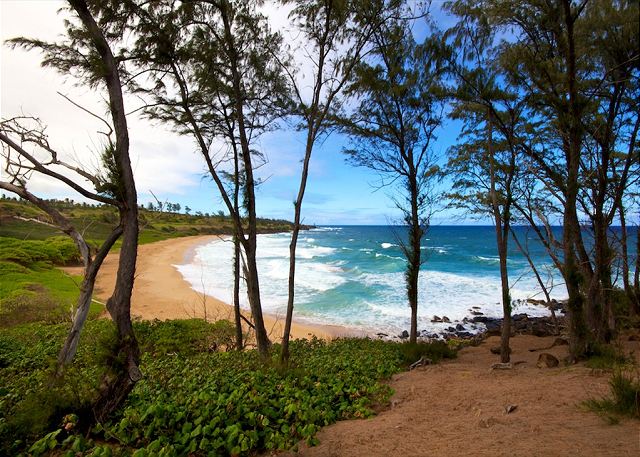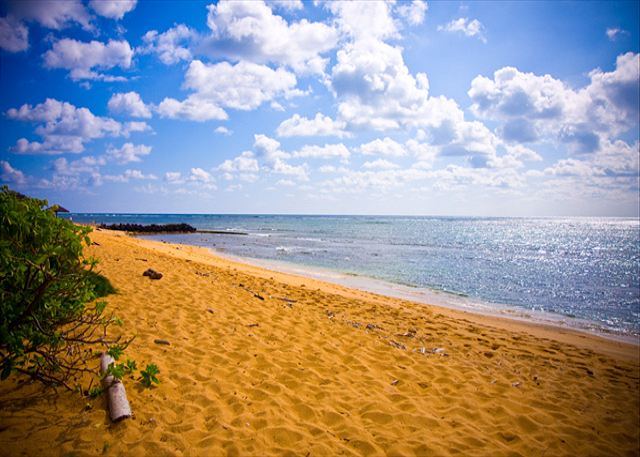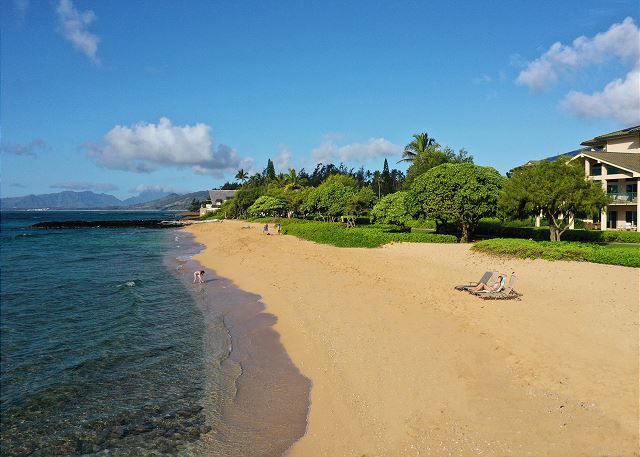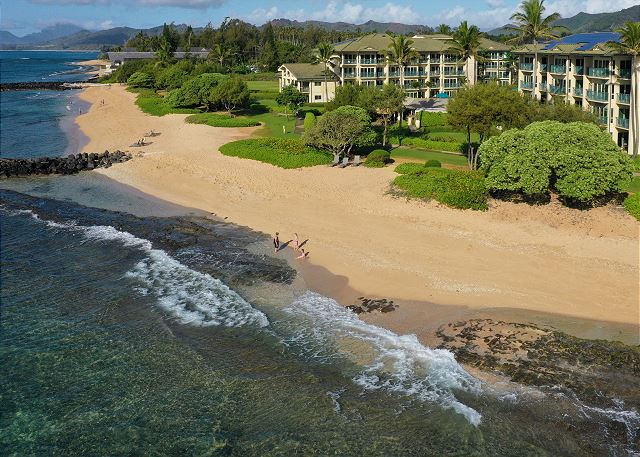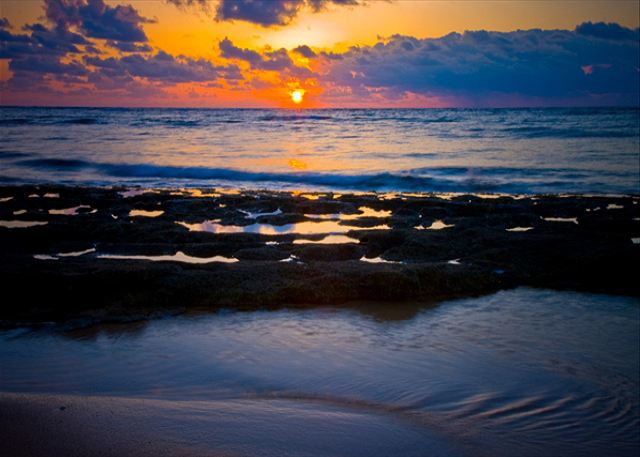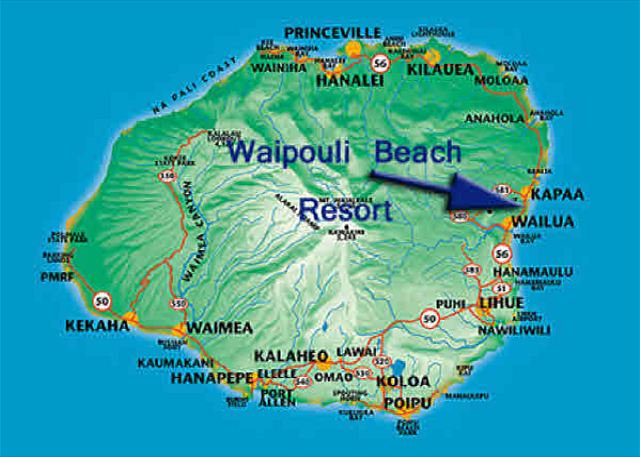 At the forefront of East Shore accommodation is the Waipouli Beach Resort. This World Class Resort provides luxury at your fingertips and offers opulent amenities for a variety of occasions.

With direct ocean views, this one bedroom suite provides stately features with a regal stature. Situated on the third floor, vistas and sea breezes are uninhibited by surrounding rooftops or foliage. Enjoy the sunrise skis and magical moonrise moments from your private lanai.

Comfortably accommodating 4 people, this one bedroom suite features a king bed and queen sleeper sofa. The stylish interior includes a stately kitchen with a Wolf glass cooktop & oven, Sub-Zero refrigerator, GE profile microwave, Bosch dishwasher, granite counter tops, African Mahogany cabinets, a bathroom with Peruvian Travertine stone surrounds and a luxurious soaking tub. Enjoy the clean design and convenient location, with the beach and boundless Kauai adventures just beyond your private lanai.

- Located in Kapaa Town (East Shore).

- This impressive oceanfront resort features a variety of privately owned suites, condos, apartments and penthouses with state-of-the-art amenities at affordable prices.

- Amenities include central A/C, concierge service, fitness center, business center, tropical lagoon pool, jacuzzi and access to Oasis on the Beach (exceptional oceanfront restaurant).

- Centrally located on the Royal Coconut Coast, just steps away from restaurants, shops and the Kauai Bike Path. Great location to watch the sun and full moon rise!

Perfectly positioned to accommodate the desires of everyone, the East Shore of Kauai is rich with possibilities. Flanked by epic coastline and threaded together by the public bike path, this centralized location is the social hub of Kauai. Having recently experienced a trendy transformation, the Old Town of Kapaa maintains its historic charm, yet boasts novel offerings. The towns of Anahola, Wailua and Lihue also comprise the East Shore, and carry their own unique appeal. With diverse establishments and activities, you can explore cafes, restaurants, boutiques, adventure tours, aquatic explorations and more on Kauai's East Shore.

One of the most revered places on earth, Kauai inspires a state of awe within all of us. Brimming with beauty, the oldest inhabitable Hawaiian island has both withstood the test of time and matured into a land of fertile abundance. Lush jungles, white sand beaches and the alluring ambiance of aloha enchant each moment. Offering exceptional accommodations, adventures, cuisine and culture, vacationing on Kauai is a dream come true.

TA-150-215-8848-01
| | Nightly |
| --- | --- |
| August 16 - December 14, 2021 | $300 |
| December 15 - January 05, 2022 | $379 |
| January 06 - December 14, 2022 | $300 |
| April 15 - June 14, 2022 | $300 |
| August 16 - December 14, 2022 | $300 |
Oceanfront Bar and Grille
Thank you for entering your review. The review will become available to the system shortly.
76
76
Overall Rating:
4.8421
4.8421
Perfect location
Rating:
1
5
5
Review Date: 10/14/2021
We loved our stay, we traveled with our kids. There was stores and restaurants walking distance. Perfect for our kids to walk to store or go get a shaved ice cream. The property was very clean and cozy
Beautiful location
Rating:
1
5
5
Review Date: 09/21/2021
This place was perfect. The property is beautiful and located right on the beach. The rental had everything we needed and we super clean. On-site spa was excellent. Bike rentals were in the building too which was
Super convenient. We would definitely go there again. Highly recommend it!
Back to the island!!
Rating:
1
5
5
Review Date: 09/02/2021
Loved it :). Not our first time by any means but in"choose" Kauai Exclusive because of their ease to work with._
GREAT resort!
Rating:
1
5
5
Review Date: 08/02/2021
Kauai Exclusive team - Everyone I engaged with from the team went above and beyond to help make the process an easy one. checking into the hotel was SUPER easy.... just don't forget to download the app PRIOR to getting there and read your emails :)

Room - our room was clean, comfortable and views were on point!

The resort was clean and staff around the resort were great. the ladies at the pool were AWESOME! very friendly!!! they even shared some of the local must go to spots with us.

One things for sure that can be improved is the pool towel process. checking in and out of towels and ability to exchange only once a day is very challenging/inconvenient.
Home away from home
Rating:
1
5
5
Review Date: 06/13/2021
Stay in Kauai
Rating:
1
5
5
Review Date: 06/08/2021
It was a great experience. We loved the convenience of the location and all of the amenities.
Relaxing views
Rating:
1
5
5
Review Date: 05/23/2021
We had a wonderful time at this beautiful property, with relaxing views of the river pool with waterfalls and ocean views with beach access. The central location is great for driving to the other areas on the island, but has plenty of places within walking distance as well (grocery, restaurants, beaches, gear rentals, ice cream or shaved ice, retail, etc). The river pool was wonderful as was the path by the ocean.
Comforts of home!
Rating:
1
5
5
Review Date: 01/30/2020
Nice condo in a decent location. The pictures area true replica of the condo and resort. It was very clean and many nice extras in the condo such as coffee, spices and toiletries.
Manager Response: 02/04/2020
Response from Kauai Exclusive Management LLC
Thank you for choosing Kaua'i Exclusive as your host during your time here on the island! We hope to host you again in the future! Mahalo Nui, The Kaua'i Exclusive Management Team
Very nice and clean
Rating:
1
5
5
Review Date: 10/28/2019
We found the property description accurate and it was the perfect place to stay. It was clean, well maintained and conveniently located. It's centrally located on the island highway and close to the airport. We would definitely recommend.
Review of D312
Rating:
1
5
5
Review Date: 10/15/2019
We love staying at Waipouli Beach Resort!! This is our 3rd visit and we will definitely return here and book with Kauai Exclusive!!
Top notch
Rating:
1
5
5
Review Date: 09/24/2019
Everything was very easy; guests are able to be very self-sufficient. Pool area is beautiful. Forgot to check what mattresses are used before we left because that was the best mattress I have ever slept on.
Great stay at Waipouli!
Rating:
1
5
5
Review Date: 09/09/2019
We had a great stay! Really enjoyed the amenities of the condo and the resort! Check in was easy and communication throughout was simple and questions were answered quickly. Only one suggestion, we'd recommend a new shower head in the bath. Everything was fantastic! We'll be back!
Kauai 2019
Rating:
1
5
5
Review Date: 09/02/2019
Family Vacation
Rating:
1
5
5
Review Date: 06/17/2019
We stayed in this condo with our two girls (7 and 6) and had the best time. The condo is good sized - even though it is a one bedroom - and accommodated us well. We loved swimming the pool in the evenings after long days hiking or at the beach. The location was also great - relatively easy access to all of the island.
D312 Waipoili Resort
Rating:
1
5
5
Review Date: 05/18/2019
Waipouli resort
Rating:
1
5
5
Review Date: 05/15/2019
I loved the property , the room was bigger than I accepted and very nice .The restaurant on the beach was wonderful.
Amazing holiday!
Rating:
1
5
5
Review Date: 04/24/2019
We loved our stay at the Waipouli Beach Resort. The condo was well-equipped and the location was perfect. The grounds were immaculate and beautiful. This was a vacation of a lifetime!
Awesome piece of paradise!
Rating:
1
5
5
Review Date: 03/20/2019
D312 - great room beautiful relaxing view
Rating:
1
5
5
Review Date: 01/29/2019
We stayed in D312 and loved the view from our room. I loved watching the sun rise from the Kauai in the mornings and the room was spacious, clean, comfortable and we all enjoyed the tub! Our hosts were great and communicated well through their ap and they even helped us book some adventures.
Meticulous!
Rating:
1
5
5
Review Date: 10/29/2018
We loved our time here, everything was so perfect. It was meticulously cared for, bed was incredible, kitchen was full of upgraded equipment and the staff was great!!
Honeymoon Get Away
Rating:
1
5
5
Review Date: 10/07/2018
We were staying at Waipouli Beach Resort for our Honeymoon. It was perfect! Very nice condo with a well stocked kitchen, great pool with slides, hot tubes for only adults as well as hot tubs for families. They thought of it all! Beach access right there as well! It's also in a super convenient location on the island with groceries right across the street and an easy commute to the South or North side of the island. Highly recommend!
Great Property
Rating:
1
5
5
Review Date: 09/06/2018
One of the nicest units we have ever stayed in, very clean, great location, beautiful pool, and great location. We will stay here again.

Great Resort
Rating:
1
4
5
Review Date: 08/01/2018
Entire rental process was easy using the rental host app that was provided by Kauai Exclusive Management. We found the resort grounds well maintained and clean. We would have liked food and beverage service poolside. The D312 unit furnishings are older and showing wear. Unit was clean but well used.
Waipouli Resort
Rating:
1
5
5
Review Date: 07/31/2018
Loved this resort. Funishings are showing signs of aging, but nice floor plan and location of D312. Checking in was a breeze using Kauai Exclusive Management. Would use them again.
Thumbs up
Rating:
1
5
5
Review Date: 06/30/2018
Stayed at Waiapouli Resort for 7 nights. The rental process, including payment, checkin, checkout, etc was simple and easy.
The unit was clean and provided toiletries and kitchen basics.
We didn't eat at Oasis because it was so expensive.
Loved, loved, loved, Waipouli!
Rating:
1
5
5
Review Date: 06/18/2018
This was our first visit to Kauai. I have to say we really lucked out with this location! Central, quiet area, and beautiful! The lazy river and pool area was a big hit, especially with our daughter, who REALLY loved it!
The layout of the room is very comfortable and had all of the comforts of home.
Kauai
Rating:
1
5
5
Review Date: 05/22/2018
Everything about the property was great. The location turned out to be perfect because it was centrally located between the places to see in the North and the South.
Nice Unit with Good Location-Love the Resort
Rating:
1
4
5
Review Date: 05/13/2018
I love the resort, but they really need to do something better for access to the pool and gym-way too many numbers to put in! Everyone was complaining about that. Our unit wasn't fully blow dryer, water pitcher, etc...The mgt was very helpful about getting the missing items asap.
Beautiful Stay
Rating:
1
5
5
Review Date: 04/29/2018
The condo was amazing and so nice! Great view and the location was perfect!
Kauai Jan 2018
Rating:
1
5
5
Review Date: 01/21/2018
This vacation condo was absolutely amazing - great location, great amenities, amazing pool and beach access. We very much enjoyed our time here. The kitchen was equip with pots and pans, blender, cheese grater, peeler, plates cutlery etc. I would of liked a cutting board, can opener and bread knife for our stay (but minor things). There are beach chairs in the closet ! We will be coming back :) even right to D 312 !!
Review
Rating:
1
4
5
Review Date: 01/11/2018
Beautiful location and rooms.
Very noisy gardening each day when we were eating breakfast on the balcony at 11:00 am.
Great Property!
Rating:
1
5
5
Review Date: 01/05/2018
Clean and comfortable, excellent customer service will come again and recommend to friends.
Beautiful condo and resort
Rating:
1
5
5
Review Date: 12/22/2017
The rental goat app was great to use, the room was exactly as described on line. What a view. Would definitely stay here again. It is a mile from Lydgate state park, it has a walled off swimming area for beginner snorkelers.
Womack Family stay
Rating:
1
5
5
Review Date: 12/04/2017
Great condo and facility. We used the hot tubs most as the weather was breezy, rainy, and cool but we had a great time together. Great food at the Oasis and we had not problems at all during our stay. some of the kitchen utensils were a bit cheaply made so did not work great.
Great unit supported by great management!
Rating:
1
5
5
Review Date: 11/20/2017
This unit is exactly as described! Clean and modern with a great ocean view. Directly across the street is a Safeway and Starbucks. On the resort is an equally great restaurant. During our stay on Kauai we also stayed in the North and South parts of the Island and this was by far our favorite for location and accommodation. The management company was easily accessible by email or through their app and were in contact before, during and after to make sure our stay was perfect. I would absolutely stay here again.
Beautiful Large Room and Great View
Rating:
1
5
5
Review Date: 07/30/2017
Room D312 was amazing. When my wife and I first walked in, we were blown away by it. This is one of the instances when the room actually is more impressive in person that it is in the pictures. The stay was awesome.
Perfect family-friendly Spring Break
Rating:
1
5
5
Review Date: 04/18/2017
We loved our time at Waipouli Beach Resort in D312. The unit was clean, comfortable and well appointed. In particular, the kitchen was stocked very well so we always had what we needed to put together a meal. And the pool, grounds, Oasis restaurant, etc. were all perfect. Really a great place to stay in Kauai.
Our stay in Kauai
Rating:
1
5
5
Review Date: 03/04/2017
A wonderful place to stay! Exactly as described on their website.
room with view - not all do
Rating:
1
5
5
Review Date: 02/03/2017
great spot, centrally located, we had a nice view, other friends did not so be careful when you book, lanai was small - could have used even a small table for drinks
Christmas in Kauia
Rating:
1
4
5
Review Date: 12/31/2016
We recently stayed in Waipouli for Christmas and Kauia Exclusive were great hosts. The unit was excellent with commercial grade appliances an amazing pool area and perfectly located next to all the amenities one needs. We will return in the future and definitely book again through Kauai Exclusive.
Springer's
Rating:
1
5
5
Review Date: 04/10/2016
Awesome, had a wonderful time. The condo's were great!
Wonderful Waipouli Resort
Rating:
1
5
5
Review Date: 03/14/2016
D312 was such an enjoyable condo! The location in the complex was very quiet, the view lovely, and out of the wind! High quality unit, so beautiful and comfortable. The description was accurate and amenities useful. We loved the bike path (shared use path)& bike rack for rentals. Bicycling was great, saw whales in the distance,(even from unit lanaii), & biked to Lydgate Park for a swim. The resort is walking distance to many stores as well as eateries. "Adventures": Tubing in the mountains, kayaking the Wailua River with hike to waterfall, and catamaran snorkel/NaPali & whale watching cruise. There was a monk seal near the resort beach for a few days. Kapaa is a great,central location. Resort never felt crowded and was so quiet! Great sound proofing! Would definitely recommend. Thank you!
Please see previous review of H302
Rating:
1
5
5
Review Date: 03/05/2016
Please see previous review
Waipouli Beach Resort & Spa
Rating:
1
5
5
Review Date: 01/30/2016
We had a wonderful time here. Location was very convenient for all the island activities we did. Beautiful pool and watching whales from our unit was a added plus. Looking forward returning someday.
New Years in D312
Rating:
1
5
5
Review Date: 01/07/2016
Great family vacation rental!

Our unit had a nice view over the resort looking out towards the ocean. Condo was well stocked and easy to access via elevator or stairs.

Resort itself is perfect for families with young kids. Sandy bottom kids pool was fantastic and our 13 mo enjoyed the waterslide and the lazy river/waterfalls! Never had any problem finding chairs by the pool.

Beach outside the resort is nice but isn't great for swimming (reef break and currents). When the tide is going out there are fantastic little pools that are nice and warm and perfect for little kids to play in safely. Resort is walking distance to swimming beaches and a short drive to surfing beaches.

Restaurant on the resort is one of the best on the island IMO! Safeway and Starbucks across the road so super convenient to stock up on supplies if not into dining out every night. Same goes for drinks- can buy directly from bar at resort restaurant or BYOB.

Cons: It would be nice if a crib/pack and play were available free of charge although I understand there are costs associated with keeping these in good shape and properly sanitized (I think we only paid $40 for the week). Likewise, we were not able to rent a high chair from the property management which would have been a great help with a busy young one (unless you don't mind constantly wiping peanut butter and mashed baby food off the windows and furniture). Fortunately there are several places on the island you can rent baby equipment from for reasonable rates.

All in all I would say this is a great place for a holiday with children. We have stayed at many 5 star hotels/resorts on different islands in Hawaii and this was by far our favourite stay for a family with a young baby. Don't think we will be doing a regular hotel-type holiday anytime soon but can't wait for our next stay at Waipouli resort!!
Exactly as described
Rating:
1
4
5
Review Date: 11/20/2015
This is a nice clean property, exactly as described in the listing. D312 is a clean well appointed unit with an ocean and pool view. The only problem was the WiFi. The general resort WiFi signal is very strong - but very slow with many dropped connections. WiFi specific to unit D312 was promised on arrival but never materialized . . .
Awesome time & place
Rating:
1
5
5
Review Date: 06/25/2015
We had a wonderful peaceful time at the resort.. Great location for access to the beach, bike trail & walking path and stores. We liked the views from our room, the pool is my favorite. Most restful time spent again on your property.
Just what we wanted!
Rating:
1
5
5
Review Date: 06/24/2015
The property was exactly what we wanted. The unit we stayed in (and the complex overall) was very beautifully kept and had excellent amenities. My boyfriend always complains about the beds when we travel, but this one was just as good as the one we have at home. I loved the unit and loved the property in general. I don't think I've ever given ANYTHING a 5 star review before, but I can't think of a single thing I would change.
Waipouli Beach Resort D312
Rating:
1
5
5
Review Date: 06/02/2015
It was the absolute best 2 week vacation we've every had. Beautiful, well stocked condo, with great views, but plenty of privacy. If you want to escape it all, this is the place!
1st trip to Kauai
Rating:
1
5
5
Review Date: 04/24/2015
Had a very good time. This place was recommended to us by friends and it was everything they described. Very good center location to get to both the south and north side of the island.
Kauai
Rating:
1
5
5
Review Date: 04/16/2015
Convenient Location
Rating:
1
5
5
Review Date: 04/14/2015
We stayed in a one bedroom condo on the 3rd floor. The unit was very clean and comfortable with well stocked kitchen. Since the unit is facing the pool, it did get noisy at times with children enjoying the pool. The ocean view was limited. The Kapaa location was perfect for what we wanted to do - not too far of a drive to the north or south end of Kauai. There are many restaurants close by and grocery store and Starbucks across the street. Very convenient.
Great place and great location
Rating:
1
5
5
Review Date: 03/12/2015
Waipouli Beach resort, D312, was a perfect place to stay in Kauai. Everything you need is there . . . and it is all top quality. The view is great, as long as they have trimmed the palms back a bit.
We loved the location as it was in the middle of the island, allowing for easy travel times to the north and south ends. Great beaches nearby and lots of fun places to eat.
If we go back to Kauai . . . this is the place we would stay.
A beautiful place to stay
Rating:
1
5
5
Review Date: 02/26/2015
Our family loved our stay here. The unit was very clean and well appointed for 2 adults and 2 children. Mom and Dad enjoyed our morning coffee on the bedroom balcony- an awesome view while the children enjoyed the pool. The resort is absolutely beautiful with direct beach access and conveniently located to everything. Mom and daughter enjoyed a relaxing pedi at the spa while Dad and son went boogie boarding at a nearby beach. We were sad to leave, and look forward to our next visit!
December in Kauai
Rating:
1
5
5
Review Date: 01/09/2015
We spent a week in this lovely condo which overlooks the pool and has ocean views. It was extremely clean, everything was very comfortable and the kitchen was stocked with plenty of tools, pans, etc. I would definitely stay here again. The location is excellent, very central to take day trips north, south or west. Very family friendly spot, more so than for couples looking for privacy, but we still had a great time. It's too bad the beach here isn't really good for swimming, at least not during our stay there. But the pool and hot tubs made it a fun time. The restaurant onsite is pretty fantastic, and the oceanfront setting was definitely the best we found anywhere on the island.
Waipouli Resort
Rating:
1
5
5
Review Date: 12/16/2014
We had a great stay at Waipouli resort. Getting in was very easy as was checkout. The condo was beautiful, very well furnished and very well looked after. We had one small problem (a loose door handle) that was fixed without any bother. The people at the resort were all very helpful and easy to get along with. The only issue was the beach which was not user friendlly. However, the pool more than made up for that.
What a great place!
Rating:
1
5
5
Review Date: 11/17/2014
We had a great time at this beautiful complex. The unit was outstanding and the management company was perfect. I would definitely recommend this company and place to anyone looking for a beautiful place to stay in Kauai.
Great condo!
Rating:
1
5
5
Review Date: 10/25/2014
We loved this place. Everything is new, updated, clean. Even nice cookware. We appreciated every detail. Of course the view is great too.
Kauai Stay D312
Rating:
1
3
5
Review Date: 09/22/2014
The condo has antiquated TV's and no HDMI connection that would work. Cable box had to be reset twice during stay. Condo is lovely, but for this kind of money I expected more. Also A/C is on an override so you can never get the room cooler than 74. Not sure I'd stay in D312 again.
Waipouli Beach Resort May 2014
Rating:
1
4
5
Review Date: 06/16/2014
Overall excellent, pool lovely, good location for activities, grocery across street. My major complaint is that the air conditioning unit was so noisy when it was running, that we had to keep it off when we were in, and slept with the doors open. There were many parties going on in the pool because of Memorial Day and so a lot of noise coming in. Other than that it was very nice and my daughter and I enjoyed our stay.
Great first visit to Kauai
Rating:
1
4
5
Review Date: 04/14/2014
For first time visitors to Kauai,this was a great location and great resort. Convenient to many good restaurants, we particularly enjoyed Oasis, which is the restaurant right on the property. Excellent food and beautiful views. Also having the bike/walking path nearby that goes for over five miles was great fun.
Fremont to Waipouli
Rating:
1
5
5
Review Date: 03/12/2014
Great facility; great location; and the Oasis Restaurant is excellent!
Awesome condo!!
Rating:
1
4
5
Review Date: 03/05/2014
This is our 3rd visit to Waipouli Beach Resort and we would definitely return. We love the area, the proximity( feels like the center of the island, with only a short drive to either the north or south shores. The resort itself is great when not visiting other areas, the pool, the hottubs, the barbeques. We were also impressed with the many staples in the unit...spices, cooking oil, beach chairs, cooler boogie board. All the appliances are top of the line...highly recommend in fact we already have!!
Ahhh! Vacation.
Rating:
1
5
5
Review Date: 01/21/2014
What a wonderful place to spend our vacation! We loved it! The condo suited us perfectly. Enjoyed relaxing on the lanai off the bedroom as well as poolside. No keys or keycards is a great feature. Beach mats provided were a nice discovery. Only thing I'll fuss about a little has already been mentioned by a previous renter and that's the shower's water pressure. One evening the Oasis restaurant had live music that we enjoyed from our room. Wow! The musician's were amazing! Our first morning (and others)we walked across the road to Starbucks then brought it back to the beach to watch the sunrise. Seeing God's handiwork displayed in such a beautiful way was a wonderful way to start our vacation. Walking along the path in to Kapa'a for breakfast and lunch is something else we liked to do. The concierge service provided was exceptional. We hope to return before too much time passes. This place was recommended by friends and we'll be passing our own review along.


Terrible shower pressure
Rating:
1
5
5
Review Date: 01/05/2014
Everything was awesome,great,first class. The only thing I can complain about is the shower pressure,it was the worst EVER.Besides that it was a 5 star resort.
Manager Response: 01/11/2014
Response from Kauai Exclusive Management LLC
We have improved the Shower head
Great beach condos
Rating:
1
5
5
Review Date: 12/03/2013
Great location and upscale facility. Great for kids with the slide pool. We loved dining on the beach at Oasis and the fact that Safeway was across the street. The location is central to travel North and South on the island.
Absolutely perfect
Rating:
1
5
5
Review Date: 11/14/2013
We just finished a week at this beautiful resort. Everything was gorgeous and spotless, from the high end kitchen appliances to the huge corner tub. The convenience of the location(half way between the north and south shore)made it perfect for trips to either end of the island. If I had it to do all over again, I would definitely choose the same resort. Josh was incredible to work with and we will always request him at the time of booking.
First time on the east side of the island
Rating:
1
4
5
Review Date: 09/27/2013
The property was beautiful...location great on east side....I believe we would enjoy an all adult property in the future...we really enjoyed the Oasis restaurant and the entertainment they had one night....only thing wrong in the unit was the DVD player wasn't working and we had planned to watch a couple movies.
Manager Response: 09/30/2013
Response from Kauai Exclusive Management LLC
We have changed out the DVD player and would have done this the same day had the guest call 1-877-Go-Kauai.. We appreciate the feedback and we will continue to raise the bar in D312
vacation
Rating:
1
5
5
Review Date: 09/04/2013
Overall the condo was great. I would say there are a few things that need maintenance. The blades in the clothes washer need to be replaced they are missing and the coffee table in living room needs bolts tightened. You could also add some light in the bedroom.

As far as the check in we were a little taken back by the gentleman who come to the unit to check to see that it was ready at 2:40 and was surprised we were there already and was pretty rude about the fact that we were early. I don't think he needed to be rude about the fact that we were I guess 20 mins early. If that was a big deal then it needs to be stated in bold print that you can not enter the unit before 3. Thanks

good overall
Rating:
1
4
5
Review Date: 08/30/2013
we were dissatisfied the with the living room TV. The Time Warner cable remote had not been programmed properly and the DVD could not be made to work. The tv remote itself was kaput.
Great stay at D312
Rating:
1
5
5
Review Date: 04/30/2013
The two of us had a fantastic stay in D312. The room had everything we needed. The bed was comfy. The view is a little obstructed thanks to a big palm tree, but still suitable. Very clean and well taken care of place. Much bigger than what you would get at a hotel.
Great Stay
Rating:
1
5
5
Review Date: 04/26/2013
Family of four with 2 young boys loved the location. Nice appliances in kitchen. Professional and courteous property management team allowed us to stay past the normal check out time due to our late flight home.
Kauai Gem
Rating:
1
5
5
Review Date: 04/02/2013
We had a wonderful two weeks in Kauai, the condo was perfect, close to
the Safeway and Starbucks....weather was beautiful, can't ask for more!
Great Place to Stay
Rating:
1
5
5
Review Date: 02/10/2013
I would highly recommend staying at this resort. It was clean, close to everything, friendly people, in fact, we are planning on going next year and would stay at the same place.
Waipouli D312, Kapaa
Rating:
1
5
5
Review Date: 01/24/2013
Stay was great and would rent again. I did receive a call that we were not out on our last day and the cleaning staff wanted to get in.However, we rented for an additional day, paid, so we could use the property for the day prior to flying out at 9:30pm. Appeared communications were not clear.
Enjoyable Family Vacation
Rating:
1
5
5
Review Date: 01/11/2013
We are a family of 4 who stayed in D312 for 11 days and had a wonderful time there on holiday. My children really enjoyed the pool and kids pool. My husband had to work quite a bit and enjoyed the ocean view and air from our balcony. I am recommending this unit to my family and friends, especially my parents who I think would really enjoy the condo.
Your request has been sent. We look forward to meeting all your vacation needs!
Use of this website constitutes acceptance of the KauaiExclusive.com Terms and Conditions and Privacy Policy.
©2020- Present KauaiExclusive.com, Inc, All rights reserved. | Website Design by Beyond Pricing