waipouli-beach-resort-d304
waipouli-beach-resort-d304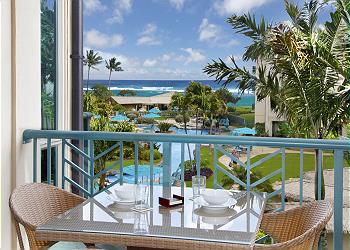 Waipouli Beach Resort D304
https://www.kauaiexclusive.com/rentals/properties/waipouli-beach-resort-d304/
Waipouli Beach Resort D304 | Vacation Rental in Kauai
OCEAN & POOL VIEW SUITE D304 **AC** Resort Pool & Restaurant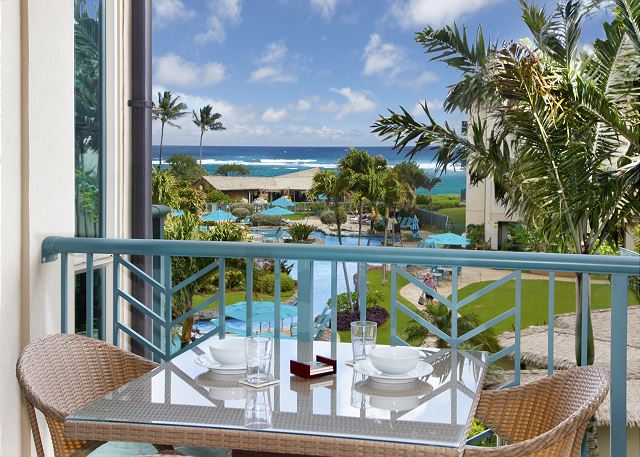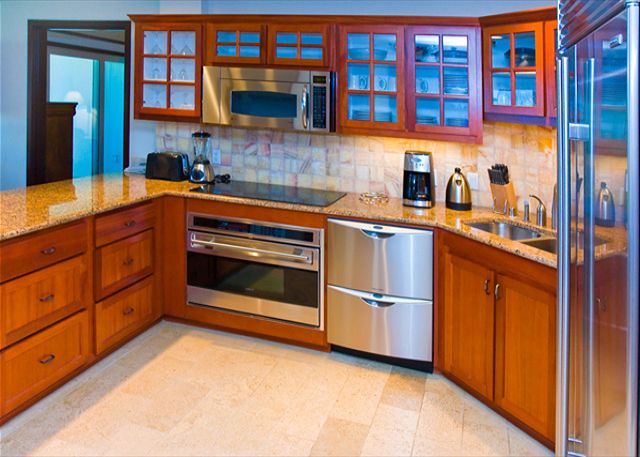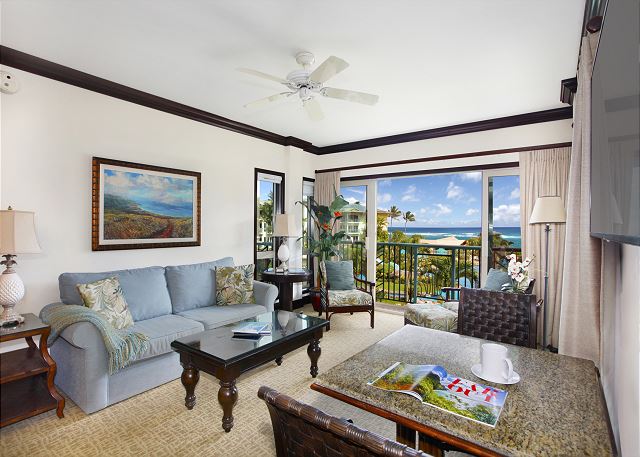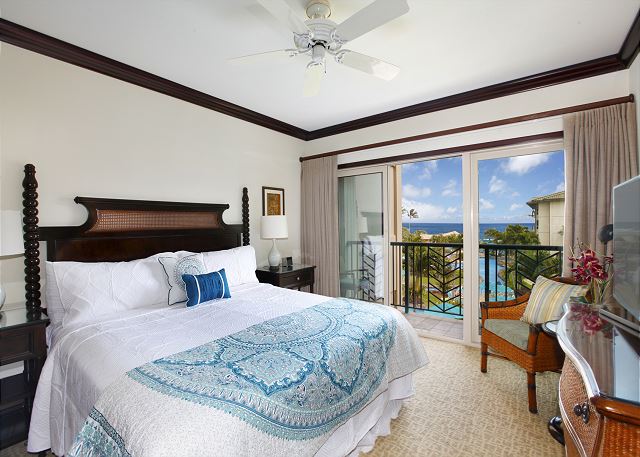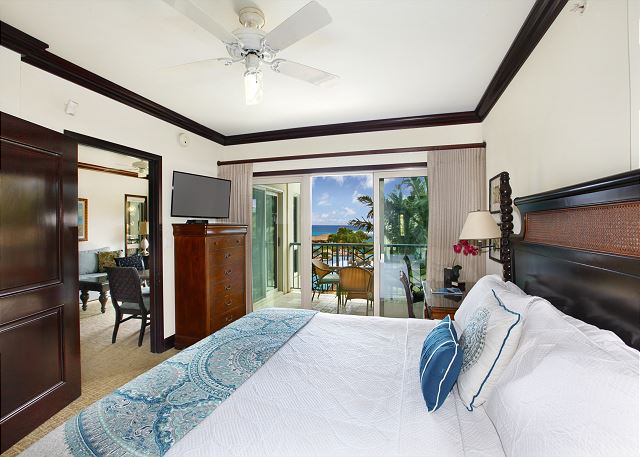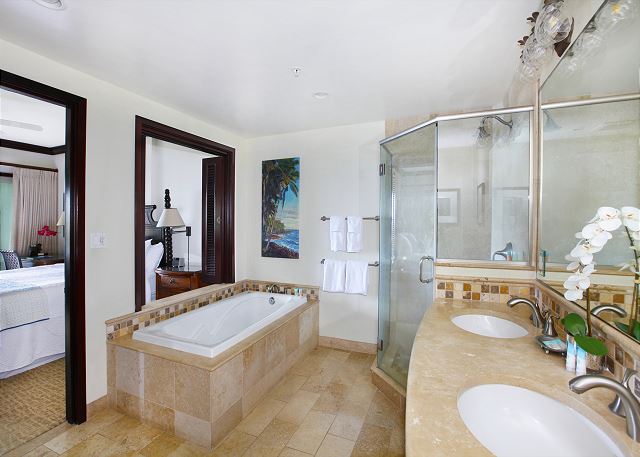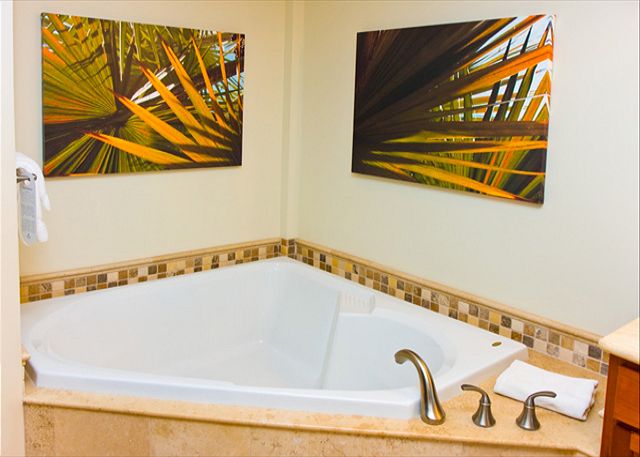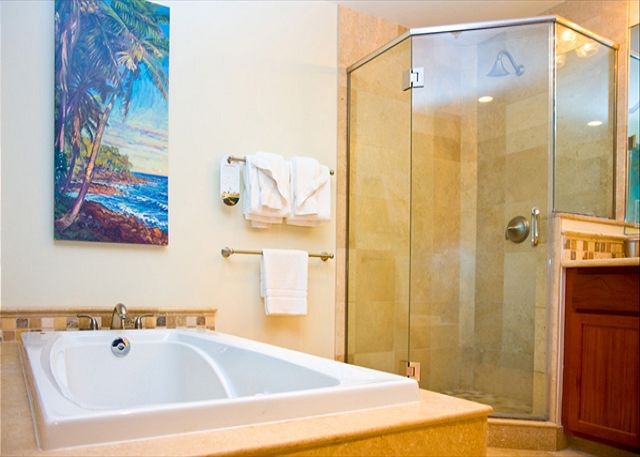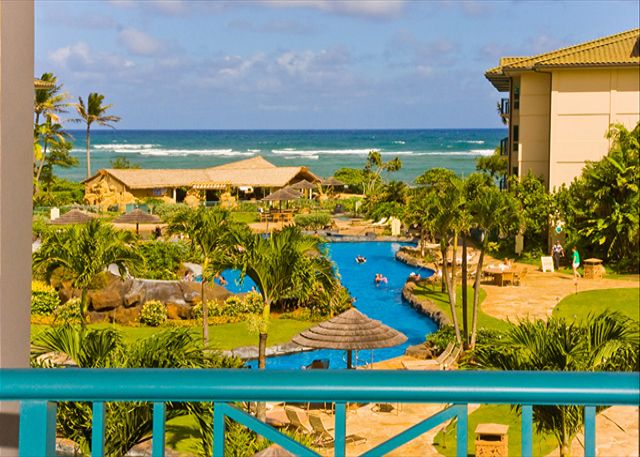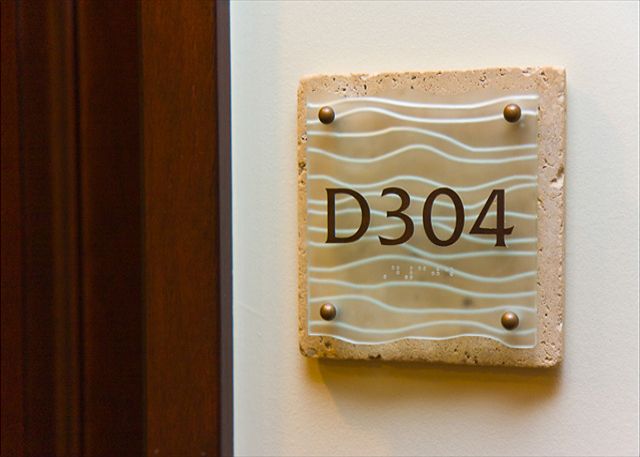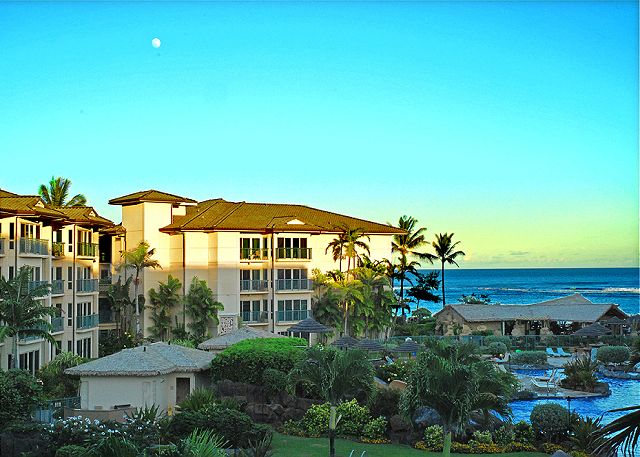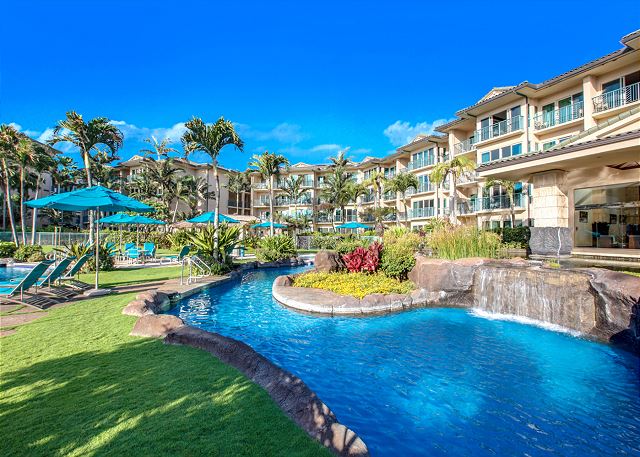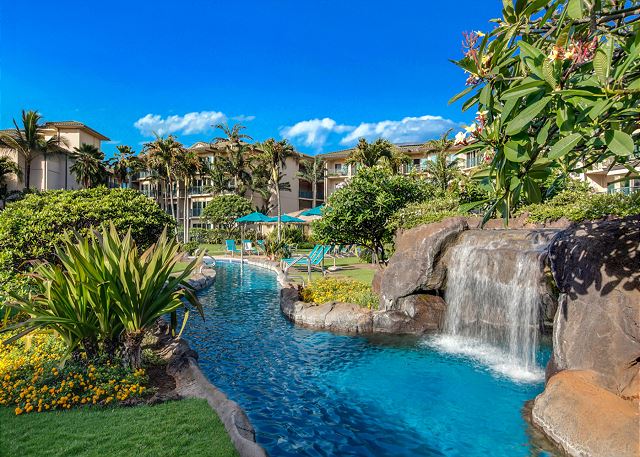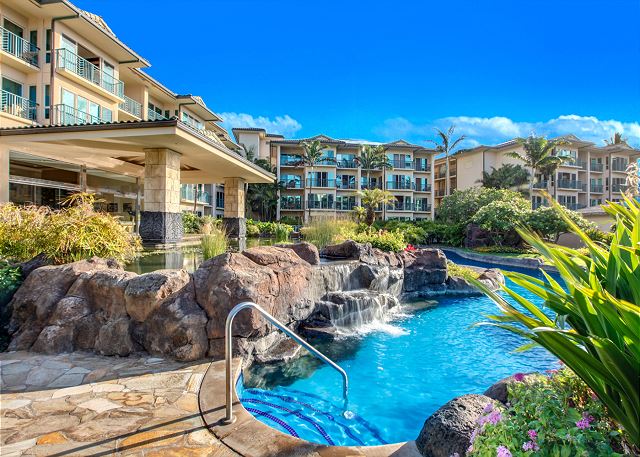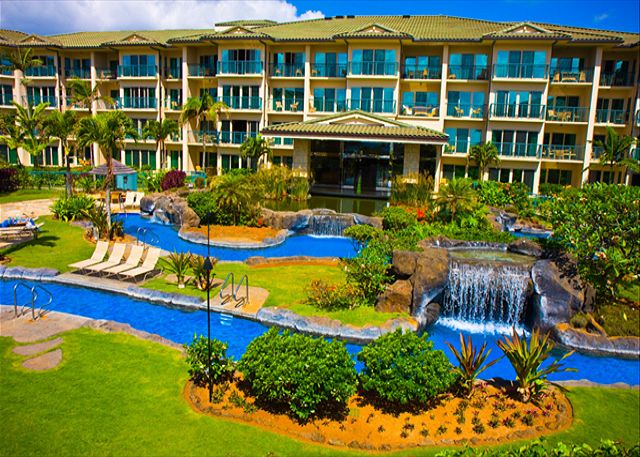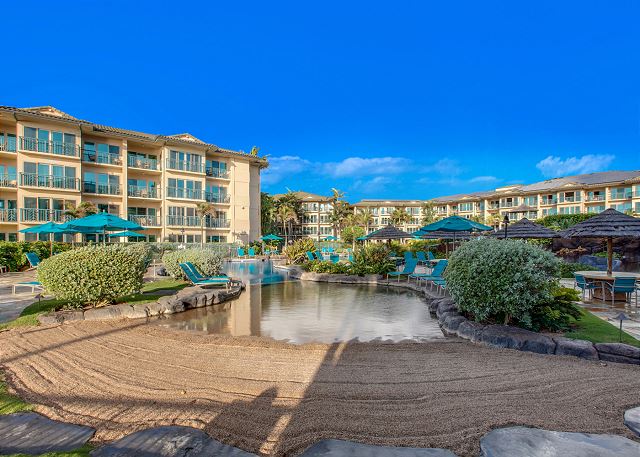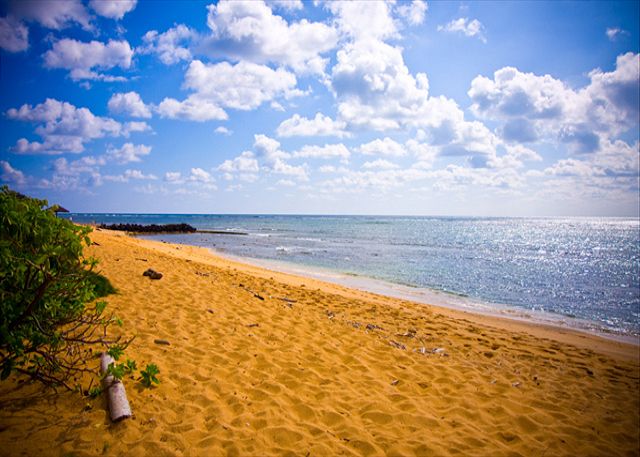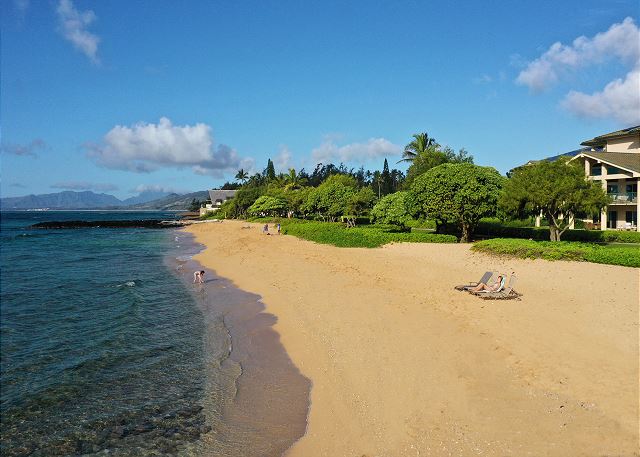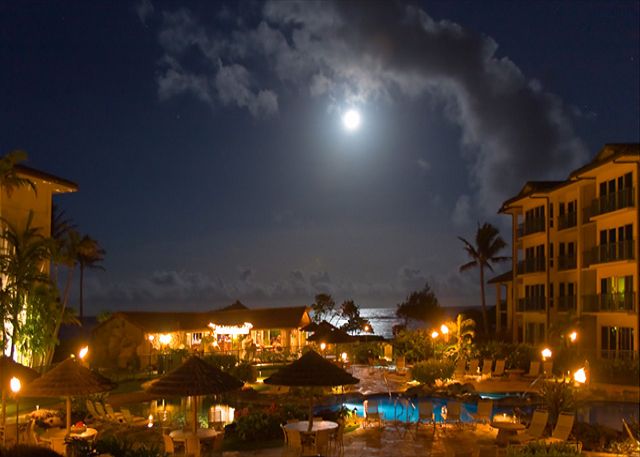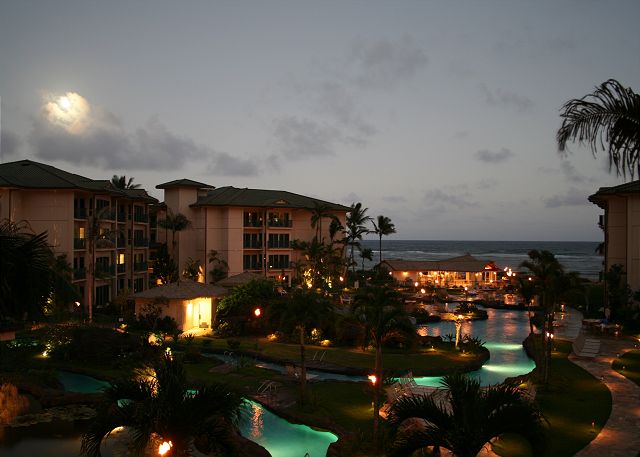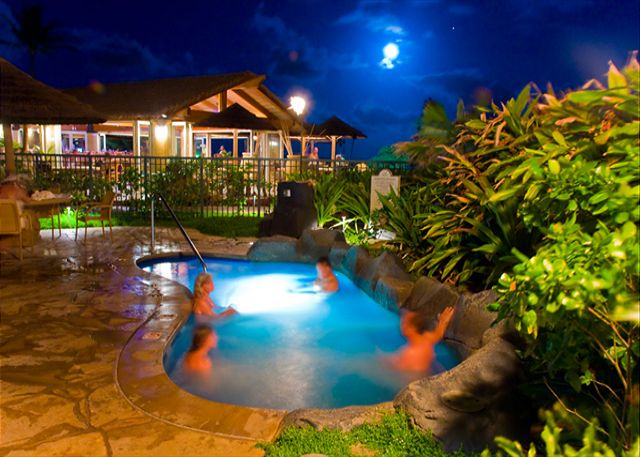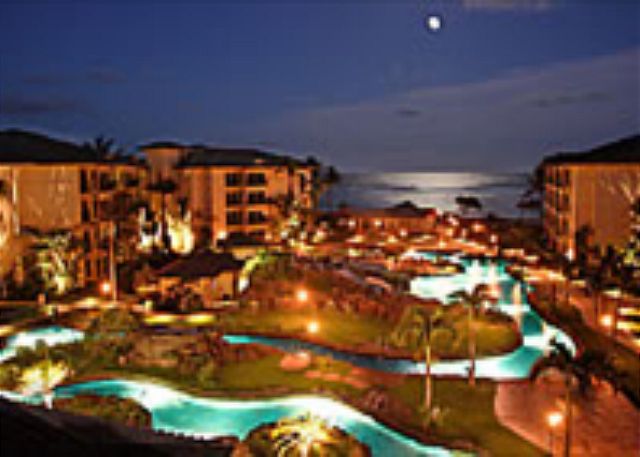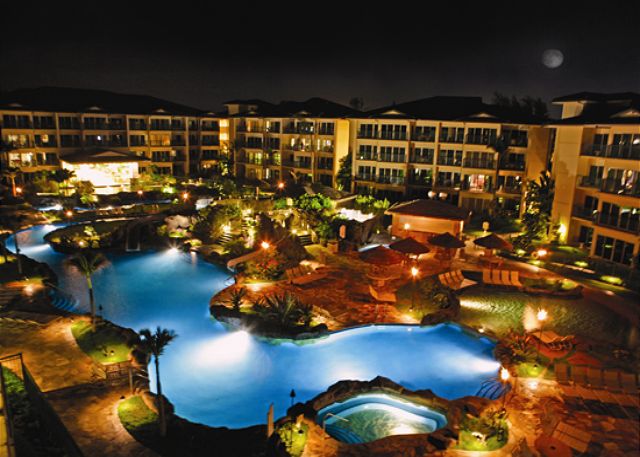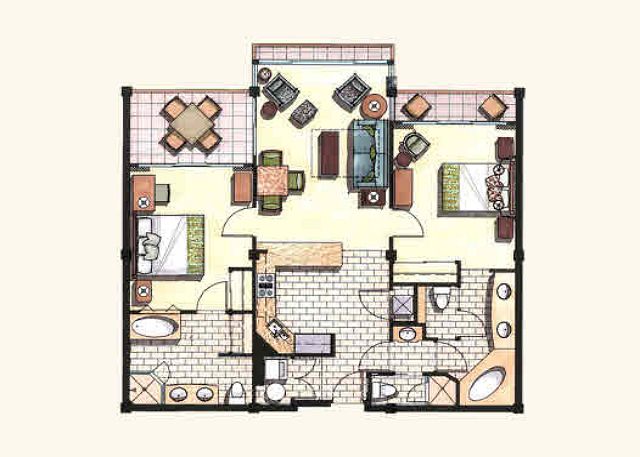 At the forefront of East Shore accommodation is the Waipouli Beach Resort. This World Class Resort provides luxury at your fingertips and offers opulent amenities for a variety of occasions.

With an infamous view and refreshing trade wind breezes, this third floor suite has incredible features inside and out. Each bedroom contains a king-sized bed, while the sleeper sofa includes a high-end memory foam mattress, allowing the suite to accommodate 6 people comfortably. Pool and ocean views unfurl before you, as luxurious amenities provide a regal ambiance to admire the sunrise skies.

The stylish interior includes a stately kitchen with a Wolf glass cooktop & oven, Sub-Zero refrigerator, GE profile microwave, Fisher Paykel dual dishwasher drawers, granite counter tops, African Mahogany cabinets, three full bathrooms with Peruvian Travertine stone surrounds and two soaking tubs. Enjoy the clean design and convenient location, with the beach and boundless Kauai adventures just beyond your private lanai.

- Located in Kapaa Town (East Shore).

- This impressive oceanfront resort features a variety of privately owned suites, condos, apartments and penthouses with state-of-the-art amenities at affordable prices.

- Amenities include central A/C, concierge service, fitness center, business center, tropical lagoon pool, jacuzzi and access to Oasis on the Beach (exceptional oceanfront restaurant).

- Centrally located on the Royal Coconut Coast, just steps away from restaurants, shops and the Kauai Bike Path. Great location to watch the sun and full moon rise!

Perfectly positioned to accommodate the desires of everyone, the East Shore of Kauai is rich with possibilities. Flanked by epic coastline and threaded together by the public bike path, this centralized location is the social hub of Kauai. Having recently experienced a trendy transformation, the Old Town of Kapaa maintains its historic charm, yet boasts novel offerings. The towns of Anahola, Wailua and Lihue also comprise the East Shore, and carry their own unique appeal. With diverse establishments and activities, you can explore cafes, restaurants, boutiques, adventure tours, aquatic explorations and more on Kauai's East Shore.

One of the most revered places on earth, Kauai inspires a state of awe within all of us. Brimming with beauty, the oldest inhabitable Hawaiian island has both withstood the test of time and matured into a land of fertile abundance. Lush jungles, white sand beaches and the alluring ambiance of aloha enchant each moment. Offering exceptional accommodations, adventures, cuisine and culture, vacationing on Kauai is a dream come true.

TA-045-059-2768-01
| | Nightly |
| --- | --- |
| August 16 - December 14, 2021 | $420 |
| December 15 - January 05, 2022 | $469 |
| January 06 - December 14, 2022 | $420 |
| April 15 - June 14, 2022 | $420 |
| August 16 - December 14, 2022 | $420 |
Oceanfront Bar and Grille
Thank you for entering your review. The review will become available to the system shortly.
90
90
Overall Rating:
4.8
4.8
Paradise found
Rating:
1
5
5
Review Date: 10/19/2021
Our first visit to the island could not have been better. We loved this property, so many conveniences right there, beach gear, bikes, awesome pool area, spacious, clean modern kitchen. We're already planning our next visit. We extended our last day for a late checkout last minute, all handled quickly and easily.
Beautiful rental!
Rating:
1
4
5
Review Date: 03/24/2020
This rental was immaculate. It was in a perfect location for full view of ocean & lovely grounds. VERY luxurious.
We only stay here when in Kauai!
Rating:
1
5
5
Review Date: 03/19/2020
Great amenities, very comfortable, heated pool, fantastic location for groceries, dining, and activities. Not too far from airport... who can ask for more?
Fantastic!
Rating:
1
5
5
Review Date: 10/22/2019
Our room was perfect for five people. Full size kitchen and large washer and drier
The lanai was a good size and the king size beds were amazing. Spotless in every way
Very Nice
Rating:
1
4
5
Review Date: 08/20/2019
The rental unit was great and we had a nice time.
Only things were we wished there were more towels and there were no bath mats. We had to wash towels every day.
Also, the dresser drawers in one of the bedrooms were broken and very difficult to open and close. Could not use it.
other than those things, it was very nice and enjoyable!
Spacious, High Quality and Beautiful
Rating:
1
5
5
Review Date: 08/19/2019
Room and resort were great. Beach was only ok, too many rocks in water
Waipouli beach resort D304
Rating:
1
5
5
Review Date: 08/04/2019
Our stay at this resort was amazing. Beautiful unit and great location. Very clean and well kept. All the amenities were there for us and had no reason to ask for anything.
We have already recommended the place to others.
Thank you for making out memories special.
Till the Inman's meet Kauai again!
Mindy Inman and family
Most Excellent
Rating:
1
5
5
Review Date: 06/04/2019
This place is a gem.
Condo clean and a home away from home with everything you need.
Pool is relaxing. Restaurant top notch.we will return in the future.

Near Perfect Accommodations; Incredible Property Managers
Rating:
1
5
5
Review Date: 05/09/2019
We absolutely loved our stay here. Check in and out were the easiest ever. The property is beautiful, the condo has everything you need. The condo is perfect for two couples because each room is pretty much equal in terms of amenities (both feel like master suites), and having the third bathroom is really helpful. Conveniently located across from shopping for your amenities; and located on a lovely long beach with a nice pathway. In the condo, the air conditioning was a really nice perk as opposed to most condos we've rented on the islands before. Any of our gripes were very minor (the lid on the coffee pot did not stay on, the ice didn't taste filtered, there was some dust on one of the plants), and not worth mentioning. The microwave went down while we were there, and was set to replaced the day we left so I'm sure that's resolved for the next guests by now. We found Rental Host to be the most responsive, helpful group ever. I cannot say enough about the fantastic customer service we received. I would absolutely stay here again.
Review of Waipouli Beach Resort D304
Rating:
1
5
5
Review Date: 03/26/2019
We could not have been more pleased with the resort in general and this unit in particular. The location is an ideal jumping off point for excursions on the island. The resort is big enough without being too large. It has a great pool. There are grocery stores and a nice selection of restaurants nearby. D304 is an ideal unit. Beautifully decorated, outstanding location, incredible views, extremely comfortable.
Beautiful Suite, Perfect Location
Rating:
1
4
5
Review Date: 12/03/2018
The condo was beautiful and the location was top notch. It was centrally located with shops, restaurants, and activities nearby. We would recommend maintenance look at the AC as it went out 3-times during our stay. We also recommend contacting the client when this occurs as 2 out of 3 times it just needed us to flip a few fuses to reset the system. Seemed to always happen at night and resulted in a few restless nights. If the AC worked properly or was fixed the first time we would have rated our stay 5-stars.
Double Anniversary Trip
Rating:
1
5
5
Review Date: 11/05/2018
We had the most wonderful experience at Waipouli Beach Resort. The unit was immaculate! We have had bad experiences at other resorts due to lack of sound proofing. Everything in D304 is the highest quality so no problems! We asked for a stand just for white noise and a brand new fan was delivered to our unit. Amazing service. We will definitely return and recommend this resort to our family and friends!
Wonderful, clean Condo
Rating:
1
5
5
Review Date: 10/15/2018
We had a fabulous short stay in D304. My husband and I came to Kauai for a short 2 1/2 day stay, but we decided to rent out the larger unit to check out for when we take our 2 kids back in the future. We couldn't have been happier. The space in the condo was amazing. Two bedrooms with larger and cozy king beds. I didn't love the pillows because they are soft down like pillows and I stomach sleep and hate when the pillows go up around my face, but my husband loved the pillows. The bed was the most comfortable bed I've slept in when at a hotel/condo/rental. There are 2 showers, 2 large bathtubs (think master soaker tubs) and 3 toilets. 3 toilets will be amazing when we bring the kids because it always seems that everyone needs to emergently use the bathroom at the same EXACT time in our household. Everything was very clean. I have a hard time staying anywhere but my own home due to some anxiety about cleanliness and I felt very comfortable here. The air conditioner worked well and wasn't that loud. You can hear when it kicks on, but it is a lot quieter than the one I have at home which sounds like an airliner taking off. The views are incredible. My husband was like oh this will probably just be a "partial ocean view" and the photos were probably zoomed in. Not so. The photos are accurate and what you see from the lanai (there are 2 lanais - one with a full table). The sound proofing was great too. Never heard any pool noise and one night the Oasis restaurant had a live band. When we were on the lanai it was loud enough that we felt like we were right next to the bad, but with the slider closed, we pretty much couldn't hear anything (maybe a few bass notes here and there). Safeway is right across the street and the rest of the resort property is very clean and well maintained. We can't wait to return. Working with Kauai Exclusives was also very easy and pleasant.
Outstanding Property and Service
Rating:
1
5
5
Review Date: 09/14/2018
Highest marks for D304. Everything top quality and in good condition. Comfortable. Great location. Service from Kauai Management was outstanding. We would be happy to return to Waipouli Beach Resort again, as soon as possible in fact. Excellent swimming pools. Lovely location on ocean. Very good restaurant.
Great Family Vacation
Rating:
1
5
5
Review Date: 07/21/2018
Excellent communication by Kauai Exclusives.
A trip to remember
Rating:
1
5
5
Review Date: 06/19/2018
It was very easy and quick to book our stay at Waipouli Beach Resort. Our host used an app to communicate with us and gave us information on the amenities and possible things to do in the area. We enjoyed some of the local restaurants and shopping, and spent a day riding bikes into town. The unit we stayed in was gorgeous, had amazing views, and really felt like home. Would 100% do it again
A Week in Paradise
Rating:
1
5
5
Review Date: 04/16/2018
Wonderful trip to Kauai. Spent 7 days in condo D304. Condo was well stocked and had amazing views of the pool and ocean. Location is convenient to shopping and all areas of the island for touring.
Nice place, good value
Rating:
1
5
5
Review Date: 09/19/2017
This is our 2nd stay at this location though a different unit in past. We love this mid-island location as it is equal drives to either side of the island. This location is right across the street from a grocery store and near many places to eat. The pool is nice. The beach is not for swimming but is pretty to look at. Be aware that when you turn in your towels you do not get new ones for the next day so keep this in mind if you want nighttime swimming. They also make you wear an armband. The bed is extremely comfortable as are the pillows. Another plus is blackout curtains. A negative, the A/C was on 60 degrees the whole time but never felt that cool. It also must be on a motion sensor as it would turn on when we walked into the unit, the problem with this was it seemed to turn off at 4 am when we were sleeping and someone would have to walk into the living room for it to turn on. They supplied plenty of toilet paper and the small dish soap was enough. Only one set of hotel shampoo and conditioner are provided so you will need your own. There was left behind spices, sugar, oil, aluminum foil, etc so check the cabinets before going to the store. Coffee maker has a filter, no k-cups. There is a blender, bottle opener, etc but no cookie sheet. Could use a tv channel guide and instructions on how to work tv. They do not provide things I think they should but someone previous to us bought a soft sided cooler for the beach and we bought 2 boogie boards, 2 lounging chairs and 2 beach chairs that we left behind in a closet for future renters to use, a small expense on their part which would have been nice as we spent $80. Restaurants-highly recommend Sam's Ocean View, Kauai Grill, Verde, Oasis on the Beach (though prices high). Buy The Ultimate Kauai Guidebook for the best tips and ways to access unlabeled beaches. Na Pali Catamaran for boat tour, book prior or as soon as you get there.
Would definitely book again, this resort is great especially the valu
waipouyli condo review
Rating:
1
5
5
Review Date: 07/21/2017
Location of Waipouli condo is good, with ample of decent restaurants nearby. The beach at Waipouli however is not swimmable. and the pool has too much chlorine. The resort is well managed, people are very friendly, and Kauai is just a great vacation destination.
Good Value Stay Beach Front
Rating:
1
5
5
Review Date: 02/08/2017
We were pleasantly surprised on how nice our units were. It was like combining many comforts of a luxury hotel with a condo. The staff were always friendly and willing to help. The property was constantly being maintained. The added convenience of shopping across the street made this a home run. We would happily return.
Kauai Vacation
Rating:
1
4
5
Review Date: 10/25/2016
Resort was well maintained. A little too big for my preference due to wanting more of a quiet experience. A great place if traveling with kids. The ocean was a little rough on site but could travel close by for swimming. Beach was long enough to walk in the morning, but watch for jelly fish. The resort was within walking distance to groceries which was nice. The pool water was cold, and crowded sitting areas. Hard to find a quiet spot.
Better than home
Rating:
1
5
5
Review Date: 10/12/2016
This condo was so beautiful. It looked completely remodeled and updated. Two lovely bedrooms and three huge bathrooms. What could anyone ask for. We loved it. Loved the grounds, the pool was wonderful. So fun to watch the kids go down the pool slides. Great time!
great place!
Rating:
1
5
5
Review Date: 08/29/2016
Everything was perfect and in order. Very comfortable place and beds.
Nice view
Rating:
1
4
5
Review Date: 08/21/2016
Clean rooms, lots of space.
Rental Review
Rating:
1
5
5
Review Date: 08/01/2016
We stayed at the Waipouli Resort and had a great time. The location is very central and the on-site amenities were great. There is a wonderful pool and bar/restaurant beachside. I would highly recommend.
Great 50th anniversary family celebration
Rating:
1
5
5
Review Date: 06/29/2016
We had a super time , great place to stay:)
D 304 has wonderful full view of the pool and ocean.
Having washer/dryer on site was very helpful.
The lanai was enjoyable for meals,relaxation and view.
Kitchen appliances were plentyful for every need!
Super large fridge:):)
U. A.
California
Everything we could ask for and more
Rating:
1
5
5
Review Date: 06/10/2016
Beautiful, clean, quiet and friendly environment. Close to shopping and make sure to rent bikes at the gift shop downstairs. The bike trail is amazing and great morning ride, even if it's raining. Love this place we may buy in this building. It's really brethtaking! Thank you for everything!
Kauai April 2016
Rating:
1
4
5
Review Date: 04/20/2016
Great condo!
Rating:
1
5
5
Review Date: 03/24/2016
We loved this property and the pictures did justice to the actual product. I would recommend getting a pool or ocean view, as I would have been unhappy with a parking lot or strip mall view. I did appreciate having the grocery store and the Starbucks right across the street. I really like the location of this property as you are no more than 30 minutes from the North Shore or Poipu - both of which we visited very easily. The restaurant is expensive, but excellent quality. Awesome Mai Tais! The room was very clean and well appointed. We would definitely come back!
great stay
Rating:
1
5
5
Review Date: 03/15/2016
we rented the unit for a week and shared it with another couple. this was our second year and it was perfect (again).
A+ must very home like feeling
Rating:
1
5
5
Review Date: 01/20/2016
Great expierience recommend too friends and family live it here the best yet!
Fabulous stay
Rating:
1
5
5
Review Date: 01/02/2016
We had an incredible time in the property. It was very convenient for Safeway and the beach and pool were great. The management company was great, helping us with everything we needed. Can't rate the experience more highly
Totally Impressed!
Rating:
1
5
5
Review Date: 09/15/2015
Waipouli Beach Resort was incredible! Beautiful accommodations in a great location. Loved the whole experience and will definitely stay there again if we return to Kauai.
Couldn't ask for more
Rating:
1
5
5
Review Date: 08/30/2015
The condo was superb and the management was even better. We ended up having some problems unrelated to the property but the management bent over backwards to help us. Great pool- especially good for families. Quiet at night. Definitely want to stay here again!
Cool took with a view.
Rating:
1
5
5
Review Date: 07/12/2015
We loved everything about our stay at the Waipoluli Resort.
Was perfect for my family.
Rating:
1
5
5
Review Date: 06/22/2015
My family of 5 had a fantastic time during our 7 day stay. This property was perfect for us. The room contained everything we needed.

This location is ideal. Some days we headed north, some days south. It's great to be less than an hour away from anywhere on the island with plenty of shopping and restaurants within one mile.

The beds in this unit were super comfortable, the kitchen exceeded our expectations, and the bathrooms were huge. No complaints from me; in fact I've already recommended this unit to two other friends that are planning a trip there, and we will stay there again when we return to Kauai.

The pool area is awesome! Relaxing in those hot tubs after a day of island adventure was priceless. We were very impressed with how well the grounds were maintained.

If you stay here - you will NOT be disappointed.
Kauai
Rating:
1
5
5
Review Date: 06/06/2015
Very nice property, centrally located
Fantastic
Rating:
1
5
5
Review Date: 05/16/2015
This is the greatest place to stay. Beautiful and the view is spectacular. We had a great time and the condo was a dream place to stay. Clean, bug free inside and out. We certainly made the right choice in staying here on the island. We were to leave on the 15 of May by 10:00 but our fight was not out until 10:00 pm. The management accommodated us with an extra day no charge so we could enjoy the pool the day of our departure. Wonderful and great customer service.
Restaurants are pricey. Take money for that. You can cook in the condo as they have provided ever amenity you could want for making a spectacular dinner.
Loved it!
Rating:
1
5
5
Review Date: 05/12/2015
The place was better than expected and I expected it to be pretty good. Amazing views of the ocean, very spacious condo, access to food stores, restaurants and others shops without any sort of urban feel. Very good access to the other parts of the island as well. I'd go back in a heartbeat.
Lovely Stay in D304
Rating:
1
4
5
Review Date: 01/19/2015
Overall, a very nice stay in unit D304. Love Waipouli Beach Resort and stay there every time I visit Kauai for the location, convenience, pool, beach, etc. Kitchen could have used more dishes and glassware (i.e. only 3 wine glasses for a condo that claims to sleep 6). Furniture was a bit worn and dated. Liked the extras in the unit (i.e. beach chairs, cooler, snorkel gear). I've stayed in other units with much nicer furnishings for less money, so not sure this unit is the best value overall.
Manager Response: 01/21/2015
Response from Kauai Exclusive Management LLC
Aloha Heidi, Thank you for your feedback. We have updated the suite with more wine glasses and our owners are in the process of purchasing a new suite. Thank you for being our guest!
Christmas Vacation
Rating:
1
5
5
Review Date: 01/02/2015
Loved the condo, loved the resort. We were very impressed with the information provided by the management company via email prior to our checkin; made our arrival so easy after a long trip. It was nice being located halfway between the north and south shore. Hated to leave this beautiful, friendly island.
Kauai Getaway
Rating:
1
5
5
Review Date: 09/29/2014
Beautiful surroundings and outstanding accomodations
Perfect Location
Rating:
1
5
5
Review Date: 08/24/2014
This was a fabulous unit with an ocean and pool view. The full size washer and dryer were used daily. The instructions were clear and easy to follow. We would absolutely stay here again. Everyone, especially Patrick, was friendly and quick to respond to any questions we had prior to our visit.
Location, location, location
Rating:
1
5
5
Review Date: 08/02/2014
This timeshare was absolutely georgous, with a nice view of the pools and the ocean beyond. Being located up the east coast a ways in Kapaa means a short drive to either the north or south coast attractions. We had a great week here, and would highly recommend it to anyone.
Great stay
Rating:
1
5
5
Review Date: 07/03/2014
We loved the condo. Our view of the property and pool area was beautiful. The condo had everything! We used the blender, toaster, washer and dryer, dishwasher, coffee maker, big soaking tub. On the first day I sent a text stating that our blender was leaking and we needed more pillows... When we returned from the beach a new blender and pillows!! Sherry was great before the trip. We had never rented a condo and she told me what the condo included - like laundry soap and coffee filters. I only marked location down because of the stop light, but the location WAS good because it was close to Foodland. Great fresh poke! Get a savings card and go there- NOT Safeway. Aloha. :-)
Restful, quiet, comfortable
Rating:
1
5
5
Review Date: 06/25/2014
Very comfortable with beautiful view. Perfect layout for my wife and I and our two teenage boys. The pool was terrific, the grounds beautiful. We ate at many nice restaurants on the island during the week, but our favorite dinner was at the Oasis...great food, service and setting. Thank you for a lovely stay.
Keith
Vacation fun
Rating:
1
4
5
Review Date: 05/31/2014
Great view of pool and ocean from all balconies. Gym was well equipped and the pool area was beautiful. Condo was clean and comfortable.
Awesome property!
Rating:
1
5
5
Review Date: 05/13/2014
One of t relaxing vacations in a long time. No surprises and the condo was BETTER then expected. So convenient to shopping, airport and restaurants. Definitely going back!!!
Wonderful stay
Rating:
1
5
5
Review Date: 02/23/2014
Great! Highly recommended
Relaxation at its Best!
Rating:
1
5
5
Review Date: 02/06/2014
We enjoyed everything about the resort. We have been to Kauai many times and found the Waipouli Beach Resort to have everything we expect when on vacation. The only negative thing that occurred while we were there was both adult jetted hot tubs were not working. We loved the Oasis -would have loved it even more if there had been music more than once a week. We will come again.
The Best of Hawaii
Rating:
1
5
5
Review Date: 12/27/2013
This is our second time staying at this resort and the same room. We loved it so much that we brought the rest of our family members and rented another unit. This resort is hand down the best compared to any hotel we've ever stayed in. This luxurious suite has 2 very comfortable master bedrooms and each has a bathroom with huge tub/spa. It has all the modern appliances with 3 flat screen TVs in each room, high-speed wireless internet, and the only hotel that we've ever stayed in that has its own washer and dryer. The pool is beautiful and has a lazy river lined with waterfalls, 2 water slides, a kids sand bottom shallow pool, 2 jacuzzis, and 1 jacuzzi just for kids. It is one of the few resorts in Kauai with its own private beach. We will definitely come back again and again. Makes us want to buy property at this resort or time share. Josh from Kauai Exclusive management was very helpful and "hooked us up" with a great deal and was very accommodating!
Fabulous
Rating:
1
5
5
Review Date: 11/04/2013
The property was even more than the pictures reveal. It was a wonderful experience. The delivery of the fresh orchid was an added special touch. I cannot say how much we enjoyed staying at this condo it was a wonderful location and so relaxing.
Great place
Rating:
1
5
5
Review Date: 10/19/2013
Excellent facilities and spotless condo. Spectacular service.
Best Place EVER
Rating:
1
5
5
Review Date: 10/13/2013
Best Place I have stayed in ever can't wait to book next year
Review
Rating:
1
4
5
Review Date: 10/07/2013
Had an excellent stay. Couple little things...the toaster is busted and the safe is not operational. Not a big fan of the 11 digit code to enter the pool. And of coarse by biggest pet peeve of all:) NO sharp knife or knife sharpener. All little stuff. Beautiful spot had a wonderful time.....Thanks!
Our stay
Rating:
1
5
5
Review Date: 10/03/2013
WE had a marvelous time. The beach was perfect for us with lots of shade and plenty of ocean. Pool area was very nice. We will definitely be back
Waipouli
Rating:
1
4
5
Review Date: 08/10/2013
We enjoyed our visit at lovely Waipouli Beach Resort!
Great stay
Rating:
1
4
5
Review Date: 08/03/2013
The property was beautifully furnished and in excellent condition. Even though it was overlooking the pool it was not noisy. A minor suggestion would be to get a small wall mounted shelf to hold the electronics so that the table can be used as a dining table and not just as a console.
Awesome Vacation
Rating:
1
5
5
Review Date: 07/29/2013
Location of this resort could not be better. Grocery store across the street is very convenient and resort is centrally located to all other points of interest on the island. The grounds of the resort are kept meticulous and the pool offers fun for all ages. Unit D304 has very good amenities and a beautiful view of the pool and ocean. The onsite restaurant is good and is convenient for lunch or dinner when you don't want to cook or leave the resort. We would definitely stay here again and without hesitation would highly recommend to others.
Exceeded Expectations
Rating:
1
5
5
Review Date: 04/04/2013
I stayed in D304 for 2.5 months and could not be happier with my choice. The condo is exactly as seen in the pictures. The view from the patio is night you have the torch lights , sounds of the ocean and all the wonderful bird song. The kitchen has everything you need including some great platters and plates for entertaining.The beds were incredibly comfortable. Even the air bed was great when I needed it for company. The sand bottom hot tub was fabulous. The pool was great although on the cold side. Location cannot be beat!Dealing with Kauai exclusive was effortless and Josh was incredibly responsive. He really wanted to be a great host and he succeeded. I have stayed in three other resorts on the island and this is the best on so many levels.I would absolutely recommend it to all my friends.
Very convient and econmical
Rating:
1
5
5
Review Date: 12/30/2012
Very good use of space for the value. Very nice pool and beach area. Should have unbrellas for the beach.
Better than I could have imagined
Rating:
1
5
5
Review Date: 11/26/2012
Beautiful experience will come back again
Outstanding Vacation Spot!
Rating:
1
5
5
Review Date: 11/19/2012
Our experience with Kauai Exclusive Management and the Waipouli Beach Resort was fantastic. The impressive pictures shared on the website are the exact views you'll see once you arrive. The beds were extremely comfortable. The bathrooms were large and clean as was the kitchen. The lazy river pool was perfect for relaxing. The resort had easy access to the beach and shops. And being located in Kapaa placed it within reasonable driving times to all parts of the island. In addition to the wonderful property, I highly recommend utilizing Kauai Exclusive Management. They were professional, responsive and very helpful. It was a 5 STAR visit!
Absolutely Perfect!
Rating:
1
5
5
Review Date: 10/30/2012
This wasn't my first trip to Kauai, but my first stay here at the Waipouli Beach Resort. What a beautiful property and fabulous condo! Everything was perfect, from location to the room, D304 must have the softest beds in the world! We loved everything about our trip, and especially where we called home for the week. The grounds are beautiful, the pool area is perfect for relaxing and never feeling like there are too many people there. The location was great, being right across the street from the grocery store, a few restaurants and shops made it easy to get the things you need easily. The condo was amazing, beautiful rooms, kitchen and living room, with everything you need.
Excellent Resort.... Best in Kauai
Rating:
1
5
5
Review Date: 10/18/2012
From the minute you get to the resort you realize you are in for a wonderful luxurious stay. The resort is top-notch ! everybody who works there is very knowledgeable and helpful.
Family adventure
Rating:
1
5
5
Review Date: 10/08/2012
Great stay at a beautiful place
Rating:
1
5
5
Review Date: 10/01/2012
This place delivered as advertised.......beautiful furnishings: 2 king size beds, lcd TV's, full kitchen, washer/dryer....all within a beautifully maintained resort.....especially enjoyed the sandy bottom hot tubs and of course, the view.
One of the best stays we have had on any vacation
Rating:
1
5
5
Review Date: 08/03/2012
The room was excellent. There was plenty of room for my family of 5 and the pool was a great respite after enjoying the many things to do on Kauai. One shout out to Christen (concierge). Every excursion and dinner recommendations were right on. Between the resort and excursions, this was by far the best vacation my family has been on. We strongly recommend the waipouli resort!!
4 - 5 star experience for us
Rating:
1
4
5
Review Date: 06/03/2012
Our stay was very good....we enjoyed our unit and the hotel overall....the staff were friendly and Josh was there when and if needed....we found it to be a good location as basically about half way between Poipu and Princeville so easy trip to either place....we were there for a wedding and several people stayed at the hotel and we basically got positive responses from everybody....the pool area is awesome....we would definitely go back to this complex and the same unit.
Great Resort
Rating:
1
5
5
Review Date: 04/09/2012
The resort did not disappoint. Rooms are beautiful and spotless. Pool and grounds are amazing. Our whole family loved it and would love to return.
X-mas Vacation on Kauai
Rating:
1
5
5
Review Date: 01/17/2012
Our vacation was supurb. The condo was very well supplied, comfortable and the view out through the pool area and to the ocean was spectacular. There is nothing better than falling asleep and waking up to the sounds of waves crashing on the rocks.
fun for family - rude resident
Rating:
1
5
5
Review Date: 12/24/2011
We were surprised to get yelled at by another resident at 630 pm when we were settling in on the patio for our first dinner on the island as a family. If you are going to have families in this complex then the residents are going to have to expect happy family noise at dinner. He was very rude. With that exception it was a wonderful place to stay.
Our stay in Kauai was the best vacation ever taken.
Rating:
1
5
5
Review Date: 10/03/2011
The property management made the experience wonderful from our arrival to our departure.
110% Happy
Rating:
1
5
5
Review Date: 08/12/2011
After you stay here for the first time, #1 you want to come back again to Hawaii #2 you want to stay in the same location.
beware of sleeper sofa!!
Rating:
1
4
5
Review Date: 07/04/2011
Beautiful facility and location! I would not recommend having more than 4 guests though. The sleeper sofa has been abused and is most uncomfortable...feels like sleeping on rocks! The beds in the bedrooms were like heaven, however. Having a kitchen as well as washer and dryer were fabulous amenities! The view from 3rd floor was breathtaking. And having morning coffee on the balcony was so nice!! The Oasis restaurant had great food and very pleasant waiters and waitresses. Gorgeous view of the ocean! We also had a child with us. The pool Wasatch favorite hang out for him! We attended a wedding reception at the Oasis. It was perfect from beginning to end! I would definitely return!
Time of our Life!
Rating:
1
5
5
Review Date: 06/21/2011
What a wonderful experience! The grounds are beautiful. The staff was outstanding . The unit took our breath away---What a view! This property was centrally located for all of our adventures around the island. I would not think twice about referring a friend to this location! Thank you again to Joshua and his staff!
Rating:
1
5
5
Review Date: 04/05/2011
Beautiful Condo!
Rating:
1
5
5
Review Date: 03/28/2011
This resort was lovely, conveniently located to grocery store, airport, activities. Very family friendly.
Rating:
1
4
5
Review Date: 02/28/2011
Rating:
1
5
5
Review Date: 01/12/2011
Upscale accomodation, luxurious landscaping, easy access
Rating:
1
5
5
Review Date: 01/08/2011
Great location and wonderful relaxing place to unwind,Thanks
Rating:
1
5
5
Review Date: 12/16/2010
Rating:
1
4
5
Review Date: 12/01/2010
Rating:
1
4
5
Review Date: 11/29/2010
Really enjoyed the stay at the Resort. Friendly Staff, clean, large rooms, great pool and amenities, good location, central and close to shopping. The beach, although nice, was not great for swimming. We would for sure stay at the Resort again.
Rating:
1
5
5
Review Date: 11/18/2010
Beautiful View
Rating:
1
5
5
Review Date: 10/27/2010
The resort is as beautiful as the pictures. The kitchen is great too. Lovely view of the pool and ocean. We had a great time!
Rating:
1
4
5
Review Date: 02/10/2010
Top-notch resort
Rating:
1
5
5
Review Date: 01/21/2010
Absolutely gorgeous and spacious condo with high-end everything. Walk across the street to Safeway and take an easy 2-minute stroll past the pool to the beach. There are endless beautiful places to check out on the island, but this place has everything you need either on-site or a short walk away for a perfect stay. Highly recommended.
Very nice property
Rating:
1
4
5
Review Date: 01/10/2010
Good location on the East Shore made it easdy to get both to the north and south sides of the island except for the delays caused by bridge construction work. Definitely had to factor in extra time for the slow moving traffic. Very handy having Safeway right across the road. Discount club card easily obtained so prices, selection and friendly staff may us skip a trip to Costco. Pool at the resort was very nice, always clean, no problem finding chairs or pool towels. Beds were very comfortable, 3 tvs, free wifi, big refrigerator freezer. Our unit D304 had an adequately equipped kitchen, nothing special. Dishwasher didn't do a great job but was just okay. Washer & Dryer were great. Bathrooms nice, appreciate having soap, shampoo, laundry soap and dishwashing liquid to start. No cleaning tools at all - no broom, no vacuum, or a toilet brush so had to live with extra sand. Had asked for at least a broom but it never showed up. We were surprised and disappointed that both the on site beach side restaurant and bar as well as the spa, had both closed in November and we were not made aware of this before we arrived. They say they hope to have both open again soon but who knows. We faced the pool area and had a beautiful view from the 3rd floor and the torches were a nice touch at night. Air conditioning worked great and there was no traffic noise at all. Noise transfer from the unit above us was a small annoyance as they were very earyl risers, so choose a top floor unit if you want to avoid this problem - it's close quarters when everyone is on the balconies and have the doors all open. We were 2 adults and 2 teenagers and the unit was a good fit for us, the kids had their own bathroom and tv. Would have been hard to have a meal for 6 at the small table for dining either inside or out as was really only set up for 4. Beach was nice but not suitable for swimming. All staff were very nice and helpful. I would definitely stay here again and recommend it
Wonderful condo!
Rating:
1
5
5
Review Date: 12/16/2009
We spent 10 days here with 3 small children. The condo is beautiful and very nicely decorated. Great kitchen, nice views of the pool and ocean beyond. The pool area is the best, our kids loved the kids splash area, plus the slides, "river" and hot tubs. And having the supermarket across the street is really helpful. Great location on the Island too. Close to Hanalei in one direction, Poipu in the other. We'd definitely recommend this complex and unit. And the service from Joshua at Kauai Exclusive Management was excellent. Very helpful.
Your request has been sent. We look forward to meeting all your vacation needs!
Use of this website constitutes acceptance of the KauaiExclusive.com Terms and Conditions and Privacy Policy.
©2020- Present KauaiExclusive.com, Inc, All rights reserved. | Website Design by Beyond Pricing