waipouli-beach-resort-b202
waipouli-beach-resort-b202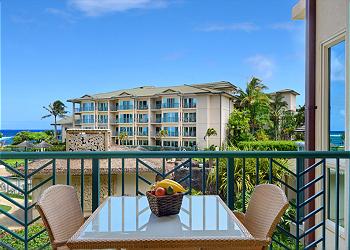 Waipouli Beach Resort B202
https://www.kauaiexclusive.com/rentals/properties/waipouli-beach-resort-b202/
Waipouli Beach Resort B202 | Vacation Rental in Kauai
OCEAN VIEW B202 **AC** Resort Pool & Restaurant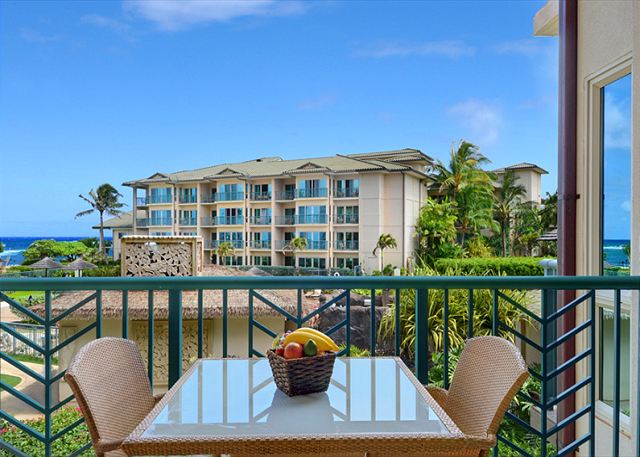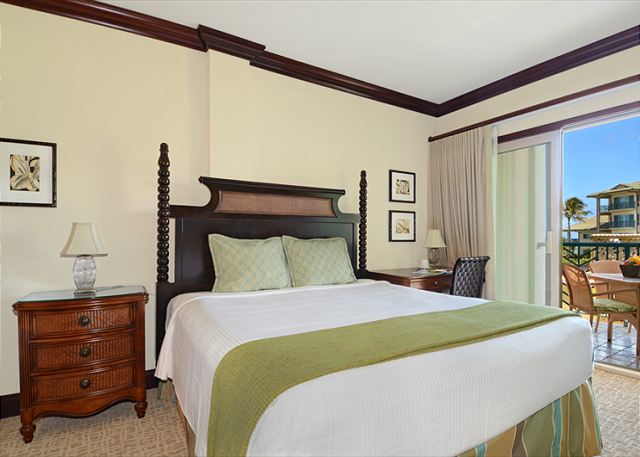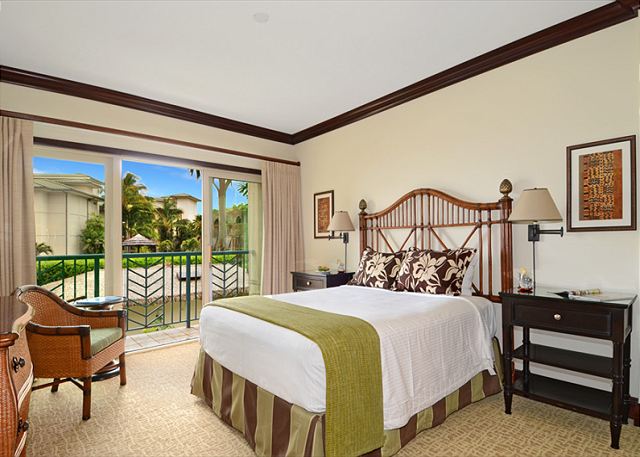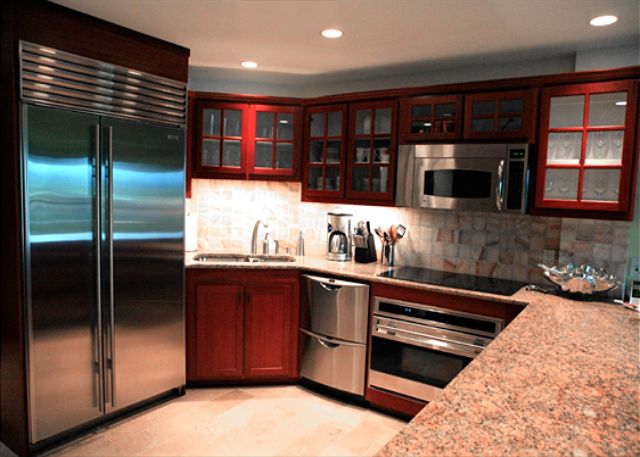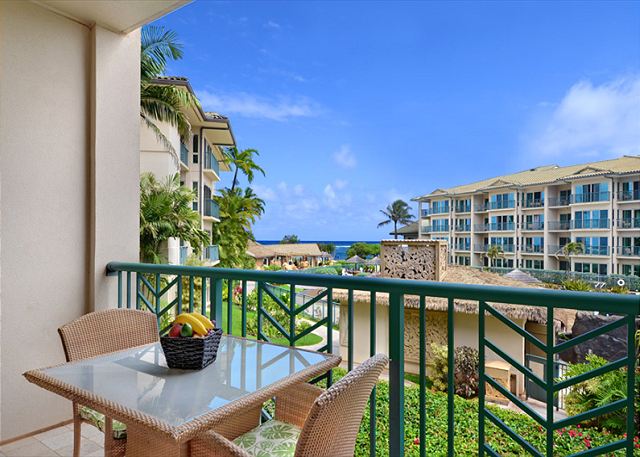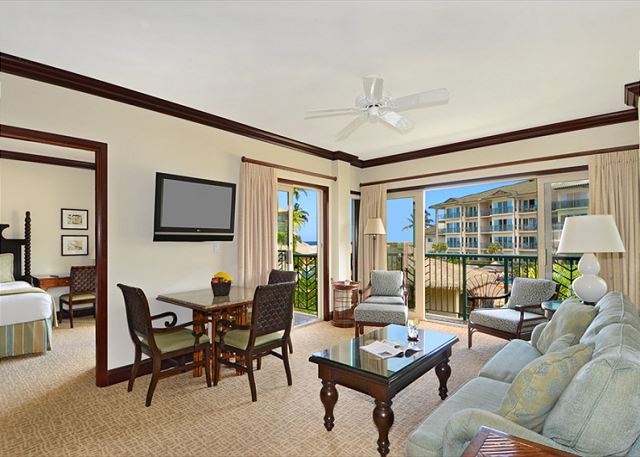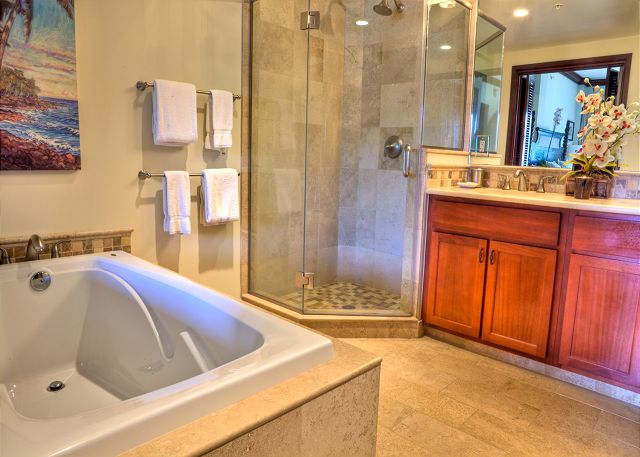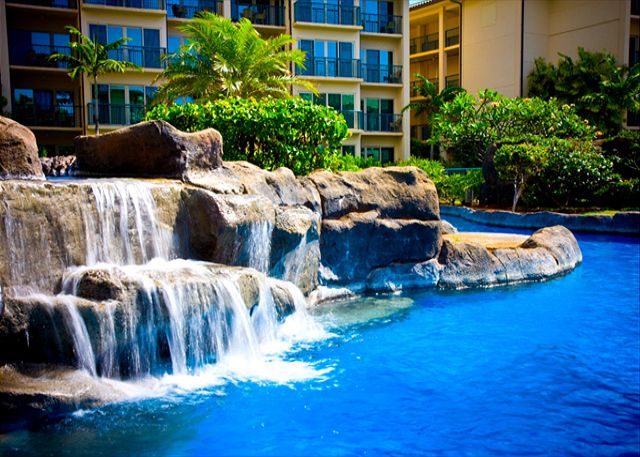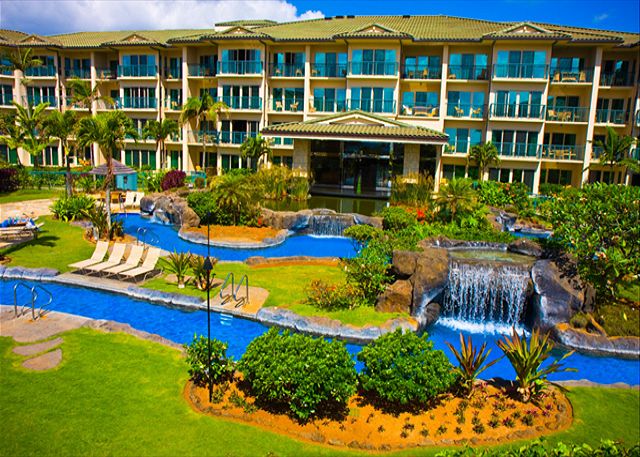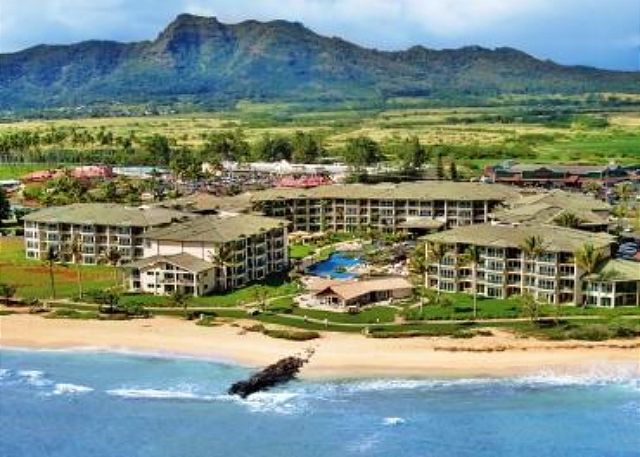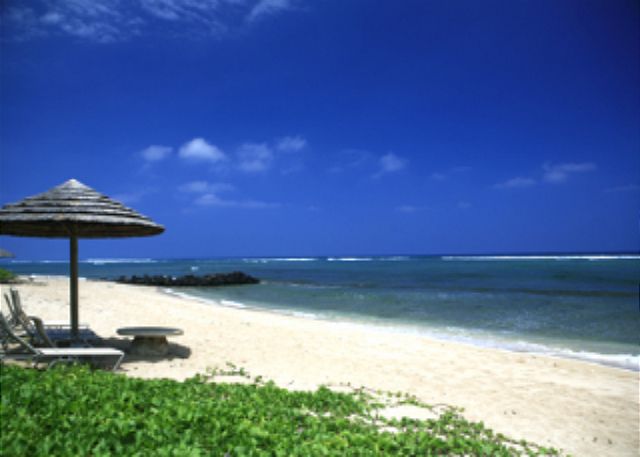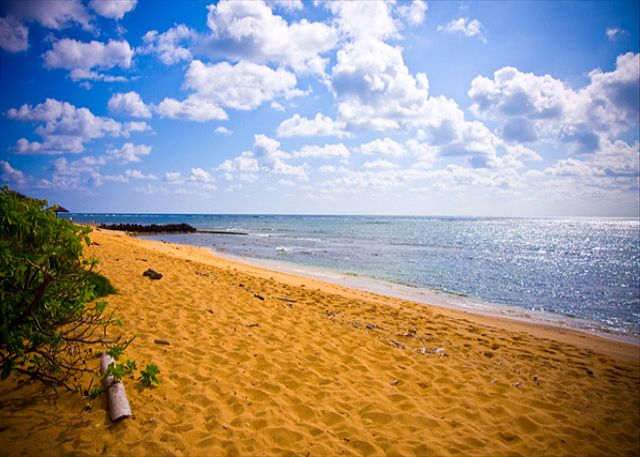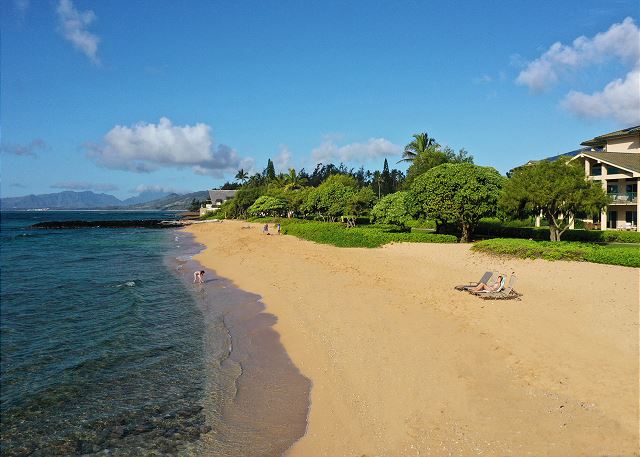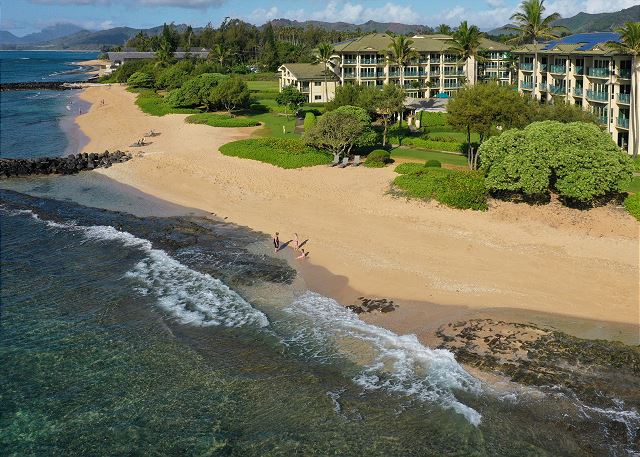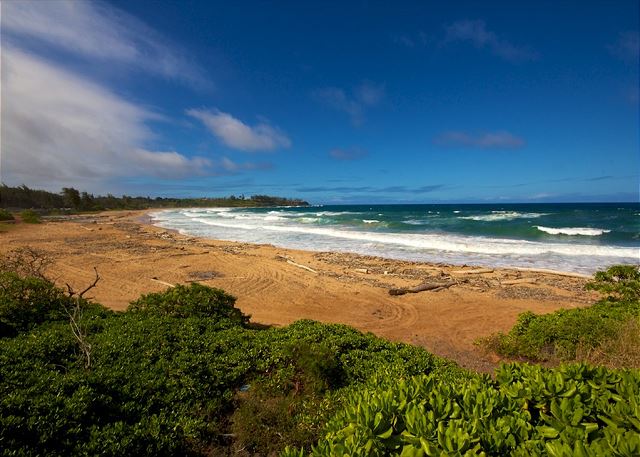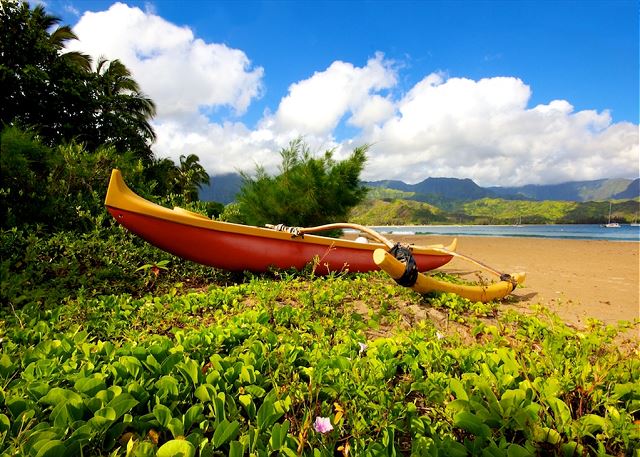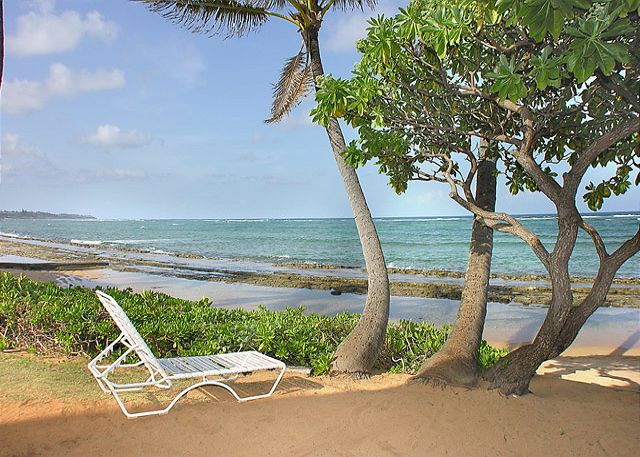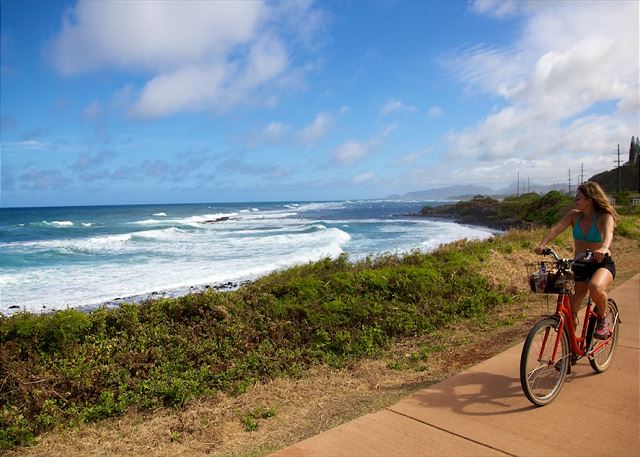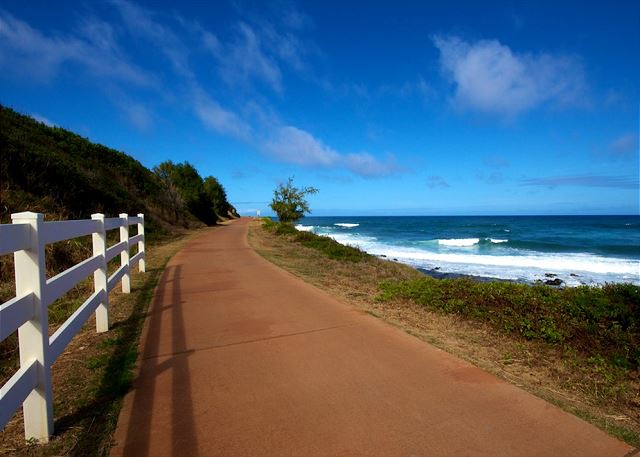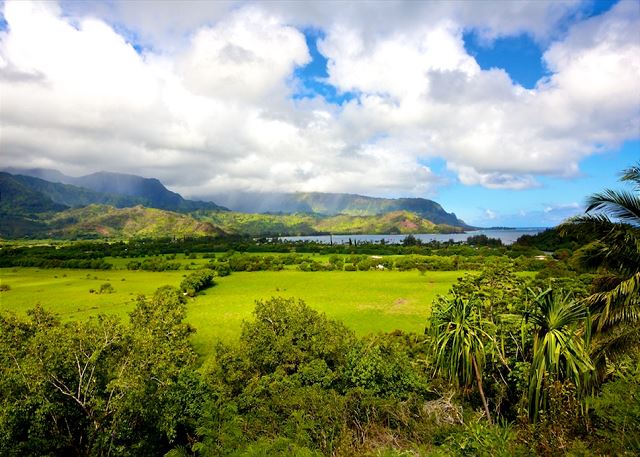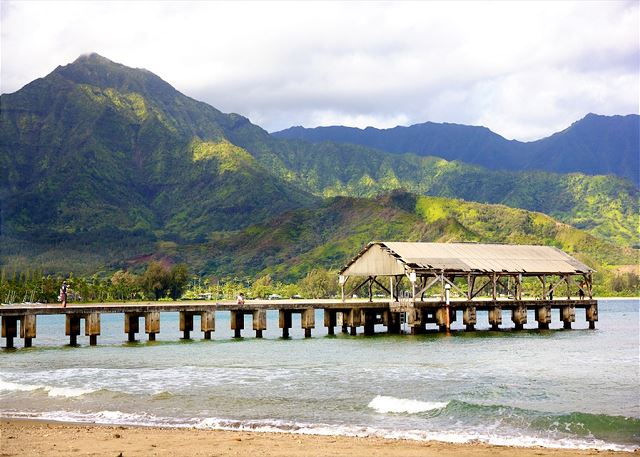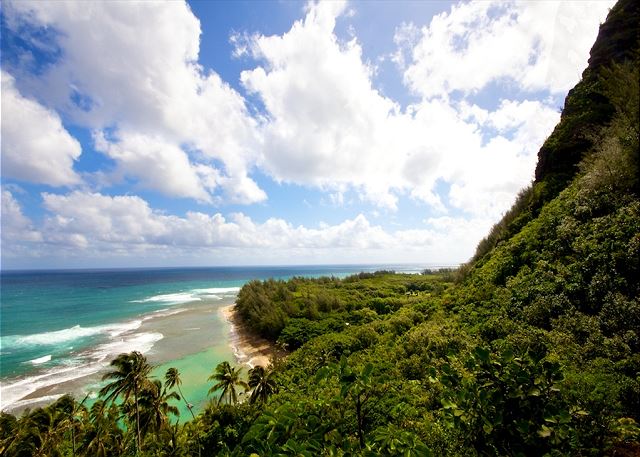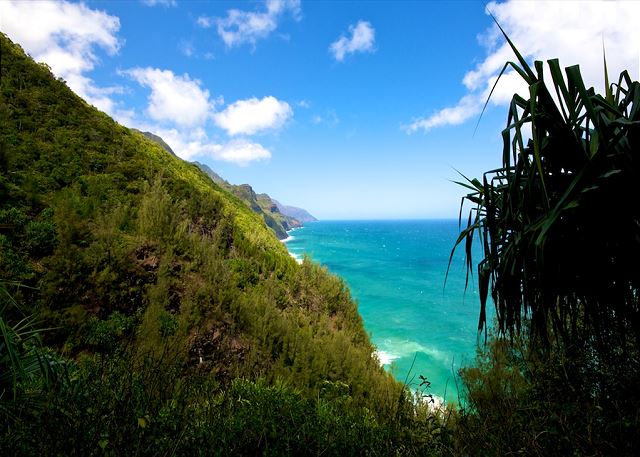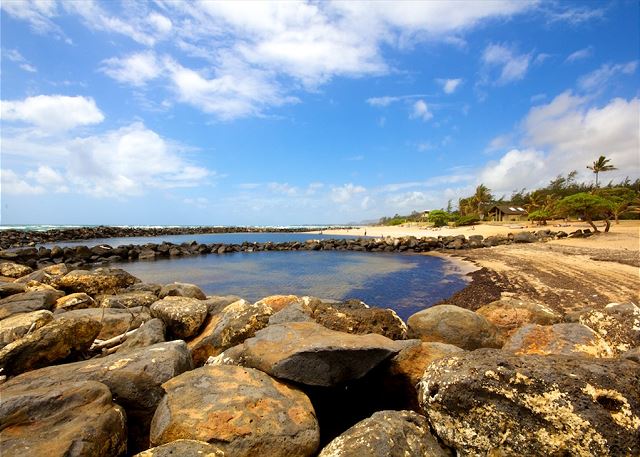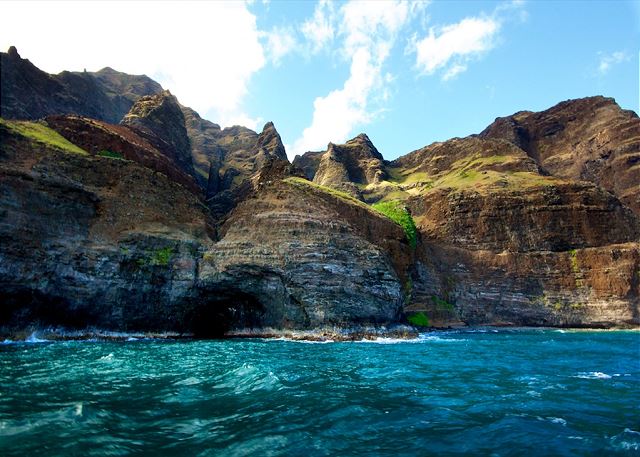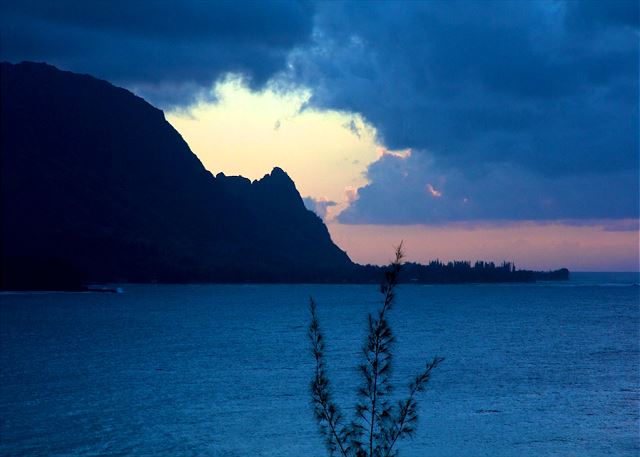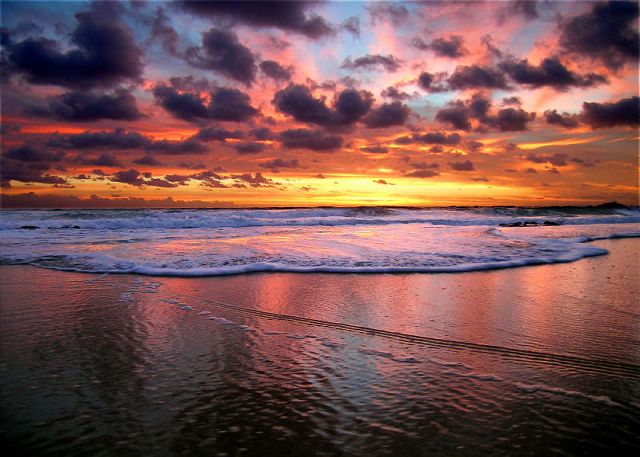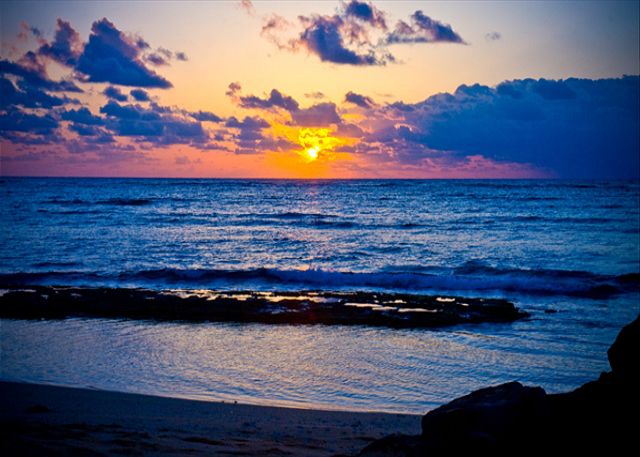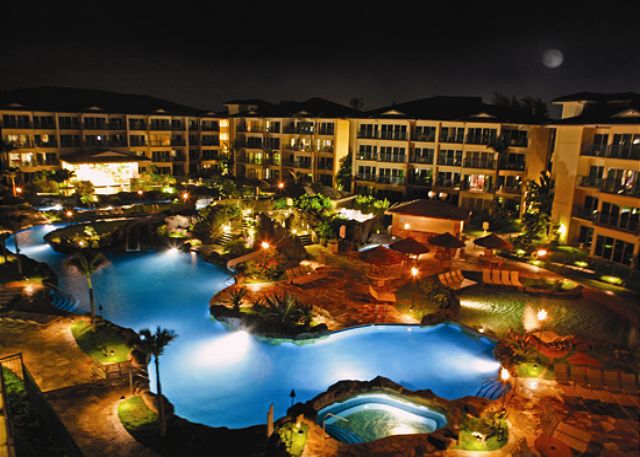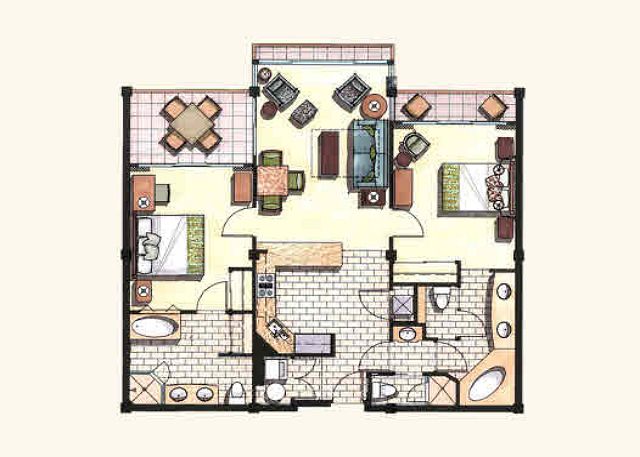 At the forefront of East Shore accommodation is the Waipouli Beach Resort. This World Class Resort provides luxury at your fingertips and offers opulent amenities for a variety of occasions.

This two bedroom, 3 bath suite features 2 King beds and and sleeper sofa, easily accommodating 6 people & making this a double master suite! With impressive interior views of the cascading tropical pool, you can also enjoy fresh sea breezes and sunrise skies from your private lanai.

The stylish interior is furnished with solid collectable hardwood pieces by renowned interior designer Philpot's and Associates, complimented by the Merbau hardwood crown molding and doors throughout. The stately kitchen is appointed with a Wolf glass cook top and oven, Sub-Zero refrigerator, GE Profile microwave, Fisher Paykel dual dishwasher drawers, granite counter tops, onyx back splash and African mahogany cabinets. The bathrooms feature two soaking tubs with Peruvian travertine stone surrounds and three showers to refresh after a day of adventuring. Enjoy the clean design and convenient location, with the beach and boundless Kauai adventures just beyond your private lanai.

- Located in Kapaa Town (East Shore).

- This impressive oceanfront resort features a variety of privately owned suites, condos, apartments and penthouses with state-of-the-art amenities at affordable prices.

- Amenities include central A/C, concierge service, fitness center, business center, tropical lagoon pool, jacuzzi and access to Oasis on the Beach (exceptional oceanfront restaurant).

- Centrally located on the Royal Coconut Coast, just steps away from restaurants, shops and the Kauai Bike Path. Great location to watch the sun and full moon rise!

Perfectly positioned to accommodate the desires of everyone, the East Shore of Kauai is rich with possibilities. Flanked by epic coastline and threaded together by the public bike path, this centralized location is the social hub of Kauai. Having recently experienced a trendy transformation, the Old Town of Kapaa maintains its historic charm, yet boasts novel offerings. The towns of Anahola, Wailua and Lihue also comprise the East Shore, and carry their own unique appeal. With diverse establishments and activities, you can explore cafes, restaurants, boutiques, adventure tours, aquatic explorations and more on Kauai's East Shore.

One of the most revered places on earth, Kauai inspires a state of awe within all of us. Brimming with beauty, the oldest inhabitable Hawaiian island has both withstood the test of time and matured into a land of fertile abundance. Lush jungles, white sand beaches and the alluring ambiance of aloha enchant each moment. Offering exceptional accommodations, adventures, cuisine and culture, vacationing on Kauai is a dream come true.

TA-010-489-8560-01
| | Nightly |
| --- | --- |
| August 16 - December 14, 2021 | $380 |
| December 15 - January 05, 2022 | $429 |
| January 06 - December 14, 2022 | $380 |
| April 15 - June 14, 2022 | $380 |
| August 16 - December 14, 2022 | $380 |
Children's Ocean Swimming Area

Oceanfront Bar and Grille
Thank you for entering your review. The review will become available to the system shortly.
57
57
Overall Rating:
4.7368
4.7368
Family vacation
Rating:
1
4
5
Review Date: 07/02/2021
We had been planning this vacation for 2 years. We had planned the vacation for the summer of 2020, but of course had to postpone our trip. They were very accommodating and let us postpone for summer 2021. The resort was beautiful and the location was great.
Excellent place for a vacation
Rating:
1
5
5
Review Date: 03/02/2020
Great location. Excellent amenities in pool area for young kids.
Manager Response: 03/03/2020
Response from Kauai Exclusive Management LLC
Thank you for choosing Kaua'i Exclusive as your host during your time here on the island! We hope to host you again in the future! Mahalo Nui, The Kaua'i Exclusive Management Team
Work/Vacation stay
Rating:
1
4
5
Review Date: 11/10/2019
Overall was a great place. Pools were nice with water slides. Brought my family closer together.
Excellent stay through Kauai Exclusive Management at Waipouli!
Rating:
1
5
5
Review Date: 09/30/2019
Great experience, and stay. Beautiful resort, and well maintained. The view and restaurant were fabulous.. Quiet and relaxing. Worked with Joshua (who answered his cell and worked with us an hour at 11pm!) who helped us out of a bad experience at our previous place and got us a spot at Waipouli, saved our 25th anniversary trip.
The beautiful island of Kauai!
Rating:
1
5
5
Review Date: 05/31/2019
This was our first trip to Kauai and it was amazing! B202 was just like the pictures. Very spacious 2 bedroom 2.5 bath condo. Overlooking the wonderful pool and lazy river with a partial ocean view. The condo was very clean and provided the basic amenities required and allowed you to cook all of your own meals. We thoroughly enjoyed the 4 communal BBQ's by the pool. You just have to time out when you are going to cook as it does get busy around supper time. The directions provided by Kauai Exclusive Management company on how to use specific appliances and how to get to the resort from Lihue airport were very accurate and easy to follow. The location of Waipouli Resort is great. A central hub to all tourist attractions . It only takes a 30-45 min drive to get to either side of the island. Safeway is located directly across the street from the resort. We became club card members and this made groceries more affordable.
Joshua and his team were beyond accommodating and answered any question we had and replied in a timely manner. I would definitely stay here again and would recommend it to anyone looking to travel to the beautiful island of Kauai. We stayed in the off season (May) and this also helped to make our trip more affordable. The island seemed less busy but all of the activities, attractions and restaurants were running as per usual. We enjoyed Mountain tubing with Kauai Backcountry Adventures, kayak/hike/swim in a waterfall tour with Kayak Wailua, ATV and Zipline tour with Princeville Ranch . One of our favorite restaurants was Duke's (20 min drive into Lihue) and of course a great authentic shave ice at Wailua shave ice in Kapa'a is a must! The weather was a consistent 27-29 degrees Celsius everyday with lots of sun and shady times. We had an overall amazing 2 week trip! Can't wait to plan our next one to Kauai!
Waipouli B202
Rating:
1
4
5
Review Date: 02/18/2019
The unit is nice. Here's the details.
The king bed is way too soft to sleep in. The other bed is much firmer and way better, We ate out on the patio with table/chairs. One of the screen doors was broken. Each room has a bathroom attached. Washer and dryer is available. There were two spoons. I bought a package of plastic spoons. There were 4 plates, 4 larger plates, 4 bowls. No beach chair. No beach umbrella. Two beach bags. Stocked with toilet paper, soap, and 6 / 8 towels, hand towels and wash clothes. The subzero fridge is weird. You open and it closes super duper tight. And there is no water dispenser. though there is ice. In order to open the fridge after closing is almost impossible. There is a light at the entrance to get into the place. So... I do not understand any wait to go left, right or straight. You have a traffic light. Great location.
The pool is a bit cold. Warmer on different days of the week. The slides were super fun. The hot tub was hot and nice. And, no kids under 16 for two of the three, most parents made sure to enforce this rule with their children (thankfully). The restaurant, nice staff for drinks, but extremely expensive. The codes to get into the unit and the pool. Yes, lots of numbers, but it was easy to do— just have to think slow, try slow...Cable was nice to have.
The kitchen for the restaurant is completely in front of this unit— though you're up on the second level— If you were on the first level, anywhere within this complex, you are in a fishbowl and on display!
What I didn't like was the air conditioner being on energy saving. It doesn't work if doors are open ( makes since) but it also doesn't work if you aren't moving. So at night... several times durning the night, I woke up hot. If they added a ceiling fan, all would be OK. They make you put on wristbands. The parking was plentiful. The mgt staff was very nice. Overall: We would stay here again.
Family vacation
Rating:
1
5
5
Review Date: 12/28/2018
The resort was great. We had family in two other condos in the same building. Our condo was very nice but the kitchen was much less stocked that those our family were in. There just weren't enough glasses, silverware, or plates. There were enough towels and other than some minor mold in the showers, the place was very clean. Check-in and check-out were easy and I would stay with them again.
Nice Experience
Rating:
1
5
5
Review Date: 11/28/2018
A newer cleanlier beach side condo. Had many depatartment stores and restaurants in walkable distance. Beach was good and not crowded. almost like a private beach. Condo was in a great condition with all high end appliance and didn't had any complaints. Kids had tons of fun in the pool, Jacuzzi and the water slides.
Waipouli Beach Resort- Family friendly destination
Rating:
1
5
5
Review Date: 10/04/2018
Great central location for sight seeing. Walking distance to stores and restaurants that would meets the needs of both local residents and tourists. The resort grounds were great for a family. I really wanted to share the experience with my grand kids.
FamilyVacation
Rating:
1
5
5
Review Date: 07/24/2018
Lovely time! the grounds were nice, although the pool girl dispensing towels, not the friendliest. Our condo was very clean and had everything we needed, even supplies such as beach mats, umbrellas, and chairs, for outings! Rental company was great and got back with us in a timely manner. The only issue was the code to enter our room. The keys kept getting stuck so that was a bit frustrating. We had to press slowly and be certain it popped back up before pressing the next number. Will stay again!
Excellent
Rating:
1
5
5
Review Date: 07/04/2018
The resort was exactly as described and pictured online. The resort and room was very clean and the pool not overcrowded. It is not really a swimmable beach-but that's most of the beaches in this area. Very spacious room/condo. Just what we were looking for. Would recommend to family and friends!!
Great but master needs a new bed
Rating:
1
4
5
Review Date: 06/29/2018
We loved our stay here. However, my husband and I were exhausted because we could not get comfortable in the King bed. It's horrible and desperately needs to be replaced. There are sunken in spots on each side and our backs ached so badly every morning.
Manager Response: 06/29/2018
Response from Kauai Exclusive Management LLC
Aloha Ashley, Thank you for being our guest and for your feedback regarding B202! This is the first feedback we have received about the bed not being in good shape. We will look into this and if the bed does need to be replaced we will definitely make sure that happens. Again, thank you for being our guest and for your feedback. Mahalo, Kauai Exclusive Management
A206 B 202
Rating:
1
5
5
Review Date: 06/14/2018
We loved our family vacation in Kauai. Waipouli beach Resort was wonderful. Location was center to the Island. We traveled North ans South and there was no problem getting were we needed to be. The condo was clean and the view was beautiful. I will tell all of my friends.
Great Location
Rating:
1
4
5
Review Date: 05/01/2018
Great property location and amenities on site. Mid-island location is ideal for day trips to the North and South Island.
Vacation
Rating:
1
5
5
Review Date: 04/22/2018
We had a great experience at Waipouli Beach Resort. The condo was beautiful & had everything we could need; a full kitchen with all utensils & supplies necessary, as well as extras like the beach chairs & umbrellas.
The Best By Far
Rating:
1
5
5
Review Date: 04/22/2018
Everything was first class.
This place was awesome!!
Rating:
1
5
5
Review Date: 02/06/2018
We had a 2 bedroom, 2 bath unit with a full kitchen. We didn't hang out in the room too much, but when we did, it was just as comfortable as being at your own home. Everything was conveniently located, so it wasn't a big deal to go shopping or surfing. We can't wait to use these units again!!
Excellent accommodations!
Rating:
1
5
5
Review Date: 11/24/2017
Wonderful central location with all the necessary amenities for a fun, relaxing time in Kauai. We had a beautiful view of the ocean in a very clean, well kept room, we love this resort and have been back three times so far. We will definitely book room B202 in the future.
Great Unit!
Rating:
1
5
5
Review Date: 07/19/2017
Wonderful location and nice views
Grand way to end our holiday on the island
Rating:
1
5
5
Review Date: 04/24/2017
We were referred to this condo by a friend. Our entire experience from searching the Resort's website to deciding upon a condo was positive. Our contact person was professional, informed about the resort and available options. We had stayed in Princeville for a week and were ending our holiday at this resort-hoping it would allow further relaxation, beach combing, pool time, exceeded our expectations. Our broken coffeemaker was immediately replaced and our contact quickly checked back with us to find out how everything else was going. We were impressed by the cleanliness of the two bedroom unit and the high end kitchen appliances. Our stay was wonderful- we hope to return next spring. Thank you for your professionalism, discrete way of checking in with us....wonderful time.
Manager Response: 05/07/2017
Response from Kauai Exclusive Management LLC
Obviously missed the YES to recommending us to others .. LOL .. Room now has 2 NEW king beds .. Making this a double master!
B202
Rating:
1
4
5
Review Date: 09/28/2016
We had a wonderful vacation. Great apartment for a family, very comfortable beds and nicely furnished. The kids loved the pool and slides. Good location as you are half way between north shore and west coast. The Exclusive Management team provided outstanding customer service, very professional and always helpful. Thank You Daniela
very clean - Great pool and some views of the water
Rating:
1
4
5
Review Date: 08/17/2016
The condo is well appointed with two ensuite bedrooms - one king and one queen. The furnishings and appliances are high end. Unfortunately the kitchen for the on site restaurant is directly in front of the lanai and blocks most of the view to the pool, it is not that noisy though which was a plus. THe restaurant on the property is great and the pool is very kid friendly with 2 pools and has several hot tubs and waterfalls for the adults and kids. The spa was very good as well and you can rent bikes and beach equipment right in the lobby. No storage for luggage after check out.
Feb 2016
Rating:
1
5
5
Review Date: 02/26/2016
I was very satisfied with this location. I will definetly stay here again and recommend to friends and family.
2016 Kauai vacaation
Rating:
1
4
5
Review Date: 01/26/2016
overall we had a great experience. room for 6 but had very few dishes to have meals. bought paper plates to eat off of. beach in front of resort was not kept all that clean. Grandkids had a ball with the pool, hot tub and slides.
Manager Response: 01/26/2016
Response from Kauai Exclusive Management LLC
Aloha Gary, Thank you for being our guest in B202! Thanks to your valuable feedback we have updated the dishes in the suite and there is now enough dishes for 6 people to dine with ease! Some dishes were broken by previous guests that we were not aware of so thank you again for bringing this to our attention. We hope to host you and your family again in the future. Mahalo, Kauai Exclusive Management
Great condo in Waipouli resort
Rating:
1
5
5
Review Date: 01/11/2016
Great communication, easy booking, and a great condo. Spacious, clean and well maintained plus added touches like spices and tons of accessories to go with the gourmet kitchen. Beach chairs and umbrellas a nice bonus as well as coolers so beach trips made easy, but the pool and hot tubs made staying at the resort very relaxing. Would highly recommend the Waipouli resort and booking through Kauai Exclusive was one of the easiest experiences I have ever had booking a vacation condo rental.
Great Stay
Rating:
1
4
5
Review Date: 11/30/2015
Beautiful room except for the rain.
AWWEESSOOMMEEEE
Rating:
1
5
5
Review Date: 09/09/2015
Beautiful Property in Kapaa
Rating:
1
4
5
Review Date: 08/26/2015
Overall, we were very happy with our stay at Waipouli Beach Resort. The pool was very nice and not too busy that week we were there. My kids loved the waterslide. It was a bummer that there didnt seem to be waitstaff who came from the restaurant to the pool. I also regret that we didn't stay somewhere where the kids could go in the ocean without driving somewhere. This would probably lead me to stay in the north if we go to Kauai again. The condo was well-maintained and had everything we needed - even laundry soap, which was very much appreciated. It was great to be right across from Safeway.
They could paint the stairwells as they are looking a little dingy. Other than that and the location, and the beach, everything was great.
We had dinner at Verde - great hip Mexican food.
Wonderful experience!
Rating:
1
5
5
Review Date: 08/22/2015
Beautiful, clean, great location!
Waipouli B202
Rating:
1
5
5
Review Date: 08/03/2015
Great accommodations! Awesome pool and amenities.
Great Place to stay !!
Rating:
1
5
5
Review Date: 07/30/2015
Great location, great people to deal with and overall a pleasure !!
WONDERFUL
Rating:
1
5
5
Review Date: 06/22/2015
Beautiful Resort!
Rating:
1
5
5
Review Date: 05/03/2015
Everything was amazing and wonderful! The resort itself was excellent. The restaurant onsite had fabulous food. Kauai in general was my favorite island. This particular unit (B202) was everything we could have wanted. I am hoping to go back someday!
Great Family vacation!!
Rating:
1
5
5
Review Date: 04/26/2015
Very clean. Great place for a family to stay. The pool with the slides and sand, way cool. Staff was very helpful. Would certainly stay there again.
doesn't get any better than this
Rating:
1
1
5
Review Date: 04/08/2015
When our family booked this facility we were looking for a place that had amazing accommodations and an incredible pool for the kids. Also a location that was user friendly. We got all of this and more and we are already planning a return visit but one thing we will change. We will stay longer.
Manager Response: 04/10/2015
Response from Kauai Exclusive Management LLC
No!!!!!!! They say we are #1 and gave us a one star rating!!! If you read this you will see that they had a great time!
Amazing Vacation and Awesome Resort
Rating:
1
5
5
Review Date: 03/23/2015
Condo was amazing - quality furniture, fixtures, and appliances. Everything was top of the line and we had everything we needed - even some fun beach toys, chairs, cooler for the beach. We even left a couple of our own behind for future guests.

Location was perfect - central and about the same drive to west side or north side of island - we did both. Went up to the Canyon one day and went to the end of the road on North Shore another. Southside beaches are an easy drive as well. We spent a coupe days down there but the beaches nearby the resort are nice as well (like Lygate)

Kids loved the pool - slide, beach area, family hot tub that is kept at a more reasonable temp for kids (approx. 99 F)

Safeway store is directly across street from resort (you can just walk across street) also a Starbucks and Coffee Bean within walking distance. We just stocked up on food for the condo and saved a lot of money on going out. Safeway actually has pretty decent Poke and fresh fish in the back and they let you sample it all.

The Outrigger guys were really great and helped us whenever we needed it. By the way if you are an adventurer type you MUST try Island Adventures Kauai - Hawaiian Dundee adventure. It is Rappelling down the middle of a 30 foot and separate 60 foot waterfall.....AMAZING.
Amazing getaway
Rating:
1
5
5
Review Date: 01/26/2015
The resort and accommodations were everything we could dream of and more. The views were amazing and the restaurant was outstanding as well. Pool was seldom busy and the weather was hot. Thanks again for a memorable trip!!
Great Rental
Rating:
1
5
5
Review Date: 01/11/2015
The family really enjoyed our stay, great location, great pool and the condo was very comfortable. The kitchen was well equipped which is a great plus. We will be back
Great stay!
Rating:
1
5
5
Review Date: 11/26/2014
Kauai Exclusive was very helpful and flexible. Sean and Josh really went out of their way to make sure my family and I had a great stay. Waipouli Beach Resort had beautiful rooms and well cared for property.
Waipouli Beach Resort
Rating:
1
4
5
Review Date: 11/02/2014
Very conveniently located for the airport and getting around the island. Claims to sleep 6 but there is only a table to seat 4 and 4 chairs in the apartment or on the lanai. There is not enough room to seat 6 in either area. All the basic that you need were there but not the extras. Could use more serving dishes and a juice extractor would have been good, just a manual one would have done. The ocean was just visible which is what we expected. The stairwells left a lot to be desired, smelly and in need of decorating. There is no lift in block B so we used the stairs except when moving the luggage. Had to ring the management office a couple of times to get the safe up and working. No contact with the Kauai Exclusive concierge, a welcome note with phone number would have been welcome. I had to keep referring to my booking email when I needed to contact someone. The concierge in reception area was very helpful and gave us discount vouchers as well as advice.
Manager Response: 11/06/2014
Response from Kauai Exclusive Management LLC
Aloha Audrey, thank you for your feedback. I have shared some of your key points with our team and we are going to learn from this going forward. Regarding the safe we are sorry it was an issue, we replaced it with a brand new and it is no longer an issue in the suite. Our in house concierge Sonya and Coco are amazing and we are very blessed to have them on our team. They reach out to all of our guest well before arrival via email/phone to help with any questions and or booking activities while on island and it is very unlike them to not have contact with one of our guests. I will look into this and learn from it. Again thank you for the feedback and thank you for being our guest!
Excellent Vacation
Rating:
1
5
5
Review Date: 10/24/2014
Our Stay at Waipouli Beach Resort was one of the best experiences. The place was beautiful, the room was extremely nice, the grounds were well kept and the view of the water and sunrise each morning was breathtaking. Resort had a very nice restaurant and bar right on the water that had excellent food, drinks and view of the ocean. It felt like paradise the entire time we were there. The location of the resort was especially nice. The town of Kapaa was centrally located and had grocery store and pharmacy just across the street providing convenient access to any thing you need at any time. I would Highly recommend this resort to everyone looking to stay in Kaua'i.
Great condo for a family
Rating:
1
5
5
Review Date: 09/18/2014
Extremely clean and well stocked. Beds were so comfortable. Excellent appliances and everything in working order. Condo was quiet. Pool and grounds were super clean and location was very convenient.
nice place to stay
Rating:
1
5
5
Review Date: 09/10/2014
nice place to stay. We cooked our own meals or ate at other places--didn't try the restaurants at this resort but the pool is nice albeit shallow. A rare monk seal visited the beach nearby. great location. The apartment was perfect.
Excellent Facility
Rating:
1
5
5
Review Date: 08/19/2014
Very high quality facilities, excellent pool area, kids and adults enjoyed themselves, room excellently equipped and comfortable, very convenient to outside facilities, good eating within walking distance. Our room had fast, dedicated internet. Concierge service from Kauai Exclusive was fantastic both before and during our stay, setting up numerous challenging activities (we were a large group).
Beautiful Unit
Rating:
1
5
5
Review Date: 07/25/2014
The accommodations were great. The two bedroom unit was beautiful and had all that we needed including full kitchen. It even had beach chairs, ice chest and beach umbrella. It had a small view of the ocean from the terrace.
Stunning place!
Rating:
1
5
5
Review Date: 06/01/2014
All I can say is WOW! We were blown away - gorgeous resort, perfect room for the best price around!! We didn't want to leave - we will definitley stay again in the future.
luxury condo in a great location
Rating:
1
5
5
Review Date: 02/18/2014
If you like condo resorts, this one is tops. Everything was top rate, including the very responsive property management folks at Kauai Exclusive. Safeway across the highway and many restaurants nearby. Waipouli is about equidistant from the north and south shores, so driving/sightseeing isn't a chore. All told, a very good experience.
Unexpected Surprise!
Rating:
1
5
5
Review Date: 10/16/2013
Beautiful and thoroughly pleasant vacation accomodation. Was not expecting this nice and, in so many ways, perfect! Josh was extremely responsive and Sonja a great concierge. A big MAHALO to everyone.
Perfect Anniversary get a way
Rating:
1
5
5
Review Date: 09/22/2013
It was in a very convenient location and very well maintained will definitely stay there again.
Waipouli Resort - Fabulous place to stay
Rating:
1
5
5
Review Date: 08/28/2013
We had a wonderful vacation, the resort was terrific, there was nothing we would change. We would definitely go there again,and deal with the same reality company. Fabulous resort. Thank you for making our stay so relaxed and hassle free.
kauai paradise
Rating:
1
5
5
Review Date: 08/08/2013
Josh and his staff at Kauai Exclusive were outstanding to work with and we were extremely pleased with our recent stay. The unit (B202) was clean, well maintained and had every amenity we could ask for. Josh and his team were great to work with before and after we arrived. Things couldn't have gone more smoothly and we look forward to returning.
A Great Place to Stay
Rating:
1
5
5
Review Date: 07/11/2013
Everything was very nice and just like the website indicated. There was only one restaurant on the property but that was only a minor disappointment...there are many places around the property to eat. Waipouli Beach where the resort is located is not for swimming so that's kind of a let down, but it's great for taking sunrise pictures and morning walks along the beach. Overall, we had a great stay and the condo had everything we needed and it was beautiful.
B202 Super Suite!
Rating:
1
5
5
Review Date: 06/20/2013
We had a great time in Kauai at the Waipouli Beach Resort. The beds/linens were super comfy! B202 faces the pool with a glimpse of the ocean. It was very quiet and clean. The kitchen was well stocked with utensils and beautiful appliances. We used the grills by the pools a couple of times and had a great time visiting with other cooks. I wish the beach had been better for swimming, but we were forewarned.
Another Day in Paradise!
Rating:
1
5
5
Review Date: 06/02/2013
Fabulous! Weather was perfect, accomodations were perfect, near the ocean and shopping. Only a couple of issues: the restaurant was closed at 3pm 2 times for a private party without notice to the guests ahead of time. Also, the kitchen for the restaurant is about 50-60 yards away and the food arrives warm not hot at the tables and at times was not covered on the walk to the restaurant.
A Great Resort and Great Value
Rating:
1
5
5
Review Date: 05/27/2013
We loved our stay at Waipouli Beach B202 and would stay there again. The room was clean, well-equipped and large enough for 4 adults and 2 small kids. We were delighted to find loads of towels, beach toys and chairs, a cooler, spices/tea/olive oil, a brita pitcher and many other amenities and comforts of home. The room is a great value for an interior ocean view and we appreciated its central location. There were many families with small kids staying there - our 2-year-old daughter loved the water slides and met lots of other toddler-aged friends in the kiddie pool. Overall we had a great stay and would recommend it to others.
Great Unit !
Rating:
1
5
5
Review Date: 01/27/2013
We loved this place it was awesome what a great view. The only thing we noticed was the dish washer was broken hopefully they fixed it other than that we had a great time. Josh is the manager there and he was one of the best people we have ever dealt with he had a great attitude and very quick to help.
Beautiful well equipped condo!
Rating:
1
5
5
Review Date: 01/10/2013
Our unit was facing garden - was very well equipped with everything you could possibly need. I loved the upgraded kitchen and bathroom. Very large unit for 2 couples with extra bathroom off kitchen. Each suite had its own bathroom so very private and comfortable. I loved he pool and hot tubs - there are 3 and 2 are dedicated to adults. Everything you could want for a perfect vacation.
Safeway, Foodland, Longs Drugs, Starbucks and many more shops are right across the street. Perfect location.
Your request has been sent. We look forward to meeting all your vacation needs!
Use of this website constitutes acceptance of the KauaiExclusive.com Terms and Conditions and Privacy Policy.
©2020- Present KauaiExclusive.com, Inc, All rights reserved. | Website Design by Beyond Pricing