pili-mai-poipu-12c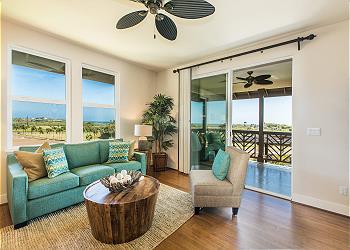 Pili Mai 12C
https://www.kauaiexclusive.com/rentals/properties/pili-mai-poipu-12c/
Pili Mai 12C | Vacation Rental in Kauai
Pili 12C - **NICE 3 BEDROOM Sunset & Mnt **Pool & Fitness Center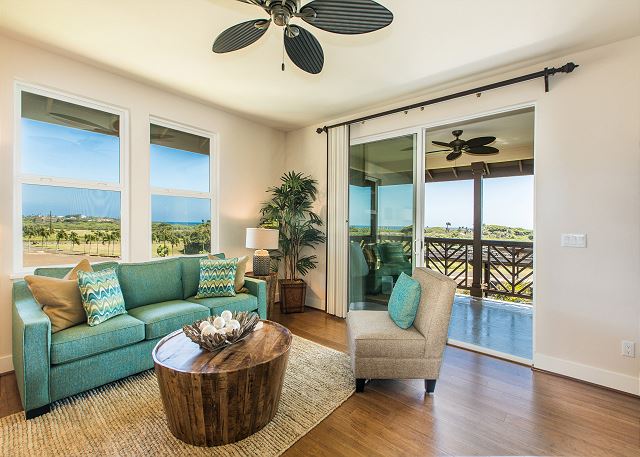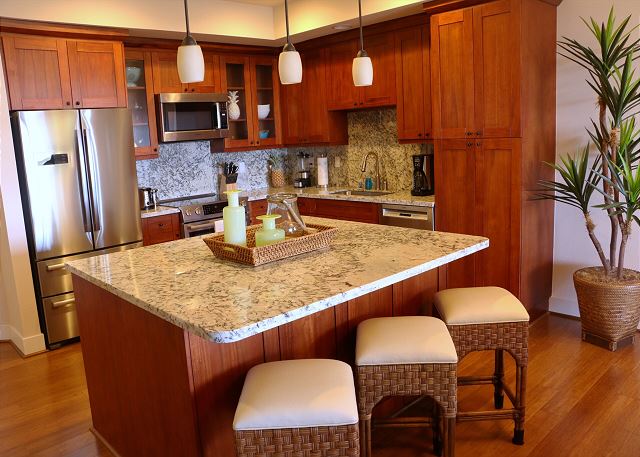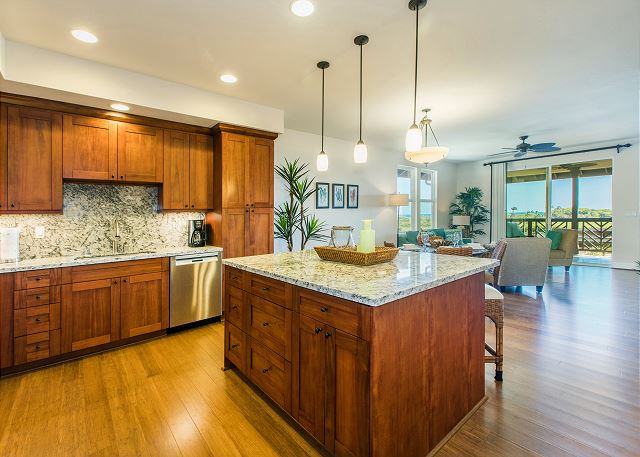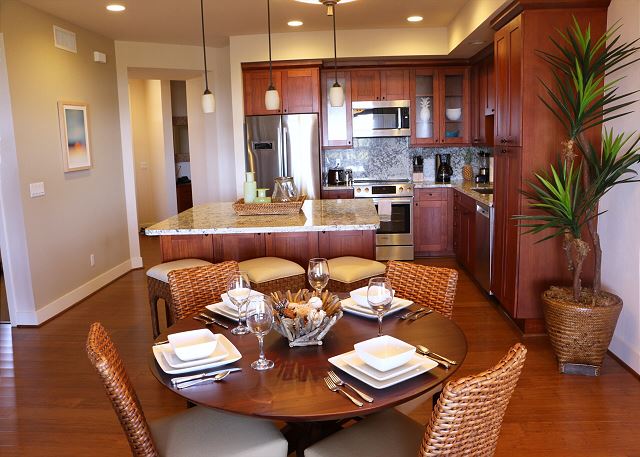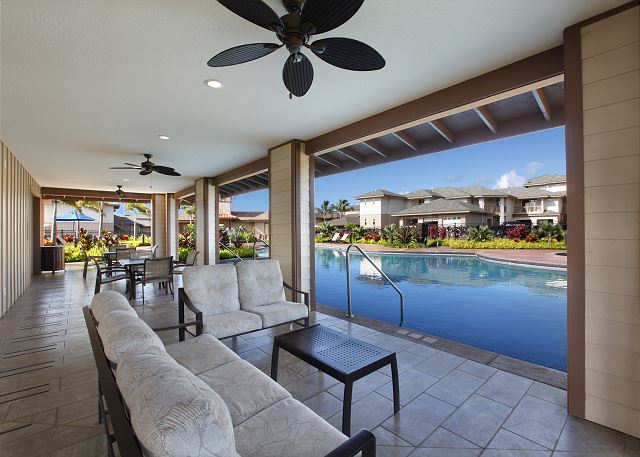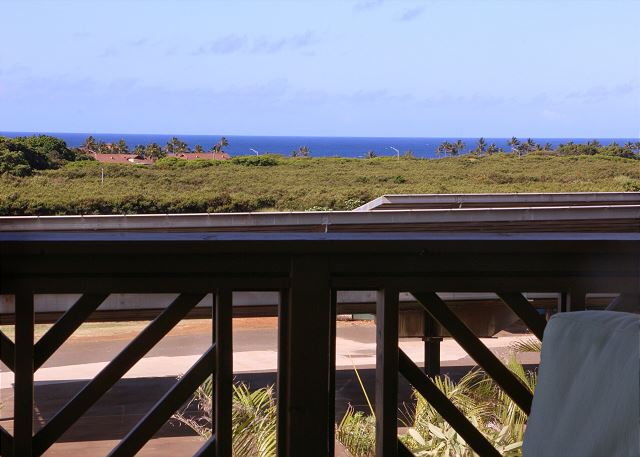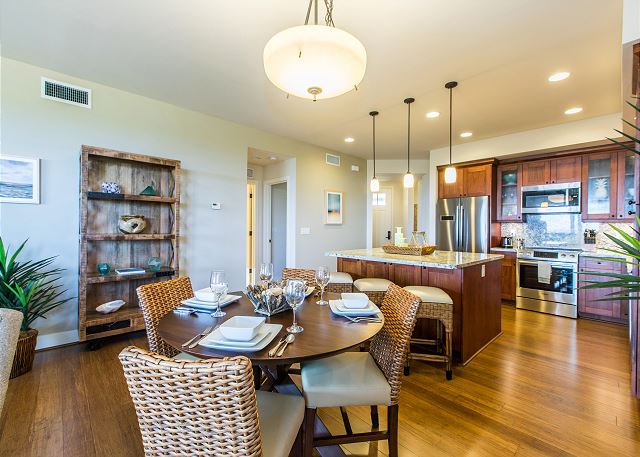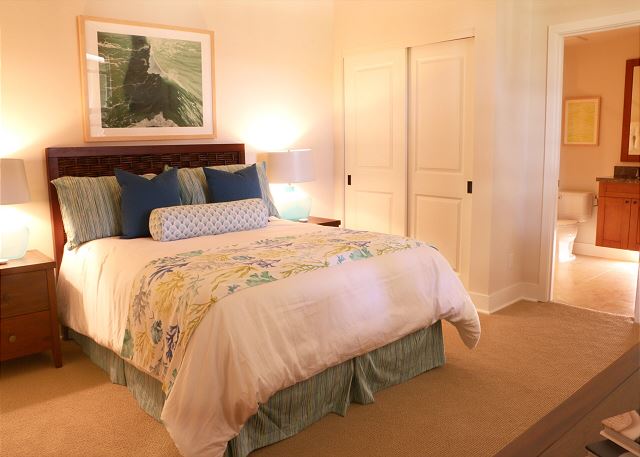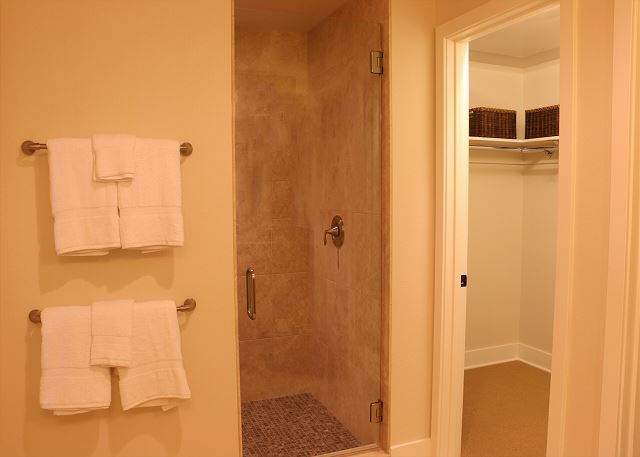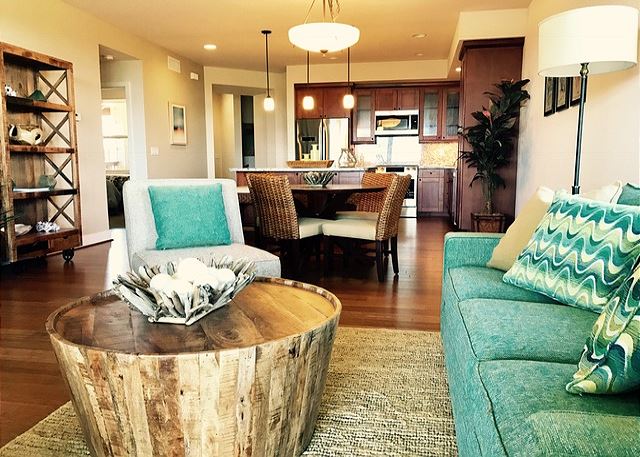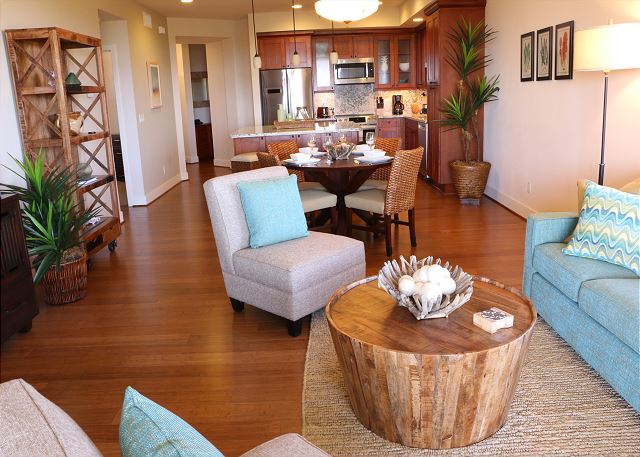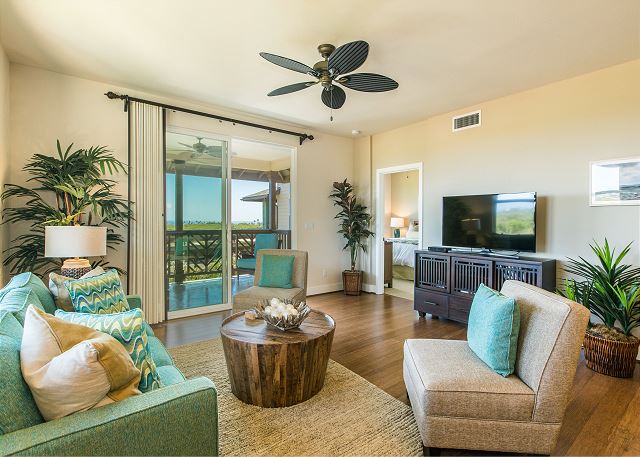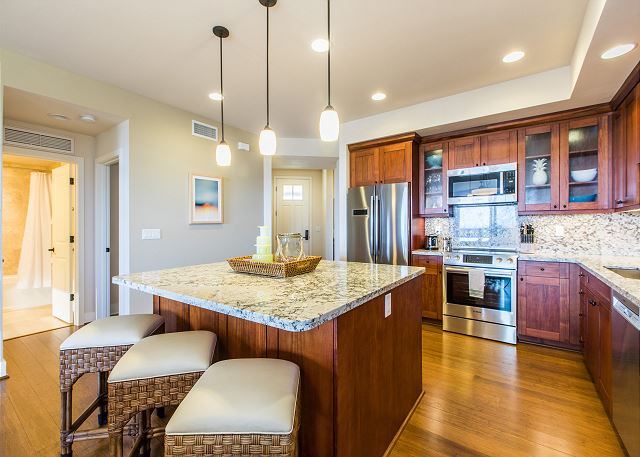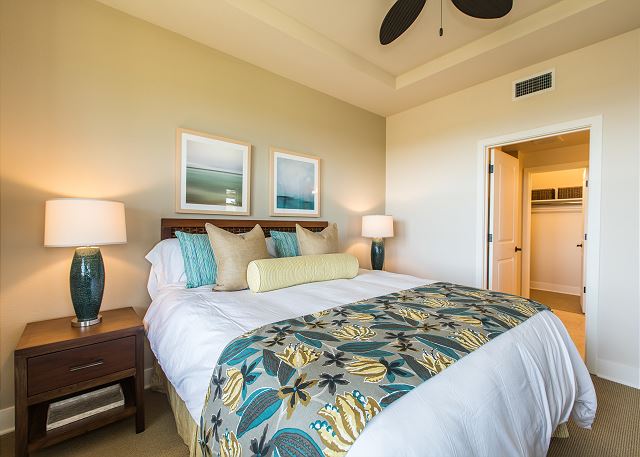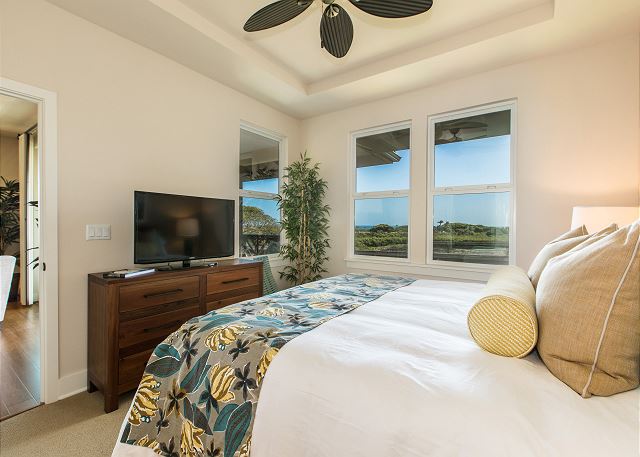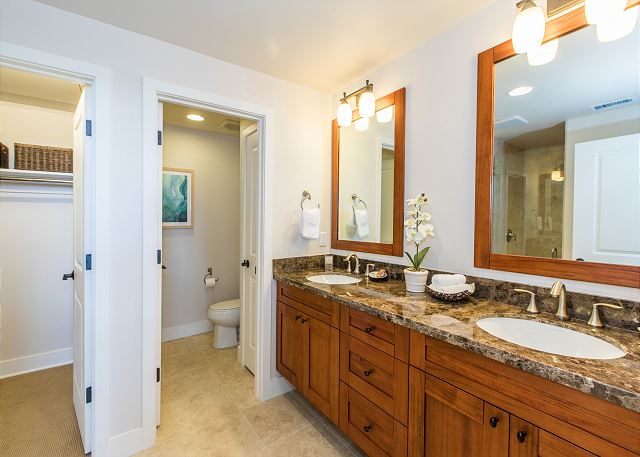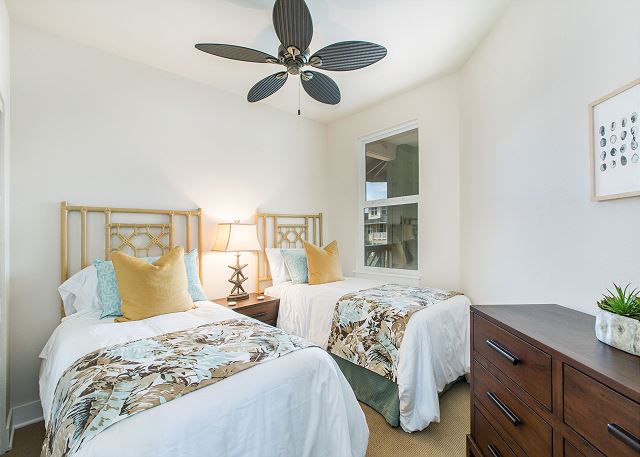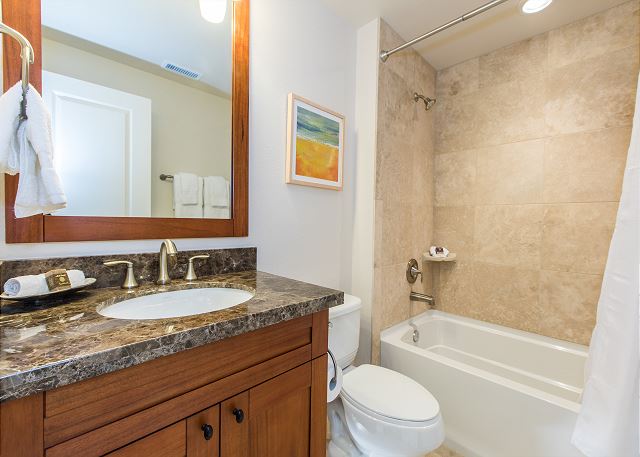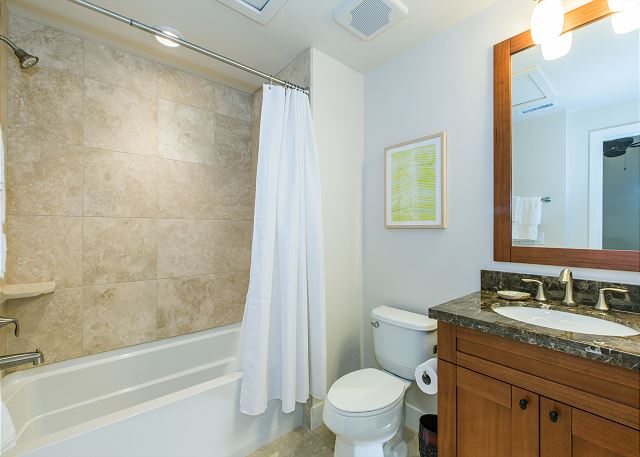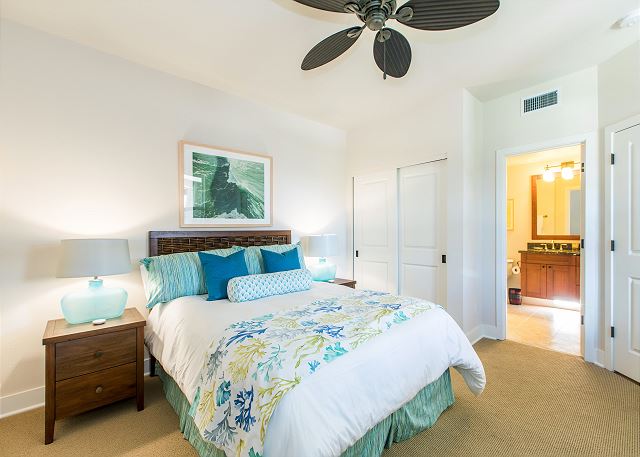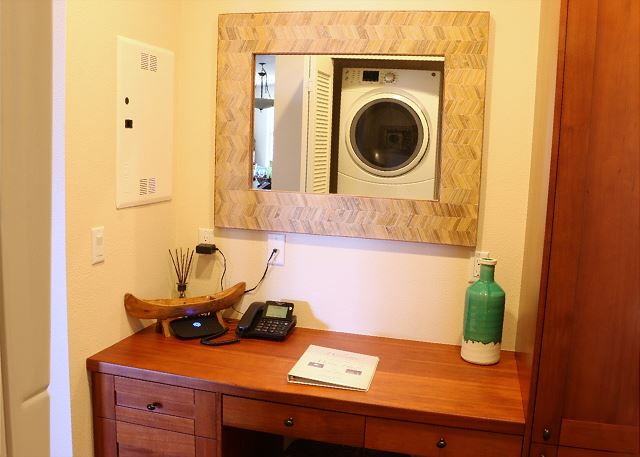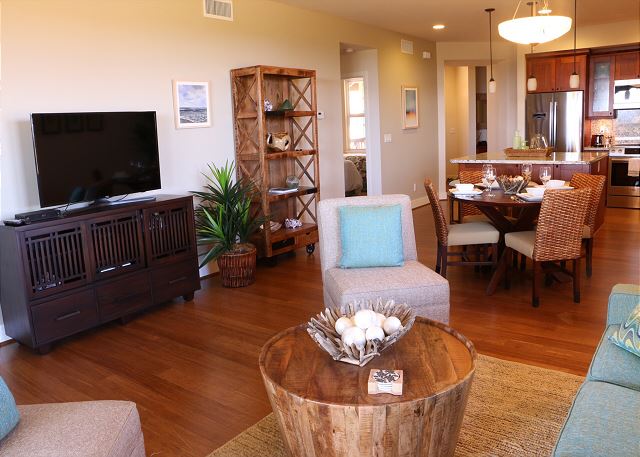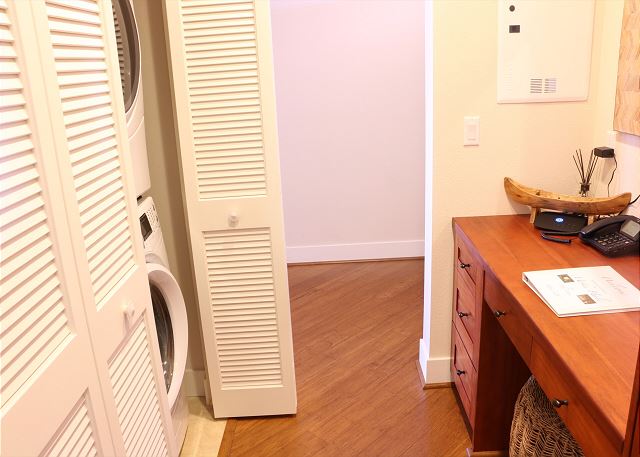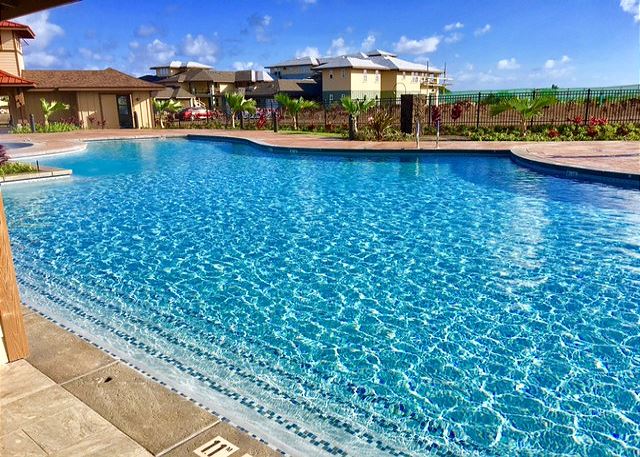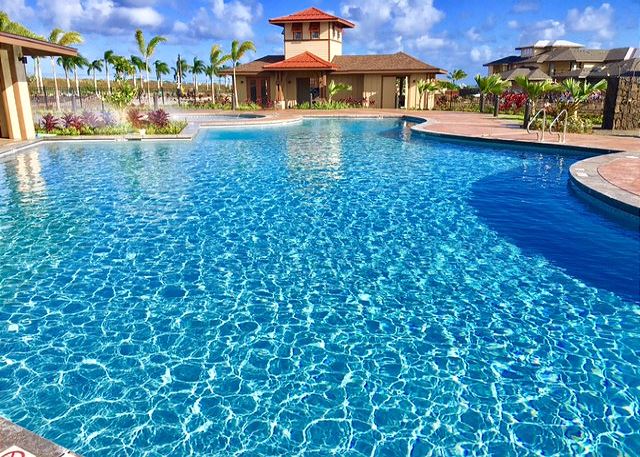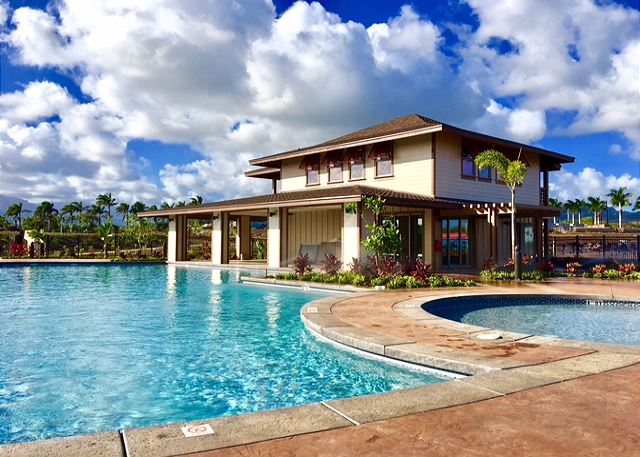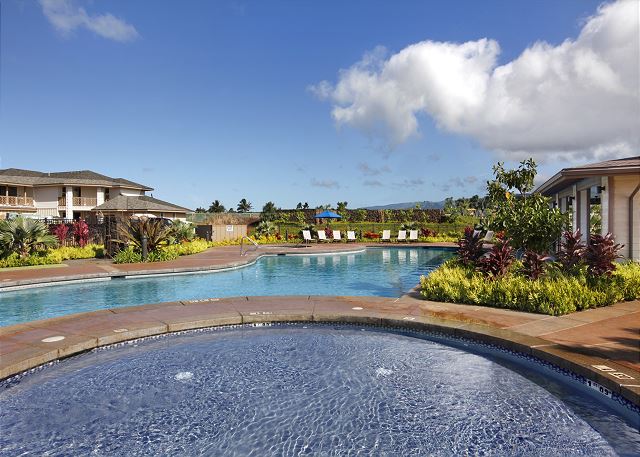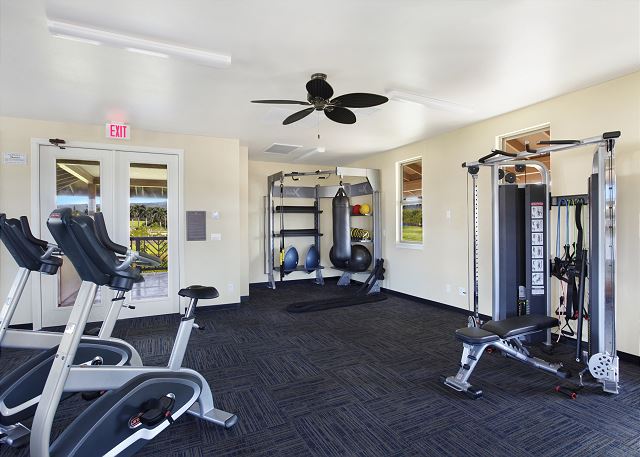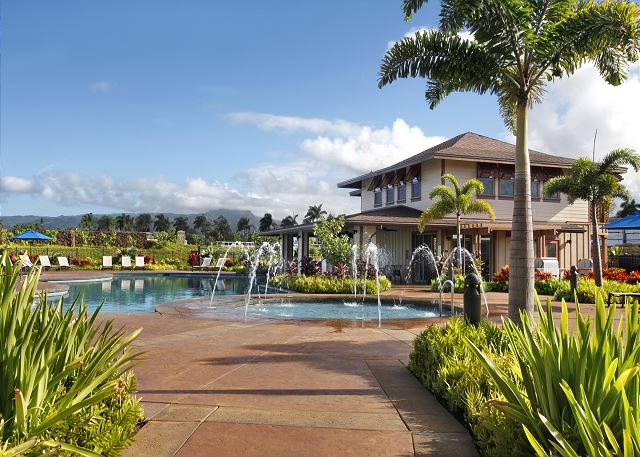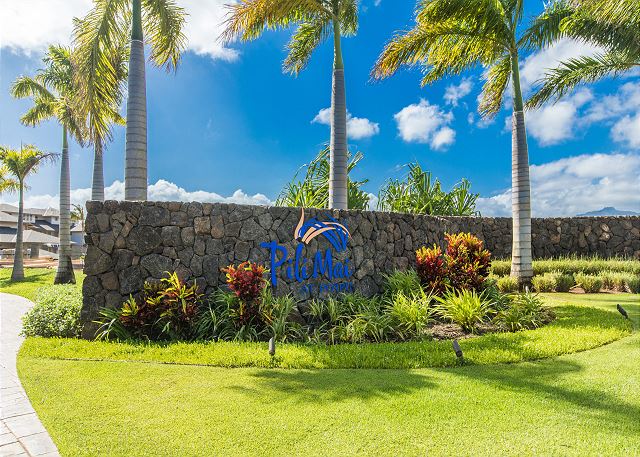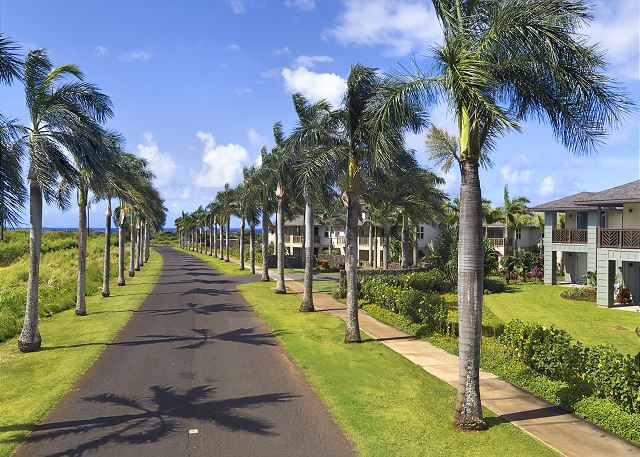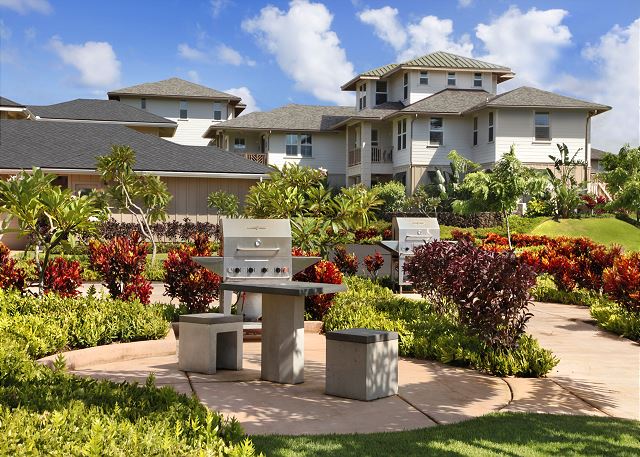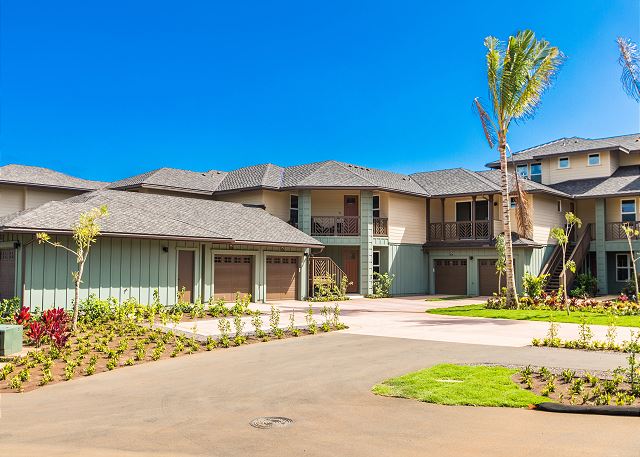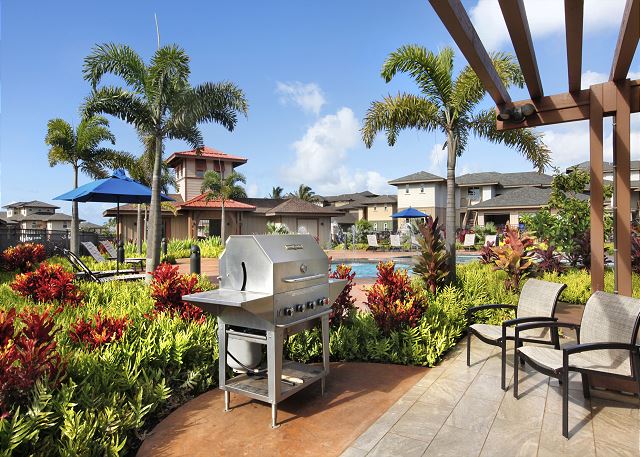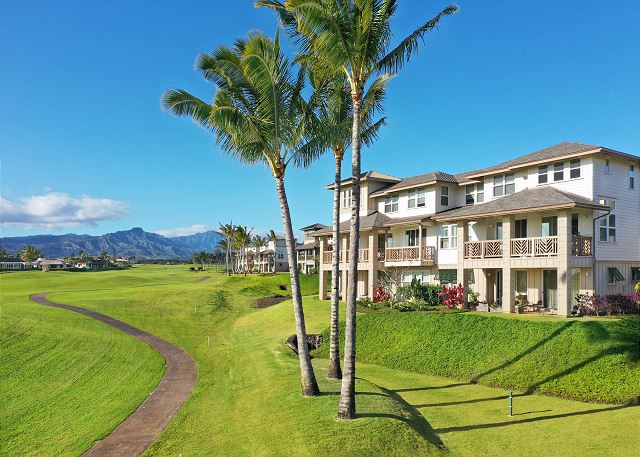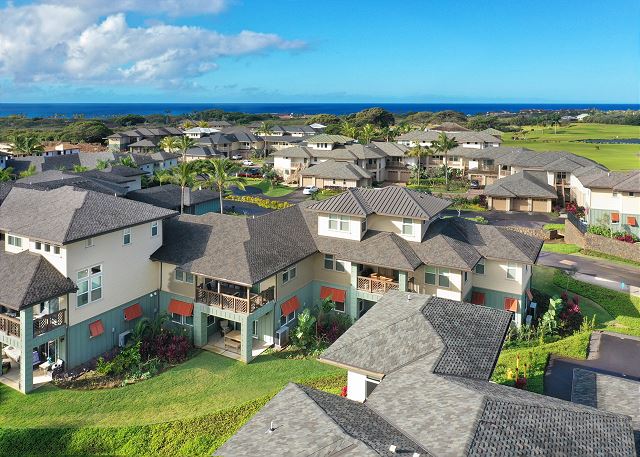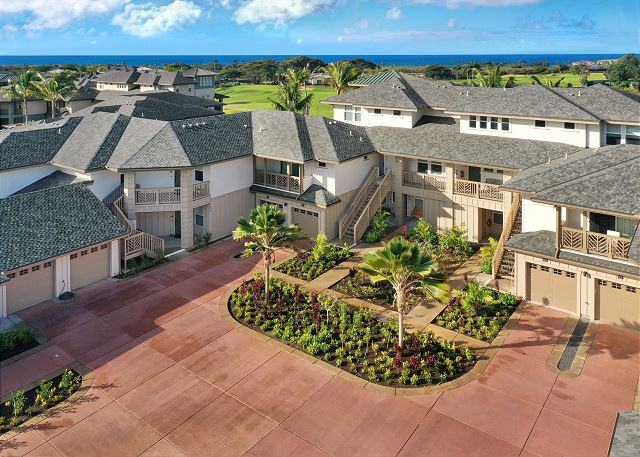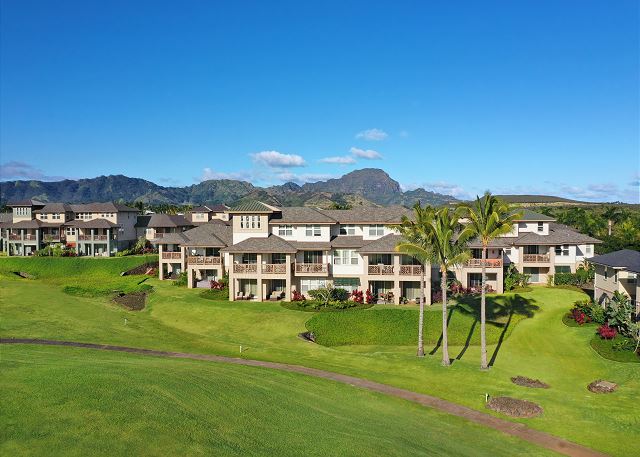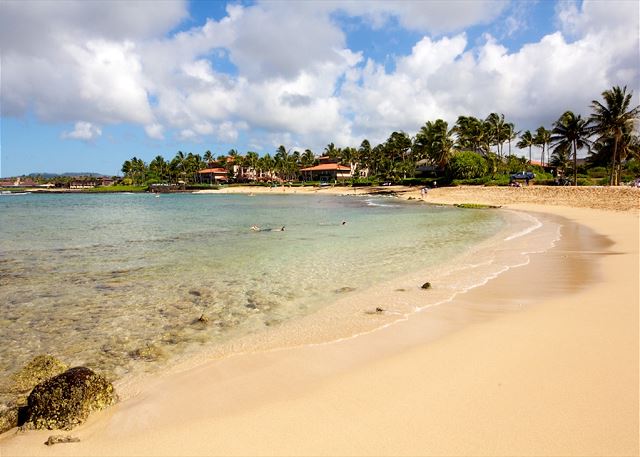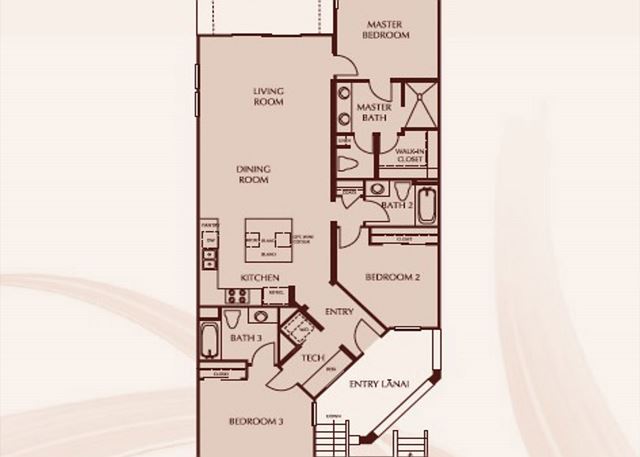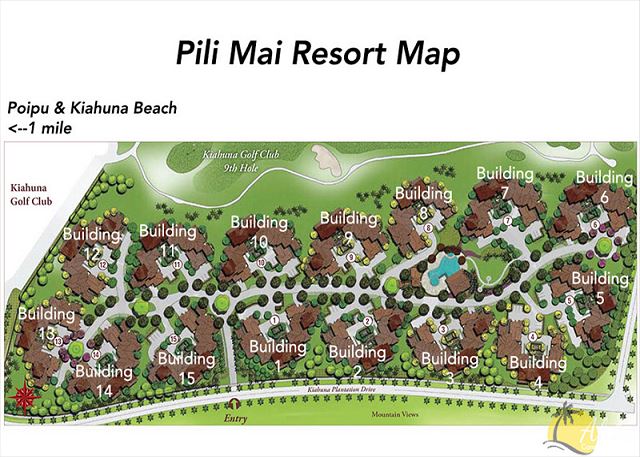 Our Moku Hale, or "Island Home," is peacefully nestled on the Kiahuna Golf Course with stunning views from each private lanai; the front lanai has a picturesque view of the lush

mountains and golf course, while the large back lanai has an expansive view of palm trees and the Pacific Ocean, as well as a breathtaking view of sunsets & whales breaching during the winter months, while summer months hold perfect sunny days with tropical breezes. The #1 rated beachfront on the island, Poipu Beach, is a short 10 minute walk from your suite, with the Poipu Shopping Village just 5 minutes away in the same direction

—making this happily situated condo (12C) at Pili Mai an ideal location for your visit to Kauai. Pili Mai 12C is a single level condo located on the second floor and unlike most of the other units that have one long flight of stairs to the front door with no front lanai, ours has a private entrance with stairs that have a landing every few stairs. Enjoy private access to the entry lanai from the ground floor near the dedicated single car parking stall with additional parking nearby. Your family will have plenty of room to stretch out and enjoy themselves with 3 bedrooms, 3 bathrooms, a comfortable family room, adjacent dining area, 2 spacious lanais, and a large and fully-stocked gourmet kitchen. The kitchen is equipped with Bosch appliances, including a dishwasher; your own private washer and dryer are also in-home.

The master bedroom has a dedicated En Suite bathroom with dual sinks, walk in shower, walk in closet, and flat screen Smart-TV. The 2nd master bedroom has a queen size bed and a dedicated En Suite bathroom as well. The 3rd bedroom has 2 twin beds. An additional Smart-TV is located in the family room and High speed internet is accessible throughout. All this while enjoying the comfort of A/C, a hard to find Commodity in Poipu.

- Located in Poipu (South Shore).

- Luxury vacation rentals in a serene and sought after resort setting.

- Brand new accommodations with access to a private pool, hot tub, bbq grilling area and complete fitness room.

- Features mountain and/or ocean views, depending on the suite.

- An ideal location for golf enthusiasts and families, this resort is seated right on the Kiahuna Golf Course and within walking distance to famous beaches, dining and shopping.

The South Shore of Kauai is where locals go to find sun when it's raining everywhere else. As one of the most popular and well-developed visitor areas on Kauai, sunny Poipu offers sophisticated shops and restaurants with stunning beaches, world-class golfing and exciting attractions. Swim, snorkel, surf and sunbathe at Poipu Beach, then check out Spouting Horn, Allerton Botanical Gardens and hikes along lithified sand dunes! From dawn to dusk, the South Shore of Kauai will satisfy your soul.

One of the most revered places on earth, Kauai inspires a state of awe within all of us. Brimming with beauty, the oldest inhabitable Hawaiian island has both withstood the test of time and matured into a land of fertile abundance. Lush jungles, white sand beaches and the alluring ambiance of aloha enchant each moment. Offering exceptional accommodations, adventures, cuisine and culture, vacationing on Kauai is a dream come true.

TA-197-848-3712-01
| | Nightly |
| --- | --- |
| August 16 - December 14, 2021 | $439 |
| December 15 - January 05, 2022 | $599 |
| January 06 - December 14, 2022 | $450 |
| April 15 - June 14, 2022 | $450 |
| August 16 - December 14, 2022 | $450 |
Thank you for entering your review. The review will become available to the system shortly.
18
18
Overall Rating:
4.7778
4.7778
Tropical Paradise
Rating:
1
5
5
Review Date: 09/28/2021
Outstanding rental, entire family wanted to extend our stay. Beautifully landscaped complex with good pool, clubhouse and workout facilities. Located approximately 1.3 miles form Poipu Beach, an easy drive. Beach parking was free and available making it easy to cart our beach chairs and toys. 3 br, 3 ba unit with plenty of room. Unit well equipped with everything we needed for our stay. Plenty of local restaurants and shops nearby. Weather was great on the South Shore where this unit is located. Management company provided all the service we needed making checkin and checkout a breeze. They also had a concierge service that arranged a few activities for us and provided recommendations. Would absolutely stay here again and would recommend this unit to others. The only downside to the unit which is universal to the entire island are the loud roosters roaming the entire island crowing at all hours of the day (and night). Also, if you are looking for a certain restaurant for a special occasion, make sure to make reservations far in advance.
Great Vacation Getaway!
Rating:
1
5
5
Review Date: 01/20/2020
Absolutely gorgeous vacation apartment. It had everything we needed for a family of six--large kitchen, dining table, and sitting room. The beds were comfortable, the place is spotless. Plenty of bathrooms. The deck is delightful with a distant view of the sea.
The only thing I'd mention is, at first, the sea seemed a good distance away. Better directions as to how to access the beach would have been appreciated to minimize that initial walk when we all go lost.
Awesome spot!
Manager Response: 02/04/2020
Response from Kauai Exclusive Management LLC
Thank you for choosing Kaua'i Exclusive as your host during your time here on the island! We hope to host you again in the future! Mahalo Nui, The Kaua'i Exclusive Management Team
Great Poipu condo for family trip
Rating:
1
5
5
Review Date: 12/30/2019
Large, comfortable and clean rental unit. Close to all activities. Very easy to check in and out. Great location and outside of a typical "resort". Island home away from home.
Great Family Vacation Spot
Rating:
1
4
5
Review Date: 12/11/2019
This place was nearly perfect for our adult family of 5. The location was great, the amenities within the condo were wonderful. Our stay was for 10 days, so having the in-unit laundry was clutch. Also, three separate full baths make all the difference on these types of trips.

Our only issue was that we would have liked for the thermostat/AC to be lower or manually accessible. I can understand the owners concerns for over-consumption of AC (having it on 24/7), but we got warm at night (and the system went into sleep mode) and had minimal recourse.
Pili Mai
Rating:
1
5
5
Review Date: 08/25/2019
Great location, new condo with all the amenities.
Beautiful home, Well Equipped
Rating:
1
5
5
Review Date: 07/02/2019
We were pleased with everything about this condo experience. It was large enough for our family get-together (we needed 3 bedrooms), and the pool was a real hit for the kids. The adults especially liked the keyless entry, both for check in and then throughout the week. There is a chef in our family and he was delighted with the kitchen set-up, and he is not easily pleased!
Pili Mai 12C - Recommended
Rating:
1
5
5
Review Date: 04/19/2019
We had a great stay here. Very comfortable rooms, plenty of bathrooms, nice, well-stocked kitchen.
great condo, new, clean, great appliances, close to the beach.
Rating:
1
5
5
Review Date: 11/15/2018
we had a great stay and the condo was perfect!!!
Comfortable Kauai Living
Rating:
1
5
5
Review Date: 06/24/2018
The condo was just perfect for our family of 5. There was plenty of room to spread out. The kitchen was well equipped. The location was great with everything just a short ride away. We were wow'ed by the place and really enjoyed it tremendously.
Dream Vacation
Rating:
1
5
5
Review Date: 05/11/2018
We had the best time. We even extended our stay at the condo because we were so happy and no one wanted to go home. It was in a great location close to everything. It is very clean and had everything we needed. We are definitely coming back.
Have to drive to beach. It is more than a 10 min. walk.
Rating:
1
4
5
Review Date: 04/01/2018
We loved the unit. Beautiful and stocked well. The stairs were a little bit of a surprise (2 flights). Although we had to drive to the beach it was no trouble and a very nice beach. There was a nice deli at the beach for lunch and snacks. The pool was nice but surrounded by new construction going on all around it with noise and workers everywhere. There is plenty of options for dinner and shopping close by. We would return when the construction is completed.
Manager Response: 04/07/2018
Response from Kauai Exclusive Management LLC
Aloha & mahalo for your kind and thoughtful review of our condo... We have updated our description to let people know that it is a single level on the 2nd floor. And unlike most of the other units that have one long flight of stairs to the front door with no front lanai, ours has a private entrance with stairs that have a landing every few stairs. Also we are sorry you were unable to find the direct path to the beach. We have posted a link in the description showing a map, the distance (1/2 mile or 4 city blocks) and how long it takes to walk from Pili Mai to the Beach. (About 10 minutes depending on your walking speed) although, we usually end up at Puka dogs first for their fresh squeezed lemonade... Mmmm... Best Regards, and hope this helps!
Good vacation
Rating:
1
3
5
Review Date: 12/03/2017
We stayed at the Pili Mai and loved the complex. Even with the complex still under construction there was no noise the bothered us and the workers were pretty friendly. Unit 12C was nice however with sleeping for six there wasn't ample seating for six. The couch in the living room was not very comfortable and could use with a wrap around couch so everyone could sit comfortably. Also there dining room only had 4 seats so tough if you have more than that staying there. It would've been nice to have a patio table with chairs for enjoying dinner outside watching the sunset. There was a car parked in the garage but thankfully we had a larger car that wouldn't have fit in the garage anyway but would've been an inconvenience if we had a smaller car and couldn't park in the garage. A beach umbrella to use would be good but thankfully the rental place near Poipu Beach was cheap.
All in all we liked the place and would possibly stay here again.
GREAT holiday!
Rating:
1
5
5
Review Date: 10/15/2017
Pili Mai 12C was a great place to stay! Three bedrooms and 3 bathrooms gave us all ample space. I traveled with my daughter and two grandchildren under 3. The unit was spacious and had every amenity we needed. They even supplied a play pen for the baby. The garage had beach necessities of chairs, umbrella, boogie boards,sand toys and swim fins. The garage space was too tight for the large Explorer we rented, but there was ample parking outside. The unit came equipped with all the amenities of home ie, fully equipped kitchen, reading material, 2 TVs,lovely lanai etc. We did notice the slider door didn't lock, but it was fixed the same day it was reported. Suggestions to make it even better? Get some extra padding on the mattresses for comfort,the kitchen could use a non stick skillet for pancakes and a flipper. I didn't like the cookware. Everything stuck to the pans. I also suggest checking the AC unit as it " clunked" coming on and off. I'm sure it's an easy remedy. The pool was lovely, but watch the flooring around the pool as it was exceptionally slippery. The grounds were very quiet even though it was still under construction. I did have to stink eye some construction crew who were using expletives while at the pool overheard by guests. All in all though, I give Pili Mai a total thumbs up to any traveller. We would definitely stay here again. This is much better than doing a hotel stay. The location was prime for getting to island adventures.
Manager Response: 10/29/2017
Response from Kauai Exclusive Management LLC
Aloha, we are so happy you had a wonderful stay with us at our Pili Mai 12C... Thanks so much for your feedback.. We have restocked our Kitchen with the nonstick pans and spatula you requested and have updated our cookware and are having our AC Serviced to provide the best comfort and enjoyment! We Look forward to hosting you again & wish you many happy holidays!! Mahalo Again!
Pilli Mai 12C
Rating:
1
5
5
Review Date: 10/12/2017
Very nice, new, condo with garage and great location! Only one mile from Poipou Beach and Brennecke's. Restaurants and Poipou Shopping Village 1/2 mile away. Unit had beach chairs, ice chests, snorkel gear and other sand toys to make our stay very enjoyable.
Heavenly Week
Rating:
1
5
5
Review Date: 08/24/2017
Our family of 4 adults and 2 friends stayed from August 5 - 11 in Pili Mai 12C. It was the perfect place for our Kauai experience! It is brand new and exactly like the pictures portray - except it is a lot larger. The bedrooms are each so private and have their own bathroom. The condo is so clean and well maintained. It is stocked with everything you need: hair dryers, all the bathroom products, washer and dryer with detergent, the kitchen is completely stocked with seriously everything! There are plush beach towels, beach chairs and boogie boards in the garage and coolers to use for picnics on the beach. The beds are comfortable, the air conditioner and fans keep the temperature perfect, the smart TV\'s work with your own Netflix account - not that we watched TV much because there is so much to do and experience on Kauai. There are shops very close for any immediate needs and fun places to eat. Poipu Beach is an easy 10 minute walk away, and an even quicker drive! There is construction all around the property but was not an inconvenience in any way. I never heard a thing from it - just the roosters! It will be even more perfect when the pool opens. Which, I understand, should be any day. If anyone has a larger party - 6 people - this is where you should stay. I have already recommended it to more than one person and we will 100% stay again! Pili Mai 12C might be one of our favorite things about Kauai! Seriously the best!!!!
Loved it!
Rating:
1
5
5
Review Date: 06/13/2017
We thoroughly enjoyed our stay in Pili Mai 12C May 24-June 1, 2017. It is a brand-new condo with everything in perfect condition, well stocked with our every need. The most luxurious part is the three bathrooms. The master bath is particularly large, with two sinks, a separate toilet, and big shower. There is plenty of hot water and the air conditioning is cold. There are lots of towels, including six large beach towels. The deck is a great spot for eating breakfast and reading.

A short drive away is Poipu beach, great for snorkeling and paddle boarding. There are lots of great places to eat nearby. I recommend Da Crack and acai bowls in the little grocery store right next to Da Crack. If you like Mexican food, you must go to Tortilla Republic or to the more casual cantina below it.

Great place to stay, super comfortable and convenient!
Loved Pili Mai 12C
Rating:
1
5
5
Review Date: 04/19/2017
We enjoyed the perfect stay at Pili Mai PoiPu 12C! The condo had a nice home atmosphere which matched perfectly with its name Moku Hale (Hawaiian for Island Home). It had everything our family group needed and more. The condo is beautifully furnished, comfortable, and extremely clean. The kitchen was stocked with everything we needed including all of the essentials like towels, dishes, pot/pans, cooking spices and had classy Bosch appliances. The rooms were very comfortable and nicely spaced from each other. We loved the view from the back balcony, great place to watch ocean waves and relax. The pictures are close to accurate, though I would say the place is bigger then what they depict. The condo is fully equipped with air conditioning, wifi, full size GE washer and dryer, DVD player and 2 Smart TVs (so we could watch our Netflix/Amazon Prime). It was the little details and amenities that really set this place above others and made us feel welcome. We appreciated the provided Tommy Bahama beach chairs, cushy beach towels, and I did enjoy a couple of the books stocked in the TV cabinet. The condo is situated near the beach, shopping centers and great restaurants, yet just far enough away to feel peaceful and private. I was a little hesitant to stay due to the lack of reviews (it is a new condo), but have no problem giving high recommendations to all of my family and friends (plus all of the random strangers reading this). You won't be disappointed in this condo, it is truly stunning! In addition, Josh was easy to work with and very responsive. If I ever make it back to Kauai I will not hesitate to stay here again.
10 Days At Pili Mai 12C
Rating:
1
5
5
Review Date: 04/18/2017
I stayed in 12C for 10 nights. I was most impressed by the spaciousness of the condo, it's bigger in person than in the pictures and the view to the beach is unobstructed and one of the best views in the neighborhood. The condo and surrounding property are safe, quiet and classy. I slept on more then one bed and found them all comfortably firm and the pillows were perfect, best sleep in years. The kitchen had an adequate quality blender, good knives and a tea pot, which was nice. I could tell the owners take good care of the property and want their guests to be comfortable by offering a good variety of benefits, like a well stocked kitchen, plenty of bath towels, laundry, beach towels, beach chairs, a 1000 piece puzzle (so fun) and even books to read. The property manager's taste in toilet paper was rough, so buy your own TP if you like Charmin. I walked to Poipu beach (20 minutes) and ate at several places within walking distance. I rented a surf board from Nukumoi surf shop for $6/hr and found the best waves for beginners to the west of the rocks at Nu Kumoi Point.
Your request has been sent. We look forward to meeting all your vacation needs!
Use of this website constitutes acceptance of the KauaiExclusive.com Terms and Conditions and Privacy Policy.
©2020- Present KauaiExclusive.com, Inc, All rights reserved. | Website Design by Beyond Pricing