pane-makai-house-poipu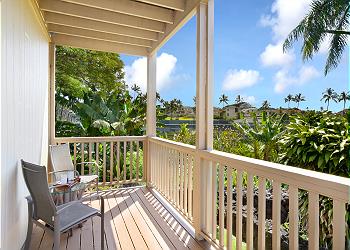 Pane Makai House-Poipu
https://www.kauaiexclusive.com/rentals/properties/pane-makai-house-poipu/
Pane Makai House-Poipu | Vacation Rental in Kauai
Sleep14+ Steps from POIPU beach. Central AC, BEST VALUE in POIPU!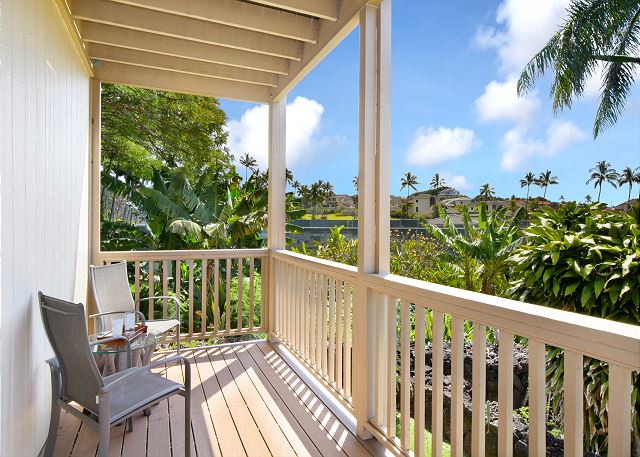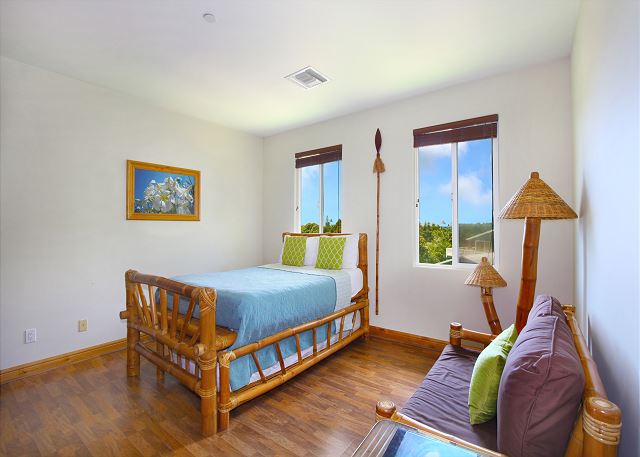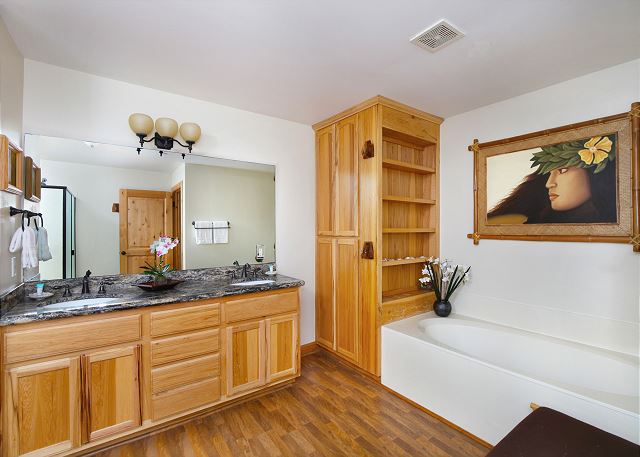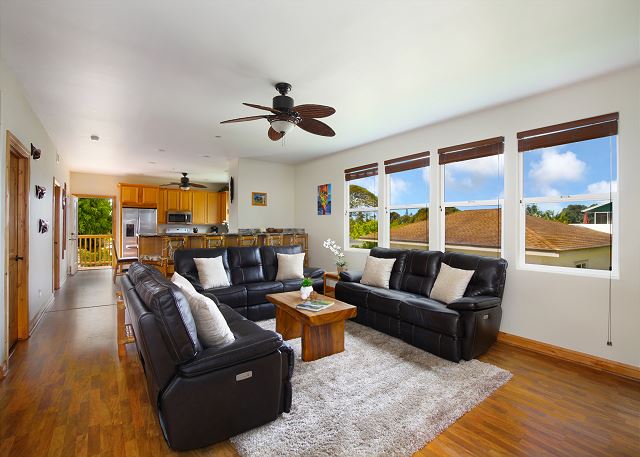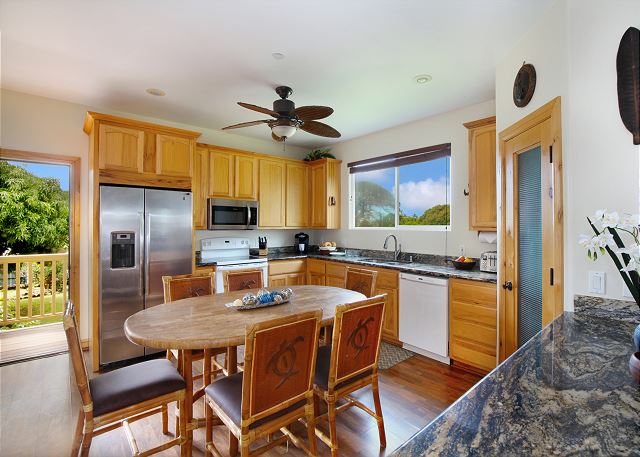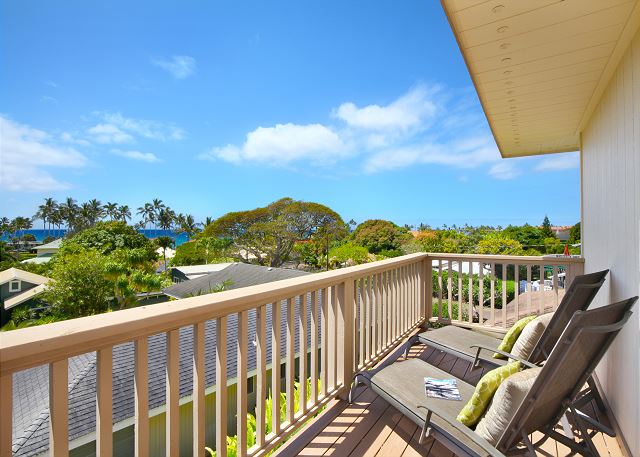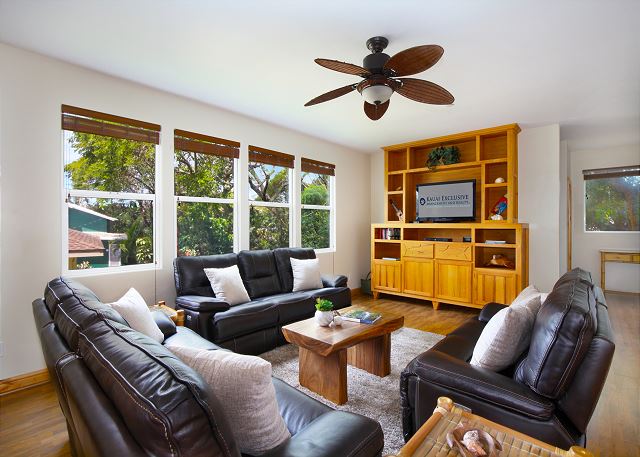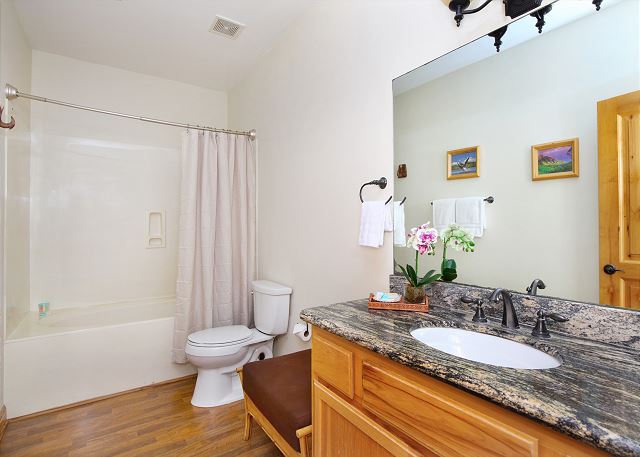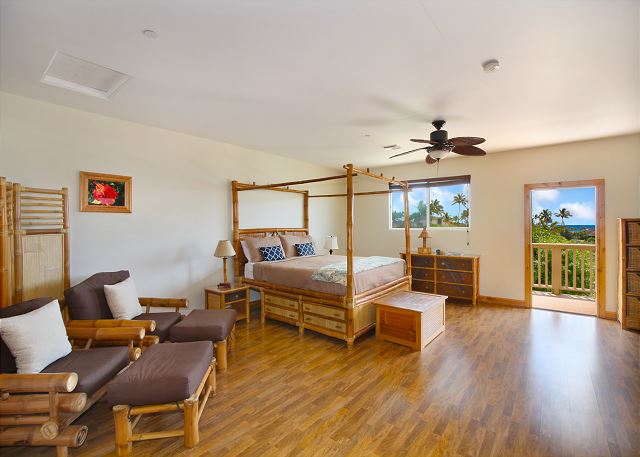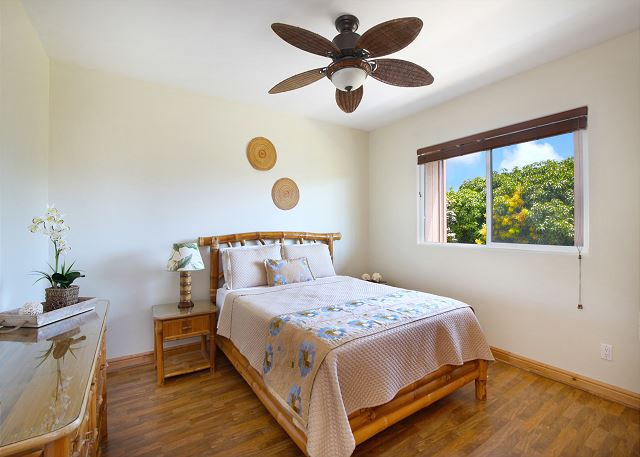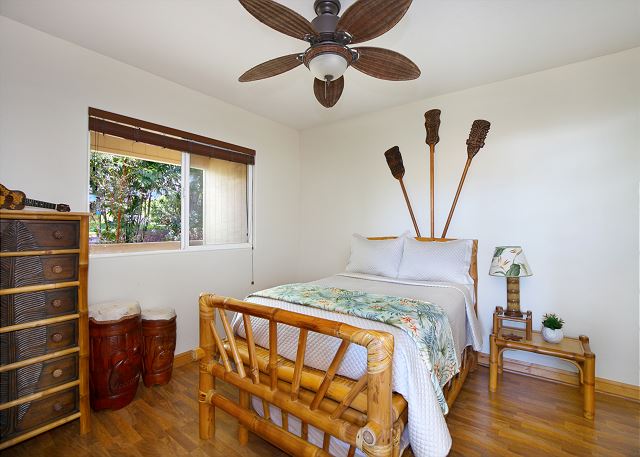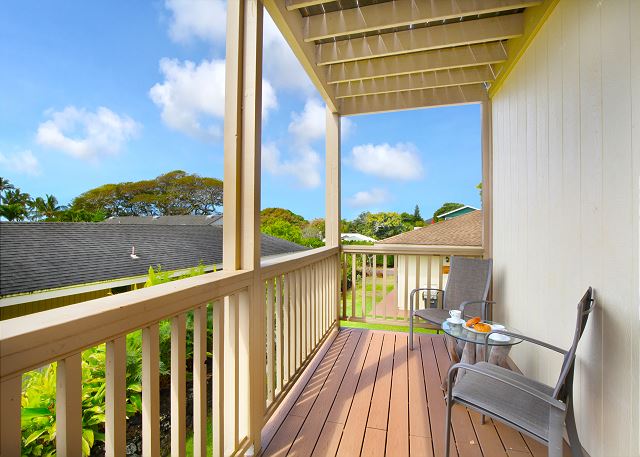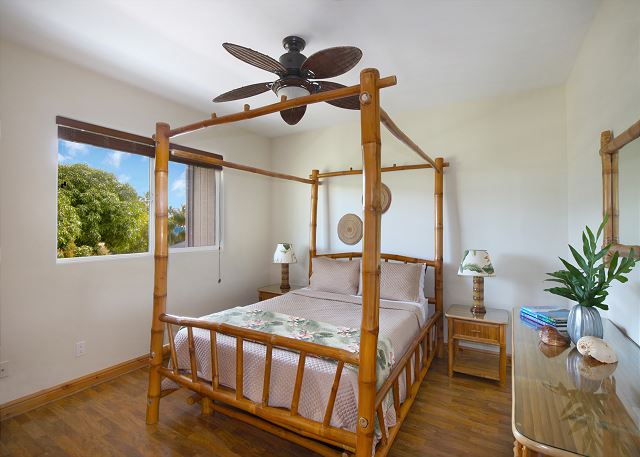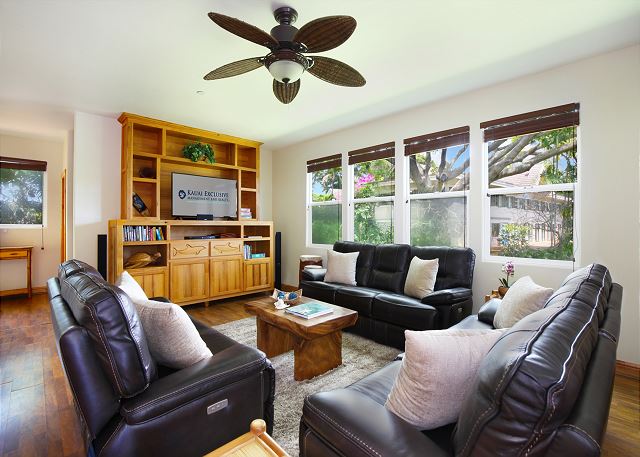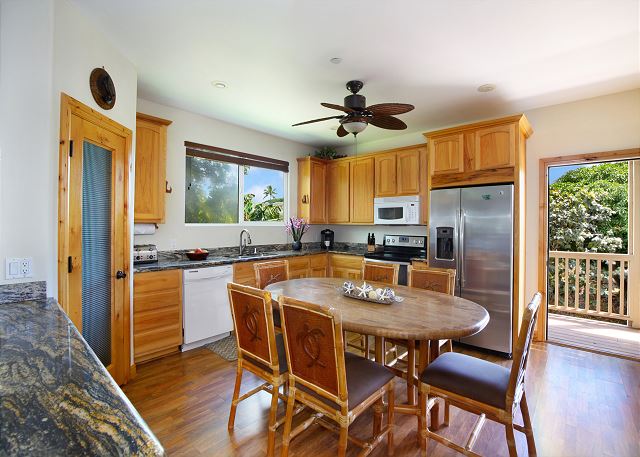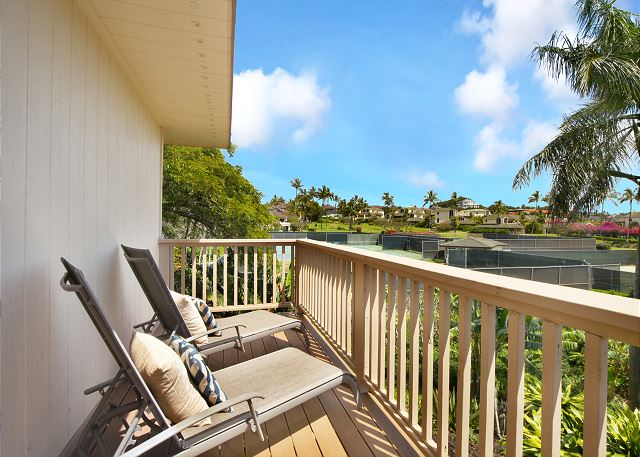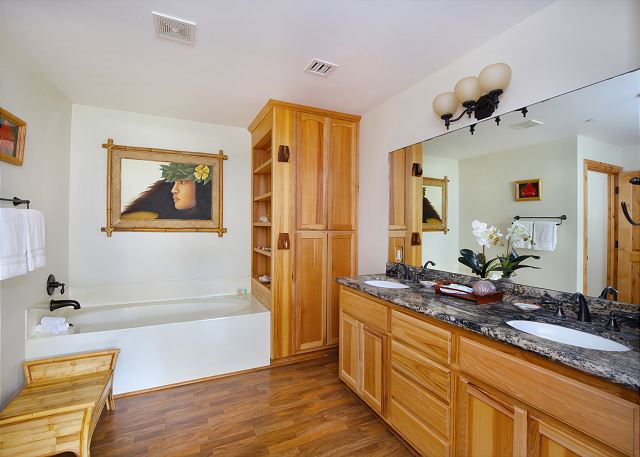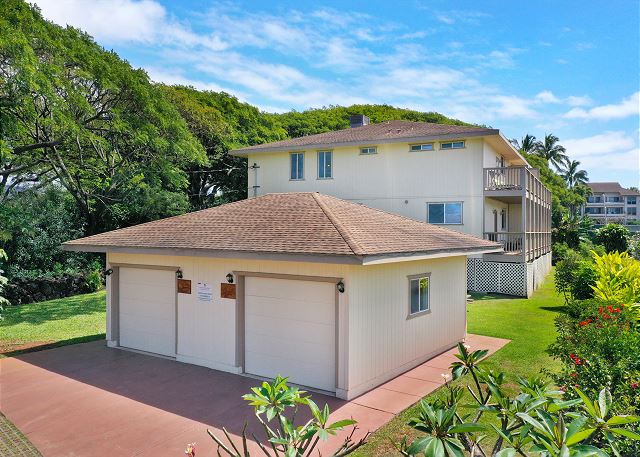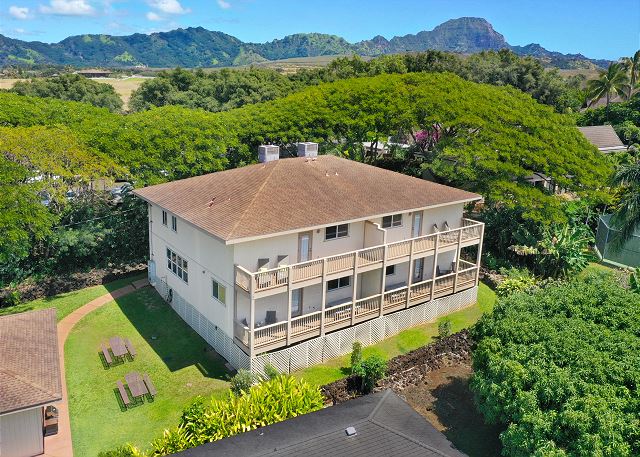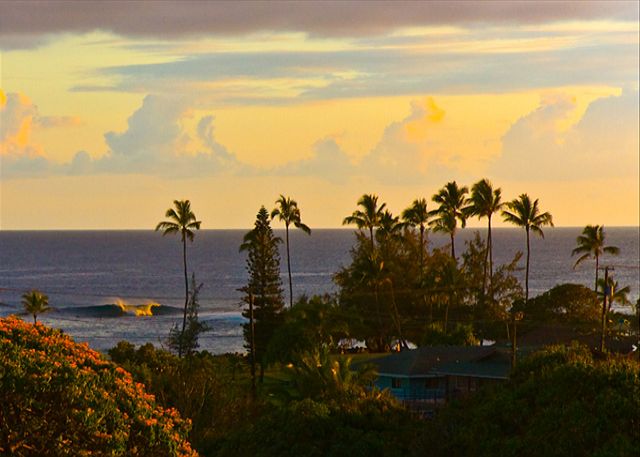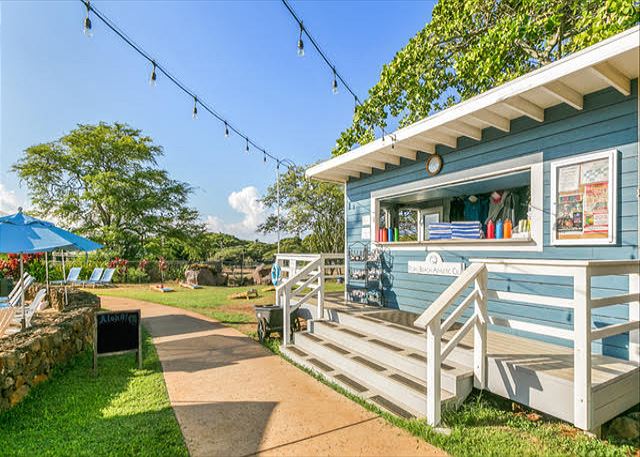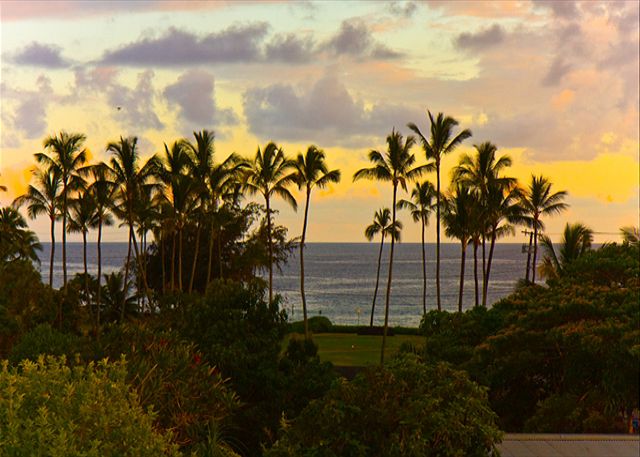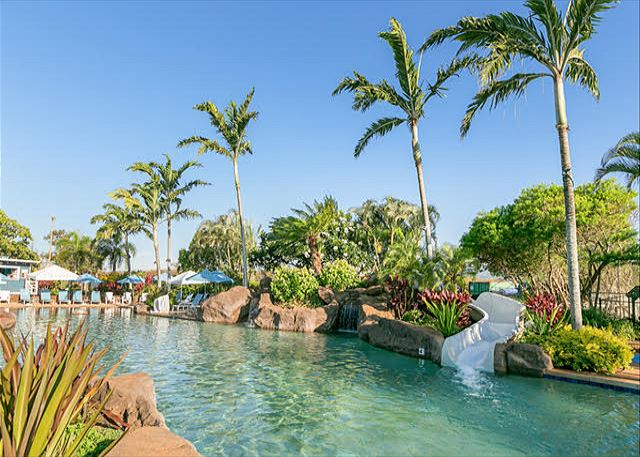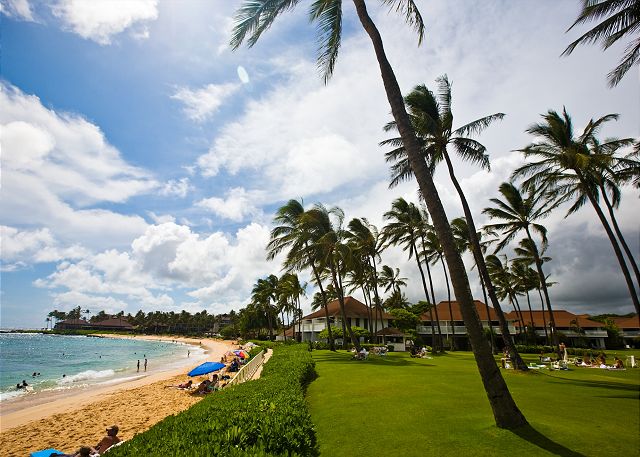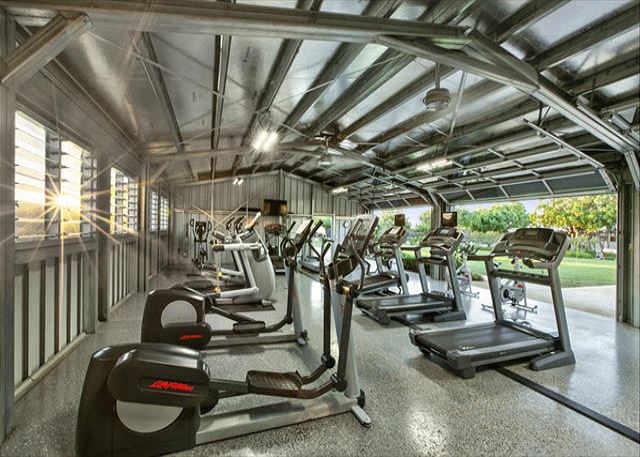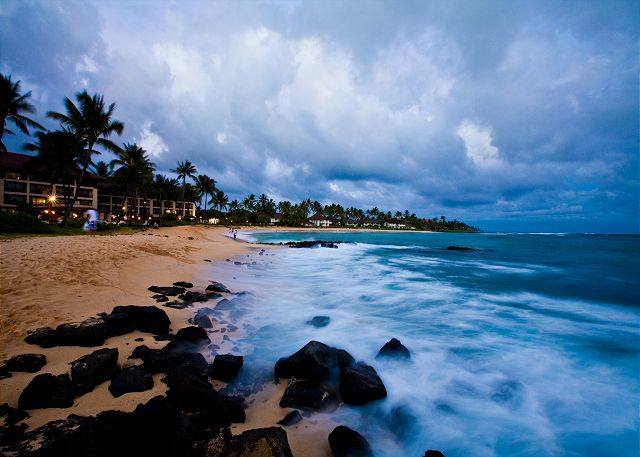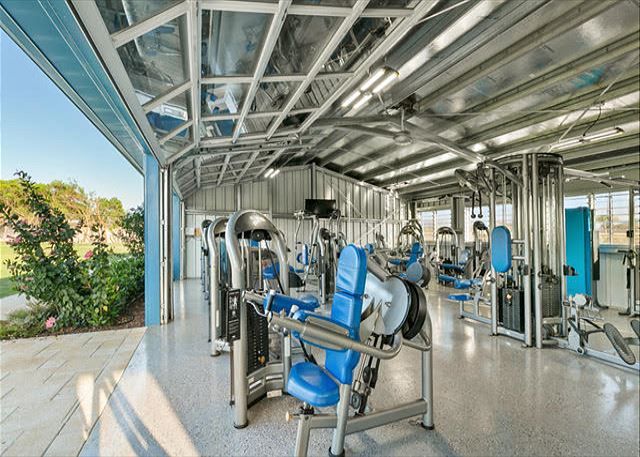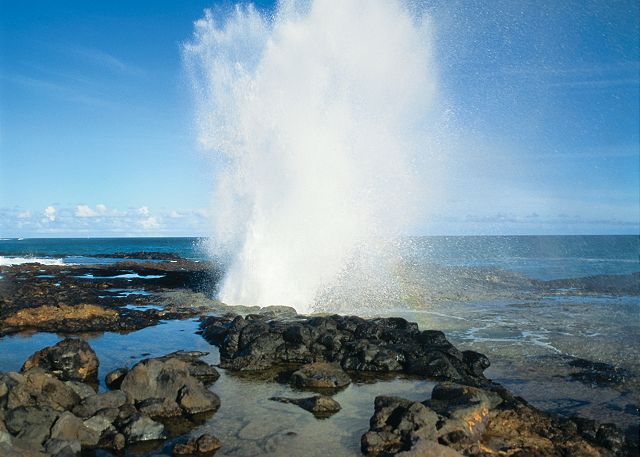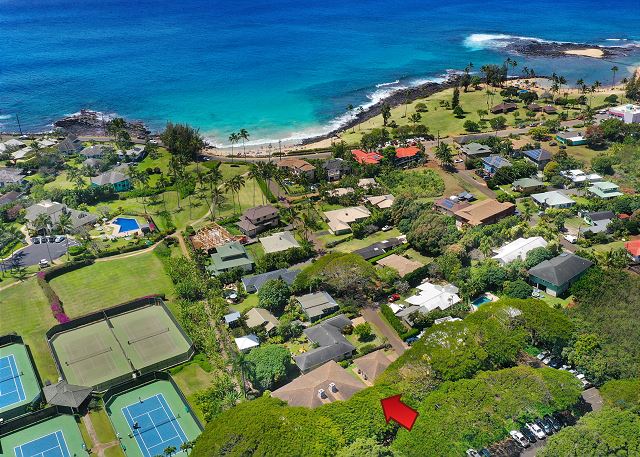 With ample room and durable bamboo decor, this plantation-style beach house is perfect for large groups, wedding parties and family reunions. Comfortably sleeping 14, look no further for the perfect gathering place for friends and loved ones!

This 6000 square foot home is split into two identical suites. The "Turtle" and "Dolphin" suites can each accommodate 7 adults, with private living areas, kitchens that can seat 12.

Just steps from the beach, enjoy panoramic ocean views from the upstairs lanai and garden views from downstairs. A historic lava rock wall surrounds the property on three sides, softened by 100-year-old Monkeypod trees and tropical foliage. Enjoy BBQs in the large yard and special access to the Poipu Beach Athletic Club! With a convenient location, spacious layout and ample amenities, this vacation rental has something for everyone.

- Located in Poipu (South Shore).

- Large Hawaiian-style beach house, split into two identical apartments ("Dolphin" and "Turtle").

- BBQ area, outdoor solar shower and special access to Poipu Beach Athletic Club, featuring: a pool, waterslide, fitness center, tennis courts, basketball courts, pickleball courts, a restaurant, bar and more!

- Prime location, just steps to famous Poipu Beach, Brennecke's Beach Broiler and close proximity to Kukui'ula Shopping Center.

The South Shore of Kauai is where locals go to find sun when it's raining everywhere else. As one of the most popular and well-developed visitor areas on Kauai, sunny Poipu offers sophisticated shops and restaurants with stunning beaches, world-class golfing and exciting attractions. Swim, snorkel, surf and sunbathe at Poipu Beach, then check out Spouting Horn, Allerton Botanical Gardens and hikes along lithified sand dunes! From dawn to dusk, the South Shore of Kauai will satisfy your soul.

One of the most revered places on earth, Kauai inspires a state of awe within all of us. Brimming with beauty, the oldest inhabitable Hawaiian island has both withstood the test of time and matured into a land of fertile abundance. Lush jungles, white sand beaches and the alluring ambiance of Aloha enchant each moment. Offering exceptional accommodations, adventures, cuisine and culture, vacationing on Kauai is a dream come true.

WW89780531-01 tax id #
| | Nightly |
| --- | --- |
| August 16 - December 14, 2021 | $1,200 |
| December 15 - January 05, 2022 | $1,199 |
| January 06 - December 14, 2022 | $1,200 |
| April 15 - June 14, 2022 | $1,200 |
| August 16 - December 14, 2022 | $1,200 |
Thank you for entering your review. The review will become available to the system shortly.
34
34
Overall Rating:
4.8529
4.8529
Great for a Crowd!
Rating:
1
4
5
Review Date: 08/26/2021
The Pane Makai house served our family group of 13 very well. The house was very large and comfortable. The location was great, just a short walk to Brennecke Beach, the favorite beach for our older grandchildren. The turtles came out at night and we loved seeing these huge reptiles up on the beach. We also enjoyed Kalapaki Bay, Salt Pond Beach, Duke's restaurant, and Poipu Bay and Kapiolono Golf Courses. We appreciated the extra amenities of beach towels, beach chairs, boogie boards,and cooler bag. We would definitely rent again for another Family Vacation on Kauai!
Great location. Large duplex. Responsive management.
Rating:
1
4
5
Review Date: 01/13/2020
Great location. Lots of room in well maintained property.
No hot water. How did the cleaners not notice this???!! Property looked clean but with no hot water? Management replaced the water heater the afternoon after we arrived.
No propane for the grill. Management supplied upon request.
We rented both sides of the duplex and found that trying to use WIFI on both sides was so slow that it failed usually. WIFI only works if it is disconnected on one side leaving the other side with no WIFI.
Description indicated that the garage was available for cars but it was not.
Concierge was very helpful! Great amenity!
Manager Response: 02/06/2020
Response from Kauai Exclusive Management LLC
Aloha Jean! Thank you so much for being our guest! We have replaced the water heater in this unit to fix the hot water problems. I will reach out to my property manager about the wifi and see if we can have spectrum go look at the issue. We hope we get the chance to host you again in the future. Mahalo Nui, The Kaua'i Exclusive Management Team
Great Place for a Family Gathering
Rating:
1
5
5
Review Date: 01/05/2020
We had 15 people ( 3 generations) for 7 nights. This property was ideal for us. Close to the beach, clean, spacious. Well supplied for every need, including beach chairs. Needed supplies were taken care of quickly. Entire family was pleased with the house. We would stay here again in a heartbeat!
Manager Response: 02/04/2020
Response from Kauai Exclusive Management LLC
Thank you for choosing Kaua'i Exclusive as your host during your time here on the island! We hope to host you again in the future! Mahalo Nui, The Kaua'i Exclusive Management Team
More space than advertised!
Rating:
1
5
5
Review Date: 07/17/2019
We stayed in both sides of the Pane Makai House as a family of 16. The space is more than advertised! One of the downstairs bedrooms has a trundle bed which was so nice. The upstairs space can be split into 2 bedrooms and a living area which is very convenient. The house location is perfect in Poipu and walkable to anything you would want to do there. We encountered a couple of issues during our stay and the management company responded very quickly
and did all they could do to help us.
Beautiful rental & setting
Rating:
1
5
5
Review Date: 05/21/2019
The house was impeccable with more than enough space to accommodate our big group. Just a couple short blocks from the beach made it very easy for us to each come and go as we wished. We appreciated the snorkeling and beach gear in the garage.
Great Rental in Poipu
Rating:
1
5
5
Review Date: 03/29/2019
We rented Pane Makai-House in Poipu for a week.
There was 14 of us and as we had rented both sides it was comfortable and roomy for all.
It was very clean and had a great location.
The rental company was very prompt with their response if we needed anything or had a question.
I would highly recommend this vacation rental for anyone.
Great Home for a Family Reunion!
Rating:
1
5
5
Review Date: 03/23/2019
We rented both sides Dolphin and Turtle. The house has plenty of space for all. We found everything we needed including an abundance of beach towels. The proximetry to Poi Pu beach was perfect. Every morning we would take a 5 minute walk to see the sunrise on the beach and watch the turtles. The management company was very nice. Will definitely rent this home again!
The Place
Rating:
1
5
5
Review Date: 12/02/2018
Plenty of room. Very clean. Helpful management. Great location. Fantastic place to vacation!
Great trip!
Rating:
1
5
5
Review Date: 09/05/2018
Great place to stay. Walking distance to the beach. Large enough so it doesn't feel crowded.
Pane Makai House
Rating:
1
5
5
Review Date: 08/23/2018
This was a fantastic experience for our children, spouses and grandkids. Very spacious and comfortable. The owners were very helpful and responsive to our needs. The proximity to the beach was fantastic. The Athletic Club membership was a hit for all ages as we went there each night. I would highly recommend this place and would go back in a heartbeat!
The Fletcher Family
Rating:
1
5
5
Review Date: 07/17/2018
The Fletcher Family was very pleased with the property. They said it was absolutely perfect. I will definitely be referring my larger groups of clients to this property again!
Fantastic Stay!
Rating:
1
5
5
Review Date: 05/31/2018
This place is great! We rented both unites (dolphin and turtle) and couldn't be happier! The location was great - walking distance to Poipu Beach in the south side of the island (which happens to be the sunniest during our stay)
The place is specious and has everything you need to cook, bath and beach towels, cooler bag (which we took to the beach with us), soaps shampoos and conditioners (though wish they had a little more for the amount of people)
Overall a great stay, great location, and great units!
Thank you!
40th Anniversary Stay with family!
Rating:
1
5
5
Review Date: 05/12/2018
Could not have been better for our 40th anniversary vacation with our kids/grandkids. Location was fantastic. Very spacious! Great amenities. Kalapake Joe's next door was a lot of fun! Kids loved option of ocean a block away and pool 1/4 mile up road! Converting double beds to queen/king size would be only suggestion! Very spacious for condos!! Concierge service was very attentive!! Very well managed!
Great stay in Kauai
Rating:
1
5
5
Review Date: 08/06/2017
My family, totaling 9 persons, couldn't have asked for better accommodations, location, or service from Kauai Exclusive. Their customer service was first class and the rental property was fit for royalty. We had a problem with the door lock on the first day (Dolphin) but was resolved within a day. The furnishings were amazing.
Kauai Volleyball Group Stay
Rating:
1
5
5
Review Date: 05/31/2017
At the last minute, our volleyball team from Oahu decided to participate in a Memorial Day weekend tournament in Kauai. We looked around and found the Pane Makai house and the Koali House available during that weekend. They turned out to be gems since they were located across Poipu Beach Park. Our kids could walk across the street to go to the beach and bodysurfing. The houses were very spacious, clean and well equipped. We were missing the propane tank for the gas grill and through their phone help line it was replaced very quickly. We would definitely stay there again on our next Kauai trip.
Best spring break ever
Rating:
1
5
5
Review Date: 04/10/2016
We had a family holiday - 17 of us including 7 children with ages ranging from 2 to 11. The location was perfect - close to both a child friendly beach and surfing - but not too close so we didn't have to worry abut the kids. The house was spacious and we had all we needed to provide for ourselves and have a great family time.
A Dream come true
Rating:
1
5
5
Review Date: 04/02/2016
This rental was better than I even imagined it would be. Thank you so much. I will definitely be calling again. I was very satisfied
Home away from home
Rating:
1
5
5
Review Date: 07/29/2015
What a wonderful place - class, style, comfort, location, amenities you name it - we never felt we left home and if we were to return this will be the place once gain to stay.

Made our holiday more than worth the time.
Slater Family Reunion
Rating:
1
5
5
Review Date: 07/01/2015
We rented Turtle and Dolphin, along with another house down the road (Hale Halia), for a family reunion to celebrate my Dad's 80th birthday. Our experience with both Turtle and Dolphin, and the management company, was really wonderful. Aside from a toilet that was not flushing properly when we arrived (and was quickly repaired), all of the appliances and furnishings were in great shape and worked perfectly. I was very impressed and happy with the responsiveness and professionalism of the management company. We were pleasantly surprised by all of the beach gear that was available at this home, too, along with a fully charged propane tank for the gas grill, which we put to good use when the gas grill at the other house was out of propane. I would definately recommend Pane Makai, great value and wonderful access to the beach, without being in the thick of the beach traffic.
Kauai Fun
Rating:
1
5
5
Review Date: 06/25/2015
Great location for the Poipu area. The house was very clean , and spacious . Plenty of restaurants near by or just cook or BBQ at home. All of the things you need for the beach also included. Have a great time.
Amazing Property!
Rating:
1
5
5
Review Date: 04/16/2015
We stayed here for a family reunion with 12 adults and 5 kids and there was so much space!The property is in an amazing location, minutes walk to Poipu Beach Park and Brenneke's beach. Concierge service was SO helpful with quick responses. Beautiful views from upstairs balconies and furniture was unique. Lots of beach gear in the garages. Only issue was the door codes were changed very early in the morning on our last day and we were almost locked out! We would definitely stay here again!
Loved our Stay at the Pane Maki House-Poipu
Rating:
1
5
5
Review Date: 03/19/2015
The property description was accurate regarding the location, layout and amenities. We were pleased to discover extra amenities throughout the house (i.e. first aid kit, spices, condiments, sunscreen, lotions, laundry soap.....)
We had plenty of room to sleep and we were not crowded which was surprising for a large party.
The home was immaculate and the property was well-maintained.

Family reunion/Christmas/Birthday/50th Anniversary
Rating:
1
5
5
Review Date: 01/12/2015
We had a wonderful experience at the Pane Makai House-Poipu ...We rented both sides of the VERY large duplex unit. We had 8 adults and 8 grandkids (ranging from age 7 to age 17) We could not have asked for better accommodations. All kitchen equipment was adequate... all we had to do was buy groceries and take up from there. I only wish it were right on the beach but then that is a huge thing. Otherwise I would enthusiastically recommend the place for family vacationing. The owners and concierge were absolutely the most delightful people to work with. Any question or issue we had was addressed immediately with a smile and a MAHALO
Great location and wonderful duplex.
Rating:
1
4
5
Review Date: 10/21/2014
Lots of beach toys to use.
The only problems were very slow internet and the washing machine in 'The Dolphin' was broken.
We were one large group sharing both sides so we managed with the washing machine in the Turtle side. The lock codes were changed the morning of our departure before check out which almost caused an issue.
Manager Response: 11/06/2014
Response from Kauai Exclusive Management LLC
Aloha, Thank you for your feedback and we have taken action and upgraded our internet. The washing machine was repaired once we were made aware of the problem. Regarding the lock codes, that was a breakdown and we are glad it was a non issue. We are available by phone 24/7 at 877GOKAUAI if any of our guests have an on island emergency. Again, thank you for the feedback and thank you for being our guest!
The Turtle
Rating:
1
4
5
Review Date: 08/30/2014
A wonderful start and perfect accommodation for our needs, but unfortunately was cut short by two impending hurricanes.
Pane Makai is a beautiful vacation house
Rating:
1
4
5
Review Date: 07/25/2014
We rented the two units as we had 13 in our group. There were lots of sleeping "beds", some were futons, some trundles. Upstairs area is huge, but has no closets to hang clothes. Kitchen was well supplied, and the place was very clean. We had some initial trouble with the door code, since no one told us that if you enter a code wrong 3 times, it locks you out. But the property managers were very available, and helpful and courteous, and soon got us straightened out. We discovered that if we closed the windows, the Kauai roosters didn't wake us up. All in all, the place is very, very nice, and an ideal place, close to the beach, especially if you have a big group to house.
Best Vacation Rental
Rating:
1
5
5
Review Date: 06/03/2014
The house was very spacious and allowed our two families to have a great vacation together while still providing space and privacy as needed. The two homes could easily accommodate 10+people each. I would definitely stay here again. The amenities and location were amazing.
Turtle/Dolphin House
Rating:
1
5
5
Review Date: 11/11/2013
We had a family vacation here that utilized both units. There were 12 adults and both units was able to accommodate our large group, with extra space to spare if someone wanted to sleep on a futon. Definitely a good location, within a short walk to the beach. Would defintely stay here again.
Really great
Rating:
1
5
5
Review Date: 06/03/2013
The best location/home
Rating:
1
5
5
Review Date: 04/08/2013
Wonderful. Roomy, the house had everything we needed. Close to the beach. All was great !!!
No Better Place Especially For a Large Group
Rating:
1
5
5
Review Date: 12/03/2012
We are from Kauai but had family and friends over for a wedding and family reunion so we rented both the Turtle and Dolphin sides of Pane Makai. Look at every other review that raves about the location, the facilities, and the price and you'll understand why this place is so great. It is really huge and can accomodate big groups of 14 to 20 people. The management team, led by Josh Rudinoff, are incredibly professional and thoughtful and go out of their way to make sure guests are happy.
The Logan Family Gathering
Rating:
1
5
5
Review Date: 12/01/2012
There were 18 of us using both Turtle and Dolphin. There was tons of room - could have put another couple of families in there. What a great place and the proximity to the beach was awesome. I don't have a lot of experience with vacation rentals, but I have to believe this was the most well equipped place you could pick out. I highly recommend this to anyone.
Awesome Stay for Friends and Family
Rating:
1
5
5
Review Date: 09/12/2012
This place is great! Very spacious, modern and excellent for entertaining. Great location - just a block away from Poipu beach. We just fear that the place (currently for sale) will no longer be available in the future. We love this place and hope to stay annually at this time. Everyone had a wonderful stay. All amenities are there and we really didn't have any complaints. Loved the AC, grill, and plenty of room.
Awesome Vacation!
Rating:
1
5
5
Review Date: 08/11/2012
We had an amazing time on the south shore! I have vacationed on Kauai about a dozen times but I have always stayed on the north shore. After our stay at the Pane house we will definitely be staying on the south shore from now on. The house met our needs exactly. We were within walking distance to the beach, shopping, and restaurants. Kalapaki Joe's was literally right in our backyard! Everything on the island closes at 10pm so there was never an issue with excessive noise from the bar. The house was very spacious and clean with updated appliances and granite countertops. Being able to cook many of our meals at the house definitely saved us money in the end. We plan on coming back next year and would highly recommend staying there.
Your request has been sent. We look forward to meeting all your vacation needs!
Use of this website constitutes acceptance of the KauaiExclusive.com Terms and Conditions and Privacy Policy.
©2020- Present KauaiExclusive.com, Inc, All rights reserved. | Website Design by Beyond Pricing