nihilani-paradise-in-princeville
nihilani-paradise-in-princeville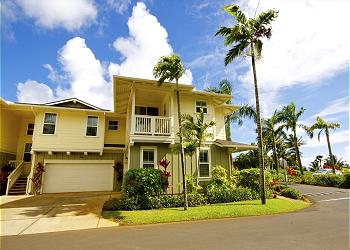 Nihilani 2A Paradise in Princeville
https://www.kauaiexclusive.com/rentals/properties/nihilani-paradise-in-princeville/
Nihilani 2A Paradise in Princeville | Vacation Rental in Kauai
Nihilani - Paradise in Princeville 2A EMAIL or CALL NOW!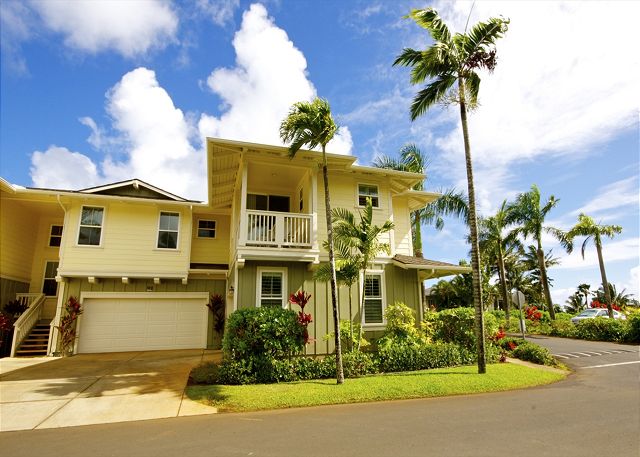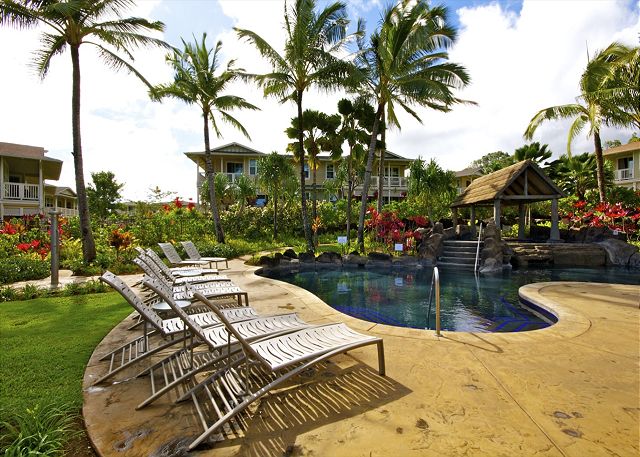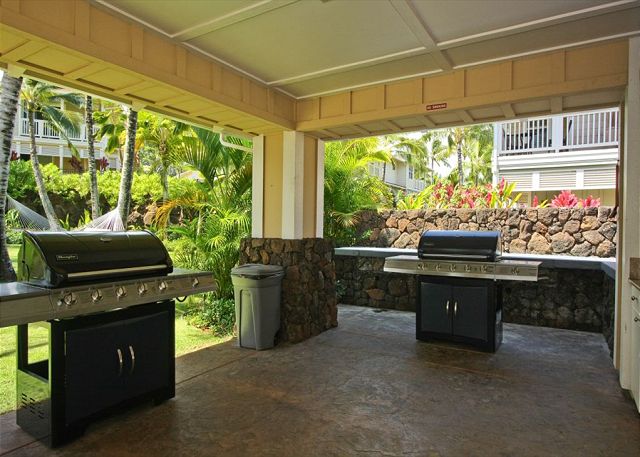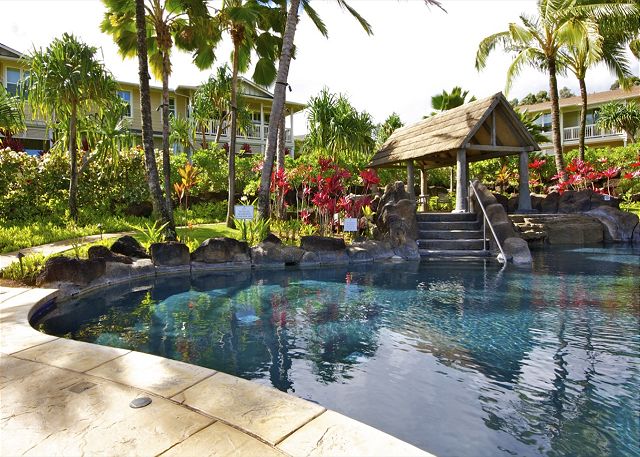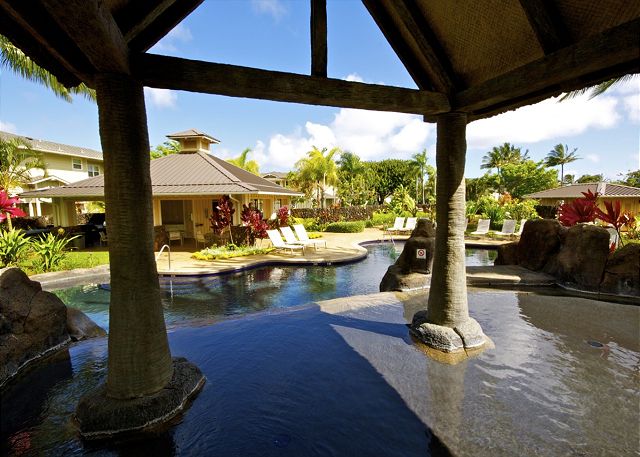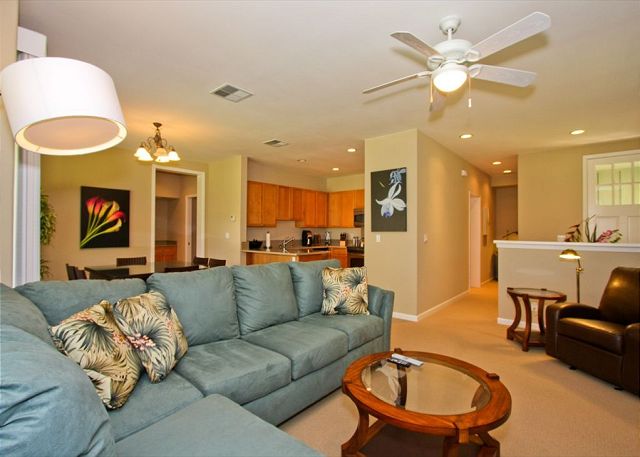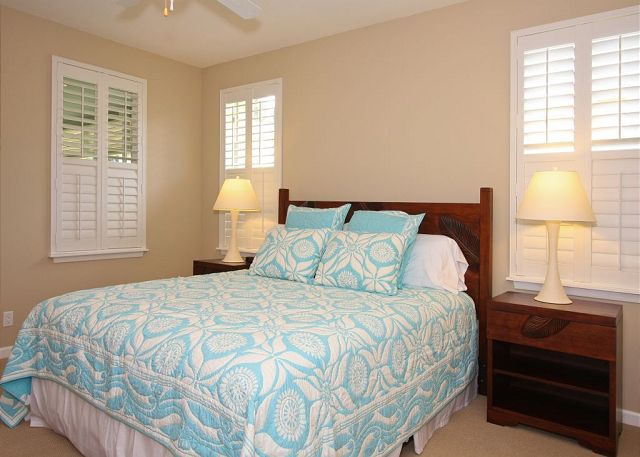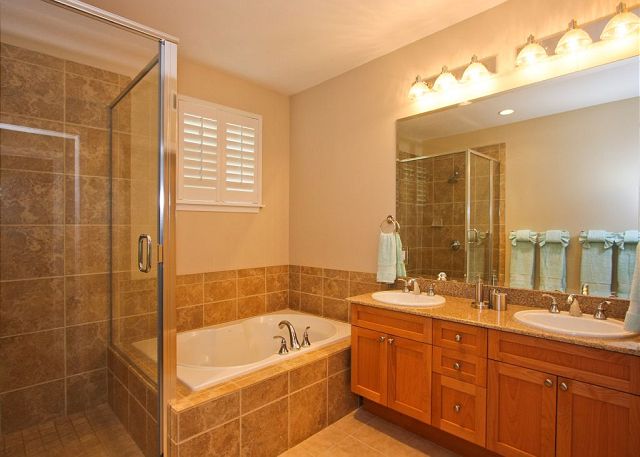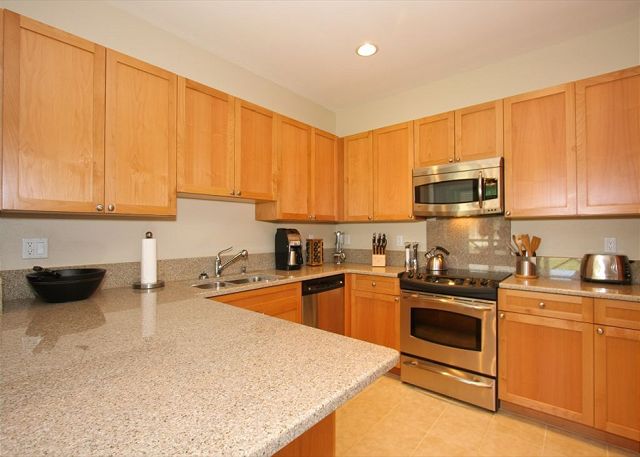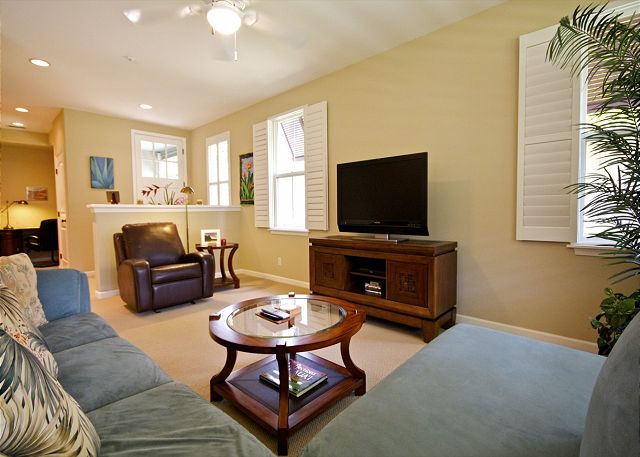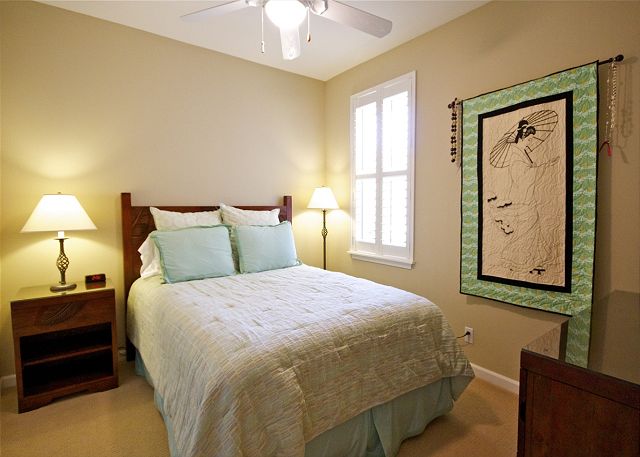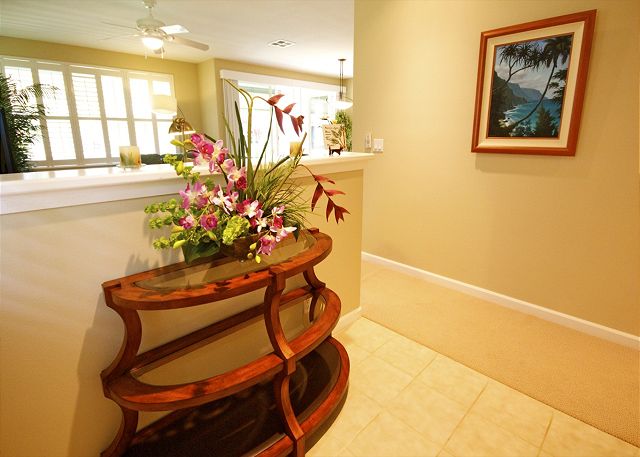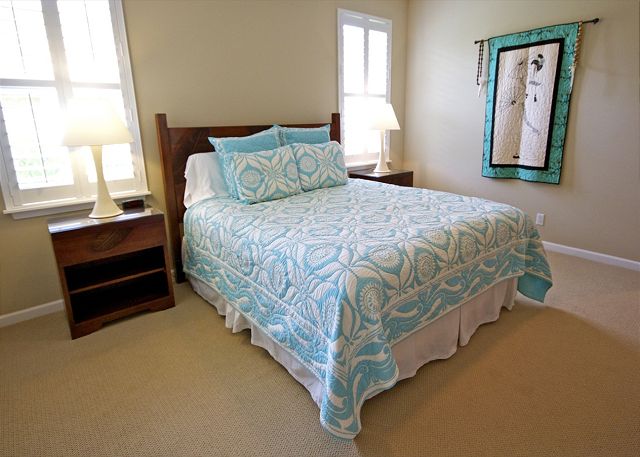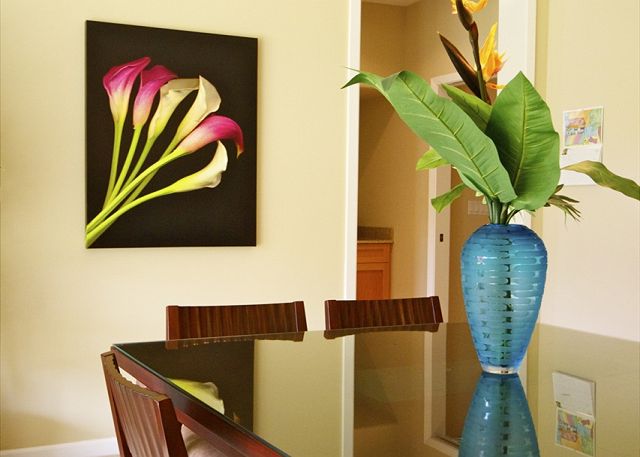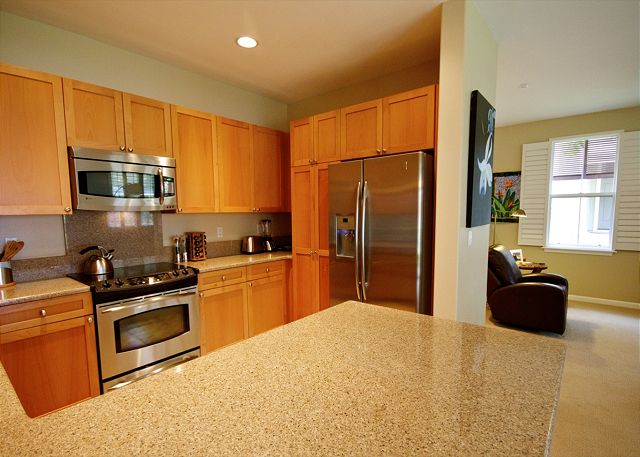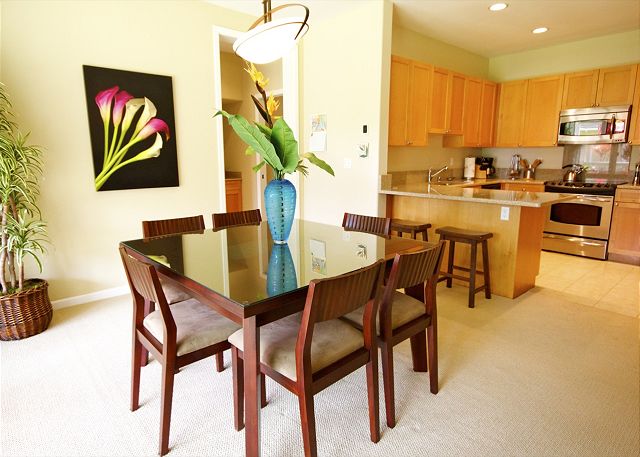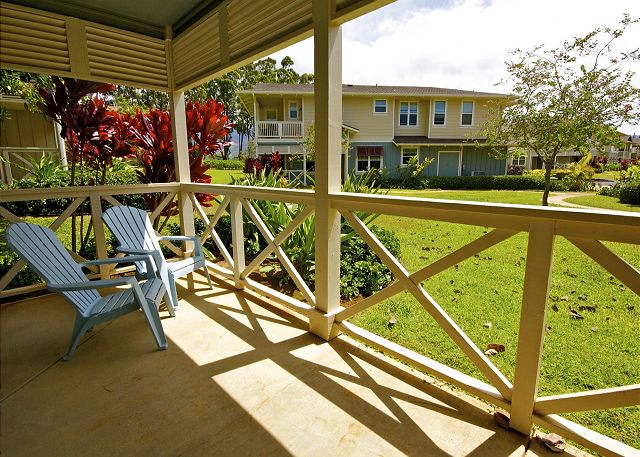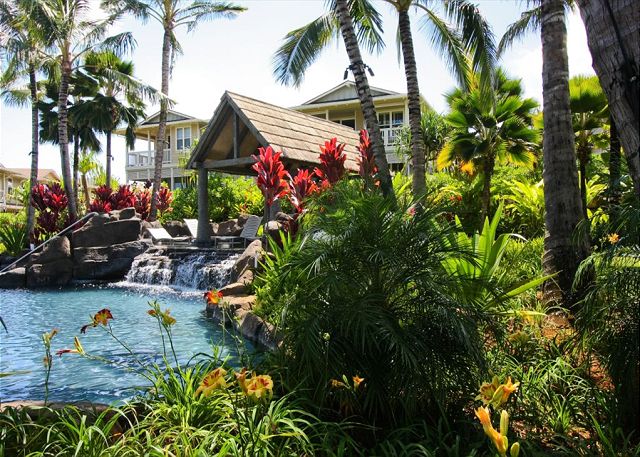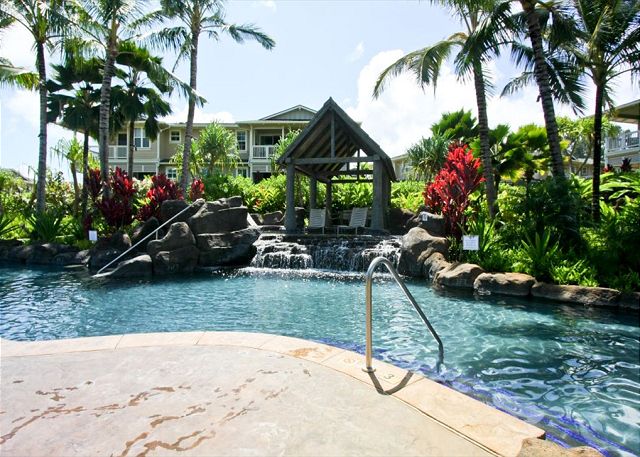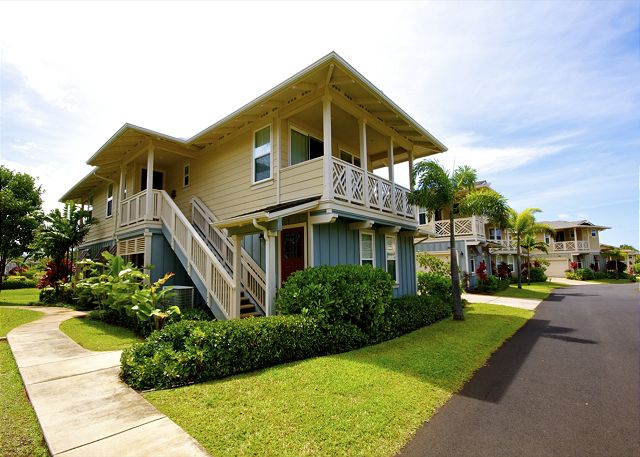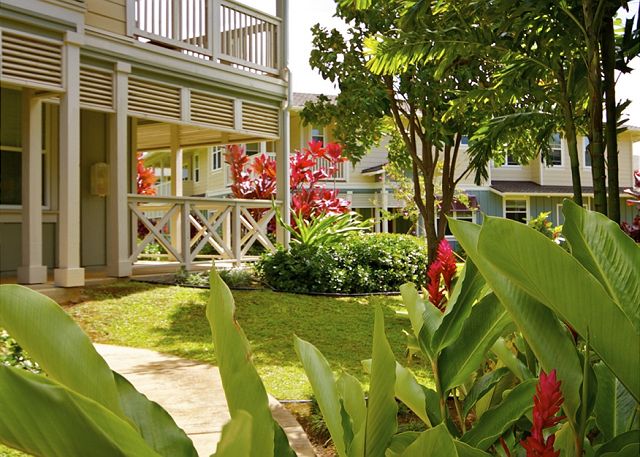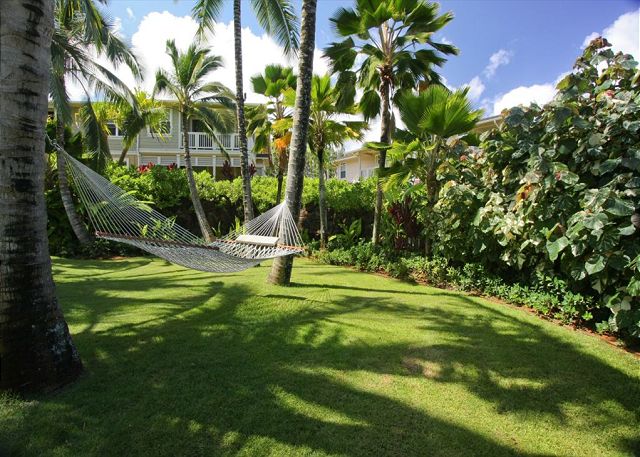 Welcome to Nihilani, a little piece of paradise, and happens to be the newest development in Princeville, with building just completed by Brookfield Homes Hawaii at the beginning of 2007. Nihilani is a private, tranquil, safe, secure, and a family friendly environment. This convenient location is walking distance to the golf course, and near beaches, tennis courts, walking paths, shops, and restaurants.

Located in famed Princeville, directly on the golf course, this 1400 square foot 2 bedroom 2 bath, single-level floorplan, with a 2 car garage, can easily accommodate up to 4 people in style. This plantation style townhome is tastefully decorated with designer furniture, hotel quality linens, and has a gourmet kitchen with a spacious, open-plan living/kitchen area for entertaining. All ground floor, NO stairs. Enjoy all the comforts of home with some great resort amenities in the condo common area. Nihilani's tropical landscape, pool, Jacuzzi, BBQ area, and incredible location make for a romantic getaway alone, or for a group of couples or family.

AMENITIES

- A/C

- Wireless Internet

- Nearby Tennis Courts

- Walking Paths

- Pool side cabana

- Rock wall waterfall at pool

- Pool shower and handicap pool sling

- Pool hale

- Open-air recreation center for gatherings, events, and parties

- Barbeque island

- Hammocks in open lawn areas

- Semi-private spa area

- Hawaiian garden settings

LOCAL THINGS TO DO

The property is located close to the PRINCEVILLE RESORT

and overlooks the Princeville Makai Course at the PRINCEVILLE GOLF CLUB.

Nearby Points of Interest:

Village of Hanalei

Hanalei's famous crescent beach

Postcards Restaurant ( an incredible upscale restaurant)

Polynesia Cafe

Bali Hai

Queen's Bath - for Swimming and Snorkelling

Shopping in Ching Young Village (Hanalei town)

Experience the Aloha Spirit!

Let us make your holiday easy, fun, and filled with the Aloha Spirit. Call anytime on our TOLL FREE number

TA-174-382-6944-01
| | Nightly |
| --- | --- |
| December 15 - January 05, 2022 | $299 |
Thank you for entering your review. The review will become available to the system shortly.
73
73
Overall Rating:
4.8356
4.8356
Great 2 Bedroom Condo in Princeville
Rating:
1
5
5
Review Date: 02/17/2020
VRBO and Kauai Exclusive were easy to work with. Condo was very clean, quiet, and comfortable. Ground floor layout was ideal - no stairs! Close to Princeville Center and to Hanalei for shopping, restaurants, and activities.
Manager Response: 02/18/2020
Response from Kauai Exclusive Management LLC
Thank you for choosing Kaua'i Exclusive as your host during your time here on the island! We hope to host you again in the future! Mahalo Nui, The Kaua'i Exclusive Management Team
Great experience on the North Shore
Rating:
1
5
5
Review Date: 11/26/2019
This property was ideal, very clean, plenty of room, kitchen had everything I needed to prepare our meals. The neighborhood was quiet, pool and hot tub area very nice. This is a great home base for exploring the North Shore of Kauai.
Great location, unit is even nicer in person
Rating:
1
5
5
Review Date: 11/23/2019
Highly recommend, the only criticism I have is the photos in the ad are not super clear so it doesn't show how nice it really is. The unit is very clean, the selection of amenities is robust, the location is central and the development is very nicely kept. Great AC and within walking distance to amazing views.
Spacious and relaxing
Rating:
1
5
5
Review Date: 08/10/2019
Great place with plenty of space for the family, good amenities, and close to beaches. We really enjoyed our stay, house was very clean and it was great just to drive into the garage after a long day exploring the island.
Home away from home
Rating:
1
5
5
Review Date: 06/15/2019
Best flrental we've had this far and this is trip #4. The condo was stocked with everything you could possibly need and then some. Super clean and close to everything.
Nihilani 2A Paradise
Rating:
1
5
5
Review Date: 03/07/2019
Very pleasant experience. Everything was as advertised.
Absolutely Perfect!
Rating:
1
5
5
Review Date: 10/16/2017
Our home away from home was absolutely perfect. The hot tub was available every night no one else was around. And the interior of our condo was absolutely sparkling clean and gorgeous. Hope to stay there again sometime soon.
Dave's Review
Rating:
1
4
5
Review Date: 09/25/2017
Nihilani was a beautiful condo that was clean and well furnished. It would have been helpful to have written instructiona about how things operate in the condo.
Beautiful comfortable unit!
Rating:
1
5
5
Review Date: 08/24/2017
We only stayed for a long weekend but this unit was perfect! We opted for a condo instead of staying at a "resort" and were so happy we did! Not only did we save money, but we had so much more space and amenities available to us.

After staying in many other units in Nihilani, I must say one of the best parts was having a garage we pulled STRAIGHT into, instead of trying to make the turn into a side garage! We smiled every time we pulled into the garage!!

Perfect place for a family or group for vacation!!
Great Value.
Rating:
1
4
5
Review Date: 07/29/2017
For the cost per night Nihilani 2A is a great holiday location. I have stayed in places I gave 5 Stars but I have paid $500-$700 per night. In those cases I expect perfect. This unit is clean, modern and equipped with basic needs. It just lacks the high end finishes of a 5 star facility.I doubt anyone would be disappointed with what you pay per night.
Nihilani 2A
Rating:
1
5
5
Review Date: 07/15/2017
Our unit was very nice and clean in the ideal location. We cooked maybe two nights in our well supplied kitchen. The owners supplied us with beach towles, chairs, coolers and some snorkel gear. We were very satisfied.
First visit to Kauai
Rating:
1
5
5
Review Date: 07/14/2017
The condo we stayed in was wonderful. Terrific space. One downside is there was no easy access (walkable) to the beach. We could walk to Queen's Bath, but not to a beach. If you want to live on a beach, and we did not, you might consider elsewhere. Otherwise, our stay was great.
Nihilani stay for friends's wedding
Rating:
1
5
5
Review Date: 06/09/2017
Stayed for 4 days, was fantastic, great location, condo was clean and perfect for our stay.
New Condo: Perfect Location w/Kid Friendly Pool
Rating:
1
5
5
Review Date: 05/15/2017
VERY clean, new, well kept condo located in Princeville. Great location with short drive to beautiful beaches, nice new spa and a pool
with a shallow area for small kids. No ocean view but long green lush belt out back. One of the best units in Nihilani. Kauai Exclusive was excellent to work with, very accommodating and quick response. Highly recommended for couples, small families and older individuals.
Kauai Veterens Weekend
Rating:
1
5
5
Review Date: 11/15/2016
We had an awesome stay. Everything was amazing, we will definitely return. Mahalo for everything.
Nice base for exploring Kauai
Rating:
1
5
5
Review Date: 10/15/2016
The unit was very nicely furnished, clean and comfortable. Having spices, salt, sugar and oil spray available in the pantry upon arrival was a nice suprise. AC worked beautifully once we found the thermostat. The complex was very quite and close to a foodland for groceries. We enjoyed the waterfalls and all the sites and beaches were driving distant although some of the admission fees for local gardens were a little pricey for what you got. Minor complaint about ice and water dispenser on refrigerator door. Don't use it. There was mold around the inside of the dispensing shoot and water tube and no way to clean or disinfect all the surfaces inside properly. Tried but failed. Use bottle water instead.
Beautiful home away from home
Rating:
1
5
5
Review Date: 10/10/2016
This condo was very nice and clean. It had everything we needed. Kauai management were very nice to deal with and the concierge (John Hilliard) was fantastic in helping us set up activities. I would definitely stay here again. I loved the Princeville area. Just a beautiful place!!! Can't wait to go back again.
Fantastic Holiday Destination
Rating:
1
5
5
Review Date: 07/04/2016
Beautifully landscaped gardens, Nice pool, first class accommodation ....nothing to fault!!
Very happy with our choice
Ken and barbie McCoy
Rating:
1
5
5
Review Date: 05/07/2016
We have stayed in that area before. the rental was great. Everything we needed. We enjoy staying around Princeville. Everything and everybody was great.
wedding visit
Rating:
1
5
5
Review Date: 03/16/2016
excellent property for the family
Excellent stay!
Rating:
1
5
5
Review Date: 03/11/2016
This place was an excellent place to stay and we hope to come here again. The condo was very clean and well equipped with everything we needed. Location is best in Princeville in a quiet neighborhood. We loved everything about it. The property management was very accomadating, professional and helpful.
Beautiful condo, helpful management, great location!
Rating:
1
5
5
Review Date: 01/13/2016
We stayed in condos on Oahu and Maui over two weeks and this one was by far our favorite!

We had a small hitch with getting into the unit but a quick call to the management was all it took. They were very helpful and friendly.

Beautiful, safe neighbourhood. Cool central air. We loved having two bathrooms as we were travelling as two single ladies. Beautifully decorated (with a large flatscreen TV and satellite... which was great for evenings as the nighlife on Kauai is not exactly hopping). We loved the large sectional couch, big dining table and beautiful kitchen. We also loved the feature of being able to park our rental car in the garage and made use of the washing machine and dryer! We enjoyed the pool area very much and sometimes had to force ourselves to leave to explore the island!

We loved the surfing town of Hanalei (only a short drive away - make sure you try Wishing Well Shave Ice!). As long as you have a rental car everything is easy to get to on Kauai. This condo was about 45 minutes from the airport but a very easy and scenic drive.

We took a helicopter tour and recommend it very much! $240.00 per person but breathtaking views and memories to last a lifetime! Only 10% of the island is accessible by car so the only way to see the rest of the island is by boat tour or helicopter.

I hope we will be back!
Kauai stay
Rating:
1
5
5
Review Date: 11/20/2015
5 Star
Rating:
1
5
5
Review Date: 09/12/2015
Absolutely loved our experience! everything was so easy and the accommodation was exactly as described if not better!
Great times in a comfortable condo!
Rating:
1
5
5
Review Date: 06/17/2015
Excellent experience! Booking was amazingly easy and done completely via phone and/or email.
Condo was beautiful! Loved everything about it! Very comfortable, stylish, and larger than I expected! Princeville and Hanalei are beautiful! Highly recommend this property!
Relaxing
Rating:
1
5
5
Review Date: 05/18/2015
Great Experience - Already have suggested to friends.

Pool could be a few degrees warmer - that was the biggest item that people were complaining about that I over heard. For us though we made it part of our daily experience for the kids.
Kauai
Rating:
1
5
5
Review Date: 03/07/2015
Nihilani
Rating:
1
5
5
Review Date: 02/17/2015
Initially I was not sold on Princeville but after four days here we loved it. Lots to explore and the beaches are incredible if you are up to the challenge. The condo left nothing to chance - it had everything you will need for a great adventure and all the comforts of home
Kuaui Experience
Rating:
1
5
5
Review Date: 01/18/2015
It was very professional, friendly and helpful.
Nihilani
Rating:
1
4
5
Review Date: 12/28/2014
Great vacation, comfortable place to stay.
Wonderful Honeymoon
Rating:
1
5
5
Review Date: 07/07/2014
Great place. Great location. Loved being able to cook our own meals. Perfect spot with a ton of different activity options within minutes of driving and even walking distance!
perfection
Rating:
1
5
5
Review Date: 06/09/2014
we had a wonderfull time staying at nihilani 2a every thing about this home is five star and the location is heaven if you want peace and privcey this is where to stay plenty of places to drive to and shops very ciose would definatly stop again
Serene and Beautiful
Rating:
1
5
5
Review Date: 04/26/2014
We love staying here and will continue to return as often as possible.
Awesome Stay In Princeville
Rating:
1
5
5
Review Date: 03/02/2014
The condo was very clean and had all the amenities of home. The owners provided everything we needed plus more. Would definitely stay here again. Highly recommended to all our friends. Thanks again Josh for an awesome stay on Kauai, and thanks to the owners for sharing your lovely home with us.
No better place to stay in kauai
Rating:
1
5
5
Review Date: 01/28/2014
My fiancé and I had a wonderful vacation thanks largely to the accommodations we found. It was great to have a home feel and being so close to some wonderful beaches on the island. Do yourself a favor and go for the less conventional resort and give yourself a relaxed experience.
Dec 13 Kauai TRip
Rating:
1
5
5
Review Date: 01/12/2014
Great location and size for the price. No complaints would definitely stay again.
Great stay!
Rating:
1
5
5
Review Date: 11/01/2013
Two couples (each with a toddler) stayed here for a week in Oct. What a fun getaway - just a couple minutes walk from the pool/hot tub and not far drives to kid friendly beaches, plus the grocery store and a park being 5 minutes away. The place is modern, nice open layout of the kitchen to dining room to family room. MBR has nice walk-in closet to put the pack n play in. A great place! Only small issue was the internet didn't work.
Great condo north shore Kauai
Rating:
1
5
5
Review Date: 10/17/2013
This was an excellent condo - full kitchen, a/c, comfortable beds, great space, loved the lanai and had many meals outside. Use the gas bbque down by the pool and picked up excellent local fresh fish at the Dolphin Fish Market in Hanalei for many of our dinners. Great location for short drives to north shore beaches, Kilaueu, Hanalei and north end beaches etc. Would recommend staying here and would stay here again
Great Place! Great Location!
Rating:
1
5
5
Review Date: 09/26/2013
This place was truly a pleasure to stay at! A beautiful condo in a great location.
Princeviile
Rating:
1
4
5
Review Date: 09/23/2013
Condo is nice and spacious.A few things did not work, plugs in bathroom,toilet leaked, fan in living room. Nice overall with a few fixes.
Kauai
Rating:
1
5
5
Review Date: 08/14/2013
The rental was very clean and had everything we needed. The extra beach toys, chairs, etc. in the garage were super helpful. We even liked their Kauai guidebook that was in the home. Everything was well maintained and we thoroughly enjoyed our stay. We highly recommend this condo to couples, families, or anyone looking for a home away from home.
we had a very comfortable and easy going vacation.
Rating:
1
5
5
Review Date: 08/12/2013
Relaxing stay on the North End of Kauai
Rating:
1
5
5
Review Date: 08/03/2013
What a beautiful unit that was very, very clean! We loved staying there for convenience & just the beauty of the North end of Kauai. We sat on the lanai every morning & loved feeding 2 sweet & hungry red crested cardinals bits of our breakfast cereal & toast. We hope to stay again & wanna make an annual visit...we would pick the same unit again!
Better than a resort condo
Rating:
1
5
5
Review Date: 04/19/2013
staying here was much nicer than staying at a crowded condo or resort. WE had plenty of room and were able to safely park our vehicle in the garage. We would sit outside in the morning and have breakfast while putting crumbs of muffin in our palms and feed the birds. I had some questions that were asked and answered by email in less than 24 hours. Great service
great location. nice newer condo
Rating:
1
4
5
Review Date: 04/09/2013
Excellent!
Rating:
1
5
5
Review Date: 04/02/2013
Love the area and the place! Great for the entire family.
Great place to stay!
Rating:
1
5
5
Review Date: 03/18/2013
The place is very clean and well maintained, well-equipped; great place to relax

Great stay!!
Rating:
1
5
5
Review Date: 03/11/2013
Nihilani 2A
Rating:
1
5
5
Review Date: 03/07/2013
This was a beautiful home, very clean & fully stocked. It was truly a home away from home, my family would love to stay there again in the future.` Thank you!!!
Very nice private and quite place to stay
Rating:
1
5
5
Review Date: 02/26/2013
Winter Break
Rating:
1
5
5
Review Date: 01/28/2013
Great place to stay.
Rating:
1
5
5
Review Date: 01/21/2013
We had a great stay and were very comfortable. We would stay here again for sure. The only complaint, which is very minor, is that the wireless router needed to be reset frequently to maintain an internet connection. Other than that, it was perfect.
Kauai, Hawaii - September 9th-28, 2012
Rating:
1
5
5
Review Date: 10/23/2012
For the most part the experience was fantastic. There were a couple things that I was misimformed about and that was:

1. I thought that the property was within walking distance of a beach and it was not.

2. The icemaker on the refridgeratior did not work.
Nihilani - KEM
Rating:
1
5
5
Review Date: 09/06/2012
Outstanding stay. Well managed property.
Just Perfect !
Rating:
1
5
5
Review Date: 08/27/2012
Clean, beautiful and well équiped.
Peaceful Week in Paradise
Rating:
1
5
5
Review Date: 05/22/2012
We have been to Kauai about a dozen times so we know our way around....this property is one of the finest we have ever enjoyed...would like to live there.

The managers did a great job in making our stay as comfortable as possible...we will return to use their service again.
A Great Place to Stay
Rating:
1
4
5
Review Date: 02/18/2012
This was our first visit to Hawaii. We weren't disappointed. This unit was very roomy for the two of us, and would be just as roomy for four. Everything we needed was there. The only thing missing was an ocean view. We found this property to be quite quiet and very relaxing. We recommend this unit as a wonderful place to stay in North Kauai.
Allen W
Okotoks, Alberta, Canada
Excellent Adventure
Rating:
1
5
5
Review Date: 12/20/2011
Our stay at the Nihilani was truly relaxing and met every expectation we had for a stay in Princeville. Close to Hanalei and the Na Pali Coast hike as well as kayaking, ziplining and surfing. After each day's adventures we looked forward to the peace and quiet provided our unit.
ALL the comforts of home!!
Rating:
1
5
5
Review Date: 10/01/2011
having a garage to come and go thru means you don't carry groceries very far. I love staying in Princeville, because my family lives there. So close, the north shore is awesome. I'm a BRITT too.
Rating:
1
5
5
Review Date: 07/15/2011
The oven was a little smokie. But everything else was really clean. The beds are real comfortable. We had a great stay. I will use this rental company for all my future stays in Kauai. Mahalo and Aloha, untill next time.
Rating:
1
5
5
Review Date: 06/30/2011
Beautiful, wonderful, full of amenities
Rating:
1
1
5
Review Date: 06/10/2011
The condo was large and roomy and beautifully decorated. A terrific location, great pool and clean functioning BBQ's. We loved how wonderful it was having all the comforts of home but in paradise. Everything you needed was there; everything in the kitchen, beach chairs in the garage, boogie boards, an ice chest for the beach. Perfect place for a perfect vacation. Will stay here again and again.
Manager Response: 07/27/2011
Response from Kauai Exclusive Management LLC
We are #1 for this renter! Unfortunately they meant to give us a 5!! I have tried to have TA resolve this with no success.
Nihilani Review
Rating:
1
4
5
Review Date: 04/25/2011
Good location for North Shore activities but there is no view of mountians or ocean.
Rating:
1
5
5
Review Date: 12/12/2010
Rating:
1
5
5
Review Date: 02/02/2010
The property was very nicely furnished with top quality everything needed.The complex just seemed too crowded and there are no paths to the pool.
Rating:
1
4
5
Review Date: 01/31/2010
We had an overall a very nice stay. The only reason we didn't rate this place as a 5 star was because the washing machine was not working and it took about 3 days into our stay to get it fix. We had to find other alternative and it wasn't easy.
Manager Response: 10/21/2010
Response from Kauai Exclusive Management LLC
It was a weekend on Kauai and it was very hard to get this resolved.. Nothing moves to fast on this Island.. Aloha Joshua
Rating:
1
5
5
Review Date: 01/09/2010
Townhome was very spacious and well appointed. It has tasteful furnishings and the 2 car garage was handy.
Truly felt like having a home away from home. Everything was perfect. Location: far enough from traffics, close enough to many beaches, commercials, and town. The layout of the property was smartly done, well furnished, and very clean.
Rating:
1
5
5
Review Date: 09/12/2009
We would definitly come back to the same unit, property, and area.
Beautiful place!
Rating:
1
5
5
Review Date: 09/01/2009
My family stayed here 3 nights in late August '09. It is gorgeous! Very nicely decorated, lots of space, extremely clean.

The only suggestion I would make to the owners would be to have an additional blanket for the air mattress. My 3 year old slept on a (very comfortable!) air mattress that was provided, but there were only sheets for it, no additional blankets and he got cold in the night.

The only other suggestion would be to have some additional snorkel gear available for guests to borrow. The place we had come from just prior on the Big Island had quite a bit and it really came in handy for us.

But overall, Nihilani 2A was a great unit and I would certainly stay there again and/or recommend it to friends!
Fabulous Units
Rating:
1
5
5
Review Date: 07/02/2009
A great company to deal with. Very professional and accommodating.
Recommended to Everyone
Rating:
1
5
5
Review Date: 05/26/2009
This property exceeded all of our expectations, in fact everyone I have discussed the trip with has heard that the high point of our Kauai vacation was our Nihilani property; every amenity of home, plus. The kitchen was equipped for a chef, entertainement and WiFi state of the art, and beautifully landscaped and maintained grounds; a perfect setting.
Wonderful stay
Rating:
1
5
5
Review Date: 03/18/2009
We had a great stay with our family. The condo was beautifully furnished and appointed. The only downside was the cold swimming pool, but otherwise we greatly enjoyed ourselves and would stay here again.
Rating:
1
5
5
Review Date: 01/22/2009
Your request has been sent. We look forward to meeting all your vacation needs!
Use of this website constitutes acceptance of the KauaiExclusive.com Terms and Conditions and Privacy Policy.
©2020- Present KauaiExclusive.com, Inc, All rights reserved. | Website Design by Beyond Pricing