nalani-palms-kauai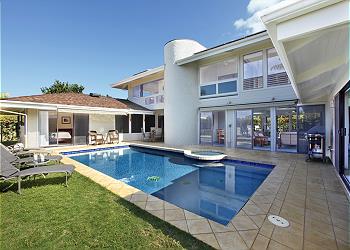 Nalani Palms Kauai
https://www.kauaiexclusive.com/rentals/properties/nalani-palms-kauai/
Nalani Palms Kauai | Vacation Rental in Kauai
***5 Bedroom House With Private Pool***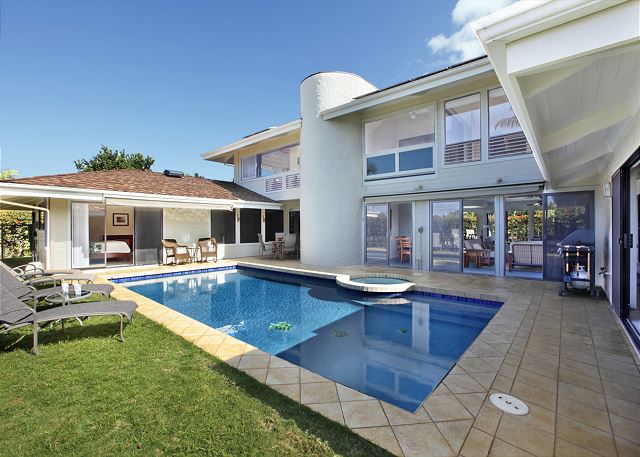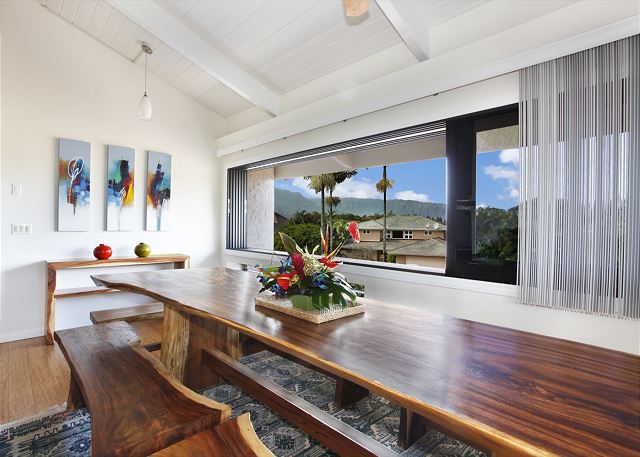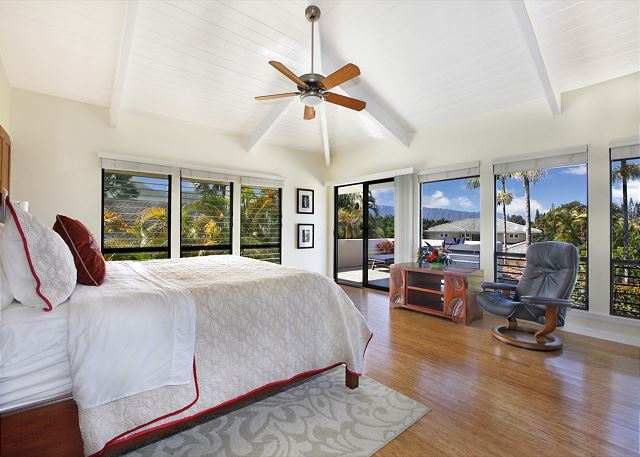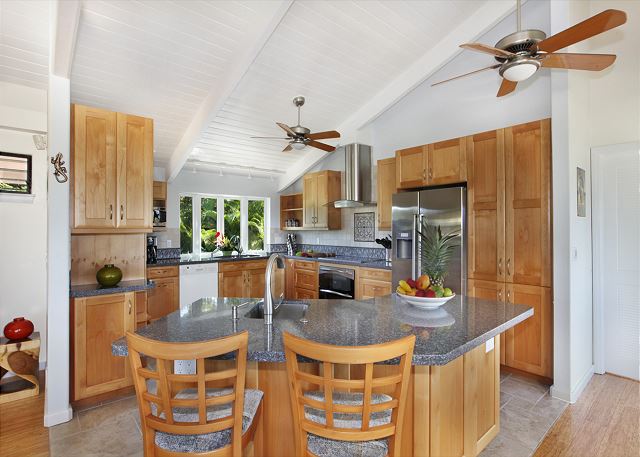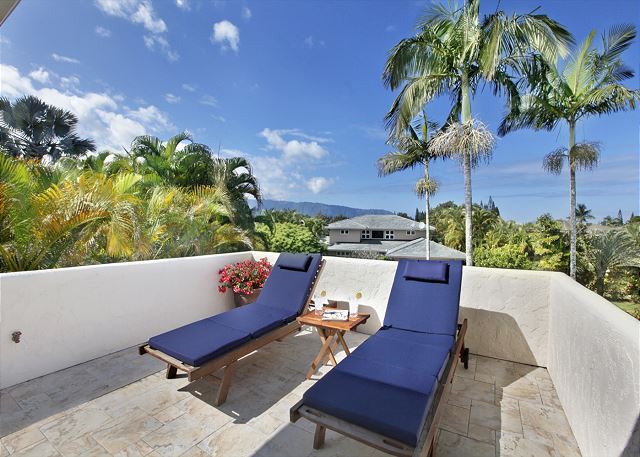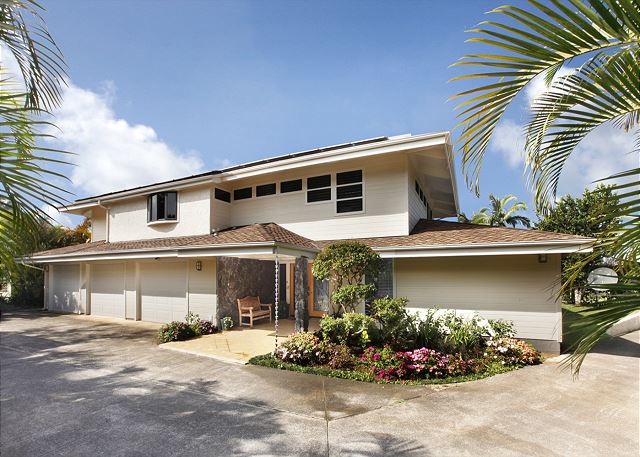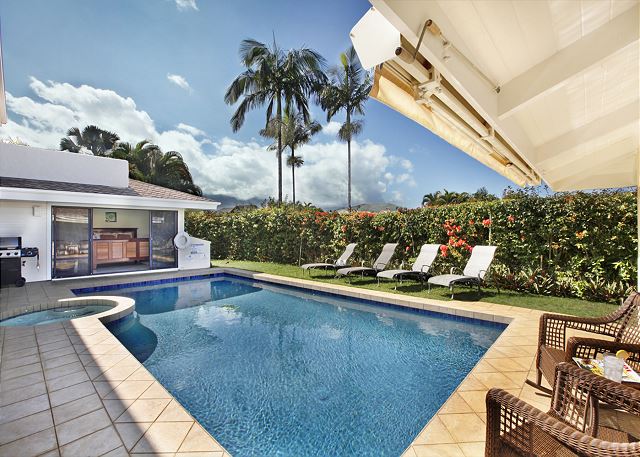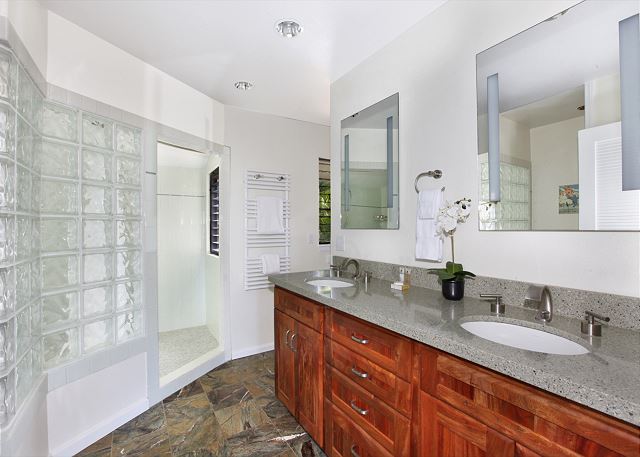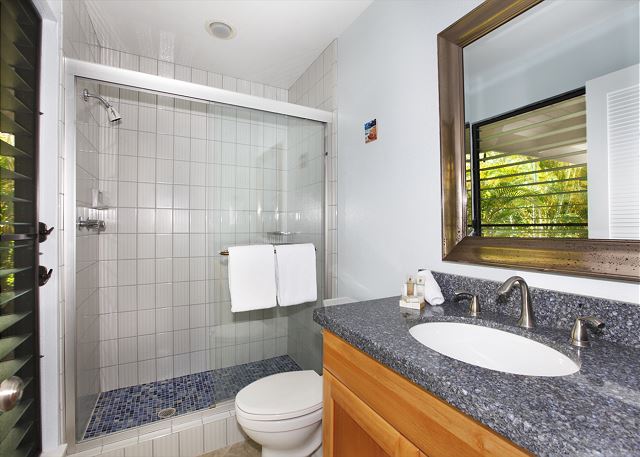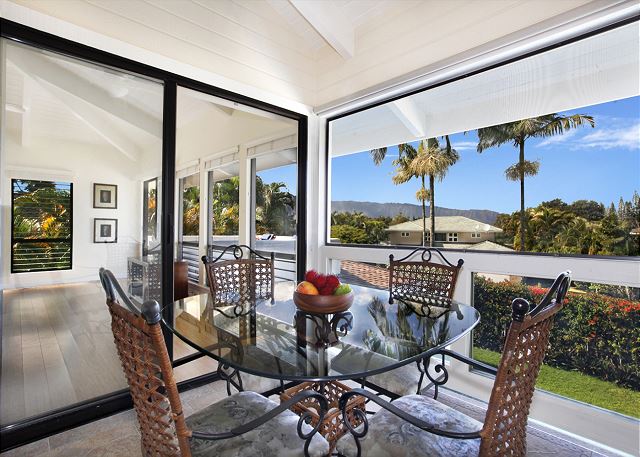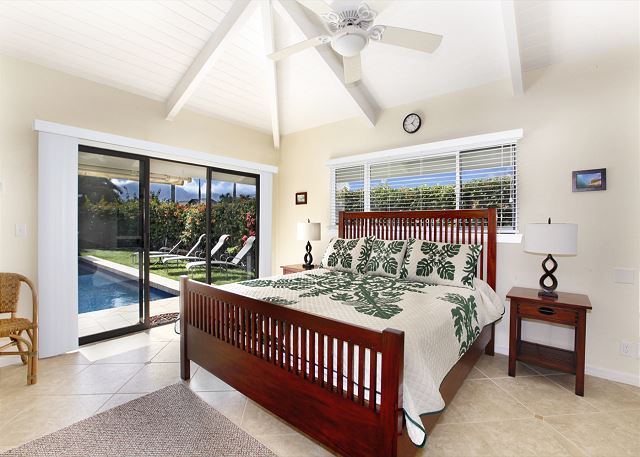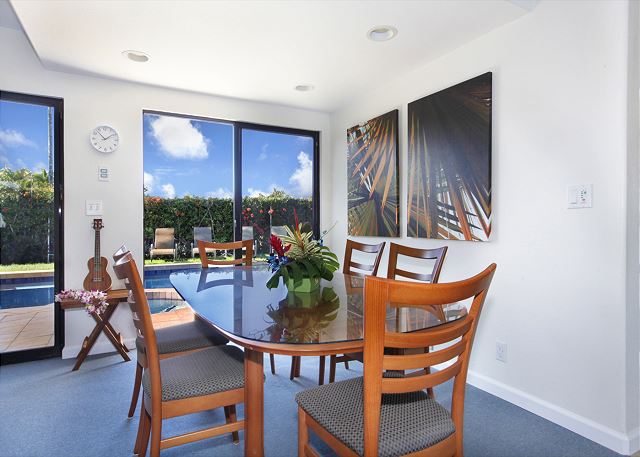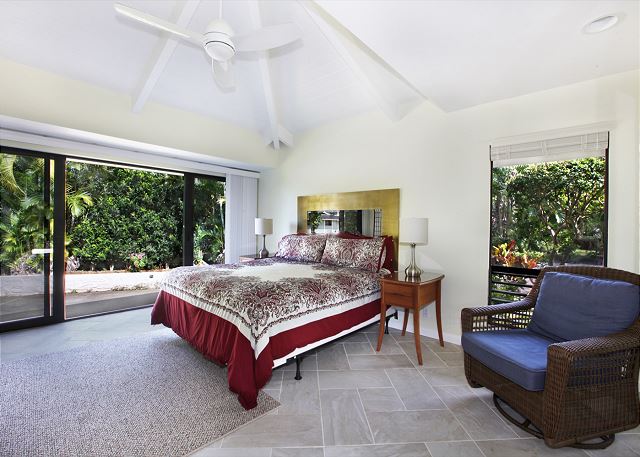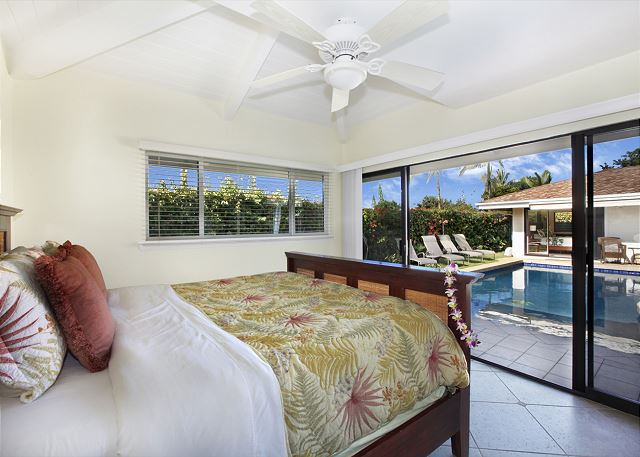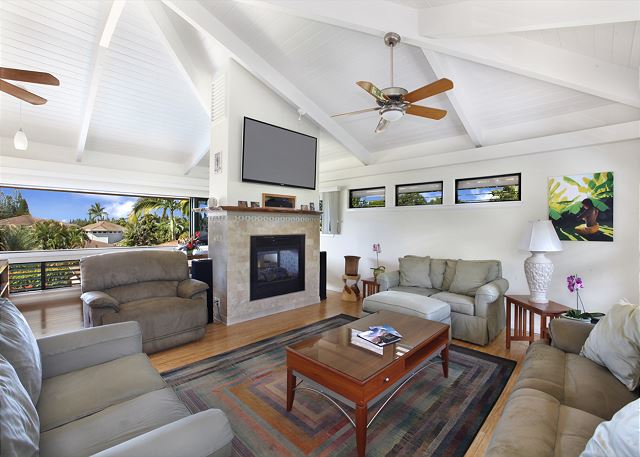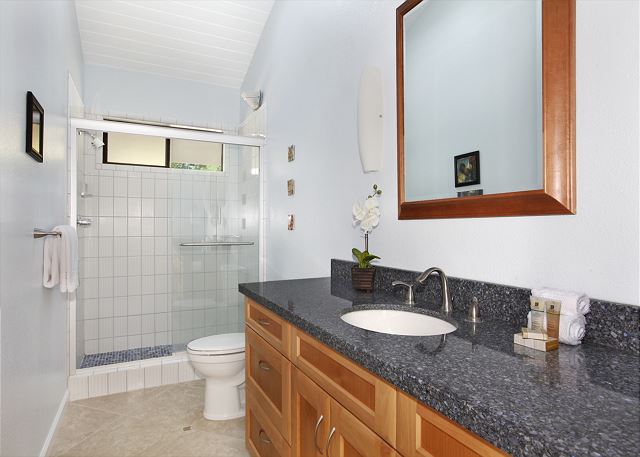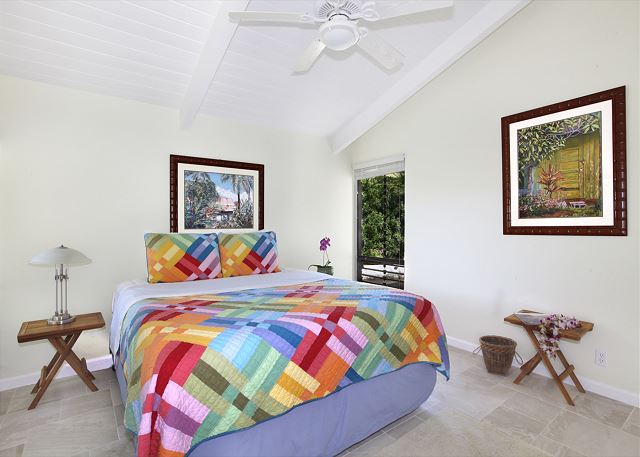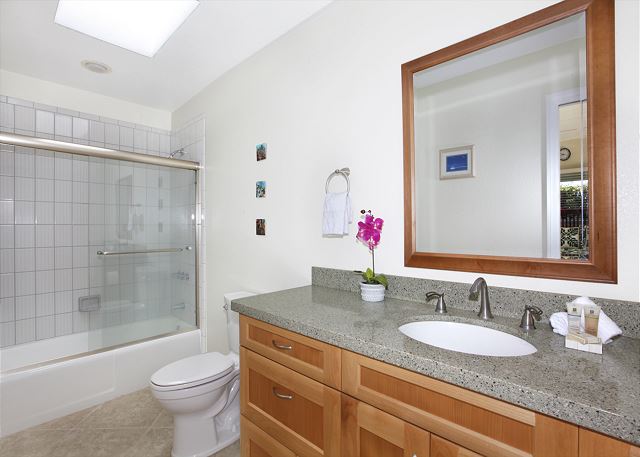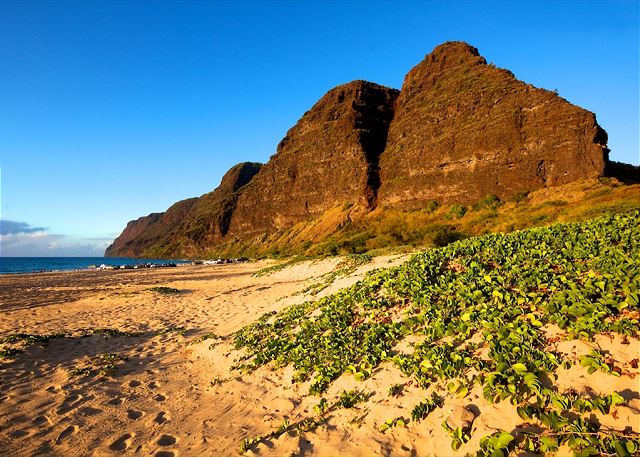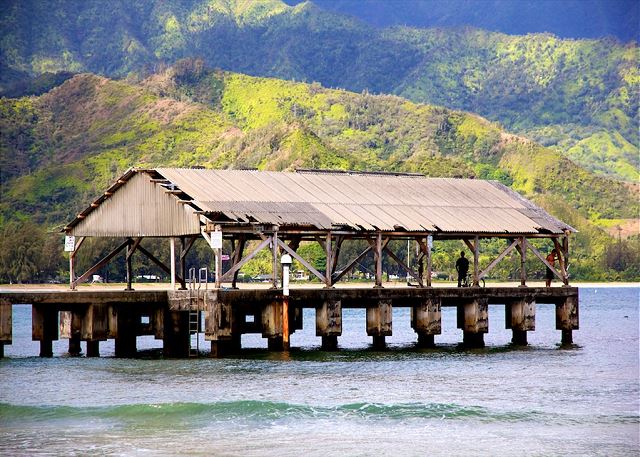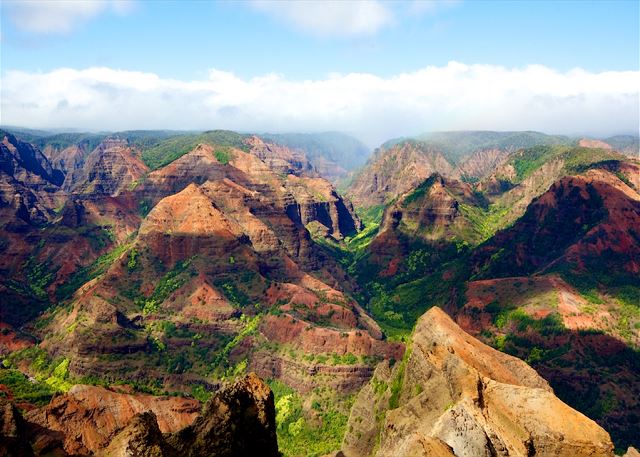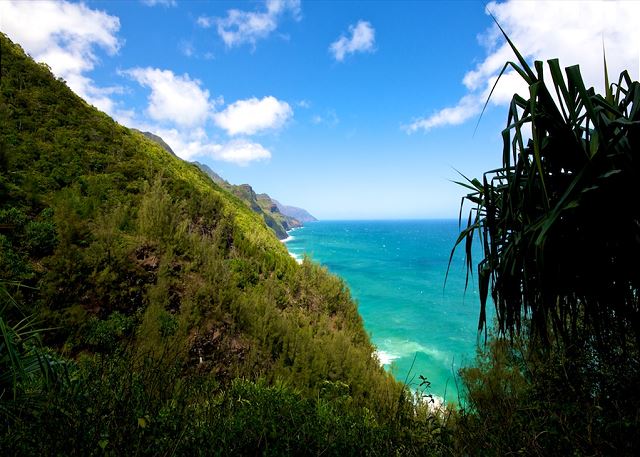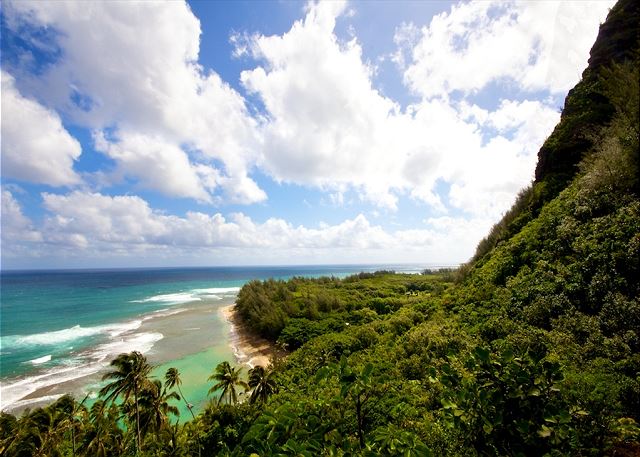 One of Princeville's finest vacation rentals, Nalani Palms provides peace, privacy and comfort for your ultimate dream vacation. Grill local fish on the stately BBQ, lounge by the private pool and the spa. Watch the sunset from the upstairs lanai. The luxurious possibilities of this home are sure to create magical memories that will last a lifetime.

This 5 bedroom, 4 bath house comes fully equipped with a game/entertainment room, hot tub, pool, beach gear and paddle boards. Tastefully and elegantly furnished throughout, the pristine atmosphere is a welcoming space to indulge after a day of adventuring!

This prime location allows you to enjoy all of the amenities Princeville has to offer, plus a close proximity to some of the North Shore's most stunning beaches.

The North Shore of Kauai is quintessential paradise. Dramatic cliffs plunge into invigorating turquoise waves and lush jungles fringe inviting white sand beaches. Home to the infamous Hanalei Bay and the Nepali Coastline, the North Shore cradles some of Kauai's most treasured gems. It's easy to dive into the local culture when staying on the North Shore, as the environment is cozy and the sentiment is filled with Aloha.

One of the most revered places on earth, Kauai inspires a state of awe within all of us. Brimming with beauty, the oldest inhabitable Hawaiian island has both withstood the test of time and matured into a land of fertile abundance. Lush jungles, white sand beaches and the alluring ambiance of aloha enchant each moment. Offering exceptional accommodations, adventures, cuisine and culture, vacationing on Kauai is a dream come true.

TA-142-003-8144-01
| | Nightly |
| --- | --- |
| August 16 - December 14, 2021 | $1,100 |
| December 15 - January 05, 2022 | $1,099 |
| January 06 - December 14, 2022 | $1,100 |
| April 15 - June 14, 2022 | $1,100 |
| August 16 - December 14, 2022 | $1,100 |
Thank you for entering your review. The review will become available to the system shortly.
45
45
Overall Rating:
4.8444
4.8444
Had all the feel of home and then some!!
Rating:
1
5
5
Review Date: 07/31/2021
We had a great stay at Nalani Palms Kauai. It was everything we were looking for in a short staycation to finish off our summer before school starts.

The vacation rental is in a great location and easy to find. It's located in the prestigious Princeville area. It's a well kept neighborhood.

Meals together are important and I loved the extra extra large dining table where we could all sit together. The private pool was so nice to enjoy without sharing it with a resort full of people. The hot tub works well.

The home was clean and in good shape. It had everything you needed to cook at home. We did all 3 meals in the well equipped kitchen.

Ping pong was a big hit and brought lots of excitement. Video games was fun too. We did a ton of pool time. And even a movie night. We all had plenty of space to stretch out.

The vacation rental management staff, particularly Michael G, was excellent with communicating as well as being accessible when we had questions.

We would consider staying here again.
Great home for families
Rating:
1
5
5
Review Date: 06/22/2021
Our family, including 8 adults, 5 kids thoroughly enjoyed this home and pool. We'll equipped for cooking in large kitchen, beautiful large table for eating, as well as smaller areas. Loved that it was equipped with pool toys, as well as things to take to the beach- this was so helpful and useful. 2 washers and dryers great! Great location. We would stay again!
house in princeville
Rating:
1
5
5
Review Date: 06/19/2021
perfect house for our family(9 adults and 2 teens)
great location, clean well kept,everything perfect.
would definitely rent again
Beautiful and gracious
Rating:
1
5
5
Review Date: 05/07/2021
We had a small family reunion at the house. It was fabulous! House was GREAT. The kids loved the pool, and we loved all the space. Great amenities, including games and beach supplies. Great location, as well; easy to walk to store and park.
Only issues were some irregular hot water in the master bedroom bath, and a couple of basics missing in the kitchen, which management assured us they would address asap. We would rent this place again in a heartbeat!
Hawaiian Vacation
Rating:
1
5
5
Review Date: 03/27/2020
We had a great time at Nalani Palms Kauai. It was a perfect place for our group and the kids. Having the pool and hot tub was everything during the 3 days of pouring rain we had on our trip. We were a short walking distance from the playground, running trails, grocery store and delicious resturants.
beautiful location
Rating:
1
4
5
Review Date: 02/03/2020
the size of the house was just right. The pool was great. The house had all we needed for our activities around Kauai. Princeville was a good location to many places we wanted to see. Three of the beds need to be replaced, Rooms were spacious enough for my family. The outside of the house is a bit buggy, house could use a good spray down, but there were outside maintenance people around. So I know for the most part the place is being cared for. Not sure if the management company checks on their cleaners but may want to as the kitchen appeared to he clean but lacked a really good deep cleaning.
Manager Response: 02/06/2020
Response from Kauai Exclusive Management LLC
Thank you for choosing Kaua'i Exclusive as your host during your time here on the island! I will have the property manager schedule a spray for bugs so that won't be more of an issues for others. We will talk with our cleaners about their work and make sure it is improved. Thank you for bringing these issues to our attention. We hope to host you again in the future! Mahalo Nui, The Kaua'i Exclusive Management Team
Family Getaway
Rating:
1
5
5
Review Date: 01/26/2020
Very nice house and a very good location. Access to water sports equipment and surf boards.
Manager Response: 02/04/2020
Response from Kauai Exclusive Management LLC
Thank you for choosing Kaua'i Exclusive as your host during your time here on the island! We hope to host you again in the future! Mahalo Nui, The Kaua'i Exclusive Management Team
Amazing Place for a large family
Rating:
1
5
5
Review Date: 11/03/2019
Overall, we loved this place and will definitely consider to come back here in the future. We had a large family including married couples, toddlers and teenage kids. Everyone enjoyed the place. The house is very spacious and can easily accommodate large group of people and has variety of entertainment for any age. The pool and hot tub were great and clean and overall house offers a lot of privacy. the only recommendation I would have is to add more appliances for the kitchen, such as electric tea kettle (2 would be perfect) and some more silverware. The property management was quick to respond as well.
I would definitely recommend this place for a large group.
Great Stay In Princeville
Rating:
1
5
5
Review Date: 10/26/2019
Excellent property in a great location. With 2 children and 8 adults, we had plenty of room without feeling cramped. Pool was great with perfect temperature; we were in it every morning and evening. Great location that is walking distance to grocery store and restaurants. Short drive to Hanalei and multiple beaches. Property needs a little bit of maintenance but the property management was very responsive to any issue or question that we had (usually responded within an hour even on weekends). We wouldn't hesitate to stay here again.
Spacious 5 bedroom Home in Princeville
Rating:
1
5
5
Review Date: 08/12/2019
We had a wonderful experience staying in Nalani Palms Kauai in August 2019. Our family of 7 adults and 2 children were very comfortable in the 5 bedroom home. We were happy one of the bedrooms did not have outside access for our small grandchildren to sleep in. The home is nicely decorated and well supplies with kitchen appliances, pans and utensils. Although the house does not have central air conditioning, we were able to use the ceiling fans and many available floor fans to keep a breeze flowing thru the house. The beach chairs and equipment available for use were such a big bonus for us. The staff of Kauai Exclusive were very helpful and quick to respond to my questions. The reservation process, check in and out were very easy and efficient. Wonderful home and helpful kind staff.
Lovely Nalani Palms home
Rating:
1
5
5
Review Date: 06/23/2019
The house was perfect. It was clean and well stocked. We enjoyed the use of the beach equipment as well. It was also a short walk to the Princeville Center.
Beautiful Home
Rating:
1
5
5
Review Date: 04/20/2019
We really enjoy our stay in this beautiful home. It was perfect for our six adults and four children. It was fully stocked with everything we needed including the beach equipment. The kids loved the game room and the ping pong table in the garage. The location was perfect, within walking distance to a park, grocery store and restaurants. The pool and spa was wonderful and the kids were in it every day.
Great Vacation Destination for a Family
Rating:
1
5
5
Review Date: 03/12/2019
Great home for a family reunion. Bedrooms are large so you have your space and king size beds! Bedrooms are downstairs and living/kitchen upstairs. Home has a large number of beach items to use in the garage. So no need to rent items. Pool was a little cool but jacuzzi warmed up nicely! Location is super convenient to grocery store, shops and town. And walking distance to a Tiki bar!! Would have loved to see more kitchen towels and a bit more updated kitchen items. Outdoor BBQ was great. Management company was easy to work with and super responsive to our needs. Only complaint would be the roosters but that's Kauai! Overall great time and awesome location!
An Incredible Stay
Rating:
1
5
5
Review Date: 11/05/2018
Such a great stay, everything was as expected. Beautiful location, shopping center nearby, and the house was of course beautiful and plenty of space for our 11 guest party. I also received a sweet wedding present from management. Definitely recommend!
Awesome Family Getaway!
Rating:
1
5
5
Review Date: 09/26/2018
Awesome Family Property!

Our family of 8 adults, 2 kids and 1 baby stayed here comfortably for a week. Rooms were spacious, beds super comfy and was great to have everyone have their own bathroom. Master suite is incredible - pictures don't do it justice. The staff was great and questions were answered super fast. There was a ton of equipment there to use (beach chairs, surfboards, snorkels, water shoes, boogie boards, etc), Short walk to the business centre with groceries, shaved ice and tour booking services. The kitchen was very well stocked - recommend you check it out before you go by any staples. Ping pong table was damaged and missing during our stay, but other than that everything was in good working order. Having a private pool was so great for everybody. There is no air conditioning, but ceiling fans and tables in every room. Only downside was there are some bugs and the occasional gecko that find their way in, but that is life in Kauai. Would go back in a heartbeat!
nice large home
Rating:
1
4
5
Review Date: 09/17/2018
Very nice large home, Some minor damage was noted that had occurred prior to our arrival. But overall the house was perfect. The neighborhood unfortunate didn't allow any sort of fun having me an my wedding party shut down for noise at 730 pm.
Beaty
Rating:
1
4
5
Review Date: 08/14/2018
They house is nice, clean and had everything you need. Some things I would like to have seen more fans (since there is no AC) and in the summer it's hard to sleep, some control over the millions of mosquitos and games that had all the pieces. You're not home much so worked out. This home is great for multiple families
Princeville Paradise
Rating:
1
5
5
Review Date: 08/05/2018
The house was perfect for our two families. Plenty of room with a large living room and kitchen and a game room downstairs. The pool provided a great spot to relax after a day of exploring and the ping pong table was super fun. The house also came with tons of beach gear - SUPs, surfboards, bodyboards, beach chairs, umbrellas and coolers. Beautiful home in an even more beautiful location. Very close to the grocery store...a plus when traveling with kids. We will definitely be back.
Beautiful gem in Princeville
Rating:
1
5
5
Review Date: 06/19/2018
This beautiful home accommodated our group with ease! Clean, open, updated, and easy access make this a dream vacation stay. With everything from surf boards to beach umbrellas, snorkel gear to beach towels, we hit the ground running. We have vacationed in this particular home 3 years in a row. Plan to return again to this beautiful island.
Princeville
Rating:
1
4
5
Review Date: 04/23/2018
great location and plenty of rooms for 5 couples
Amazing!
Rating:
1
5
5
Review Date: 04/04/2018
We had a wonderful vacation at this property. The reviews don't do it justice. The house is VERY well stocked with everything you might need for the beach (towels, boogie boards, surf boards, snorkeling items, beach bags, etc.). The kitchen also had all of the items we needed. We were a group of nine and all had more than enough space to have quiet time if needed. The layout is outstanding! The location is very close to a small shopping area which was wonderful for morning coffee or quick trips to the grocery. About a two mile beautiful walk to the beach. I highly recommend this property!
A pleasant stay
Rating:
1
5
5
Review Date: 02/02/2018
Just got back from a weeklong stay in this beautiful home. We thoroughly enjoyed our time on Kauai. This home is located in a very nice area in Princeville , and close to many things that we did. Although we didn't use the pool much, the hot tub was very nice at night after all of our hiking. This is an older home, that has been maintained and kept up very well. It had so many wonderful amenities that improved our stay nice. Especially the beach supplies in the garage.
Awesome family vacation!
Rating:
1
5
5
Review Date: 11/08/2017
We had a great family vacation! The property suited us perfectly! We loved the backyard with the pool and Jacuzzi! The bedrooms were all nice sized. The location was close to the market. Our property manager Jason responded immediately to any of our request and was very hospitable! The property was also nicely located to visit the various beaches and hike to fabulous waterfalls. I would recommend this property for a large family. It was very comfortable and enjoyable stay.
Kauai @ Nalani Palms
Rating:
1
5
5
Review Date: 08/04/2017
We have been to Kauai twice and have stayed at this house in princeville and have our third trip planned already This home has all the things we need to enjoy our vacation with up to 12 family and friends including beach equipment to use while we are there. Location is good close to beach and shopping in a quiet neighborhood. A nice clean pool and hot tub also. And the property management is available and willing to help with any needs or problems that might come up while there.
Thank you Kauai Exclusive
It's A Miracle When You Don't Have to Call the Property Manager
Rating:
1
5
5
Review Date: 06/26/2017
The best ever in property and location. We had 11 people in our party; they all had their own room and the common room was perfect with the long dining table. You always have problems come up, but on this trip I never had to call Jason for anything but to say goodbye and thanks. Every thing worked well; there were great supplies and equipment for our stay; all I can say it was a miracle. Now if Jason could do something about the rain, we would have him come to Texas. Thanks for a perfect vacation and a wonderful place to stay. You made our 50th Wedding Anniversary more than we expected. All of the recommendations that were made about the restaurants were great and locations to go to were beautiful. We hope we left the house as beautiful as we found it. We enjoyed the Beach House Restaurant for our celebration and really enjoyed the Smith Family Luau. I hope we can come again on our 100th Wedding Anniversary. Thanks for making last memories. We could not say enough good things about Jason; even though once he gave us the info, we never needed him again. He checked to make sure everything was going o.k. What a wonderful resource especially when you would not know what to do, where to go and when to put the trash out. Again Thanks
more than just a beautiful home away from home!!
Rating:
1
5
5
Review Date: 06/23/2017
Wow. This house had it all, especially for a large group/family. Plenty of rooms for all to be comfortable to sleep, relax or be together. All bedrooms were spacious, clean, beautiful, comfortable and came with a gorgeous view of the pool, neighborhood or the mountains. Our favorite spot was the upstairs common screened-in patio. Gorgeous view and a wonderful breeze had us gathered there morning and night! The kitchen was a dream, more than enough equipped with all you need, and updated very well. The kitchen table is a unique piece that I would love for my own! Plenty of bathrooms for everyone. And the well equipped and stocked garage with activity necessities neared for the beach made the beach days very enjoyable!! So convenient and easy. Thank you for a wonderful stay!! Jason, the property manager, was extremely nice, helpful, took care of our needs/concerns, and accomodating to us all. The beautiful pool was a great hit with kids and adults. Property was beautiful.
Side note...house has no central AC (have fans on!)
The Perfect Holiday Home
Rating:
1
5
5
Review Date: 05/14/2017
After viewing the pictures of the house we were quite excited to actually see it and were little afraid it might not live up to our expectations. From the moment we opened the door we were in awe. There were 12 of us (7 of whom were children) and we all had space to get away from each other, to get a good nice sleep and have privacy the bathroom. The pool provided activities for the children when we were not at the beach or participating in some activity. The garage was well stocked with equipment to take to the beach and the kitchen had every appliance or cooking utensil that we could possibly need. It was very convenient to have the shops and playground in walking distance. It is the perfect holiday house anad we felt quite at home.
Oasis in Princeville!
Rating:
1
5
5
Review Date: 03/01/2017
We loved this place! Great spot in Princeville on the north shore of Kauai, super close to the town of Hanalei with the shops and that amazing beach. We were here for a little over a week and had so much fun hiking the Na Pali trail, snorkeling at Tunnels, and exploring all of the local beaches in the area. The house had everything you need for a family and the layout of the house was perfect to allow us all to spread out comfortably. The pool and hot tub were a bonus and we loved all of the extras this house had like all the beach toys and kitchen amenities. Kauai Exclusive was easy to work with and the property manager for the house, Jason, was awesome and super helpful. It was hard to leave but I know we'll be back.
Best Vacation Ever!
Rating:
1
5
5
Review Date: 02/21/2017
I took my whole family and my wife's parents here for vacation and it was absolutely incredible. The house was perfect for all of us to spread out and enjoy ourselves. All of the beach toys, like the stand up paddle boards, surf board, some boogie boards, snorkel gear were here waiting for us. The back yard with the pool and the hot tub was private and well kept and the property manager, Jason, was always available and super quick to respond when we had any questions . We're so happy we were able to stay here for our family vacation and I can't imagine it getting any better. We're coming back for sure!
Princeville 5 bedroom House
Rating:
1
4
5
Review Date: 02/03/2017
This is a beautiful family vacation home with two of the 5 bedrooms on the pool and hot tub deck. All bedrooms had queen or king beds which was not the best for children. One bedroom should have twins beds. Kitchen was the best, sooo well equipped- perfect. Pool toys were plentiful boogie boards,paddle and surf boards,coolers, deck beach chairs.
Jason, the property mgr was wonderful, so helpful and informative. So quick to respond to our inquiries.
The house needs work, paint peeling around windows, window coverings in bad condition- no privacy since there are missing panels. Floors need a good machine scrubbing... floors very dirty. All fan blades also very dirty with spider webs.



Beautiful home
Rating:
1
5
5
Review Date: 12/19/2016
We are a family of 14, including a toddler and a baby. This house was a perfect place for us to vacation!!
Paradise at Nalani Palms!
Rating:
1
5
5
Review Date: 11/21/2016
Just returned back from an incredible stay at this beautiful property. Can't say enough! I traveled with my wife and kids and wife's parents and this house provided ample space and comfort. They have everything you need for the beach with stand up paddle boards and snorkel gear, even beach chairs and umbrellas. There are a lot of things within the kitchen itself that really made our trip feel like we were at our home away from home. They have everything you can think of from a rice cooker to a crock pot to all the spices and olive oil. Really nice to not have to buy that at the store. Having our own personal pool was a real plus and helped entertain the kids and keep them happy. Kauai Exclusive was easy to work with and the property manager (Jason) was extremely helpful and always available for anything we needed. We can't wait to come back!
Perfect Hawaiian Getaway
Rating:
1
5
5
Review Date: 09/30/2016
What a great place to enjoy Hawaii and a large group of friends. The house is set up perfectly to provide everyone with privacy and a communal experience. The house was super clean with all essential items provided. With an amazing array of beach items, chairs, bags, paddle boards, you name it they have it. Highly recommend!!
Fantastic home!
Rating:
1
5
5
Review Date: 09/20/2016
We had a family group of 9 people. Plenty of room for everyone in this gorgeous house! Easy to get to beaches, restaurants and shopping! Jason (property mgr) was very responsive to questions and was quick to return texts.
Nalani Palms Kauai
Rating:
1
5
5
Review Date: 08/15/2016
EXCELLENT. I had dealt with a few other companies that were dis honest and hard to deal with over e-mail/phone; however, Kauai Exclusive was completely different. They were great. Would highly recommend this company.
Hawaii Fun
Rating:
1
5
5
Review Date: 08/11/2016
Great location. Great house. It was nice to be able to cook in, relax and enjoy the scenery. Overall great experience! Jason was great to work with!
Awesome place to stay
Rating:
1
5
5
Review Date: 08/09/2016
We stayed at Nalani Palms with another family for a little more than a week. Could have stayed much longer. In the past we've always stayed at smaller 2-3 bedroom condo's or at Hotel properties. This house had everything we needed. Double washer and dryers, great kitchen, rooms were spread out enough for privacy, pool and hot tub were great, 3 min walk to the market, ping pong table and game room for the kids. Just a great overall experience. There were enough ceiling fans and windows to keep the house nice and cool. Jason left us a huge basket of local fruit and snacks and was available for any concerns or questions. We definitely look forward to coming back next year. Thanks guys.
Nalani Palm
Rating:
1
5
5
Review Date: 07/19/2016
We thoughly enjoyed our stay at this house. we had a few issues that occured while we were there, and a quick call or Text to Jason our property manager and everything was taken care of. The propery was well taken care of and the garage full of beach equipment put this rental over the top for us. We are looking to revisit in the near future with this house as our first choice. Our appreciation and thank you to the Kauai Exclusive Managment and to Jason especially.
Robert and Leslie's Marriage Vow nenewal
Rating:
1
5
5
Review Date: 07/05/2016
Our stay in Princeville was incredible. The Nalani Palms home is a beautiful, spacious, comfortable, fully stocked, joy to wake up in as the birds sing and the sun rises. Anyone who stays here will be very very happy. Jason, our property liaison was prompt, friendly, knowledgeable and an all around good person.
A treasured family vacation
Rating:
1
5
5
Review Date: 03/28/2016
What an amazing home for a perfect vacation! The floor plan of this home is great for privacy for all that are staying in the home. Beautiful is an under statement! The home is well kept and clean, extra clean and I loved that. Every drawer in the kitchen was well thought out with all the right equipment to cook and prepare our meals. The attention to detail was appreciated and made for an extra special time in Kauai. We loved the extra beach chairs, paddle and bogie boards, umbrellas, and ice chests in the garage. The extra fridge in the garage was helpful too, great for drinks down stairs by the pool. We can't wait to return!! Aloha and Thank You for sharing this fantastic home with us. A special shout out to Jasen and Thomas for helping with the home and all our activities!
Paradise
Rating:
1
4
5
Review Date: 03/12/2016
This home was absolutely beautiful. It was clean and spacious, everything was new. When I refer to everything this home has EVERYTHING you could imagine or want from creature comforts inside to cooking items to toys for outdoors. The list is just too long. When we arrived there was a beautiful fruit bowl waiting for us and Jason was always only a phone call or text away if we had a question. Our trip was perfect in large part to Jason and this beautiful property
Quiet, well located house with all the amenities
Rating:
1
5
5
Review Date: 03/10/2016
I wanted thank Jason for being on top of things. We had one minor glitch as a shower plugged up and he was on top of it right away. And the late check-out was great. Thanks!
quiet luxury
Rating:
1
5
5
Review Date: 02/29/2016
Our family of 4 had a wonderful week stay in February. The house was very spacious and impeccably clean. The owners have supplied some outstanding value with a garage full of toys like boogie/paddle/surfboards, beach chairs and umbrellas, snorkel gear and kids sand toys. Inside, the ping pong table, Xbox and theatre system kept the fun going when we weren't out exploring the island. The local manager Jason was a great guy with prompt attention to some minor issues and questions we had upon arrival, one of which was the hot tub temperature. This, unfortunately, is heated via solar so only became warm (not hot) around noon until the sun went down. With the pool temp in the low 70's, it would have been really nice to have a heated tub to warm up in. But that's the only negative thing in the place. The location is fantastic in a very quiet neighbourhood. You can walk 2 minutes to the mall for groceries, takeout food, or get Lappert's ice cream and sit at the lookout just over the highway. The fish market next to the Dolfin restaurant in Hanalei was our favourite place to "catch" supper, which we cooked at home daily in the well stocked kitchen. The Thai takeout restaurant in the nearby mall was excellent as well.
Overall, we would recommend staying here for anyone looking to explore the north part of the island. It was a luxurious home base.
FIVE stars for Kauai Exclusive and the Nalani Palms!
Rating:
1
5
5
Review Date: 01/03/2016
We just returned from a 5-day stay at the Nalani Palms and we're already trying to find an excuse to return. We loved everything about the experience: Josh and the Kauai Exclusive team, the property, the location. The house is a new rental and Josh's team has lovingly prepared it as a luxury vacation rental for even the largest groups. Everything was new and/or in great condition. There were five of us but we can see the house being comfortable for up to 10 adults (as long as two bedrooms don't mind sharing a bathroom). Josh and his team were incredible rental agents. They were available (via phone, text, email) for every question or hiccup, before, during and after our stay. Before we arrived they had a concierge service reach out to us. Sonja and Thomas gave us great activity ideas (private boat tour of the Na Pali Coast and the ATV tour at Princeville Ranch) and also answered questions about the area. The house is located on the north shore of Kauai. You're located within a short drive to Kilauea Lighthouse (20 minutes to the east/south) and the Na Pali Coast Trailhead (40 minutes to the west/north) and everything in between. While we never left the north shore, you could feasibly do day trips to the south shore or Waimea Canyon. The airport is about 45 minutes away, a straight shot on Kuhio Highway. The house comes fully equipped with everything you could need/want for a beach vacation: boogie boards, stand-up paddle boards, life jackets, chairs, coolers, towels, videos, board games- everything! We rented our snorkel equipment from Pedal'n'Paddle at the Hanalei Shopping Center (you MUST snorkel at Tunnels Beach). The house is great- all 5 bedrooms were comfortable and spaced out nicely. Common areas were well planned, the kitchen is wonderful if you have someone who likes to cook. It's fully stocked with Tupperware, etc. You will not find a better house on the island.

Josh and team, mahalo for your hospitality and enthusiasm. We'll be
Family vacation in Princeville
Rating:
1
4
5
Review Date: 12/29/2015
overall good....only complaint was that the dishwasher was broken the entire 9 days...we had to wash all dishes by hand
Manager Response: 12/29/2015
Response from Kauai Exclusive Management LLC
Aloha Tom, Thank you for being our guest at Nalani Hale! The dishwasher was working fine prior to your arrival as we have a checklist that we go over before each and every guest arrival. We tried to resolve the issue right away and ordered a new dishwasher from Home Depot for our maintenance team to install during your stay but they were out of is Kauai and sometimes inventory can be limited. We have since resolved the dishwasher and appreciate your patience and understanding during your stay with us. We hope that you had a great time on Kauai and want to thank you again for being our guest! Mahalo, Kauai Exclusive Mangement
Your request has been sent. We look forward to meeting all your vacation needs!
Use of this website constitutes acceptance of the KauaiExclusive.com Terms and Conditions and Privacy Policy.
©2020- Present KauaiExclusive.com, Inc, All rights reserved. | Website Design by Beyond Pricing