kauai-prince-kuhio-315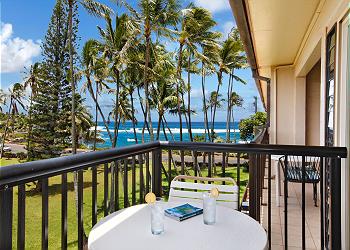 Kauai Prince Kuhio 315
https://www.kauaiexclusive.com/rentals/properties/kauai-prince-kuhio-315/
Kauai Prince Kuhio 315 | Vacation Rental in Kauai
WOW***TOP floor OCEAN VIEW BLISS** Newly Remodeled** FAST WiFi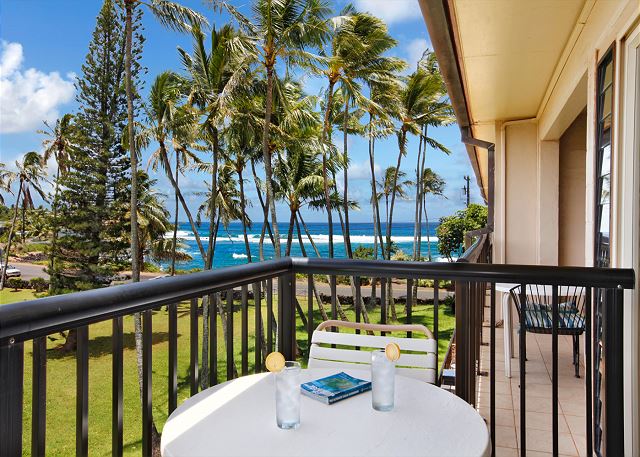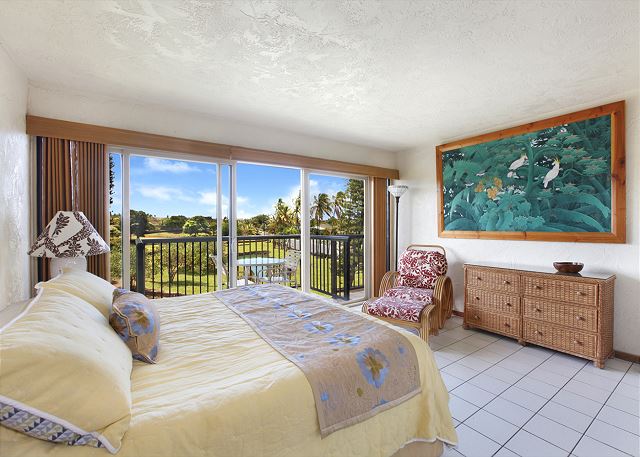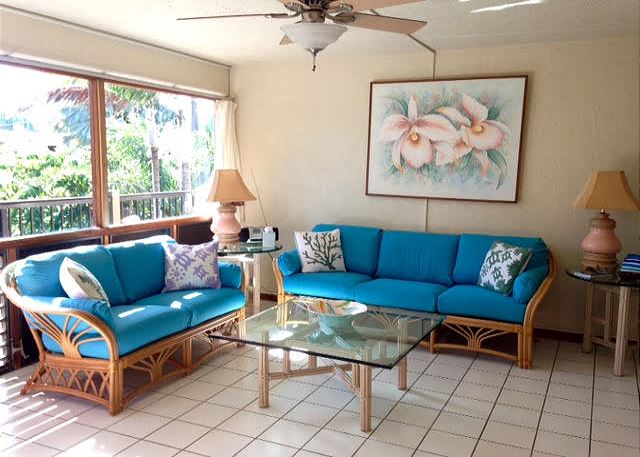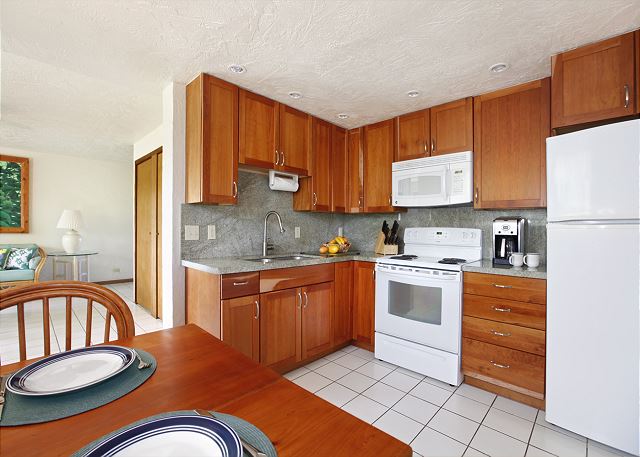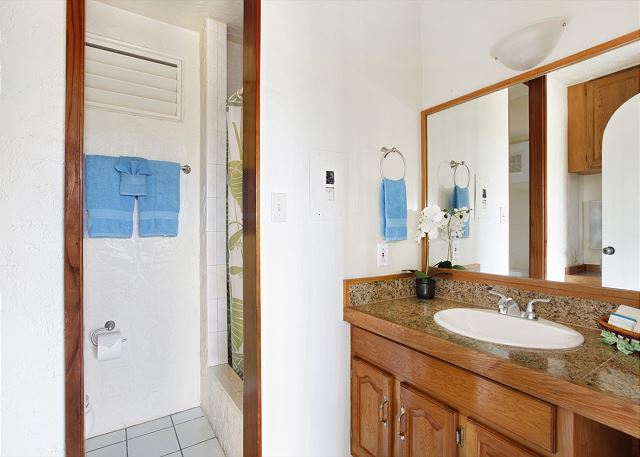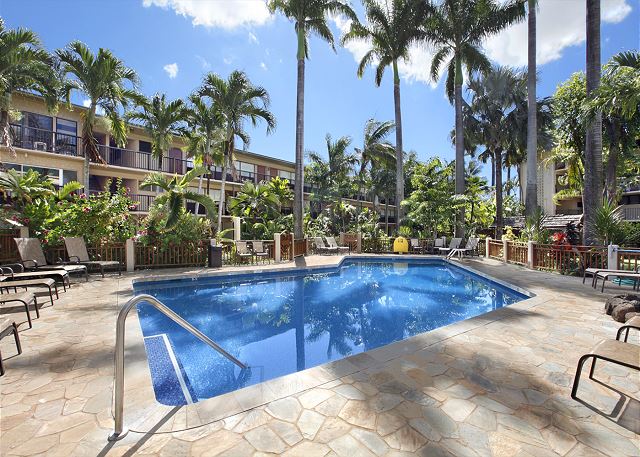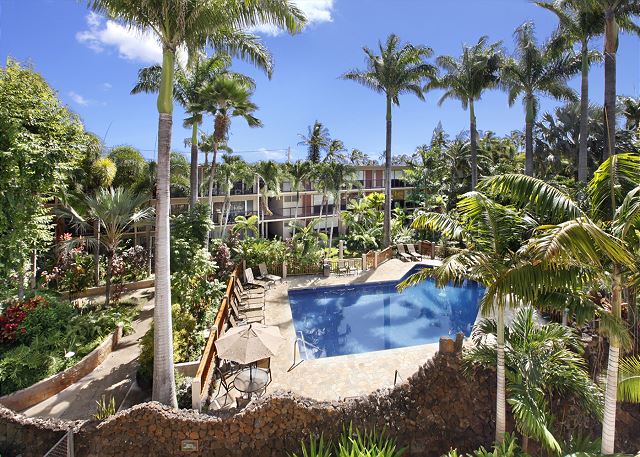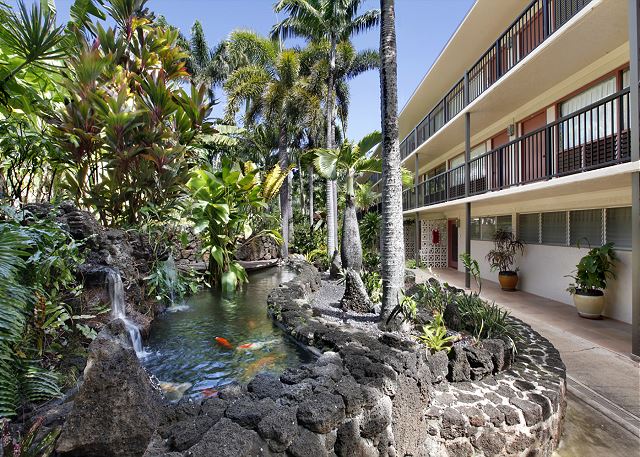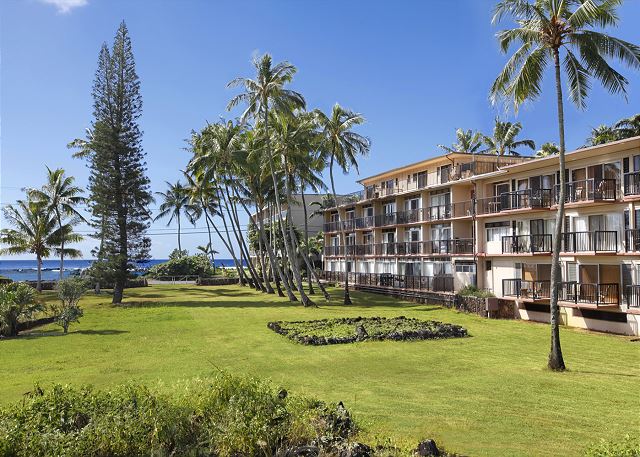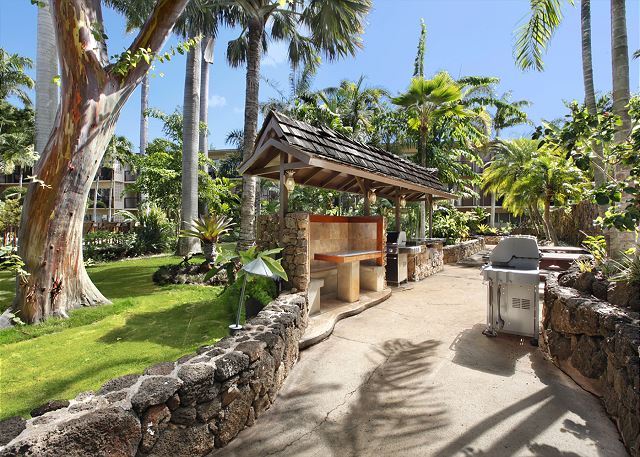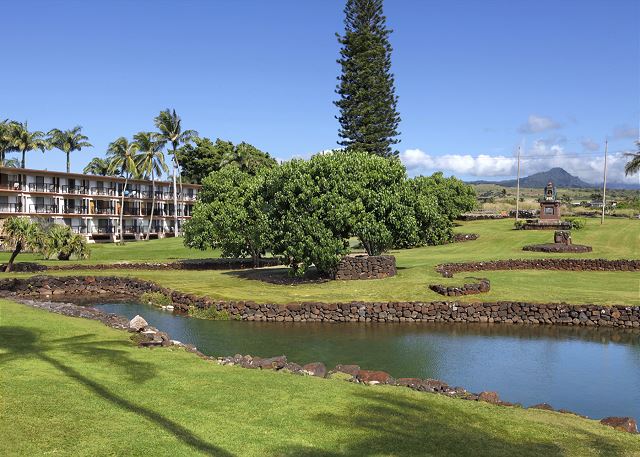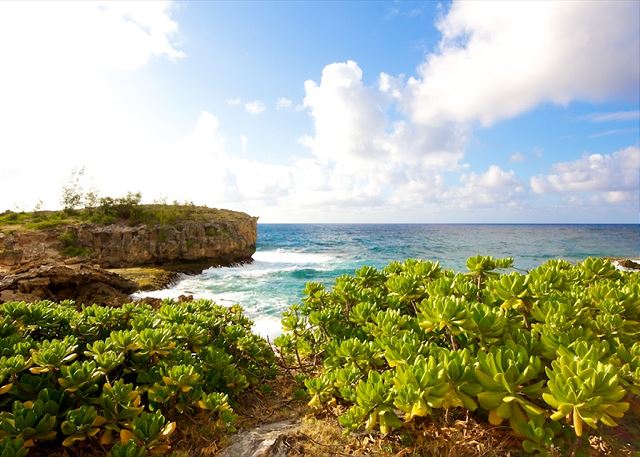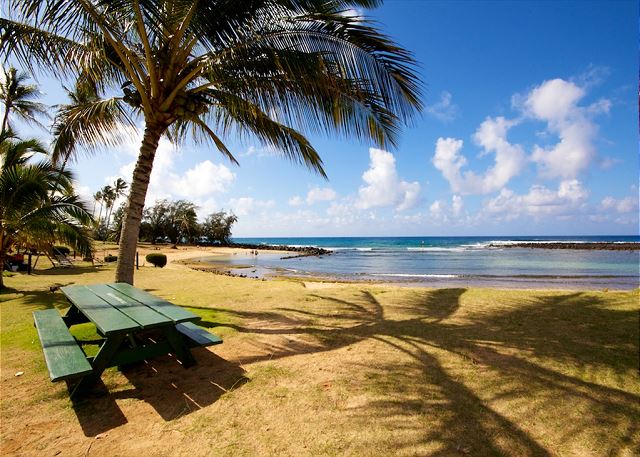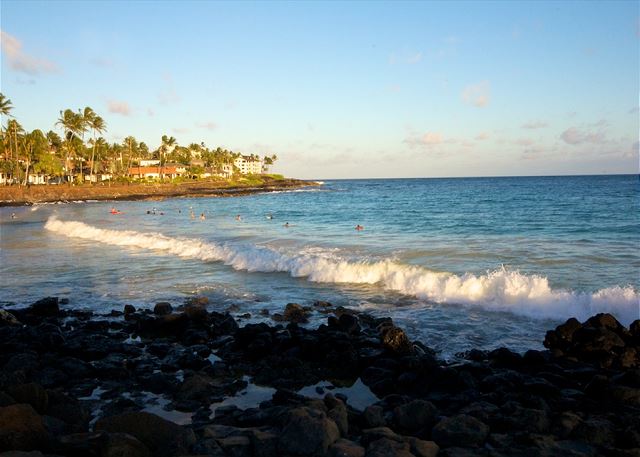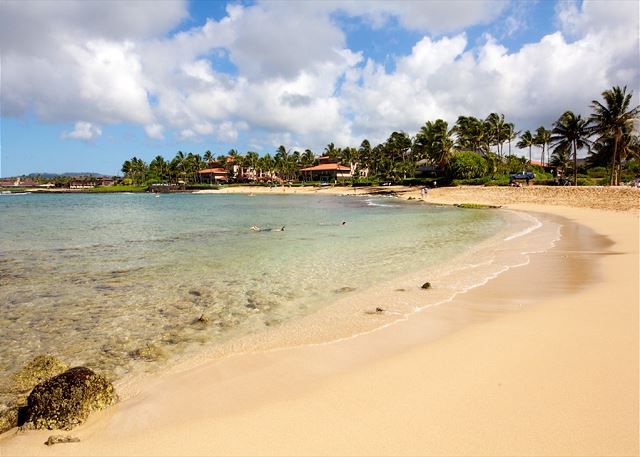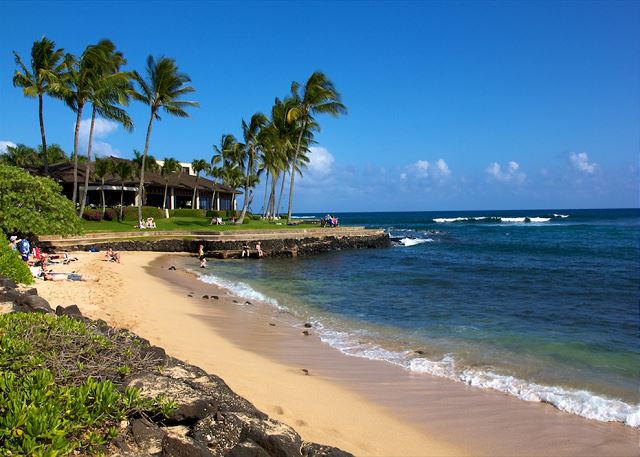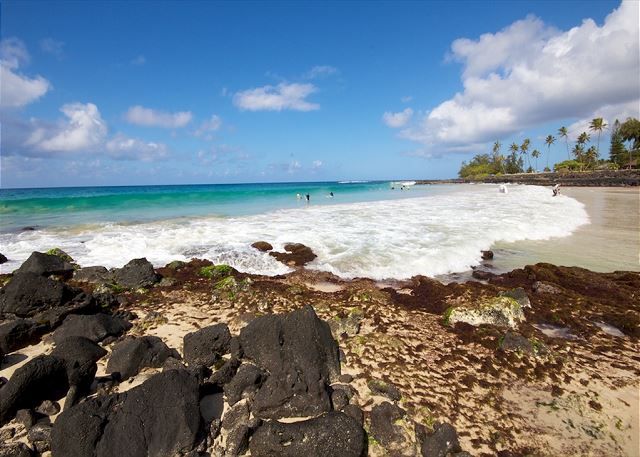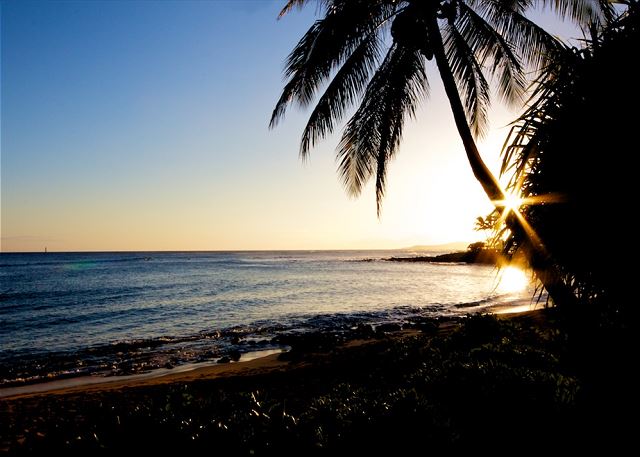 An oasis in the heart of sunny Poipu, this quaint condominium complex is impressively landscaped with mature, lush jungle foliage. Right next to historic Prince Kuhio Park and just 30 yards from the ocean, you have discovered a gem within Kauai's most popular vacation town!

Kauai Prince Kuhio 315 is a gorgeous, one bedroom condo with ocean views, custom mahogany cabinetry & furniture. From your private porch, enjoy the serene sounds of rolling ocean waves, tropical song birds and palm fronds rustling in the trade winds. With direct access to a pool, the beach and town, all of your paradise desires will be easily satisfied.

- Located in Poipu (South Shore).

- Oceanfront condos at the best possible value.

- Features a pool, tropical garden landscaping, easy access to world-famous snorkeling, swimming and surfing!

- Located adjacent to Prince Kuhio Park, walking distance to Kukui'ula Shopping Center and just a minute's drive to Spouting Horn and Allerton Botanical Gardens.

The South Shore of Kauai is where locals go to find sun when it's raining everywhere else. As one of the most popular and well-developed visitor areas on Kauai, sunny Poipu offers sophisticated shops and restaurants with stunning beaches, world-class golfing and exciting attractions. Swim, snorkel, surf and sunbathe at Poipu Beach, then check out Spouting Horn, Allerton Botanical Gardens and hikes along lithified sand dunes! From dawn to dusk, the South Shore of Kauai will satisfy your soul.

One of the most revered places on earth, Kauai inspires a state of awe within all of us. Brimming with beauty, the oldest inhabitable Hawaiian island has both withstood the test of time and matured into a land of fertile abundance. Lush jungles, white sand beaches and the alluring ambiance of aloha enchant each moment. Offering exceptional accommodations, adventures, cuisine and culture, vacationing on Kauai is a dream come true.

Tax ID #
| | Nightly |
| --- | --- |
| August 16 - December 14, 2021 | $250 |
| December 15 - January 05, 2022 | $249 |
| January 06 - December 14, 2022 | $250 |
| April 15 - June 14, 2022 | $250 |
| August 16 - December 14, 2022 | $250 |
Thank you for entering your review. The review will become available to the system shortly.
29
29
Overall Rating:
4.6552
4.6552
Good value
Rating:
1
3
5
Review Date: 07/30/2021
This rental provides very good value as there is no extra resort charge and the price is very reasonable. But you got what you paid for. I think it is suitable for young people who don't mind the heat. The shower area looks like one in a cheap model and could really use some update. There is a note above the sink that reminds guests to take out the garbage in the kitchen area and leave clean dishes only. The message is quite different from the instruction provided by the rental company which says their cleaners would take care of everything.
PK 315
Rating:
1
4
5
Review Date: 02/04/2020
Manager Response: 02/06/2020
Response from Kauai Exclusive Management LLC
Thank you for choosing Kaua'i Exclusive as your host during your time here on the island! We hope to host you again in the future! Mahalo Nui, The Kaua'i Exclusive Management Team
Great Place but Needs A New Mattress
Rating:
1
4
5
Review Date: 01/27/2020
Loved it, including laying on the King Bed for sunrise
Manager Response: 02/04/2020
Response from Kauai Exclusive Management LLC
Thank you for choosing Kaua'i Exclusive as your host during your time here on the island! We hope to host you again in the future! Mahalo Nui, The Kaua'i Exclusive Management Team
Prince Kuhio Gem
Rating:
1
5
5
Review Date: 12/31/2019
Great place in a central location - walking distance from most attractions around Poipu! The flat is well-furnished with everything a beach vacation needs! Love it.
Great location and views
Rating:
1
5
5
Review Date: 04/15/2019
Spacious and clean condo with nice amenities - beach chairs, snorkel equipment, small cooler. Great snorkeling beach right across the street. Pretty grounds and great views of the park and ocean. Be sure to bring an eye mask and ear plugs. The sun is blindingly bright in the bedroom in the morning and the roosters can be loud, but we were prepared and it didn't detract from the stay.
Great location. Great condo
Rating:
1
5
5
Review Date: 03/14/2019
Loved this condo. Very clean and organized. Hope to visit again very soon


Nice view, clean, spacious
Rating:
1
4
5
Review Date: 01/30/2019
Several good points:
- Nice and clean (even the coffee pot)
- Huge window with patio from the bedroom, overlooks a park and you can see the beach
- Plenty of space, not cluttered
- Free wifi

Only a couple of negatives:
- The shade covering that beautiful window is translucent, so the morning sun shines in on the bed
- None of the windows block sound. The neighborhood is pretty quiet but when anyone is outside you can hear them.
Prince Kuhio Poipu
Rating:
1
5
5
Review Date: 11/27/2018
The unit was large, clean and well accommodated with everything you need, including a nice selection of beach gear. Great location, just across the street from one of the best snorkeling beaches on the island. Good restaurants nearby. Would certainly come back.
The perfect place to stay in Poipu
Rating:
1
5
5
Review Date: 10/26/2018
This unit is so clean and perfectly located in Poipu. The bed is very comfortable, the kitchen has everything you need and the on-site concierge was great. The view is great with a large balcony to enjoy breakfast and the beautiful sunrise. I would highly recommend this unit to everyone.

We know Kauai very well, and for the price there is no better unit on the island. Just check in and relax to enjoy the beauty of Poipu.
Spotlessly clean & convenient
Rating:
1
5
5
Review Date: 09/23/2018
Our online booking and keyless entry were easy- our condo was impeccable with a very well equipped kitchen and comfortable beach chairs. The rooms were much larger than we anticipated so we could "spread out" and relax. The main bes was comfortable and although no air conditioning you could sleep with the doors to the lanai open. Woke up in the morning to the sound of roosters- wonderful, this is Kauii!Choice of parking was good -either near condo or a short walk past the pool to undercover parking.We enjoyed afternoon drinks across the road at the oceanside bar.
Convenient location but outdated
Rating:
1
4
5
Review Date: 08/06/2018
It was super easy to check in to the rental. I was emailed a door code that would not work until time of check in. No need to track down someone to give you a key. That being said, there was no one physically around to help you if you had questions or anything. There's an "office" that you walk in and grab a parking pass. There is a laundry room but it's only open 8am-8pm. I woke up every morning around 6am due to the loud roosters and parakeets and really wanted to get laundry done during those early hours but could not access the laundry room. By 8am, my husband and I were already on the road exploring and didn't return until 7 or so each night so there was never an opportunity to do laundry. In addition, the unit we stayed in was spacious but very dated. I didn't realize there wasn't A/C until we arrived. I didn't bother to check the listing before booking because I assumed it was included. Most of the time it wasn't an issue, as long as you open the patio door. The shower could have used more space shelf. There was this tiny little shelf and my shampoo and condition both fell off of it and busted open on the ground. On the plus side, the rental came with some useful items such as: cooler, beach chairs, pool towels, snorkles, cookware, Tupperware containers and extra hygiene products.
Nice Stay
Rating:
1
5
5
Review Date: 06/19/2018
This property is very clean. It is within walking distance to restaurants. Management was very helpful. Our Pin was not working due to a dead battery. Kalo responded to our texts immediately and came to the property and fixed the issue. Very quiet. There are some roosters and parakeet noise so if you are sensitive to that be aware. Walking distance to a very nice snorkeling spot. There was a little book for us to map places we would like to see that was very helpful. No air conditioning but we did not need it. Very nice breeze from the ocean. I would recommend some blinds that are a little more conducive to the amount of sun that comes in the bedroom. We had everything we needed for the beach. It was a very nice stay!
Lovely Stay in PK #315
Rating:
1
5
5
Review Date: 06/18/2018
Nice unit at Prince Kuhio, with a nice ocean view from the back patio. The kitchen was nicely equipped, and there were many nice Koa wood finishes throughout. An extra bathroom made our stay smooth! Prince Kuhio is very close to the beach, and right across the street from The Beach House, one of our favorite spots. The only thing that was uncomfortable for us were the couches in the living area -- they were too soft and not as comfy and supportive as we would have liked.
Prince Kuhio 315 -- Lovely place to stay...
Rating:
1
5
5
Review Date: 05/02/2018
... If you want a quiet, clean place to stay away from the resorts and right across the street from the beach, then this is it! The view from the porch is perfect for drinking your morning coffee! The local parrot flock can be very loud on occasion but it's vastly entertaining to watch their antics!! Recommend this place highly!
Larger and Better Than Expected
Rating:
1
5
5
Review Date: 04/27/2018
This condo is very spacious and uncluttered. Lots of kitchen appliances (buy whole-bean Kona coffee and grind it yourself!), beach gear, and two bathrooms. Walking distance to a great new shopping/dining mall, and to good snorkel beaches. No air conditioning, but lots of fans and tradewind ventilation. Management corrected wifi issue immediately. Thanks for the relaxing stay!
PK Repeat
Rating:
1
4
5
Review Date: 02/28/2018
Very enjoyable - have stayed here 4 times over the years, in 4 different units. Only once with W/D in unit - guest laundry is convenient.
Prince Kuhio 315
Rating:
1
4
5
Review Date: 01/02/2018
Good location next to Prince Kuhio Park with both mountain and ocean views. Close to shopping/dining in Koloa and Poipu. Dust off your hand dishwashing skills as no dishwasher and laundry is on first floor. Overall good deal for the location and time of year.
Great location to stay
Rating:
1
5
5
Review Date: 12/07/2017
We found our condo to be in an excellent location for our stay in Kauai. It's located on the south shore of the island which has better overall weather than other locations on the island. The condo has an excellent ocean and park view from the lanai or balcony and is conveniently located only a few minutes drive from excellent restaurants, shopping centers, hiking trails and beaches. It was exceptionally clean and included beach chairs, boogie boards and a small ice chest for outings on the beach. In addition to the great views of the park next door and the ocean, the front garden was very scenic with fish ponds, grills, tables, beautiful swimming pool and tropical flowering plants. Warning, don't park your vehicle overnight in the outside parking lot because it will be covered in lots of bird droppings by morning. There is a convenient covered parking garage next door that has a wash station in case you need to remove bird poop from your vehicle.

A negative for this condo, would be the lack of air conditioning. However, opening the windows provided plenty of cooling for the condo plus it allow us to hear the surf sounds during the night which was very pleasing. Note however, that you will also hear the abundant roosters in the area crowing all night along with the sounds from large bullfrogs that inhabit the fish ponds in the condo garden. Those could be considered a plus or a negative, depending on whether those sounds bother you or not - the frogs can be really loud. A real plus with this condo was having an additional half bathroom. That made it very convenient for us having our own separate bathrooms. We had inconsistency in getting Wi-Fi connections. We never saw a Wi-Fi router that had our room number, but using the same user name and passwords we were able to log onto other local routers. Unfortunately, they were not very reliable and we were kicked off-line frequently. Overall, we were very pleased with our condo and would stay here
Clean spacious and great location.
Rating:
1
4
5
Review Date: 12/03/2017
Unit was well represented. Well stocked with essentials and recreational gear.
If I had one comment it would be just a small welcome basket of tea and a biscuit for guests that arrive after midnight.

K, Pr.Ku.stay,
Rating:
1
5
5
Review Date: 10/01/2017
EXELLENT,AWSOME,BEAUTIFUL,don't know what else to say.
Great view! Great place!
Rating:
1
5
5
Review Date: 09/26/2017
We loved our stay at this place! We had a fantastic view of the ocean, super close to the beach. It's large and spacious and has a really nice kitchen. It was a super relaxing and comfortable place to come back to at the end of the day. We made good use of the beach chairs and cooler. Would definitely recommend to our friends! (only a tiny downside would be the birds, but you can avoid the poo if you park in the garage instead.)
Great south shore location/responsive hosts
Rating:
1
5
5
Review Date: 07/17/2017
We stayed at another unit in this complex last year and this one is definitely more roomy and also has excellent crossbreeze. It was pretty ideal for our 2 week stay. We were worried that our July visit would be too hot without AC, but we never got too hot.The kitchen is nicely equipped and we really enjoyed that. We had a bit of trouble connecting to wifi and the managers quickly sent someone out to troubleshoot.

We have some updating ideas for the owner(s) but overall, the place is pretty ideal within the complex.
Stay
Rating:
1
4
5
Review Date: 05/17/2017
Great spot. Plenty of room. Great pool. Great view off of bedroom. Good use more kitchen items, upgrade decorations and there is no dishwasher or garbage disposal. We cooked three nights. All in all worked out well.
Wonderful Vacation
Rating:
1
5
5
Review Date: 03/27/2017
Prince Kuhio 315 is a perfect place to stay. The condo is roomy and very clean. Could use an update, but the location and views are outstanding. The ocean to your right and mountains to the left can be seen from the Patio.
It is a quiet location with beautiful gardens, the staff is so helpful and friendly. The best snorkelling is just minutes from your door. We were there two weeks and would recommend this place to anyone.
#315 02/14/17-02/21/17
Rating:
1
5
5
Review Date: 02/23/2017
PK315
Rating:
1
5
5
Review Date: 02/03/2017
Excellent experience. The condo is very nice, and well maintained.
A perfect getaway
Rating:
1
5
5
Review Date: 01/18/2017
Kuhio Prine is located ideally if you like to snorkel. Lawa'i beach, pk beach are right there and Koloa landing is less than 5 minute walk.. The grounds and pool area are immaculate and unit 315 is spacious and clean. The view from balcony overlooking the park and PK beach makes you forget where you came from. ( probably someplace cold) the property is well maintained the unit was spotless although somewhat dated but we expected that. Groundscrew does a GREAT job and is also very helpful.
Perfect Getaway!!
Rating:
1
5
5
Review Date: 07/22/2016
I can't say enough about Prince Kuhio 315! What a great 1 bedroom suite! For starters, this is a full 1 bedroom with separate kitchen, living room, and bedroom...tons of room! A 1 bedroom with 1.5 baths is also rare as well. I loved that the kitchen was fully stocked with not only all the pots, pans, storage containers, and cooking utensils needed, but the nice touch of having olive oil, salt, pepper and other spices saved us an extra trip to the store. Speaking of nice touch, they were everywhere you looked from the little wash cloths in the bathrooms, and the skin lotion in the cabinet, to the desk with a pad and paper. All this and I haven't even reached the best part, LOCATION. First off, sitting on your balcony and watching and hearing the waves come in is epic. Total relaxation!! Being able to walk right out the door and maybe 25 yards away is a snorkeling spot where they were actually bringing snorkeling tours to. Word of mouth is this is the best location for snorkeling on the whole island. No wonder, the fish were everywhere! I even saw a turtle! An amazing restaurant called Beach House is right across the street and offers beach front dining, sunset views, with exceptional cuisine. Wow!!! I can't say enough. Thank you Prince Kuhio 315 and thank you Kauai Exclusive!!!
it was work related.
Rating:
1
5
5
Review Date: 04/10/2016
Although it was a work trip as I live on Maui. I'm looking forward to coming back for both work and recreation with you we enjoyed the stay with you very much you're very kind look forward to seeing and hearing from you soon.
Mahalo
John T
Your request has been sent. We look forward to meeting all your vacation needs!
Use of this website constitutes acceptance of the KauaiExclusive.com Terms and Conditions and Privacy Policy.
©2020- Present KauaiExclusive.com, Inc, All rights reserved. | Website Design by Beyond Pricing