kauai-prince-kuhio-102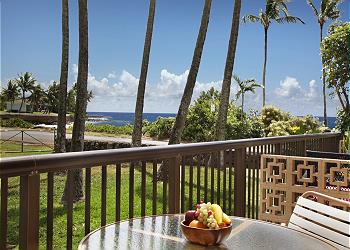 Kauai Prince Kuhio 102
https://www.kauaiexclusive.com/rentals/properties/kauai-prince-kuhio-102/
Kauai Prince Kuhio 102 | Vacation Rental in Kauai
OCEAN VIEW Poipu Bliss Ground Floor**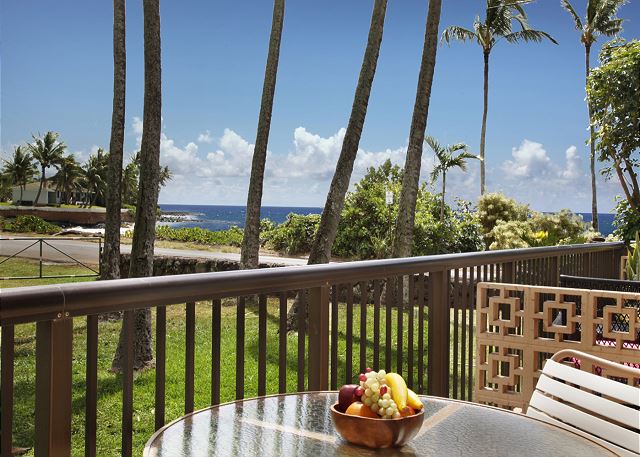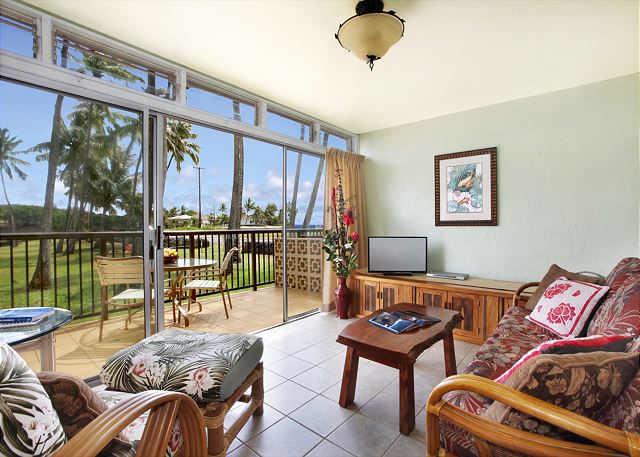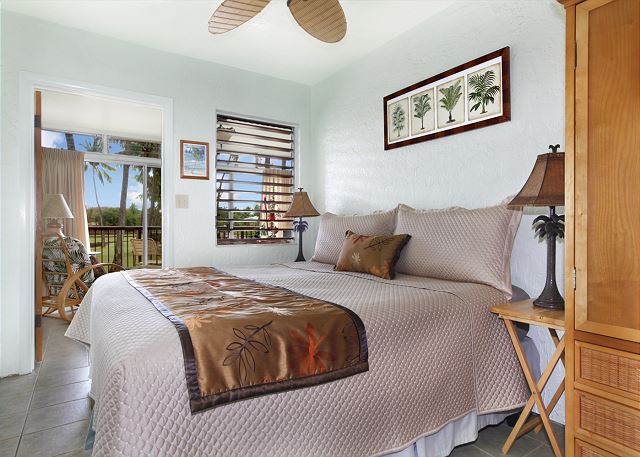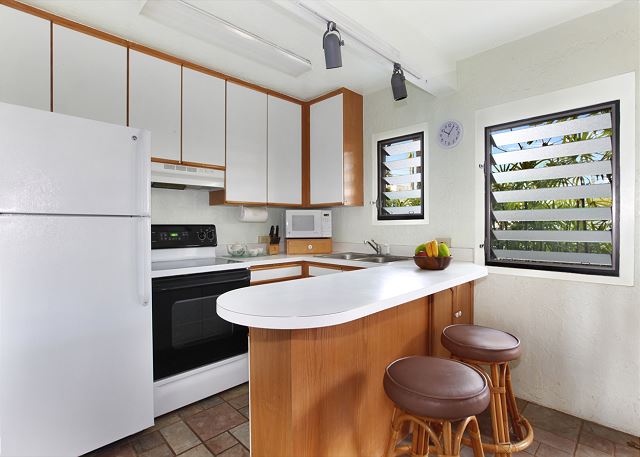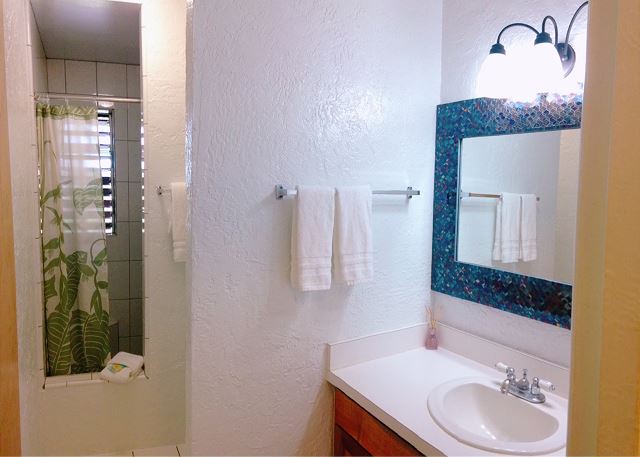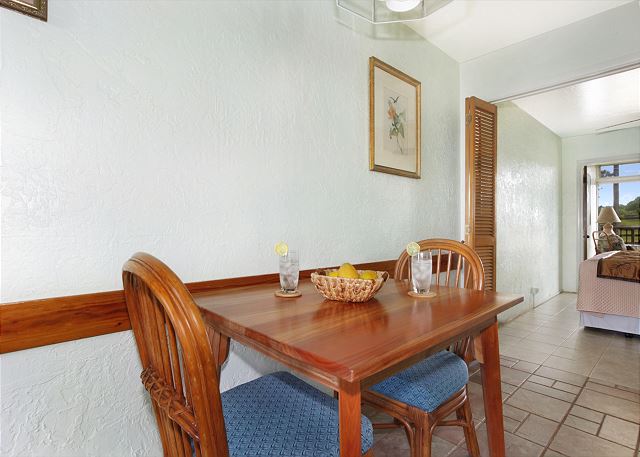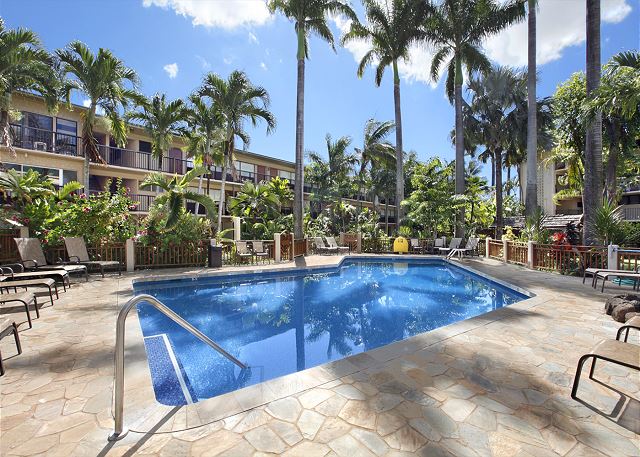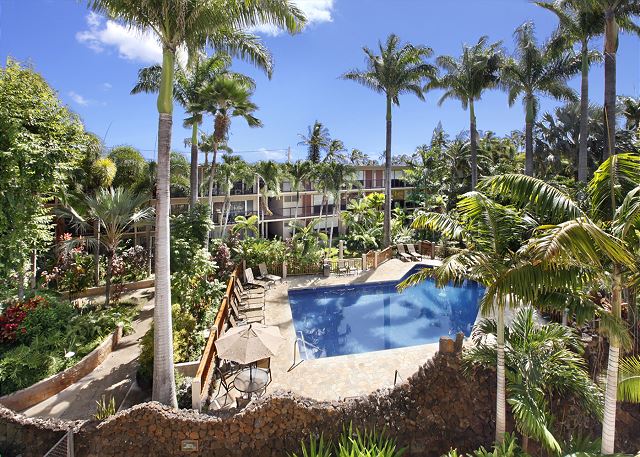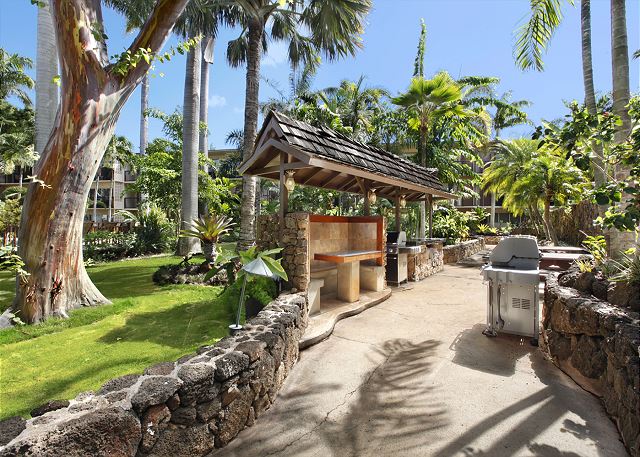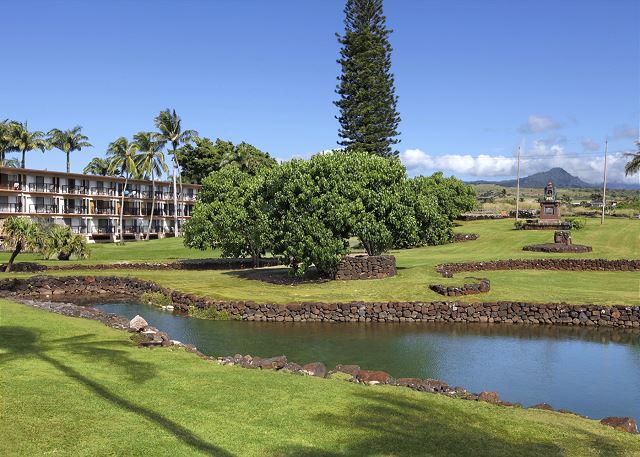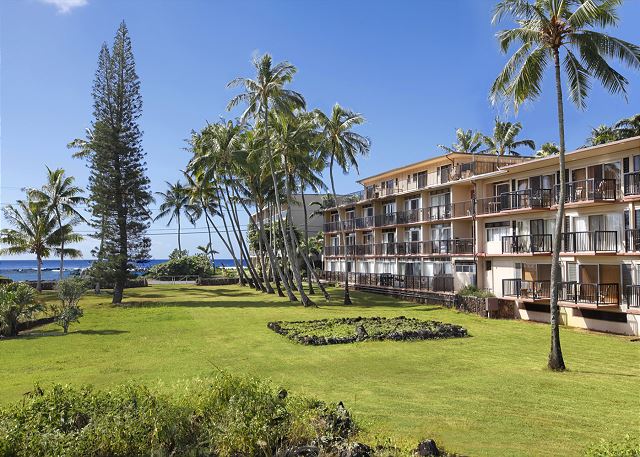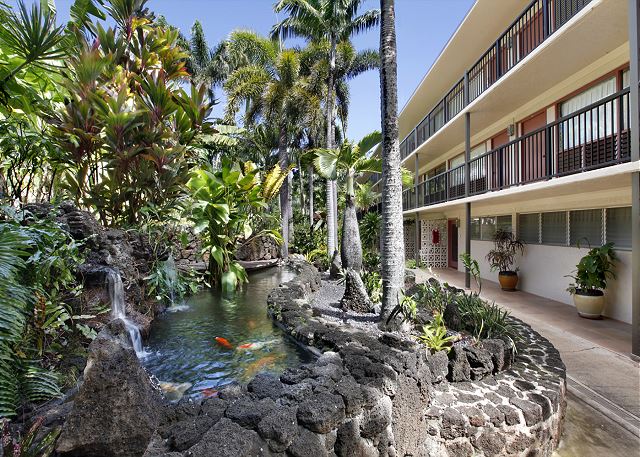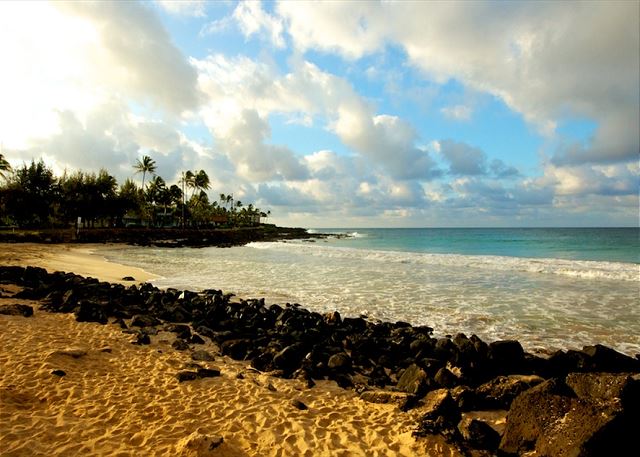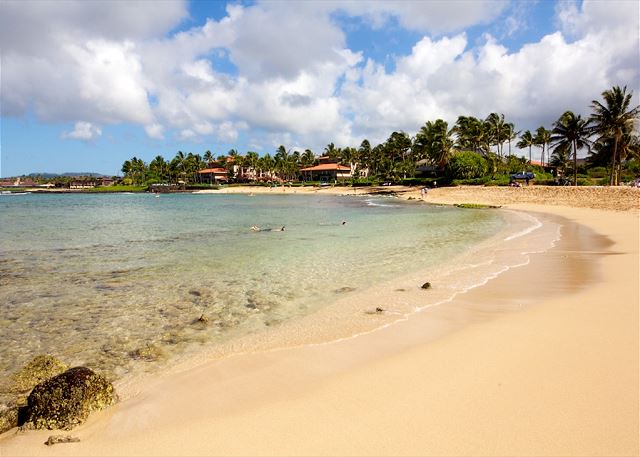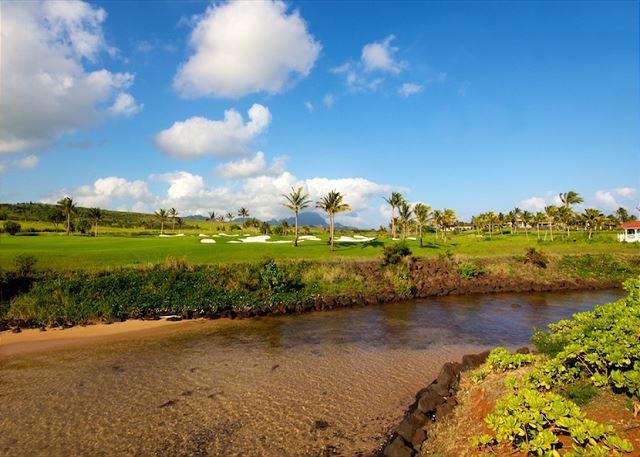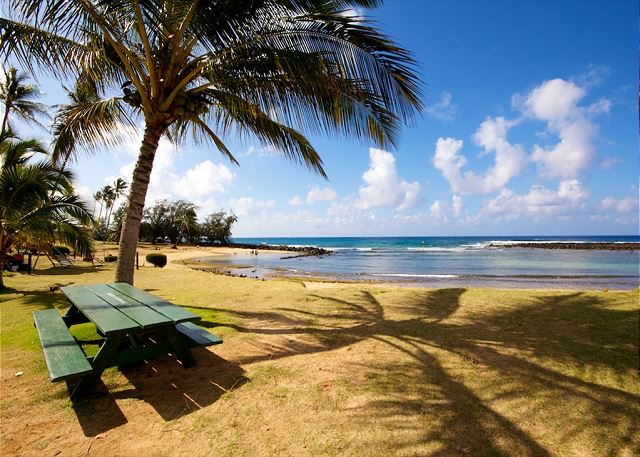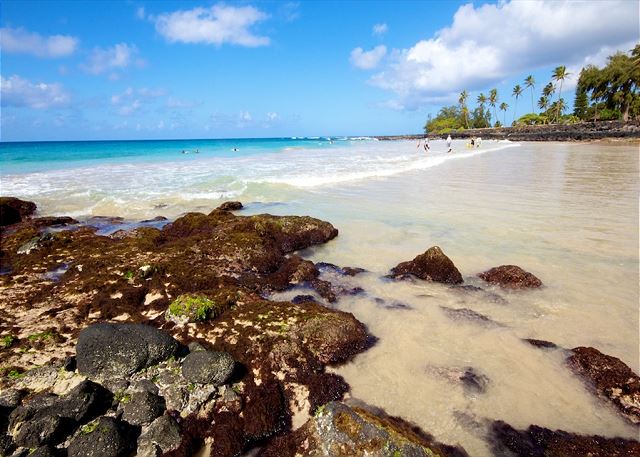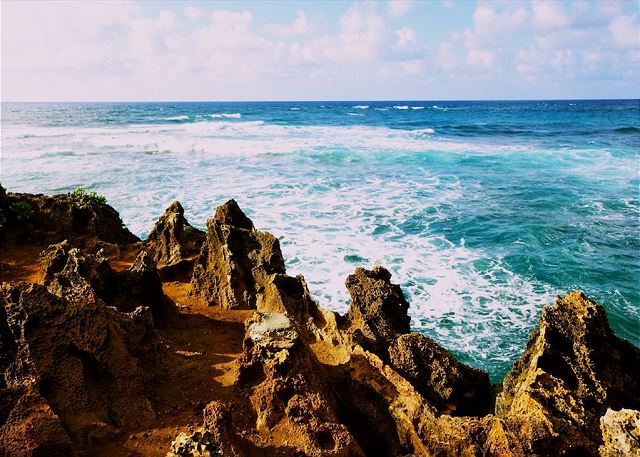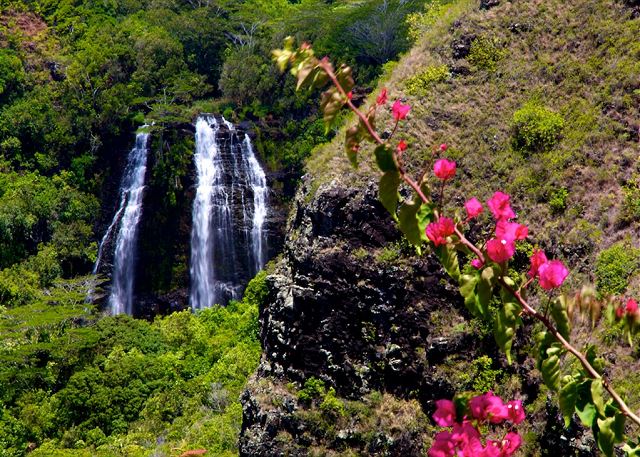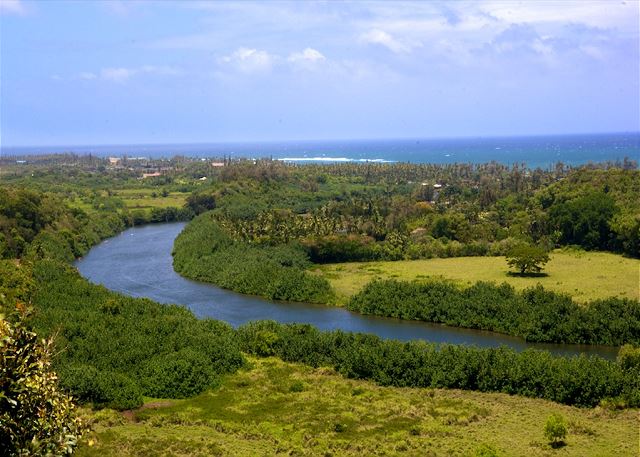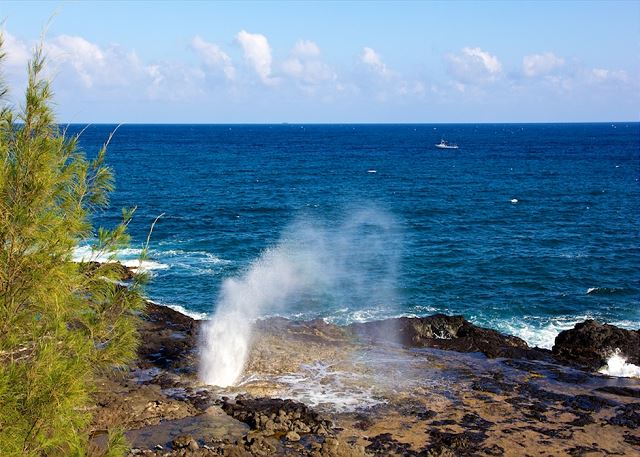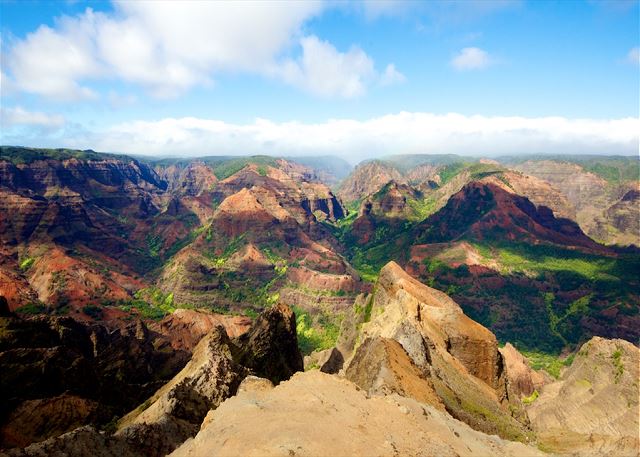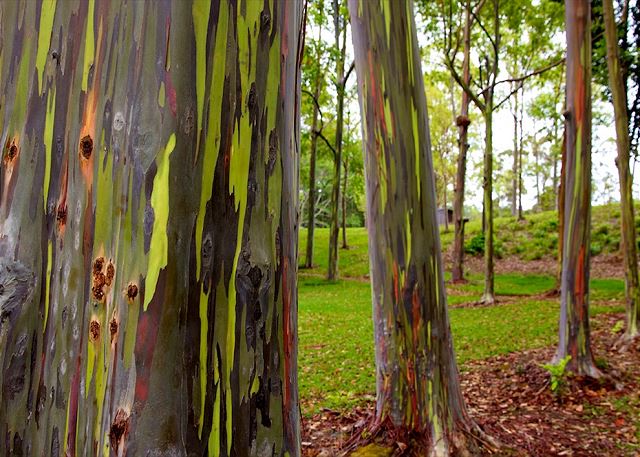 An oasis in the heart of sunny Poipu, this quaint condominium complex is impressively landscaped with mature, lush jungle foliage. Right next to historic Prince Kuhio Park and just 30 yards from the ocean, you have discovered a gem within Kauai's most popular vacation town!

Kauai Prince Kuhio 102 is a gorgeous ground-level, one bedroom condo with ocean views, custom mahogany cabinetry & furniture. From your private porch, enjoy the serene sounds of rolling ocean waves, tropical song birds and palm fronds rustling in the trade winds. With direct access to a pool, the beach and town, all of your paradise desires will be easily satisfied.

- Located in Poipu (South Shore).

- Oceanfront condos at the best possible value.

- Features a pool, tropical garden landscaping, easy access to world-famous snorkeling, swimming and surfing!

- Located adjacent to Prince Kuhio Park, walking distance to Kukui'ula Shopping Center and just a minute's drive to Spouting Horn and Allerton Botanical Gardens.

The South Shore of Kauai is where locals go to find sun when it's raining everywhere else. As one of the most popular and well-developed visitor areas on Kauai, sunny Poipu offers sophisticated shops and restaurants with stunning beaches, world-class golfing and exciting attractions. Swim, snorkel, surf and sunbathe at Poipu Beach, then check out Spouting Horn, Allerton Botanical Gardens and hikes along lithified sand dunes! From dawn to dusk, the South Shore of Kauai will satisfy your soul.

One of the most revered places on earth, Kauai inspires a state of awe within all of us. Brimming with beauty, the oldest inhabitable Hawaiian island has both withstood the test of time and matured into a land of fertile abundance. Lush jungles, white sand beaches and the alluring ambiance of aloha enchant each moment. Offering exceptional accommodations, adventures, cuisine and culture, vacationing on Kauai is a dream come true.

Tax ID #
| | Nightly |
| --- | --- |
| April 15 - June 14, 2021 | $220 |
| June 15 - August 15, 2021 | $220 |
| August 16 - December 14, 2021 | $220 |
| December 15 - January 05, 2022 | $209 |
Thank you for entering your review. The review will become available to the system shortly.
45
45
Overall Rating:
4.6444
4.6444
Beautiful location!
Rating:
1
5
5
Review Date: 11/29/2020
It was such a Great Location! The view was amazing and the staff were so friendly! I truly hope to rent #102 again when I return! I enjoyed watching the sunrise in the morning and then going down the street and watching the sunset!
Love PK
Rating:
1
4
5
Review Date: 04/03/2020
We've booked unit 103 for 3 years running. This years experience w/management was not the best experience. We had a water dripping from our living room ceiling, and never heard back from our contact w/them (both by phone and email). Fortunately, the incident started only two days before our departure. Also, a dinosaur egg size water bubble in the ceiling that had been there for some time (says onsite prop manager) that also started to release water..
We also contacted management about asking the owner about a price reduction for next year as we'd found a unit in the complex for $40 less/day. Heard nothing back. Not a peep!
Also, unit could use some upgrade in the furniture. Couch and armchair are worn and not particularly comfy.
Could stand a good cleaning of the walls. Dust built up on the highly textured walls. Also, spackeled spots/ceiling should be painted to match.
Awesome Vacation Spot
Rating:
1
5
5
Review Date: 03/16/2020
It was a terrific spot to spend my vacation. Quiet, relaxing, everything I wanted/needed at an easy distance to walk or a short drive away.
Fun place
Rating:
1
5
5
Review Date: 02/22/2020
Manager Response: 02/22/2020
Response from Kauai Exclusive Management LLC
Thank you for choosing Kaua'i Exclusive as your host during your time here on the island! We hope to host you again in the future! Mahalo Nui, The Kaua'i Exclusive Management Team
Kauai Prince Kuhio 102
Rating:
1
5
5
Review Date: 12/13/2019
very satisfied- would stay again. This is the second time I have left review.
Honeymoon/1st Anniversary Trip
Rating:
1
4
5
Review Date: 10/14/2019
Directions to Prince Kuhio 102 from Lihue Airport were different from Google Maps, but we found the place.
Joshua was personable and responsive via the AirBnB app that I downloaded to my iPhone.

We also appreciated Sonja (our concierge)who worked with us before we arrived to plan some activities on Kauai.

The property was clean.

The unit would do well to add air conditioning. It was pretty warm with only overhead and free-standing fans in the unit. On several occasions, it was uncomfortable until late at night, which made it difficult to sleep.

The safety deposit box in the unit wouldn't open. There was no dustpan to collect up debris after sweeping. And the overhead kitchen light was sketchy; sometimes it would come on fine, other times it wouldn't even after waiting a 1/2 hour.

The unit is close to the ocean, but we couldn't really swim there because it was very rocky. However, it wasn't very far from Po'ipu Beach, which we enjoyed going to for sunrises and to see the Hawaiian Green Sea Turtles.

We appreciated that on-site parking was provided, and self-registering for a parking permit was easy, but a couple evenings the lot was full and we had to park on the street.

We liked the view from our PK 102 patio, but I was not a fan of the Roosters constantly crowing from the adjacent Prince Kuhio Park.

Also, birds pooping on our rental car was a problem so bad we had to run it through a car wash before we could return it to Hertz.

Lastly, I think charging $2.25 for washer and $2.25 for dryer usage was an expense that should have been rolled into the cost of the unit; but we got a roll of quarters from a bank and made it work. At least Joshua was kind enough to provide the laundry detergent in PK 102.
great time on kauai
Rating:
1
5
5
Review Date: 09/18/2019
this was a great quite place by the ocean , had a great time no problems, very relaxful. Just watch out for the parrots bombing your car if you park under palm trees.
Prince Kuhio Stay #102
Rating:
1
4
5
Review Date: 07/29/2019
Check-in was easy although info we were given stated a door key would be on the table. There are no keys, it's a combo lock on door that works for your stay. The unit was clean and well supplied. There is no garbage disposal or dishwasher in these units and they do not supply shampoo, conditioner or lotion like the other places we have stayed. We had spent the previous week at Lawai Beach Resort and decided to add another week. This place is no where as nice but it is half the price! If you are on the first floor, chickens will poop on the porch so watch where you walk! The bed was great and the large shower was a pleasure to use. The grounds and pool were lovely and well kept.
Perfect and quiet
Rating:
1
5
5
Review Date: 07/05/2019
We loved our stay at Prince Kuhio. It's a very chill and quiet property, perfect if you're looking for something away from the bigger resorts. You can hear the waves and the road a little bit from the room but it's really not disturbing—just be ready to be woken up by the roosters/parrots in the early morning :)

The condo had everything we needed, a well-equipped kitchen, extra towels and bed sheets. The laundromat on the property makes it easy too if you need to do any laundry during your stay! The team was very responsive and lovely, we highly recommend this place!
Condo 102
Rating:
1
5
5
Review Date: 06/28/2019
Have stayed here four times now and always enjoy it. Clean and comfortable with everything we need. Quiet and convenient and a nice manager who is helpful when needed.
Nice good price
Rating:
1
4
5
Review Date: 04/28/2019
Great place enjoyed it was able to stay in an cook fish I caught off the boat only one downside no AC but open up windows an vents at night slept great
Paradise getaway
Rating:
1
5
5
Review Date: 03/29/2019
This was our second stay in this unit. Already booked for next year. Excellent value!
Splendid stay in #102
Rating:
1
5
5
Review Date: 01/16/2019
Great little condo with an ocean view. Very quiet. Clean and well stocked. Decent bed. A 3 minute walk to Lawai Beach with great snorkelling and sunsets and a restaurant next door. Very close to shopping centre (10 minute walk, 2 minute drive) with good restaurants, grocery store, drug store and high end retail. Roosters are either charming or annoying, depending on your attitude.
Stay at Prince Kuhio
Rating:
1
4
5
Review Date: 12/09/2018
Felt like home... but my home hasn't palms and waves...
Rating:
1
5
5
Review Date: 09/09/2018
We had a good time on Kauai and we were happy that we choose this place for our 7 days on kauai.
Perfect beginning of a wonderful holiday
Rating:
1
5
5
Review Date: 09/03/2018
The property was absolutely like the despription told. It is really cute, the kitchen is big and the amenities great.
Everything was clean. The flat was quiet.
I'd wish to come back.
PK Kauai Stay
Rating:
1
3
5
Review Date: 08/23/2018
everything was perfect! the only con i had was there was no air and it was extremely hot trying to get ready for the day in August. The nights were cool and as was the day until just having to get ready.
Clean, cozy and convenient
Rating:
1
5
5
Review Date: 07/26/2018
Delightful location. The condo is cozy but perfect for our honeymoon. Location was great, near beaches and restaurants but also quiet and secluded.
Wonderful location, everything we needed
Rating:
1
5
5
Review Date: 07/03/2018
We loved this cute little place. It was a great price and had everything we needed. We loved sleeping with the windows open at night and getting a wonderful cross breeze coming in from the ocean. The bed was also very comfortable which is a must on vacation, especially after busy days exploring the beautiful island. It was very clean and had everything we needed. We grilled out one night at the grill near the pool area. Everything was great. Right across the street from a great little beach for snorkeling and a fantastic restaurant, The Beach House. We also liked how the traffic in this area wasn't too busy like it is near Kapaa but there is still plenty to do and places to eat. Definitely recommend this place. It was the perfect escape.
Prince Kahui
Rating:
1
4
5
Review Date: 06/10/2018
This was our first visit to Kauai. The condo was very clean and well stocked with essential for cooking. It is walking distance from shops, beach right across the street, and looked out to both water and park. Pool area was delightful! Wish the sofa in the living room had been a futon so if couples wanted to not share a bed they would have a choice. Liked the island location so trips north to Hanalei and south to Waimea canyon were easy day trips.
Great Location
Rating:
1
4
5
Review Date: 06/07/2018
We loved the location! It's within walking distance to a great beach and awesome little shopping mall with food, restaurants, and coffee. The BEST shaved ice is right around the corner. Walk right across the street to watch a beautiful sunset.
It IS a bit noisy due to the street traffic. It's easily solved by some ear plugs. Overall a great stay.
Great place to stay
Rating:
1
5
5
Review Date: 05/17/2018
Great Location, lots of space. Full kitchen allowing you to save money on the pricey restaurants. Not busy like tourist filled hotels. Perfect central location on the south shore (Poipu). Property management was excellent. Wifi was fast as advertised. Nice view. Only one minor complaint: road noise. However road is very quiet during sleeping hours. All in all I would definitely stay here again.
Convenient location
Rating:
1
3
5
Review Date: 04/06/2018
Property is pretty dated but it was clean and had the essentials. Close to the beach and nearby shopping centre. Great restaurant across the road. The property has a laundry, bbq and pool area. Free parking out the front. Easy check-in process and wifi was good too.
Awesome stay
Rating:
1
5
5
Review Date: 03/17/2018
We really enjoyed our stay.
It was one of our favorites on our trip.
The unit was well equipped and clean.
The location was perfect as you could walk to food and beaches.
We will defiantly return. Hopefully sooner than later.
Cheers

Rest and relax
Rating:
1
5
5
Review Date: 02/07/2018
Great, all necessary items suppled, lines and towels were plush, nice to have lanai table and chairs.
Great place and location
Rating:
1
5
5
Review Date: 01/27/2018
Great place. Nothing too fancy but serves the purpose. We liked it very much. I would go back any time.
great little spot
Rating:
1
4
5
Review Date: 01/13/2018
This condo is great for two people, excellent location.
Great location
Rating:
1
5
5
Review Date: 12/25/2017
No complaints, enjoyed every minute spent at this place!
pretty condo, next to a great snorkling spot
Rating:
1
5
5
Review Date: 11/27/2017
- very clean
- well fitted kitchen
- would come back

Very convenient
Rating:
1
5
5
Review Date: 10/29/2017
Awesome sunsets across the street. Close to Poipu Beach. Would definitely stay here again!
Best Trip Ever
Rating:
1
5
5
Review Date: 10/25/2017
You really cannot beat this VBRO- beautiful location right across from the ocean, incredible landscaping a gorgeous pool, super close to shopping and first class eats- across the street was a great restaurant called the Beachhoyse-watch surfers and have an incredible dining experience. I feel like I found a real gem here! I would go back in a second!!
Great place to stay!
Rating:
1
5
5
Review Date: 10/22/2017
Great time in Kauai
Rating:
1
4
5
Review Date: 09/23/2017
We found the rental to be clean, comfortable and it included everything we needed during our stay. There is no air conditioning, so the ceiling fan was necessary. The only negative is that it squeaked during the night. The location was perfect and we would recommend it to others.
Great Condo- next to the best snorkeling we found on the island
Rating:
1
5
5
Review Date: 08/23/2017
We had a wonderful time in this condo. It was just right for the 2 of us. Perfect location for snorkeling across the street. We appreciated the carwash hose to use before we returned our rental car as well.
Great location, great rental
Rating:
1
5
5
Review Date: 08/22/2017
We enjoyed our vacation rental very much! I would just recommend a larger cooler, and providing a beach umbrella. We found those extremely useful at our other rentals.
We love the Poipu Area
Rating:
1
5
5
Review Date: 07/12/2017
The rental unit was a little differently set up with windows in the middle of rooms but we soon got used to it. The breeze was amazing. Unit very clean & well equipped. It's a bit noisy at night with the road but great for people watching! Loved the beach chairs, cooler and towels. Kitchen very well equipped. There was a bottle of water in fridge and coffee for the morning, much appreciated. No problems except pool was closed for 3 days for maintenance. Nice people. Nice place! Close to beaches, shopping and restaurants.
Picture Perfect!
Rating:
1
5
5
Review Date: 06/30/2017
We rented this gem of a spot for our honeymoon in June 2017. This place is just great. The only drawback is that there is no air conditioning, however the evenings are cool enough that we slept comfortably every night. The days get a little warm, but there is so much to do and see in Kauai that you'd be foolish to spend your time at a condo. We'd totally go back again.
Kauai Vacation
Rating:
1
4
5
Review Date: 03/18/2017
Our stay at Prince Kuhio 102 was pleasant and quiet. We found the unit to be ready for updating. Although very clean, it was just outdated. Our one small issue upon arrival was handled very promptly by the property manager and the owner who rushed over to make sure the issue was looked after.
Great view and location
Rating:
1
5
5
Review Date: 01/18/2017
Enjoyed the condo very much. Great location and view of ocean. I could sleep with slider open and hear ocean surf every night. Walking distance to great restaurants and beaches. Centrally located to all sights to visit. Very clean and well kept.
one week in kauai
Rating:
1
4
5
Review Date: 12/31/2016
lovely condo, great location, just 5 minutes to poipu beach, lovely pool. nice place.
Nice location, enjoyed our stay.
Rating:
1
4
5
Review Date: 11/04/2016
Its a quaint little unit. Perfect for our needs. Just the wife and me. Across the street from nice little area for snorkeling. (Though I would steer clear of the "beachhouse" restaurant. Overpriced and service was terrible) Onsite pool and BBQ. Unit has no AC but really didnt need it. Open windows on both ends of the unit and a nice breeze cools the place. Enjoyed using the onsite beach chairs and cooler a few times at Poipu Beach. Overall was pleasantly pleased with the unit. (Wife would have liked a Hot Tub and or Bathtub, none available)
Great condo with awesome location
Rating:
1
5
5
Review Date: 07/02/2016
We really enjoyed staying in this condo. We are snorkellers and the beach is just across the street, and its perfect for grabbing a morning or eveing snorkel then watching the sun set. The condo is clean, and simply but nicely furnished. The bed was comfortable and there is a ceiling fan plus a wonderful cross breeze through the windows. We will stay there again.
Third time there. We must like it.
Rating:
1
5
5
Review Date: 06/18/2016
Unit 102 probably has the best view for the 1st floor. It also has a steady breeze that goes right thru the condo keeping it cool and comfortable. Louvered windows and doors allow a nice breeze even with the sliding glass doors closed. The more expensive condos across the street have cmplaints about being too hot and no ac. 102 is great for a couple. We are in our 60's but it would suit younger folks also. Easy walk to resaurants and shopping. Nice beaches within walking distance. Our two daughters and their families rented 401 and 402 ( two bedroom units). Makes for a perfect family vacation. Grandparents downstairs, grandkids upstairs. Our whole family loved it. Grandkids ages are 17,15,13,6,6,and 5. There was something for everyone. I have offered to get a fancier condo to my wife, but she is perfectly content with 102.
Paradise Vacation
Rating:
1
5
5
Review Date: 05/25/2016
The directions from the airport were perfect until we got to Koloa. Nice people helped us find our way. You turn left on Poipu Road, go to the round-a-bout, take the second right (Lwai Road) to Prince Kuhio on the upper side of the road - not the ocean side.
Beautiful Kauai
Rating:
1
5
5
Review Date: 04/30/2016
very good, great location to the beach and shops
Your request has been sent. We look forward to meeting all your vacation needs!
Use of this website constitutes acceptance of the KauaiExclusive.com Terms and Conditions and Privacy Policy.
©2020- Present KauaiExclusive.com, Inc, All rights reserved. | Website Design by Beyond Pricing