honu-hale-sunrise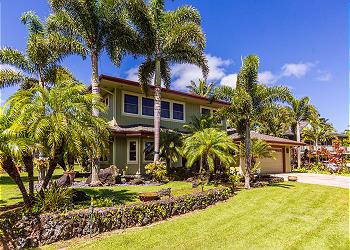 Honu Hale Sunrise
https://www.kauaiexclusive.com/rentals/properties/honu-hale-sunrise/
Honu Hale Sunrise | Vacation Rental in Kauai
Incredible Vacation Home With All The Amenities!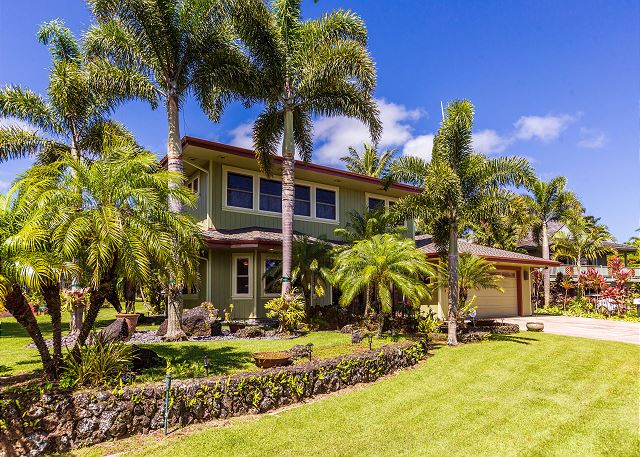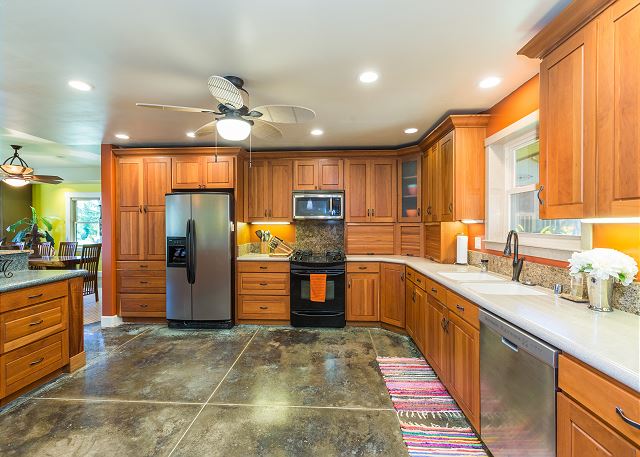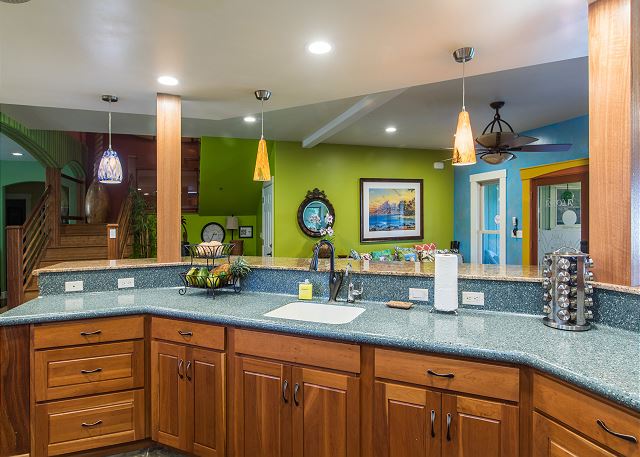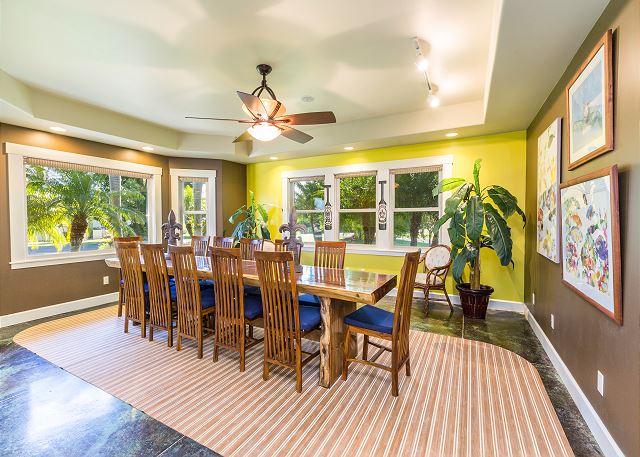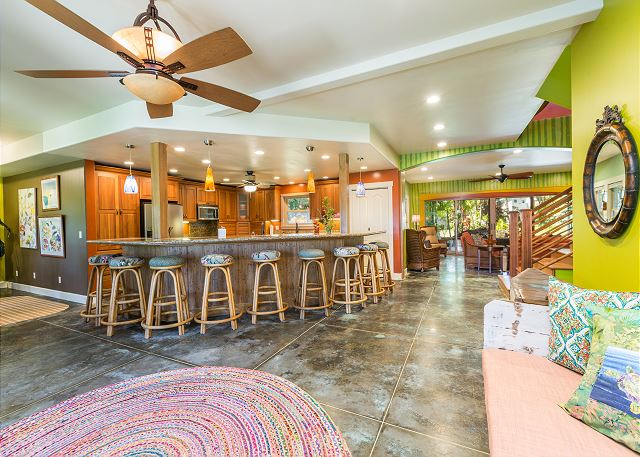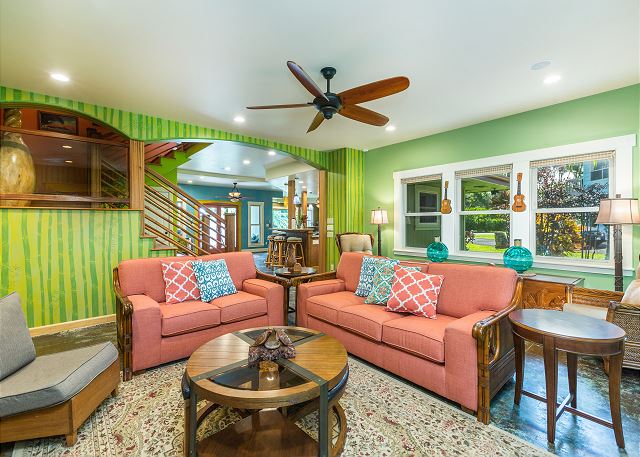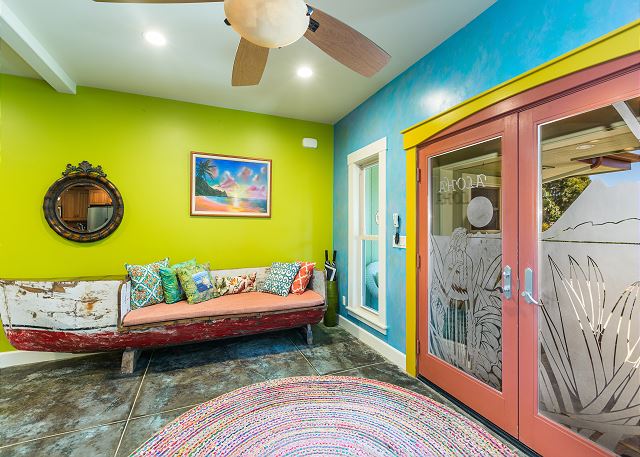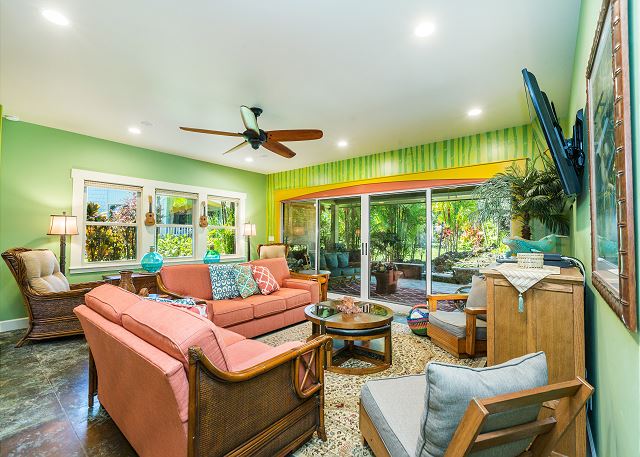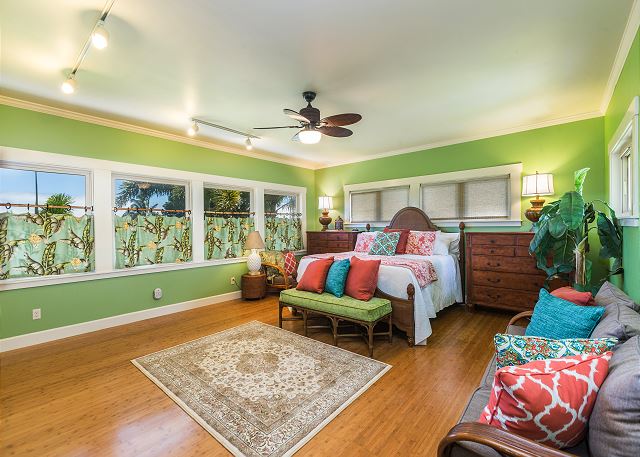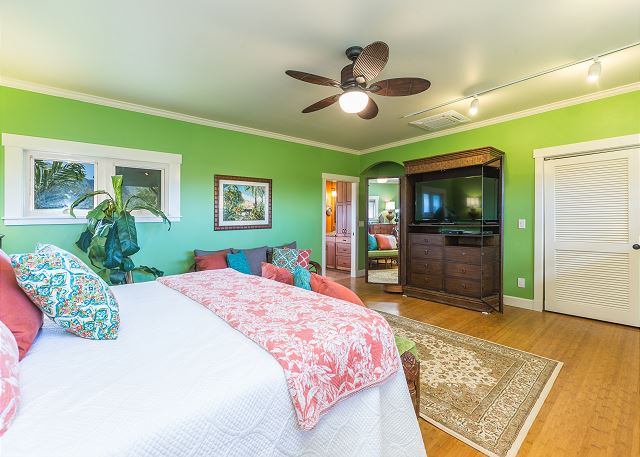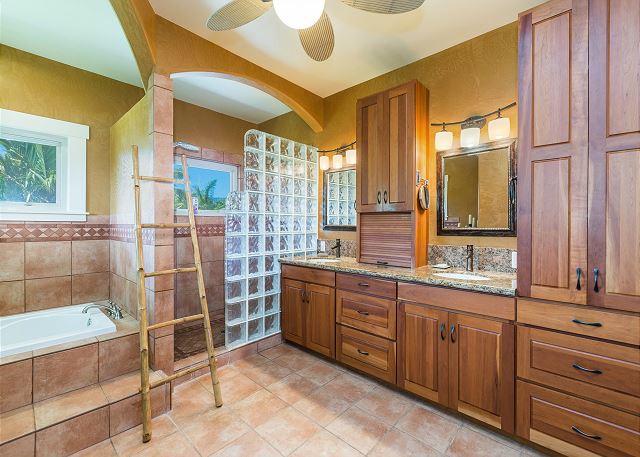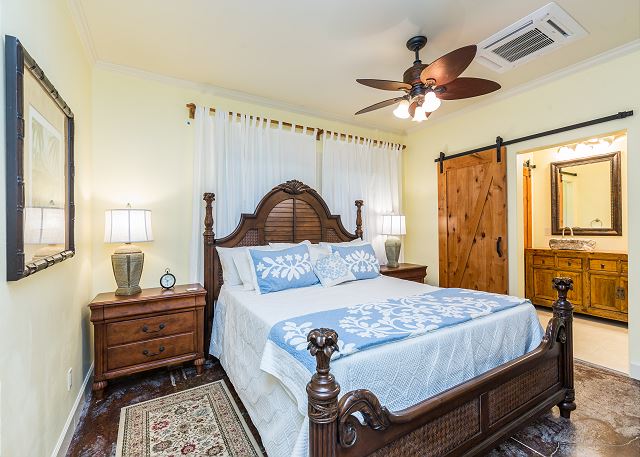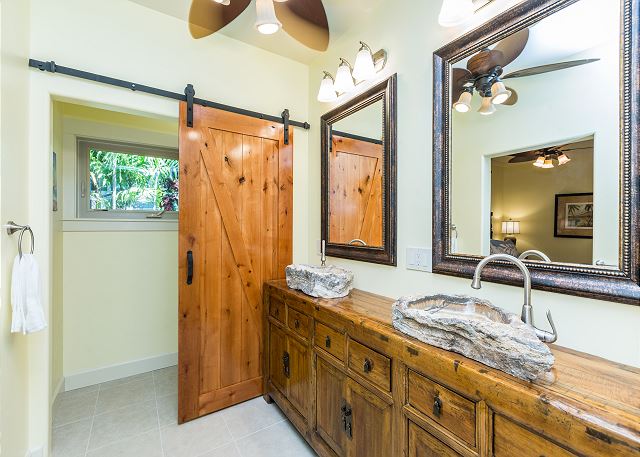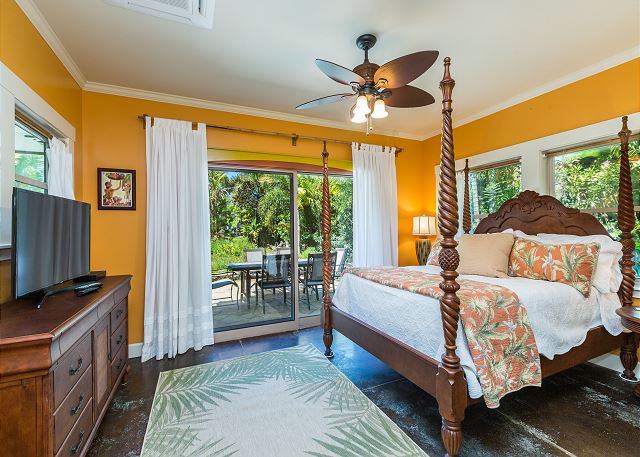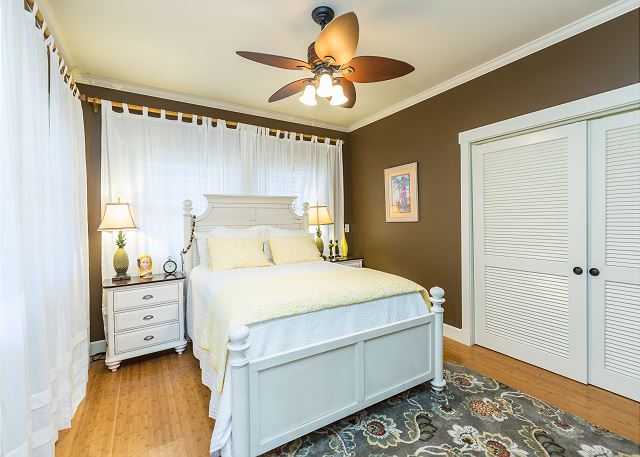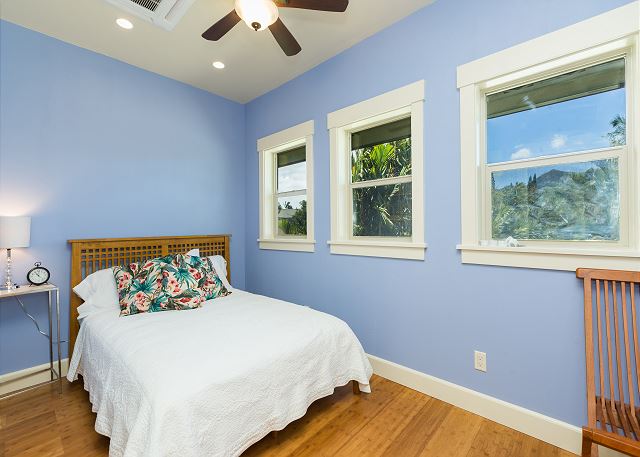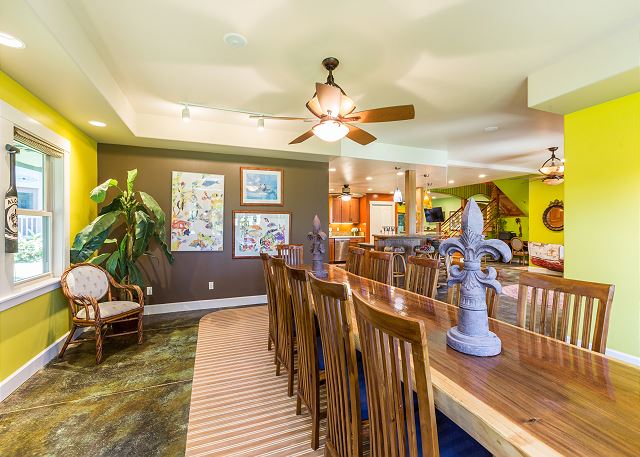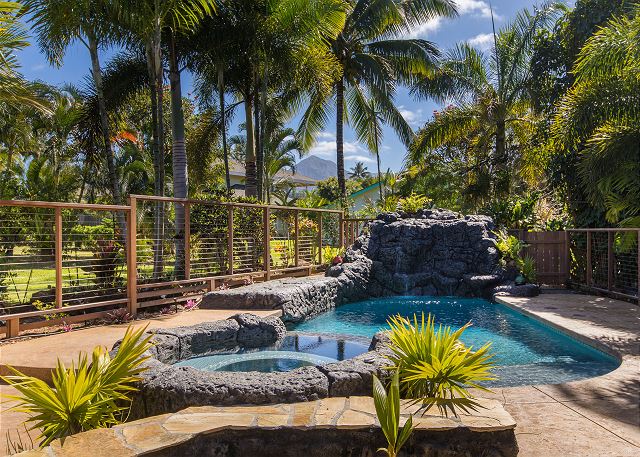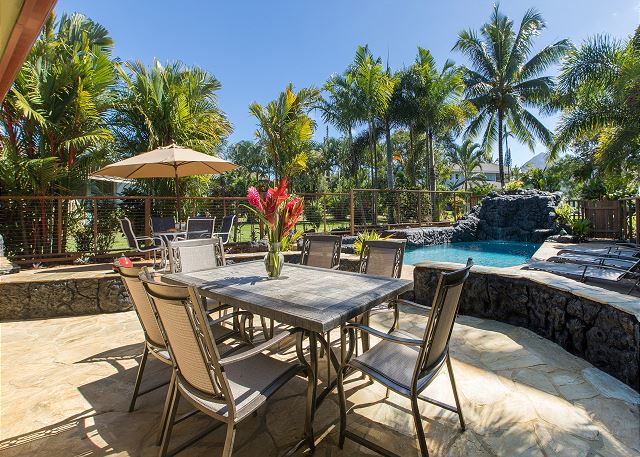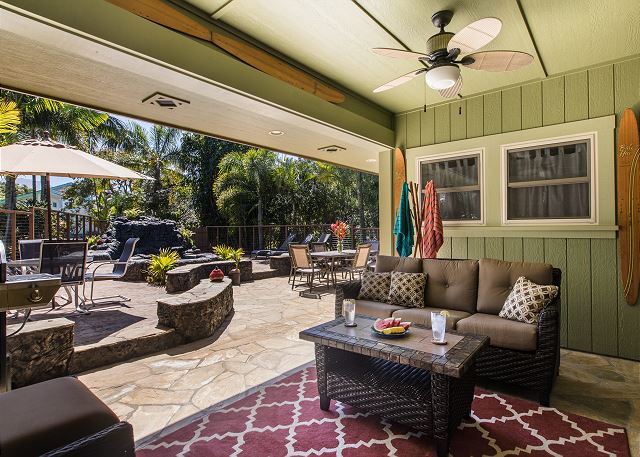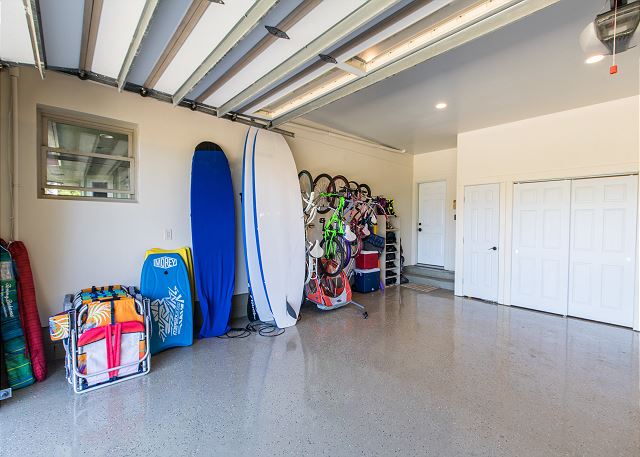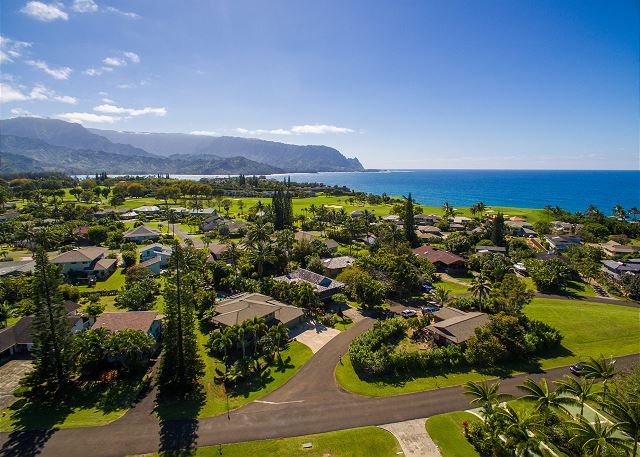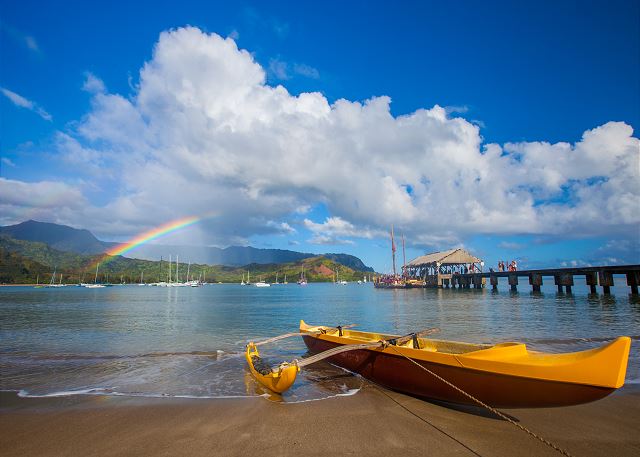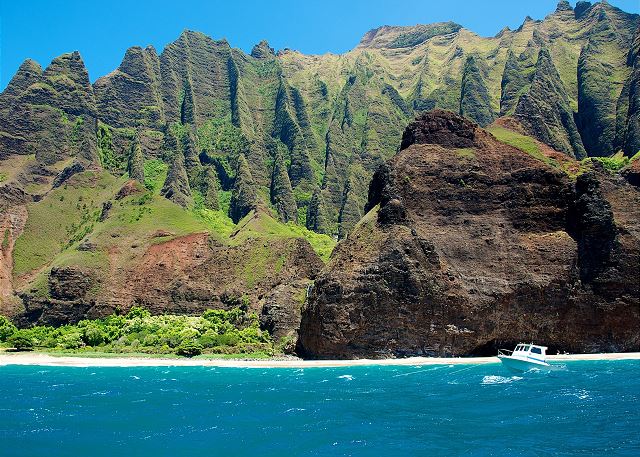 This exceptional estate is one of the North Shore's most generous accommodations. Seated on an expansive 1/3 acre lot, you will feel like you have your very own slice of paradise in the middle of a prestigious neighborhood in Princeville, Kauai.

Bright, cheerful and tastefully designed, this 5 bedroom home sleeps 10 comfortably. Each room has its own unique personality, while the estate is coordinated with aquamarine color schemes, hardwood accents and inspiring details. Cooking for many is an easy task with a large, state-of-the-art kitchen. Plus, the custom Monkey pod slab dining table graciously seats twelve. Split system A/C in the bedrooms keeps the sleeping areas cool and is Solar, while a heated salt water pool and hot tub provide a private version of the nearby ocean! The estate comes fully stocked with beach gear and bikes and a electric car charger in the garage, so you can make the most of your island vacation.

Hideaway's Beach, the Makai Golf Course, Princeville Shopping Center, Park and Community Center are all accessible via scenic walking paths throughout Princeville. Myriad white sand beaches, hikes, gourmet restaurants and boutique shops are also close by in Kilauea and Hanalei towns.

The North Shore of Kauai is quintessential paradise. Dramatic cliffs plunge into invigorating turquoise waves and lush jungles fringe inviting white sand beaches. Home to the infamous Hanalei Bay and the Nepali Coastline, the North Shore cradles some of Kauai's most treasured gems. It's easy to dive into the local culture when staying on the North Shore, as the environment is cozy and the sentiment is filled with Aloha.

One of the most revered places on earth, Kauai inspires a state of awe within all of us. Brimming with beauty, the oldest inhabitable Hawaiian island has both withstood the test of time and matured into a land of fertile abundance. Lush jungles, white sand beaches and the alluring ambiance of aloha enchant each moment. Offering exceptional accommodations, adventures, cuisine and culture, vacationing on Kauai is a dream come true.

TA-077-124-1984-01
| | Nightly |
| --- | --- |
| April 15 - June 14, 2021 | $1,200 |
| June 15 - August 15, 2021 | $1,200 |
| August 16 - December 14, 2021 | $1,200 |
| December 15 - January 05, 2022 | $1,199 |
Thank you for entering your review. The review will become available to the system shortly.
34
34
Overall Rating:
4.9118
4.9118
5 star stay
Rating:
1
5
5
Review Date: 12/08/2020
Stayed at this home for 5 weeks. Amazing stay. Not one complaint. Perfect for a big group. Comfortable, spacious with a beautiful kitchen. Kitchen has everything you need. They have an abundance of beach gear which was a plus. Management was extremely attentive and always got back to me in a professional and timely manner. Great location in Princeville - walking distance to queen's bath, hideaway beach, tennis courts, golf course.
Absolutely Amazing!
Rating:
1
5
5
Review Date: 03/12/2020
I cannot begin to describe how we all loved this house! I never wanted to leave. It's perfectly laid out with the three bedrooms upstairs being on a different wing of the house from the two downstairs. The dining room and kitchen with the bar were so great for all of our meals and the backyard was absolutely stunning! The house had every amenity you could ask for (except good salt and pepper which was kind of weird) and stocked with everything you need to cook good meals. We really appreciate all of the beach gear in the garage as well! When we return to the island, I will always check to see if this house is available to rent!! Also...we loved the neighborhood. Every aspect of this house will leave you feeling satisfied.
This Place Has It All!
Rating:
1
5
5
Review Date: 12/27/2019
Over the years, I have rented about 50 houses for various getaways with family and friends. None of them can compare to this house.
Admittedly, I chose to spend a bit more as this was a family reunion with children and grandchildren, but it was worth every cent.
We did not have the best weather in Kauai, but the house has a swimming pool (complete with waterfall) and a hot tub which we indulged in, rain or shine. The entire back yard is designed and landscaped for spending long, lazy hours.
The house itself has five bedrooms, two of which I'd consider master bedrooms, as they both have attached bathrooms with state of the art showers and very "island" feeling double sinks.
The entire first floor is open and flows from the front entrance through the large, incredibly well-stocked kitchen, to the family room. A generous dining table in a separate dining room has seats for 12 at an amazing table made, I think, from one enormous slab of koa wood.
The kitchen is stocked with every utensil, appliance, mixing bowl, dinner ware (ceramic and plastic sets of dishes), silver ware and measuring cup you could ever want. Including a waffle maker.
You walk in the door of this house and it practically embraces you. "Hello. Welcome. I'm here to make sure you and your family spend some wonderful time together."

Perfect house for a family reunion!
Rating:
1
5
5
Review Date: 12/02/2019
Wonderful space! Lots of area to get together and also plenty of space to find a private corner on your own. There was everything needed for our time their, extra towels, beach toys, cooking utensils, etc. We had a great time! Thank you for sharing your house with us.
Better Than The Pics!
Rating:
1
5
5
Review Date: 10/23/2019
Top-Notch house and management company. Amenities like the pool worked better than anticipated, and the house was spectacular.
Perfect House, Perfect Vacation, Perfect Rental Agency
Rating:
1
5
5
Review Date: 09/18/2019
We had an excellent vacation. The Honu Hale Sunrise house is beautifully decorated and appointed - even better than the pictures. Many touches that made our stay convenient even with a large group (ten adults). The kitchen is huge. The dining table is beautiful. The pool is the perfect size. The house was spotless when we arrived. Kauai Exclusive took care of things like making sure the propane for the BBQ was filled and that the trash was taken out. Thanks to the homeowners and to Kauai Exclusive. I hope we come back soon.
Outstanding Home with amazing backyard area.
Rating:
1
5
5
Review Date: 09/10/2019
No issues with everything working in the home. We had a few minor issues that where quickly addressed by Kauai Exclusive Management. I loved the App and the easy communication tools. The home makes for a beautiful home base. Walkable to Hideaway Beach and Pu'u Beach for those who want to stay closer to home. All the amenities where in working order. It should be noted that there is no central AC in the living room and the dining/kitchen. This is not a big deal but I may have overlooked this. It's not a a game changer or anything but it can get a bit warm during the summer so you have to open all the doors and windows. Most time is spent by the amazing pool and several sitting areas for all to be able to enjoy. The space was used by all 10 people very well. The lighting in the upstairs bedroom was amazing for getting ready pictures. Overall the family gives it a full thumbs up.
No better rental
Rating:
1
5
5
Review Date: 08/04/2019
Between its location and all the benefits of the house with 5 bedrooms and 4 bathrooms, an outdoor shower and 2 foot washing hoses,2 washers and dryers and bicycles, not to mention air conditioning in all the bedrooms, private pool and hot tub, there isn't a better rental out there to meet the needs of our large group.
Honu Hale Sunrise
Rating:
1
5
5
Review Date: 07/30/2019
Amazing property, great location, and fantastic service through Kauai Exclusive Management. Fit our family of 10 perfectly. Highly recommend.
WOW!!!
Rating:
1
5
5
Review Date: 07/26/2019
We thoroughly enjoyed our stay at Honu Hale Sunrise. It is such an amazing house that we didn't want to leave. The house has everything you need for your family - from the fully equipped kitchen, to the awesome beds/linens, items to take to the beach (chairs, boogie boards, etc), and amazing outdoor space.
Fabulous getaway home
Rating:
1
5
5
Review Date: 07/06/2019
Fantastic house! Pool, plenty of space, we'll appointed, plenty of linens and beach gear. Would highly recommend.
Amazing Experience
Rating:
1
5
5
Review Date: 04/30/2019
This property was one of the best I have ever stayed at. They literally thought of everything. The layout of the home and the furnishings were amazing. The 5 bedrooms comfortably housed our group of 9. Having air conditioning in each bedroom was great. Loved the brightly painted rooms and related decor. So many areas of the home to enjoy, relaxing in the swinging baskets on the front porch, enjoying a meal at the dining room table that seats 10 very comfortably, relaxing on the chairs/sofa under the covered area out back overlooking the truly amazing back yard and of course enjoying the pool and hot tub. Never played so many games of Marco Polo with my kids! We really appreciated all the toys provided as well; bikes, paddle boards, masks/fins, boogie boards, beach chairs. And having two sets of washers/dryers in the garage was a bonus.

The management company was very responsive to one inquiry we had for them.

And of course when not enjoying the home, the rest of the island was simply remarkable. Beaches and ocean were amazing. Enjoyed visiting Queens Bath several times during our stay. The entrance to the trail was located at the end of the street. Countryside is breathtaking. Weather was perfect.

I would definitely visit this property again.
good till last day
Rating:
1
3
5
Review Date: 04/21/2019
House and amenities were terrific. Only problem was check out policy that makes you vacate the house by 10am on departure day. Impossible to do with little children and left bad taste.
this is a beautiful home
Rating:
1
5
5
Review Date: 04/17/2019
This gem was home for a week to a group of 9 family and friends, ranging in age from 7 to 82. The house was perfect- clean, updated, well appointed. The beds were comfortable, the kitchen was spacious, and the dining room table large and inviting. The neighborhood is quiet and walkable. We enjoyed morning walks to the Coffee Spot and the pool and hot tub were used daily. The rental company was professional before we arrived, but we did not need a single thing during our stay so I cannot speak to their service during that time- I would assume it would be as impeccable as the property.
Paradise!
Rating:
1
5
5
Review Date: 04/03/2019
Thank you for opening your beautiful home to us all from Iowa! We couldn't have asked for a better set up with the perfect location. We had to drive a little ways to activities but nice to come home away from all the traffic and relax by our own pood. The house came complete with everything we could have possibly imagined. The only one thing we would have asked for is another fridge either by pool or in garage for extra beverages when you have 10 adult in the house. The pool was not running the 1st evening we were there but Michael, the property manager, had someone there to fix pool the next morning. Michael-thank you for being prompt in answering any questions we had that were in your means of control. There were only 2 minor problems in the bathrooms- a slow tub drain and a flickering light in masters. We couldn't have asked for a better stay minus the roosters at 4 a.m. haha! You truly made our stay paradise! We highly recommend this paradise to anyone visiting Kauai! We also had our own concierge Thomas who completely made our stay stress free. He planned everything we wanted to do-made suggestions-was on call 24/7 it seemed because made some reservations before we went and forgot we are 5 hours different-oops-my bad. Also going through rental host was awesome way to talk to hosts and make payments, etc. Thank you, thank you for making our trip so amazing! We will be back! love to you all! Mahalo
Perfect family vacation
Rating:
1
5
5
Review Date: 02/28/2019
We have rented many vacation homes over the years and this has been one of our favorites. Perfect for a large family with kids. Kauai weather can be iffy in February so having this wonderful warm pool and hot tub was great to come home to every day. Very well stocked, more kitchen items than we have at home. Plenty of towels and the garage was full of all you need for the beach or biking around the neighborhood. Friendly neighbors and princeville is a charming area. Loved every minute and we plan to return soon.
Family Vacation
Rating:
1
4
5
Review Date: 10/16/2018
We had a very nice time at this property. It was pretty much just like the pictures. We had 6 adults and 2 children. Kids definitely got use out of the pool. Pool area was very nice. If you want more to do, this area is not the place to stay. We found ourselves on the South Shore far more than in the Princeville area.
Great Stay!
Rating:
1
5
5
Review Date: 09/10/2018
Rental house was spacious, clean, and practical. We had a great time!
Honu Hale - Amazing home
Rating:
1
5
5
Review Date: 08/14/2018
This home was absolutely stunning, more than what we expected! It was comfortable and large enough for my family to enjoy themselves in. It came with all the amenities, including AC, 2 huge laundry areas, bikes, etc. I would highly recommend staying here!
Kauai Family Vacation
Rating:
1
5
5
Review Date: 07/24/2018
Honu Hale Sunrise is better than advertised. Great home, great location.
Absolutely Amazing
Rating:
1
5
5
Review Date: 06/04/2018
This is hands down the best Airbnb experience I have had. This house was beautifully maintained, well stocked, and it felt like we were in a 5 star resort. The company was very responsive with all communication and provided everything we needed (and more) for a wonderful vacation. The pool and hot tub were perfect. You will not be disappointed if you choose this home!
Your Own Private Resort
Rating:
1
5
5
Review Date: 05/04/2018
This home was perfect for our multigenerational family vacation. We had plenty of room for socializing, but also enough private space that we never felt like we were on top of each other. The pool, hot tub, & waterfall made us feel like we had a private resort & we spent much of our time enjoying the backyard. The house is even nicer than pictured. The large master bedroom suite is upstairs, along with a second bedroom, hall bath & a small bedroom that might be tight for a couple but was perfect for our 12 year old grandson. Downstairs is a hall bath, bedroom with access to the pool area and another bedroom with its own lovely bath complete with walk in shower that would work as a second master for anyone with mobility issues. We really appreciated the two washers/dryers and beach equipment, although I would suggest more beach towels. With ten people, there were not enough to have a dip in the pool in the morning & have dry towels to take to the beach later that day. I would also suggest a supply of dish towels for the kitchen. But these are VERY minor issues. The house was extremely comfortable, spacious and fun with the tropical colors of the rooms and decor. We would definitely rent this home again! This was also my first experience renting from HomeAway & I was impressed with the level of communication & attention. I expect to use HomeAway again for a family vacation.
Wonderful home
Rating:
1
5
5
Review Date: 03/21/2018
We had a great time here for a family getaway with 3 couples and 3 children. Spacious kitchen with top of the line appliances, very comfortable family room and beautiful bedrooms. Bikes, beach gear and even SUP's in garage.
Walking distance to St Regis.
Great house and a great location on the North Shore!
Rating:
1
5
5
Review Date: 11/26/2017
Great location on the North Shore and within walking distance of Queen's Bath. Large house with plenty of space and amenities - nice pool that is fun for kids. Would definitely stay here again!
Fantastic Vacation Rental!
Rating:
1
5
5
Review Date: 11/04/2017
My extended family of 10 stayed in this beautiful home for a week and could not have been happier!The location was great, the house in pristine condition and decorated beautifully. We love to cook and were happy to find everything that we needed and then some. All the toys in the garage were also a nice addition. The beds were super comfortable, crisp sheets and nice towels. We loved the TWO washers and Dryers in the garage! Jason at Kauai Exclusive Management was super helpful with all of our questions. I would highly recommend this property, you will not be disappointed.
Perfect for our family vacation
Rating:
1
5
5
Review Date: 10/24/2017
We spent 6 nights at this house and it was perfect for our family of 10 (6 adults, 4 children, ages 2-9). The bedrooms were great and air conditioned. The common areas, kitchen, dining room and living room were spacious. The outdoor area was great as well, everyone enjoyed the pool and hot tub. The sitting area was also a hit. We had a minor problem with the fridge, but Jason was very quick to take care of it, and checked back multiple times to make sure that things were working. There were plenty of beach chairs, coolers, and boogie boards in the garage, as well has bikes which everyone enjoyed. I would highly recommend this property and if I returned to Princeville, I would definitely want to stay here again.
50th wedding anniversary
Rating:
1
5
5
Review Date: 09/18/2017
Stay at Honu Hale Sunrise
Rating:
1
5
5
Review Date: 06/13/2017
Our family of nine rented the Honu Hale Sunrise home for a vacation in June. The place was everything we hoped for. The property was well-appointed, spacious, and well laid out. The pool was great for the kids, the water temperature was pleasantly warm and the hot tub would heat up in minutes after being turned on. The kitchen was huge and accommodated three cooks at a time. With four children in the pool most days it was great to have two washers and dryers available. I loved the many flowers and birds and the beautiful view of the mountains when walking in the neighborhood. I would choose this property again.
Great stay at Honu Hale sunrise
Rating:
1
5
5
Review Date: 06/11/2017
The house was fantastic and exactly as described in photos. The pool and outdoor living area in particular was fabulous and great for our group. Kauai Exclusive was extremely friendly, helpful,and professional - made it super easy to ask questions and work with them. Always very prompt service.

Only real downsides: cranky next door neighbor who came over to complain even when our noise was at a reasonable level during normal hours (mid afternoon). Secondly, the master bedroom has no blinds, making it very difficult to sleep in.

However, all things considered I would highly recommend staying here and working with Kauai Exclusive!
Great property over Christmas for family of ten!
Rating:
1
5
5
Review Date: 01/12/2017
We had the pleasure of staying at this property for a week over Christmas (2016), a family vacation with ten of us all together.
We were all impressed with the house, and was just as described. It had everything we needed to make our stay comfortable, easy, and enjoyable. Many small details that you don't consider until you need them; two sinks in the kitchen, printer (with air print) to print boarding passes, full size washer/dryer, beach chairs, snorkels, towels & umbrellas, and a *proper* blender for those blended drinks! The pool and hot tub were well used in the evenings, and just a nice layout overall for everyone to gather together or hide away. The dining room table was awesome too, lots of room for the whole family.
We did have a few issues crop up (fridge not cooling, door keypad not working), but Jason, the Honu Hale Sunrise property manager, responded and dealt with all these right away, and always followed up and made sure we had everything we needed. Much appreciated!
My daughter was thrilled that there paddle boards, too. She had her zen moment paddling up the river with the turtles, sun, and lush vegetation.
We would and hopefully will come back!
Dream Vacation!
Rating:
1
5
5
Review Date: 12/09/2016
What an absolutely incredible stay that made for a trip of a lifetime on magnificent Kauai! For starters, the house was absolutely gorgeous. The beautiful colors of the inside of the house was something like I've never experienced before. This house didn't feel like your standard vacation rental but more like a home away from home...only in paradise. My husband, our two children, and another couple and their kids all had plenty of space to enjoy our time together. We were able to access all the north shore beaches in just a few minutes from Honu Hale Sunrise and being the house was equipped with so much beach amenities made everything so much easier. Jason (the property manager) was fantastic; super friendly and quick to respond to a couple of questions we had about the area. We're definitely coming back, and when we do we're staying for much longer! Thank you Kauai Exclusive and thank you Jason!
Living in a stunning postcard
Rating:
1
5
5
Review Date: 11/07/2016
Kauai is a beautiful and most picturesque of all the islands. On that island the North End is unbelievably green with Pinnacle Ka napali Coast. Princeville where this home is, sits on a pinnacle most beautiful on the North shore. You could not ask for a more stunning setting as you stand in the shower looking out over 5 cascading waterfalls coming off the Mountainside. It's easy to get to and not extremely busy or noisy. This location is fabulous. I love the home Flex bright colors Tastefully done along with so many bedrooms with the badge. The common area was large enough to accommodate a large group warm enough to keep us feeling like we were at home. It was very well done. I loved loved loved our experience. The only negative we had was they were still getting the internet setup which they had completed within a few days. I can't say enough good about this beautiful home and would suggest anyone to rent it. In a heartbeat I would rent from them again if they also had all the toys for us to be able to use on the beach which we were between Mini including Hanalea Bay.
Honu Hale Sunrise, we will be back!
Rating:
1
5
5
Review Date: 10/23/2016
We stayed in this beautiful home for 5 nights during our wedding. My parents, my wife's parents, and one other couple (8 people total) fit extremely comfortably with even another room to spare. The home has all the beach needs/wants; lots of beach chairs, some boogie boards, paddle boards, snorkel gear, and even some umbrellas. Jason, the property manager was very friendly and was always willing to help with any questions. The kitchen is very big with everything you need to cook some meals. Queens Bath is literally 5-10 minutes walking distance. This home really kicked off our special trip to Kauai and we are already wanting to book another stay.
AMAZING Kauai Experience!
Rating:
1
5
5
Review Date: 10/04/2016
The Honu Hale Sunrise home was absolutely beautiful! The color, design, amenities were all perfect. Our team was very pleased. The home was in a beautiful and quiet neighborhood that was close to everything- sight seeing, the beach, shopping and the house had everything you could imagine you would need including bikes! Jason was an excellent representative of the company and was literally available 24/7. He prepared us well and was present via text throughout our stay. We will be back!
Your request has been sent. We look forward to meeting all your vacation needs!
Use of this website constitutes acceptance of the KauaiExclusive.com Terms and Conditions and Privacy Policy.
©2020- Present KauaiExclusive.com, Inc, All rights reserved. | Website Design by Beyond Pricing