hale-mahana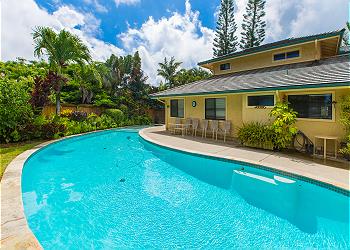 Hale Mahana
https://www.kauaiexclusive.com/rentals/properties/hale-mahana/
Hale Mahana | Vacation Rental in Kauai
2 Bedroom House w/Private Pool. Call NOW or email for FAST Custom quotes!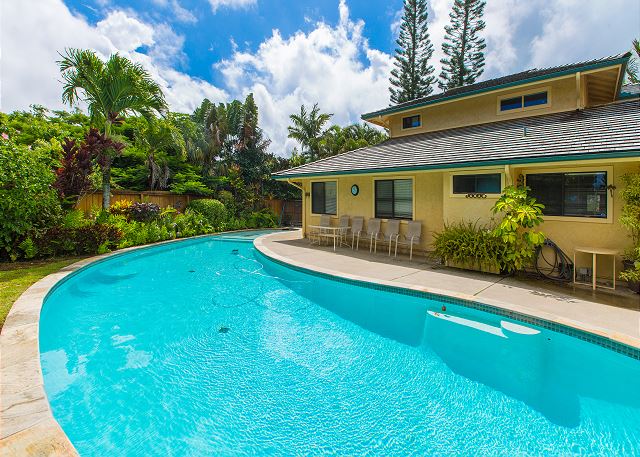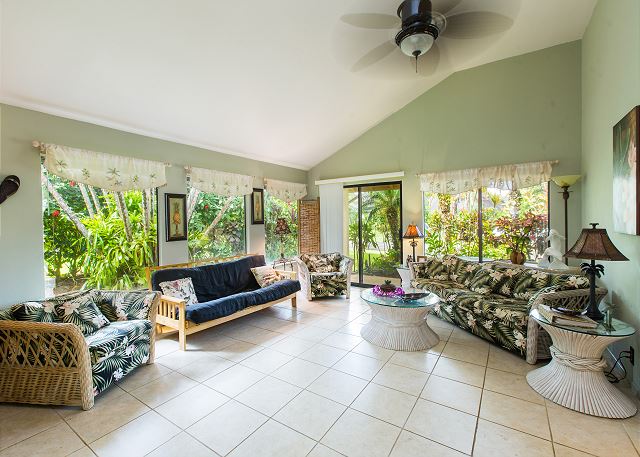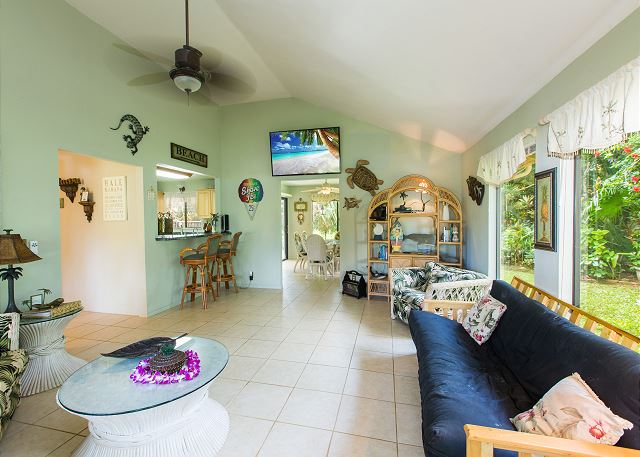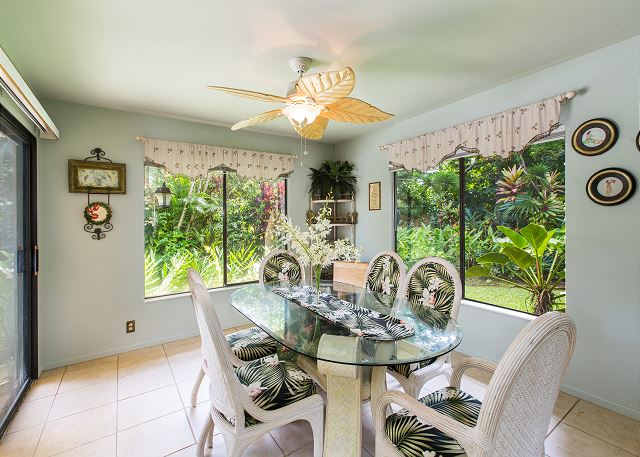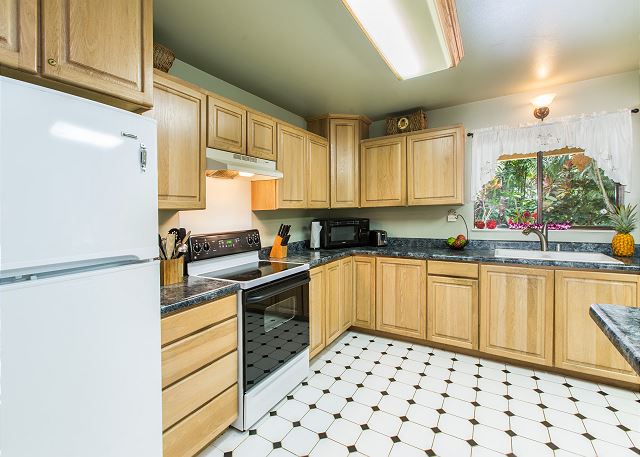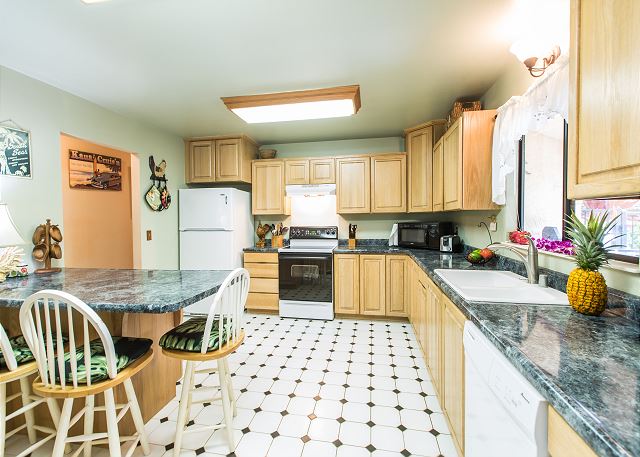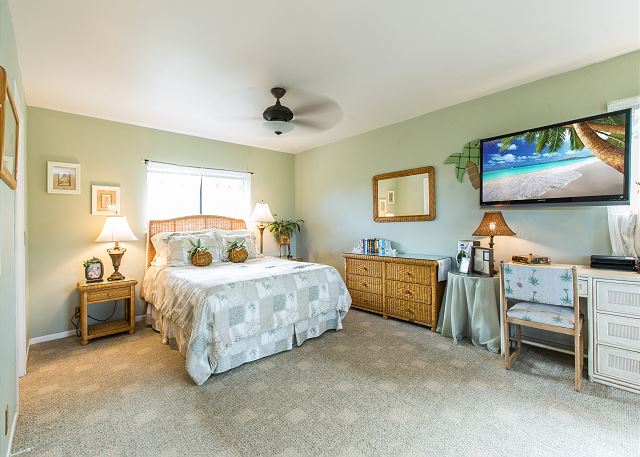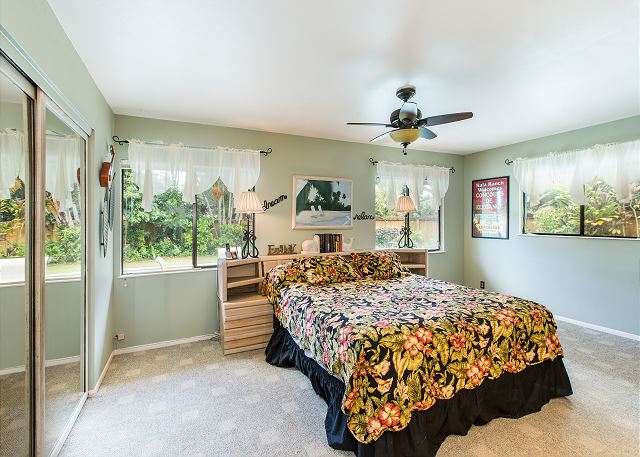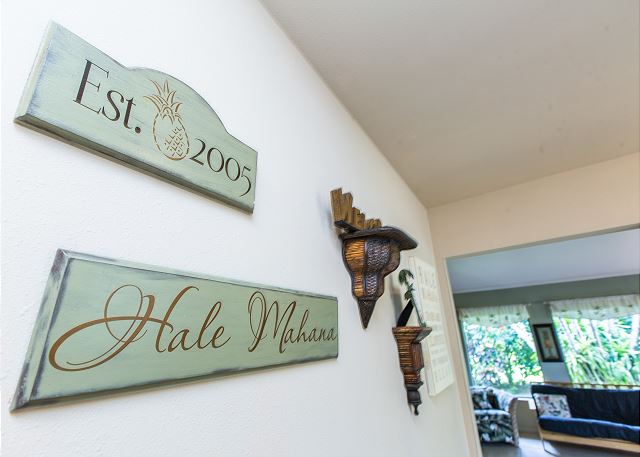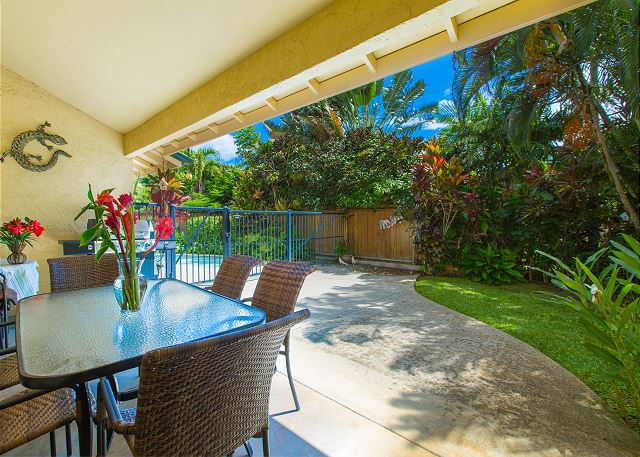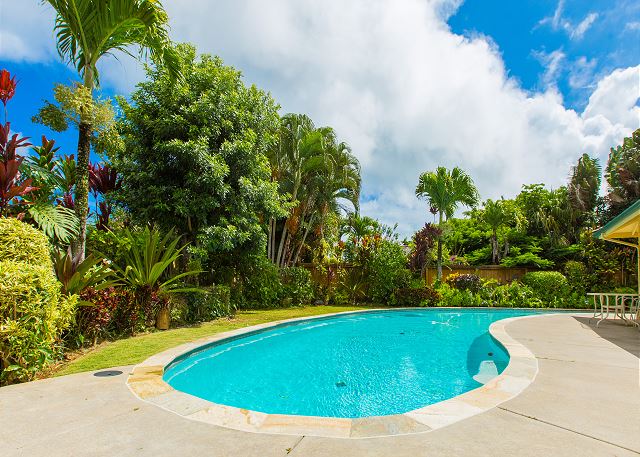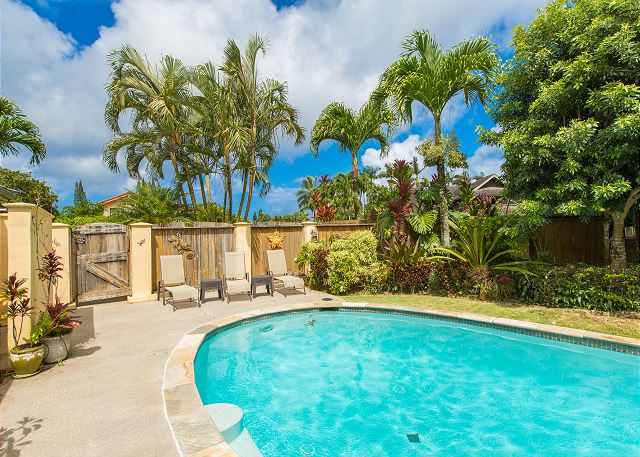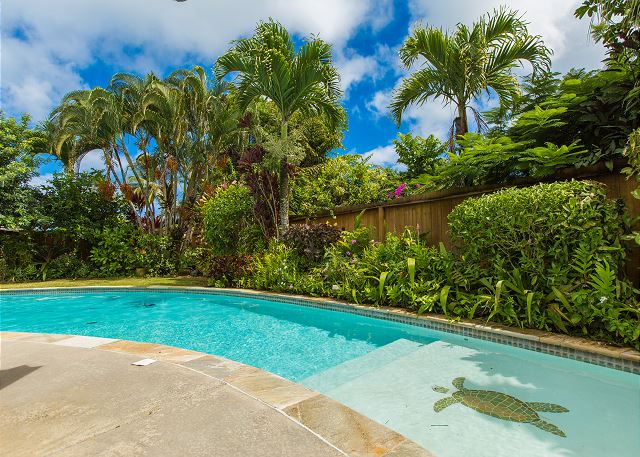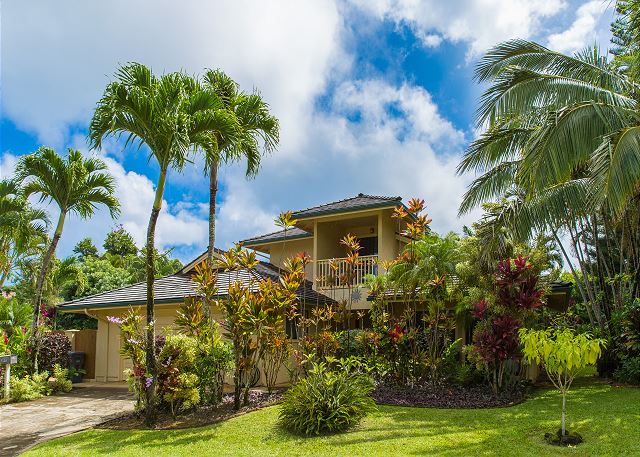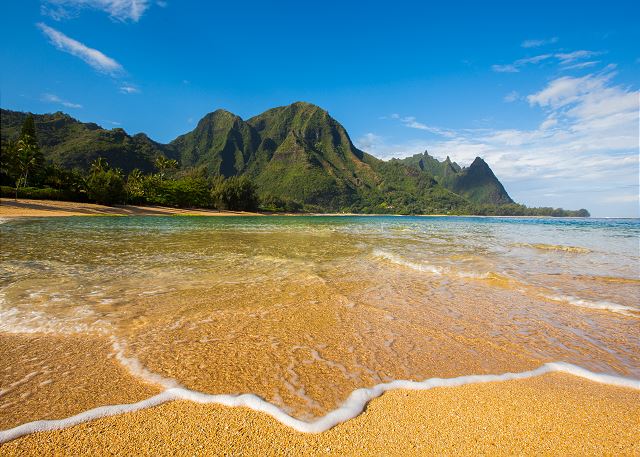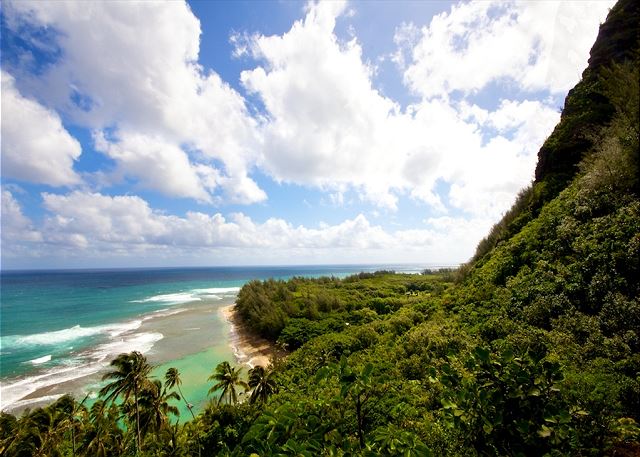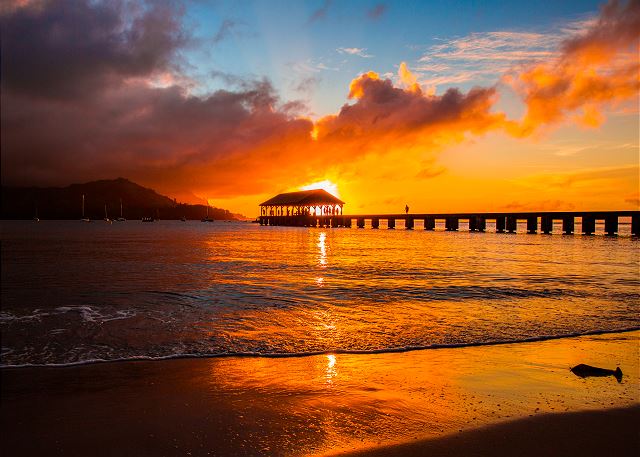 This lovely 2 bedroom home in Princeville is a perfect home-away-from-home. The private pool and quiet neighborhood have a family-oriented appeal, while the Hawaiian motif and tropical landscaping create a potential paradise for everyone.

Comfortably sleeping 6, this Hawaiian hale (home) is set up for family fun or a group of friends. Fully stocked with kitchen supplies and appliances, linens. Enjoy island-wide adventures, then return home to this ideal Hawaiian home!

Hideaway's Beach, the Makai Golf Course, Princeville Shopping Center, Park and Community Center are all accessible via scenic walking paths throughout Princeville. Myriad white sand beaches, hikes, gourmet restaurants and boutique shopping are also close by in Kilauea and Hanalei towns.

The North Shore of Kauai is quintessential paradise. Dramatic cliffs plunge into invigorating turquoise waves and lush jungles fringe inviting white sand beaches. Home to the infamous Hanalei Bay and the Nepali Coastline, the North Shore cradles some of Kauai's most treasured gems. It's easy to dive into the local culture when staying on the North Shore, as the environment is cozy and the sentiment is filled with Aloha.

One of the most revered places on earth, Kauai inspires a state of awe within all of us. Brimming with beauty, the oldest inhabitable Hawaiian island has both withstood the test of time and matured into a land of fertile abundance. Lush jungles, white sand beaches and the alluring ambiance of aloha enchant each moment. Offering exceptional accommodations, adventures, cuisine and culture, vacationing on Kauai is a dream come true.
| | Nightly |
| --- | --- |
| August 16 - December 14, 2021 | $450 |
| December 15 - January 05, 2022 | $489 |
| January 06 - December 14, 2022 | $450 |
| April 15 - June 14, 2022 | $450 |
| August 16 - December 14, 2022 | $450 |
Thank you for entering your review. The review will become available to the system shortly.
21
21
Overall Rating:
4.8095
4.8095
Private Pool!!!
Rating:
1
5
5
Review Date: 05/25/2021
Everything you would want and need! Location! Privacy! Great house with everything! This is the perfect house. We used the pool everyday! Communication with Joshua was amazing and prompt! We ran out of propane and the next day it was all installed and filled up! We come to Kauai almost every year and by far this is the best place we have stayed! Thank you for a wonderful time!
Princeville
Rating:
1
5
5
Review Date: 03/23/2020
Great Staycation
Rating:
1
5
5
Review Date: 10/12/2019
Our family had a wonderful time on the North Shore for Fall Break! What an amazing home for family gatherings! The outside space was well worth the cost alone! Indoor dwelling outdated; seemed like we had been the only guests in a while-shower downstairs not working and dishwasher out of order, but for us this was minor compared to the fun we had enjoying the outside pool/space! If your main goals are having fun with family and friends the pool and outside entertainment area is awesome! Good communication via host, very quick to respond to emails!
Overall we loved this home!!
princeville
Rating:
1
4
5
Review Date: 08/24/2019
The pool was very nice surrounded by lush vegetation. The scenery in Princeville was impressive. The house was nice, we enjoyed walking to hideaway beach and jogging in the area and jumping in the pool. Lots of good snorkeling at hideaway beach. Could have used some air conditioners in the bedrooms. Lots of fans but gets pretty humid in Kauai north shore.
Hale Mahana
Rating:
1
5
5
Review Date: 06/19/2019
Overall it was very good. The only downside was the lack of basic cooking items such as coffee, coffee filters, cooking oil, and spices - other than salt & pepper.
Great Pool!
Rating:
1
5
5
Review Date: 06/07/2019
Had a wonderful stay, everything we needed including a nice location. Pool was so nice to jump into after a day of exploring. Would rent again!
We love Sheri. Her customer service is impeccable.
Rating:
1
5
5
Review Date: 05/12/2019
We look forward to staying here again. The home is cozy and the pool was clean and safe. Sheri made sure we were taken care of and went out of her way to make us feel secure and happy. We can't say enough good things about her... especially after I contacted her the day before our arrival and made changes to our reservation! Sheri deserves five stars. Personable, prompt... we hope to book another stay soon!

This is personal preference, but I would tone down the interior decor... there were some very nice things, but just too much stuff... we decided to put the plastic plants out in the garage(hope that's ok).

We loved the BBQ and pool area. Lots of places to sit and relax. The plants and trees surrounding the property are gorgeous. We loved the shallow end of the pool. We have little ones that don't know how to swim yet, and they enjoyed that area tremendously.
Family vacation
Rating:
1
5
5
Review Date: 02/27/2019
We stayed 3 days in the house and had a great time. The house looks like the Airbnb pictures and description.
We appreciated the management company's preparation of the third bed for accommodating our 5 family members stay.
Heavenly Hale Mahana
Rating:
1
5
5
Review Date: 02/19/2019
We are retired teachers from Ohio. Over the years, we have rented nearly 20 different residences on Kauai. This is one of 3 places we would return to in a heartbeat. The house is roomy and located close to everything one might need. The pool is fanatastic. It is a nice neighborhood.
Fabulous home that is the best place to relax
Rating:
1
5
5
Review Date: 10/31/2018
I have stayed at this place twice now and love this place. The location of this home provides you with excellent privacy while still located close to stores in Princeville and a short drive to Hanalei

I have been vacationing in Princeville / Hanalei nearly ever year for 10+ years. This place is by far the most enjoyable place I have stayed at

The poll is a blast especially st night , the pool light changes color and make for fun late night swim.
Great house with pool in Princeville
Rating:
1
4
5
Review Date: 09/30/2018
This was a perfect house for my wife and I. We love the Princeville area. This house is within walking distance of Queens bath, which you should avoid if it's raining or has just recently rained. It was a muddy mess when we hiked it. It's a short walk to Hideaways beach, which is our favorite beach, but again, it's very steep and muddy. The house was in good shape and had everything we needed. I used the grill a few nights, which was great. There were a few cockroaches at night, but you have to expect that in Hawaii. The pool was the selling point for us and we spent a few hours every day using it. We would definitely stay here again.
Awesome!!!!
Rating:
1
5
5
Review Date: 04/16/2018
The pictures don't do this house justice. Much nicer than I even expected. I would definitelyhave those redone.Very clean and nicely decorated. Loaded up with supplies. The bed was so nice we are currently shopping for one just like it. The backyard was nicely landscaped and really suited the house. The pool was a real treat. The neighborhood was very quiet. My mom would have been satisfied just sitting outside the house by the pool our whole stay. So much better than a hotel. It made the whole trip. I would definitely stay there again and I probably will.
hale mahana
Rating:
1
5
5
Review Date: 03/03/2018
beautiful house and surroundings. All the comforts of home. Nothing you can do about the rainy weather, I guess it depends on the time of year. Had fun regardless.
Great place to stay
Rating:
1
5
5
Review Date: 02/04/2018
We had seniors, adults and grand children all enjoyed th quality of th space.
Pretty Decent Vacation Home
Rating:
1
4
5
Review Date: 05/22/2017
Overall the rental was pretty nice.

The Good:
Comes with basically everything needed for a good vacation. Loved the snorkel gear, was a huge help, as well as the varying sizes of coolers. The kitchen was fully stocked and loaded, grill was also very lovely. Beds were clean, comfortable, and love they give shampoo, condition, and lotions. Didn't find any huge complaints that would have truly hindered my stay. It is a pretty decent value for the price. Really great location!

The Bad:
The pool was very dirty when we arrived, and had to figure out how to get it cleaned up, was just a bit of a shocker upon arrival.
We also had some issues with going in and out of the garage, as there is a concrete step right before the door that no one warned us about - both of us ended up hurt before we left.
Also, the coffee maker did not appear to work properly with the drainage filter, we tried multiple ways to get it to work, but luckily I also brought tea to brew.

Would give it 3.75 stars
Great vaca home
Rating:
1
5
5
Review Date: 05/01/2017
My husband and I had a great stay at this home in Princeville. Jason the property manager was there to answer any of questions .he even brought us a goodie basket w a delicious pineapple and fruit when we arrived! Home was the most well stocked home we have EVER rented for a vacation. Nice towels , lots of beach "stuff" etc. comfortable beds,furniture and outdoor space was amazing! Pool was a great place to cool offf in the evening after a day of hiking or snorkeling. It's also a very quiet neighborhood. We really didn't want to leave after staying 2 weeks!
King's stay in Kauai
Rating:
1
5
5
Review Date: 03/17/2017
We thoroughly enjoyed the privacy a home proffers. The home completely met our needs. Breakfast on the patio, happy hour on the balcony and dinner in the lovely kitchen. We slept wonderfully as the neighborhood was peaceful and we always felt safe.
Amazing Vacation!!
Rating:
1
5
5
Review Date: 03/01/2017
Great house with two huge bedrooms and a ton of privacy We opted for a house (vs a condo) so we could have our own space and enjoy our time together as a family. Loved the backyard area to lounge around and swim in the pool. The location was great, quiet yet close to the stores and several amazing beaches nearby. Kauai Exclusive was great to work with and Jason (property manager) welcomed us with a nice basket of local fruit and chocolate and was always available when needed. Definitely coming back! Thanks guys!!
Great stay
Rating:
1
5
5
Review Date: 01/27/2017
This was a great site with the pool and all carefully protected from unaccompanied kids. Loved it!
North Shore at Christmas
Rating:
1
4
5
Review Date: 01/04/2017
What a beautiful property and location! We enjoyed the tropical landscaping and bikes to cruise princeville and transport ourselves to breakfast in the morning. The house was well appointed with everything we needed. Weather was a bit cold when we visited and therefore we could not put the pool to use.
Great Stay!
Rating:
1
5
5
Review Date: 09/17/2016
Thanks for a lovely place. It was perfect! It was nice that bikes and snorkel gear were available for us as well. The pool was beautiful!
Your request has been sent. We look forward to meeting all your vacation needs!
Use of this website constitutes acceptance of the KauaiExclusive.com Terms and Conditions and Privacy Policy.
©2020- Present KauaiExclusive.com, Inc, All rights reserved. | Website Design by Beyond Pricing