hale-awapuhi-sunrise-2e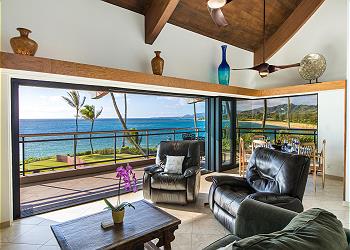 Hale Awapuhi Sunrise 2E
https://www.kauaiexclusive.com/rentals/properties/hale-awapuhi-sunrise-2e/
Hale Awapuhi Sunrise 2E | Vacation Rental in Kauai
BEACHFRONT three bedroom oceanfront penthouse on the east side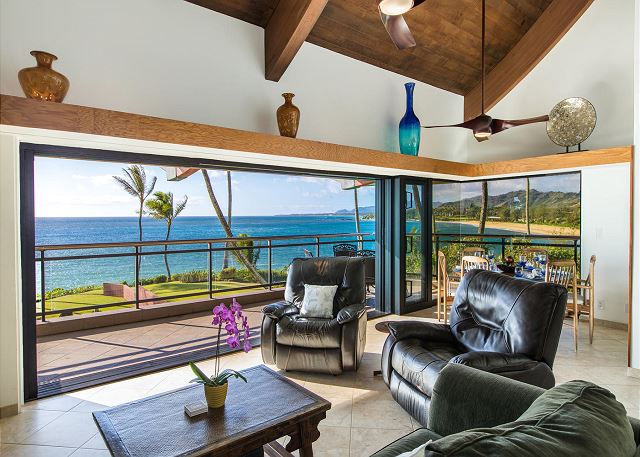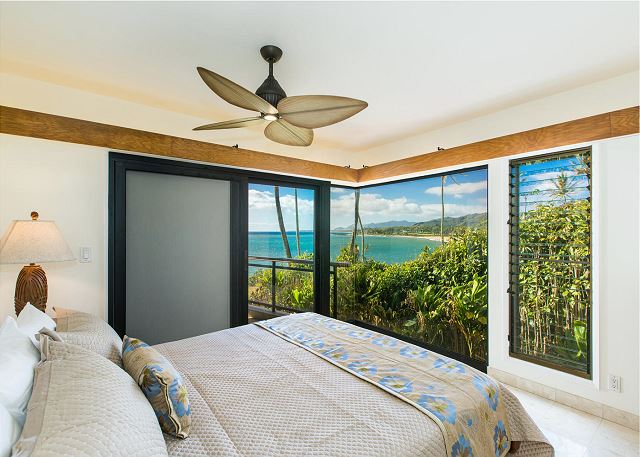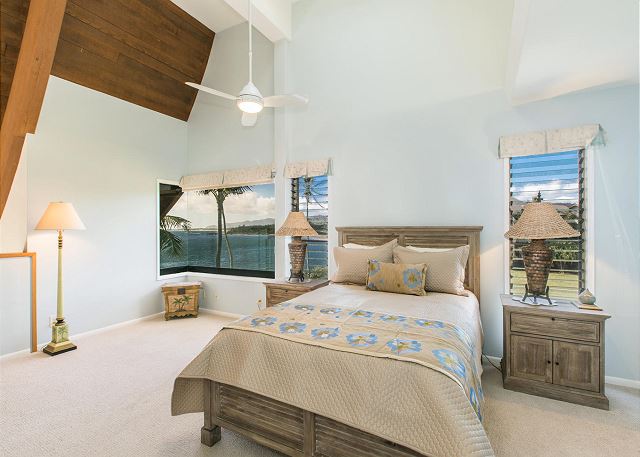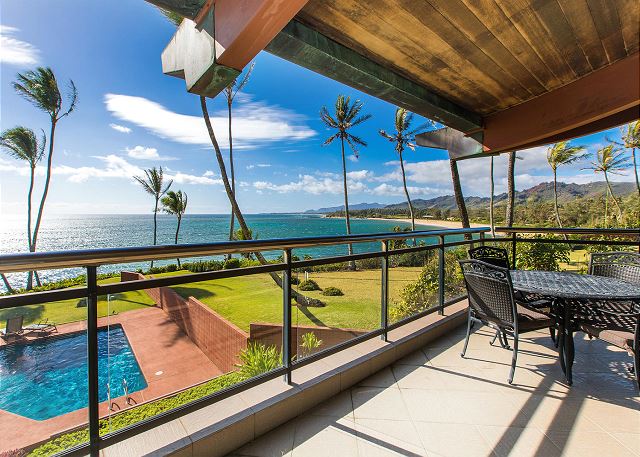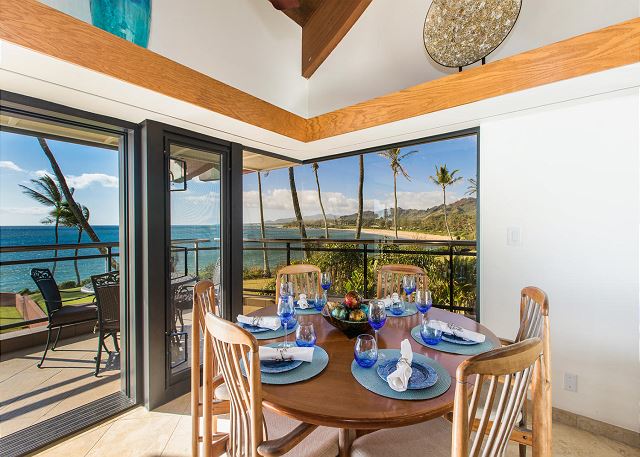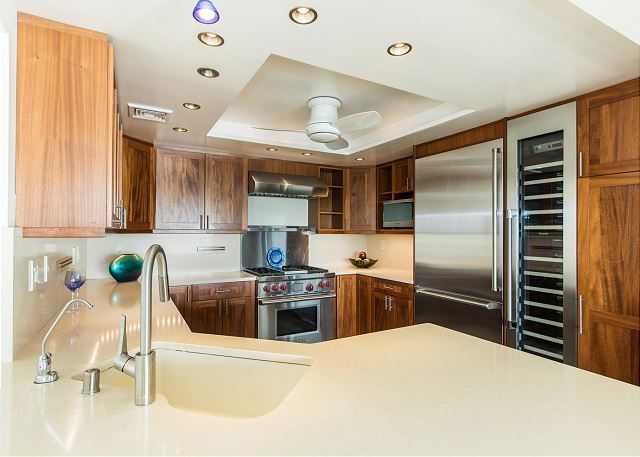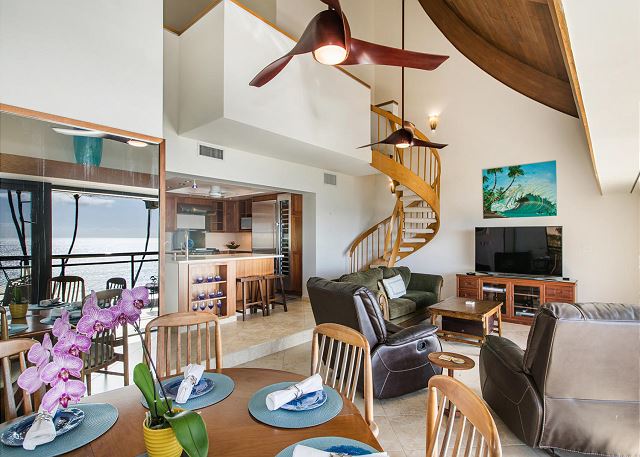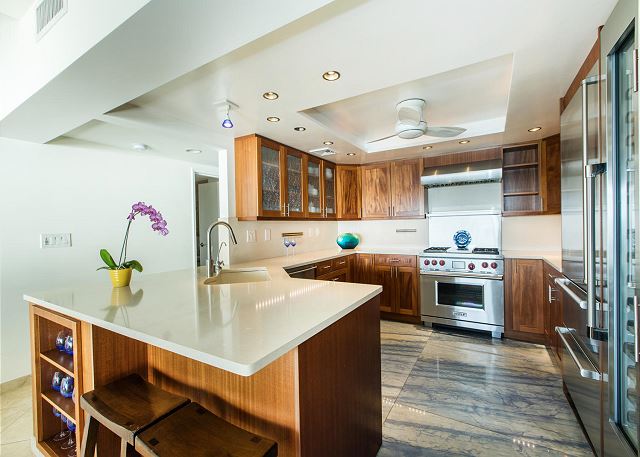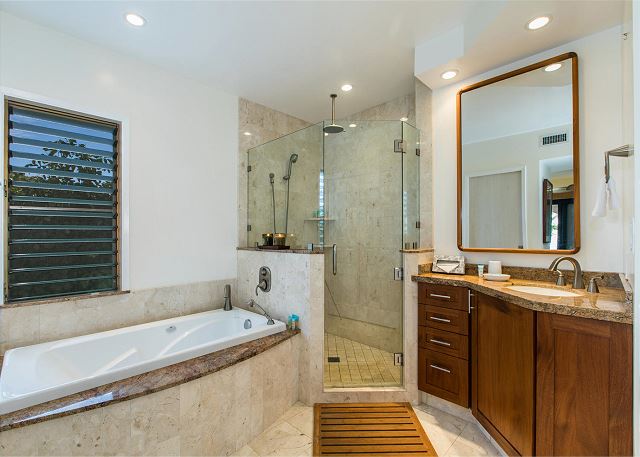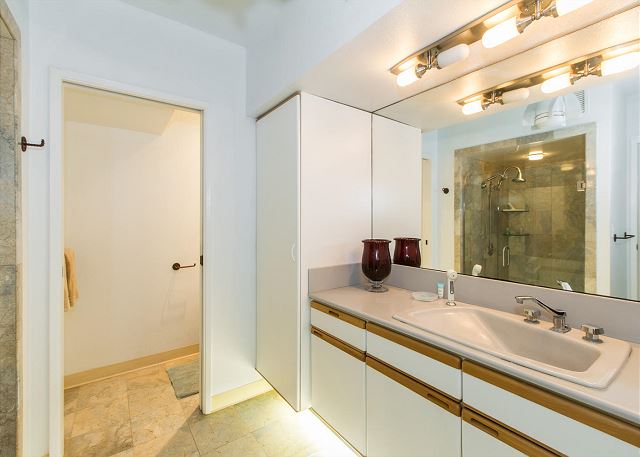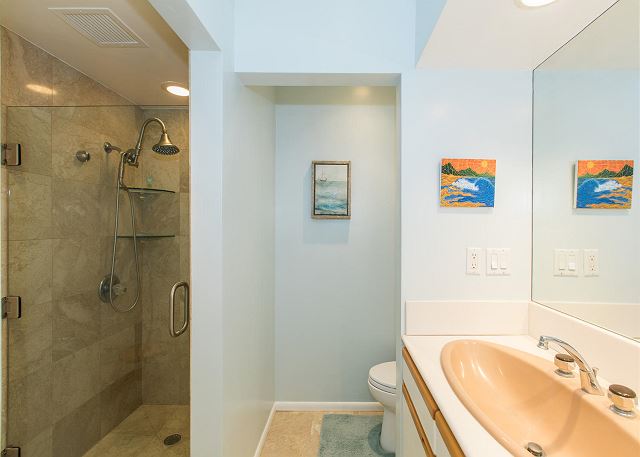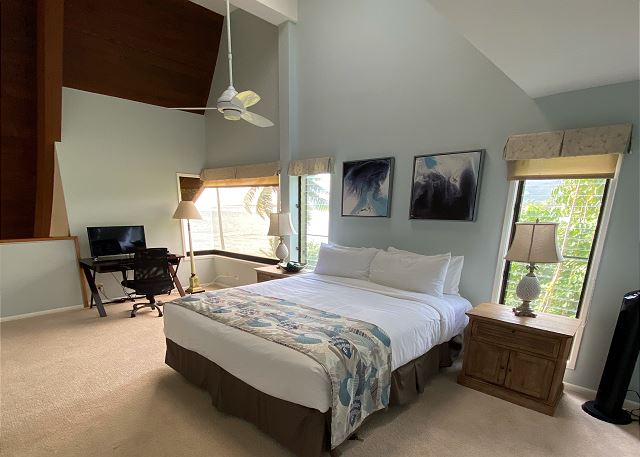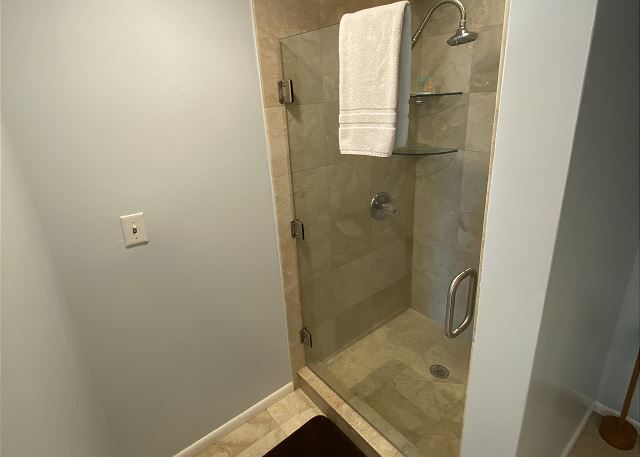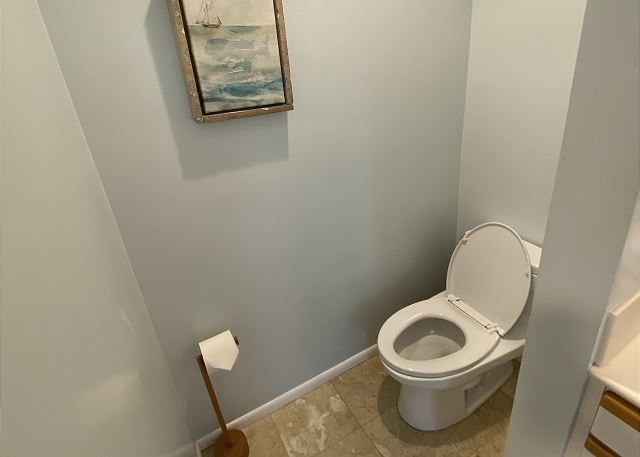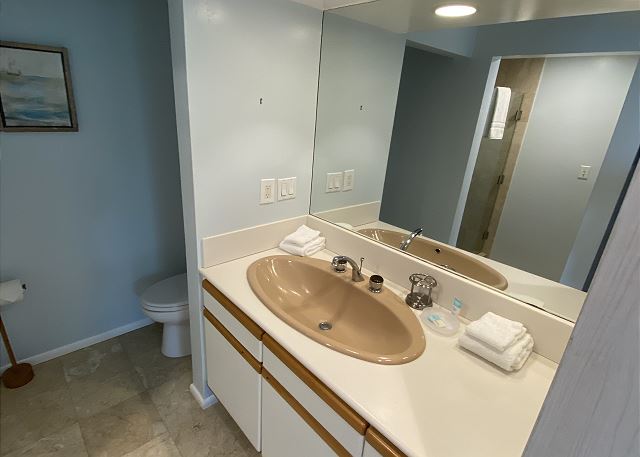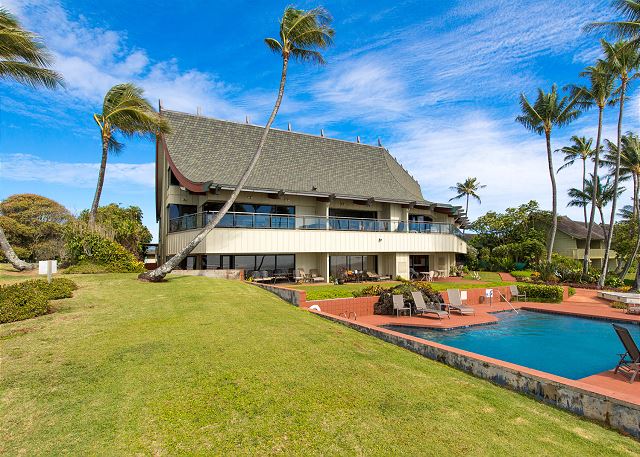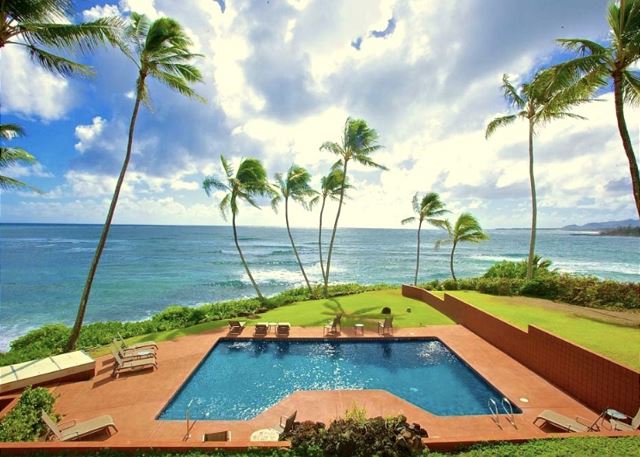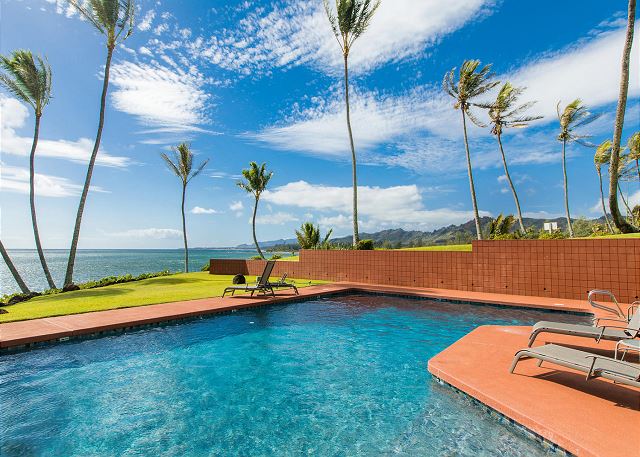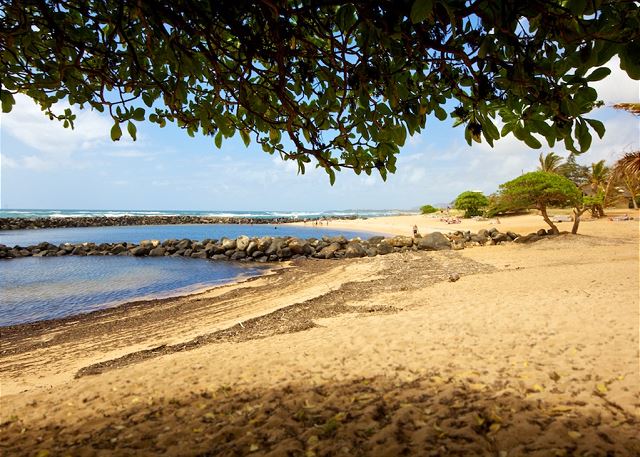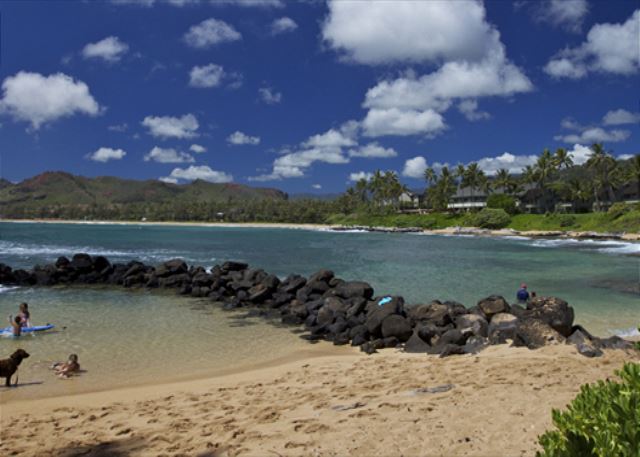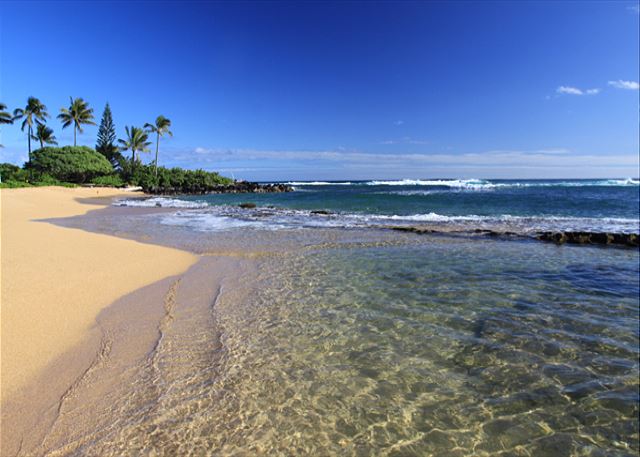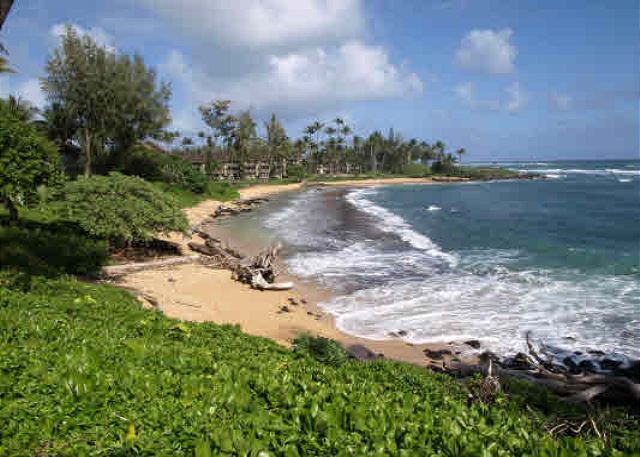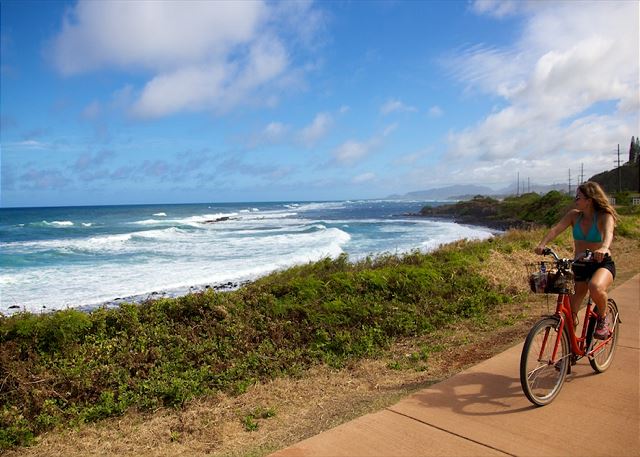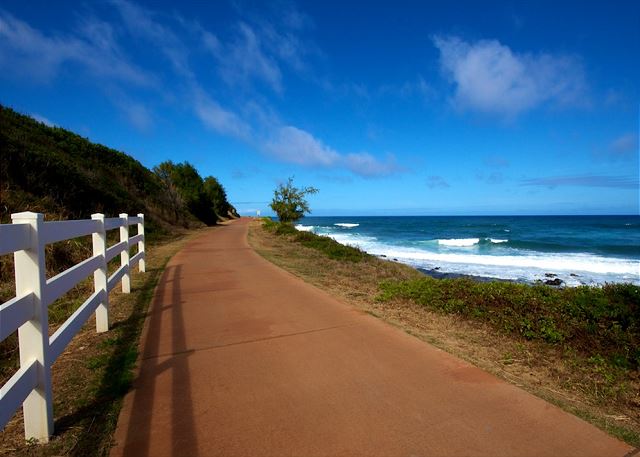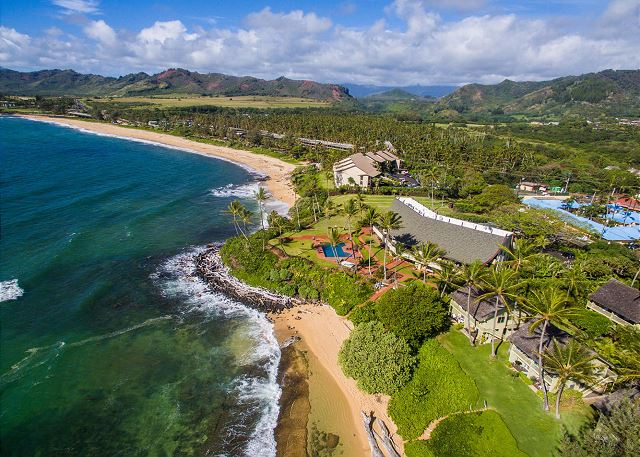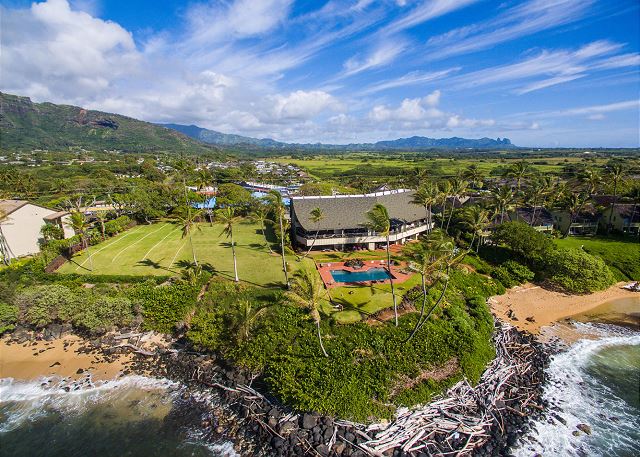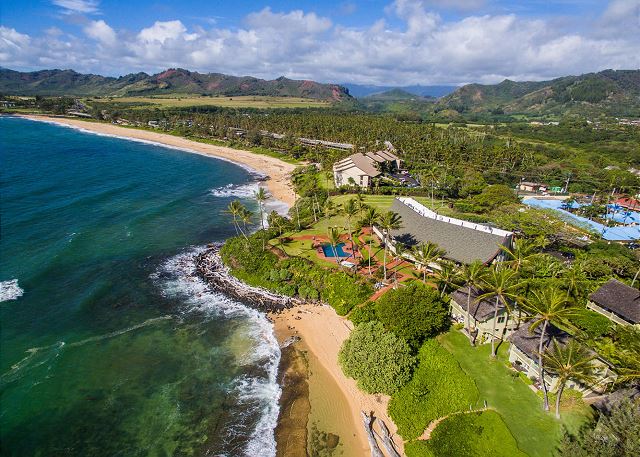 Hale Awapuhi is among the most luxurious oceanfront homes in Hawaii. Exclusively gated, this boutique 9-unit project is located on a quiet cove, offering panoramic ocean views and access to natural ocean ponds.

Boasting 3 bedrooms with A/C, this elegantly appointed condominium comfortably sleeps six. Between the expansive living room with vaulted ceilings and a spiral staircase, the gourmet kitchen and a lavish seaside pool, there is plenty of room for everyone to relax, rejuvenate and luxuriate.

The ambiance is decadent from the inside-out. From your private lanai, breathe in fresh sea breezes at sunrise. Observe the endangered Green Sea Turtle in the surf. Enjoy watching the cruise ships and seasonal whales pass by. And, occasionally the rare Hawaiian Monk Seal will even inhabit the beach below.

Perfectly positioned to accommodate the desires of everyone, the East Shore of Kauai is rich with possibilities. Flanked by epic coastline and threaded together by the public bike path, this centralized location is the social hub of Kauai. Having recently experienced a trendy transformation, the Old Town of Kapaa maintains its historic charm, yet boasts novel offerings. The towns of Anahola, Wailua and Lihue also comprise the East Shore, and carry their own unique appeal. With diverse establishments and activities, you can explore cafes, restaurants, boutiques, adventure tours, aquatic explorations and more on Kauai's East Shore.

One of the most revered places on earth, Kauai inspires a state of awe within all of us. Brimming with beauty, the oldest inhabitable Hawaiian island has both withstood the test of time and matured into a land of fertile abundance. Lush jungles, white sand beaches and the alluring ambiance of aloha enchant each moment. Offering exceptional accommodations, adventures, cuisine and culture, vacationing on Kauai is a dream come true.

TA-024-905-9328-01
| | Nightly |
| --- | --- |
| August 16 - December 14, 2021 | $600 |
| December 15 - January 05, 2022 | $799 |
| January 06 - December 14, 2022 | $600 |
| April 15 - June 14, 2022 | $600 |
| August 16 - December 14, 2022 | $600 |
Thank you for entering your review. The review will become available to the system shortly.
18
18
Overall Rating:
4.9444
4.9444
Oceanside Bliss
Rating:
1
5
5
Review Date: 09/13/2021
I'm always a little nervous about whether a rental will be as nice as pictures/reviews may make it sound. In this case, the place actually exceeded our expectations! It was perfect in so many ways from the oceanside location and views, the pool, the gated parking, the beautiful kitchen, etc. And despite being close to tons of great restaurants in town, it has a secluded feel due to the property layout and fact that there's nothing on the south side. And the location was perfect as it allowed us to explore the whole island since we could get to the north or south shore in 20-30 min. We can't wait to go back!
Breathtaking views
Rating:
1
5
5
Review Date: 07/27/2021
Amazing rental with everything you will need, spacious, gorgeous views, you will not want to leave that deck.
Fantastic rental!!
Rating:
1
5
5
Review Date: 11/28/2019
Fabulous experience. Condo in great condition and very well equipped for cooking!! We loved the beautiful pool and were so happily surprised at the many great restaurants within walking distance! What a special unit and location overall was tops. We have stayed in Poipu many times and princeville too...much prefer kapaa!! Great for the many drives to different places on Kauai!
Beautiful Plase
Rating:
1
5
5
Review Date: 07/22/2019
We were so pleased with everything about this rental. The home was extremely clean and so comfortable. Our teenage kids loved the loft area and we loved how spread out and comfortable we all were. So much room! The kitchen was absolutely amazing and had every gadget you could possibly need. We also appreciated the concierge service that worked with us and booked all our excursions. Thomas made everything very easy for us and we were able to relax so much more because of his work. The views from the balcony were breathtaking. We thoroughly enjoyed watching the large sea turtles playing in the waves. This property is definitely an A+!
Hale Awapuhi Sunrise condo
Rating:
1
5
5
Review Date: 07/01/2019
Best family vacation ever! Property Management were friendly and helpful. Location is awesome and condo is beautiful and quiet.
Great Condo
Rating:
1
5
5
Review Date: 05/27/2019
The location and condo space was great. Needs a thorough review or minor items and corrections, but overall great condo. The view was fantastic. The beds were wonderful.
Tough to leave that view
Rating:
1
5
5
Review Date: 03/18/2019
Simply a fantastic vista at a great location. Centrally located on the island, close to everything. There is nothing not to like about this high end condo. No complaints other than some minor maintenance issues which the property managers addressed through having a maintenance crew attend the condo. What they couldn't address during our stay was compensated through a accommodation credit which was appreciated. You could literally sit on the vast linai all day listening to the crashing of waves while watching the surfers and whales. Property is quiet with only 6 units in it, pool felt like it was your own as did the beach which was a few steps away. We miss it dearly and can't wait to go back.
Great Condo
Rating:
1
4
5
Review Date: 09/19/2018
Wonderful property, on ocean with own saltwater pool. About 10 units in this complex; we hardly saw anyone so felt very private. Would definitely recommend. Management Company very responsive. Our only issue was the a/c went out the week before we arrived, and it happened to be a very humid post tropical storm week. But we were offered a refund, and since we wanted this location so much, the Management provide extra fans and other niceties to make our stay even better.
5 star condo
Rating:
1
5
5
Review Date: 07/24/2018
The best vacation rental we've stayed in. Top of the line! The kitchen was high end. Lived not having to share the pool with only a few guests. We lucked out and had the best neighbors. Even traded a steak for wine! The condo was very quiet and the AC was cold. The views of the ocean were breath taking. We were able to swim with sea turtles right beside the condo. We would stay here again. Loved it, heated toilet seat and all. This condo has two assigned parking spots right in front and it's gated! It was perfect.
Spectacular views
Rating:
1
5
5
Review Date: 07/14/2018
Beautiful location overlooking the beach and quiet.
We can still hear the ocean!
Rating:
1
5
5
Review Date: 06/28/2018
Our stay in #2E was fabulous! The unit was perfect for our family (teenager in loft, grandmother in back bedroom, and mom and dad in the master). The view is spectacular! We can still hear the ocean and hear the birds and roosters. The kitchen had everything we needed and then some. All top of the line appliances. The deck is to die for! We lived out there. Easy to use washer/dryer. Plenty of drawer/closet space. Abundant supply of towels. The unit is well maintained. The only thing we would suggest is updated carpeting on the winding staircase and in the loft or perhaps a good steam cleaning.The condo building, pool, and grounds are well maintained and the gated drive adds to a safe and secure feeling. There are only a few units so it is quiet, private, and relaxing. The location is perfect and we could easily access both the north and south areas of the island. Kauai Exclusive Management is friendly, professional, and very responsive. We look forward to staying in 2E
Beautiful, near perfection
Rating:
1
5
5
Review Date: 03/25/2018
What a gorgeous place. It fit all our needs. Fell asleep listening to the waves and the birds singing. Very private, quiet and well equipped. Only a few suggestions: maybe a brief explanation for the remotes to the TV. It was a bit confusing. TV upstairs did not work with cable. Used our Netflix account. Slippery showers. We were with our elderly moms and they didn't have anything to hold on to getting in and out. A strip or mat would've been helpful. Also the step down from hall to living room dining room caught them off guard. We put 2 of the dining chairs in front of the step to make them aware and give them something to hold on to. A hand rail would help. No TV in the first room down stairs which I thought there was one. There was a lot of attention to detail put into this place. The kitchen had everything we needed. Appliances top notch. However there are no dressers/drawers to put your clothes away! We stayed for 10 days and my mom couldn't unpack which was inconvenient. Some lights were out but we found the light bulbs. The acoustics were interesting so plan out who is sleeping where. The TV downstairs is very loud to the upstairs bedroom loft and vice versa. We unfortunately had a ton of rain so we were indoors a bit so we watched movies. If you have kids and want privacy put then in the upstairs loft. The beach access is great if you have good weather. It's not a great swimming beach but the amazing pool and location makes up for that. Kapaa is a great central location. We would stay here again in an instant. Even with all the rain we had we all had an amazing time. I highly recommend this agency. They are very helpful and available when needed.
Kauai Vacation
Rating:
1
5
5
Review Date: 01/15/2018
The location is great. Only 10-15 minutes from the airport and convenient to most of the activities on the island.
Fantastic property & amazing management service
Rating:
1
5
5
Review Date: 12/01/2017
Above all our expectations.
An excellent stay
Rating:
1
5
5
Review Date: 08/15/2017
Management was very responsive and accommodating.
The location was great and clean.
Picture Perfect
Rating:
1
5
5
Review Date: 06/15/2017
We stayed in the Hale Awapuhi #2E for 33 days and it was the best vacation we've ever had. We loved the view and the incredible sound of the waves when the sliding doors were open. We also did a lot of cooking and loved the designer kitchen that included the Wolf brand and Subzero appliances and the floor to ceiling wine cooler which we stored with wine and drinks to grab on the run. The kitchen was appointed with all the comforts we would have at home and the beds were extremely wonderful. Our unit had an air bubble tub which we used almost every night. We had family visitors from as far away as South Carolina and they also said it was the best location of any oceanfront they had ever been in. So we can't say enough good things about the help that Josh has given us every time we've been in Kauai, but this was beyond anything we have ever experienced and I'm still feeling relaxed from the vacation of a lifetime. Thanks to the whole staff for their assistance and taking care of our every need.
This Condo Hits a Grand Slam
Rating:
1
5
5
Review Date: 03/30/2017
We had such a relaxing time in this beautiful beachfront property. As a corner unit, the ocean view is unobstructed and the privacy overlooking the pool was a nice surprise. With only a few neighbors, the property is very quiet; only the sound of waves. The kitchen is equipped with first-class appliances; we needed more time there to stock the wine refrigerator! Clean and beautiful bathrooms; lovely bedroom furnishings. It is top-drawer quality and worth every penny. This is the place we will return to and, next time, stay longer.
The view is awsome
Rating:
1
5
5
Review Date: 03/03/2017
We were sent here by Kauai Exclusive when the condo we were staying in had a major water leak above our unit. We had to be relocated quickly. The team at Kauai Exclusive jumped into action immediately. We were relocated to this newly purchased condo with the help of josh & Shawn. They were amazing. They took care of our every need.The unit has some unique features and a huge lani. You cant go wrong renting from Kauai Exclusive.
Your request has been sent. We look forward to meeting all your vacation needs!
Use of this website constitutes acceptance of the KauaiExclusive.com Terms and Conditions and Privacy Policy.
©2020- Present KauaiExclusive.com, Inc, All rights reserved. | Website Design by Beyond Pricing