dolphin-cottage-5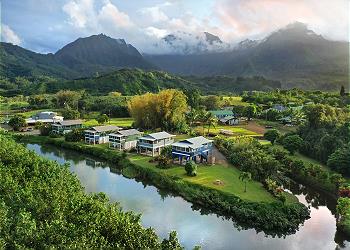 Dolphin Cottage #5
https://www.kauaiexclusive.com/rentals/properties/dolphin-cottage-5/
Dolphin Cottage #5 | Vacation Rental in Kauai
BE IN Hanalei & ON THE RIVER for a classic Kauai Experience! TVNC#4346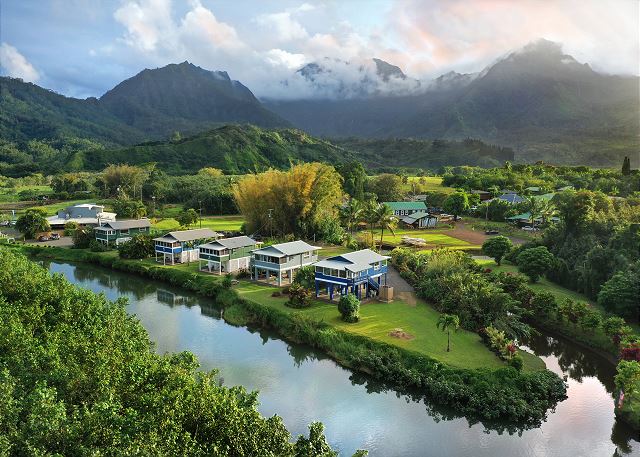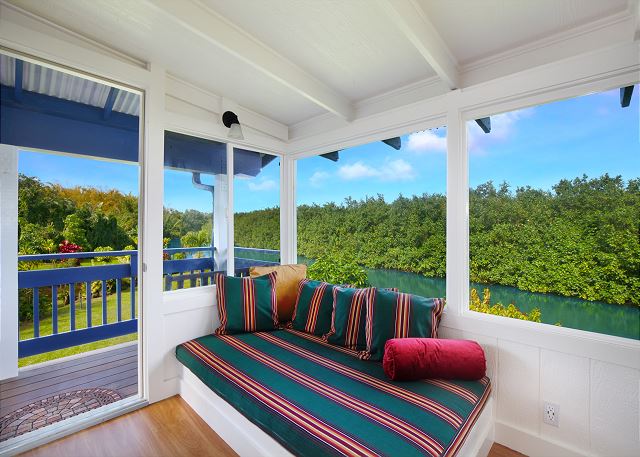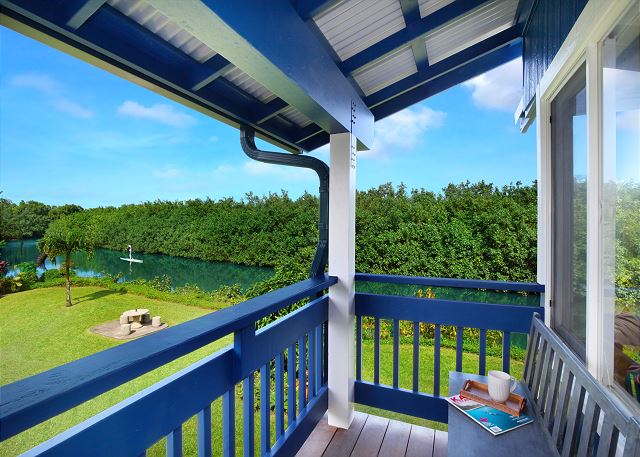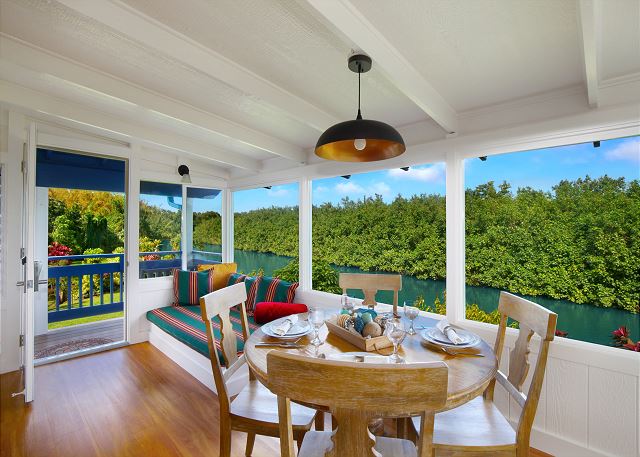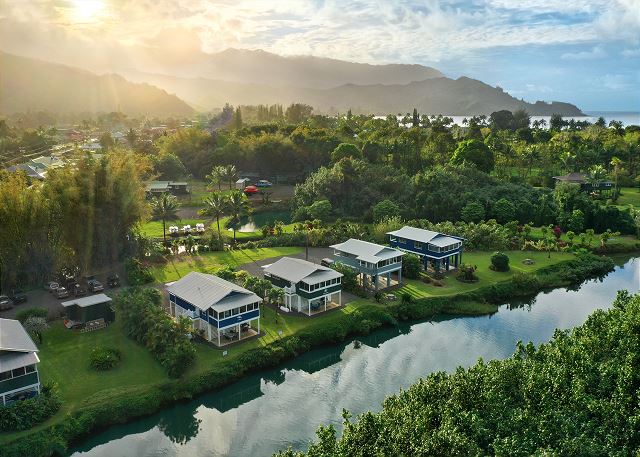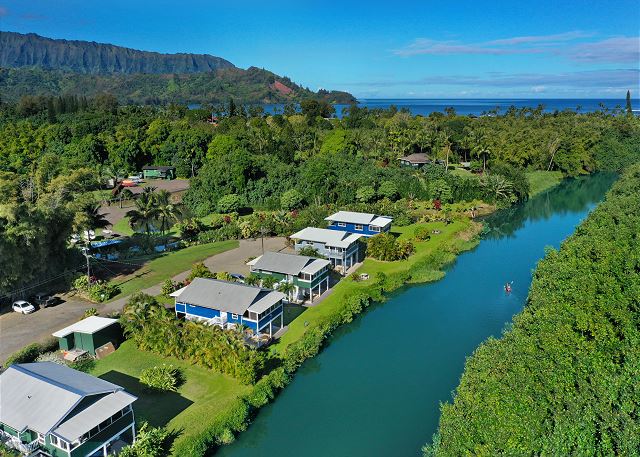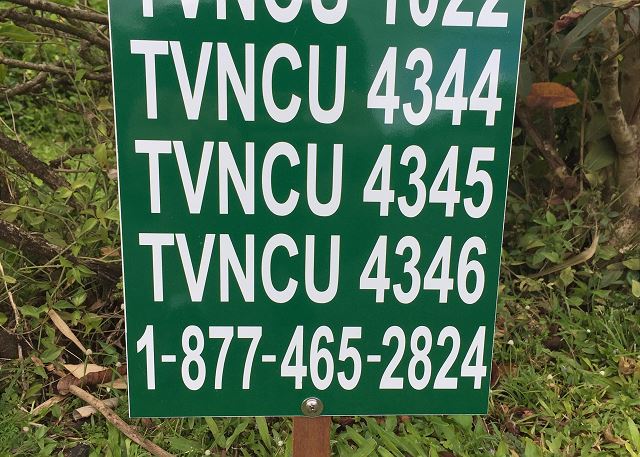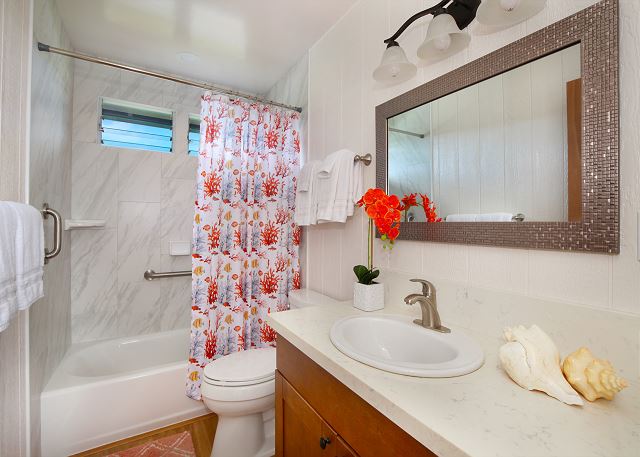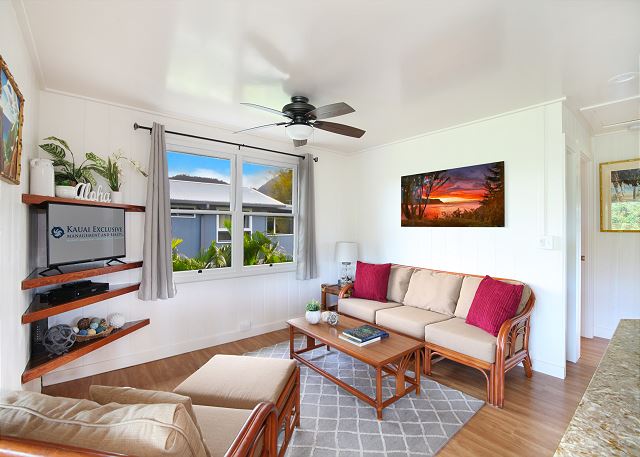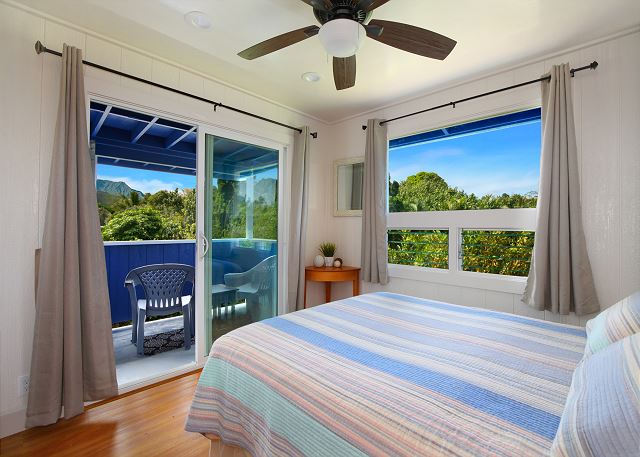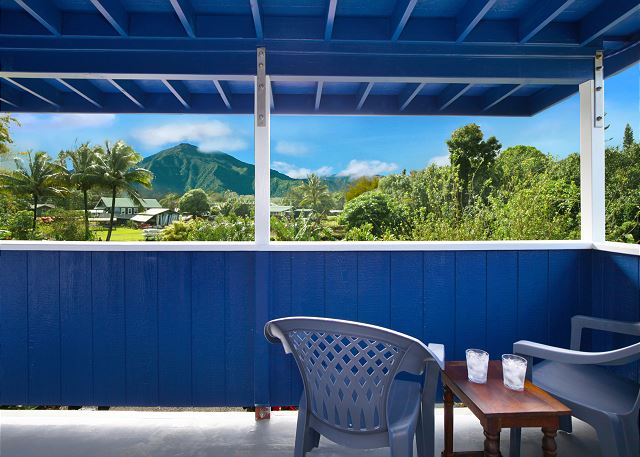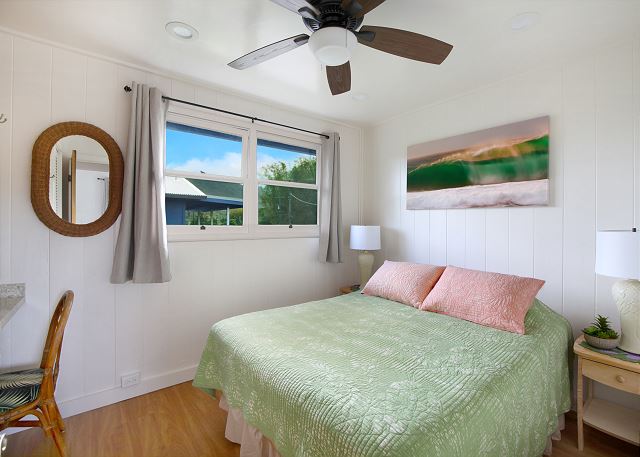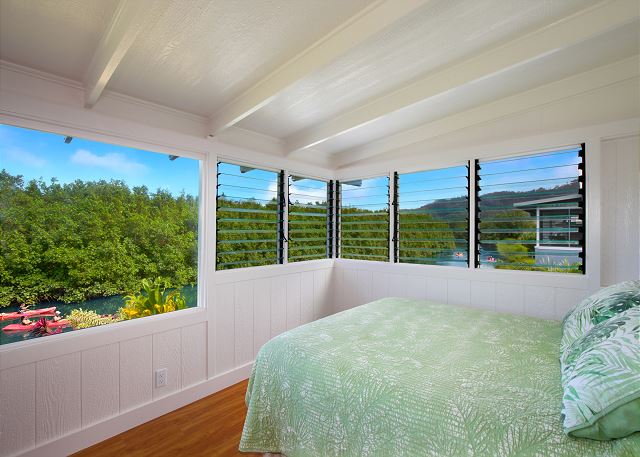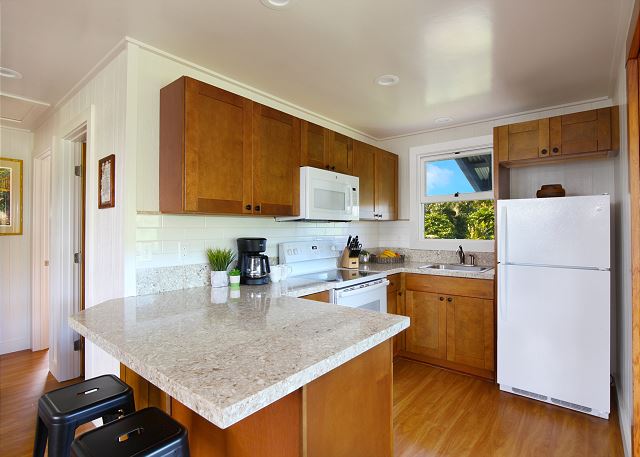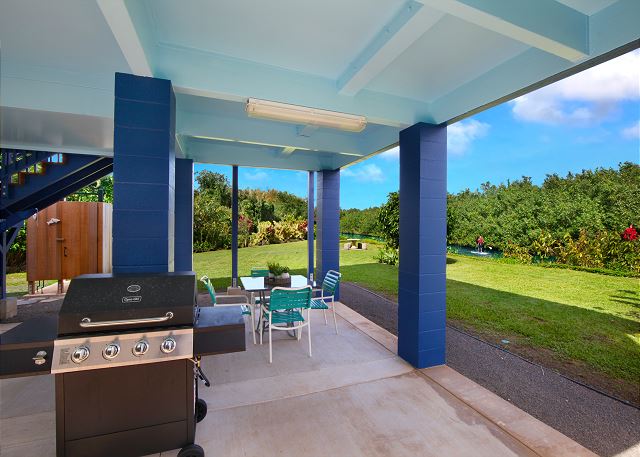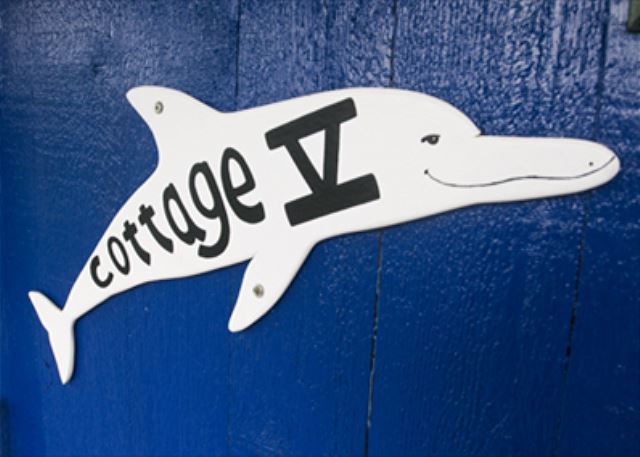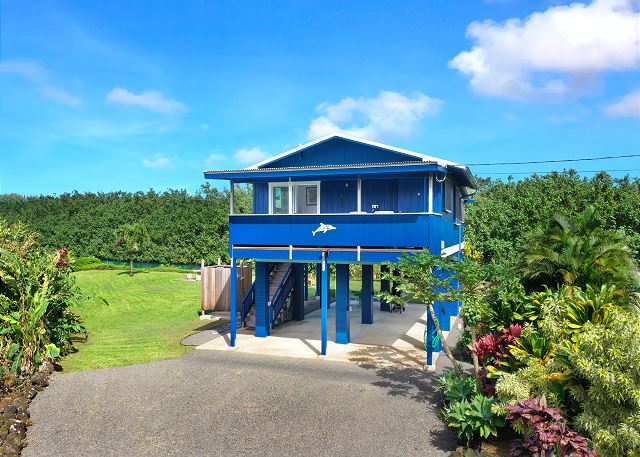 NOTE: TVNC#4346 this is a legal vacation rental with a 24hr / 7 day on island contact 877.465.2824 and on property Kauai Exclusive Management LLC Joshua
Be in Hanalei for a classic Kauai Experience! The birds eye view of the river makes this cottage a truly unique accommodation. Cottage #5 is fully equipped with all the amenities you need to make your stay enjoyable. Stroll or drive two minutes to the beach at famous Hanalei Bay, enjoy multiple options for dining and shopping within walking distance. The well manicured grounds, classic plantation style setting and epic location makes this rental one of Kauai's most unique vacation rentals! This two bedroom, one bath, includes three queen size beds, a fully stocked kitchen, ceiling fans in each room, a private outdoor shower with hot water, as well as a washer and dryer. There is also a gas bbq, stereo with iPod docking station, LCD TV, DVD, cable, wireless internet, and sleeps four.
Call 877GoKauai to book your epic Kauai experience TODAY! These are VERY popular rentals!
NOTE: TVNC#4346 this is a legal vacation rental with a 24hr / 7 day on island contact 877.465.2824 Kauai Exclusive Management LLC Joshua
| | Nightly |
| --- | --- |
| August 16 - December 14, 2021 | $350 |
| December 15 - January 05, 2022 | $399 |
| January 06 - December 14, 2022 | $350 |
| April 15 - June 14, 2022 | $350 |
| August 16 - December 14, 2022 | $350 |
Thank you for entering your review. The review will become available to the system shortly.
21
21
Overall Rating:
4.9048
4.9048
Look forward to coming Back
Rating:
1
5
5
Review Date: 09/19/2021
We love the location, the river and the surrounding restaurants and activities. On one side you have a view of the river and the other side provides a beautiful view of the mountains with its waterfalls. The on-site property assistant was very responsive and helpful.
Great stay!
Rating:
1
4
5
Review Date: 08/20/2021
We had an excellent stay in cottage 5. The location was excellent to the town of hanalei and loved being right on the river. Our initial code to get into the unit didn't work but I was able to get someone on the phone quickly to troubleshoot and we got in after a few code resets. The cottage had everything we could ask for. My only complaint is that we weren't advised of the restricted travel in and out of hanalei which did impact our trip as we had to cancel a tour due to scheduling issues.
Dolphin Cottage V was PERFECT!
Rating:
1
5
5
Review Date: 08/09/2021
We had an amazing time at Dolphin Cottage V. The property is beautiful and perfectly located near Hanalei, while feeling hidden and protected along the lovely Hanalei River. We arranged for Kayaks through Kayak Kauai and were able to adventure up and down the river and out into the Bay. The accomodations were new and clean and comfortable. The team had thought of everything- from laundry detergent to folding chairs. We had everything we wanted and just had a delightful stay! We hope to return soon!!
quaint Hanalei cottage by the river
Rating:
1
5
5
Review Date: 07/13/2021
Beautiful cottage surrounded by nature in the best location. Wonderful for families - young kids love this place and there is so much to explore. The yard is lush and large next to a river.
Dolphin Cottage #5, Hanalei
Rating:
1
5
5
Review Date: 07/10/2021
Have rented this cottage 5 times in the past. This is the first since it was raised and remodeled after the severe rains. It's still great. They've added a balcony outside one bedroom that has a glorious straight-on view of the mountains, and there's now a space under the house for car parking - good because car doesn't get hot on sunny days. Management had good aloha when covid forced me to re-schedule.
Absolutely Magical
Rating:
1
5
5
Review Date: 04/16/2021
If you get the chance to call this magical place home for even one day, you are one lucky soul. This was the best possible stay I could have hoped for - the cottage was spacious with so many thoughtful touches. Amazing location in Hanalei. Patios to take in all of the breath taking views of the river and mountains. Waking up here felt like a dream. A huge shoutout to Michael who manages the cottages - he gave me the warmest welcome, was super responsive and went above and beyond to ensure I got to experience the beauty of the island. So much gratitude to Michael and the Dolphin Cottage for making my trip so special!!

Their concierge partner Darshan was also absolutely amazing in helping me map out my time.

I hope the island will have me back one day! I will absolutely stay here again if so.
Perfect location!
Rating:
1
5
5
Review Date: 03/08/2020
This is our fifth time renting a Dolphin Cottage and this time we stayed for a full two weeks in Paradise. We can easily walk into town. We love going to the fish market and bringing home something to throw on the BBQ. We walked to Sunshine Market and church. We enjoy watching kayaks and outriggers on the river. Cabins have everything we need including washer and dryer. Friendly service from personnel and super clean!
Wonderful Cottage 5
Rating:
1
5
5
Review Date: 02/08/2020
We stay in this cottage every year. It's close to town but set in a quiet location on the Hanalei River with an entertaining view of paddlers and birds.
Manager Response: 02/11/2020
Response from Kauai Exclusive Management LLC
Thank you for choosing Kaua'i Exclusive as your host during your time here on the island! We hope to host you again in the future! Mahalo Nui, The Kaua'i Exclusive Management Team
Vacation of a Lifetime
Rating:
1
5
5
Review Date: 12/06/2019
16 family members and friends rented Dolphins II, III, IV, and V to help ring in my 50th on Thanksgiving. SO much to be thankful for this year! This our fourth stay at Dolphin V, and we were the first guests to stay in the Cottage since the remodel, and it is AMAZING! The view of Hanalei River is so much better from an elevated position. Some kayaked every day, some surfed, some hiked, some shopped, we all drank and ate and enjoyed a very special time together. Michael G., the onsite property manager, was on it. We'll be back.
A Hanalei cottage---looking at the river and the mountains
Rating:
1
5
5
Review Date: 03/04/2018
My husband and I stay every year at this wonderful cottage on the Hanalei River. We look forward to returning to this spotlessly clean and well kept up cottage in the interesting village of Hanalei. There are so many beautiful beaches for walking and a safe and lovely Anini Beach for swimming. You can rent kayaks at the business next door and paddle down to the mouth of the river and Hanalei beach. The setting is perfect--the stunning mountains on one side and the river on the other.
Our wedding and the flood.
Rating:
1
5
5
Review Date: 12/04/2017
We loved our stay in cottages 2, 3 and 5. We were married on the lawn next to #5 and our family joined us to celebrate our big event. A few days later we were evacuated for several hours due to a flash flood! Two magical weeks with much excitement!
Michael was amazing during the flood, helping us get our car to a safe place and helping get us moved to another cottage until it was safe to return to #5.
mahalo Nui
Rating:
1
4
5
Review Date: 09/29/2017
We caught the random week of high temperatures and no trades so it was not the Kauai climate that is usual. As a consequence the place was brutally hot even with available fans trying their best. The only other thing was the regular traffic across the lawn as we were taking outdoor showers, I guess other cabin guests taking their water boards to a put in. Kinda dents the privacy factor. I'd say wind turbine vents in roof should be installed. All other aspects were just fine and we jumped on Kauai bus to cool down in afternoons.
Perfect Hanalei Cottage
Rating:
1
5
5
Review Date: 09/24/2017
We had the most amazing honeymoon in Dolphin Cottage #5. The location was perfect - a beautiful setting right on the river, an easy walk to Hanalei town and gorgeous Hanalei Bay, and it somehow still felt completely private. The house was spotless, the kitchen was well stocked, and the management was friendly and helpful. We enjoyed stargazing each night on lawn chairs out back. We can't imagine coming back and staying anywhere else.
Family Vacation Rented 3 Cottages
Rating:
1
5
5
Review Date: 07/01/2017
Wonderful!!! Perfect place to enjoy being together yet each family had their own accommodations. The location is truly remarkable...private yet located walking distance to the town of Hanalei on the Hanalei river. A special place❤️To stay in Hawaii.....
A Little Bit of Heaven
Rating:
1
5
5
Review Date: 06/03/2017
We look back very fondly of our days at the cabin and wished we had booked longer. Maybe next time... We loved having breakfast on the lanai and watched the paddle boarders, kayakers and canoes go up and down the river. We found it so easy to rent a kayak practically next door and paddle our way to the bay. We are senior citizens but it was not difficult at all especially since the rental place had slides that slipped you directly into the river. No tippy boats! Dinner at the Dolphin restaurant was also delightful and easy walking distance. So all in all, it was a very restful and serene spot. Bed was comfy, kitchen clean and extra outdoor shower provided a bit of novelty! Washer and dryer also came in handy.
Excellent Vacation Rental
Rating:
1
5
5
Review Date: 04/23/2017
Absolutely a great little house, quiet, peaceful, short walk to town, right on the river.
My home in paradise!
Rating:
1
5
5
Review Date: 04/01/2017
This wonderful cottage is a great base for a perfect vacation! It is very roomy, has all the modern conveniences with a relaxed, Hawaiian flare. One of the best features is the private outdoor shower. I never use the indoor shower. It is so magical to shower with a view of the mountains and waterfalls! A short walk away is the best fish restaurant and market on the island. Stroll a little farther for shopping in Hanalei! The farmers market on Saturday mornings provides access to the island bounty!
Great location!
Rating:
1
5
5
Review Date: 03/17/2017
We had such a great time staying at the cottage. The property is immaculate and adorable!Cottage number 5 is in a fantastic location. We rented a Kayak for the week and were able to keep it at the cottage and launch from the yard! The cottage has a great little sleeping porch and we slept there and did some star gazing. From our vantage point we could watch early morning kayakers and enjoy the birds. The management company was so responsive and helpful and the caretaker checked in on us following some extremely heavy rains. When the road closed due to flooding on the day we were scheduled to depart, we for a call to let us know that we were welcome to stay until the road cleared
Little gem in Hanalei!
Rating:
1
5
5
Review Date: 03/14/2017
We had a great stay at the Dolphin cottages. The on-site staff were welcoming and friendly, couldn't ask for a better location, well-equipped kitchen, and just a stunning location. We hope to come back and share with family and friends!
Hanalei Escape
Rating:
1
5
5
Review Date: 03/10/2017
It was one of the best places we have ever rented.The place was clean quiet beautiful location.Micheal was very friendly.Hanalei was a great little town.We had no problems and would rent again.Unit 5 was awesome??????
A great cottage on Hanalei River
Rating:
1
5
5
Review Date: 02/19/2017
We had a wonderful stay at Cottage 5 on the Hanalei River. The cottage is cozy, clean and had a great view of all of the activities on the river. We like the town of Hanalei with good restaurants and the beautiful Hanalei Bay.
Your request has been sent. We look forward to meeting all your vacation needs!
Use of this website constitutes acceptance of the KauaiExclusive.com Terms and Conditions and Privacy Policy.
©2020- Present KauaiExclusive.com, Inc, All rights reserved. | Website Design by Beyond Pricing