dolphin-cottage-3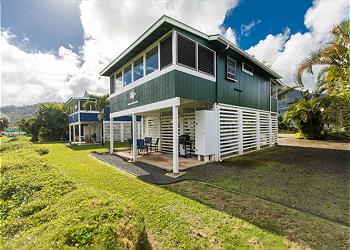 Dolphin Cottage #3
https://www.kauaiexclusive.com/rentals/properties/dolphin-cottage-3/
Dolphin Cottage #3 | Vacation Rental in Kauai
BE IN Hanalei & ON THE RIVER for a classic Kauai Experience! TVNC#4344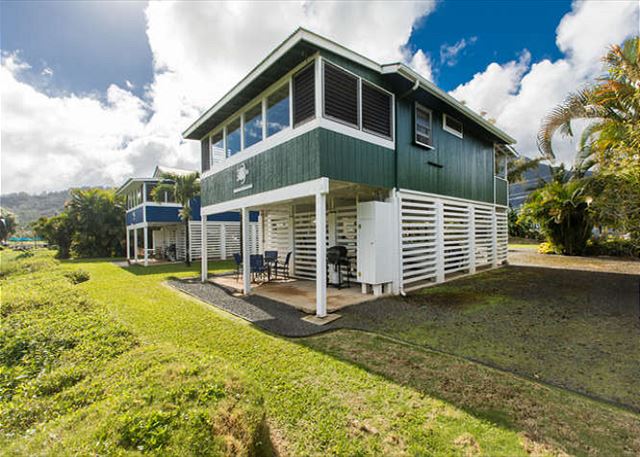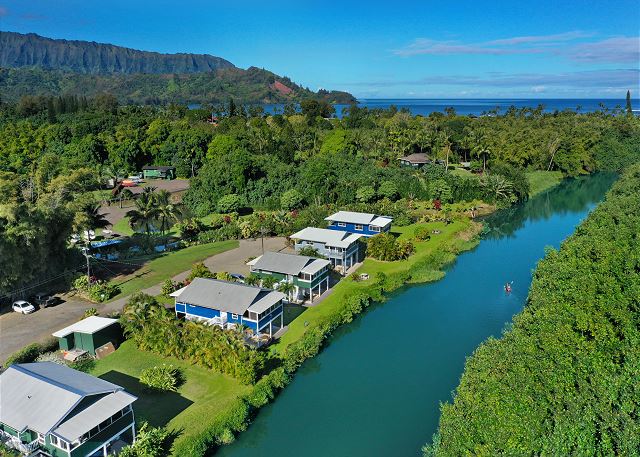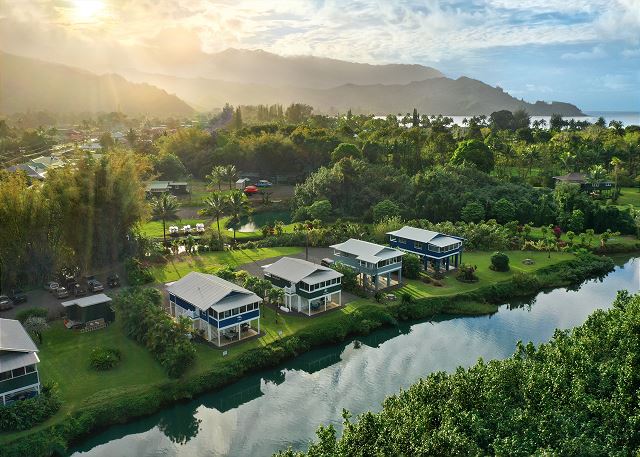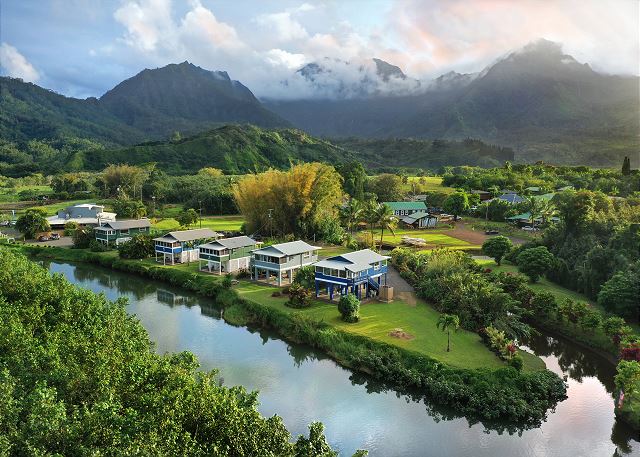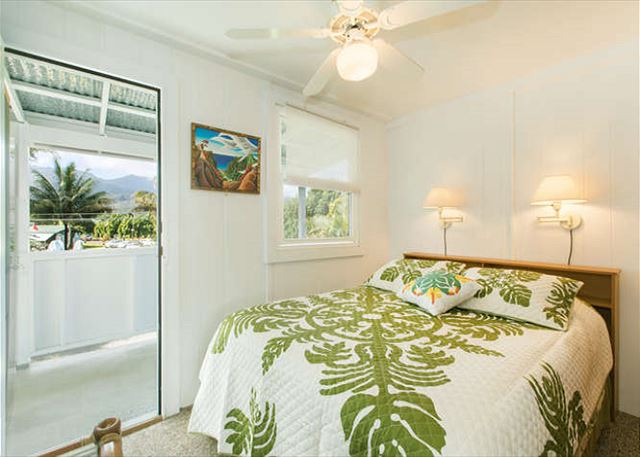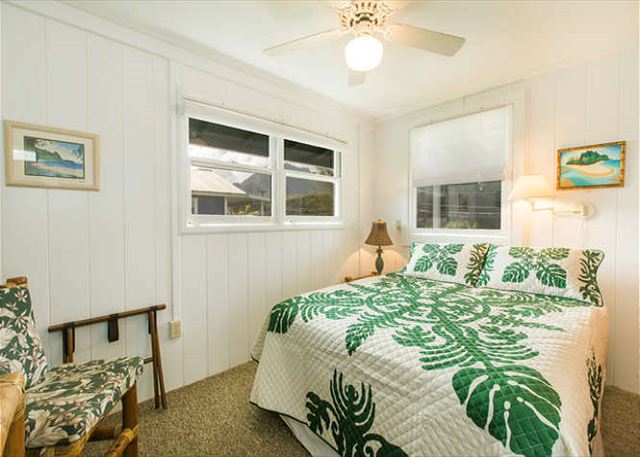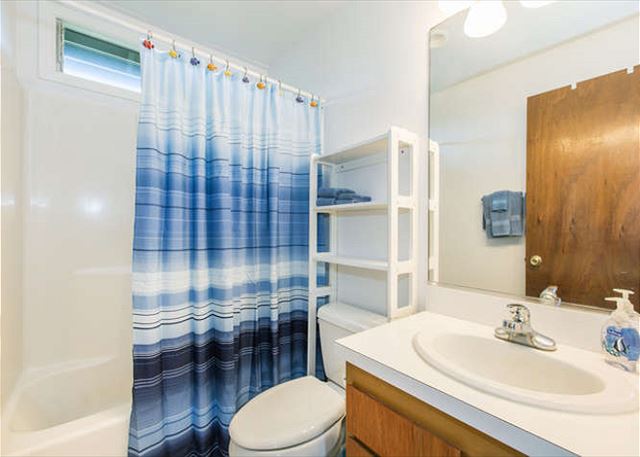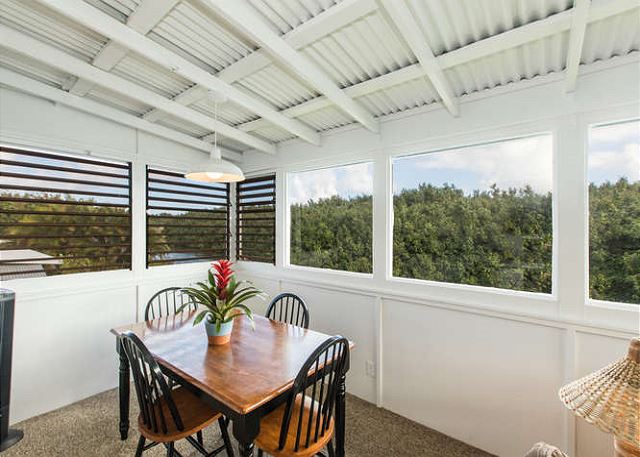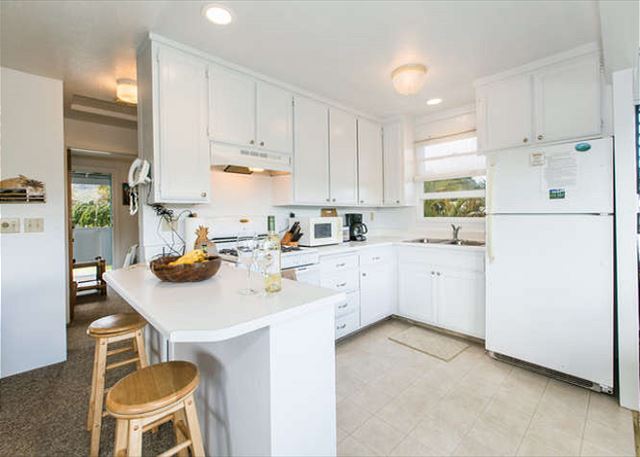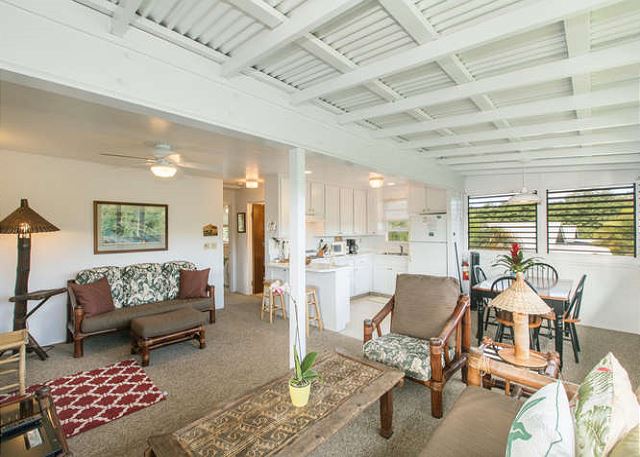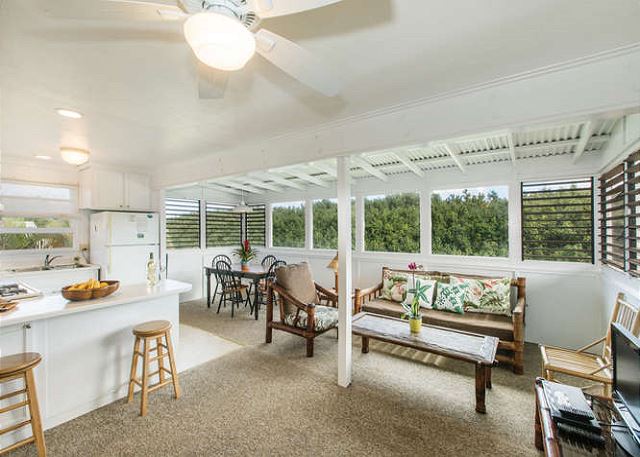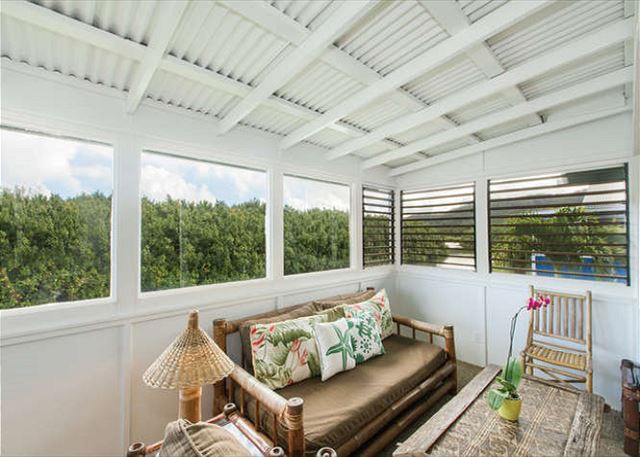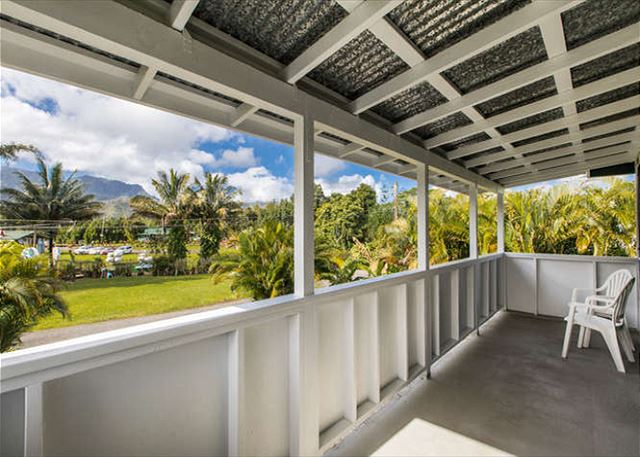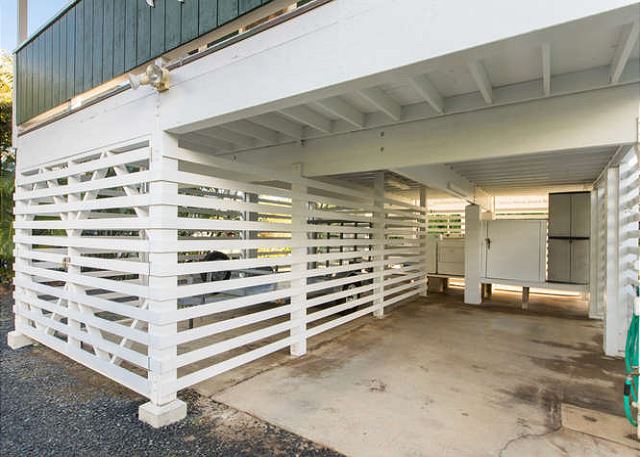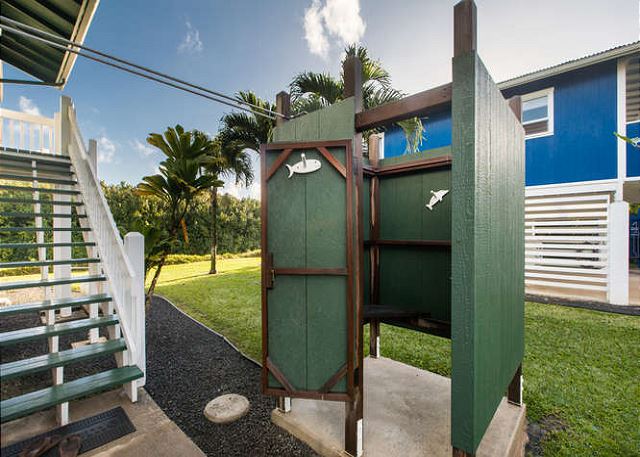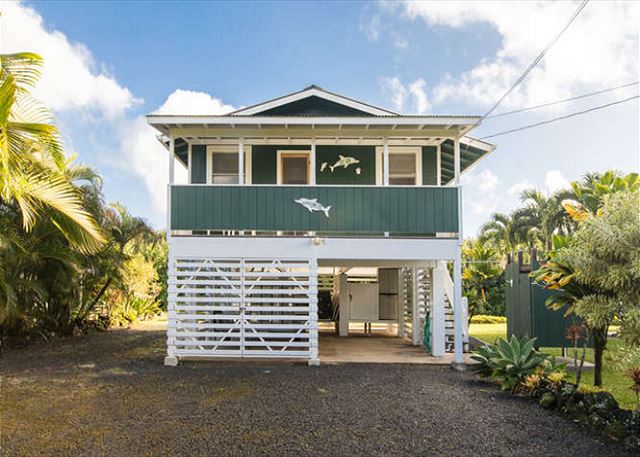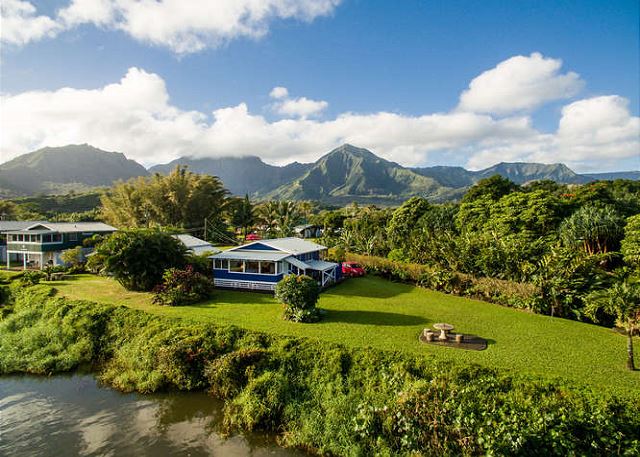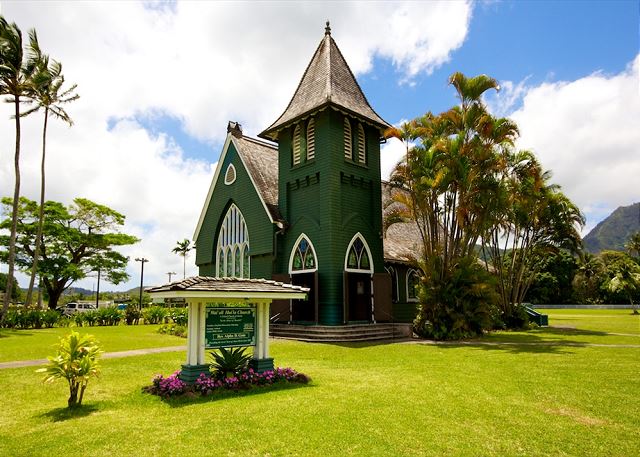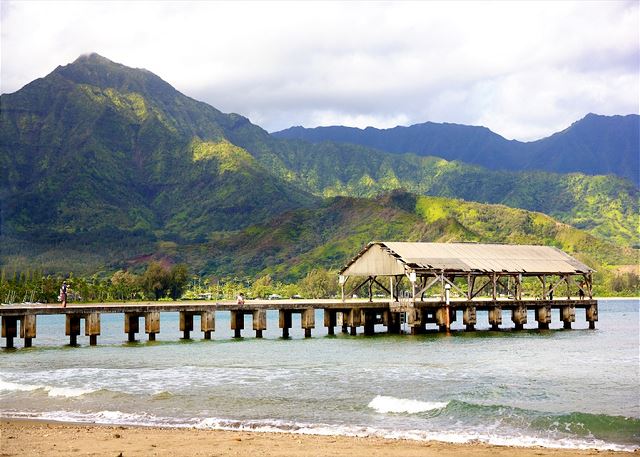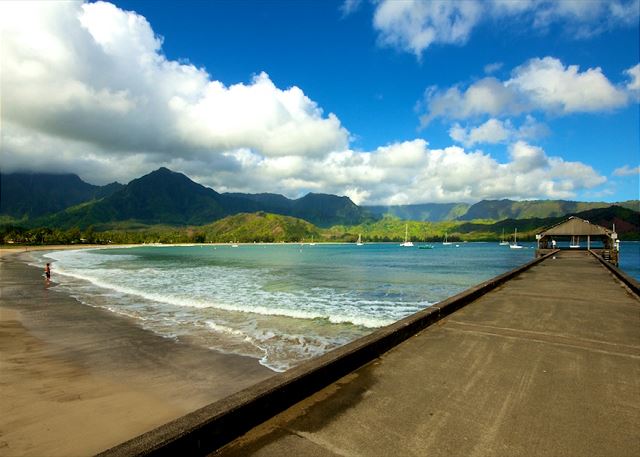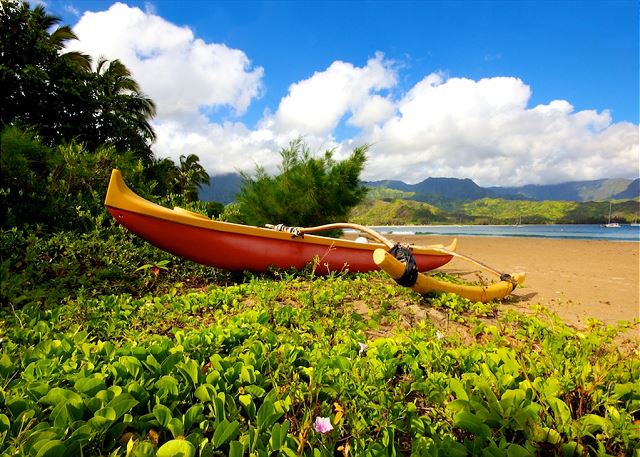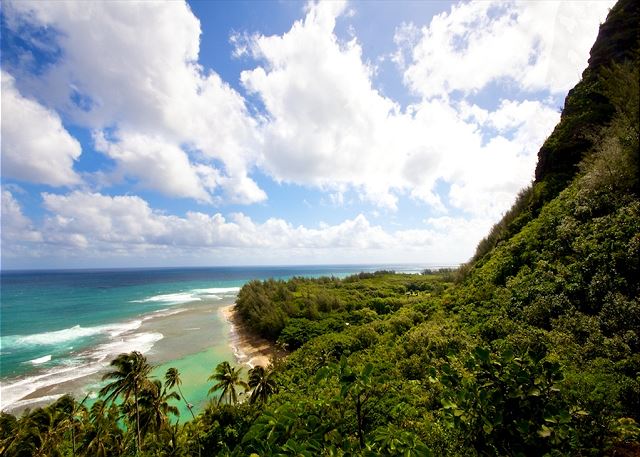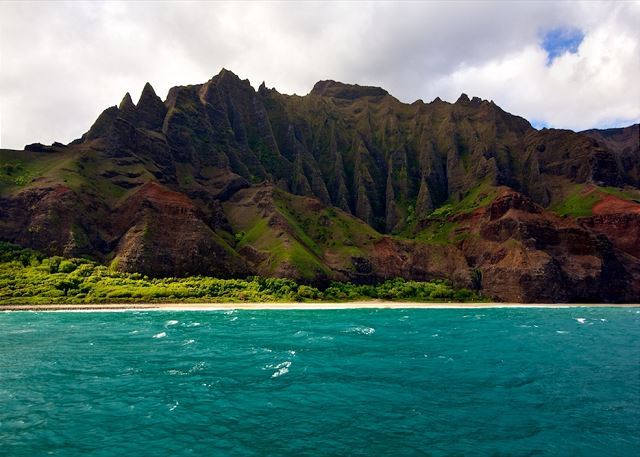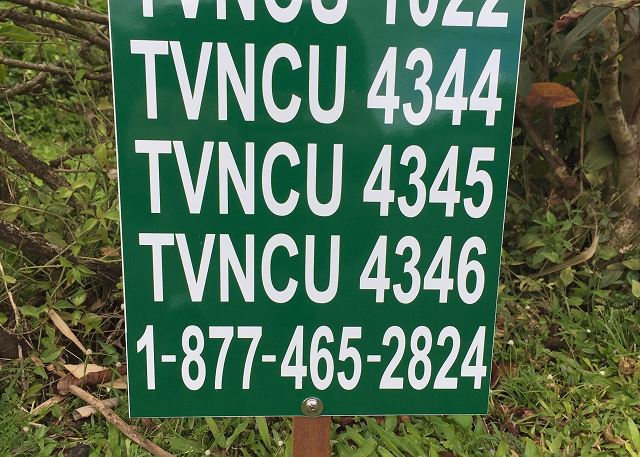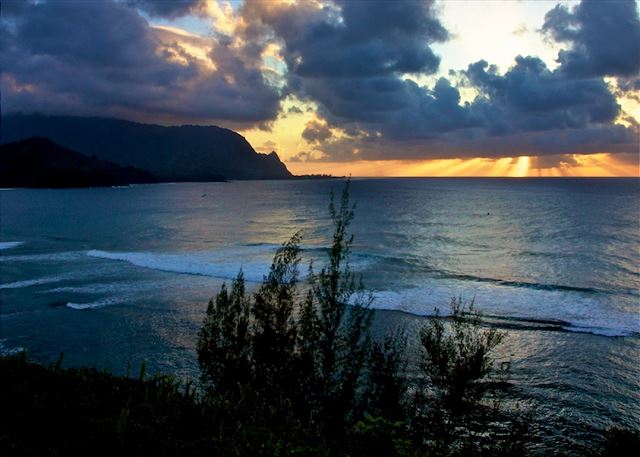 NOTE: TVNC#4344 this is a legal vacation rental with a 24hr / 7 day on island contact 877.465.2824 and on property Kauai Exclusive Management LLC Agent Joshua
Please note this property is fully recovered after the 100 year flood. A few changes to Hanalei, the pier area is still not repaired and you cannot drive and park there like you used to be able to.
Be in Hanalei for a classic Kauai Experience! The birds eye view of the river makes this cottage a truly unique accommodation. Cottage #3 is fully equipped with all the amenities you need to make your stay enjoyable. Stroll or drive two minutes to the beach at famous Hanalei Bay, enjoy multiple options for dining and shopping within walking distance. The well manicured grounds, classic plantation style setting and epic location makes this rental one of Kauai's most unique vacation rentals! This two bedroom, one bath, includes two queen size beds, a fully stocked kitchen, ceiling fans in each room, a private outdoor shower with hot water, as well as a washer and dryer. There is also a gas bbq, stereo with iPod docking station, LCD TV, DVD, cable, wireless internet, and sleeps four.
Call 877GoKauai to book your epic Kauai experience TODAY! These are VERY popular rentals!
NOTE: TVNC#4344 this is a legal vacation rental with a 24hr / 7 day on island contact 877.465.2824 Kauai Exclusive Management LLC Agent Joshua
| | Nightly |
| --- | --- |
| August 16 - December 14, 2021 | $350 |
| December 15 - January 05, 2022 | $369 |
| January 06 - December 14, 2022 | $350 |
| April 15 - June 14, 2022 | $350 |
| August 16 - December 14, 2022 | $350 |
Thank you for entering your review. The review will become available to the system shortly.
23
23
Overall Rating:
4.6522
4.6522
Hanalei River Cottages! Always heavnen!
Rating:
1
5
5
Review Date: 10/11/2021
Super easy to book. Clear info on check in. Company f/u prior to make sure you have everything you need.
Great location, great for the price
Rating:
1
4
5
Review Date: 08/09/2021
This is not the coziest place to hang out. It's a fantastic home base. It's perfect for a family or couple that wants to be out enjoying Hanalei, which is what we were there for. But when you want a lazy afternoon or even morning to chill this is not the best place for that.
Aloha Paradise
Rating:
1
5
5
Review Date: 08/02/2021
Delightful stay in Cottage#3. Grounds and surrounding are breathtaking. Cottage is wonderful...fully equipped, and very comfortable. Everything Hanalei is at your fingertips.
Hanalei stay
Rating:
1
5
5
Review Date: 11/11/2020
I had a great time during my recent Hanalei vacation. We lucked out and had great weather. Hawaii is taking the pandemic seriously and everyone wears masks in town. At the beach, people distance, and don't wear masks. I felt very safe.
Dolphin Cottages at Hanelei
Rating:
1
5
5
Review Date: 02/12/2020
Simply beautiful. Such an amazing holiday spot and everything you could possibly want is on hand or very close by.
Manager Response: 02/14/2020
Response from Kauai Exclusive Management LLC
Thank you for choosing Kaua'i Exclusive as your host during your time here on the island! We hope to host you again in the future! Mahalo Nui, The Kaua'i Exclusive Management Team
PERFECT SPOT IN PERFECT SPOT!
Rating:
1
4
5
Review Date: 08/08/2019
The delightful cottage is located just on the edge of town so you get the best of both worlds! A charming retro feel that suits the local environment.
Would stay there again.
Rating:
1
4
5
Review Date: 04/20/2019
I have stayed there before and will probably stay there again. This time though I wish there wasn't all the construction noise from the cottages next door, especially the music from the workers.
Relaxing stay by the river
Rating:
1
5
5
Review Date: 04/14/2019
We really enjoyed staying at Dolphin Cottage - it was great to be able to walk into town, and the setting is lovely and relaxing. Downsides were the noise from construction at Cottage #4 and the noise of restaurant staff leaving when they finished their shift but overall, I would thoroughly recommend it!
Honeymoon Hideaway
Rating:
1
5
5
Review Date: 02/26/2019
We stayed here for 8 days for our Honeymoon. I was very homey and had everything we needed during our week's excursions. The washer/dryer and the hose came in clutch after long hiking trips (very muddy trails). It has a grill which we took advantage of. The outdoor shower was perfect after a day at the beach. It had big windows, we looked out over the river and watched the kayakers go by. It was clean and had plenty of towels (bath and beach).

Mike G. was the attendant at the property. He was sweet, welcoming, and very knowledgeable about the island. He gave us great suggestions when it came to beach locations and dinner options.

Hanalei Bay is a great location to stay. We could walk to dinner from our cottage. Staying here at the cottage was by far a much better choice than any hotel/resort for a true Kauai experience.

We highly recommend Dolphin Cottages. We will be returning in the future!
--The Halligans
White family stay
Rating:
1
5
5
Review Date: 01/02/2019
Had a great time on the river.
Nice stay in Hanalei
Rating:
1
4
5
Review Date: 11/06/2018
The cottage was nice place for my wife and I to stay in Hanalei. Probably would be a little tight for 4 adults but 2 adults and children would be fine sharing the 2 bed 1 bath. Could hear plenty of traffic on the main road during the day but at night was fine. Biggest complaint was sound of renovations being done next door. The sound of power tools throughout the day was not at all pleasant. Easy walk to restaurants in Hanalei.
Great cozy cottage!
Rating:
1
5
5
Review Date: 08/07/2018
We enjoyed staying here. The place is charming with a great view of the river. All the basic necessities are here. The only drawbacks: one of the bed mattresses is too worn out and squishy, you can hear your neighboring cottage really well so better hope they are not loud and insensitive like ours were. The property manager is super nice and responsive!
Prime location in Hanalei Bay
Rating:
1
5
5
Review Date: 01/23/2018
Great location in the small town of Hanalei, 10 minutes walk from the beach, accommodations were comfortable and clean. Full size kitchen and dining. Well equipped for a great vacation.
Hanalei Getaway!
Rating:
1
3
5
Review Date: 12/09/2017
Great location to walk to town, launch your kayak and/or paddleboards in the Hanalei River.
Hanalei
Rating:
1
4
5
Review Date: 12/04/2017
Dolphin Cottage 3
Rating:
1
4
5
Review Date: 10/09/2017
Cottage is very nice and on the very beautiful Hanalei River. All was great for us except rug was dirty and pillows eeded washing. On the good side, everything else was clean and nice.
Great stay
Rating:
1
5
5
Review Date: 08/07/2017
Fantastic location and a well equipped cottage with all beach and kitchen amenities made our stay great and we look forward to coming back.
Hanalei Happiness!
Rating:
1
5
5
Review Date: 07/05/2017
We had a fabulous time staying at the Dolphin Cottages ion the Hanalei River. They are charming and well located.
Happiness
Rating:
1
5
5
Review Date: 06/14/2017
Very nice and convenient access to the area.
Great place to stay in hanalei bay
Rating:
1
5
5
Review Date: 05/17/2017
The house was clean, comfortable beds and perfectly located. I would come back to the Dolphin Cottages again and again.
Paradise
Rating:
1
5
5
Review Date: 04/28/2017
We love these cottages. We have stayed a number of times over the past 10 years. It is our go-to place. We love the outdoor showers - ahhhh just thinking about them. Washer/dryer access is key. We also love the access to the river and the ability to store the paddle boards or kayaks on site. No car carrying!

The cottage provides everything you need. I forgot there was no coffee grinder but the property manager lent us his and said they were going to furnish all the cottages based on our request. How great is that!? Speaking of the property manager, he was awesome and responsive.

I would absolutely recommend these cottages. We will be back!

Two minor comments:
1. The beds are fine but the couches and chairs are uncomfortable.
2. We stayed for 2 weeks. We would request a cleaning after 1 week.


Dolphin Cottage III - amazing!
Rating:
1
5
5
Review Date: 04/04/2017
Amazing experience all around - location, comfort, cleanliness, outdoor shower, service, etc.
Absolutely loved it
Rating:
1
5
5
Review Date: 02/03/2017
We all thought it was a great stay. We loved everything about it. Location is perfect too. I have no complaints and plan on definitely staying again in the future.
Your request has been sent. We look forward to meeting all your vacation needs!
Use of this website constitutes acceptance of the KauaiExclusive.com Terms and Conditions and Privacy Policy.
©2020- Present KauaiExclusive.com, Inc, All rights reserved. | Website Design by Beyond Pricing