aliamanu-water-front-bliss
aliamanu-water-front-bliss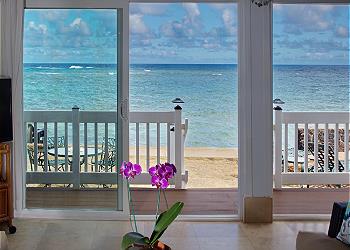 Aliomanu Waterfront Bliss
https://www.kauaiexclusive.com/rentals/properties/aliamanu-water-front-bliss/
Aliomanu Waterfront Bliss | Vacation Rental in Kauai
OCEANFRONT Beach House WATERFRONT! TVNC #5068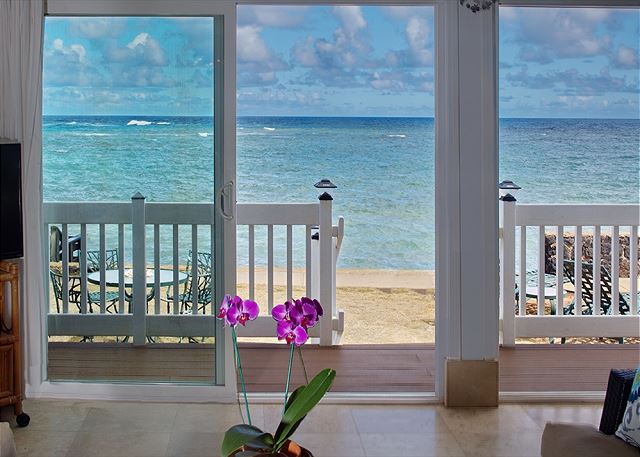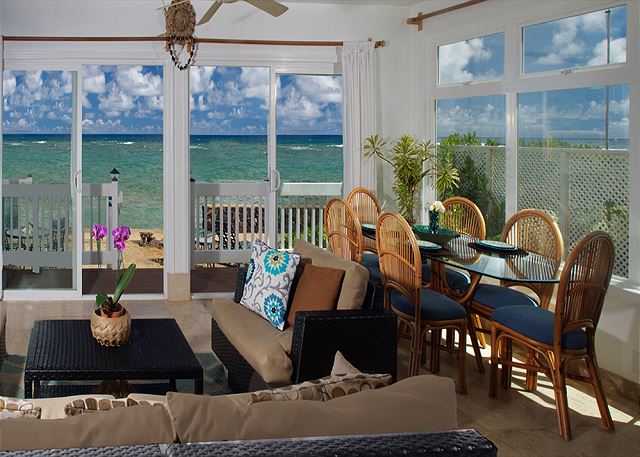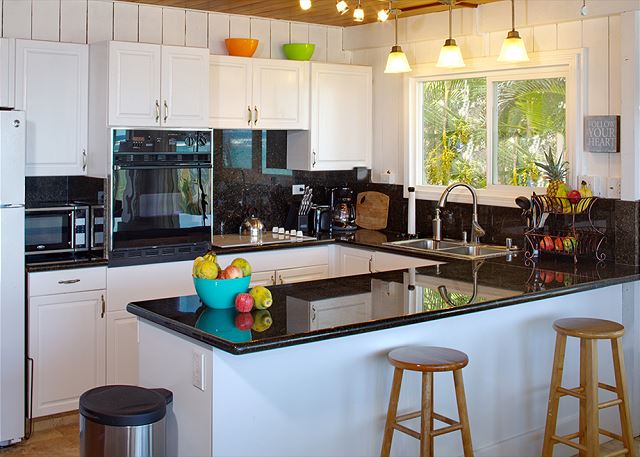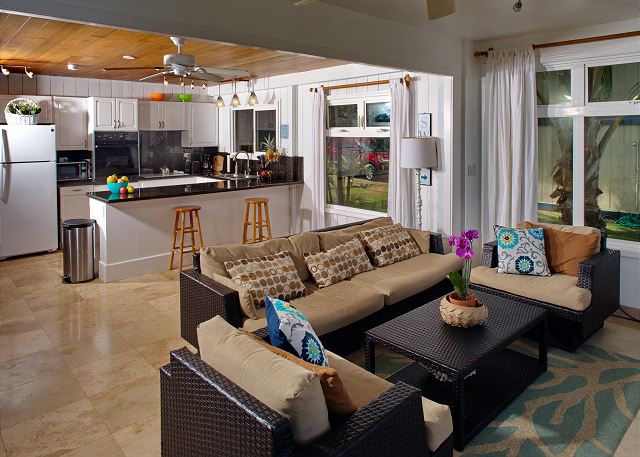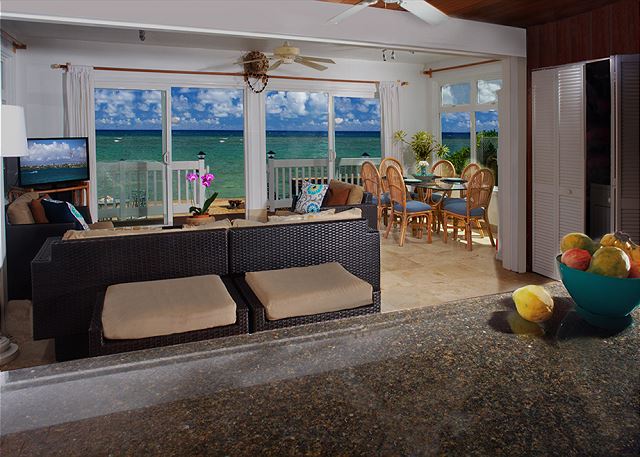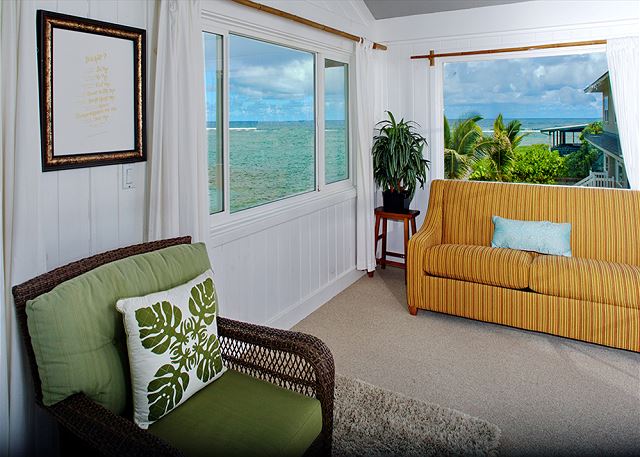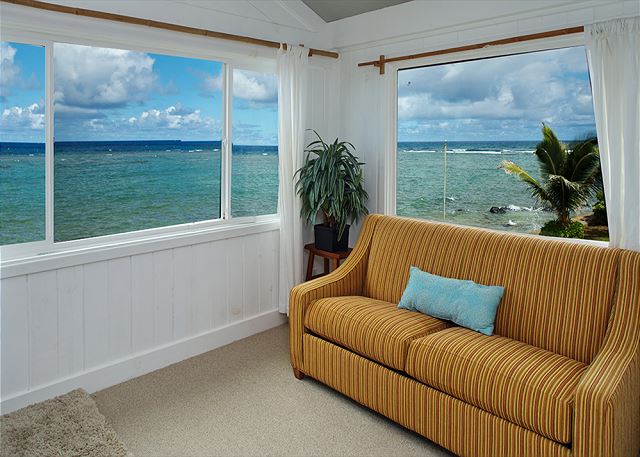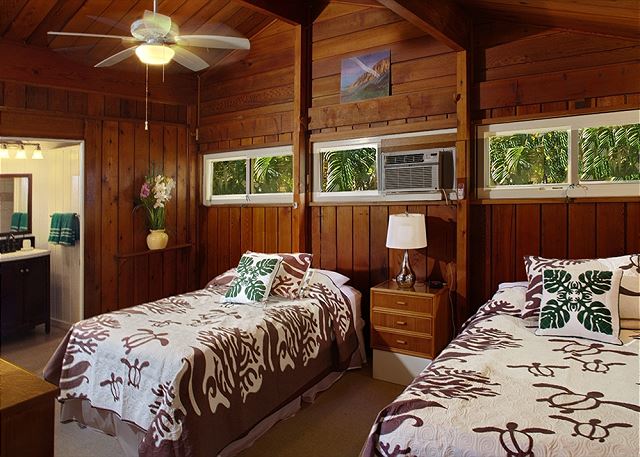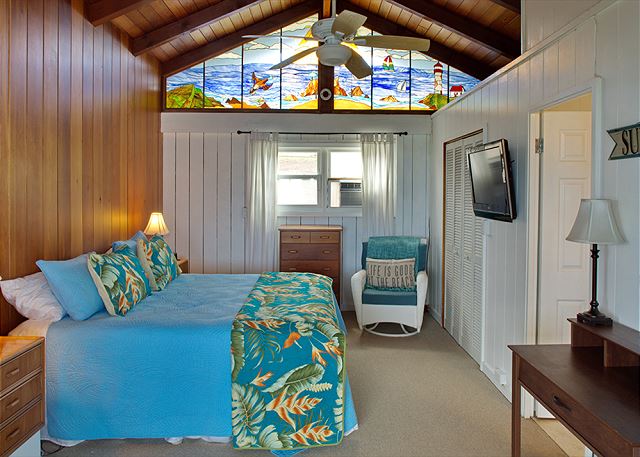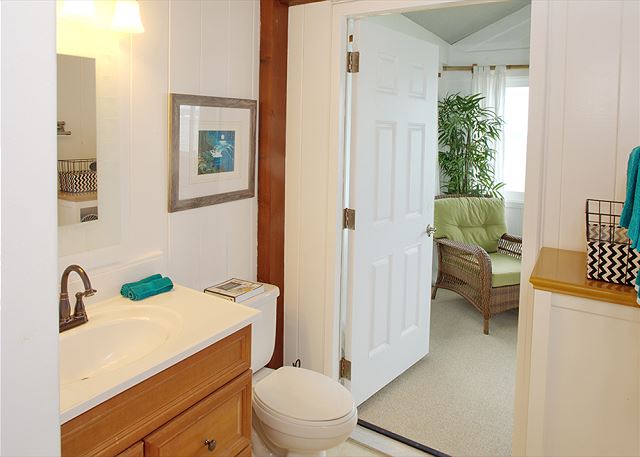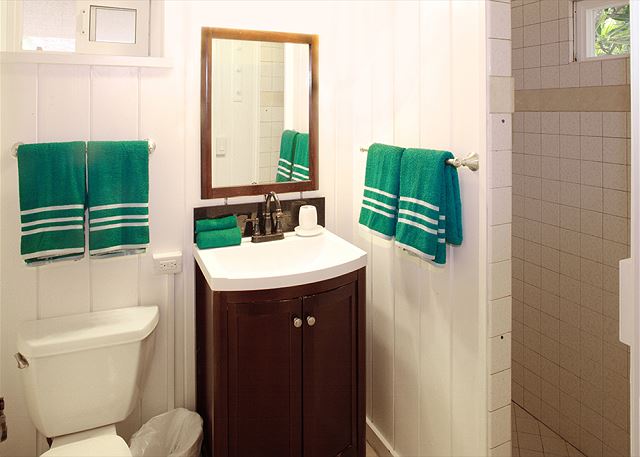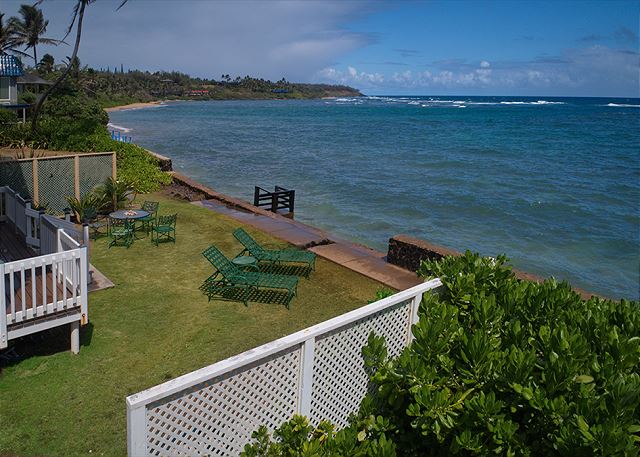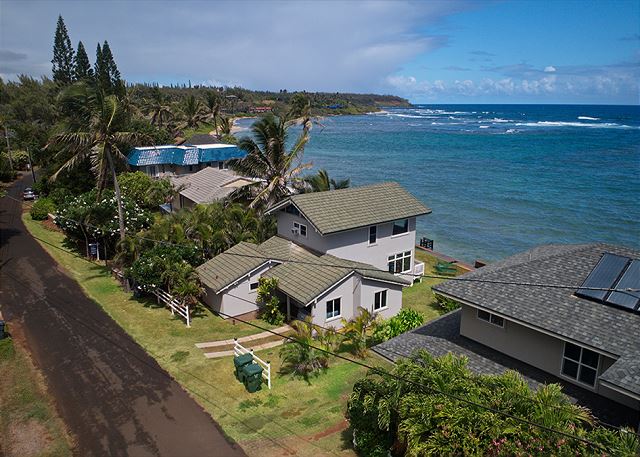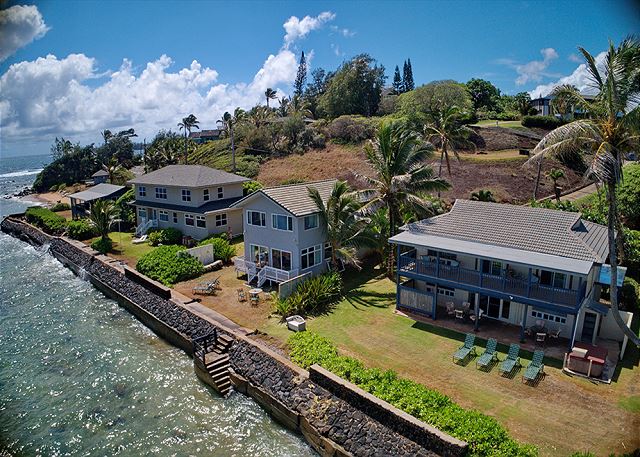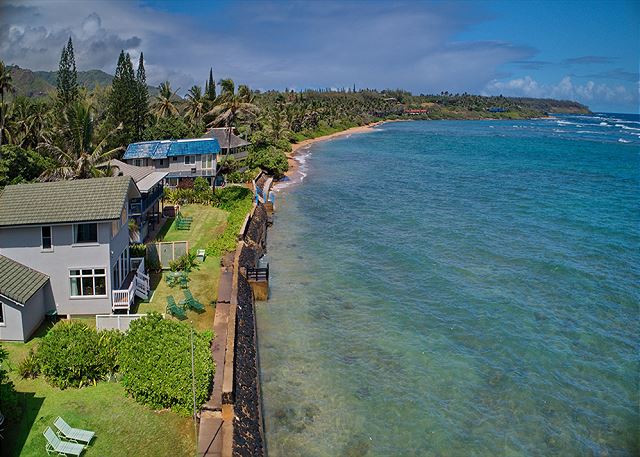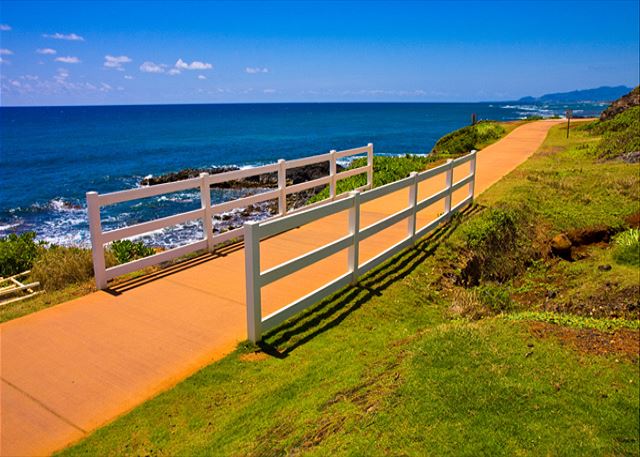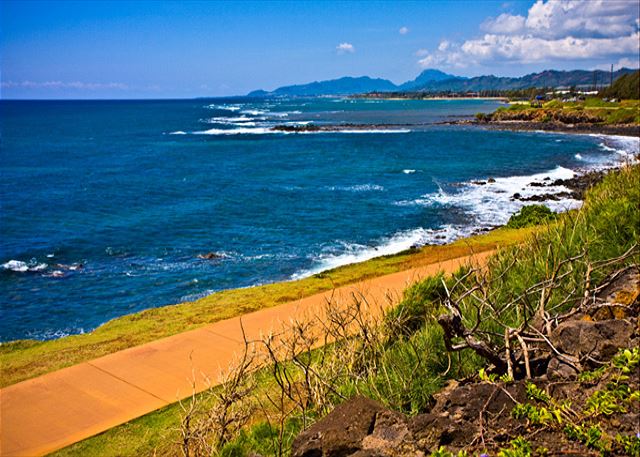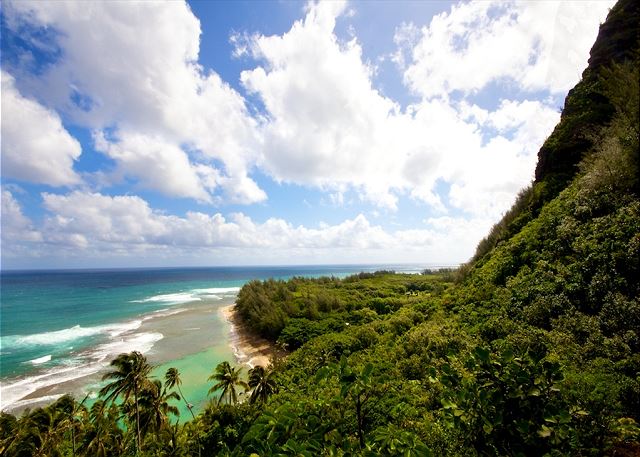 Aliomanu is a secret seaside escape, hidden just off the beaten path on the North Shore. Seated at the feet of the sacred Kalalea Mountains, the neighborhood of Aliomanu is highly revered and remains a peaceful sanctuary to all. TVNC #5068

This oceanfront, 2 bedroom hale (home) in Aliomanu is just steps from one of Kauai's most private beaches. Rarely visited by tourists, you will have unique access to spectacular swimming, snorkeling, beachcombing, daily sunrises and monthly moonrises. The home itself is as ideal as the location. With an open floor plan, panoramic ocean views, sleek aesthetic and high-end amenities, this beach house has unbeatable appeal.

Located on the North East Shore, this quiet neighborhood has direct beach access and is within walking distance to Whaler's General Store, and Kalalea Juice Hale (best Açaí Bowls on island!). Only 5 miles from Kapaa Town and 10 miles to Kilauea Town, you have easy access to North Shore, East Shore and South Shore adventures!

The North Shore of Kauai is quintessential paradise. Dramatic cliffs plunge into invigorating turquoise waves and lush jungles fringe inviting white sand beaches. Home to the infamous Hanalei Bay and the Nepali Coastline, the North Shore cradles some of Kauai's most treasured gems. It's easy to dive into the local culture when staying on the North Shore, as the environment is cozy and the sentiment is filled with Aloha.

One of the most revered places on earth, Kauai inspires a state of awe within all of us. Brimming with beauty, the oldest inhabitable Hawaiian island has both withstood the test of time and matured into a land of fertile abundance. Lush jungles, white sand beaches and the alluring ambiance of aloha enchant each moment. Offering exceptional accommodations, adventures, cuisine and culture, vacationing on Kauai is a dream come true.

Please note there are small window ac units in each bedroom not central ac throughout the house. AC on Kauai is really only needed a few months each year but the owner added these to make sure guests are comfortable year round.

TA-091-445-0944-01
| | Nightly |
| --- | --- |
| August 16 - December 14, 2021 | $500 |
| December 15 - January 05, 2022 | $549 |
| January 06 - December 14, 2022 | $500 |
| April 15 - June 14, 2022 | $500 |
| August 16 - December 14, 2022 | $500 |
Thank you for entering your review. The review will become available to the system shortly.
21
21
Overall Rating:
4.619
4.619
Great location. Quiet and clean. Waterfront NOT beachfront
Rating:
1
5
5
Review Date: 09/26/2021
Very good. Easy check in. Great location
Lovely Waterfront
Rating:
1
5
5
Review Date: 06/29/2021
This is a lovely property perfect for 4 adults or even 4 adults and a couple of kids willing to sleep on foldaway cushion beds. Kitchen has ample dishes, glasses and pots and pans.
Great Location
Rating:
1
4
5
Review Date: 06/21/2021
Loved staying at the house, though the upstairs tiny window A/C unit was entirely too small and too loud to use - real A/C upstairs and it would have been perfect.
If you want to be closer to the ocean, you need to rent a boat.
Rating:
1
5
5
Review Date: 11/18/2020
Great location, nice house, good amenities.
I would (strongly) suggest replacing the AC in the upstairs bedroom and adding AC in the living room. We were there in October and during the day it got very hot.
Fabulous location but needs improvements
Rating:
1
3
5
Review Date: 03/25/2020
The rental location was fabulous, right on the beach with a beautiful open floor plan. However, the condition of the rental was so very disappointing for the price. First off, the old rugs in the bedrooms exuded a moldy smell that took 3 days of airing out before I could sleep or walk into the room without my eyes itching. This problem extended into the closet and drawers which also had to be cleaned out before use. The closet was cluttered with extra linens/vacuum, etc such that it could not be used until things were rearranged. Upon arrival, we connected to the wifi network but yet could not get internet. The hosts didn't have a clue and so we discovered that the tv modem was not programmed. Once we programmed the tv, it worked just fine. We loved the downstairs (tiled floors) altho one of the crank windows would not close after opening. The curtains and bedspreads were dusty/moldy smelling and should be washed more frequently due to the high humidity. The refrigerator was very noisy when the motor came on (which was only a problem for us at night) and the air condition unit downstairs didn't cool adequately. The upstairs bedroom was furnished with old cheap furniture but had a fabulous view. I made a makeshift vanity with the desk and mirror provided because there was only a bureau in the bedroom.
This place could be a five star rental with the better furnishings, newer carpet and more frequent curtain/ linen washings. We would come back in a heart beat if corrected.

Nice oceanfront, but not a luxury accommodation
Rating:
1
2
5
Review Date: 03/20/2020
The house is right on the ocean and to hear and watch the waves on a daily basis is a treat. But if you're looking for somewhat of a luxury stay this is not it - especially for the price point you're paying.

The beach house is more like a cottage feel. There is a mix of furniture and the rugs and carpeting is musty and dated. If you're looking for a place that will sleep more than 6 people - then maybe it's worth it. If you're a small family of 4 or less there are better to choose from.

As well, it's not close to anything. The nearest grocery store is 15 mins away in Kapaa or 35 mins in Hanalei. And no nearby restaurants or cafes. As well, the house is not properly stocked. There is very little shampoo tubes (2 - and these tubes were very small - maybe you could have 2 uses but we were a family of three of staying for a full week - not enough and the management didn't supply more when we asked for more). We also could not find certain cleaning supplies - no dishwasher detergent (we were told to buy our own and be reimbursed), we couldn't find cleaning supplies -broom but no dust bin, no windex, no extra paper towels but the one on the counter, no dryer sheet ie bounce dryer sheet). The dining room table is glass so it was hard to clean without windex and there was no cleaning cloth to wipe the counters etc.

The window drapes are white cotton and very nice but hard to move open and close because the curtain rods are wood so it would stick quite a bit. And because the main floor has a lot of windows it was a pain on a daily basis. Some light fixtures were missing lightbulbs.

I will say it is not on a resort and it is somewhat remote and if you're looking for more privacy than this might work for you.
Lovely quite Location
Rating:
1
5
5
Review Date: 02/17/2020
Lovely quite location. It was a mix of nice new flooring, nice countertop and then a half painted kitchen. It did not detract from the wonderful vacation but did strike me as odd.
Manager Response: 02/18/2020
Response from Kauai Exclusive Management LLC
Thank you for choosing Kaua'i Exclusive as your host during your time here on the island! We hope to host you again in the future! Mahalo Nui, The Kaua'i Exclusive Management Team
Fantastic vacation in Kauai!
Rating:
1
5
5
Review Date: 12/26/2019
We had an absolutely fantastic experience at the beach house in Kauai! We will definitely go back again and highly recommend it to friends and family. Beautiful house right on the beach. Glorious sunrises every morning. Quiet street and neighbors. Easy access to all the sights on Kauai or just hang out and relax at the beach house. Beautiful deck and back yard for relaxing.
Amazing house with amazing view!!
Rating:
1
5
5
Review Date: 12/25/2019
Can't say enough about this house...great location, beautiful view. The house was immaculate and well equipped with everything we needed and then some!!
Great Ocean View!
Rating:
1
5
5
Review Date: 08/12/2019
Great Ocean View! Secluded spot away from busy resorts.
Fantastic Location and Experience
Rating:
1
5
5
Review Date: 07/06/2019
Our family loved the home, the air-conditioned bedrooms to sleep in and retreat to, and the off-the-beaten path location right on the beautiful ocean, where we enjoyed walks, swimming, and snorkelling.
Great value accommodation
Rating:
1
5
5
Review Date: 05/18/2019
Great place to stay! Being beachfront you get a lovely breeze all day long, doors and windows have screens so you can leave them open at night yo stay cool. Everything you need is here, washing machine and dryer etc, well equipped kitchen with coffee machine and a blender. You will need a car if staying here as the nearest town (to buy grocery items) is not within walking distance. The swimming off the front is ok, a little bit rocky. This was perfect for us as we were on holiday attending my brothers wedding, which was just down the road at "Sandcastles" which is one of the few places you can rent and host a wedding. There are a lot of holiday rentals close by for other family members which meant we could all get together for shared meals. If you want quite and relaxing this ticks the boxes.
Ocean splashing 40' in front of your toes when sitting on sofa
Rating:
1
5
5
Review Date: 11/14/2018
This slightly quirky little house is beautifully positioned for a relaxing stay. It was particularly ideal for one member of our party who is required by medications to avoid over-exposure to the sun. Being able to sit in the shade on the sofa, with the screen doors covering half the front wall letting in the ocean breeze and the sound of the waves, was perfection!
No easy way to get to beach from front of house, but can walk back down road a little bit to access beach. Grill in garage was ready to use and worked great. Nice to be able to get quick and friendly help from management company when we had a problem with a smoke alarm's low battery alert.

Groceries in Kapa'a: very good natural foods store Hoku; plus mundane supplies from Big Save and Safeway.
Great coffee drinks in Kapa'a at Java Kai.
Fine dining in Kapa'a at Jo2 (better food than the St Regis!)
Also good in Kapa'a: Coconut's Fish Cafe; Nom Kauai.

Very pleased with helicopter tour from Blue Hawaiian.
Excellent
Rating:
1
5
5
Review Date: 10/31/2018
Wonderful!
Rating:
1
5
5
Review Date: 09/28/2018
Superb location, amenities, cleanliness. House was gorgeous, spacious, we all LOVED it. AC in the bedrooms was great. Communication with company was very good, our front door keypad battery died and they sent a locksmith immediately, no issues.
Would definitely stay again, thank you !!!
Tropical Tranquility
Rating:
1
5
5
Review Date: 09/25/2018
From the moment you open the door till you close the door for the last time you are staying in a truly magical place where time slips away at a pace ever so leisurely. Slightly off the beaten track the house provides all that is needed for your vacation. Should you need something at the house or have any questions you can reach the concierge desk via a phone app. It is provided after your booking is accepted. The folks at the concierge desk are quite knowledgeable and extraordinarily helpful.

The house provides stunning views of the ocean and surrounding beaches. Every morning offers a plethora of peace and tranquility accompanying the sunrise. The trade winds cool the house throughout the day.

The house located a mile off the road in a very quiet area. We found the location to be sufficiently close to everything we wanted to see or experience.
Great location and beautiful house
Rating:
1
5
5
Review Date: 09/12/2018
Great location along east coast with easy access to north and south of island. Very nice layout to the house, very clean with all the necessary creature comforts.
Wonderful stay
Rating:
1
4
5
Review Date: 08/24/2018
Awesome views and very clean. The beds were comfortable. Only complaint which wasn't a huge deal is there are no window treatments in the downstairs bedroom. Other than that our stay was one of the best we have had, and did not want to leave.
Aliomanu waterfront
Rating:
1
5
5
Review Date: 06/06/2018
The house was as expected: right on the waterfront, clean, well furnished and maintained. The management company also earned kudos for handling two glitches quickly and satisfactorily: an error in the access code and misinformation about Wifi access code.
great getaway
Rating:
1
5
5
Review Date: 04/24/2018
absolutely loved this place for my family! we spent a week here and can't wait to come back. We were debating between a resort and this house and couldn't have been happier.

pros.
1) great house. great amenities
2) large size for lots of people
3) ocean front and u can hear the crashing waves
4) full kitchen so you can't eat make your own breakfast in the morning
5) came with a BBQ gas and we thru some steaks on the grill!

cons
1) it may be a bit away from everything, but i think thats' why you went to hawaii right? not to be 10 feet away from the next person
2) the beach in the backyard is definitely fun during low tide. During high tide the beach disappears , which is fine with us because the crashing waves and view was awesome

Great Location
Rating:
1
4
5
Review Date: 02/19/2018
Right on the water, with easy access to beach. Plenty of space with full kitchen.
Your request has been sent. We look forward to meeting all your vacation needs!
Use of this website constitutes acceptance of the KauaiExclusive.com Terms and Conditions and Privacy Policy.
©2020- Present KauaiExclusive.com, Inc, All rights reserved. | Website Design by Beyond Pricing