Coffee is one of the most widespread plants in the world. Withstanding borders, cultures and time, humans have cultivated coffee in even the most remote locations on earth. The island of Kauai is no exception. Growing in yards, botanical gardens and even plantations, coffee has a distinct presence in paradise. And, thanks to passionate aficionados, Kauai has its very own cafe culture to experience.
Here's a list of some of our favorite cafes on Kauai (listed by location, not rating):
North Shore
Hanalei Bread Company
Downtown Hanalei
The allure of this cafe is pure ambiance. Set in the heart of Hanalei, the remodeled floor plan welcomes you into an open-air lanai surrounded by morning-lit mountains and the quaint bustle of a beach town. However, the selection of drinks and bites is equally enticing. Organic and local options flood the menu, including tea from Kauai Farmacy and Golden Milk made with Laird Hamilton's Superfood. You will also find an array of fresh-baked pastries, breads, breakfast items and goodies to fuel up your day. Gluten-free options available!
Don't be dismayed by long lines… it's a popular spot! Open 7-5 daily.
Trilogy Coffee
Kilauea Town
The newest addition to Kauai's cafe culture, Trilogy is quite possibly the trendiest option around. Here, tucked behind the stone-walled structure in the center of town, you will discover a gem of defined style and refined taste. Dedicated to quality, service and sustainability, the staff will receive your order and prepare your drink with exceptional care. Here, you can find a carefully selected array of vegetarian, vegan, organic and gluten-free treat options to pair with your cup.
The theme here seems to be "quality, not quantity," so take your time, sip with love and enjoy! Open Mon-Sat 7:30-6 and Sun 8-2.
Browse Our North Shore Vacation Rentals!
The white sandy beaches that make Kauai so special are spread across the island, but the North Shore highlights some of the most diverse and unique. Just inland from the glistening ocean shore, quaint towns offer the perfect balance of nourishment, refreshment and island-style entertainment. Hanalei Town, for example contains a full spectrum of eateries from delicious local food trucks to five star restaurants. All within walking distance, you can shop at boutiques and local art galleries, try local foods, enjoy happy hour at a bar, cool down with shave ice, and rent gear for your next adventure.
Surrounded by staggering mountains and cascading waterfalls, this majestic North Shore of Kauai boasts some of Hawaii's most stunning views. However, this beauty does not come without the reality of rain, which caters to the lush and vibrant landscape. The combination of warm weather, intermittent rain showers and insistent sunshine is what makes the North Shore special. It is also what makes the North Shore the land of rainbows!
East Shore
Small Town Coffee Co.
Kapaa Town
A long-standing staple of the Kauai cafe culture, Small Town is dedicated to serving the community. It's a local daily ritual and a visitor's dream pit-stop. Offering artesian coffees, hand-baked goods and a funky atmosphere, this little red bus parked in the corner of the Kojima complex is hard to miss. By stopping in at Small Town Coffee Co., you are supporting their efforts towards local government, local non-profits, community organizations, ecology and education. If you love coffee and jive on good vibes, this is the place for you!
Open 6-4 daily.
Java Kai
Kapaa Town
This unavoidable beach-themed cafe is a quintessential coffee experience on Kauai. Located in the center of Historic downtown Kapaa, the bright turqouis storefront is likely to have a line out the door. Don't let this deter you, as their creative menu promises an exceptionally tropical experience. From espresso drinks like the Funky Monkey or Shark Bite, to fresh-pressed juices, smoothies and full-range food options, you'll be thankful for the line to make a decision!
Tip: If you're just there for the coffee, check out the Kai Bar around back for espresso and express service! Open 6-7 daily.
Browse Our East Shore Vacation Rentals!
There is a flair of life that exists on the East Side of Kauai that you cannot find anywhere else on the island. Still grounded in its roots, Kapaa Town teams with activity: fishermen navigating the tides, paniolos (cowboys) working the land, birds soaring the sea breezes. And, as the tides bring change, over time this little seaside town has evolved into a trendy, rootsy, eclectic mana-filled mecca.
There are many elements at play that make the East Side of Kauai special: the myriad of rolling sandy beaches, accessible hikes and waterfalls cascading from surrounding mountains, the convenient central location, the countless festivals, celebrations and farmer's markets that line the streets or park on any given day.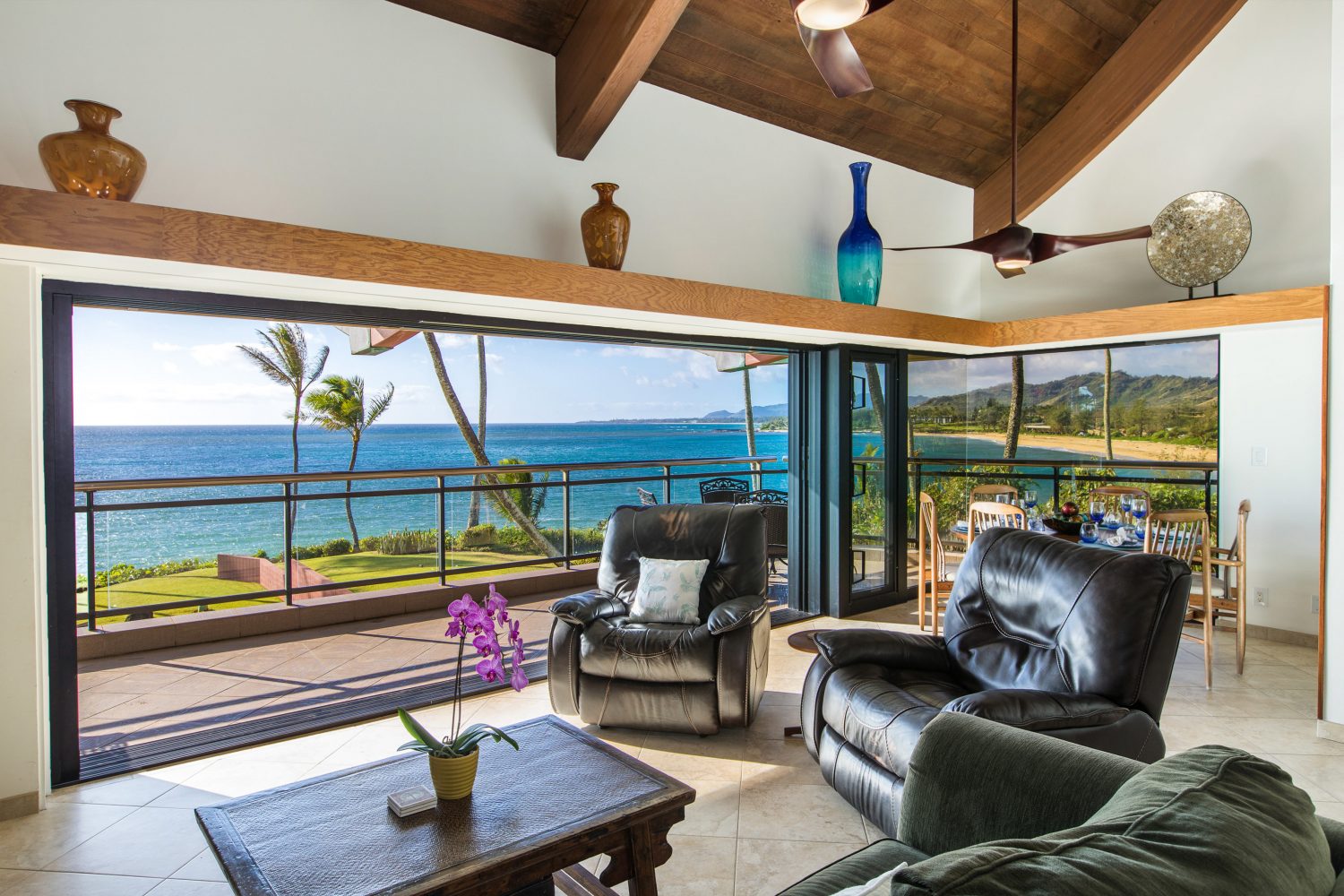 South Shore
Little Fish Coffee
Poipu & Hanapepe
This warm-hearted, family-owned coffee shop specializes in stoking you out! From satisfying your coffee craving, to fueling your body with quality, sustainably-harvested and organic food, Little Fish is happy to serve you on the spot or set you up for a day at the beach. Order in or take it to go! You can even order online to streamline your day's adventure! https://littlefishcoffee.com/order-online/
With two locations on the south shore, they've got your back covered!
Poipu location open 6:30-3 daily.
Hanapepe location open 7-3 daily.
Browse Our South Shore Vacation Rentals!
Home to some of Kauai's best kept secrets, you could spend days just exploring the South Shore. Mahaulepu, located on the eastern edge of Poipu, is the desert-like domain of archeological sites, sacred caves, a tortoise sanctuary and the Mahaulepu Heritage Trail. The western edge of Poipu offers the geological spectacle of Spouting Horn and botanical beauty of Allerton Gardens. In between, downtown Poipu is set to meet all your dining, shopping and adventure desires. Conveniently book a tour or activity… Experience world-class golfing with breathtaking ocean views… peruse the Shops at Kukuiula, Kauai's classiest shopping center… indulge, from sumptuous snacks to fine dining, satisfy your deepest culinary cravings with an array of restaurants, eateries, bars and cafes.
With a bounty of riches to be experienced, Poipu presents a majestic location to call home during your vacation. Regal yet reasonable condos for couples allow for romantic and graceful getaways, while larger houses with 3+ bedrooms offer ideal comfort, amenities and ambiance for multi-generational or multi-family holidays. There is something for everyone here. Known for its perfect weather, accessibility and bountiful offerings, Poipu has remained a hot spot throughout history.
Tags:
best coffee
,
breakfast
,
cafe
,
coffee
,
coffeeshop
,
east shore
,
hanalei
,
kapaa
,
kauai
,
north shore
,
poipu
,
restaurant
,
south shore